Thai Beef Salad (Yum Nua)
Thai Beef Salad (Yum Nua) is where fragrance and colour meet in an explosion of Thai flavour. An intoxicating combination of fresh, crunchy vegetables and juicy steak in a spicy, aromatic dressing that is the essence of Thailand.
South East Asian cuisine and especially Thai recipes offer countless combinations of flavour, colour and texture. None more evident than in this amazing Thai Beef Salad Recipe - Yum Nua. There are endless combinations of meats, seafood and vegetables and many featuring eye-watering spicy dressings. My recipe features juicy beef combined with crunchy vegetables, aromatic herbs and drizzled with a sweet, sour and spicy dressing that is quite literally the essence of Thailand.
What is a Thai Salad? A simple breakdown...
There are many types Thai salads to enjoy. They can be broken down into four main categories.
Yam/Yum
Translated as 'mix' this is the simplest salad. It can made using many variations of proteins and vegetables. Countless recipes exist and commonly include onion or shallots, lime juice, sugar and chillies.
Tam
This style of salad generally refers to a salad that has in some way been pounded. The famous Papaya salad is one example. Chillies, onions, young papaya and other vegetables and herbs are lightly pounded in a large mortar to release their flavour. They are usually dressed in a similar way to Yum, with lime juice, fish sauce, sugar and chillies.
Lap/Laab
Often called Laab or Larb this salad originating in Laos is widely eaten in Thailand too. It can feature cooked or raw proteins combined with pounded rice (khao khua) and fresh herbs. The dressing is a combination of sweet, sour, salt and spice in the form of sugar, lime, fish sauce and chillies. Try my delicious Laotian Chicken Larb recipe!
Phla
Phla salads are similar to Yum with a couple of notable differences – proteins are often served rare or raw and thin slices of lemongrass and galangal are added for more fragrance. They also feature on occasion a curry paste, like a red Prik King paste.
Stuff you'll need
There's a full recipe below, but here's a quick checklist to ensure you have the right stuff.
Beef steak

- I like ribeye, but any steak will do. Just be sure to cook it medium and slice it thinly.

Tomatoes

- I like mine slightly crunchy, so get them just a little under ripe.

Cucumber

- Crunch and cooling to counterbalance the chilli spice.

Shallots & Spring Onions

- Double onion! Why not!?

Red chillies

- I combine mild and spicy. For heat I opt for authentic Thai chillies and use as many as I dare (I'll usually use 4-5, but if I'm feeling timid, 1 is fine). If spice isn't your thing, leave them out and just use a mild chilli or even just some red bell pepper.

Dressing - Fish sauce, Palm sugar (or regular sugar) and lime juice - the holy trinity!
Roasted peanuts

- A bit of extra texture at the end. Buy raw peanuts and fry them in a little oil until browned, then drain and leave them to cool to crunchy perfection.
The combination of meaty steak with the ultra-fresh salad is quite something! Perfect on its own or with a little Jasmine rice on the side. It's a quick and easy burst of flavour and freshness.
Step by Step
It couldn't be easier to make this Thai Beef Salad. 5 simple steps and ready in no time!
Marinade the meat - it adds so much flavour to the salad. (If you're short on time, skip this stage.)
Chop the vegetables and herbs, so that they're ready to go when the beef is cooked.
Make the dressing by combining the ingredients. Done.
Fry the steak medium rare. You can also cook it on the BBQ grill too. Let it rest for a while then cut into thin slices.
Combine everything and you're ready to serve.
Pro Tips to make your life easier
Serving: I serve my salad right away, once it's dressed the clock is ticking so make sure it doesn't sit too long otherwise the veg will lose their crunch. If you want to serve it later, keep everything separate (including the meat) and mix together at the last minute. Personally, I like this salad when the meat is freshly cooked as it's super juicy.
Meats: Yum Nua is the beef version of this salad, but you can also use seafood (scallops, squid, shrimp), pork and chicken too.
Vegetables: Change up some of the vegetables if you see fit. In fact, remove the meat completely and mix some of your favourite vegetables. I'll often add radishes, celery, beansprouts, raw julienned carrot, mini corn and blanched green beans and broccoli.
Alternative dressing: If I want to up the spice game for my salad, I'll use my delicious recipe for Nam Jim Jaew dipping sauce from my Crying Tiger Beef recipe as a dressing. It has quite a kick, but lots of amazing authentic Thai flavour to it too.
Noodles: You can add cooked (cold) noodles to this salad no problem. I sometimes add cooked wide or thin rice noodles or on occasion egg noodles.
Ready to get cooking?
Thai Beef Salad really is a quick and easy burst of authentic Thai flavour. A healthy, hearty salad that delivers on all fronts. It's one of the tastiest salads I make and a perfect dish to serve any time of year, I especially love it in the balmy heat of summer. Are you ready to make Yum Nua part of your next delicious Thai dinner table?
Make a meal of it. More Thai recipes.
If you want to create a larger Thai feast, try a combination of dishes that work wonderfully together - just remember, lots of fluffy, fragrant Thai rice on the side.
Any Questions? (FAQ)
Have a question about Thai Beef Salad (Yum Nua)? Let me know in the comments.
Is Thai Beef Salad dressing spicy?
No, there is no chilli heat in my Yum Nua dressing. You can of course spice it up with some fresh or crushed, dried chilli.
What is a Thai Beef Salad name in Thai?
Yum Nua
What is Thai Salad made of?
There are countless versions of Thai salad. My guide above breaks them into 4 main categories. As you'd imagine Meat, fish, seafood and vegetables appear in many combinations. The salads tend to use raw vegetables and feature chillies to varying degrees of spice. A sweet, sour, salty dressing is typically added to the salad for that authentic South East Asian flavour.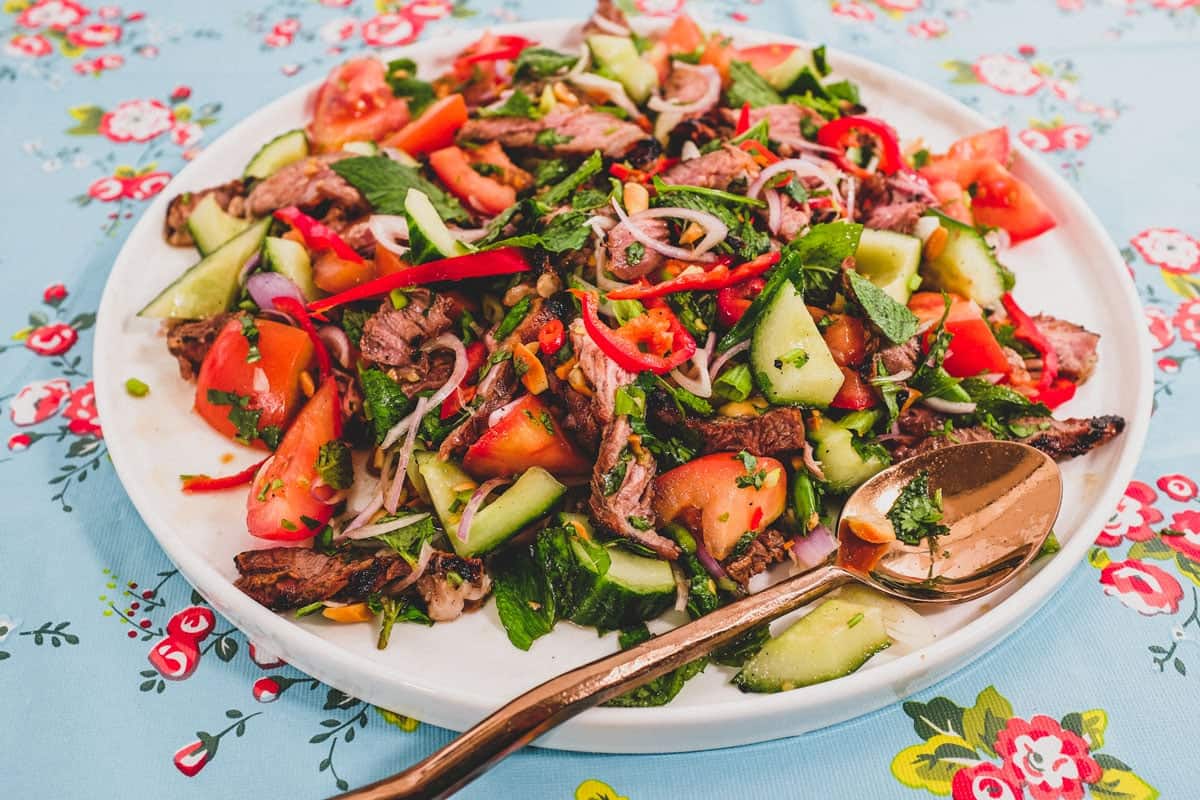 Thai Beef Salad (Yum Nua)
Rate this recipe
Print Recipe
Pin Recipe
Save Recipe
Go to Collections
Calories (per serving) |
161
Ingredients
For the Salad
1

shallot (large)

(about ⅓ cup - sliced)

1

cup

cucumber

(peeled & seeded* and cut into chunks) *see notes

2

tomatoes

(cut into chunks)

1

red chilli

(mild) (cut into slices)

1

Thai chilli

(cut into thin slices - seeded or not - you decide)

2

spring onions (scallions)

(sliced)

1

cup

mint leaves

½

cup

cilantro

(very roughly chopped)

⅓

cup

roasted peanuts

(unsalted)
Instructions
To make the marinade
Combine the sugar, fish sauce and pepper and then coat the steak. Leave for 30 minutes to marinade.
To make the dressing
Combine the palm sugar, fish sauce, lime juice, chilli and water and set aside.
To make the salad
Cook the steak in either a frying pan or on a BBQ for 3-4 minutes per side, until nicely charred. Remove from the heat and rest for 10 minutes before slicing into very thin slices. Set aside to cool completely as you make the salad.

Toss together the shallot, cucumber, tomato, red chillies, spring onion, mint and cilantro.

Add the beef and half the dressing and gently toss to combine everything.

Decant to a serving platter or bowl and scatter over the peanuts. Serve with dressing on the side to drizzle over as you wish.

Serve with sticky or Jasmine rice. Personally I love to serve mine with Vietnamese broken rice, which is Jasmine rice broken into pieces. It's like rice couscous!
Notes
Peeling and seeding cucumber.
Some cucumbers feature more water than others, especially in the centre where the seeds are. To seed a cucumber is easy, just cut in half lengthways and using a teaspoon gently scrape out the seeds and watery centre.
Most varieties of cucumber have a tough skin that is better peeled off for this salad, with the exception of English/hothouse cucumber that doesn't need to be peeled.
Other suggestions:
Serving: Serve this salad right away for the best results. Once the salad is dressed, it will crunchy for a couple of hours, but not much longer. It's at its best fresh – it WILL star OK the fridge for 24 hours, but honestly, just eat it right away!
Meats: Yum Nua is the beef version of this salad, but you can also use seafood (scallops, squid, shrimp), pork and chicken too.
Vegetables: You can change up the vegetables you use and even make it all-veg by adding a few more - like radishes, celery, beansprouts, raw julienned carrot, mini corn and blanched broccoli.
Noodles: You can add cooked (cold) noodles to this salad too. I sometimes add wide or thin rice noodles or on occasion egg noodles. It'll make for a heartier version.
Nutrition
Calories:
161
kcal
(8%)
|
Carbohydrates:
10
g
(3%)
|
Protein:
11
g
(22%)
|
Fat:
10
g
(15%)
|
Saturated Fat:
3
g
(19%)
|
Polyunsaturated Fat:
2
g
|
Monounsaturated Fat:
4
g
|
Cholesterol:
23
mg
(8%)
|
Sodium:
539
mg
(23%)
|
Potassium:
416
mg
(12%)
|
Fiber:
3
g
(13%)
|
Sugar:
4
g
(4%)
|
Vitamin A:
898
IU
(18%)
|
Vitamin C:
25
mg
(30%)
|
Calcium:
47
mg
(5%)
|
Iron:
2
mg
(11%)