Where fresh meats fragrance and flavour. This amazing Thai salad is light, bright and jam packed with Thai flavours. Sweet, sour, salt & spice – it doesn't get much better than this.
South East Asian cuisine, and particularly Thai food has an amazing balance of fresh and healthy options. The use of aromatic ingredients help lift the humblest of vegetables to another level. Once such treasure is the super simple Thai beef salad recipe. Tender slices of steak are tossed with a wonderful combination of herbs and vegetables that bring texture alongside the most intoxicating dressing.
Balance is key to every Thai dish, and it's never so evident as in this beef salad recipe. Tangy, sweet tomatoes are paired with shallots and crunchy cooling cucumber to form the vegetable base. To maximise the flavour, generous amounts of fresh mint and cilantro are added - they act as the leaves for the salad, and bring so much flavour on their own. But it's the dressing that does all the heavy lifting, injecting a quintessential Thai personality. Salty fish sauce, sweet palm sugar and sour lime work in perfect harmony in creating an explosion of South East Asian goodness. And no Thai salad would be complete without a pop of chilli heat - just how hot you make yours is up to you, but I like my Thai Salads SPICY so am always sure to ramp up the heat. How much spice is too much spice?
Stuff you'll need
There's a full recipe below, but here's a quick checklist to ensure you have the right stuff.
Beef steak - I like ribeye, but any steak will do. Just be sure to cook it medium and slice it thinly.
Tomatoes - I like mine slightly crunchy, so get them just a little under ripe.
Cucumber - Crunch and cooling to counterbalance the chilli spice.
Shallots & Spring Onions - Double onion! Why not!?
Red chillies - I combine mild and spicy. For heat I opt for authentic Thai chillies and use as many as I dare. If spice isn't your thing, leave them our and just use a mild chilli or even just some red bell pepper.
Dressing - Fish sauce, Palm sugar (or regular sugar) and lime juice - the holy trinity!
Roasted peanuts - A bit of extra texture at the end. Buy raw peanuts and fry them in a little oil until browned, then drain and leave them to cool to crunchy perfection.
The combination of meaty steak with the ultra-fresh salad is quite something! Perfect on its own or with a little Jasmine rice on the side. This Thai Beef Salad is particularly good in the hotter weather, but I have to add - why WAIT for the weather, it's perfect all year round.
Tips, Tricks, Subs
I'll often make this and add some more vegetables to up the texture and health. Radishes, celery, beansprouts, raw julienned carrot, blanched broccoli are all great additions. Indeed you cam make this completely meat free if the mood takes you.
Try this salad with chicken too - rotisserie chicken makes for a perfect Thai Chicken Salad. Just be sure to not buy flavoured chicken (BBQ/Herb etc). Flash fried shrimp, scallops and squid all work well too. (no need to marinade either).
Make a meal of it. More Thai recipes.
If you want to create a larger Thai feast, try a combination of dishes that work wonderfully together - just remember, lots of fluffy, fragrant Thai rice on the side.
How to make Thai Beef Salad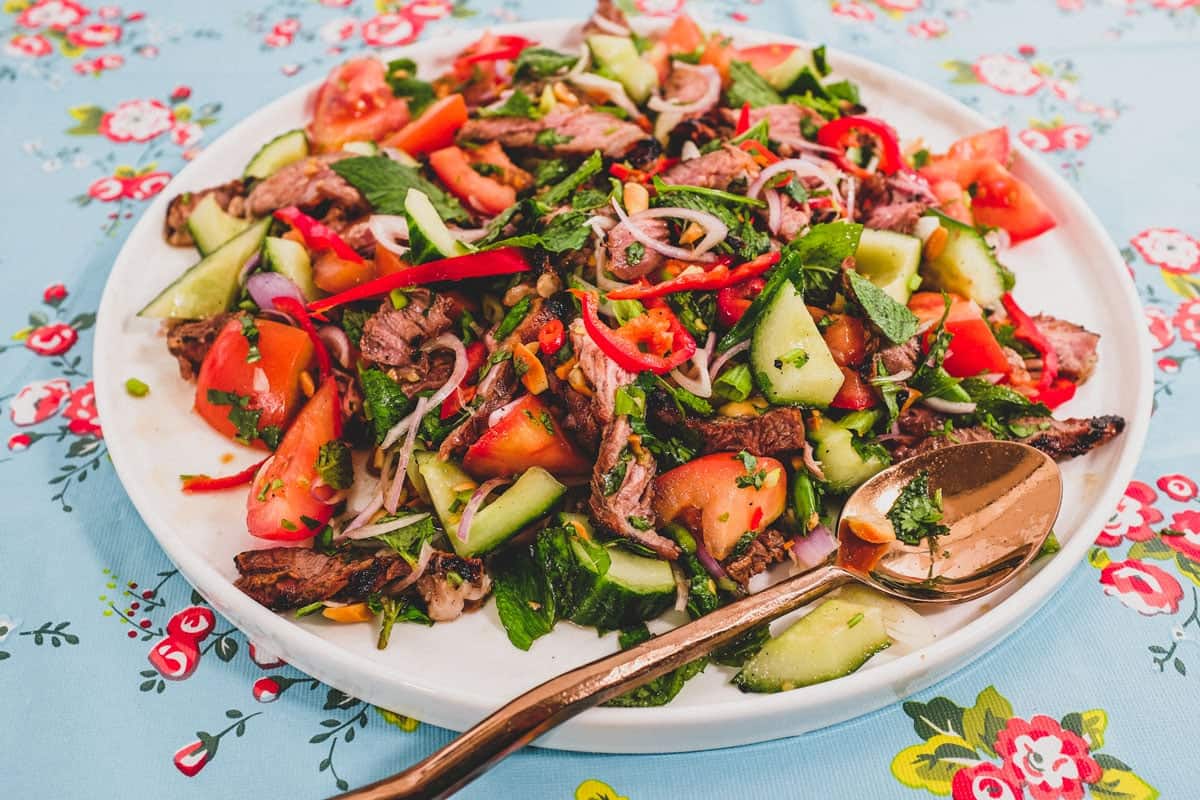 Thai Beef Salad
Rate this recipe
Print Recipe
Pin Recipe
Calories (per serving) |
161
Ingredients
For the Salad
1

shallot (large)

(about ⅓ cup - sliced)

1

cup

cucumber

(peeled & seeded* and cut into chunks) *see notes

2

tomatoes

(cut into chunks)

1

red chilli

(mild) (cut into slices)

1

Thai chilli

(cut into thin slices - seeded or not - you decide)

2

spring onions (scallions)

(sliced)

1

cup

mint leaves

½

cup

cilantro

(very roughly chopped)

⅓

cup

roasted peanuts

(unsalted)
Instructions
To make the marinade
Combine the sugar, fish sauce and pepper and then coat the steak. Leave for 30 minutes to marinade.
To make the dressing
Combine the palm sugar, fish sauce, lime juice, chilli and water and set aside.
To make the salad
Cook the steak in either a frying pan or on a BBQ for 3-4 minutes per side, until nicely charred. Remove from the heat and rest for 10 minutes before slicing into very thin slices. Set aside to cool completely as you make the salad.

Toss together the shallot, cucumber, tomato, red chillies, spring onion, mint and cilantro.

Add the beef and half the dressing and gently toss to combine everything.

Decant to a serving platter or bowl and scatter over the peanuts. Serve with dressing on the side to drizzle over as you wish.

Serve with sticky or Jasmine rice. Personally I love to serve mine with Vietnamese broken rice, which is Jasmine rice broken into pieces. It's like rice couscous!
Notes
Peeling and seeding cucumber.
Some cucumbers feature more water than others, especially in the centre where the seeds are. To seed a cucumber is easy, just cut in half lengthways and using a teaspoon gently scrape out the seeds and watery centre.
Most varieties of cucumber have a tough skin that is better peeled off for this salad, with the exception of English/hothouse cucumber that doesn't need to be peeled.
Nutrition
Nutrition Facts
Thai Beef Salad
Amount Per Serving
Calories 161
Calories from Fat 90
% Daily Value*
Fat 10g15%
Cholesterol 23mg8%
Sodium 539mg23%
Potassium 416mg12%
Carbohydrates 10g3%
Protein 11g22%
Vitamin A 898IU18%
Vitamin C 25mg30%
Calcium 47mg5%
Iron 2mg11%
* Percent Daily Values are based on a 2000 calorie diet.
Did you make my Thai Beef Salad
How did you go? Let me know in the comments below and be sure to tag @cookeatworld at Instagram.
This site contains affiliate links to products. We may receive a commission for purchases made through these links. Learn more.