Thai Satay Skewers
My authentic Thai Satay Skewers feature tender, juicy pork and beef, marinated in punchy Thai flavours and charred to perfection on the grill. Mouth watering yet?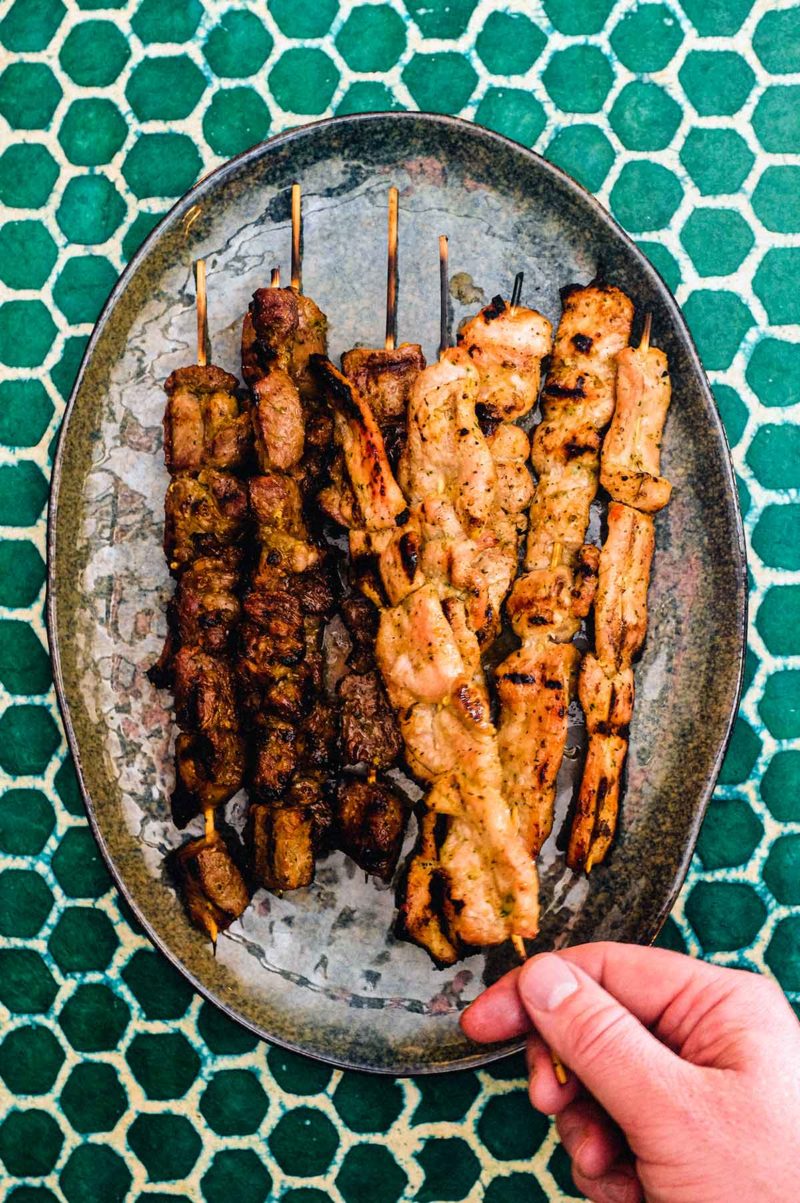 I love nothing more in life than travelling to South East Asia. Cambodia, Malaysia, Singapore and Thailand are amongst some of the most beautiful and amazing places I've visited. And there's one thing that keeps me returning - While there, each night, is the same story - a trip to a hawker street for culinary delights. Food is the sole reason I travel. Sure, I like a temple here and there, but all I can think about the entire time I'm in South East Asia is what I'm going to eat next.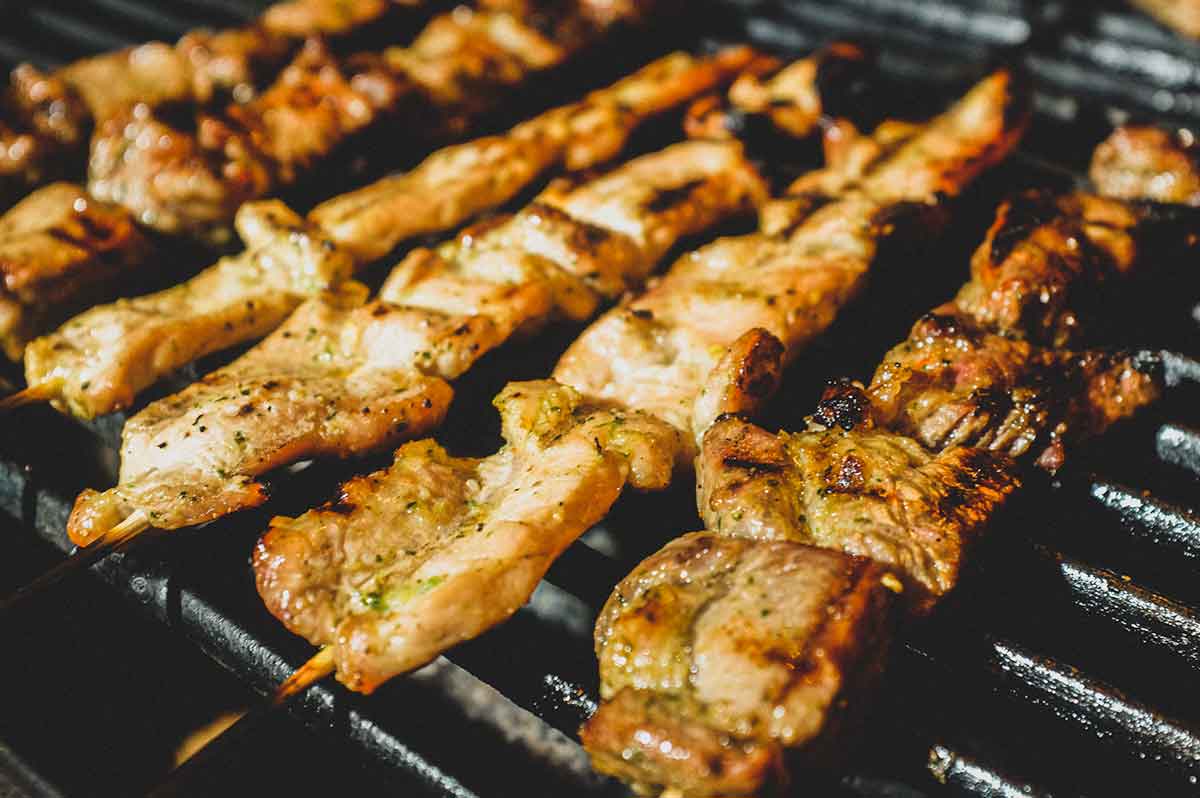 What is Thai Satay?
Satay is synonymous with South East Asia. Indonesian in origin but now so extensively eaten in the region it's hard to say who really owns what. Satay is skewered meat, cooked over hot coals to charred perfection. And it's divine.
In Thailand, the meats are marinated in local ingredients giving them a distinctive taste, authentic to Thailand. Sweet, sour, salt and spice are used to great effect in giving the marinade a balance that only South East Asian cuisine can lay claim to. Thai chillies, fish sauce, sugar and soy help marry the flavours perfectly to enhance the meats, ready for the smoking hot grill.
There are few things in life as satisfying on a balmy (sweaty) Thai evening than an ice cold beer and a few servings of satay. The more beer I drink, the more satay I demand. Things get ugly, very gradually.
The perfect Thai satay sauce - A Thai Peanut dipping sauce.
Thai satay wouldn't be anything without a unique Thai style peanut satay sauce. My recipe for Thai Peanut Dipping Sauce is again, the perfect symphony of sweet, sour, salt and spice - a fragrant burst of nutty flavour so intoxicating you won't be able to stop dipping the satay skewers into the creamy sauce! The two are a marriage made in heaven and simply MUST be eaten together. After a few beers, you'll be pouring it down your neck!
Mix and match meats.
My recipe for Thai Satay Skewers features two meats – beef and pork. I'll also often use chicken breast, cut into small pieces. For the beef I'll always splash out on some decent ribeye steak as it'll stay juicy and moist - I'll always choose a steak that has a bit of fat on it too, I'll thread this onto some pre-soaked wooden skewers at intervals. The fat is perfect for keeping everything moist and juicy, it'll also drip onto the grill creating smoke and flare ups to flavour and char the meat to perfection. And who doesn't love a bit of beef fat!? Incidentally, you don't absolutely need to cook over coals, a gas BBQ is perfectly suitable - you can even cook on a cast iron skillet or under a very hot broiler is BBQing is not an option.
The perfect beer snack or main meal
As I mentioned earlier, I love satay as an appetizer or snack along with a cold beer or two. Invariably my appetiser turns into a main course and then some, so be sure to prepare enough satay to satiate your appetite. I say this recipe will serve 4, but in reality it's more like two (I'm greedy and bad at estimating what normal people eat) so feel free to multiply the ingredients for your level of greediness. I'm sorry I can't be more accurate in serving size - but in reality I could eat this whole platter myself, no problem. This is not a challenge for you - there's no t-shirt to be won. Eat responsibly, and all that.
More delicious Thai recipes
When you're done with Thai Satay Skewers, then why not cook and consume some of my other delicious Thai food. Here are some of my favourite dishes that I cook on the regular:
How to make my Thai Satay Skewers
Thai Satay Skewers
Rate this recipe
Print Recipe
Pin Recipe
Save Recipe
Go to Collections
Calories (per serving) |
511
Instructions
Using a stick blender or food processor the garlic, chillies, pepper, sugar, soy sauce and fish sauce with around ½ cup water.

Separate the pork and beef in two bowls (or small bags) and divide the marinade between the two. Mix well, cover and refrigerate for 24 hours (4 hours minimum). 24 hours will give the best taste!

Before you create the skewers, soak the some 6-inch wooden skewers in water for 2-3 hours. This will stop them completely disintegrating on the grill.

Thread the meat onto the skewers then grill on a hot BBQ grill for about 3-4 minutes per side to char and cook through.

Serve with a Thai dipping sauce and crunchy salad.
Nutrition
Calories:
511
kcal
(26%)
|
Carbohydrates:
31
g
(10%)
|
Protein:
50
g
(100%)
|
Fat:
21
g
(32%)
|
Saturated Fat:
9
g
(56%)
|
Cholesterol:
141
mg
(47%)
|
Sodium:
1081
mg
(47%)
|
Potassium:
824
mg
(24%)
|
Fiber:
1
g
(4%)
|
Sugar:
27
g
(30%)
|
Vitamin A:
35
IU
(1%)
|
Vitamin C:
6
mg
(7%)
|
Calcium:
56
mg
(6%)
|
Iron:
3
mg
(17%)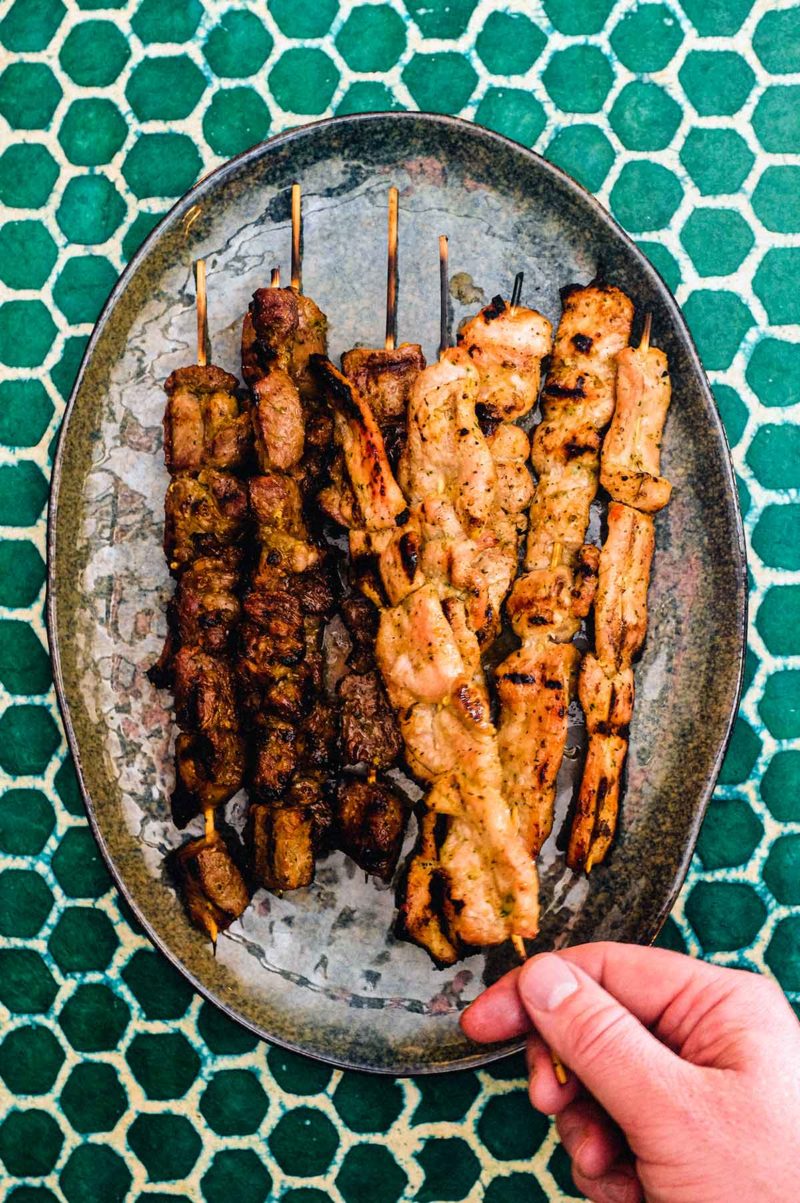 Did you make my Thai Satay Skewers?
How did you go? Let me know in the comments below and be sure to tag @cookeatworld at Instagram.