Laotian Chicken Larb (Larb Gai)
Larb is an extraordinary salad, a national treasure of Laos and it's not hard to see why. Ground chicken (gai) is seasoned to perfection with aromatics and spice – a fresh, zingy pop of flavour.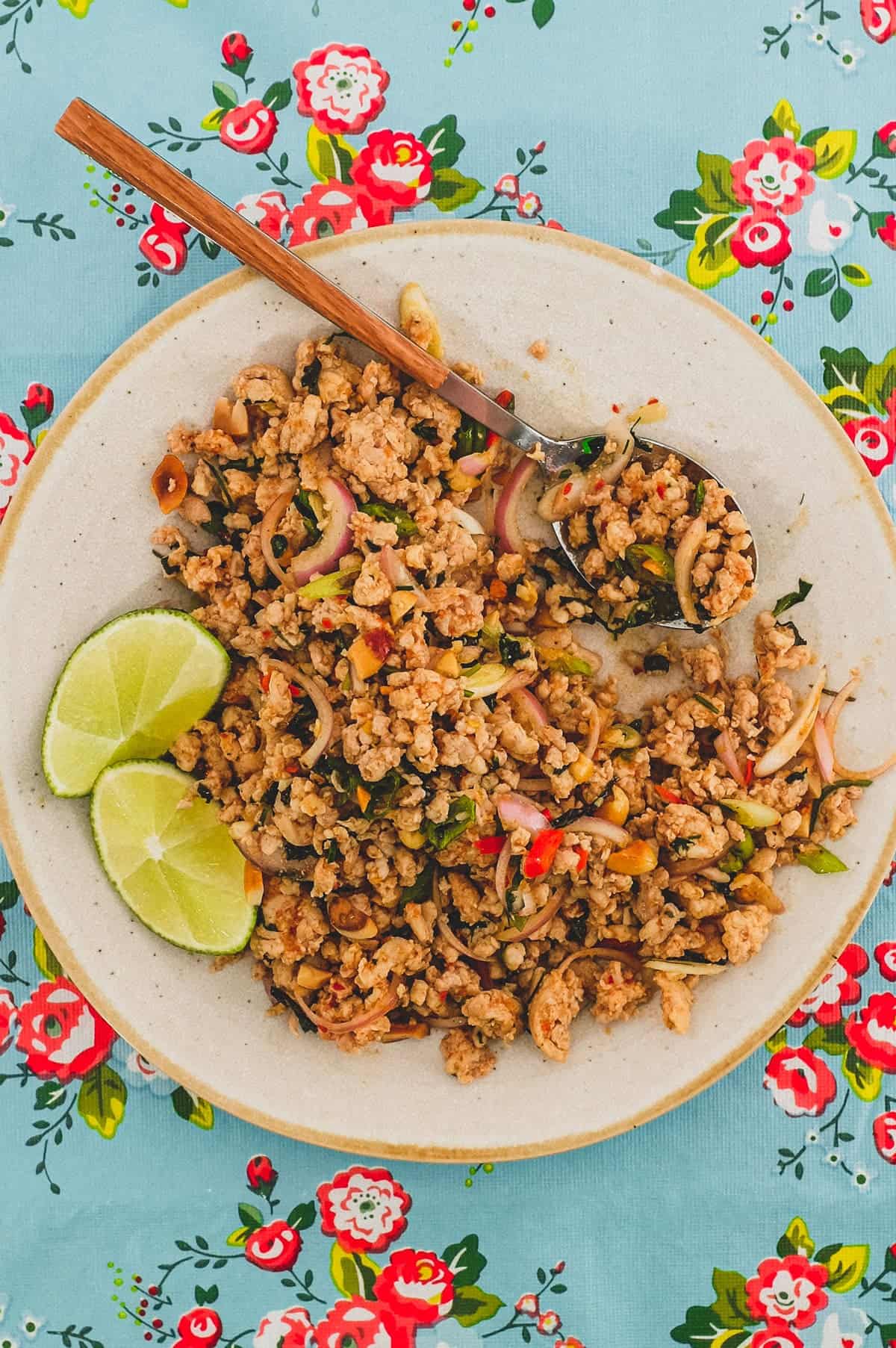 Larb gai is a supercharged, flavour-packed salad that's always top of my list when eating out, but the delights of Laotian larb need not be confined to a restaurant – making your own at home is so easy, and with a few flavour tricks up your sleeve, you'll soon be cooking it all the time.
What is Larb?
The national dish of Laos, larb (also spelled laap, larp, lahb or laab) is a simple, meat-based salad combined with fresh herbs and a salty, sour and spicy dressing.
There are many recipes for larb using a wide variety of meats including chicken (gai), pork, duck, fish and mushrooms – and some that feature unique styles that use raw or cooked meat and even bile as ingredients. It's the most palatable to Western taste, and the variety we see in most Laos and Thai restaurants is poached ground meat combined with herbal, fragrant and spicy ingredients.
Larb is eaten across South East Asia in many forms, including Thailand where I once ate a Larb so spicy I thought it might end my life!
Why it works?
Larb, like many South East Asian dishes is an expertly balanced combination of flavour and texture. Tender ground meat (chicken for our recipe), floral and fragrant herbs and a sour, salty dressing. Finally, an intoxicating hit of chilli spice – as powerful as you like it. It's zingy, bright, and incredibly addictive. It's light enough for a lunchtime snack or part of a dinnertime spread.
Stuff you'll need
The key flavours and ingredients of our larb gai ensure an authentic experience. You can substitute some for more readily available ingredients and still have a great dish. There's a full recipe below.
Toasted rice

- probably the most important ingredient in a larb is the

toasted rice (khao khua). Glutinous rice is dry toasted in a pan until light brown, then roughly ground in a pestle & mortar or spice grinder into a coarse powder. This nuttiness is ESSENTIAL in any larb and brings an amazing flavour and texture to the dish. As a substitute to glutinous rice, use jasmine or long grain. You can also buy toasted rice online.
Fish Sauce - Padaek is the Laos version of fermented fish sauce, the Thai version in Pla Ra. It's a muddy brown sauce that is potent in smell with a salty, umami explosion of flavour. Regular Thai fish sauce, the kind most easily found in supermarkets, will also give great results.
Vegetables - Shallots bring a little crunch to the salad, I add a couple of spring onions too.
Herbs - Mint is the go-to for fragrance. Cilantro is also added and on occasion, holy basil (Thai basil).
Chillies - Small, red Thai chillies are the most authentic. Depending on how hot they are (they can be ferocious) I'll add anywhere between 2-5 - I keep the seeds in for extra heat. You can obviously add less and deseed to keep things civilised!
Dressing - To balance out the heat, a sweet and sour dressing is created using lime juice and palm sugar (you can use regular sugar too).
Nuts – Crunch roasted unsalted peanuts are chopped and stirred into the salad for texture and flavour (you could use cashew nuts too).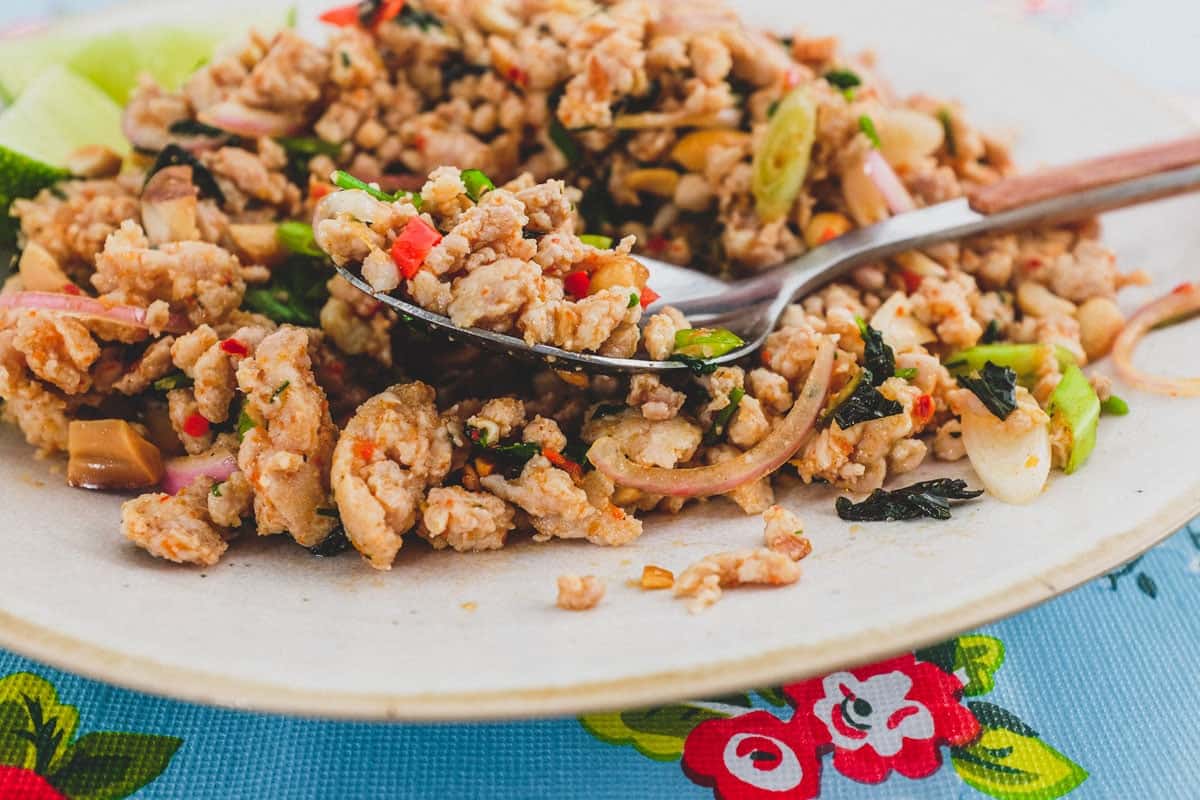 Step by Step
Making your own Chicken Larb at home is super easy. Here's a simple breakdown of the key steps.
Step 1 - Poach the ground chicken. An unusual first step is to gently cook the gound chicken in a little water. It takes a matter of minutes to cook, then we let it cool to room temperature
Step 2 – Toast the rice. In a dry pan, toast the rice for a few minutes until golden brown. Then, using a spice grinder or pestle & mortar, grind into a rough powder, like breadcrumbs.
Step 3 – Stir in the vegetables and dressing - Sprinkle over a little more of the toasted rice and you're good to go. Serve it warm or cold.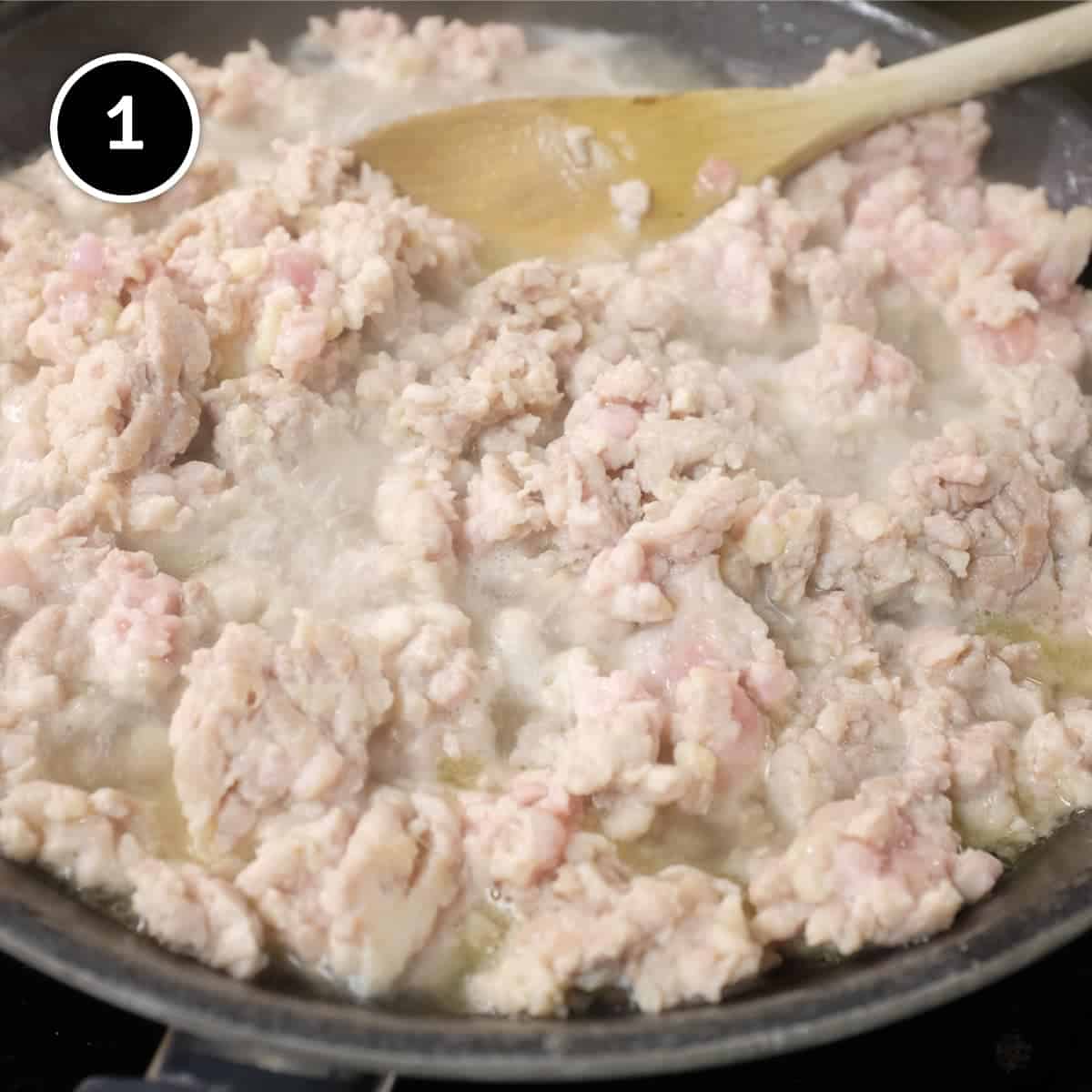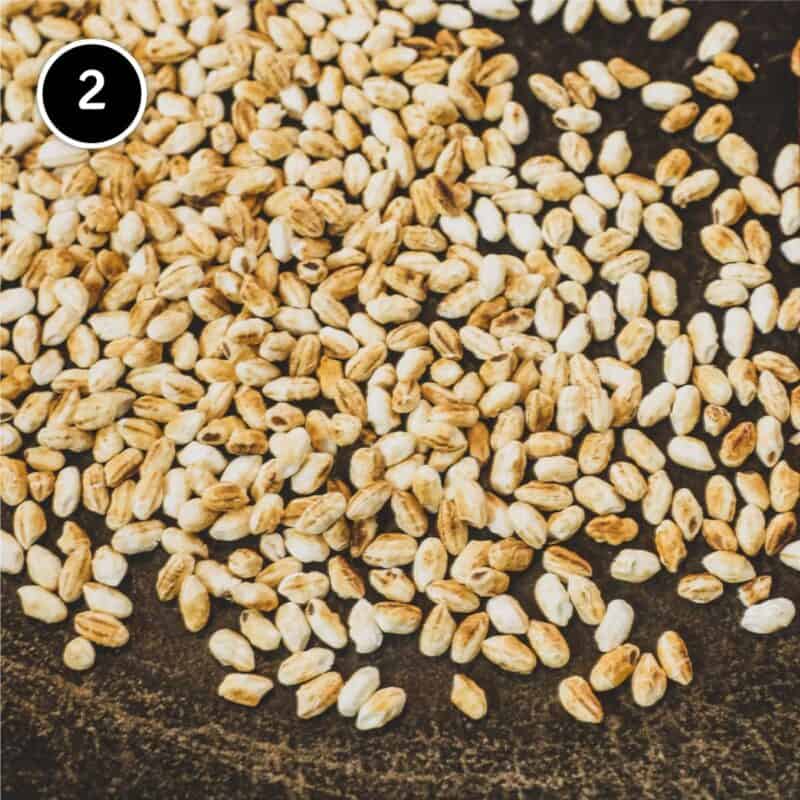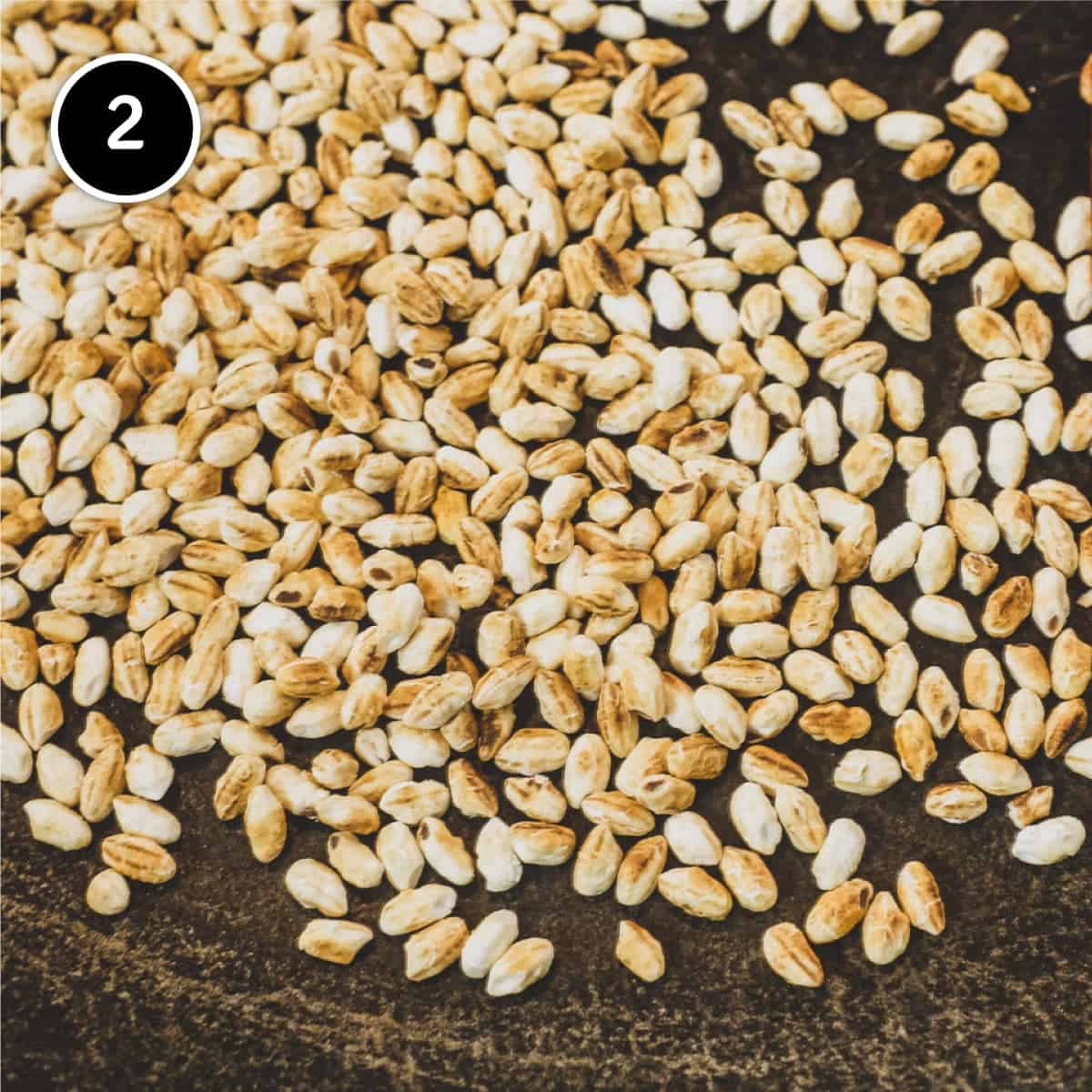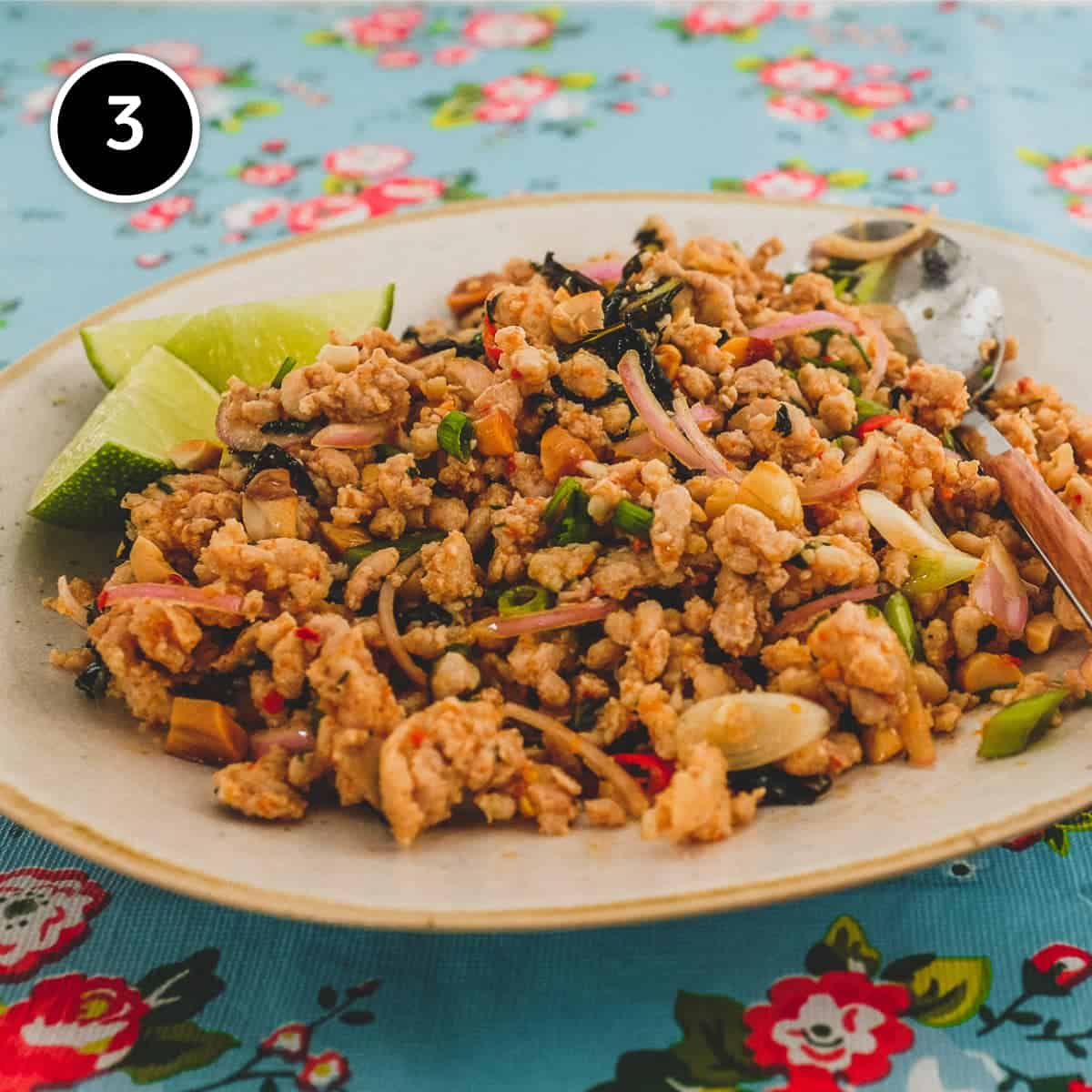 Pro Tips to make your life easier
Larb is already a simple dish to make, but there's room to make your life easier. You can make the salad in advance, and it keeps well in the fridge for a few days in a well-sealed container. It's not really the best contender for freezing, so larb is best served fresh.
Serving and storing suggestions
Serve larb, warm or cold (room temperature).

Serve as part of a larger feast, maybe alongside a Laos Chicken Curry with Bamboo Shoots or some delicious Thai Satay Skewers with Peanut Satay Sauce? It's perfect alongside a healthy portion of sticky rice.

The perfect vehicle for larb is some leaves or lettuce or tender cabbage to wrap the salad – making for the perfect bite-sized combo of crunch and fragrance. Be sure to add a few pieces of lime to squeeze over when eating for the extra hit of zingy freshness.

Traditionally, you can serve the sides of chunks of cucumber, tomato, raw green beans, cabbage or even bitter melon. Lots of fresh, crunchy accompaniments is never a bad thing!
Ready to get cooking?
So, you need not feel intimidated that a larb is out of reach as a home cook, it's the perfect dish to make yourself. So easy, quick, and satisfying. I urge you to try this at home and experiment with levels of sour, salt and spice! Larb might just be the most delicious thing on the menu.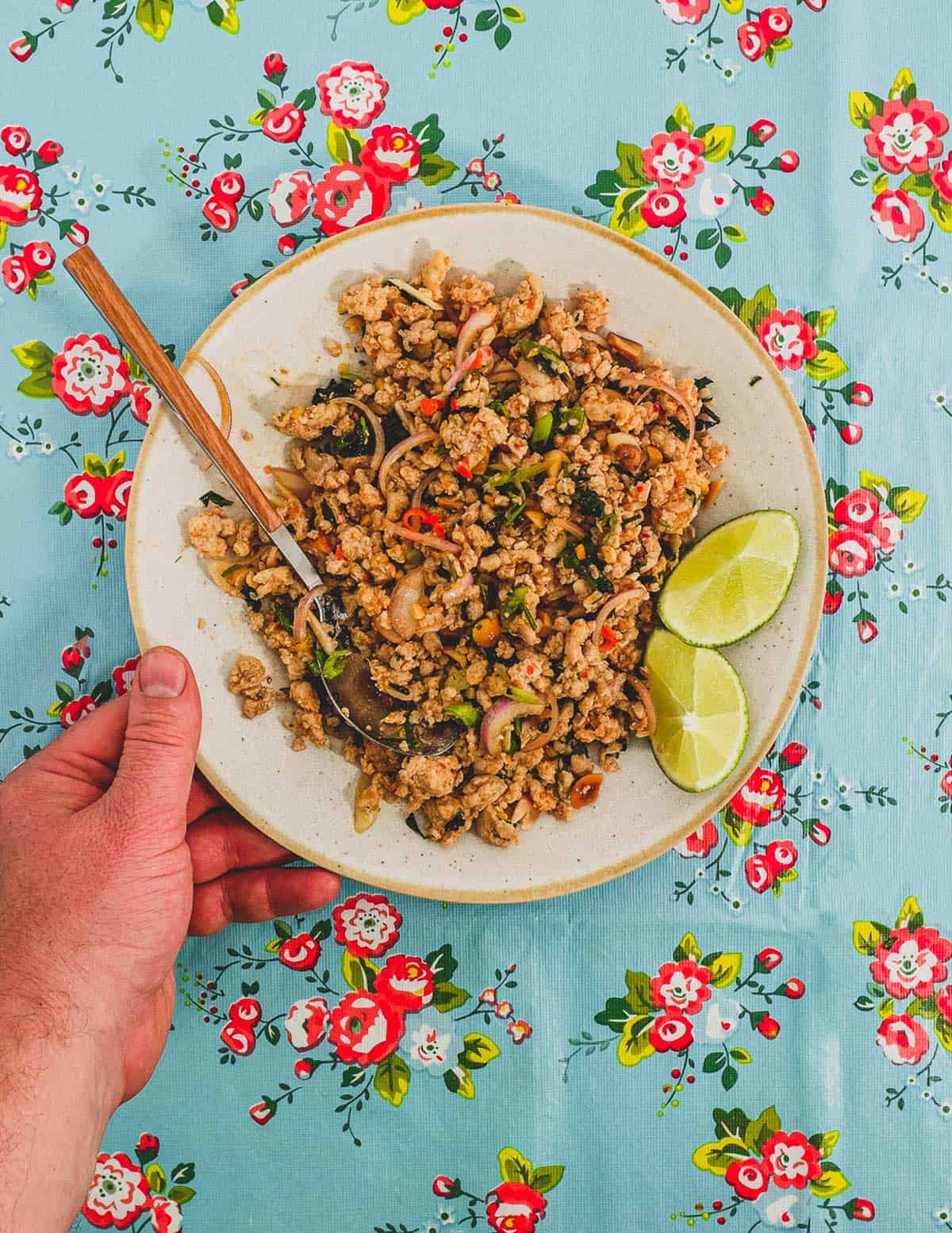 Any Questions? (FAQ)
Have a question about Laotian Larb? Let me know in the comments.
What kind of food is Larb?
Larb is a South East Asian meat salad. Made from a combination of ground meat, usually chicken or pork, with fresh fragrant ingredients like mint, fish sauce and peanuts.
How does Larb taste like?
Larb is a combination of umami saltiness, tangy sourness, and spice. It's a meaty dish but bright and light and packed with fresh fragrance from the use of herbs.
What kind of meat is larb?
Larb is made from all kinds of meat, typically chicken or pork, but often duck, beef, fish and sometimes meatless with mushrooms.
More delicious South East Asian recipes
If you liked this amazing larb recipe, then try some or all of my other delicious South East Asian dishes.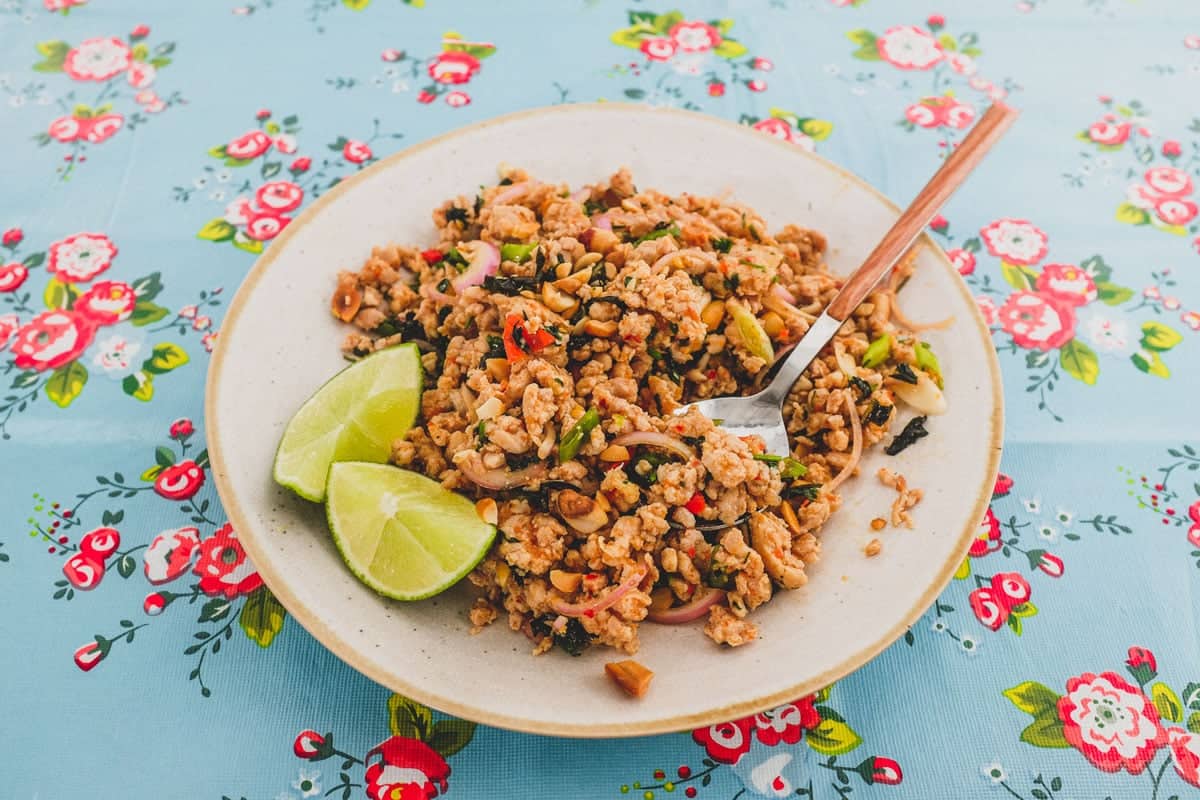 Laotian Chicken Larb (Larb Gai)
Rate this recipe
Print Recipe
Pin Recipe
Save Recipe
Go to Collections
Calories (per serving) |
297
Ingredients
For the salad
14

oz

ground chicken

(400g) (minced)

⅓

cup

shallots

(sliced)

¼

cup

cilantro

(roughly chopped)

¼

cup

mint

(roughly chopped)

2

spring onions

(sliced)

2

Thai chillies

(finely sliced)

1

kaffir lime leaf

(very finely shredded)

⅓

cup

roasted peanuts

(unsalted, chopped roughly)

1

romaine lettuce

(optional)
Instructions
To make the dressing
Add the rice to a dry frying pan and toast for about 2-3 minutes, tossing to evenly brown the grains until golden. Remove from the pan and add to a pestle and mortar or spice grinder.

Grind the rice into a coarse powder, like freshly ground black pepper.

Set aside.

Combine all the other dressing ingedients and whisk until the sugar dissolves. Stir in about half of the rice powder and set everything aside.
To make the salad
Add the chicken to a pan along with about ½ cup water. Spread the chicken evenly across the pan. Turn on the heat to medium and bring to a simmer without stirring. Let is simmer for 1 minute before carefully flipping over the ground chicken. Gently break it into small chunks. You're looking for it to clump together a little and not turn into mush. Break up any large clumps with the back of a wooden spoon.

After about 5 minutes, when you can see no pink from the chicken, remove from the heat and leave to cool completely.

Once cooled, drain the excess water from the chicken. Tip the chicken into a bowl. Stir in the shallots, cilantro, mint, spring onions, chillies, kaffir lime leaf and white pepper. Pour in the dressing and stir well.

Decant to a serving bowl or platter and scatter generously with the chopped peanuts.

Serve at room temperature with romaine lettuce leaves (optional) to make cups with. On the side, serve lime wedges and more of the ground rice to sprinkle over each serving.

Alternatively, serve with sticky or jasmine rice and crunchy raw vegetables on the side.
Notes
Serving - Serve larb warm, straight from the pan or at room temperature. Toasted rice - This stage is somewhat essential for the authentic flavour, but if you can't make that happen your larb will still be delicious without. If you can't get hold of glutinous rice, you can use Jasmine or regular long-grain rice too for similar results. Storing Larb - You can make larb in advance and serve at room temperature when you're ready. Just store in the fridge in a sealed container. It'll stay fresh for 3-5 days Substitutions - Mix up the ingredients. Try other fresh herbs like Thai basil or cilantro (coriander). Try cashew nuts instead of peanuts. You can add other fresh ingredients like blanched green beans, carrots or fresh cucumber, tomatoes, radishes or beansprouts. Freezing - I don't advise freezing – larb is definitely best served fresh.
Nutrition
Calories:
297
kcal
(15%)
|
Carbohydrates:
21
g
(7%)
|
Protein:
23
g
(46%)
|
Fat:
15
g
(23%)
|
Saturated Fat:
3
g
(19%)
|
Polyunsaturated Fat:
4
g
|
Monounsaturated Fat:
6
g
|
Trans Fat:
1
g
|
Cholesterol:
85
mg
(28%)
|
Sodium:
903
mg
(39%)
|
Potassium:
842
mg
(24%)
|
Fiber:
4
g
(17%)
|
Sugar:
7
g
(8%)
|
Vitamin A:
1457
IU
(29%)
|
Vitamin C:
10
mg
(12%)
|
Calcium:
60
mg
(6%)
|
Iron:
3
mg
(17%)