Thai Crying Tiger Beef with Nam Jim Jaew Sauce
Juicy marinated and grilled steak is paired with an intensely fragrant and spicy Thai dipping sauce Nam Jim Jaew. Find out why the tigers were crying for this classic, and delicious Thai favourite.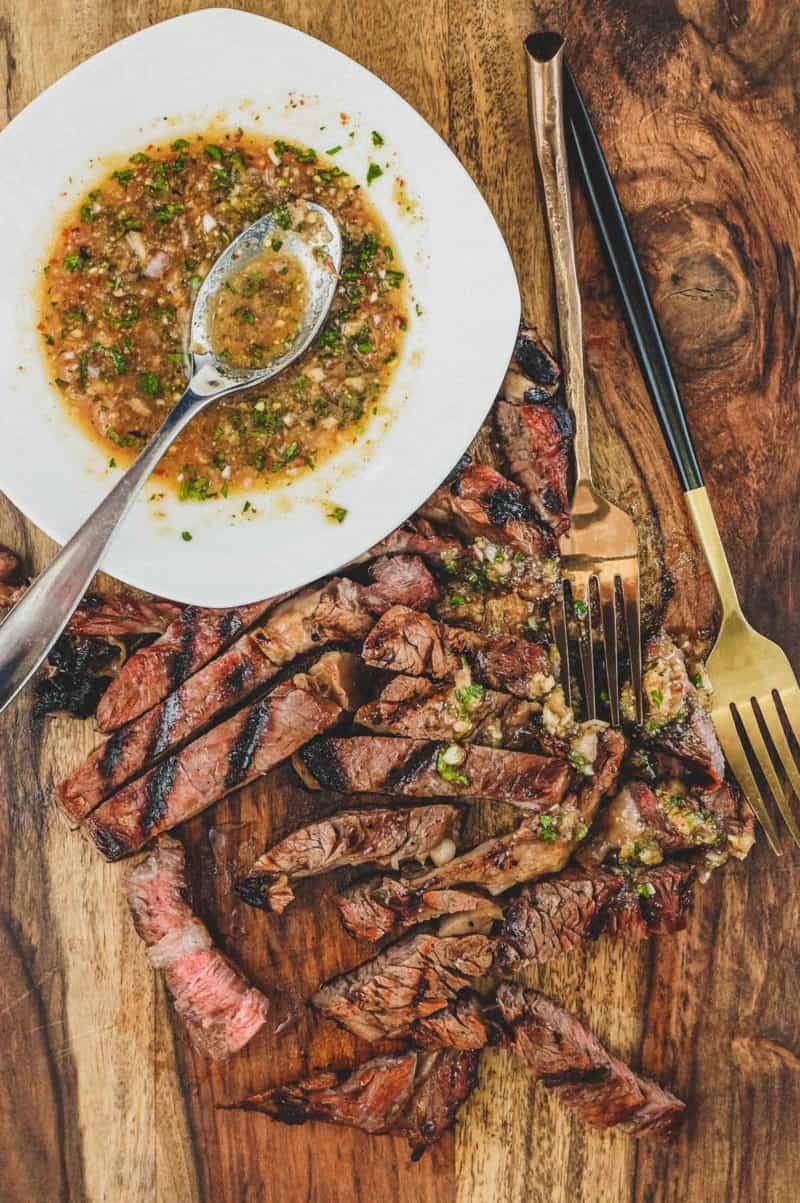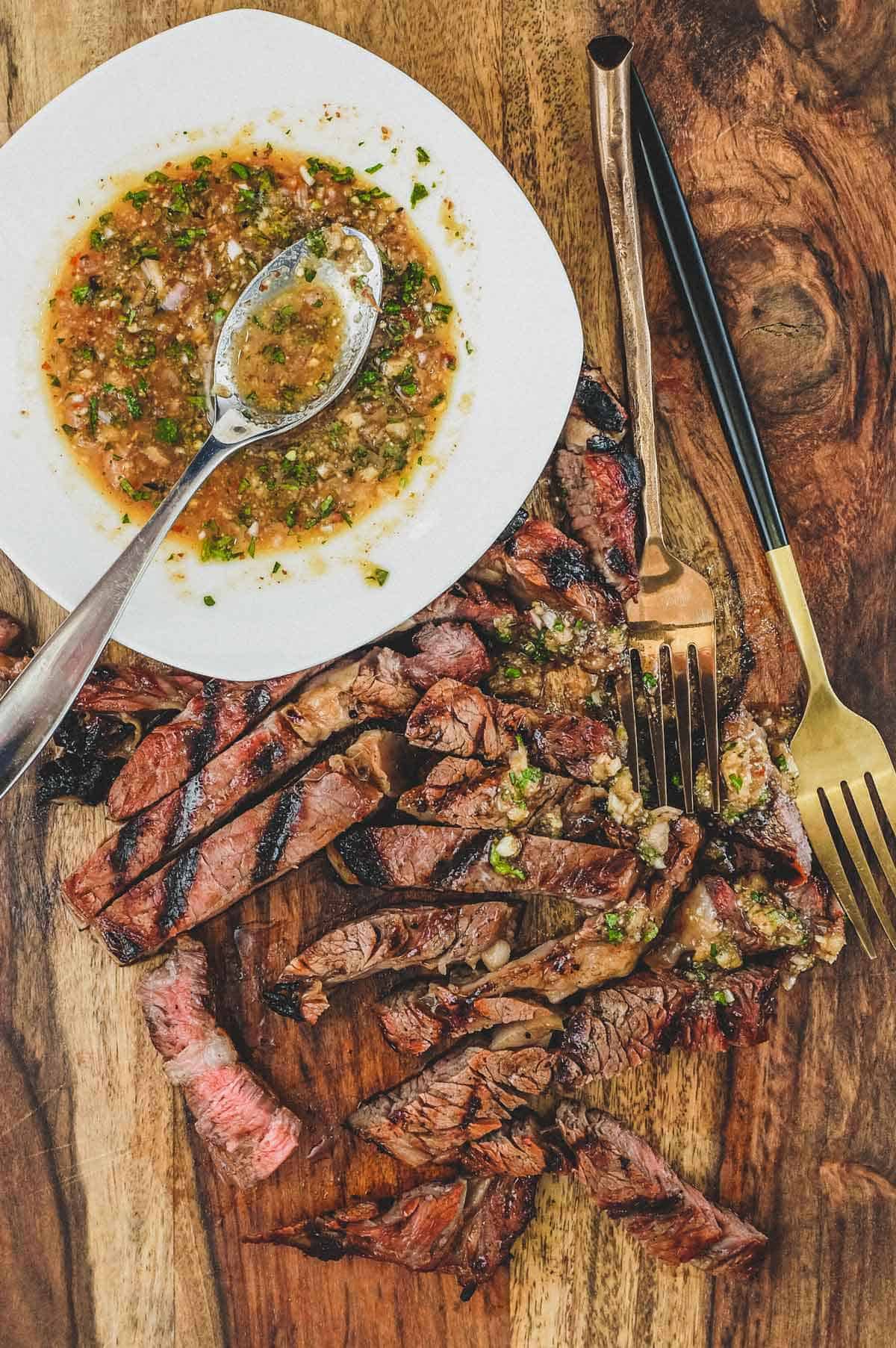 Crying Tiger Beef (เสือร้องไห้) is an amazing Northern Thai dish that features juicy, tender steak (traditionally brisket, but mostly using better cuts these days) marinated for extra flavour then charred on the grill. The grilled beef is then paired with a fiery and supercharged umami Nam Jim Jaew dipping sauce, an intense hit of salt, sweet, sour and spice.
What is Crying tiger beef (เสือร้องไห้)?
As legend has it, Crying Tiger Beef or Weeping Tiger Beef (Suea Rong Hai) gets its name from local folklore from the Isan region of Northern Thailand. Villagers believed that the tigers who attacked their cows and ate them would often leave the brisket section. The villagers would then use this leftover to create the delicious and revered dish Crying Tiger. They imagined that the tigers would be so sad to miss out on this feast that they would shed a few tears!
There are a million and one theories as to why the tigers were crying, so believe which explanation you like.
Why it works
It's juicy - A good steak, with a simple marinade charred on a hot grill to the perfect medium-rare cook is pretty hard to beat.
It's fiery - The Nam Jim Jaew dipping sauce is the star. An intense umami hit of spice and flavour.
It's easy - Honestly, this dish is one of the simplest to make at home. And one of the most impressive too.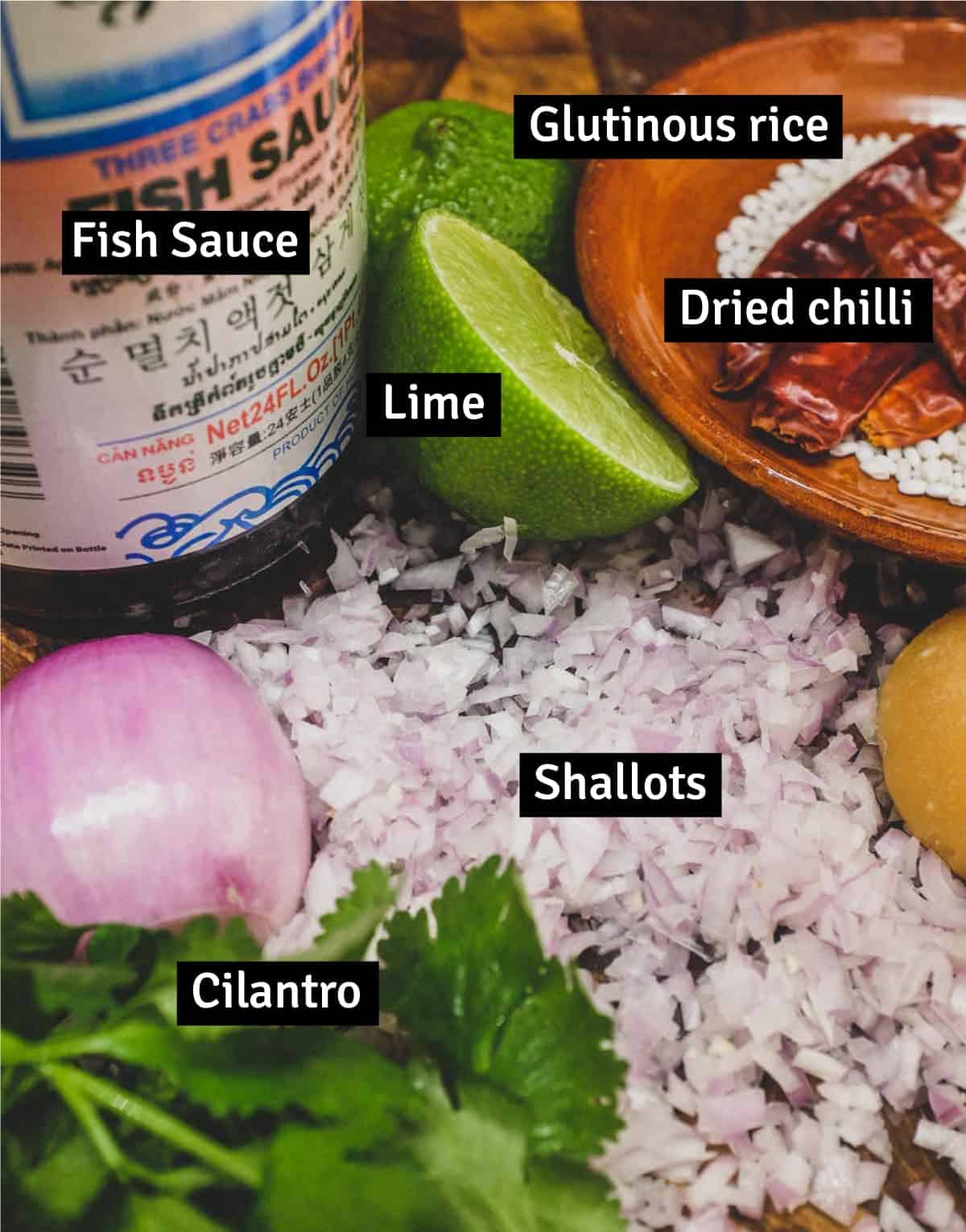 Stuff you'll need
Getting the tigers to cry is easy! You'll be an expert in no time. See what goes into creating the flavour for this classic Thai dish.
For the Marinade
For the marinade: Dark Soy, Fish Sauce and Oyster Sauce combine into an umami burst that permeates and tenderises the meat.
For the Nam Jim Jaew Dipping Sauce: Shallots and cilantro (coriander) are mixed with a combination of sweet, sour, spice and salt!
One special ingredient is a toasted and ground sweet/glutinous rice called 'Khao Kua' which gives a wonderful nutty flavour and light crunchy texture. Try my Lao recipe for Chicken Larb which uses Khao Kua too. You can buy Khao Kua pre-ground if you like, combine with chilli flakes and skip the grinding rice step completely.
Step by Step
It couldn't be easier to make crying tiger beef. Here's how it's done.
Step 1 - Marinate the beef


Combine the sauces and

coat

the steaks. I typically will marinate for about 1 hour, but longer is better. If you're marinating for more than an hour, cover and refrigerate and when you're ready, bring to room temperature for about 30 minutes.

Step 2 - Toast the rice & chilli
Dry toast the glutinous rice and chillies in a pan. They'll brown and begin to jump around. Using a spice grinder or pestle & mortar, blend to create a lightly rough grind. Like cracked black pepper.
Step 3 - Make the Nam Jim Jaew


Combine all the remaining Nam Jim Jaew ingredients and stir well.

Step 4 - Cook your steak and serve


Cook your steak to a medium rare 3-4 minutes each side (depending on thickness) Let it rest for minute or two. Arrange on a platter and drizzle over a little of the sauce and serve with more sauce on the side. I also like to add a few crunchy lettuce leaves to use as cups for the juicy steak.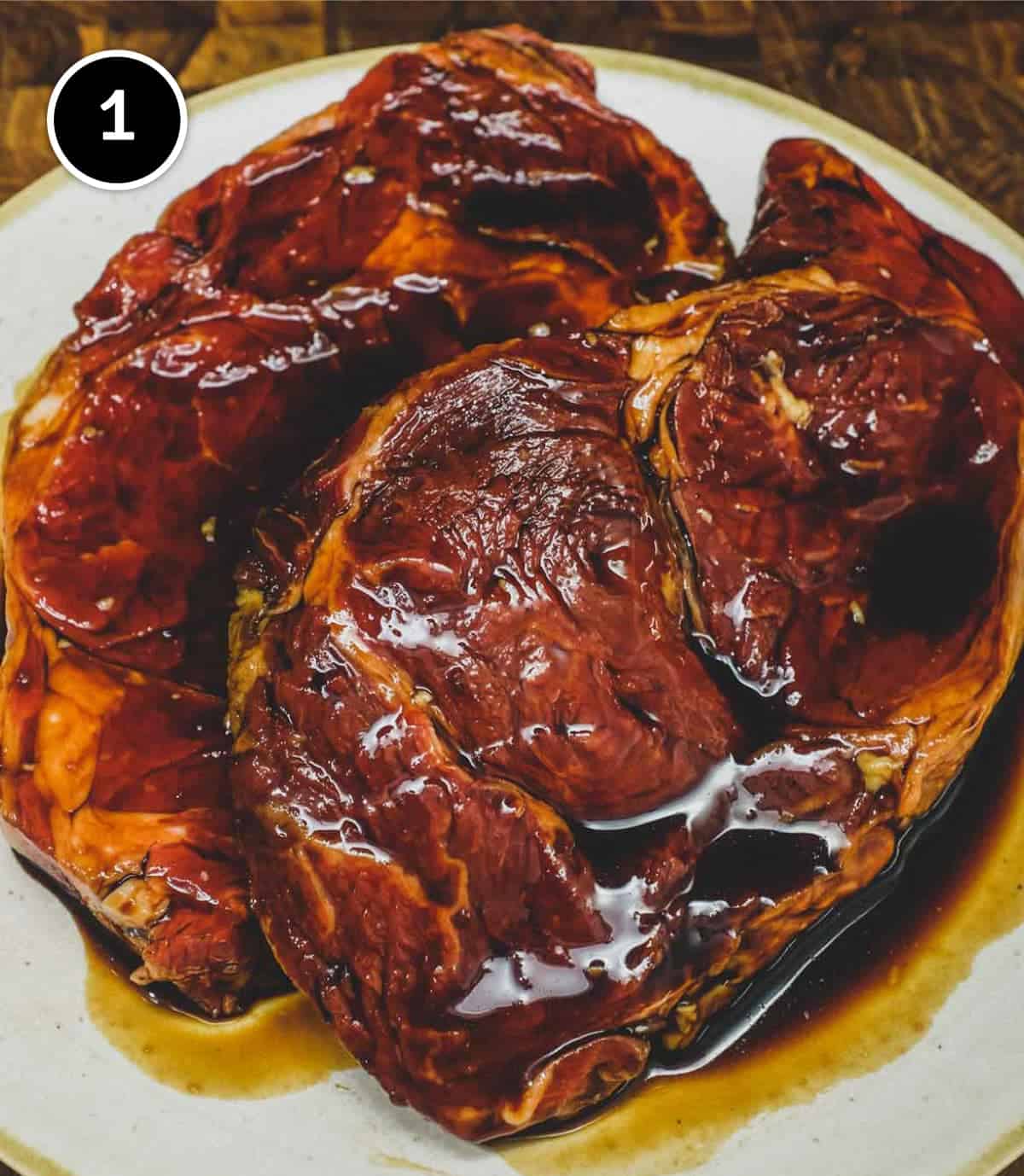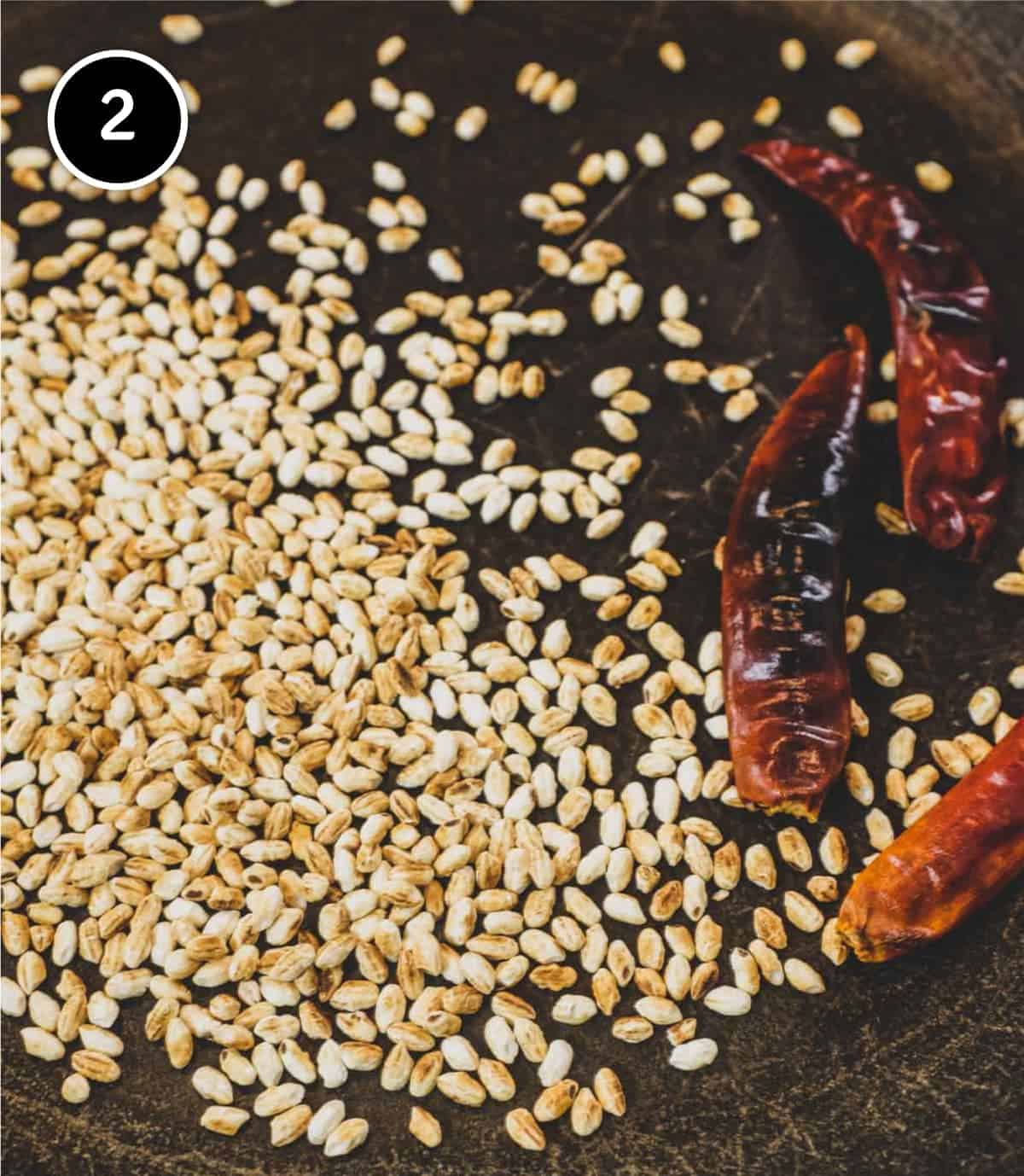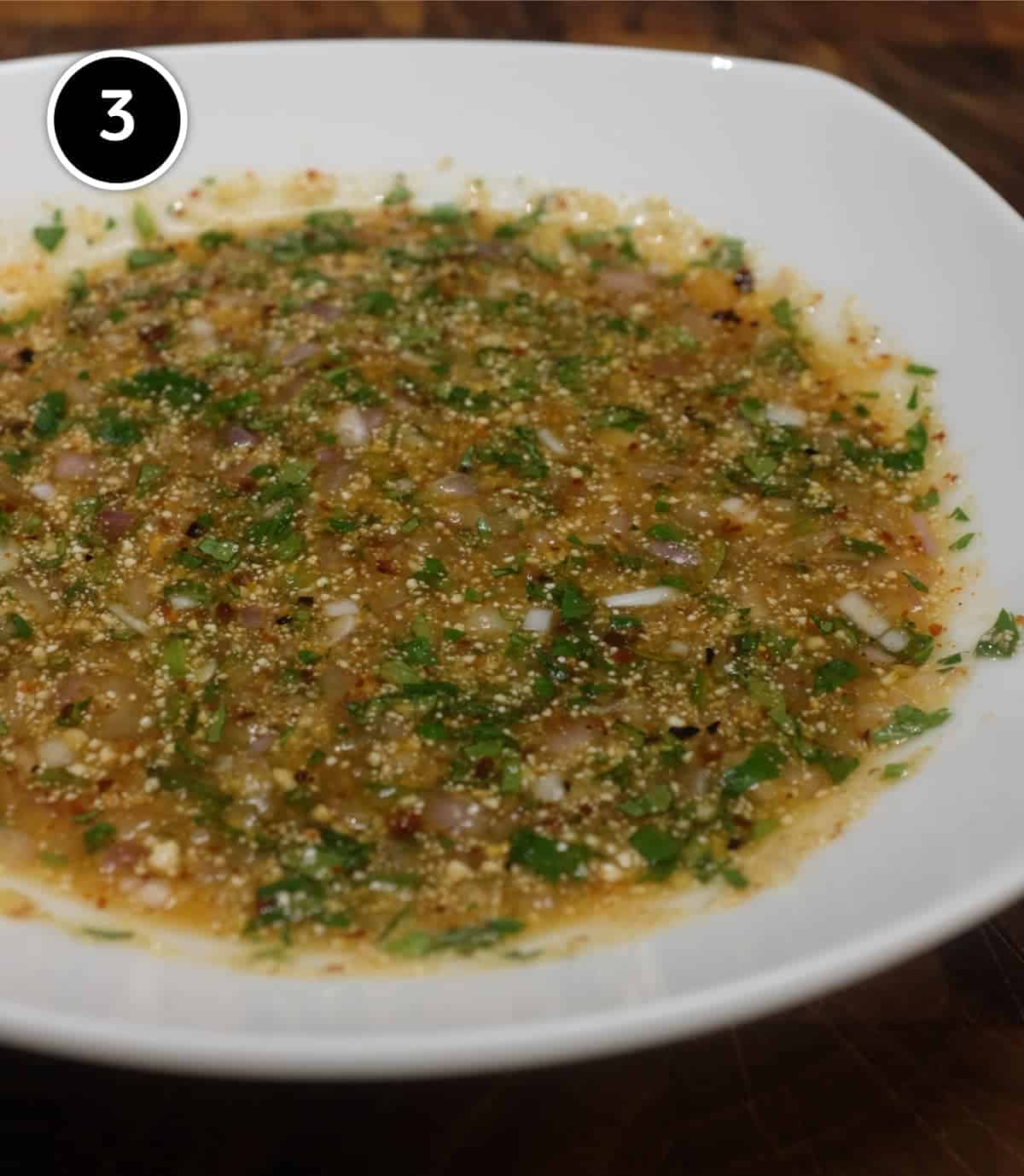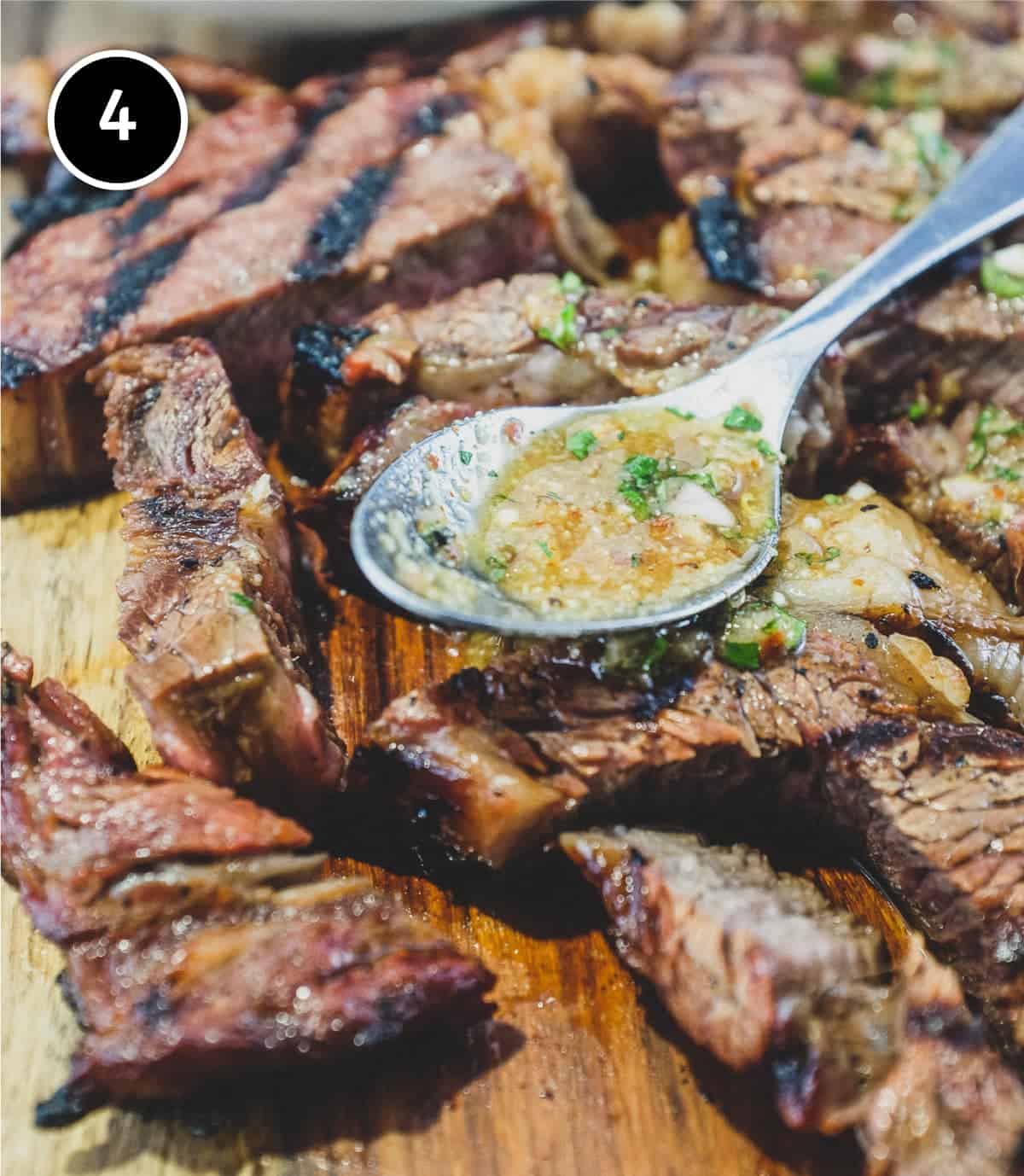 Pro Tips to make your life easier
Pre

ground rice - Buy pre-ground glutinous rice Khao Kua

from many Asian supermarkets and combine with

hot chilli flakes

instead of grinding your own.

Pre- Prep - Marinate your steak the day before for even more flavour.
Pre-Prep - You can make the Nam Jim Jaew dipping sauce in advance, but hold back from adding the ground rice as it will soak up the sauce and swell if left for too long. Add it just before serving for best results. You can still refrigerate any leftover sauce with rice in it, the flavour is still amazing!
Which cut of beef is best for Crying Tiger?
Steak is most often used over the traditional brisket cut, I like to use:
Ribeye - My favourite cut as it's a great combination of fat and meat. The fat will create flare-ups on the grill, giving you excellent char and smoke opportunities!
New York Strip - A nice meaty cut of steak that's perfect for slicing.
Hanger Steak - with more texture, hanger steak, cut against the grain, is a fantastic choice for crying tiger.
T-Bone - like ribeye, a good juicy choice of steak for this dish, albeit a little harder to slice.
You can cook your steak on the BBQ Grill or in a pan or skillet. In Thailand, the beef can also be deep fried, but this doesn't really appeal to me, so I wouldn't get too behind that method!
Serving and storing suggestions
Crying tiger is best served hot, straight from the grill. I like to drizzlelittle of the dipping sauce over the

grilled

steak. I serve the rest of the sauce on the side. I also like to add some crispy lettuce leaves on the side to act as cups for the beef.
Storage:
Refrigerate:

If you have leftovers, refrigerate the meat and leftover sauce for up to 3-4 days. Eat cold, reheated steak might get a bit tough, so I'd say cold is better.

Freeze:

Neither the steak or sauce is a good contender for freezing. Fresh is best on this occasion.
Leftovers Serving Suggestion:
If you have leftover meat and sauce, make a Thai beef noodle salad by combining the steak (cut into smaller pieces) with cooked rice vermicelli noodles, shredded lettuce, carrots and cubed cucumber and diced tomato. Add a little mint or cilantro and toss through some of the dipping sauce as a dressing.
Ready to get cooking?
As you see, preparing Crying Tiger is nothing to shed tears over... it's so easy! And I must tell you, it's so delicious, a big hit whenever I serve - especially the Nam Jim Jaew - I can't get enough of the stuff! Hope you enjoy too!
Any Questions? (FAQ)
Have a question about Crying Tiger Beef? Let me know in the comments.
Why is it called Crying Tiger Beef?
Thai folklore has many reasons why, but nobody can agree. The version of the story I like is that Thai villagers noticed that the tigers who ate their cows would often leave the brisket section. The villagers would then use this leftover to create Crying Tiger. They believed that the tigers would be so sad to miss out and shed a few tears!
Is crying tiger beef spicy?
The beef itself is not spicy. The Nam Jim Jaew is spicy as it contains ground chilli. You can dial the heat up or down to your own taste or leave out the chilli completely.
More Delicious Thai recipes to cook at home
So, as you can see Crying Tiger Beef is a wonderful authentic Thai dish to try at home - jammed with flavour and texture. To sample more of my Favourite Thai Recipes, can I tempt you with one or all of these?
Thai Crying Tiger Beef with Nam Jim Jaew Sauce
Rate this recipe
Print Recipe
Save Recipe
Go to Collections
Calories (per serving) |
301
Ingredients
For the Nam Jim Jaew dipping sauce
Instructions
For the Marinade
Combine together the soy sauce, oyster sauce, sugar and fish sauce.

Pour the mixture over the steak and smooth over both sides to cover. Leave to marinate for at least 1 hour, turning once or twice to recoat the meat in the marinade.

If you're marinating for longer, cover the meat and refrigerate for up to 24 hours.

When you're ready to cook, remove from the fridge and bring up to room temperature for 30 minutes or so.
For the Nam Jim Jaew dipping sauce
In a dry frying pan, add the rice and the chillies. Dry fry to toast the rice. The grains will bounce around the pan a little. Remove when lightly browned.

Tip the rice and chillies into a pestle & mortar or spice grinder and grind into a rough powder (like a ground black pepper consistency).

Combine this mixture with all the other dipping sauce ingredients and stir well. Add a little water if you like, to thin out the mixture. refrigerate until needed.
Cooking the beef
Cook your steaks on a BBQ grill or in a griddle/skillet pan, until cooked how you like. I cooked my ribeye steaks (10oz/300g) for around 4 minutes per side for a 'medium' cook.

Rest the meat for 2-3 minutes then thickly slice and arrange on a platter or board. Drizzle over a little of the sauce and serve.

Serve with small individual bowls of the dipping sauce for each person.
Notes
Alt Cooking Methods
You can cook your beef in a number of ways. On the hot bbq grill is best for charring and imparting a smoky flavour. That said, you can also use a pan or skillet to cook the steak or a hot broiler/grill.
Ingredient Substitutions
Substitute the glutinous rice and dried chillies with pre bought Khao Kua (pre-ground rice) which is available at Vietnamese supermarkets or online, and chilli flakes.
You can use other meats for crying tiger. Use chicken, duck, pork or lamb and cook accordingly until done.
Serving suggestions
Serve hot with some crunchy lettuce leaves on the side to act as a cup.
I also like to have some sticky rice or coconut rice nearby and maybe even a hot, spicy papaya salad.
Storage
Fridge: Keep leftovers (meat and sauce) in the fridge for 3-4 days.
Freezer: Not a great contender for freezing, so avoid.
Nutrition
Calories:
301
kcal
(15%)
|
Carbohydrates:
15
g
(5%)
|
Protein:
25
g
(50%)
|
Fat:
16
g
(25%)
|
Saturated Fat:
7
g
(44%)
|
Cholesterol:
69
mg
(23%)
|
Sodium:
1941
mg
(84%)
|
Potassium:
456
mg
(13%)
|
Fiber:
1
g
(4%)
|
Sugar:
7
g
(8%)
|
Vitamin A:
163
IU
(3%)
|
Vitamin C:
6
mg
(7%)
|
Calcium:
27
mg
(3%)
|
Iron:
2
mg
(11%)