Saag Gosht (Lamb & Spinach Curry)
Saag Gosht is a wonderful, rich and flavourful North Indian/Pakistani lamb curry, where juicy, tender lamb meets creamy spinach. The sauce packed with flavour, fragrance and the most luxurious texture.
This Saag Gosht recipe, often called Lamb Saagwala or Lamb Palak, is one of my most favourite curries to make at home. The texture and creaminess of the leafy sauce is something very special indeed. In my recipe, the tender meat pieces are slow-cooked in a rich, luxurious sauce that clings to the fork-tender morsels of meat – so decadent and intensely delicious.
What is Saag?
Contrary to popular belief, Saag isn't exclusively spinach – in English in translates as simply 'leaf'. A variety of leaves can be used, including mustard, fenugreek, spinach, chard and more. Typically, in the North of India and Pakistan, mustard greens are the most common. In my lamb saag gosht recipe we're using chard leaves (silverbeet) – and a LOT of them!
Indian saag curry is a combination of either vegetables, seafood, meat and sometimes paneer cheese with chopped or pureed greens that forms a glossy, earthy and super flavourful sauce.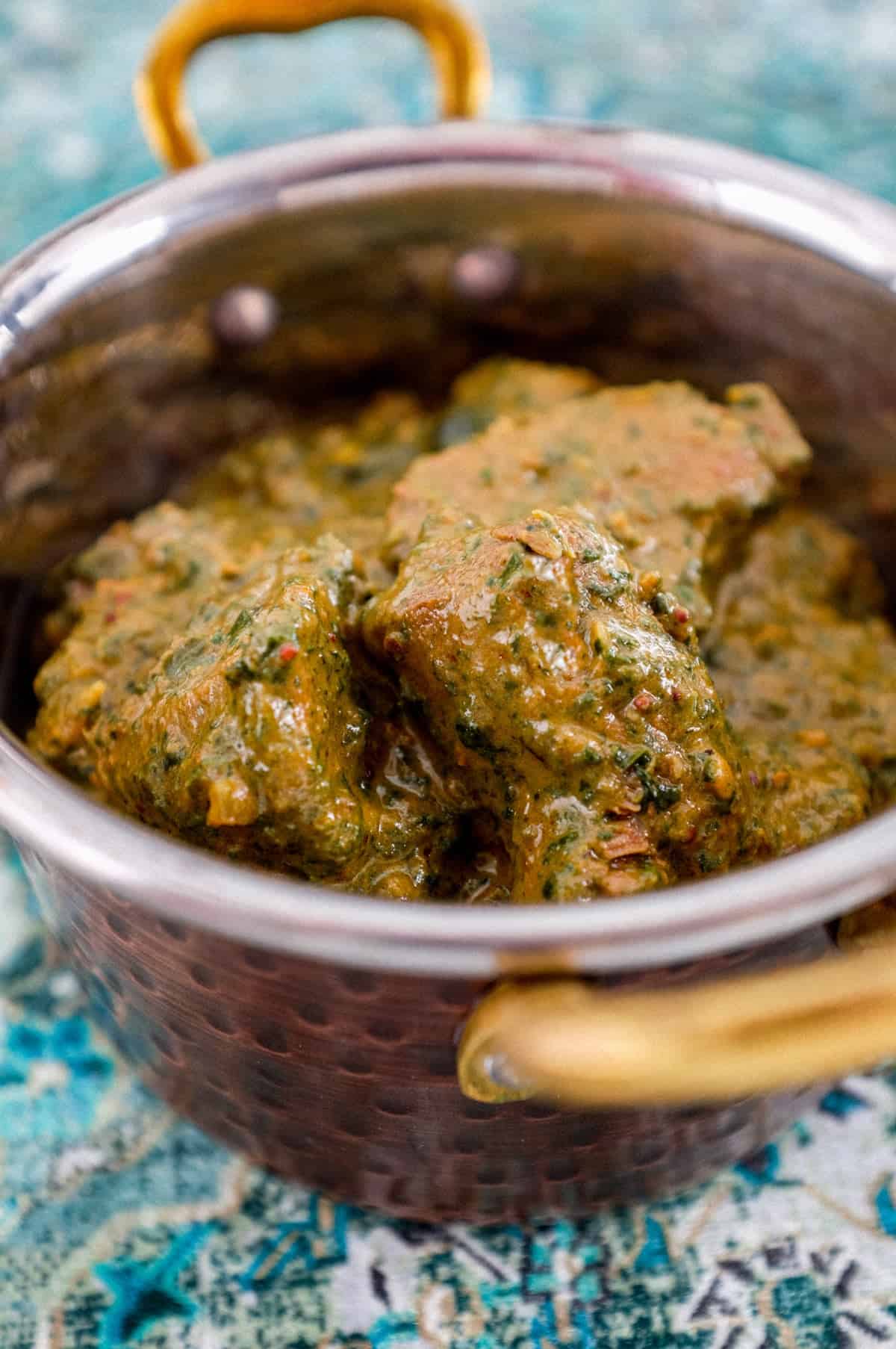 Stuff you'll need
To make this authentic lamb saag gosht curry, there's quite a roll call of ingredients! The key flavours are outlined below and it goes without saying that each ingredient is worth it. The full recipe and how-to is down below.
Lamb (you can also make this with beef or pork if you prefer)
Chard/Silverbeet (I love chard for this recipe – you get to use the leaves AND the stems) – you can substitute for spinach, fresh fenugreek leaves or mustard greens too – you'll need about 2 cups of COOKED leaves.
Whole spices (cinnamon, cardamom, mustard, cumin, star anise, fennel, bay leaves and fenugreek seeds)
Ground spices (cumin, coriander, paprika, turmeric and garam masala
Fresh chillies (small Indian chilies is where all the heat comes from)
Tomatoes
Coconut milk (this dish typically uses yoghurt, but coconut milk is often used too)
Methi Masoori (dried fenugreek leaves give a wonderful finish to this curry)
Mango Pickles (Punjabi mango pickles added at the end is a stroke of genius!)
Step by Step
Cook the leaves and squeeze out any excess water – this will avoid your curry becoming watery. Puree this roughly, ready to stir into the sauce later.
Season the oil with the whole spices then fry the onion and chard stems until soft
Add the garlic and ginger along with the ground spices and a little coconut milk to cook them out a little.
Add the lamb and then everything else and simmer for 1 1/2 hours.
Stir in the spinach
Stir in the Pickles and Methi Kasoori – an amazing finish to the curry
Tips, Tricks and Substitutes
As I mentioned earlier, many types of leaves can be used for Saag Gosht – this recipe uses chard/silverbeet, but try fenugreek leaves (frozen or fresh from the Indian supermarket), Mustard Greens, Spinach or Kale. You can short cut by using frozen spinach or even canned (be sure to drain it over a sieve, also do not use the creamed spinach variety).
To make this curry a little more luxurious, stir in 1/2 cup cream at the end. You'll get an extra luxe texture. It's worth it, trust me!
Meats can be changed up too – try beef or pork. If you're looking for a chicken version, I have a recipe for Chicken Saag that's well worth the effort.
More delicious curry recipes
If you like this recipe, try more of my delicious Northern Indian curry recipes.
How to make Saag Gosht (Lamb & Spinach Curry)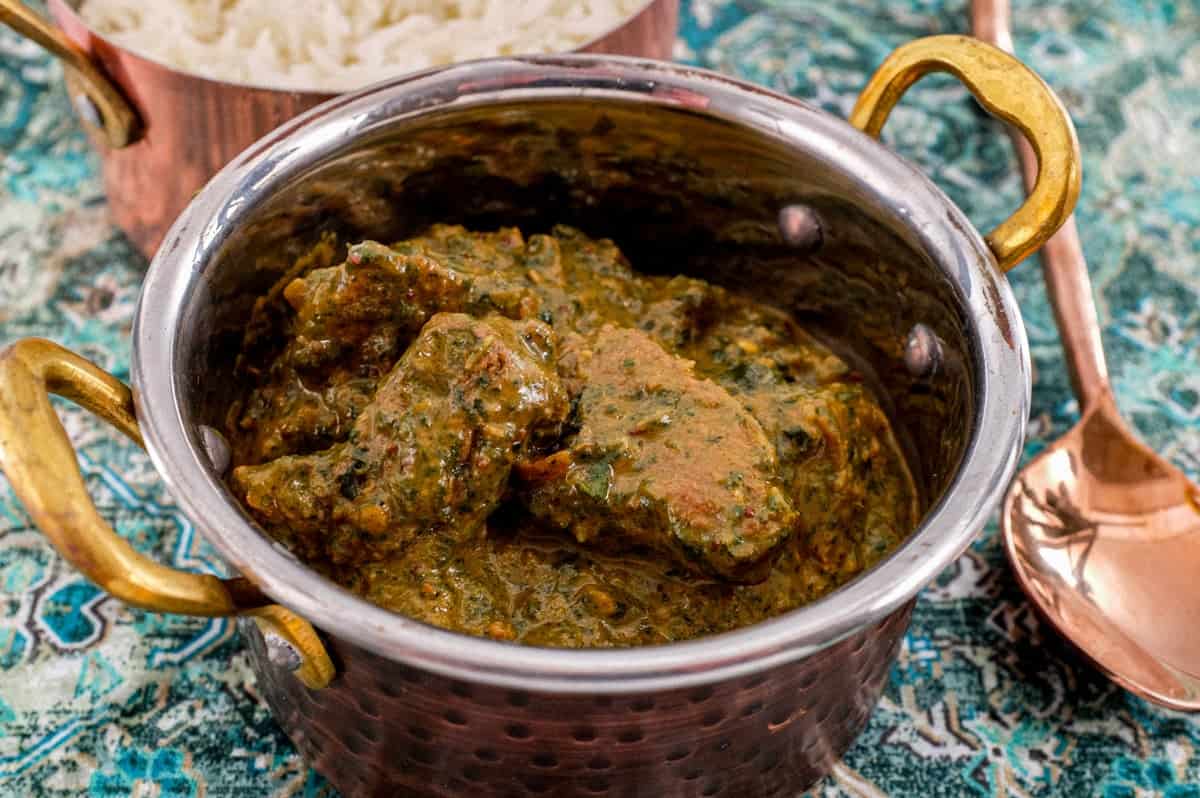 Saag Gosht (Lamb & Spinach Curry)
Rate this recipe
Print Recipe
Pin Recipe
Save Recipe
Go to Collections
Calories (per serving) |
360
Instructions
To make the saag puree
Remove the leaves from the stems of the chard, keep half of the stems and with a knife, chop into small dice.

Rinse the leaves under the tap and shake a little. Place them into a large pan and heat over a medium/high heat with a lid on for 3-4 minutes, stirring occasionally. They will wilt and begin to cook.

Remove from the pan and place in a large sieve over a bowl. Leave to cool for 10 minutes. After cooling, tip them onto a clean tea towel and gather up everything into a ball. Squeeze out as much liquid as you can.

Place the chard ball into a food processor or use an immersion blender to blend into a rough puree. Set aside.
To make the curry
Heat a large pan over a moderate heat with the oil. When hot, add the cinnamon stick, cardamom pods, mustard seeds, cumin seeds, star anise, fennel seeds, bay leaves, fenugreek seeds, salt and pepper and let them sizzle for 30 seconds.

Add the onion and chard stems and stir fry for 5 minutes until soft and golden.

Add the garlic, ginger and chillies and fry for 2 mintutes before adding the tomatoes with 1/4 cup water. Let them cook, stirring until they create a paste, about 3-4 minutes.

Now add the cumin powder, coriander, paprika, turmeric and garam masala together with about 1/2 cup of the coconut milk. Let this sizzle and reduce for 3-4 minutes.

Add the lamb and stir well to coat everything. Bring to a simmer and turn up the heat to let it cook for 3-4 minutes, stirring regularly to avoid sticking.

Pour in the remaining coconut milk, top up the can with water and pour that in too. Bring to a simmer, reduce the heat to low and gently cook the curry for 1 1/2 hours, partially covered. Stir regularly and add a little water if it reduces too much. We're looking for a rich, creamy sauce if it's too thin, remove the lid to let it reduce a little.

Add the pureed chard leaves along wth the chopped pickles and cook for another 5 minutes, partially covered.

Optional step - Add the cream and stir well. simmer for 2-3 minutes.

Place the methi kasoori between your palms and rub together to form a powder over the sauce. Stir well and remove from the heat.

Serve with fluffy basmati rice or Indian breads like roti, chapati, naan etc.
Nutrition
Calories:
360
kcal
(18%)
|
Carbohydrates:
21
g
(7%)
|
Protein:
17
g
(34%)
|
Fat:
25
g
(38%)
|
Saturated Fat:
18
g
(113%)
|
Polyunsaturated Fat:
1
g
|
Monounsaturated Fat:
4
g
|
Cholesterol:
64
mg
(21%)
|
Sodium:
1138
mg
(49%)
|
Potassium:
1101
mg
(31%)
|
Fiber:
7
g
(29%)
|
Sugar:
7
g
(8%)
|
Vitamin A:
10151
IU
(203%)
|
Vitamin C:
61
mg
(74%)
|
Calcium:
153
mg
(15%)
|
Iron:
7
mg
(39%)
Did you make my Saag Gosht (Lamb & Spinach Curry)
How did you go? Let me know in the comments below and be sure to tag @cookeatworld at Instagram.