Saag Aloo (Spinach & Potato Curry)
Saag Aloo (or Palak Aloo) is a wonderfully flavourful vegan dish of spinach with potatoes in a mild, spiced sauce. A taste and textural Indian sensation creamy, earthy and flavoured to perfection.
Indian food is amongst the greatest cuisines in the World if you are vegetarian or vegan. I am neither, but I often forego meat or fish in favour of a fully plant-based feast. There's no better cuisine to achieve this than Indian. And one of my favourite dishes that always makes an appearance is this easy Saag Aloo. A light, but filling combination of earthy spinach greens and creamy potato. So much flavour keeps me coming back for more!
What is Saag Aloo?
Most people assume saag means spinach, but in fact the word saag simply refers to leafy greens. These greens can come in many forms from collard greens, kale, mustard greens, fenugreek leaves (methi) amongst others. In this saag aloo recipe, we use the most common of greens, spinach. In Hindi, spinach is called 'Palak', so if you see the dish 'Palak Aloo', you'll know it's the same thing.
Next up, 'Aloo', which is less ambiguous and simply means 'potato'.
When we combine the creamy, soft potatoes with the earthy iron-rich spinach we reach dizzying heights of flavour and texture. This combination is one of my favourite Indian dishes, period. I'm a huge fan of potatoes to start with, but prepared this way they're elevated and really something quite special. It's hard to say which is the hero in this dish, but I'm going with potato!
Why it works
Like I've already mentioned, If you're vegan or vegetarian, India has you covered! And, if like me your diet is becoming more and more plant focussed, I'm always looking for flavour without sacrificing being filled. While saag aloo isn't heavy or rich, it's starchy and will satisfy any hunger. And lastly, it's just damn tasty!
Stuff you'll need
There are a few ingredients that meld together into the effortlessly delicious sauce. Nothing too taxing take a look at the key flavours.
Potatoes – they make up the bulk of the dish and they're the element that will fill you up. Floury or semi-waxy potatoes are best.
Spices (whole and ground): turmeric, panch phoron, dried chillies, chilli powder, cumin, coriander, garam masala, methi kasoori (dried fenugreek leaves)
Fresh – onion, garlic, ginger, spinach (frozen or fresh) and tomato.
Cream – This is optional, but it'll give a little luxury to the final texture.
Mustard oil – brings a mellow spice to proceedings. If you can't get hold of mustard oil, substitute this for any regular fat like vegetable, sunflower, coconut or ghee.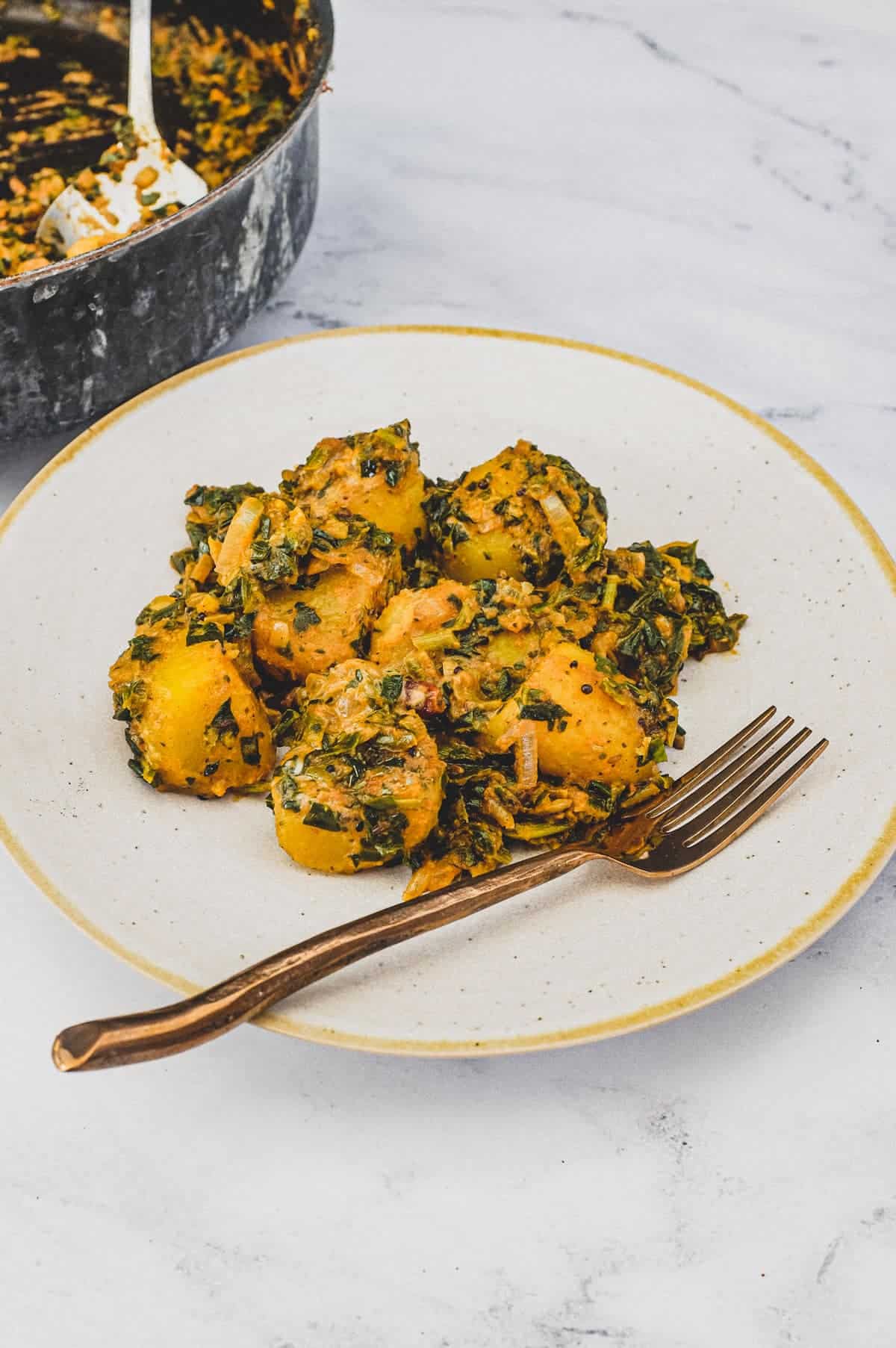 Step by Step
This is an saag aloo recipe to make at home. A few easy steps to flavour greatness. Let's break those steps down a little - and be sure to get the full recipe below.
Step 1 – Preparing the potatoes. I like to par-cook my potatoes as they end up with a better texture and are less likely to fall apart in the sauce. Buy a waxy style potato and cut it into chunks (about the size of a ping-pong ball). I cover them in water, and sprinkle in some turmeric (for colour) and salt and boil them for 12 minutes until almost cooked. I then take them out and fry them in a little oil (I use mustard oil for even more flavour) - this helps seal them, making them a little more robust in the sauce.
Step 2 – Frying onion in whole spices. Like many curried dishes, whole spices are added to oil before frying onion, this adds a level of flavour and depth to the final dish. In this recipe, as the dish is Bengali Inspired, I add a little Panch Phoron spice mix. Learn how to make your own panch phoron with my simple recipe.
Step 3 – Adding more spice. This is not a spicy curry and I like to add milder, earthy spices to create a warm, full flavour without chilli-heat taking over. You can use a hot or mild chilli powder to dial up the heat to your taste. I use Kashmiri chilli powder as it's typically very mild. I'll often use paprika instead - in addition, cumin, coriander and garam masala are added to the mix. Finally, a little tomato goes in to help bind, add colour and a little sweetness too.
Step 4 – An injection of saag greenery. Lastly, I'll return the potatoes to the pan, along with the spinach. I mostly use chopped frozen spinach for curries as it's super convenient. Obviously, you can also use fresh - just add 1-2 packets (chop it a bit first).
Step 5 – Cook for 10 minutes. And that's it! 10 minutes later we're good to go - be sure to check your potatoes for doneness and reduce the sauce enough to that it's thick and creamy and clings to the potatoes. At this stage, I often drizzle over a little cream, if you're vegan use coconut cream - it adds a luxurious note to the finish and helps with the texture. I'll also sprinkle over a MAGICAL ingredient - Kasoori Methi (Dried Fenugreek leaves) which add the most amazing fragrant finish to the flavour. Hunt it out, it's one of my favourite Indian flavours.
Step 6 – Serve!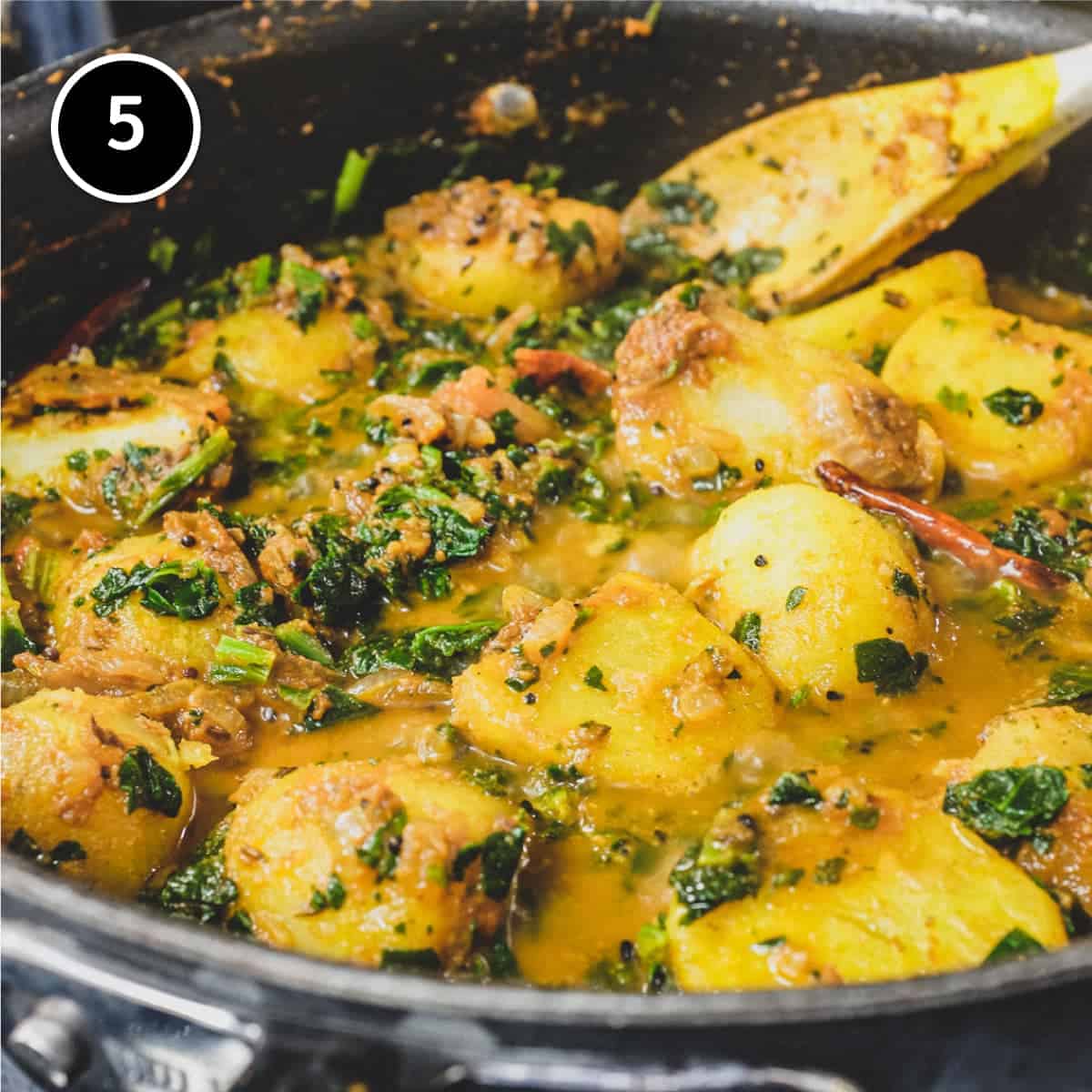 Pro Tips to make your life easier
You can buy pre-mixed panch phoron at all Indian supermarkets, so that'll save you some effort.

You can prepare this dish in advance and warm in a pan just before eating (add a little water if it's dried out.

Frozen spinach is great for this recipe, but if you're using fresh, cook in a couple of tbsp water until wilted and then cool the leaves slightly. Squeeze out as much water as you can and chop the drained spinach. This will avoid a watery saag aloo. If you're using frozen, let it thaw first and squeeze out the excess water.

If you don't have fresh spinach, try using another leafy green like kale, chard, collard greens, mustard leaves, turnip leaves or fresh fenugreek leaves - they're all under the same umbrella of 'Saag'.
Serving and storing suggestions
Storage
Refrigerating – Keep saag aloo fresh in the fridge for 4-5 days.
Freezing – I would say saag aloo isn't a great contender for freezing. Potatoes tend to get very mushy when reheated (unless they're firm and waxy). I'd say on this occasion, fresh is best, so don't freeze.
Serving
I like to serve my saag aloo with rice or Indian breads like roti, chapati, paratha or Naan. It's also great as the filling for a masala dosa or with puffed Indian Poori (puri).

Saag aloo is great on its own or alongside other curries both veg or non-veg. See below for some suggestions.
Ready to get cooking?
So, as you'll discover, Saag Aloo or Palak aloo is one of the tastiest vegetarian Indian offerings. Full of flavour and wonderful to serve on its own or as part of a larger feast. Who knew that the humble potato could be lifted into such culinary territories? India, of course!
Any Questions? (FAQ)
Have a question about this Saag Aloo recipe? Let me know in the comments.
What is saag aloo made of?
Saag is 'leafy green', aloo is 'potato'. Typically spinach is used, but also kale, chard, mustard leaves, turnip leaves and fenugreek act as the greenery. The two are brought together with a subtle but flavourful spice blend.
Is saag aloo healthy?
Yes. Very much so, there are plenty nutrients in both potato and spinach. At only 200 calories a serve (a healthy serve too), it's a great contender for someone wanting to fill up, without the calories.
What does saag mean in Indian cooking?
Saag simply means 'leafy green' a misconception is that it means spinach. Instead the word 'Palak' specifically refers to that.
How spicy is saag aloo?
This recipe is more 'spiced' than spicy. There's a little heat, but nothing explosive. I'd say 4/10. You can, of course, spice the dish up or down depending on your personal taste.
More recipes
If you liked this recipe for saag aloo, then why not try some of my other delicious veg and non-veg Indian recipes.
Saag Aloo (Spinach & Potato Curry)
Rate this recipe
Print Recipe
Pin Recipe
Calories (per serving) |
199
Instructions
Peel and cut the potatoes into large chunks (about 2"/5cm) and put them into a saucepan. Sprinkle over the turmeric and salt then cover with water by about 5cm/2"

Bring to a boil and then cook for 12 minutes

Using a slotted spoon, remove the potatoes to a bowl and set aside the liquid.

Let the potatoes steam dry for a minute or two.

Heat the oil in a deep non-stick frying/sauteé pan over a medium heat. When hot tip in the potatoes and let them fry for about 5 minutes, turning once or twice. This will help form a skin on them to avoid falling apart later.

Remove the potatoes then add the panch phoron spice mix to the oil. Let these sizzle for 30 seconds before adding the onion.

Cook the onion gently, reducing the heat a little, for abour 5 minutes until soft and golden. Add the garlic and ginger and stir fry for 1-2 minutes. Now add the chilli powder, cumin, coriander and garam masala along with the tomato. Stir well to combine everything.

Return the potatoes to the pan and then add the spinach. Carefully stir to combine everything. Pour in about 2½ cups of the potato cooking liquid.

Bring to a simmer then reduce the heat to low and simmer gently (covered) for 5 minutes. Remove the heat and simmer for 5-8 more minutes until the sauce is reduced and the potatoes fully cooked.

Remove from the heat and check for salt levels and adjust if you need to. If using, drizzle over the fresh cream, stir in and serve.
Notes
Ingredient Substitutions
Substitiute the spinach for any dark leafy green like kale, chard, collard greens, mustard greens, dandelion greens or fresh fenugreek leaves.
Serving suggestions
Serve hot with rice or Indian breads like roti, chapati, naan, paratha or puffed up poori breads. Saag aloo is also great as the filling to a dosa.
Storage
Fridge: Saag aloo will stay fresh in the fridge for 4-5 days in a sealed container.
Freezer: Not a great contender for freezing, as the potatoes become a little mushy when reheated. Fresh is best on this occasion!
Nutrition
Calories:
199
kcal
(10%)
|
Carbohydrates:
10
g
(3%)
|
Protein:
4
g
(8%)
|
Fat:
17
g
(26%)
|
Saturated Fat:
5
g
(31%)
|
Polyunsaturated Fat:
3
g
|
Monounsaturated Fat:
8
g
|
Cholesterol:
20
mg
(7%)
|
Sodium:
405
mg
(18%)
|
Potassium:
453
mg
(13%)
|
Fiber:
4
g
(17%)
|
Sugar:
3
g
(3%)
|
Vitamin A:
9651
IU
(193%)
|
Vitamin C:
10
mg
(12%)
|
Calcium:
140
mg
(14%)
|
Iron:
3
mg
(17%)