Keralan Chicken Curry (Nadan Kohzi)
The south of India delivers this amazing Kerala Chicken Curry recipe that's bubbling over with flavour. Fresh, creamy and zingy it's got everything and more. Flavour by the bucketload!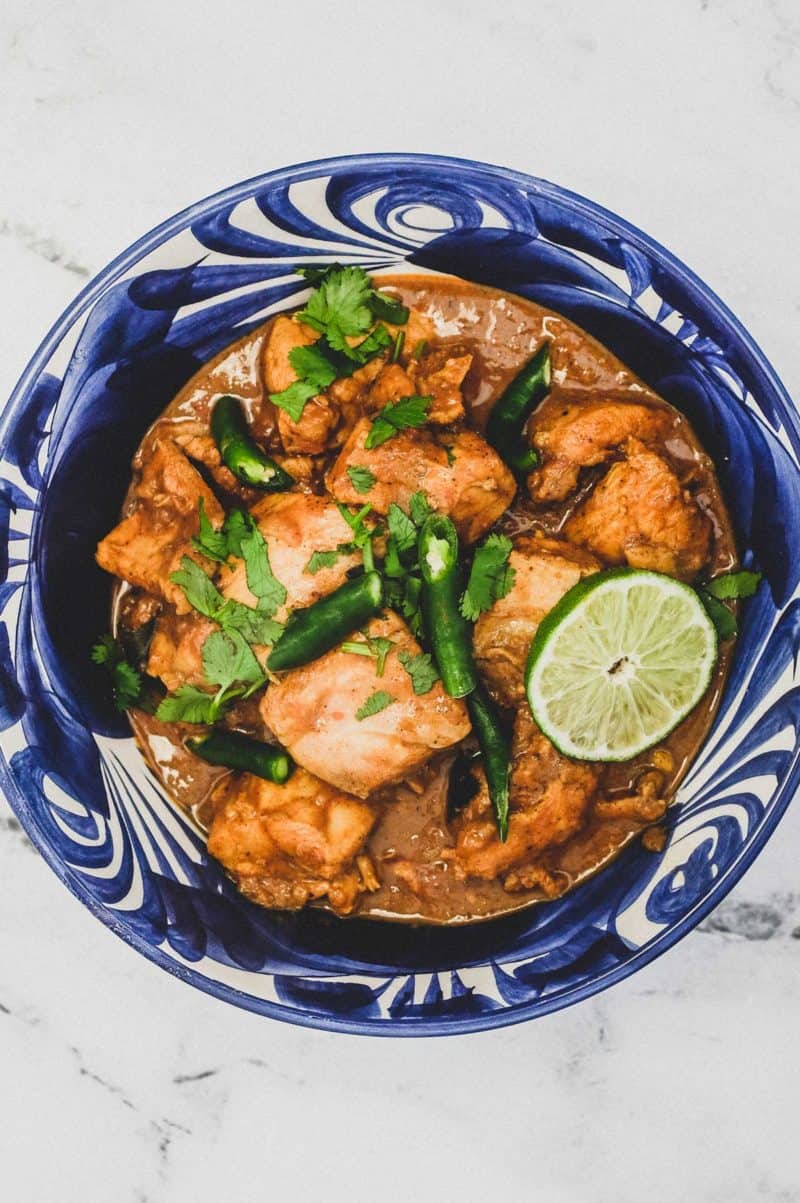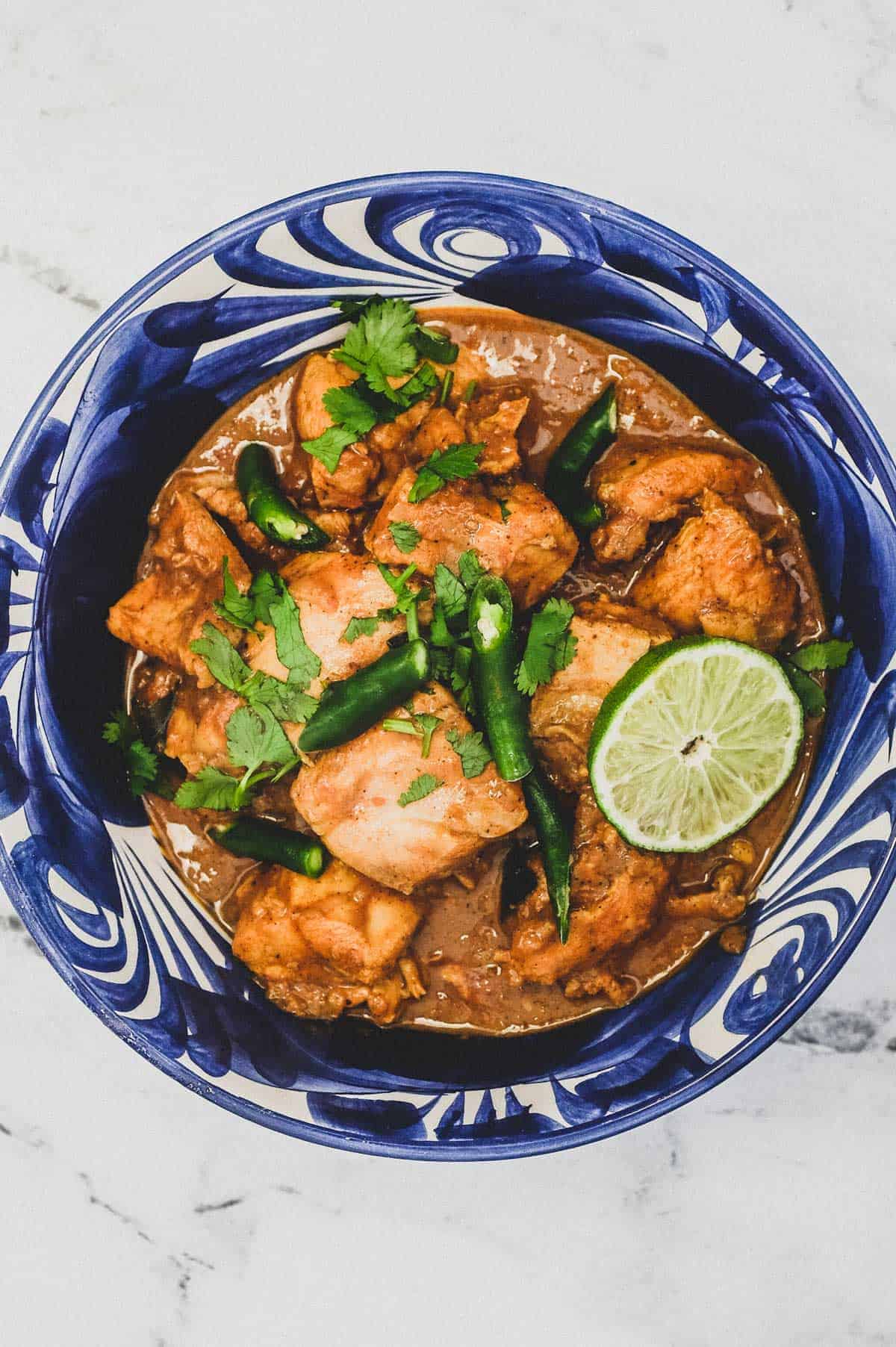 One of my most favourite curries hails from the South of India. This amazing Nadan Kohzi (Keralan Chicken Curry) recipe is my interpretation of a wonderful version I ate in Kochi, India. It was a treat to eat meat in South India - most of the food I consumed (we're talking A LOT here) was vegetarian or vegan, but on occasion, and especially in Kochi, we ate meat dishes (or non-veg, as they're called).
One such treasure was a simple chicken curry that was so packed with flavour I could barely believe it. It was SPICY too! Upon my return, I knew I'd replicate the flavours. And I've done a decent job - even if I do say so myself. The sauce is rich, complex, colourful and incredibly tasty - each bite sets off a chain reaction of flavour and when combined with the juicy chicken it's a real delight.
What is Nadan Khozi?
Nadan Khozi is a simple chicken curry from Kerala in India. The name roughly translates as "Country Chicken Curry", a humble, easy curry to put together. Being a country dish, recipe vary widely from town to town, family to family, so this recipe is a 'greatest hits' of key ingredients from as many recipes as I could research with a few of my own additions to suit my very particular taste! My recipe is traditional in the sense that it's a general approximation so feel free to adapt as you like.
Why it works
It's Easy - I make my special Keralan curry powder in bulk so that I cut the whole cooking process in half. That's delicious curry in half the time people!
It's creamy - Coconut milk elevates this chicken curry into something creamy and luxurious.
It's filling - A big bowl of Keralan Chicken Curry with some fluffy basmati rice will satiate any hunger!
Stuff you'll need
My Keralan Chicken Curry works in two stages. Making a curry powder and then making the curry itself. You can divide and conquer by making the powder in bulk and saving for a later date. That way, you'll cut down your prep time whenever you want to make this curry (i.e. all the time).
The curry powder is a blend of white poppy seeds, coriander seeds, cumin seeds, fennel seeds, cinnamon stick, cardamom pods, cloves, black peppercorns, turmeric and chilli powder. Nothing you can't find in any supermarket these days.
Chicken - it's best to use chicken thighs for curry. They're juicy and won't dry out during cooking.
Coconut milk - A good quality coconut milk gives the wonderful creamy and fragrant sauce. A can of coconut milk is perfectly fine, but you can also extract your own coconut cream and milk from fresh (see below for how to do that.)
The other key flavours include - fresh

curry leaves,

onions,

ginger,

garlic,

tomato

and a sprinkling of

garam masala, spice mix.
Step by Step
My Keralan Chicken Curry recipe is very simple. Ready in a few simple steps.
Toast the whole spices - Dry fry the whole spices to release their natural oils. This will intensify the flavour.
Grind the spices into a fine powder then stir in the vibrant red Kashmiri chilli powder. You've made twice the amount you need, so store the remaining half in an airtight container for up to 6 months.
Fry the curry leaves with the onion, garlic and ginger until soft and golden.
Add the chicken along with the curry powder, tomato and fry for a few minutes more.
Add the coconut milk

and a little water and simmer for 30-40 minutes.

Sprinkle over a little garam masala and

remove

from

the heat and

you're

done! Garnish just before serving.

I like to add some fresh chilli, cilantro and a some lime slices or wedges.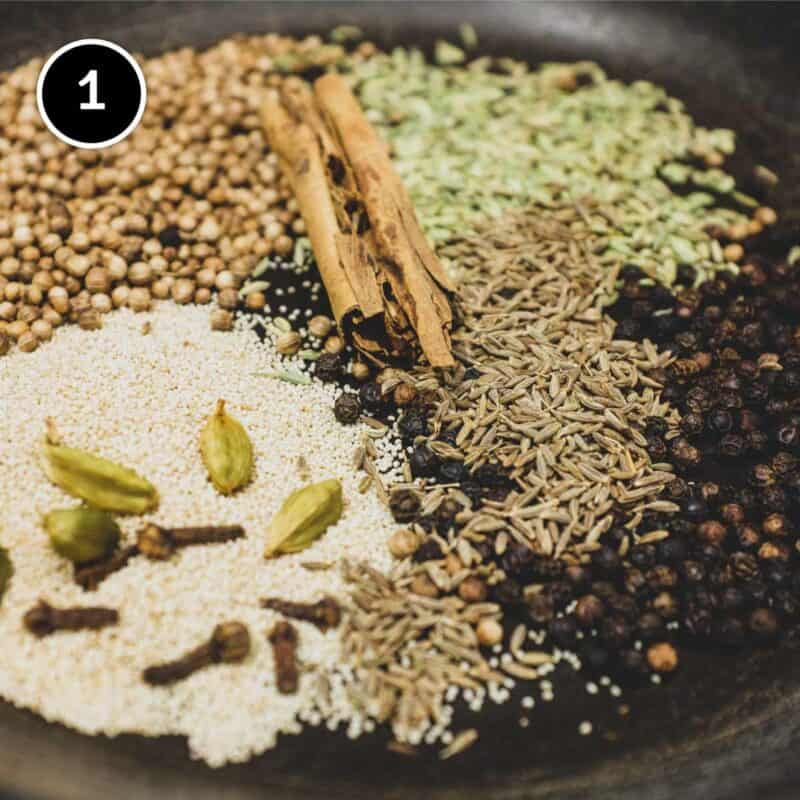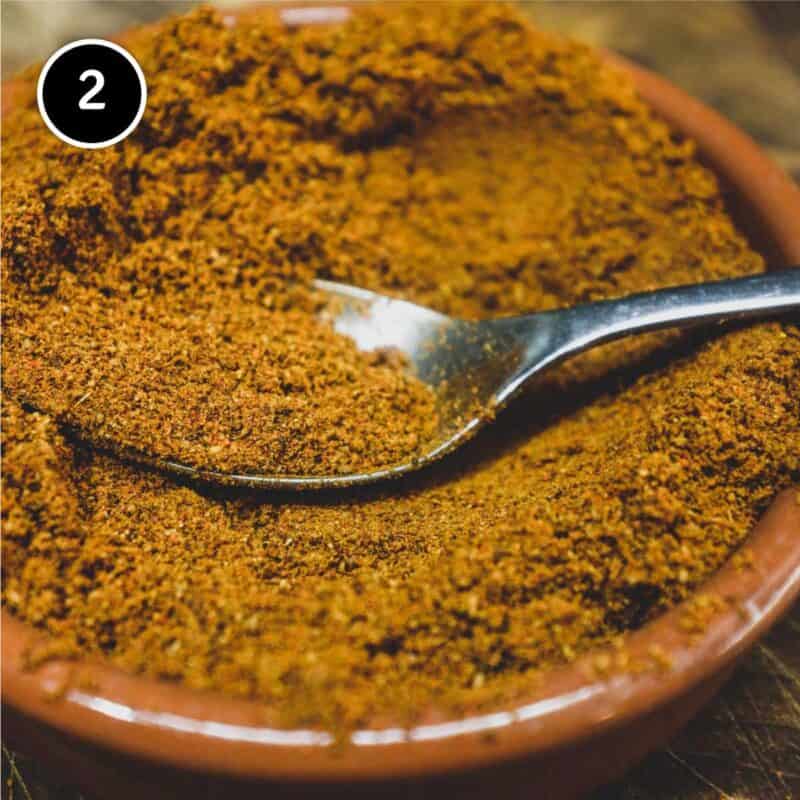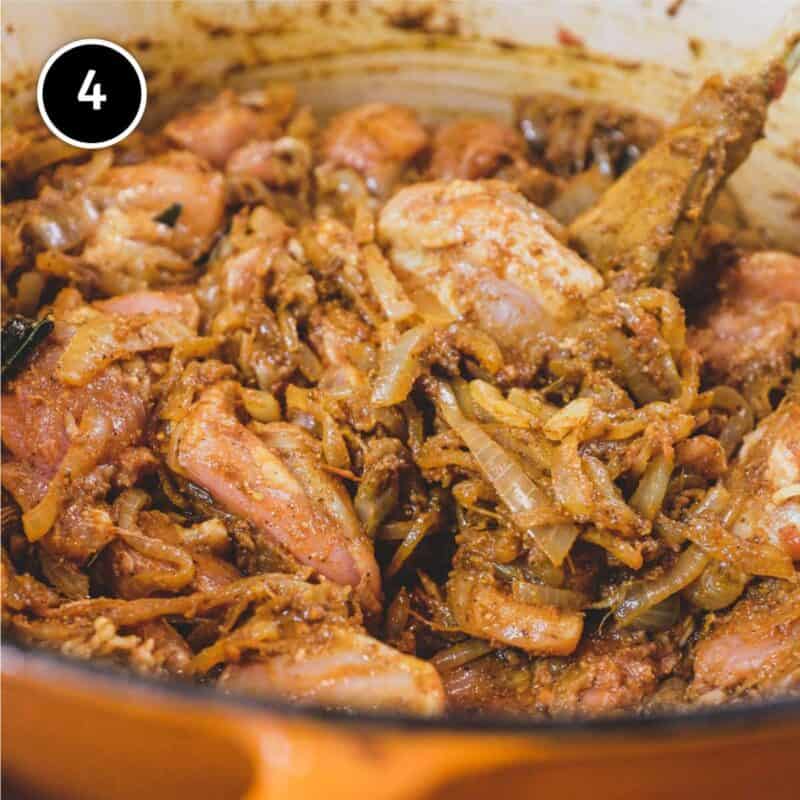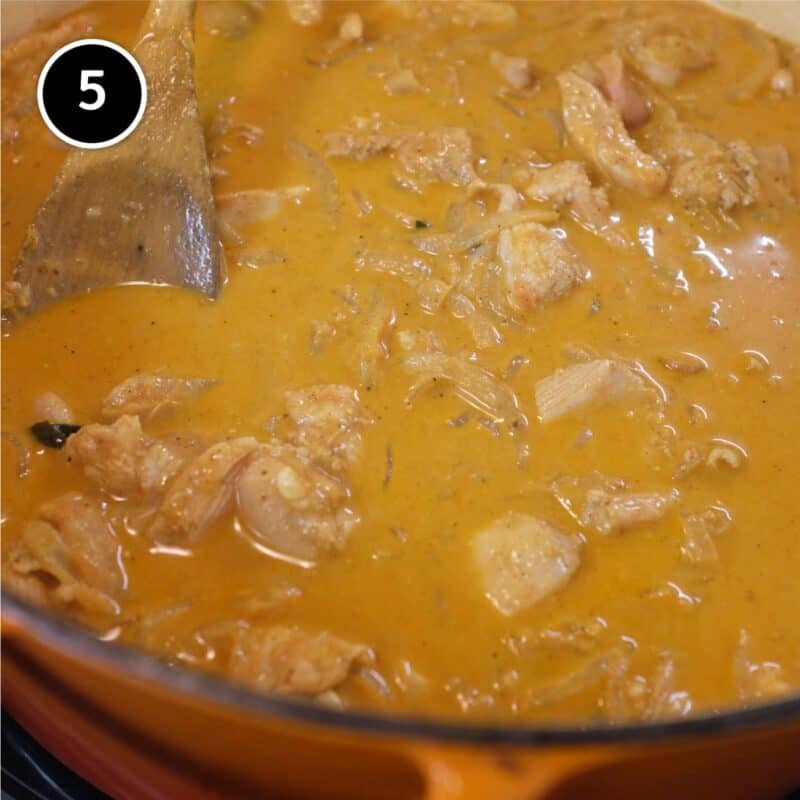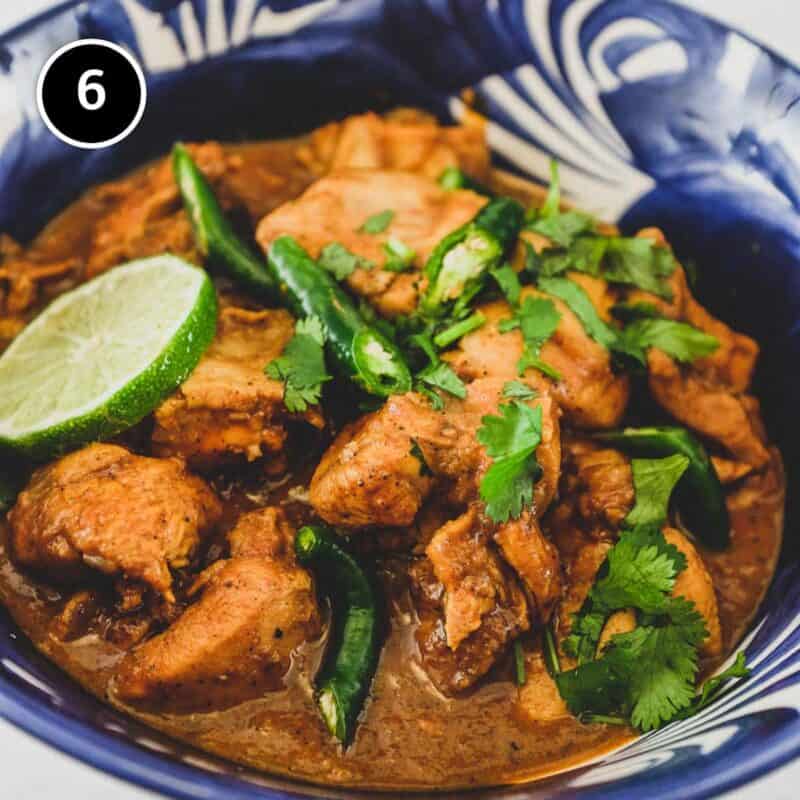 Serving and storing suggestions
I love to garnish with whatever I have at hand and this changes regularly. I always sprinkle over fresh cilantro/coriander and generally some chunks of spicy green chillies. Limes usually play a part and I'll sometimes add tomatoes, fried coconut, radishes, cashews, fresh curry leaves, fried curry leaves, a little drizzle of coconut cream and whatever else looks inviting on the day.
Making in advance -

Most curries will benefit from being made in advance. Make a day ahead and you'll see a big change in the flavour. Just refrigerate before warming on the stove.

Refrigerate -

leftovers will stay fresh for 4-5 days in the fridge.

Freeze -

this curry freezes well. Portion up the curry and freeze in airtight and microwaveable containers for 3+ months. Reheat from frozen (about 5-6 minutes), stirring regularly.

TIP: you might want to add about 1/4 cup water to the top of the curry before reheating to avoid it drying out.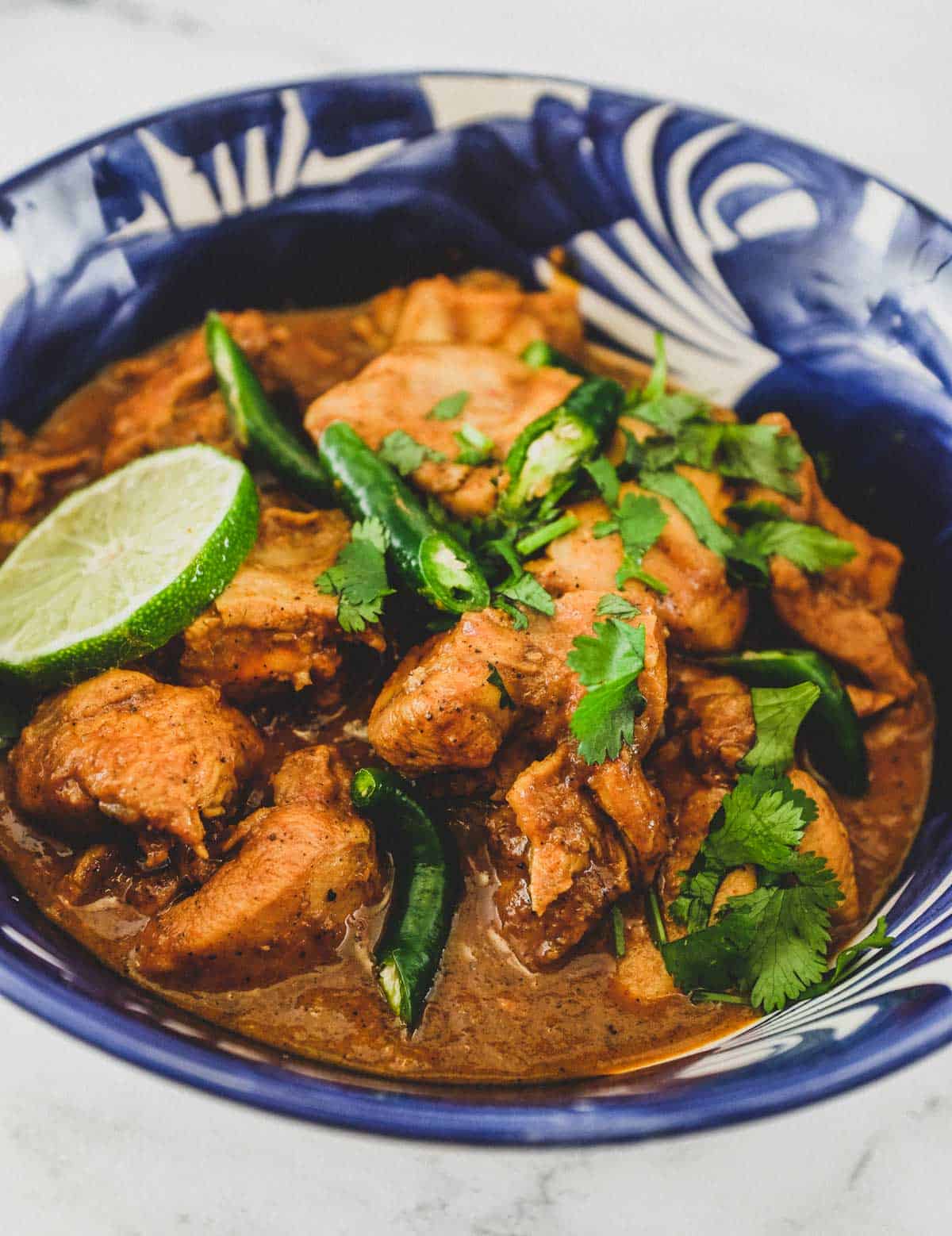 Ready to get cooking?
This curry really is one of my most favourite to make at home and I'll often make it without eating and freeze in single portions. My freezer(s) could rival ANY Indian restaurant - I can whip up a full menu at any given time with the sheer amount of tasty food in there. I'm sure you'll love this curry as much as I do... enjoy!
Any Questions? (FAQ)
Have a question about my Keralan Chicken Curry? Let me know in the comments.
What does Kerala curry taste like?
Keralan curry has a wonderful fragrance and flavour. The spices are bold, but not too intense. The coconut milk or cream often used in Keralan and South Indian cuisine mellows out the spice and creates a unique light sweetness to the sauce.
Where does Keralan curry originate?
Kerala is a state on the southwestern Malabar Coast of India.
Is Keralan curry spicy?
It can be. The spice comes from powdered and fresh chillies, so you can dial the heat up or down depending on your own personal taste.Broadly speaking, by Indian standards, Keralan food leans more towards fragrance than spice.
Extracting coconut milk
Coconut palms line literally every square metre of Kerala, so it's little wonder that the flesh, milk, cream, leaves and oil feature heavily in its cuisine.
If you're up for it, buy a fresh coconut and grate the flesh - then soak the flesh in water for 30 minutes before wringing out with a clean tea towel to extract the most luxurious coconut cream (the first extraction). Repeat the process with the same grated coconut for a thinner coconut milk (second extraction). Both can be used for cooking.
More curry recipes
If you liked this curry, then try some or all of my other favourite Indian recipes. For a quick rundown on chicken check out my Best Chicken Curry recipes, or select one of these tasty treats: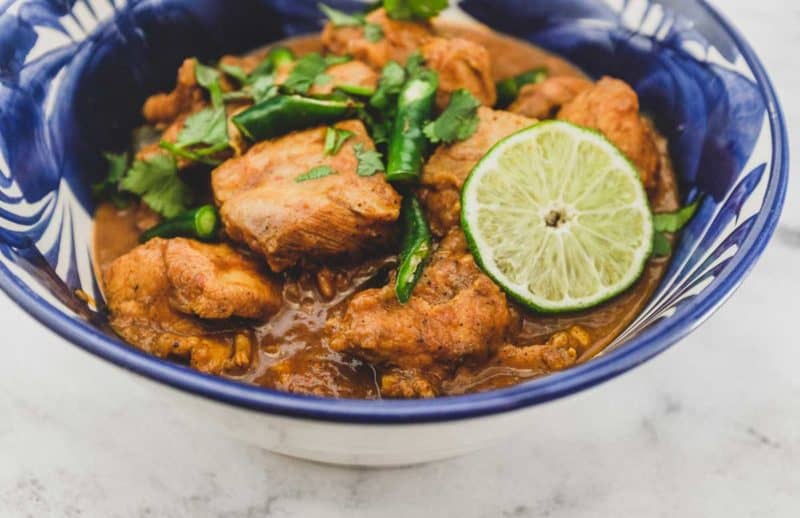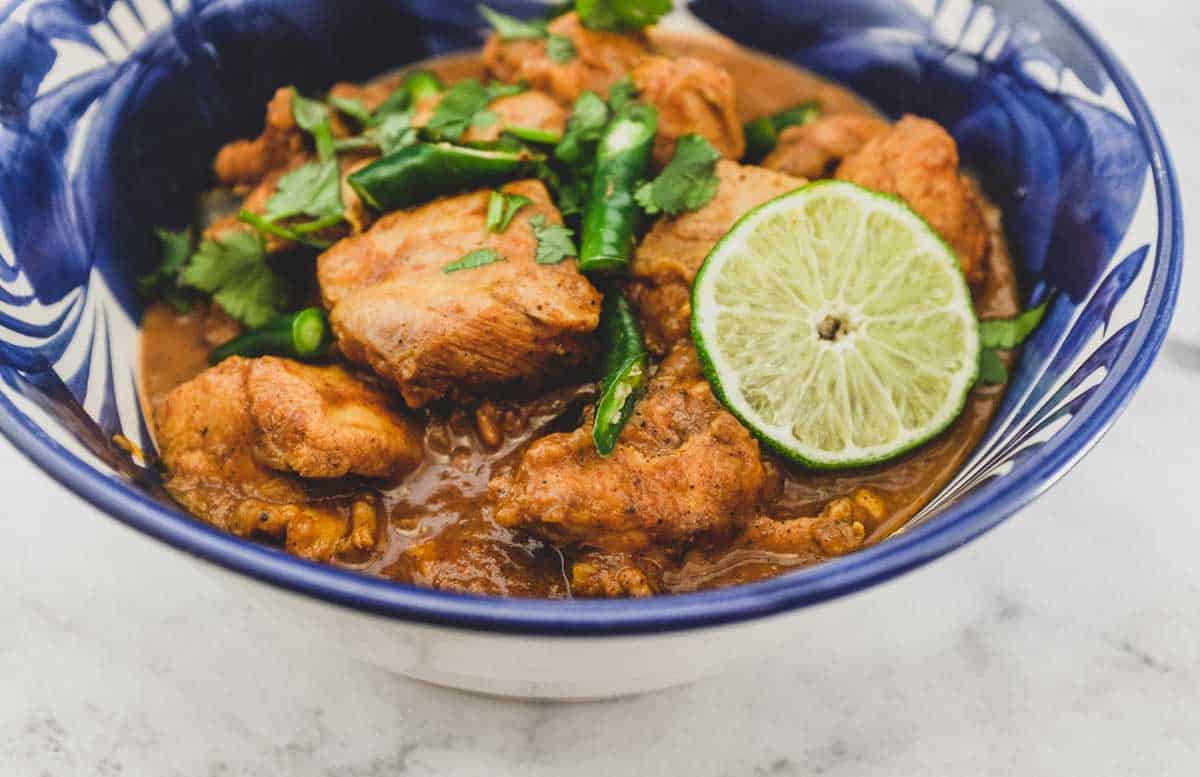 Keralan Chicken Curry (Nadan Kohzi)
Rate this recipe
Print Recipe
Pin Recipe
Save Recipe
Go to Collections
Calories (per serving) |
870
Ingredients
For the Keralan curry powder (makes double quantity)
For the curry
4

tbsp

coconut oil

(or vegetable/canola)

20

curry leaves

(fresh)

3

onions

(medium, peeled, halved and cut into thin slices)

2.2

lb

chicken thighs

(1kg) boneless & skinless, cut into chunks

1

tsp

ginger

(minced)

2

tsp

garlic

(minced)

1

cup

chopped tomato

(canned is fine)

1

cup

coconut milk

1

tsp

garam masala

1½

tsp

salt
Garnishes (optional)
1

lime

(cut into wedges, optional)

1

bunch

cilantro

(chopped, optional)

4

small green chillies

(chopped or sliced - optional)
Instructions
To make the Keralan curry powder
In a dry frying pan, gently toast the coriander, cumin, fennel, cinnamon, cardamom, cloves and peppercorns until they pop around the pan.

Remove from the heat and using a spice grinder or pestle & mortar, grind into a fine powder. Mix in the turmeric and Kashmiri chilli powder and set aside.

This recipe makes double the quantity of powder, you can store what's left in a small glass jar for 6-12 months.

In a large casserole pan or Dutch oven, heat the coconut oil over a medium/high heat until hot. Add the curry leaves and let them splutter briefly before adding the onion. Stir fry the onion for 5-6 minutes until soft.

Add the garlic and ginger and stir for about 1 minute before adding half of the curry powder (store the rest) along with the tomato and chicken. Stir everything well and cook for about 5 minutes, stirring regularly.

Pour in the coconut milk and about 3 cups water. Stir well and bring to a simmer. Reduce the heat to low and simmer gently, uncovered, for 30-40 minutes until the sauce is thick and creamy.

Sprinkle over the garam masala and salt and cook for 1-2 minutes. Remove from the heat and serve.

If using, sprinkle over the cilantro, chillies and a squeeze of lime juice.
Notes
Serving:
Serve hot with lots of fluffy basmati rice or Indian breads. I like to garnish mine with fresh chillies, limes and cilantro.
Storing:
Fridge: Leftovers will stay fresh in an airtight container for 4-5 days in the fridge. Reheat on the stove or by microwave.
Freezer:
This curry freezes very well. Simply portion into smaller airtight containers and freeze until needed. They'll stay fresh for 3+ months. Reheat in a microwave from frozen for 5-6 minutes, stirring occasionally. TIP: add about 1/4 cup water before reheating to avid the sauce drying up too much.
Add some vegetables:
Get some of your 5-a-day by adding some vegetables to this curry.
Potatoes work well (add with around 20 minutes to cook 2-inch chunks)
Add a cupful of frozen peas at the end and simmer for 1 minute
Add cooked spinach and cook for 5 minutes
Stir in some cooked French beans at the end.
Chop fresh tomatoes or red peppers and stir them in at the end.
Nutrition
Calories:
870
kcal
(44%)
|
Carbohydrates:
23
g
(8%)
|
Protein:
44
g
(88%)
|
Fat:
69
g
(106%)
|
Saturated Fat:
34
g
(213%)
|
Trans Fat:
1
g
|
Cholesterol:
244
mg
(81%)
|
Sodium:
1331
mg
(58%)
|
Potassium:
1016
mg
(29%)
|
Fiber:
7
g
(29%)
|
Sugar:
7
g
(8%)
|
Vitamin A:
916
IU
(18%)
|
Vitamin C:
124
mg
(150%)
|
Calcium:
143
mg
(14%)
|
Iron:
6
mg
(33%)