Chicken Chukka
The flavour of this Indian Chicken Chukka Curry is a real stand out. Curry leaves are a thing of pure wonder, and they're the key to making this recipe something very special indeed. Learn how…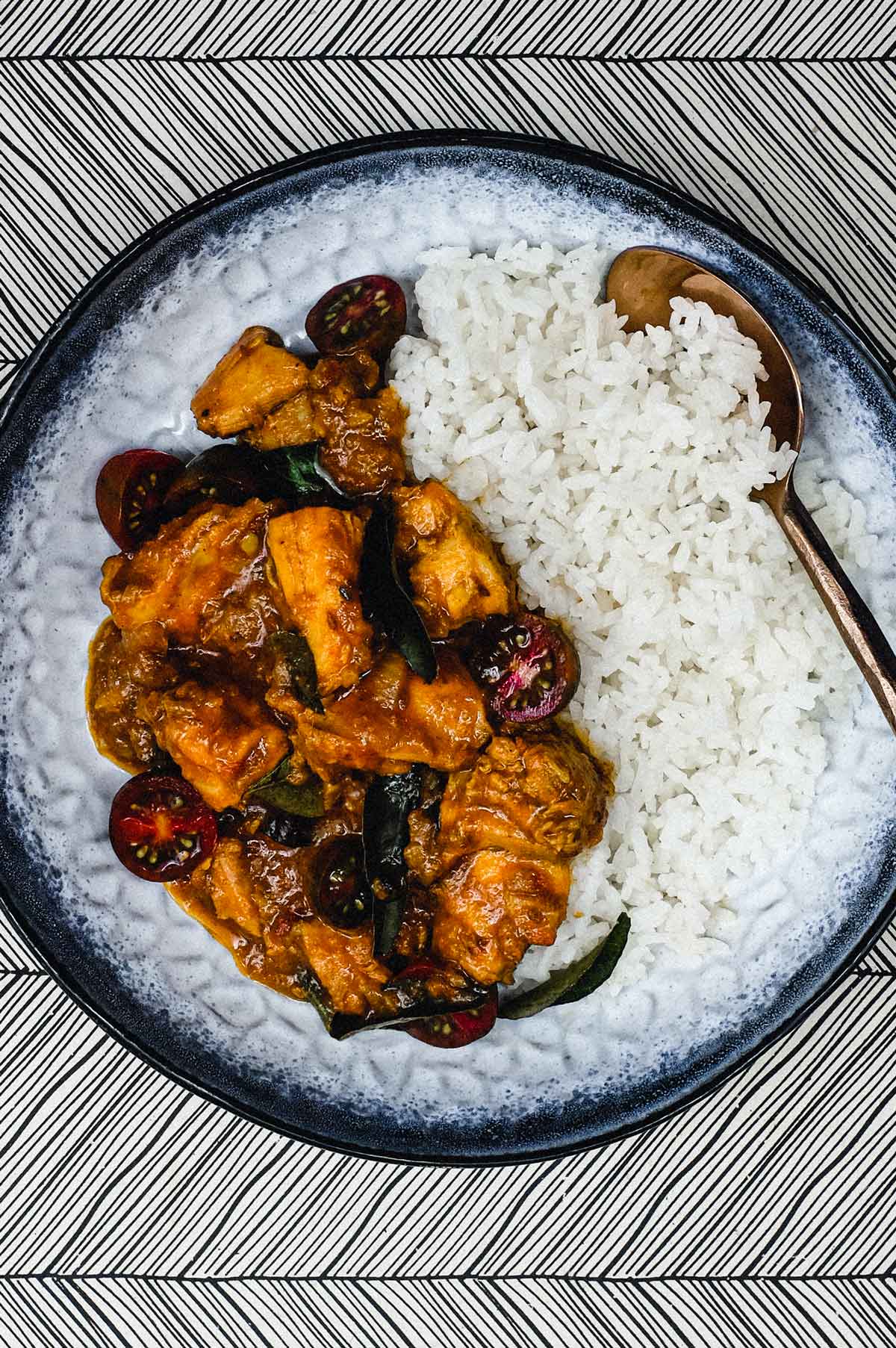 Chicken chukka is one of my most favourite Indian curries. Rich, impossibly fragrant and full of wonderful authentic South Indian flavour. I first experienced Chicken Chukka in Kerala, India - served as part of a shamefully huge feast for two people. I was wholly embarrassed at the sheer amount of food we ordered - it filled the table without a scrap of space to spare. I was even more embarrassed that we ate every last grain of rice.
What is Chicken Chukka?
Chicken chukka is a dry curry that originates in the South of India. The key ingredient and the stand out flavour of any authentic chicken chukka recipe are fresh curry leaves. If you haven't tried fresh curry leaves, you're in for a life-changing treat. They quite literally smell and taste like the essence of curry. I love them so much that I planted a plant in my back garden which is now the size of a small tree! They're excellent both cooked and raw and when combined with other Indian spices, finish off this dish to perfection. You can buy curry leaves from any good Indian supermarket and online. You can also grow your own plant too. They're super low maintenance and grow an abundance of leaves.
Curry leaf tip: Buy them fresh and freeze for months in a zip-lock bag. They defrost in a matter of seconds and don't lose any of their flavour.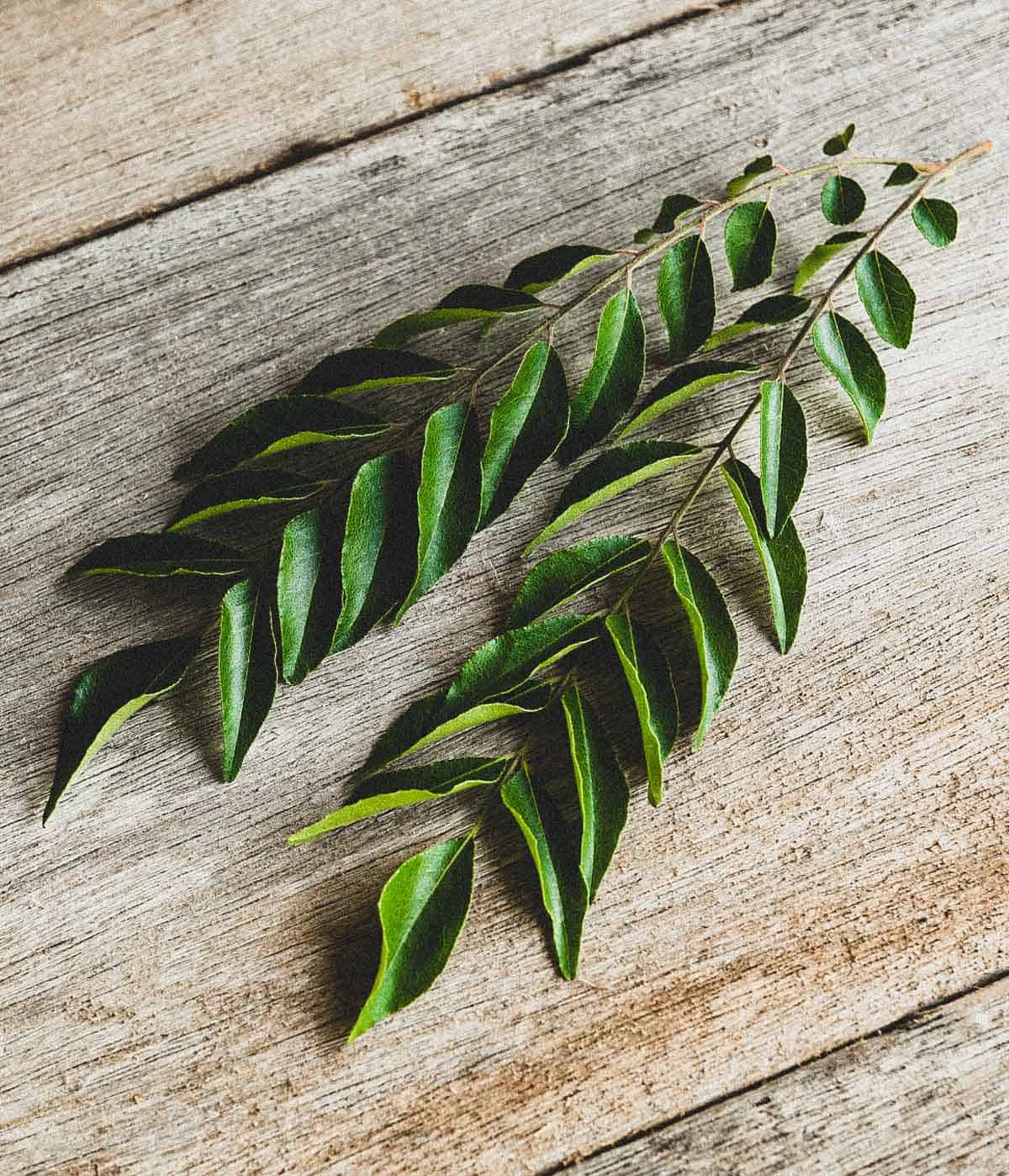 As with any good Indian curry, a combination of whole and ground spices is the secret to creating the most alluring and flavoursome sauces. The chicken chukka curry sauce is actually quite a dry sauce, so we leave the sauce to reduce quite considerably, meaning all those spices increase in intensity, leaving a rich, glossy sauce that clings to the juicy chicken pieces. Chukka chicken features a minimal amount of whole spices, keeping it relatively simple with cardamom, pepper and cumin.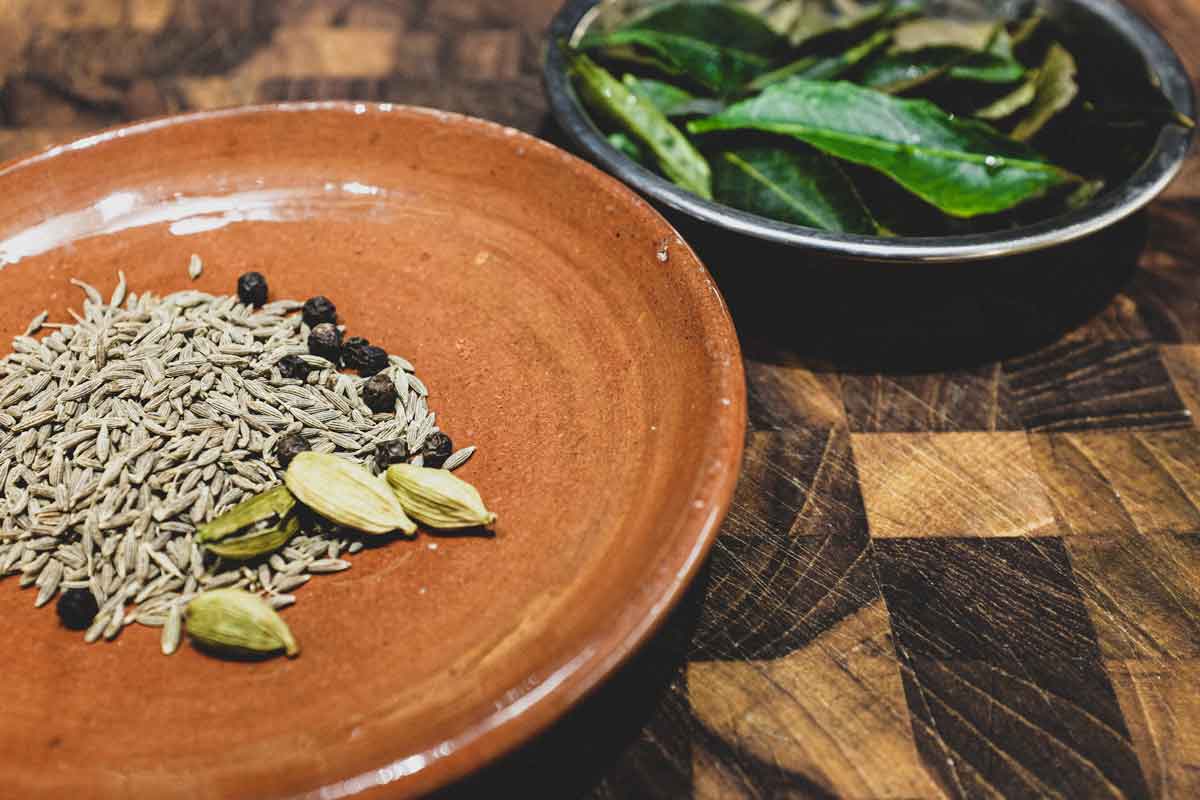 The ground spices are where the lovely floral notes take shape, and of course the colour and spice! I like a vibrant sauce so use lots of paprika and specifically Kashmiri chilli powder, known for it's saturated red colour. I also like to spice things up with a fair amount of hot chilli powder or cayenne pepper. I'll mostly just add however much I'm feeling for heat on the day - this recipe will create a nice chilli hit without being crazy. You can obviously dial the heat up or down as you like.
A dry Chicken Curry Leaf Fry
Chicken Chukka is also sometimes called a curry leaf fry - this generally means it's a very dry sauce - similar to a stir-fry. Over the years of making this dish, I like it dry, but not bone dry - it's more of a reduced curry in my version - there's still a sauce, but it's thicker and more clingy than a thinner curry from South India - like my South Indian Salmon Curry for instance. The thickness of the sauce means it's a great pairing for either rice or Indian bread, like chapati, paratha or naan. I like it with both rice and bread, so generally serve both!
The dish is always finished off with copious amounts of fresh curry leaves and sweet, tart cherry tomatoes. I'll stir them in once the curry is cooked and off the heat to ensure they stay fresh and uncooked. They counteract the richness of the dish and bring it back to lightness and freshness.
In essence, the Chicken Chukka recipe is one of my most favourites to make at home - it's the best curry to use fresh curry leaves while creating a truly unique and authentic taste of South India.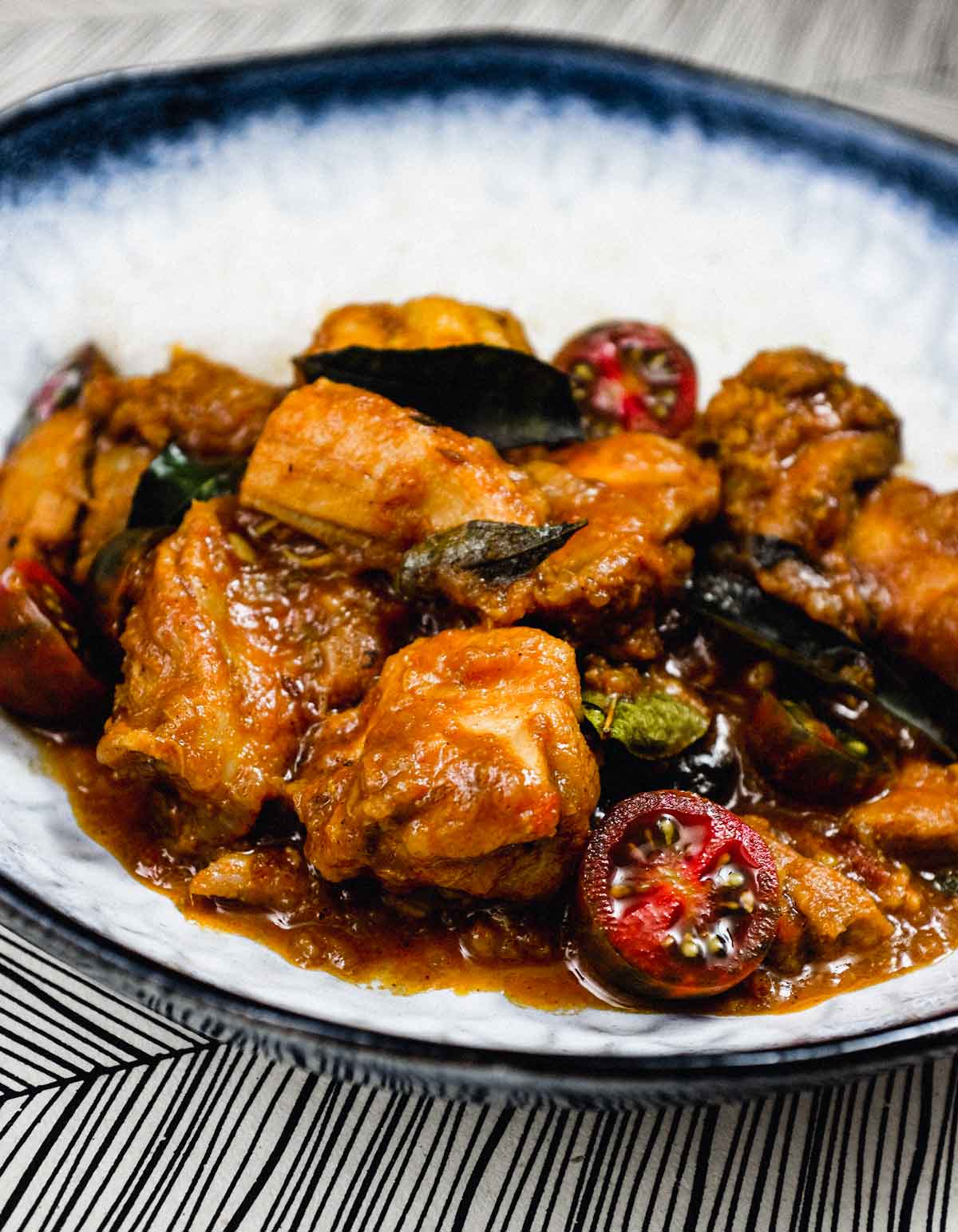 Pin
More recipes from India
If you like Indian food, you'll love some of my other recipes. Give them a try.
And if you like a chicken curry - you must try one of my best chicken curry recipes!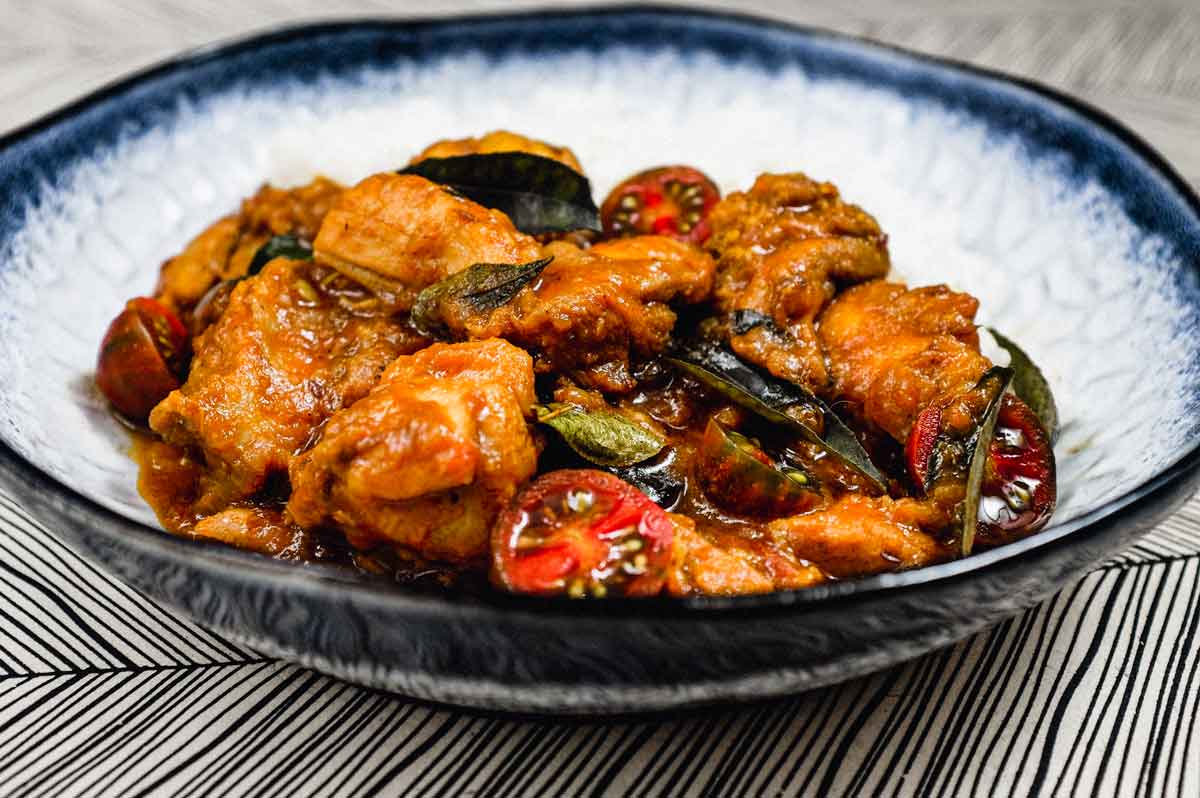 Chicken Chukka
Rate this recipe
Print Recipe
Pin Recipe
Calories (per serving) |
708
Ingredients
Other Ingredients
3

tbsp

vegetable oil

1

tsp

cumin seeds

2

stems

curry leaves

(fresh)(about 40 leaves)

2

onion

(finely sliced)

4

garlic cloves

(minced)

1

tsp

ginger

(minced)

1

cup

tomato pasata

(canned tomatoes blended until smooth)

2.2

lb

chicken thighs

(skinless & boneless) (cut into bite sized pieces)

1

tsp

salt

1

cup

cherry tomatoes

(halved)
Instructions
To make the spice powder, combine all the powder ingredients and set aside.

Heat a large pan with the vegetable oil and when hot add the cumin seeds, cardamom pods, peppercorns and half of the curry leaves (around 20 leaves) and let them sizzle for 30 seconds before adding the onion.

Let the onion sauté gently for 7-8 minutes, until browned and lightly charred on some edges.

Stir in the garlic and ginger and cook for another 1-2 minutes. Add a little water (about ¼ cup) if the garlic starts to stick.

Stir in the spice powder along with the tomato pasata, chicken and salt and stir to coat well. Let this cook for 5-6 minutes until the pan is hot again, stirring frequently.

Add 2 cups water, let this come to a boil, then reduce the heat to low and simmer very gently for 40 minutes uncovered. Stir frequently to avoid sticking. The sauce should thicken, but after 40 minutes, if it's thin, turn up the heat to high and simmer to reduce the liquid. The chukka curry has quite a dry sauce so don't be afraid to keep reducing.

Stir in the remaining fresh curry leaves and cherry tomatoes and serve with breads or rice.
Nutrition
Calories:
708
kcal
(35%)
|
Carbohydrates:
16
g
(5%)
|
Protein:
44
g
(88%)
|
Fat:
53
g
(82%)
|
Saturated Fat:
20
g
(125%)
|
Cholesterol:
244
mg
(81%)
|
Sodium:
870
mg
(38%)
|
Potassium:
946
mg
(27%)
|
Fiber:
4
g
(17%)
|
Sugar:
6
g
(7%)
|
Vitamin A:
1360
IU
(27%)
|
Vitamin C:
39
mg
(47%)
|
Calcium:
93
mg
(9%)
|
Iron:
4
mg
(22%)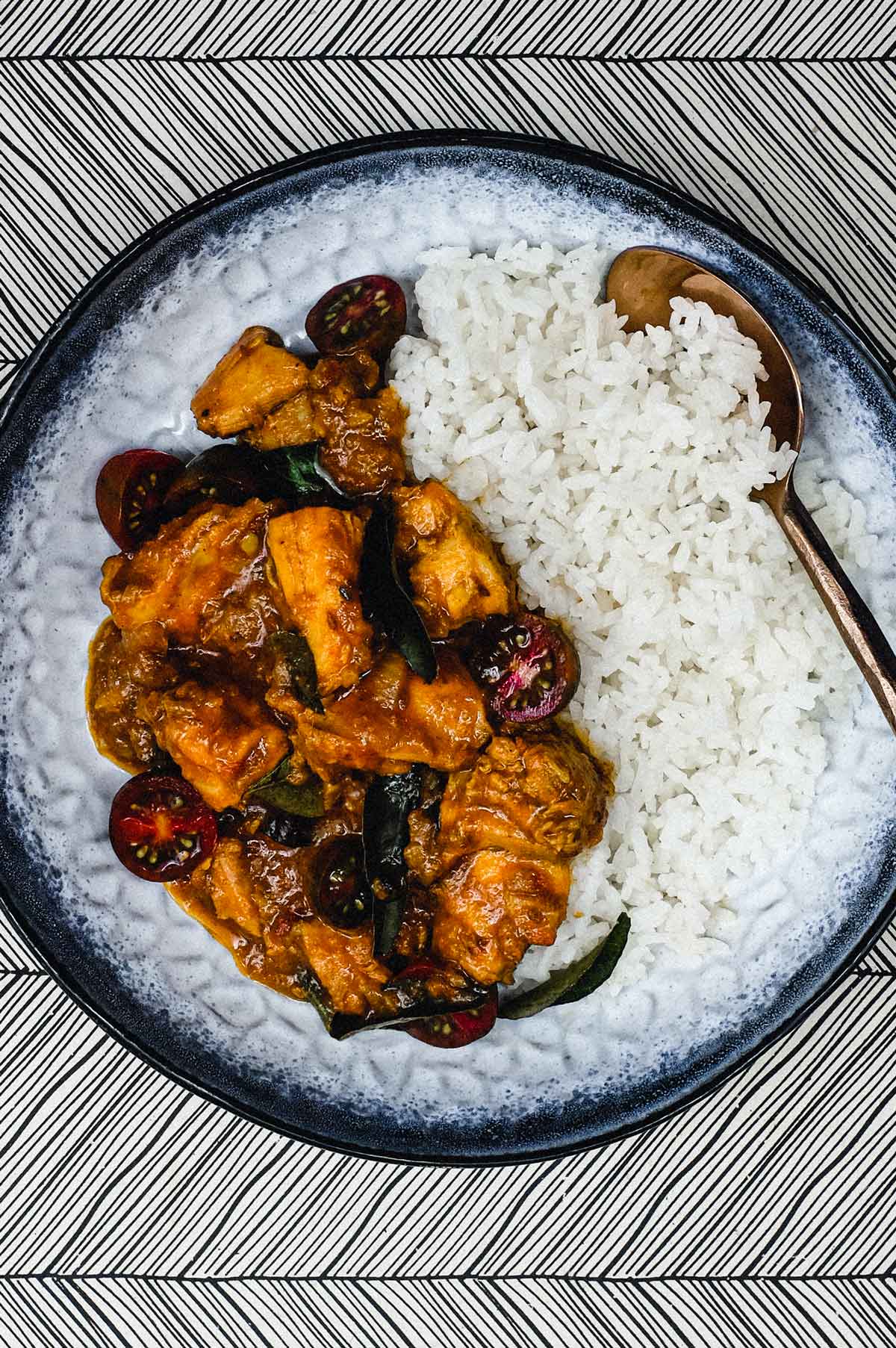 Did you make my Chicken Chukka?
How did you go? Let me know in the comments below and be sure to tag @cookeatworld at Instagram.