Madras Curry Powder Recipe
To cook the best, authentic curries, you need a great, authentic curry powder. This Hot Madras curry powder recipe is a complex blend of warming spices and chilli kick that will help you create many delectable and authentic curries at home.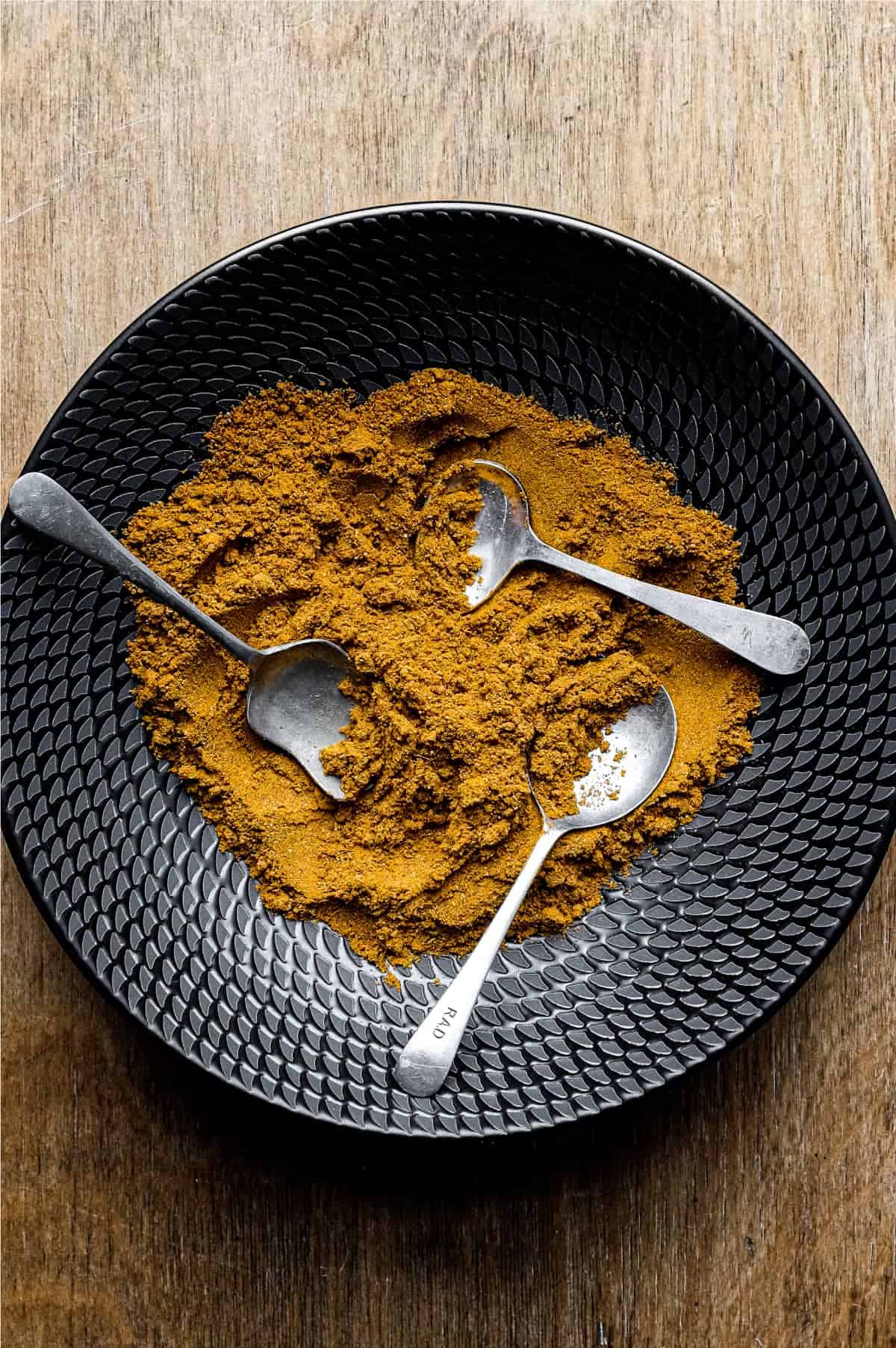 When preparing your own curries at home, you can easily elevate the flavours by creating your very own curry powder. It's so easy to do and really will make a difference to the end flavour. An enhanced experience all round.
Madras curry powder is a versatile curry powder to have at hand in helping to create so many rich and flavourful sauces. It's a ready-made flavour bomb and often the only thing you'll need to be on your way to cooking up authentic South Indian curries.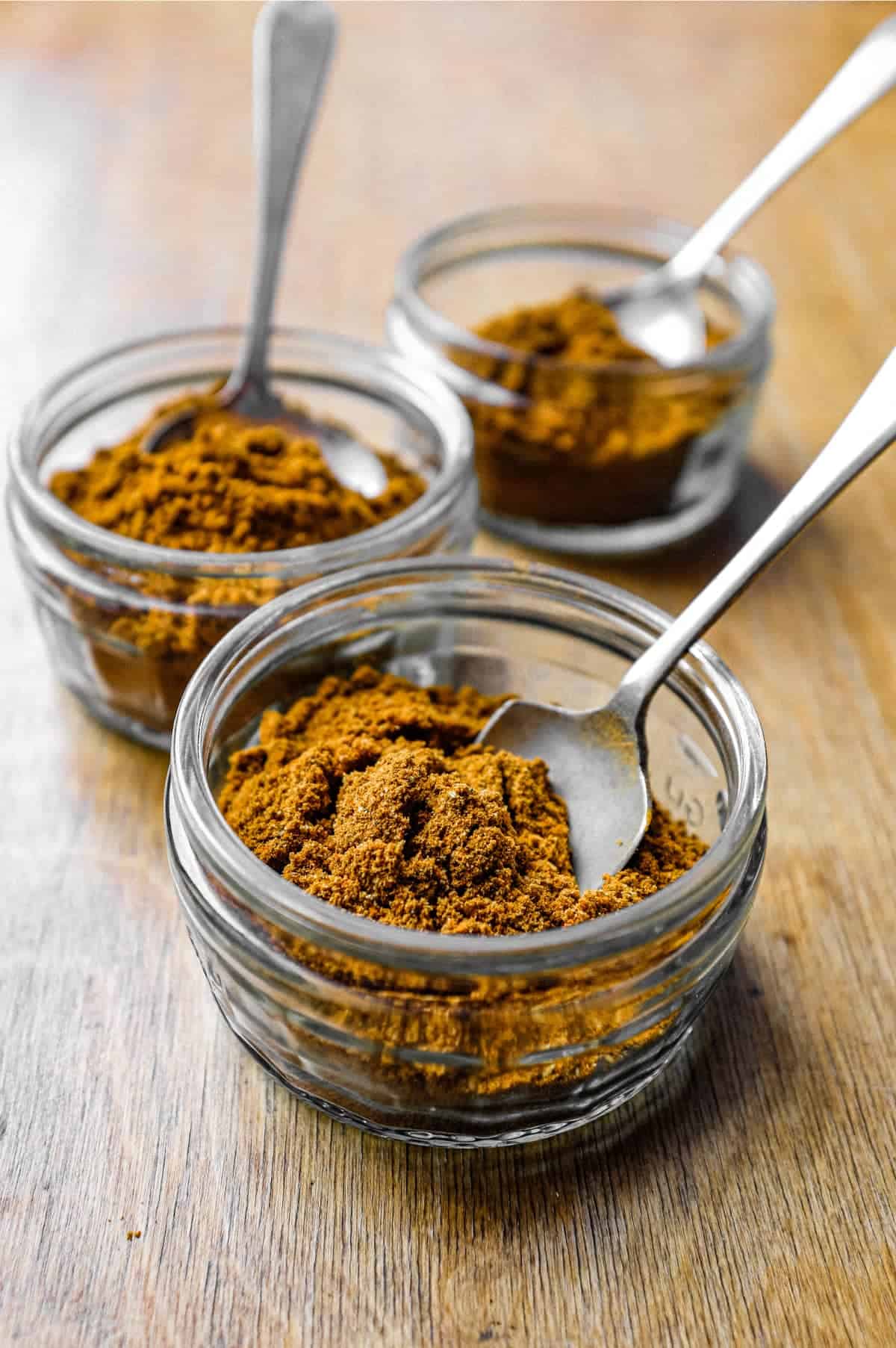 What is Madras Curry Powder?
Madras curry powder is a complex blend of warming spice and chilli from Chennai, India. The Colonial name for Chennai was Madras and in the 18th Century.
As part of the International spice trade, many pre-mixed spice blends were exported to the rest of the World, especially the UK for people to enjoy authentic Indian curries at home, in a time when spices were very hard to come by.
Over the years, Madras curry powder has become a staple around the world. Typically a hotter curry powder than other varieties, it features chilli centre stage, supported by a cast of warm and fragrant spices.
Commercially produced Madras curry powder are readily available but can lack flavour as they are often bulked out with flour or ground rice. There are good brands out there, but making your own at home is simple. All you'll need is a spice grinder or if you're up for the grind, a pestle & mortar.
Why it works?
It's easy - honestly, there's not a lot to making your own curry powder at home. A dry roast of the whole spices activates the natural oils and creates an enhanced flavour. Then a grind into a fine powder is all that's left.
It's flavour! - A homemade curry powder has so much more flavour. You'd see for yourself if you were to compare. I'll save you the effort... the difference is night and day!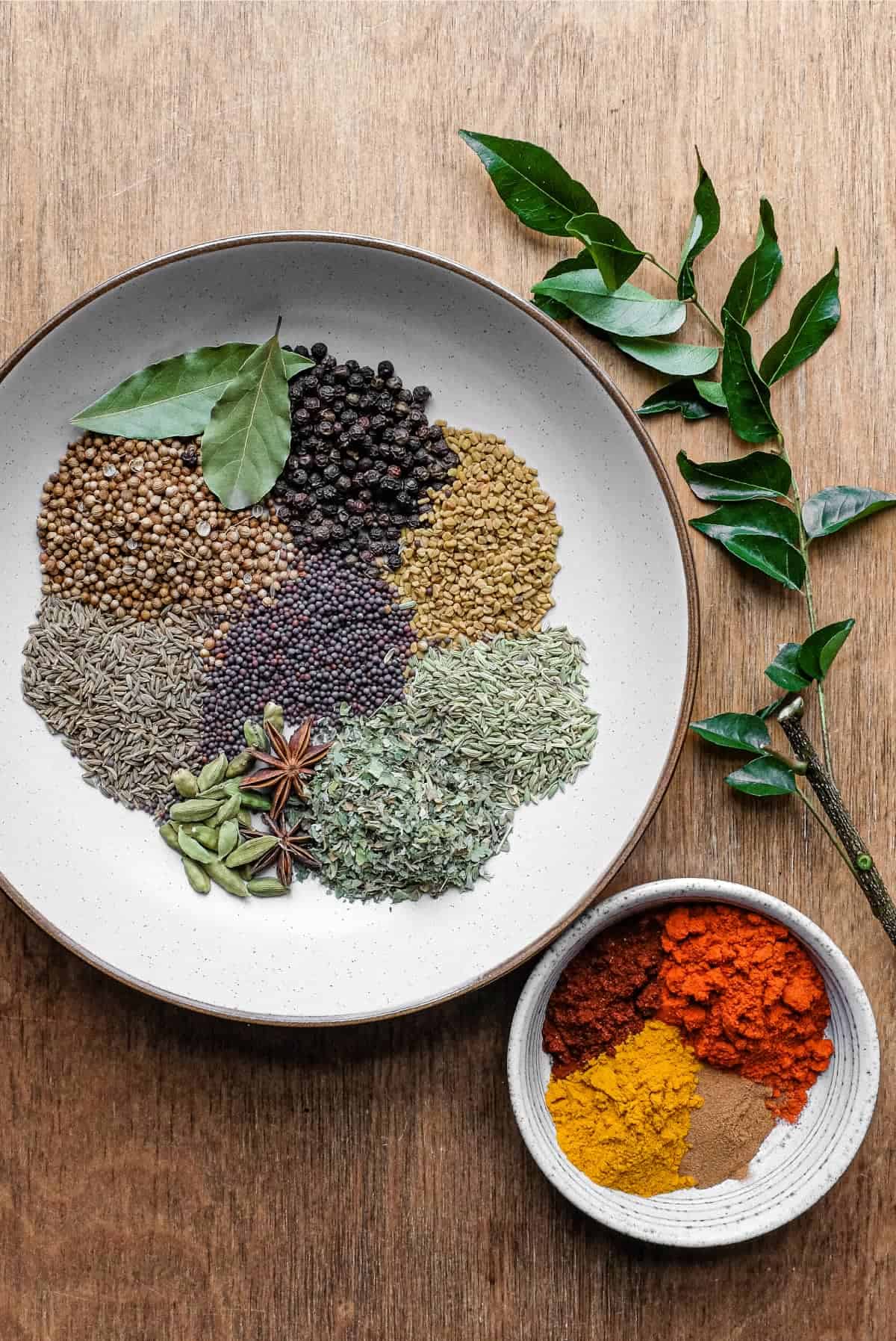 Stuff You'll Need
Making your own Madras curry powder is simple. You'll need a few spices, but trust me, it makes a difference!
Whole Spices - cumin, coriander, peppercorns, fenugreek, fennel, mustard seeds, star anise and cardamom.
Leaves - fresh curry leaves (not dried, they taste of nothing), Kasoori Methi (dried fenugreek leaves) and a couple of dried bay leaves.
Ground Spices -

Cayenne pepper, chilli powder, turmeric and cinnamon. You CAN use whole chillies and cinnamon sticks too, I

didn't

have any at hand for my recipe, so used ground which is perfectly fine.
Step by Step
There are only a couple of steps to making the most perfect Madras curry powder.
Step 1 - Dry roast the whole spices in a pan with no oil until some of the seeds start to pop and dance around the pan. The mustard seeds, cumin and fennel will be first to go. Let them pop around for 10-20 seconds, being careful to not let them burn and turn bitter. Tip them into bowl and let them cool for a few minutes.
Step 2 - Grind the whole

spices in batches in a spice grinder until a fine powder forms. Mix this powder with the

ground

chilli powders, turmeric and cinnamon and that's it!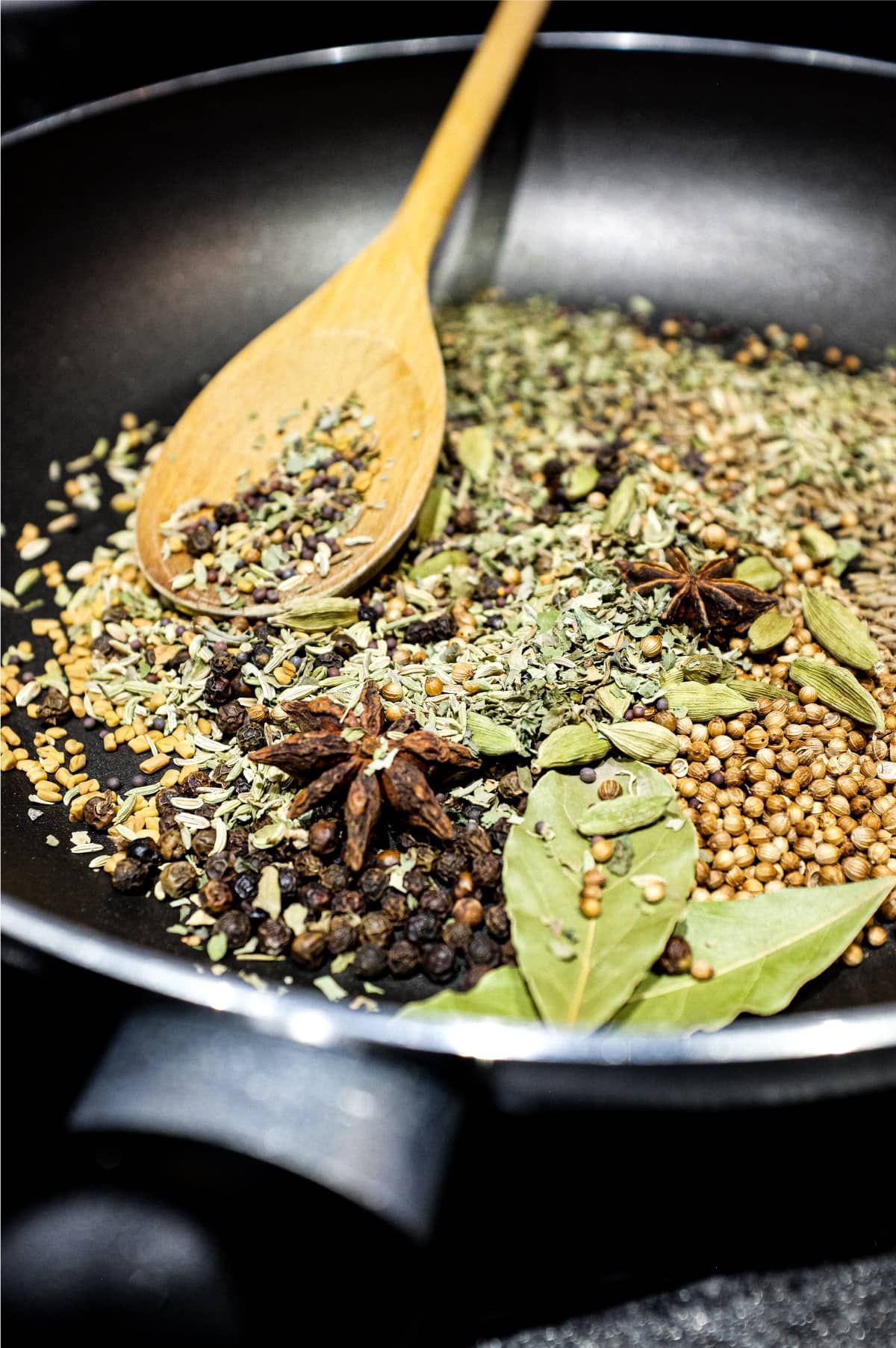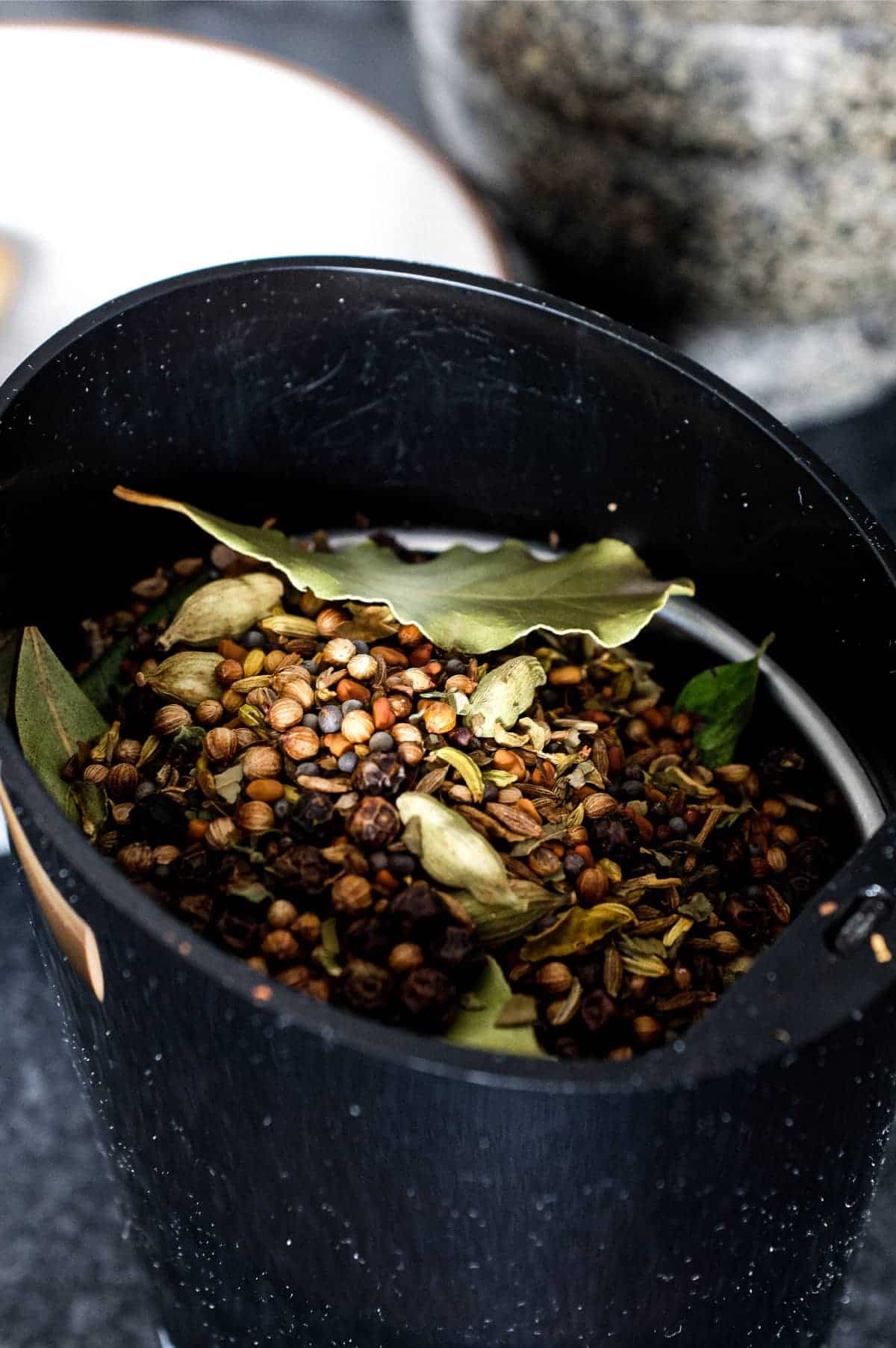 Pro Tips
I didn't have spicy whole chillies when I photographed this recipe (idiot), so I used a couple of hot chilli powders. An authentic Madras curry powder should have a bit of heat so I used a medium hot chilli powder alongside a fiery cayenne pepper.

If you don't have ANY of the spices whole, you can substitute the same amount with ground. You don't need to dry roast the ground spices, just stir them in at the end. Similarly, you can add whole chillies or cinnamon.

Have the pan heat at medium to avoid toasting the spices too quickly and burning them. Burning will make the curry powder bitter.
Uses and Storage Suggestions
You can use this curry powder for any recipe that calls for

'Madras curry powder'

or even just

'curry powder'

. Try my delicious

Lamb Madras curry

, it's out of this world and one of my all time favourites.
Storage
Once ground and mixed, store in an airtight jar or container in the store cupboard for up to 6+ months. Be aware that the longer you keep it the more the flavour fades, so 3-4 months is optimum. This powder quantity will be good for around 4-5 curries.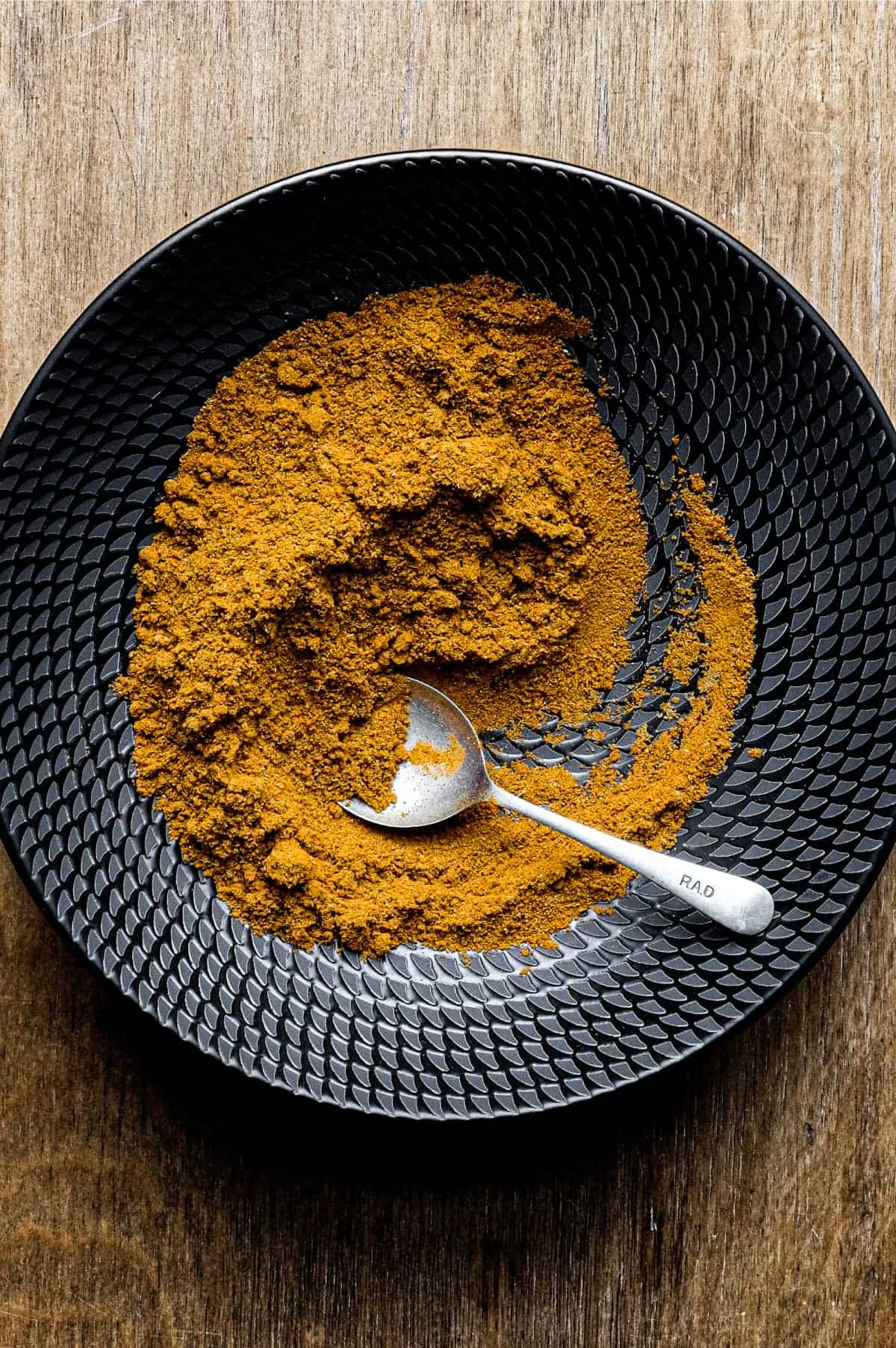 Ready to get started?
So, as you can see, making your own spice blend at home is easy and once you taste the difference you'll be sure to make more of your own in the future. I make lots of curry powders at home. You should definitely try my recipe for Malaysian Curry powder that helps make the most PERFECT Malaysian Kari Ayam (chicken curry). I'll be sharing more of my favourite blends in the next few months too, so stay tuned. Hope you enjoy!
More Indian recipes
If you liked this Madras Curry Powder recipe, I'm sure you'll love some more of my other Indian recipes.
Any Questions? (FAQ)
Have a question about Madras Curry Powder? Let me know in the comments.
How is Madras Curry Powder different from other types of curry powder?
Typically a Madras curry powder will feature chilli centre stage other garam masala style powder are fragrant and warming. Madras Curry Powder has the addition of chilli heat.
Can Madras Curry Powder be substituted for other types of curry powder in recipes?
Yes, absolutely. Meat and poultry curries work well with this curry powder. I use a little less for vegetable, fish and seafood curries as it's quite a powerful blend. Wherever a recipe calls for 'curry powder' you can add this Madras powder without too much trouble.
How long does Madras Curry Powder last?
Once ground and mixed, you should store in an airtight container or jar. It'll last 6+ months in the store cupboard, but fade over time. It's best to make small amounts (like this recipe) over making in bulk, to ensure your powder stays good and fresh.
This recipe uses affiliations and may receive a commission based on your activity (link clicks). Learn more.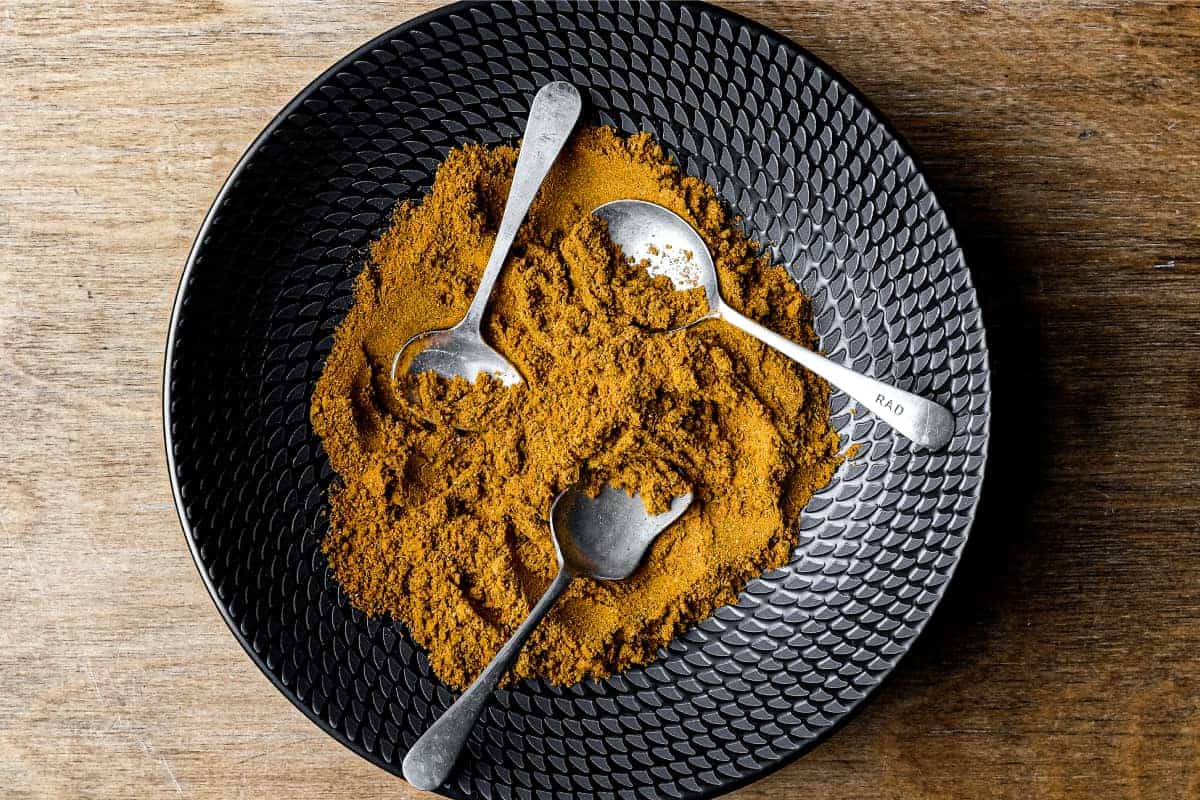 Madras Curry Powder
Rate this recipe
Print Recipe
Pin Recipe
Save Recipe
Go to Collections
Servings (adjustable)
5
portions
Calories (per serving) |
62
Instructions
Add all the whole spices to a large frying pan and dry roast over a medium heat for 2-3 minutes. The spices will begin to dance and hop around the pan. Be careful not to burn the spices as they'll become bitter.

Tip the toasted spices into a large bowl then using a spice grinder or pestle and mortar, grind in small batches until you have a fine powder.

Once all the powder is created, mix in the ground spices and that's it!

Wait until the spice mix is completely cooled and the decant into a jar. Store until needed. The spice mix will be good for 6+ months.
Notes
Tips
Use a medium-hot chilli powder and fiery cayenne pepper to add heat to an authentic Madras curry powder
Ground spices can be substituted for whole spices in equal amounts
Ground spices do not need to be dry roasted, they can be stirred in at the end
Whole chillies or cinnamon can also be added as substitutes for ground spices
Heat the pan at medium to avoid toasting the spices too quickly and burning them, this will create a bitter powder.
Storage
Once ground and mixed, store in an airtight jar or container in the store cupboard for up to 6+ months. Be aware that the longer you keep it the more the flavour fades, so 3-4 months is optimum. This powder quantity will be good for around 4-5 curries.
Nutrition
Calories:
62
kcal
(3%)
|
Carbohydrates:
10
g
(3%)
|
Protein:
3
g
(6%)
|
Fat:
3
g
(5%)
|
Saturated Fat:
0.3
g
(2%)
|
Polyunsaturated Fat:
1
g
|
Monounsaturated Fat:
1
g
|
Sodium:
27
mg
(1%)
|
Potassium:
253
mg
(7%)
|
Fiber:
5
g
(21%)
|
Sugar:
0.4
g
|
Vitamin A:
582
IU
(12%)
|
Vitamin C:
10
mg
(12%)
|
Calcium:
93
mg
(9%)
|
Iron:
4
mg
(22%)