Akuri (Parsi Eggs)
For a fragrant start to the day, Akuri (Parsi Eggs) is pure perfection. Soft scrambled eggs, Indian style with a mild spiced warmth in every bite.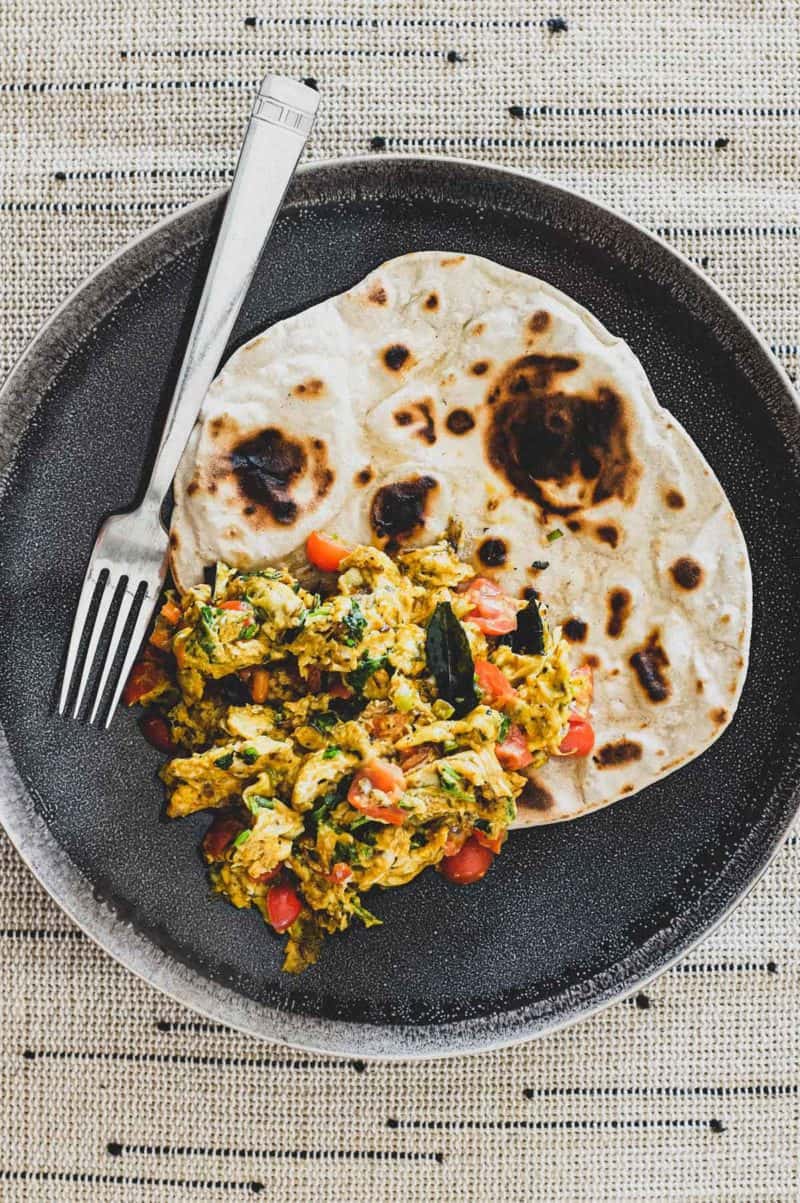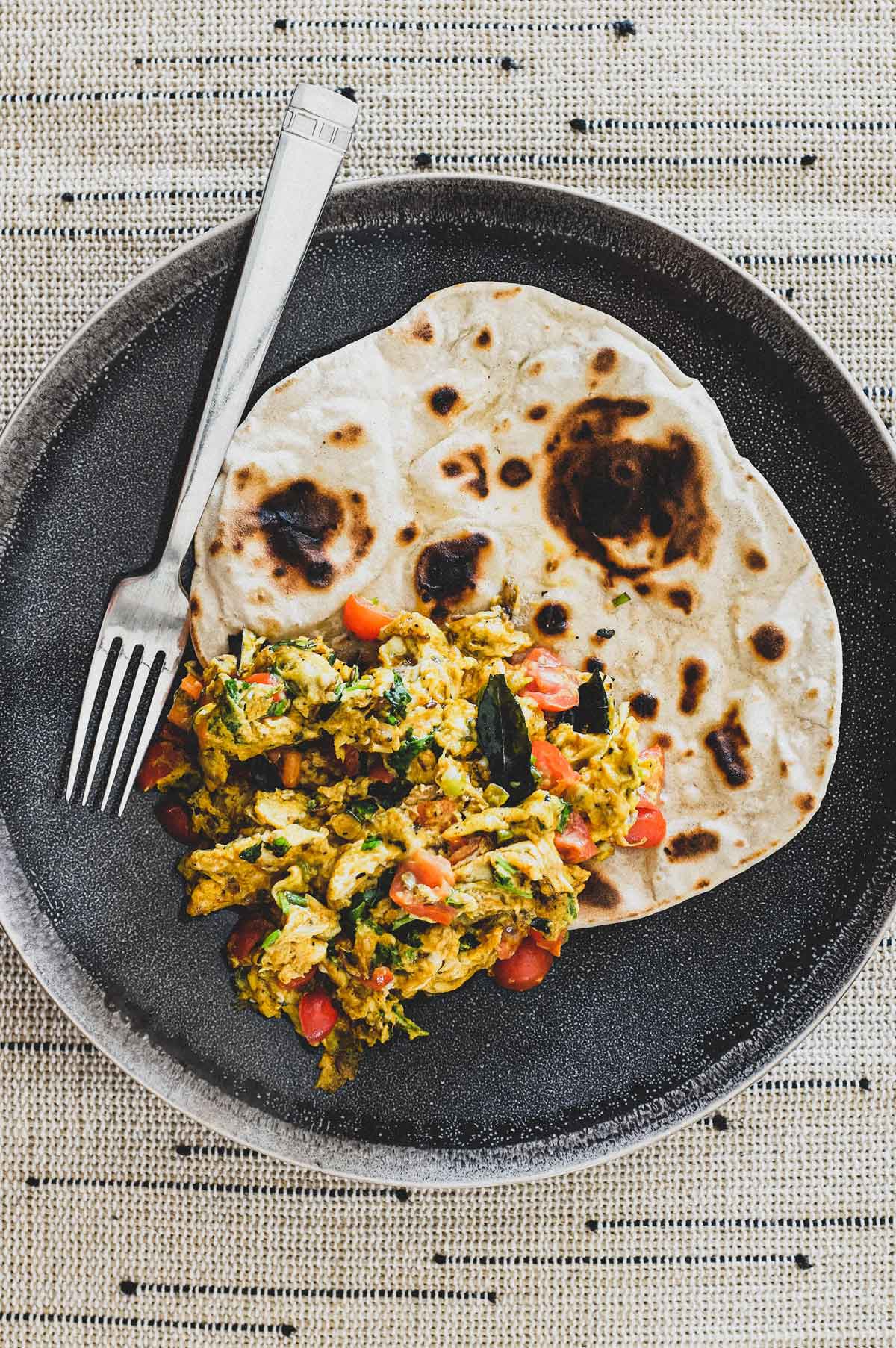 I'm a big fan of eggs at any time of the day, but obviously breakfast is one of the best times to indulge. I first ate Parsi eggs (Akuri) in Mumbai in a wonderful Parsi cafe. I'd been pre-informed that the best item on the morning menu was the scrambled egg. I'll always order eggs, so to know that they came with glowing reviews sealed their fate. All I can say, is that when I tasted these eggs, I declared them the tastiest in my life! The first version I ate in India actually featured ground lamb, cooked and stirred through the soft eggs. They were truly life changing! So amazingly flavourful and the addition of lamb (my second favourite after eggs) was a revelation.
The second time, I sampled the eggs, I order the lamb-free version and I can conclude they were also a triumph. It's THIS Akuri recipe that I share with you.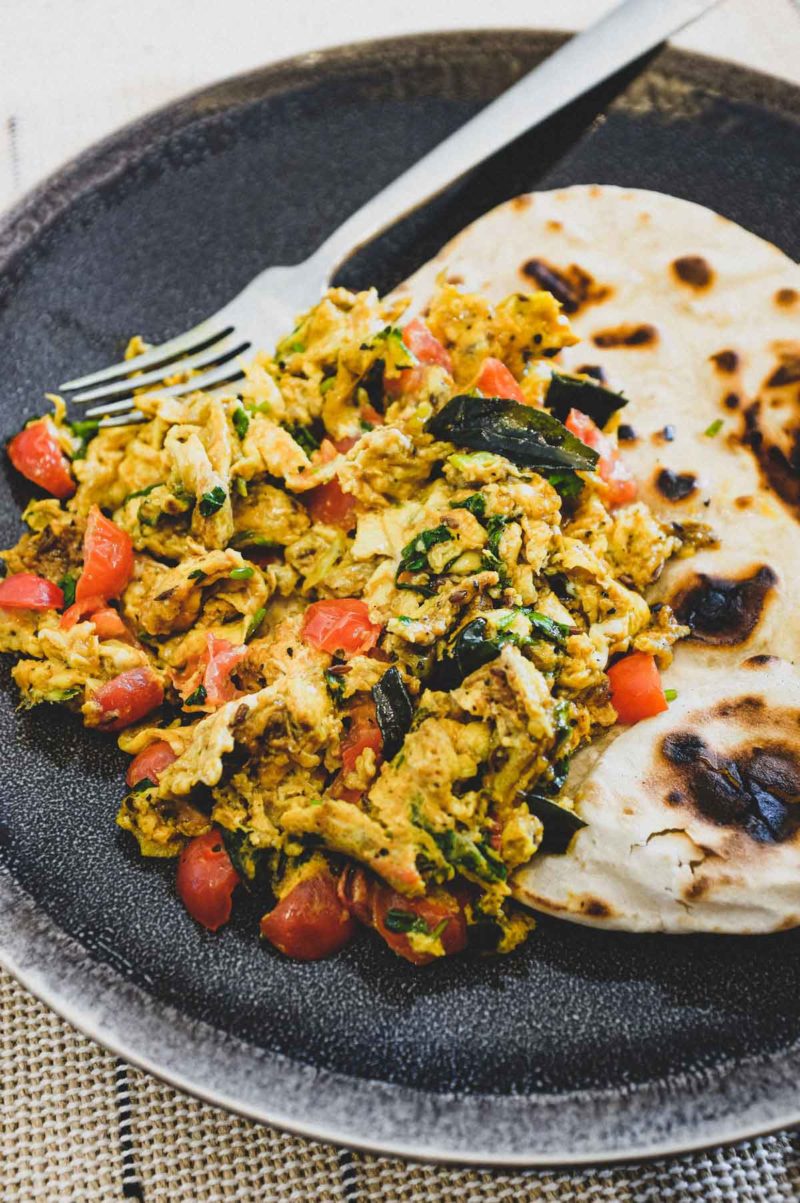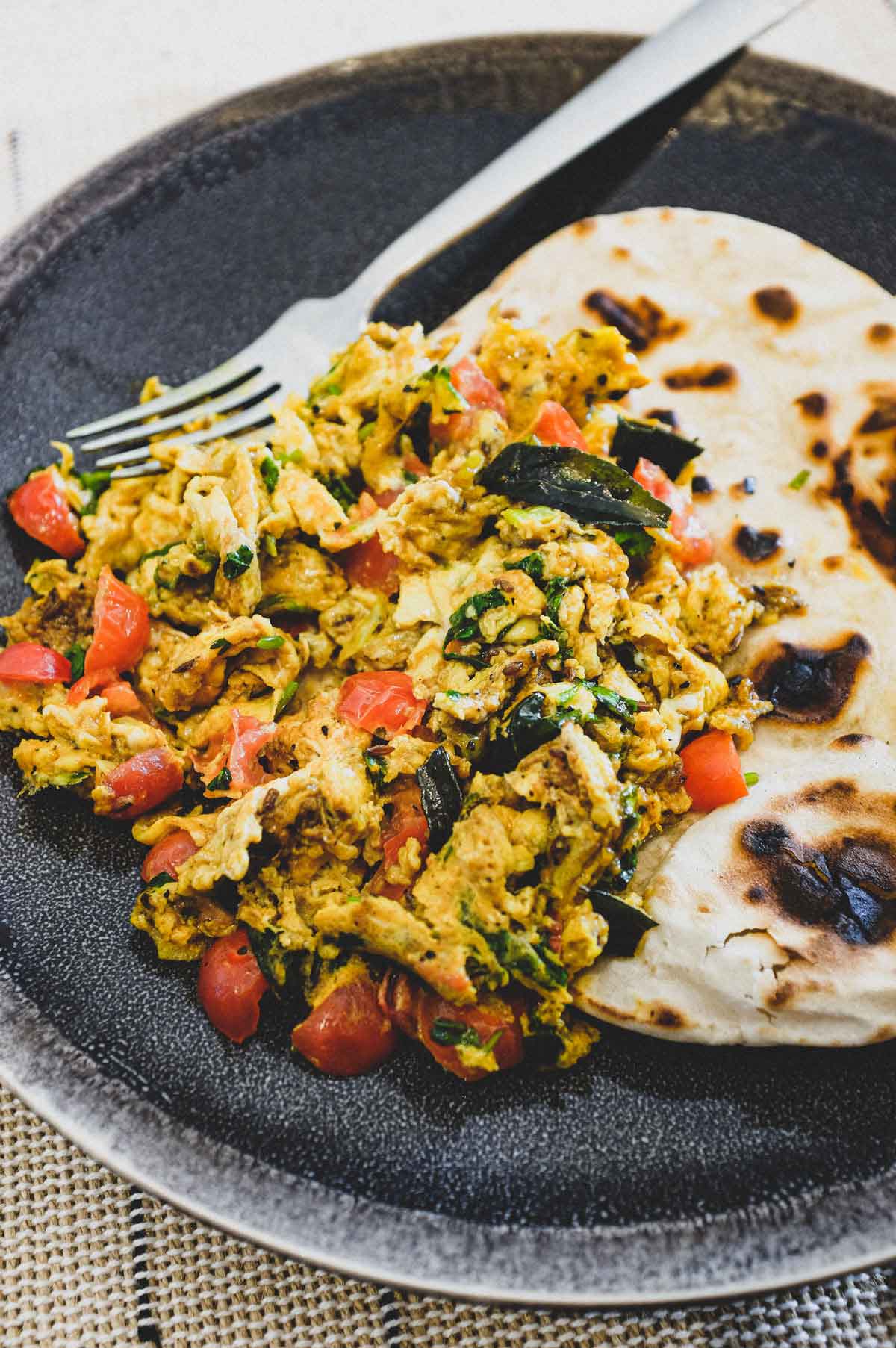 What is Parsi food?
The Parsi community of India are descendants of the Persian settlers from the 8th-10th Century. Their dwindling community can still be found all over India, and particularly in Mumbai. Their cuisine is notably different from standard Indian cookery, taking influences from Iran and the Middle East. There are a scattering of excellent Parsi cafes and restaurants in Mumbai. The Parsi people celebrate all manner of foods, but eggs is one of their most celebrated. And I am in full support! This Parsi Akuri is often compared to another dish called Bhurji Eggs - to the layperson, there is no difference between Akuri and Bhurji. I'm happy to be corrected if you know better!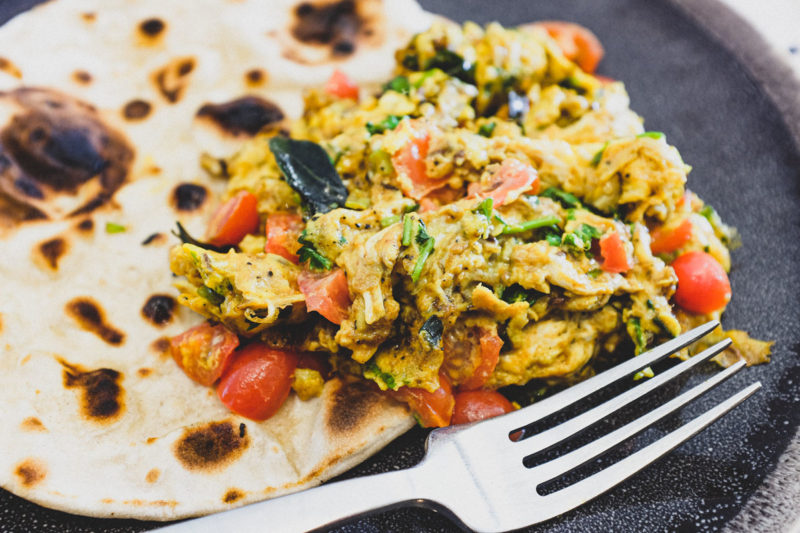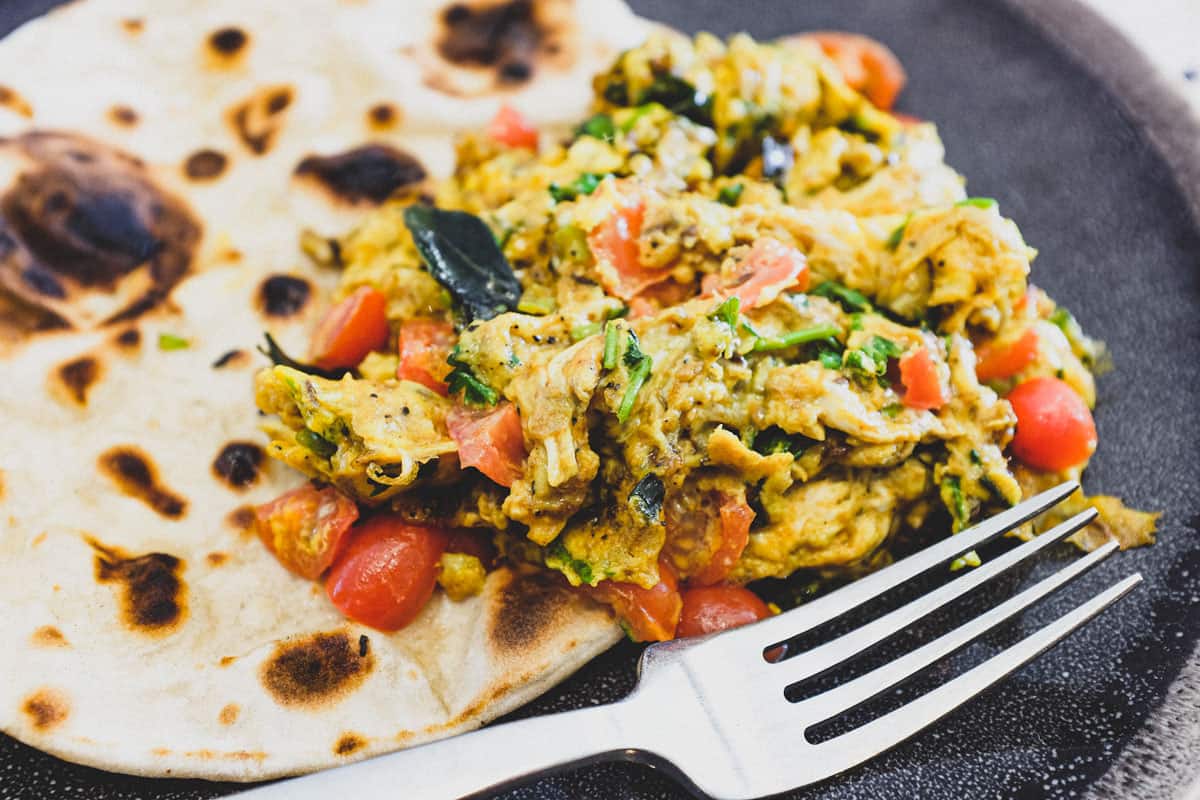 Is Akuri spicy?
Traditionally, Akuri is a milder spiced dish, as it's served in the morning. But that said, you can make yours as hot as you like - if you need your taste-buds woken up, then up the amount of chilli powder or add some fresh chopped chillies. If you want no heat, just omit the chilli powder completely and replace with a sweet paprika. I like mine to have the slightest of spice, so choose a mild chilli powder and use it sparingly.
It's amazing how wonderfully well a scrambled egg works with spices - every mouthful is a burst of flavour and fragrance.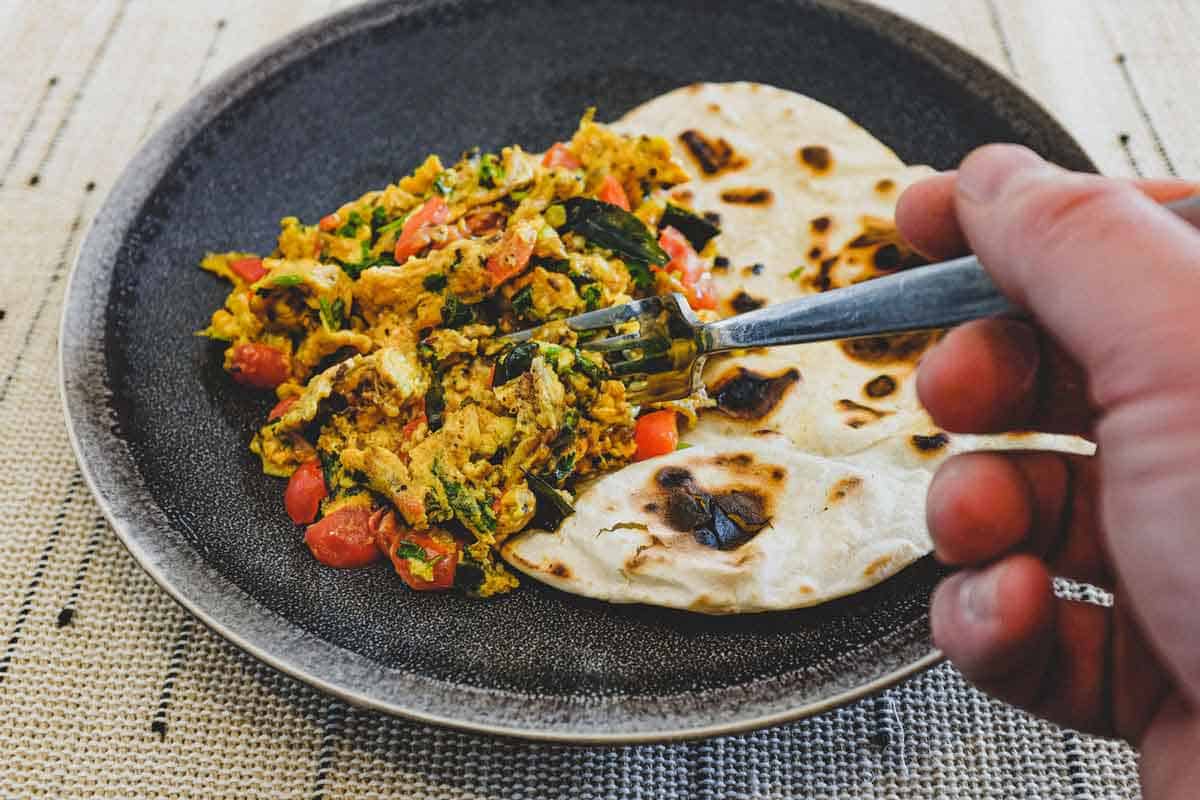 What should I serve with Akuri?
Traditionally egg akuri is served with pav bread (a soft bread roll - like a dinner roll), I prefer mine with a simple roti, chapati or naan. I'll also go Western on occasion and serve it with a couple of slices of crusty toasted sourdough for hybrid 'Akuri on toast'. Again, you can decide! Whichever you choose, it will act as the perfect vehicle to the soft, fragrant eggs - a silky, spiced treat, to get your day off to the perfect start.
More delicious breakfast recipes
If you're looking for more impressive breakfast recipes from around the world, try one of these delicious options.
How to make my Akuri (Parsi Eggs)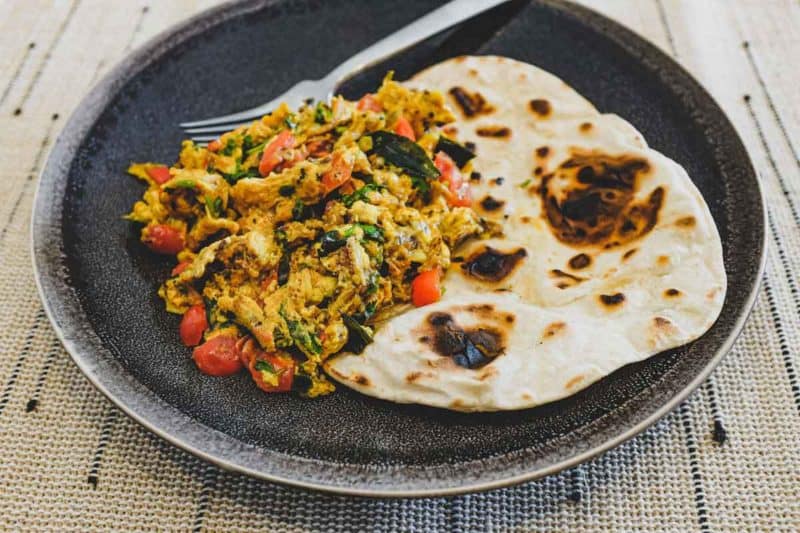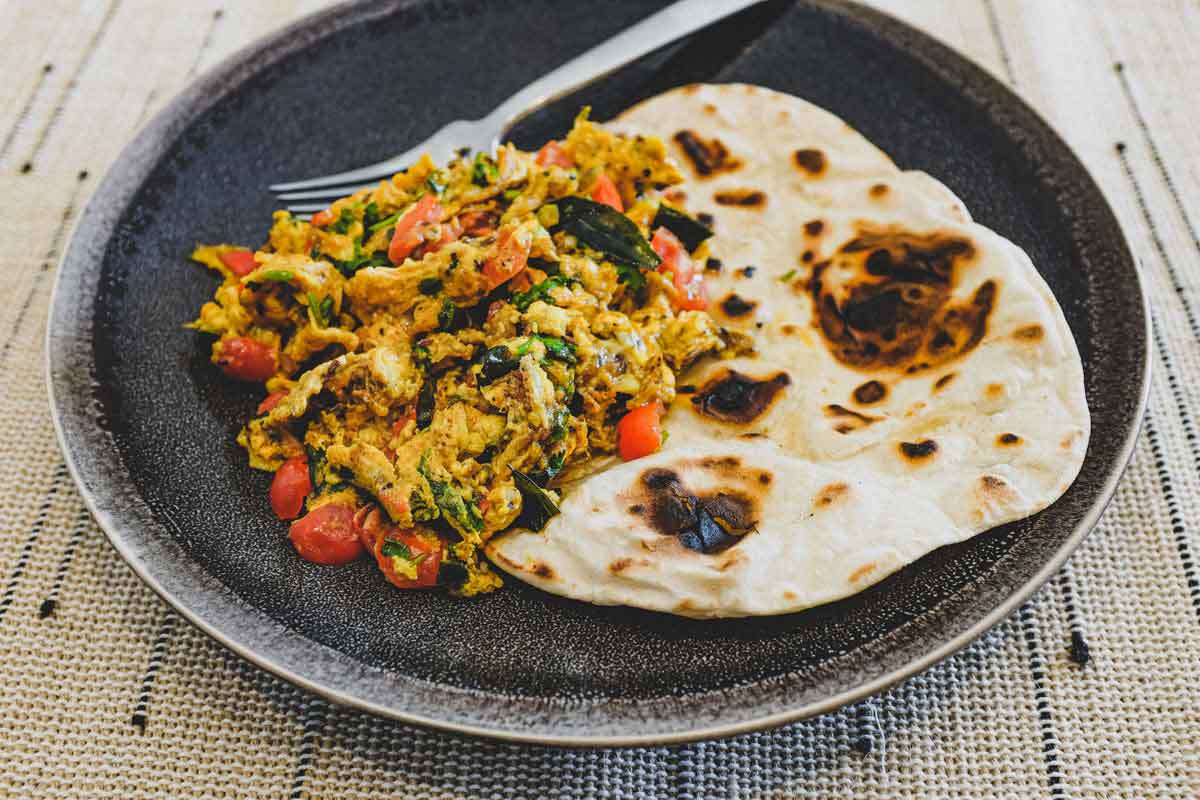 Akuri (Parsi Eggs)
Rate this recipe
Print Recipe
Pin Recipe
Save Recipe
Go to Collections
Calories (per serving) |
295
Instructions
In a frying pan, over a medium heat, heat the ghee/oil until hot. Add the cumin seeds, curry leaves, pepper and salt and let them sizzle for 30 seconds.

Add the spring onion, ginger and chilli and fry for about 1 minute.

Add the turmeric, chilli powder and coriander powder and sizzle for 30 seconds.

Pour in the eggs and cook for 1-2 minutes, stirring to create a soft scramble. Just before it's fully set, Stir in the tomato and cilantro and then remove from the heat.

Serve immediately.

Serve with chapati or crusty breads and squeeze over lime if you like.
Notes
In Mumbai, at a restaurant called Monties, I ate the most spectacular version of Akuri (Parsi eggs) that featured ground/minced lamb. I've made these at home using this recipe, only adding about 1/2 cup ground lamb at the same stage as the onion/ginger and cooking for 4-5 minutes... I then follow the recipe to finish the eggs. It's a super splendid variation of Parsi eggs.
Nutrition
Calories:
295
kcal
(15%)
|
Carbohydrates:
11
g
(4%)
|
Protein:
18
g
(36%)
|
Fat:
21
g
(32%)
|
Saturated Fat:
9
g
(56%)
|
Cholesterol:
510
mg
(170%)
|
Sodium:
784
mg
(34%)
|
Potassium:
468
mg
(13%)
|
Fiber:
2
g
(8%)
|
Sugar:
4
g
(4%)
|
Vitamin A:
1762
IU
(35%)
|
Vitamin C:
93
mg
(113%)
|
Calcium:
108
mg
(11%)
|
Iron:
4
mg
(22%)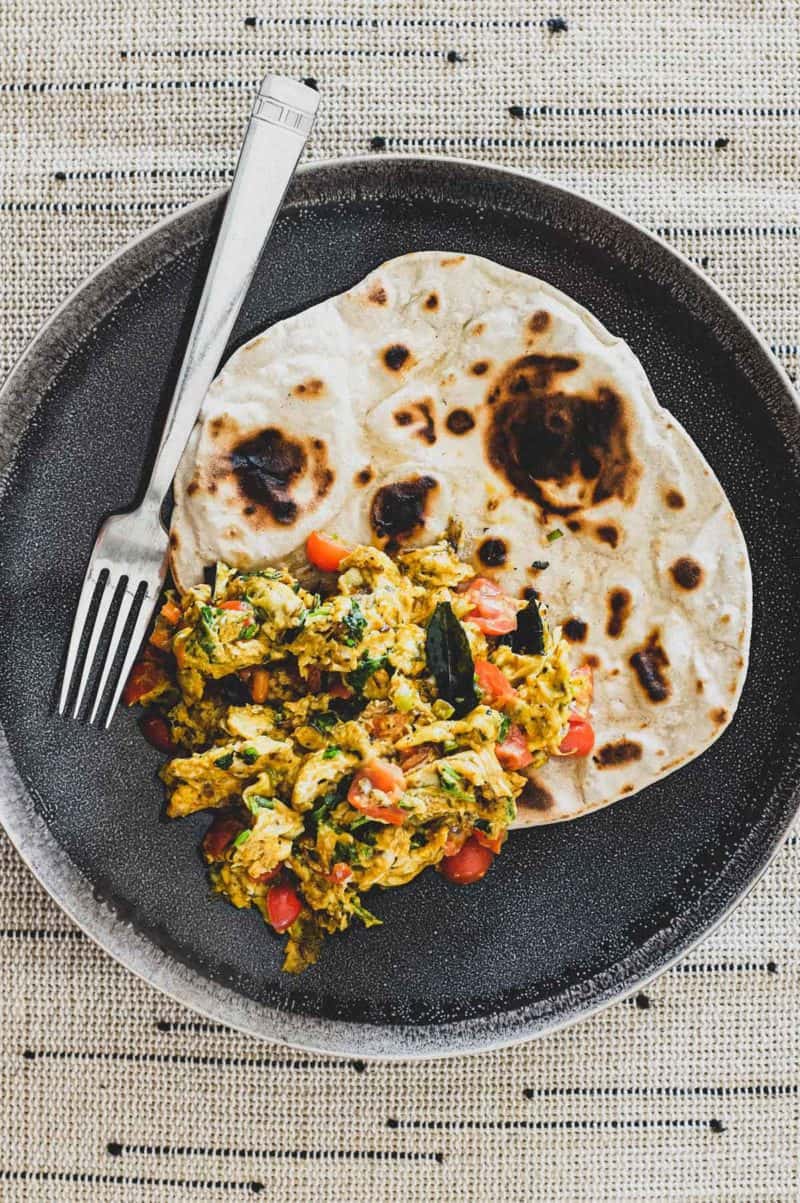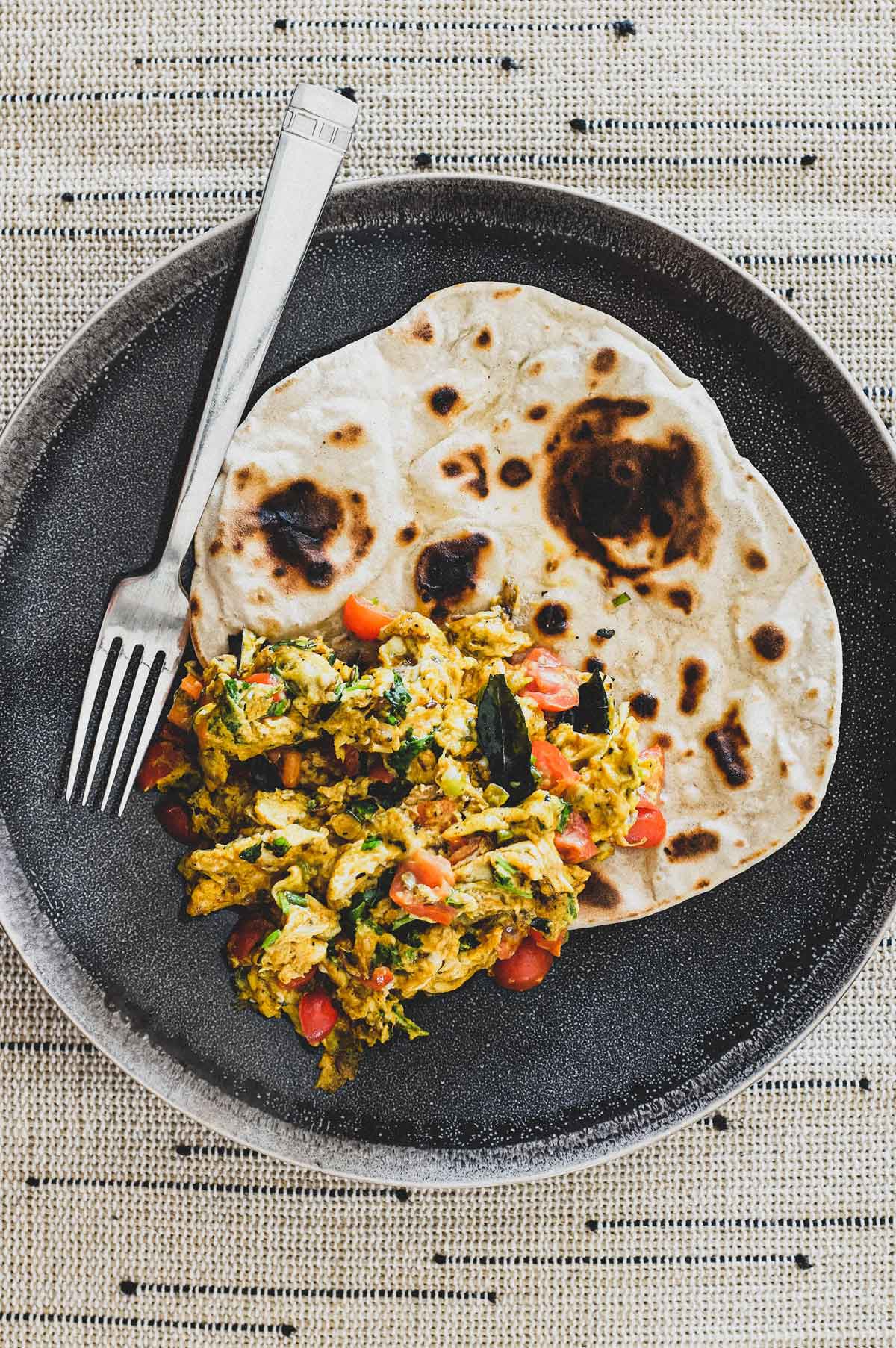 Did you make my Akuri (Parsi Eggs)?
How did you go? Let me know in the comments below and be sure to tag @cookeatworld at Instagram.