Shangleesh Salad (Lebanese Breakfast Salad)
Waking up to Shangleesh salad is one of life's great treats. A sharp, fresh and healthy start to the day. Salty cheese, tomato & onion are a combination made in heaven. Learn how to make this Lebanese classic here…
Shangleesh Salad is the perfect start to any day! This simple Lebanese cheese salad is, on paper pretty run of the mill, there's not a lot to it after all, but it's simply spectacular!
Shangleesh, shankleesh, Shanklish, Chancliche, Shinklish, Sorke, or Sürke?
The star of the show is Shangleesh (this is the name I'm sticking with - it has SO MANY!), an aged Lebanese cow's cheese. The cheese is rolled into balls and covered in thyme then left to create cheese science magic.
The resulting taste varies on how long its been ageing - in Sydney the Shangleesh I bought was salty but quite mild compared to the versions I've found here in the US. The Shangleesh here is more intense in flavour. Beautifully herbaceous, salty and rich.
It's not too dissimilar to a feta, but less salty with more depth of flavour. It sometimes has chilli infused also which just adds more flavour sensation.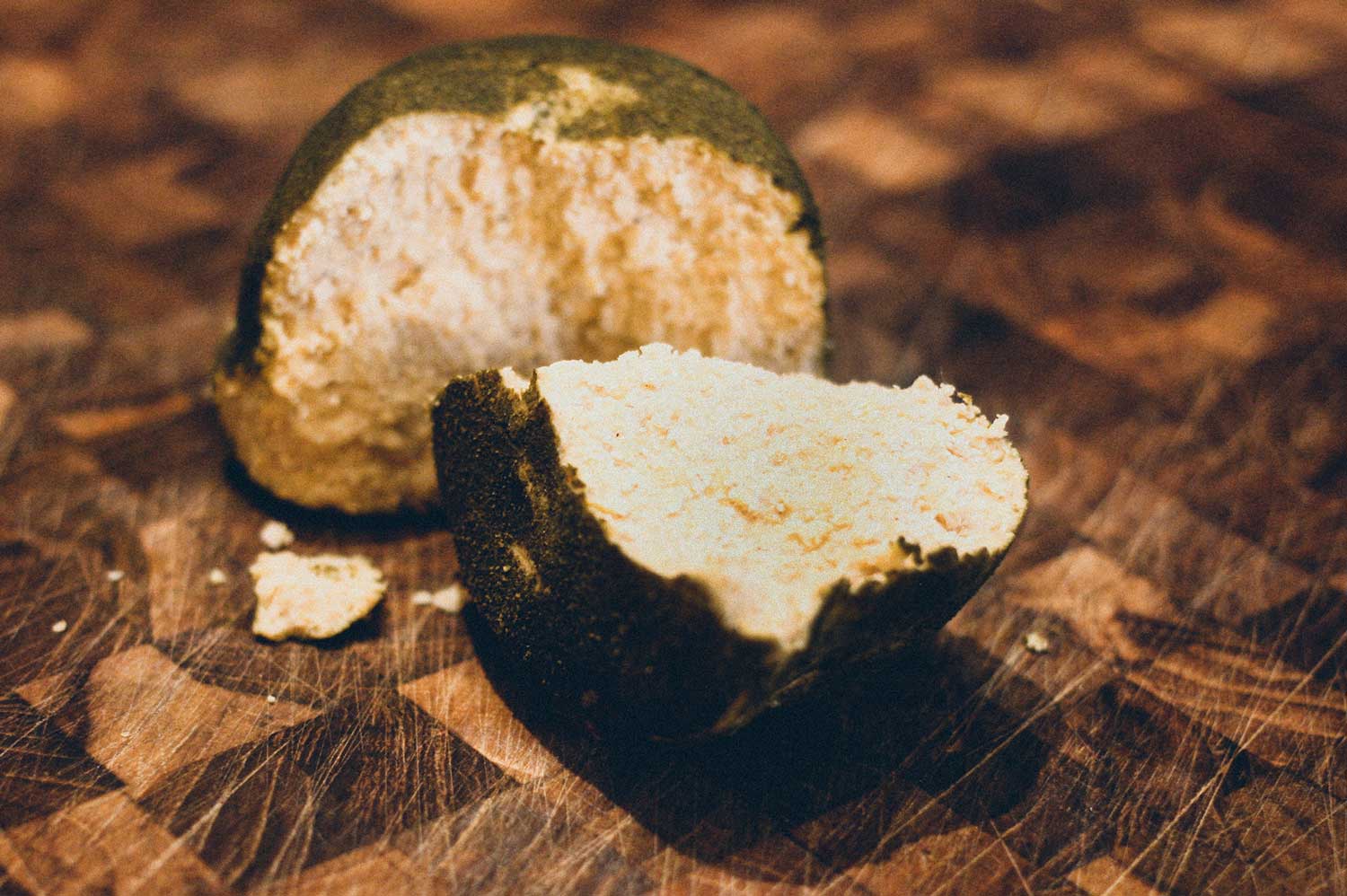 So, that's the star of the show! You can find it fresh in any middle eastern Deli, in the fridge section. Or online, fresh or preserved in oil at Amazon (which is a perfect alternative to fresh).
The salad itself is super simple, and super honest in its flavours of tomato, onion, Shangleesh, parsley and Extra Virgin Olive oil. Honestly though, when you scoop a little bite of this with your Lebanese flatbreads all the ingredients come together in one burst of 'good morning freshness!'
The perfect breakfast
When the sun is out, first thing - I'll whip this up in 5 minutes from ice cold ingredients in the fridge and sit out in the warmth taking scoop after scoop of this delight! One thing that really is essential is good quality Extra Virgin Olive Oil. I used a very robust Spanish oil in this recipe, and I drizzled a LOT! It makes the difference!
It's traditionally a breakfast salad in Lebanon - I'd often make an early morning drive to my favourite Lebanese restaurant in Sydney, Al Aseel for breakfast and eat alongside their amazing Hot Foul Medames (Fava Bean salad), Delicious scrambled eggs and marinated olives. I'd then drive home and go back to bed!
You can obviously serve it whenever you like. It's great with lamb dishes and will cut through the richness. Splendid with chicken and will accompany any middle eastern salad excellently.
For a different start to any day, wake up to Shangleesh Salad. And if you have any leftovers, be sure to put together one of the tastiest and simplest flatbread recipes using a pre bought pizza dough - my fabulous Za'atar Bread with Beef & Shangleesh!
What is Shangleesh?
A Middle Eastern semi soft, aged sheep or cow's cheese, rolled in herbs - typically thyme or Za'atar. Available fresh or preserved in oil. Sometimes available with chilli for a spicy version.
What can I use Shangleesh for?
You can use it in salads, sprinkled over breads, vegetable meats and fish. It's traditionally popular at breakfast time and mashed with eggs, and served with cucumber, tomatoes. Also in THIS breakfast salad!
I can't get hold of Shangleesh what should I use instead?
Shangleesh goes under lots of other names so try searching one of the following instead: Shankleesh, Shanklish, Chancliche, Shinklish, Sorke or Sürke.
Failing that, It's probably closest in texture and flavour to a good quality Bulgarian or Greek feta cheese.
Where can I buy Shangleesh?
Your best and cheapest option is to buy it from a Middle Eastern food store. You'll find it either in the refrigerator or on the shelf, in oil in a jar. Failing that, you can buy it online.
How to make my Shangleesh Salad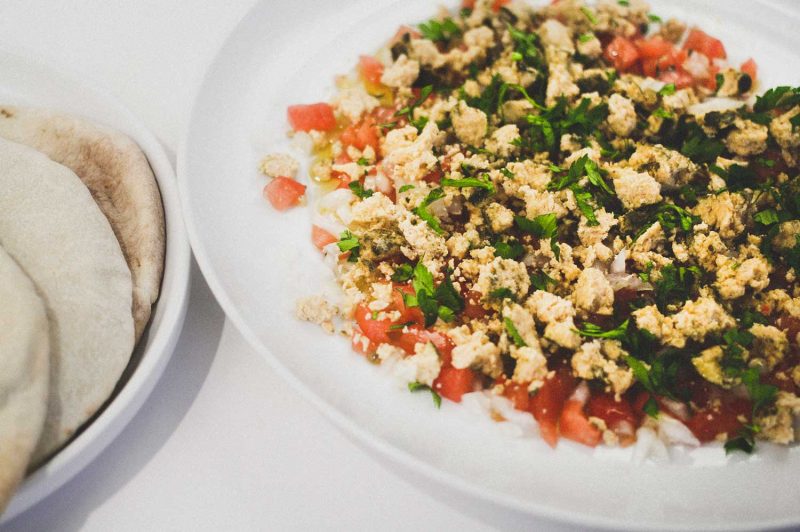 Shangleesh Salad
Rate this recipe
Print Recipe
Pin Recipe
Save Recipe
Go to Collections
Calories (per serving) |
595
Ingredients
500

g

Shangleesh Cheese

1/2

medium onion (finely diced)

3

medium tomatoes (peeled - optional) (de-seeded and cut into small dice)

1/2

cup

good quality extra virgin olive oil

1

tbsp

flat-leaf parsley (chopped)

1/2

lemon (juice of)
Instructions
On a large plate, arrange the tomatoes in one layer. Add a layer of crumbled Shangleesh, a layer of onion and then parsley. Drizzle over all the olive oil and squeeze 1/2 lemon over. Finally, give a light grinding of black pepper. You won't need any salt, the Shangleesh has all the salt the dish needs.
Nutrition
Calories:
595
kcal
(30%)
|
Carbohydrates:
11
g
(4%)
|
Protein:
19
g
(38%)
|
Fat:
54
g
(83%)
|
Saturated Fat:
22
g
(138%)
|
Cholesterol:
111
mg
(37%)
|
Sodium:
1402
mg
(61%)
|
Potassium:
335
mg
(10%)
|
Fiber:
2
g
(8%)
|
Sugar:
8
g
(9%)
|
Vitamin A:
1380
IU
(28%)
|
Vitamin C:
22
mg
(27%)
|
Calcium:
632
mg
(63%)
|
Iron:
1
mg
(6%)
How did you go? Let me know in the comments below and be sure to tag @cookeatworld at Instagram.