Lamb & Eggplant Fatteh
An amazing combination of flavour and texture, this Lebanese fate (or fattee) is a Middle-Eastern version of Nachos. Crisp flatbreads are paired with a soft, spiced combination of lamb and eggplant. It's intoxicatingly delicious and completely addictive!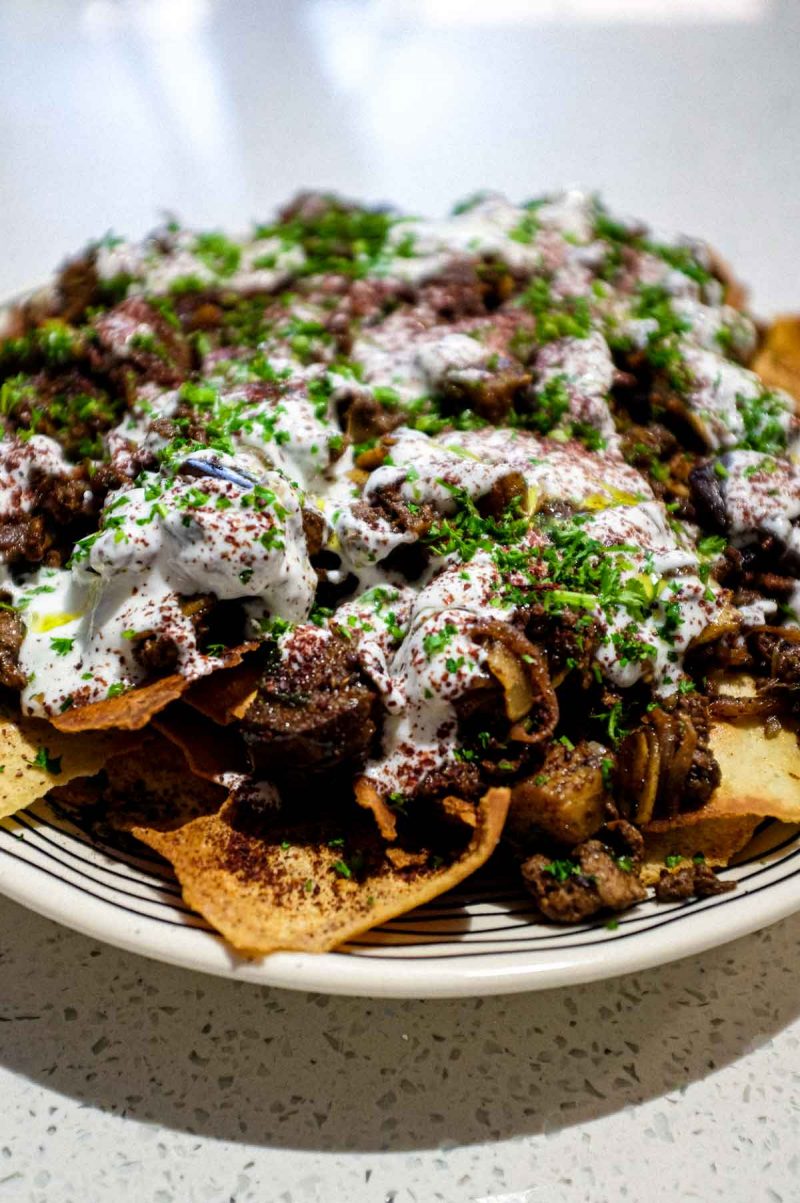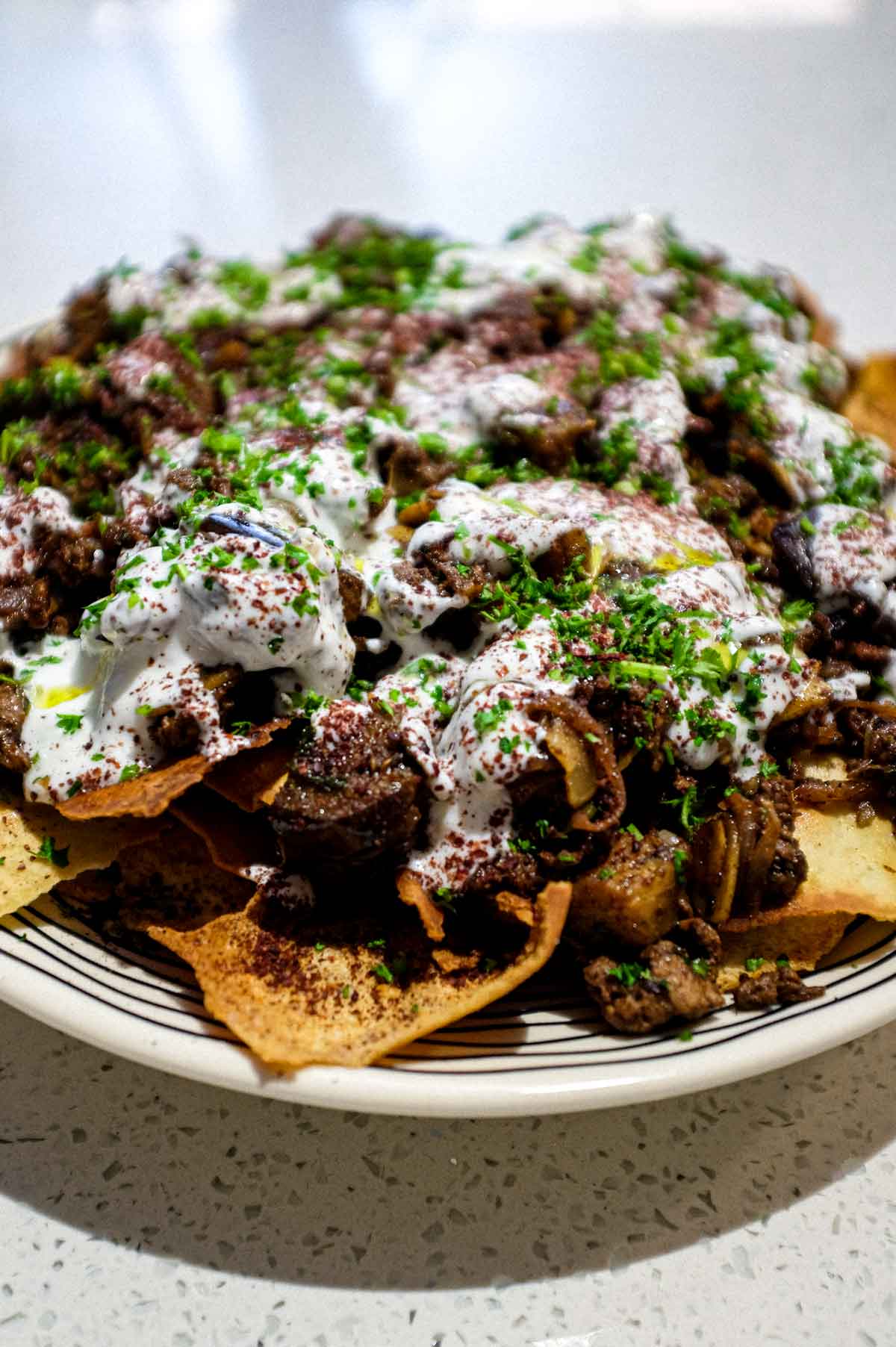 Lamb & Eggplant Fatteh! OH MY!! This dish never fails to impress. It's not a dish many people outside the Middle East have heard of. I've never seen it on any Middle Eastern restaurant menu, so when I first prepared this some 10 years ago I was working completely in the dark. Back then it was called Lamb and Aubergine fatteh, due to my geographical location, but obviously it's the same thing! I wish the UK and rest of the English speaking world could agree on a universal name for this vegetable!
This fatteh is not a difficult dish by any means - it's really very simple, but there are a few steps and I guess I didn't really know what I was doing. Once I tasted the final product I was immediately a huge fan! I think I cooked it three times in a week!
Fatteh = Middle Eastern Nachos.
This dish can, at its most basic, be described as Middle Eastern Nachos. A crispy bread base, layered with a delicious aromatic ground lamb sauce and topped with fresh, garlic yoghurt. It's how I sell it to anyone who will listen - and I've gotten a few people converted over the years. I must say, I do love a big old dirty plate of Mexican nachos, but I think I might just prefer fatteh.
Fatteh, like most other Middle Eastern dishes has a million different spellings; Fetté, Fattee, Fatta to name but a few. It's enjoyed everywhere from Jordan, Yemen, Syria, Lebanon and Palestine to Egypt. It offers an array of variations of ingredients - from meat, to vegetables to legumes, but one thing is common amongst all - stale or baked flatbreads. The ingredients, whatever they are, typically top the breads on a large platter or bowl and usually served communally for everyone to attack.
This particular fatteh with lamb is a Lebanese recipe and it's the one I cook most often. However, I also cook a delightful Turkish version which uses a recipe for Lamb Kofte and a spicy tomato sauce. But when deciding which to feature on the blog, I had to go for the family favourite! In this version the lamb is cooked in wonderfully fragrant spices - not hot, but warming and full of earthiness. There's also a marvellous sour and sweet note, courtesy of the super-ingredient Pomegranate Molasses. The mixed nuts make an excellent addition too, bringing savouriness and texture.
When all is combined, this dish just keeps giving pops of flavour, freshness and texture and, like nachos, becomes completely addictive - I literally cannot be stopped. People have tried... and failed.
So, to get a fresh International spin on nachos (I hate to dumb it down so much) you ought to try a fatteh. It's a dream of a dish and one you'll keep coming back to time and again. You need to trust me on this.
Serving suggestions and other Middle Eastern Recipes
Fatteh is a great self-contained option for a meal - everything is in one place. I've tried to serve side dishes with my father, but they're usually ignored. Best to just serve as one dish fits all type of affair.
If like me, you have any leftover flatbreads you can make one of my most favourite things in all the World; the wonderful Lebanese Fatoush Salad! Crispy bread served with an abundance of crunchy, fresh vegetables with a zingy, sour dressing. It's amazing! Or why not try one (or all) of my other most favourite Middle Eastern dishes... Let me know if you do!
How to make my Lamb & Eggplant Fatteh
Lamb & Eggplant Fatteh
Rate this recipe
Print Recipe
Pin Recipe
Save Recipe
Go to Collections
Calories (per serving) |
602
Ingredients
Instructions
To make the garlic yoghurt
Mix together the yoghurt, crushed garlic, lemon juice and salt and set aside.
To make the nuts
Heat the butter in a frying pan until hot. Add the nuts then fry gently for 1-2 minutes until they turn light golden brown. Remove from the pan at this stage onto paper towels, the nuts will continue to cook so best to take them off just before they turn too brown.

Set aside to cool completely then place in a bowl.
To make the eggplant
Heat the oil in a frying pan over a moderate heat until hot. Add the cubed eggplant and salt and cook, stirring regularly for about 8-10 minutes until the eggplant is fully browned and softened. Remove from the pan and set aside to cool.
To make the lamb
Heat a frying pan over a moderate heat with the olive oil until hot. Add the cumin seeds and let them sizzle for 5-10 seconds before adding the sliced onion.

Stir fry the onion for about 5 minutes until golden and soft. Now add the garlic and stir for a further 2 minutes.

Add the lamb and begin to break up with your wooden spoon as it cooks, stirring into the onion as you go. Cook for about 8 minutes until all lamb has browned.

Add the coriander, cumin, paprika, all spice, cinnamon, salt and pepper and stir in. Cook gently for 3-4 minutes.

Add the eggplant, nuts and parsley to the pan and stir well. Now pour in the pomegranate molasses and squeeze over the lemon. Sir well and cook for a final 2-3 minutes before removing from the heat.
To make the flatbreads
Preheat oven to 350ºF/180ºC

Tear in half and open up 2-3 flatbreads, then tear into 2-3" pieces. Arrange all the pieces on a sheet pan and drizzle generously with olive oil. Toss them around in the oil to coat everything.

Bake in the oven for 15-20 minutes then leave to cool slightly and crispen up.
Arranging the fatteh
On a large serving platter, arrange all the flatbreads on the bottom. Spoon over the lamb to cover, then spoon over the garlic yoghurt.

Scatter over the parsley and sumac then finish off with a light drizzle of extra virgin olive oil.
Nutrition
Serving:
4
g
|
Calories:
602
kcal
(30%)
|
Carbohydrates:
19
g
(6%)
|
Protein:
24
g
(48%)
|
Fat:
49
g
(75%)
|
Saturated Fat:
15
g
(94%)
|
Cholesterol:
88
mg
(29%)
|
Sodium:
872
mg
(38%)
|
Potassium:
673
mg
(19%)
|
Fiber:
5
g
(21%)
|
Sugar:
9
g
(10%)
|
Vitamin A:
690
IU
(14%)
|
Vitamin C:
22
mg
(27%)
|
Calcium:
78
mg
(8%)
|
Iron:
4
mg
(22%)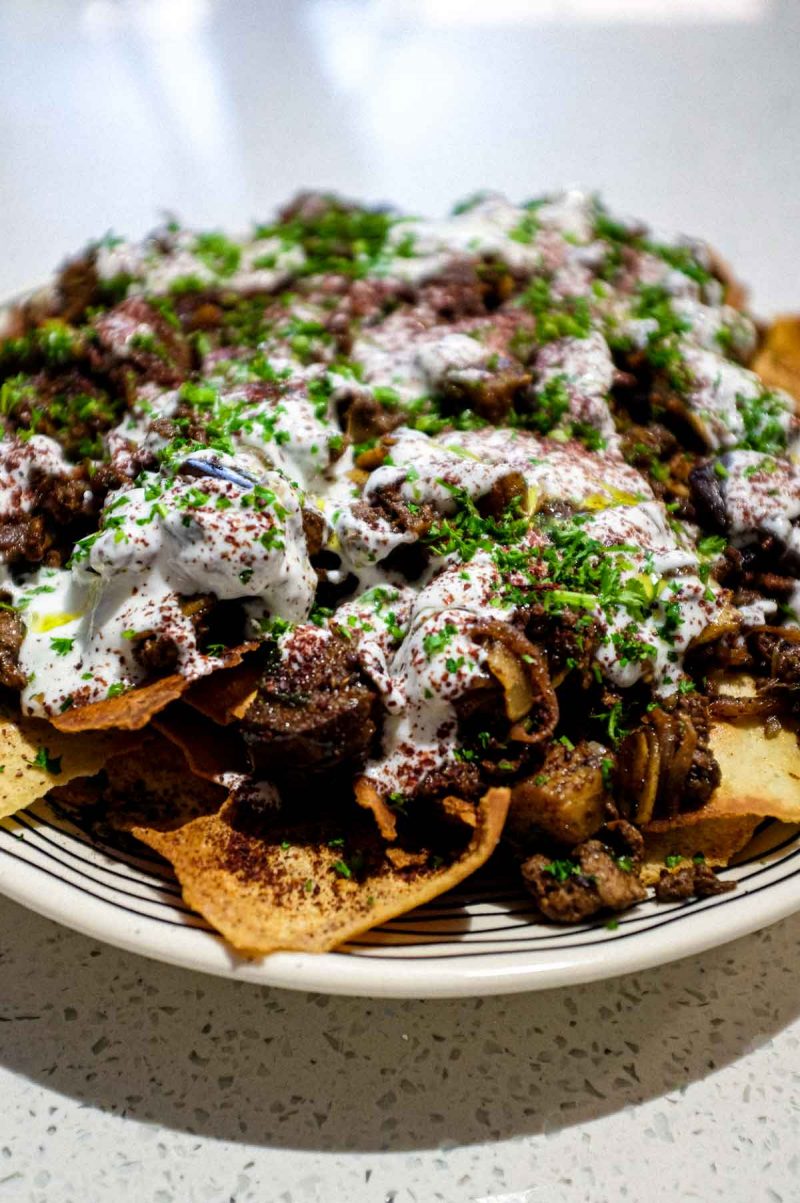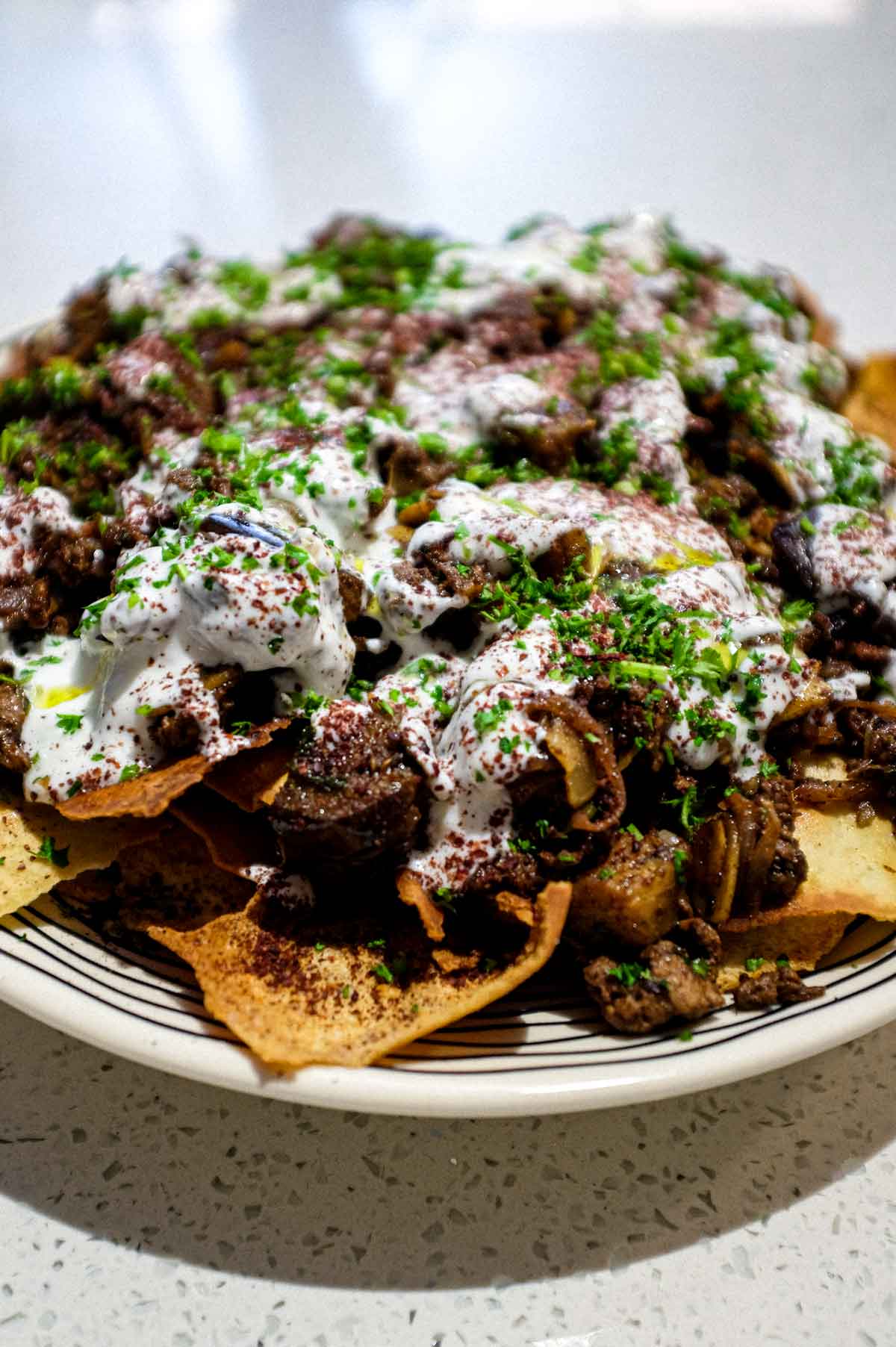 Did you make my Lamb & Eggplant Fatteh?
How did you go? Let me know in the comments below and be sure to tag @cookeatworld at Instagram.