Pasta Alla Norma
Midweek pasta night never tasted so good with this Classic Sicillian eggplant pasta sauce. It'll have you singing from the rooftops!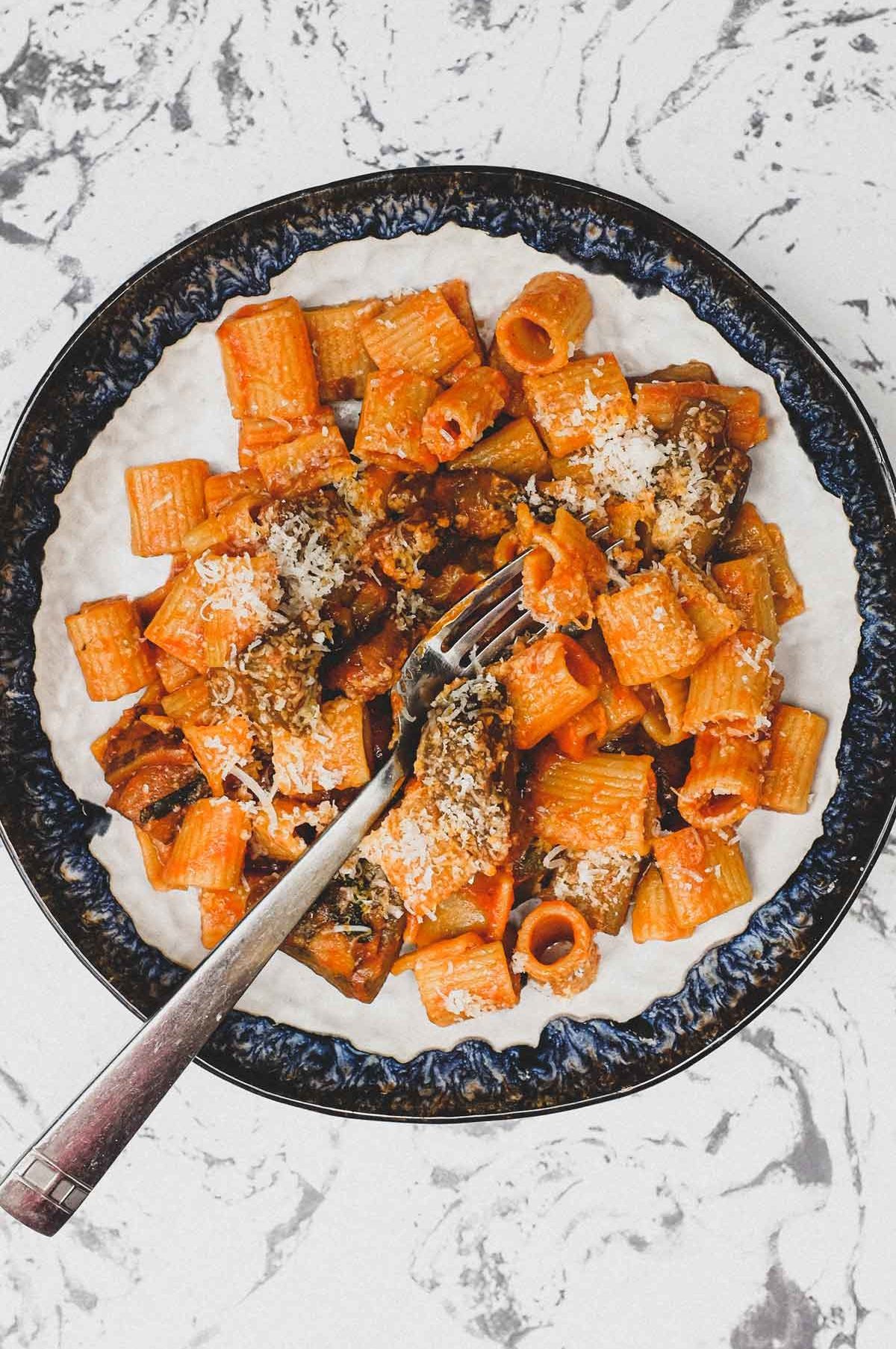 Pasta Alla Norma is one of those classic Italian recipes that is a fail-safe dish to satisfy any flavour pangs you're having. Mid-week, I'm often not in the mood for an extravagant dinner prep. Pasta is the go-to for a quick and easy flavour fix. Vegetarian pasta recipes are even quicker! I've been cooking Pasta Alla Norma for years, as it's a fail-safe dish to put together that's ready in no time and consistently delicious.
What is Pasta Alla Norma?
The dish is rumoured to have been named 'Norma' by the Italian writer Nino Martoglio who, upon tasting the dish, exclaimed "This is a real 'Norma'!"- he was referring to the Vincenzo Bellini opera Norma, which he considered 'perfection'.
The dish originates in Sicily and features fried eggplant/aubergine combined with tomato, basil and pasta. The pasta variety changes. I like to serve mine with rigatoni as it has lots of ridges to catch the thick, tangy sauce.
Pasta Alla Norma is a simple dish with few ingredients. Tomatoes are in the form of Passata (strained tomatoes, bottled). The tomato flavour is intensified further with a little puree concentrate. I use 'tripo' strength (triple). I also use it sparingly.
The fresh, herbaceous notes come from basil. There is nothing more Italian than tomato and basil and the leaves permeate every part of the sauce with their sweet, aniseed flavour. It's perfection!
Eggplant is fried before adding to the sauce - eggplant and oil LOVE each other, so be sure to fry in a decent oil as this will form part of the overall flavour of the sauce. Typically I don't use extra virgin olive oil for frying, but I use one for this recipe as you can taste it in in the final dish. The eggplant is fried until dark golden - the charred bits are all flavour, so make sure you get a nice colour, without burning them, naturally! The eggplant is now set aside as we concentrate on the sauce.
Onion and garlic are fried in a little oil - tomato passata is added and the sauce simmers along with the basil until rich and glossy and seasoned to perfection. There's only one last step to finish the dish.
The eggplant is returned to the pan and simmered until meltingly soft. And that's it! I just love how simple some Italian dishes are to create at home. This is pure delicious just as it is, but when combined with the next magical ingredient, Pasta Alla Norma is elevated to the next level of tasty.
What is Ricotta Salata?
Ricotta salata translated as 'salted ricotta'. To lengthen the shelf life of ricotta, salt is added to the regular recipe and the cheese is pressed and aged to form a semi-firm consitancy that holds its shape. It creates a mild, salty flavour - slightly reminiscent of Greek feta. It's generously grated or crumbled over Pasta Alla Norma.
Sadly, Ricotta Salata is not widely and readily available outside of Italy. You can find it from good Italian deli's and online for sure, but this requires a bit of forward planning, so you may just substitute with Italian Parmesan or Pecorino. No judgement! For this recipe, I was forced to use Parmigiano Reggiano as my local 'dealer' has closed due to COVID - DAMN YOU 2020!!
So, for a super simple, super effective, super authentic (minus the ricotta salata) Pasta Alla Norma, be sure to add this to your weekday pasta rotation. Thanks to passata, it's good all year round, come rain or shine. Bellissimo!
More delicious pasta recipes perfect for a weekday treat.
If you're looking for a pasta treat any or every night of the week, try one or all of my best 10 pasta recipes. You can also just try one of these too:
How to make my Pasta Alla Norma
Pasta Alla Norma
Rate this recipe
Print Recipe
Pin Recipe
Save Recipe
Go to Collections
Calories (per serving) |
236
Instructions
Peel the eggplpant and cut into large cubes (sprinkle with a little salt and leave for 5 minutes to draw out a little moisture) Pat dry with paper towels and set aside.

Heat the oil in a large frying pan over a medium heat until hot. Add the eggplant in a single layer and fry for 6-7 minutes, turning occasionally. We want a nice brown colour on the eggplant - as it browns and softens, some of the oil will return to the pan.

Remove the eggplant from the pan and set aside. If there is no oil in the pan, add a drizzle to the pan.

Add the onion to the pan and fry gently for 2-3 minutes until soft and golden.

Now add the garlic and fry for 1 minute to soften.

Add the tomato puree and stir-fry for 20-30 seconds before pouring in all the tomato passata. Add 1 cup of water to the bottle, and shake, then pour into the sauce.

Stir in the basil leaves then season with salt, pepper and sugar and stir well. Bring to a simmer then cook gently for 10 minutes (turn the heat down for a gentle simmer).

Return the eggplant to the pan and let this cook for a further 10 minutes. If the sauce reduces too much, add a little water.
Finishing the dish
Cook your chosen pasta in salted water to the packet timings. When cooked, drain (reserving a little of the cooking water).

Mix in enough sauce to generously coat the pasta - add a couple of spoonfuls of pasta cooking liquid to loosen the sauce. Arrange in bowls and scatter over the ricotta salata or Parmesan cheese.
Nutrition
Calories:
236
kcal
(12%)
|
Carbohydrates:
18
g
(6%)
|
Protein:
3
g
(6%)
|
Fat:
18
g
(28%)
|
Saturated Fat:
3
g
(19%)
|
Sodium:
8
mg
|
Potassium:
596
mg
(17%)
|
Fiber:
7
g
(29%)
|
Sugar:
10
g
(11%)
|
Vitamin A:
179
IU
(4%)
|
Vitamin C:
8
mg
(10%)
|
Calcium:
34
mg
(3%)
|
Iron:
1
mg
(6%)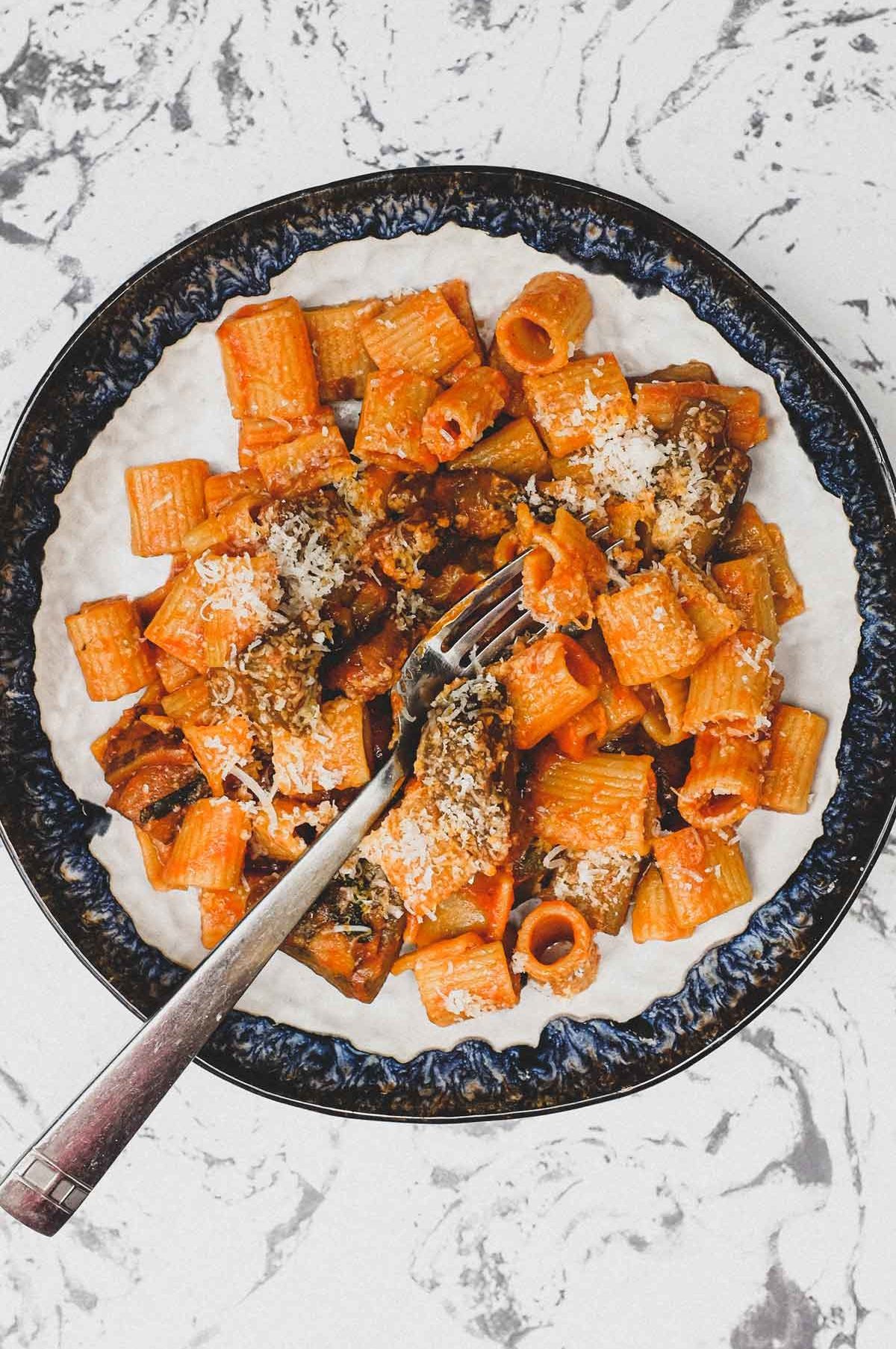 Did you make my Pasta Alla Norma?
How did you go? Let me know in the comments below and be sure to tag @cookeatworld at Instagram.