Orecchiette with Sausage & Broccoli Rabe
Some ingredients are meant to be together. This trinity of sausage, broccoli rabe and orecchiette pasta are one such holy union! This dish is as perfect as it's going to get… so I don't mess with it.
When you dig a little deeper into Italian cuisine, you realise that they are very particular about what foods go together and how certain dishes are set in stone. Orecchiette with Sausage & Broccoli Rabe is one such dish. I'm all for an authentic Italian recipe, so happy to play by the rules and create dishes as they should be.
What is Broccoli Rabe?
Broccoli rabe (also known as rapini) is actually not broccoli at all, and apparently is more closely related to turnip. The end tips resemble broccolini which is most likely why it get its nickname. The leaves and stems are used in the recipe and bring a bitterness to the dish. This bitterness works so well to counteract the sweetness of Italian style sausage, with all it's wonderful aniseed fennel flavour.
What is Orecchiette Pasta?
The final part to the trio of essentials is the orecchiette pasta. pronounced 'or-eh-key-ette' it translates as 'little ears'. They are typically durum wheat pasta shaped like small concave buttons or ears. You can buy them pre-made and dried which is perfectly fine (and how I cook them half the time) and you can also make your own pretty easily using a semola flour (semolina/durum wheat flour and water). But today, we're focussing on the sauce and not the pasta, so store-bought it is!
The concave element of the orecchiette are perfect for trapping the sauce, ensuring you get a small pop of flavour with every bite. The Ialians are masters of their craft and it's no mistake that this happens.
What makes this dish so successful, is not only the flavour, it's the simplicity of the sauce. We harness all the work that went into preparing the sausage and simply pair it with the broccoli rabe. A simple preparation that like so many Italian pasta accompaniments seem to beggar belief at how full of flavour they are. What's not to love about minimal effort, maximum taste!? This treasure of a pasta dish is beloved in Italy and and even more in my household - I cook it all the time, whenever I see broccoli rabe at the store, I whip it off the shelf in a heartbeat. But even when I can't get hold of it, all is not lost - you can substitute rapini with broccolini or just regular broccoli (without the bitterness), you can also use arugula or mustard greens to mirror the bitterness. But it's broccoli rabe that is the most successful and tastiest - so keep your eyes peeled! Enjoy!!
More delicious Authentic Italian Recipes
While you're in the mood for Italian sausage you might want to give my delicious Malloreddus (Gnocchetti Sardi) with Sausage & Arugula a whirl. If you're just in the mood for pasta and even may want to learn How to Make Fresh Egg Pasta then why not give one of these delicious recipes a try:
How to make my Orecchiette with Sausage & Broccoli Rabe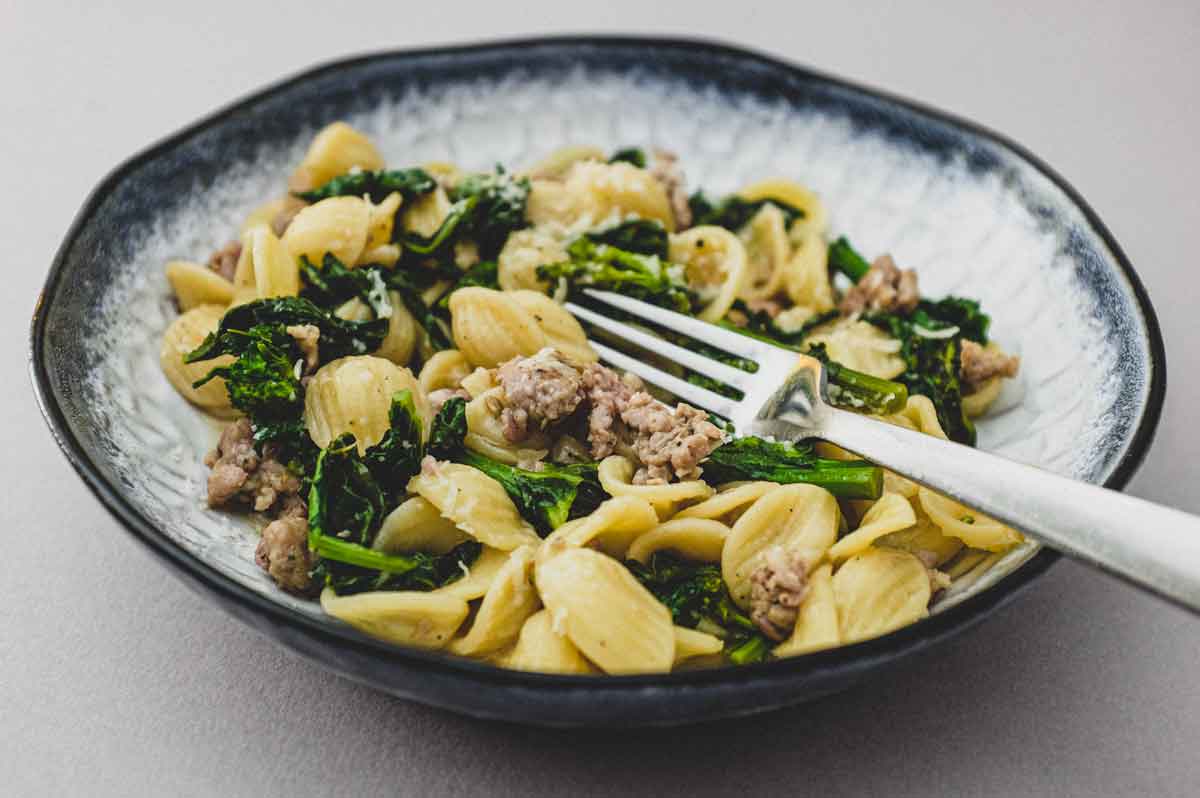 Orecchiette with Sausage & Broccoli Rabe
Rate this recipe
Print Recipe
Pin Recipe
Calories (per serving) |
556
Ingredients
2

tbsp

olive oil

⅓

cup

onion

(chopped)

2

garlic cloves

(peeled & chopped)

10

oz

Italian sausage

(removed from sausage casings)

½

cup

dry white wine

1

bunch

broccoli rabe

(ends trimmed, cut into large pieces)

¾

cup

chicken stock

½

cup

Parmigiano Reggiano

(finely grated)

salt & pepper
Instructions
Cooking the pasta
Bring a large pan of salted water to a boil. Halfway through making the sauce (below) start cooking the pasta. Cook to the packet instructions.
To make the sauce
Heat the oil over a medium heat in a large, deep frying pan (that you have a lid for) until just hot.

Add the onion and garlic and fry gently for 2-3 minutes until soft. Add the sausage meat and using the back of a wooden spoon break up into small pieces as it fries. Cook for about 3-4 minutes until cooked through.

Add salt & pepper and then add the wine. Let it sizzle for 30 seconds before tipping in all the broccoli rabe. Stir briefly then put on the lid and cook gently for 5 minutes to soften the broccoli.

Remove the lid and stir in the chicken stock and cook for another 2-3 minutes. Stir in the Parmigiano Reggiano and remove from the heat.

When your pasta is cooked, drain, retaining a little of the cooking liquid. Tip the cooked pasta into the pan and stir well. If it looks a little dry, add a spoonful or two of the cooking liquid.

Divide into bowls (you decide how many – I say 2 but normal people may say 3-4!). Sprinkle with more Parmigiano Reggiano and that's it! Enjoy!
Nutrition
Calories:
556
kcal
(28%)
|
Carbohydrates:
9
g
(3%)
|
Protein:
24
g
(48%)
|
Fat:
44
g
(68%)
|
Saturated Fat:
15
g
(94%)
|
Cholesterol:
85
mg
(28%)
|
Sodium:
1072
mg
(47%)
|
Potassium:
519
mg
(15%)
|
Fiber:
2
g
(8%)
|
Sugar:
3
g
(3%)
|
Vitamin A:
2105
IU
(42%)
|
Vitamin C:
19
mg
(23%)
|
Calcium:
307
mg
(31%)
|
Iron:
3
mg
(17%)
Did you make my Orecchiette with Sausage & Broccoli Rabe?
How did you go? Let me know in the comments below and be sure to tag @cookeatworld at Instagram.