Malloreddus (Gnocchetti Sardi) with Sausage Ragù
Delicious tiny pillows of homemade pasta gnocchetti, ridged to capture and retain all the flavour from a simple, tangy sausage & arugula ragù. Malloreddus are easy to make at home, and you won't believe how delicious!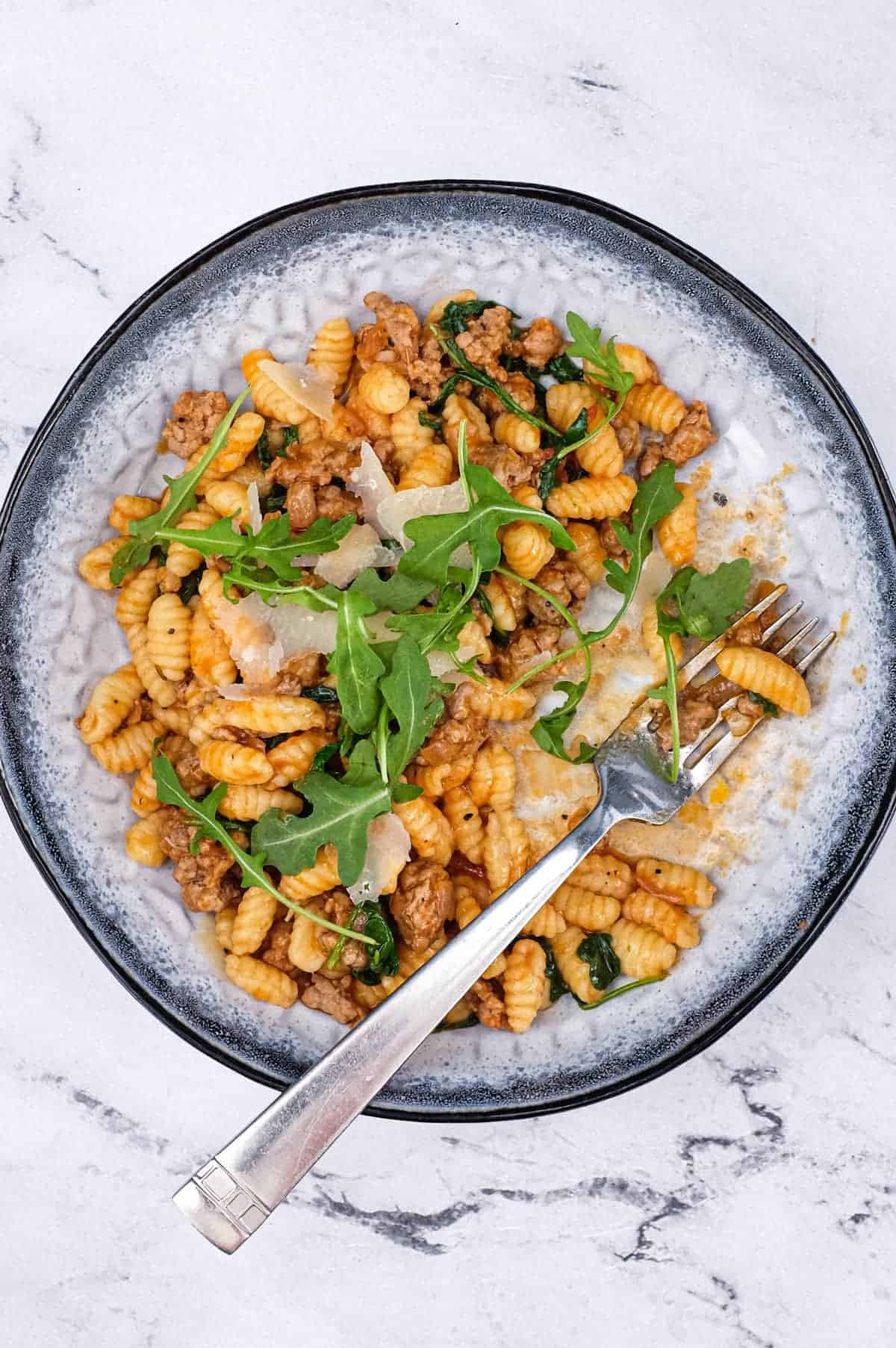 One of my most favourite fresh pasta dishes to make at home is the rather wonderful Malloreddus. Tiny hand formed and ridged pasta gnocchi coated in a simple, flavourful meat sauce of sausage, tomato and arugula.
What does Malloreddus mean?
Malloreddus pasta hail from the Sardinia and in the local dialect the word translates as "fat little calves". Across Italy, Malloreddus are often referred to as 'Gnocchi Sardi' or 'Gnocchetti Sardi'.
Malloreddus are small (and I mean small) ridged pasta gnocchi made from semolina (semola) flour and water. The dough is rolled into small balls, about the size of a chickpea, and ridged by rolling over a gnocchi board (also known as a Malloreddus board or paddle). These ridges help trap the sauce, making for a more delicious experience.
If you don't have a Malloreddus board use a fork to create the small grooves. Traditionally, the bottom of a wicker basket would be used. Failing that, you can also create Malloreddus without grooves.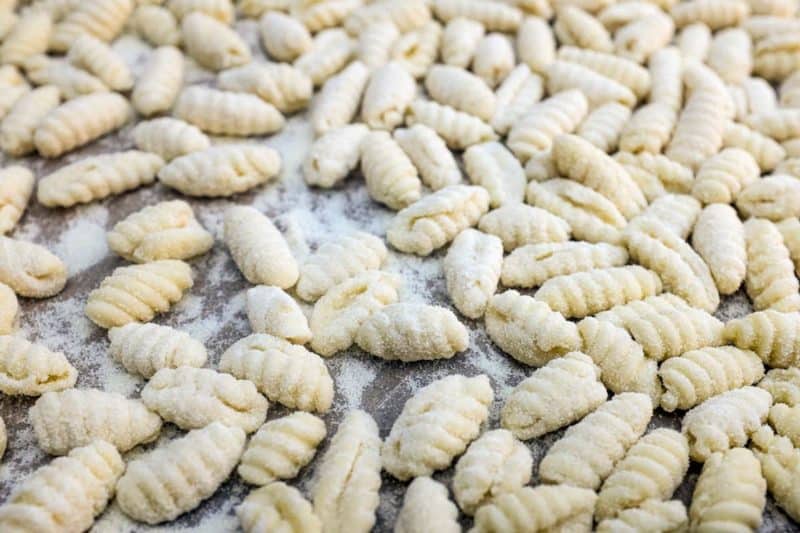 These little pasta gnocchi are surprisingly light and have a splendid amount of chew to them - just enough al dente to compliment the tasty, tangy sauce.
Malloreddus Alla Campidanese - the perfect ragù
My recipe is a take on the classic Malloreddus Alla Campidanese, a simple sausage and tomato ragù. My sauce is finished with a fresh peppery hit of arugula/rocket.
Italian sausage should be big on fennel flavour - Supermarket sausage can sometimes be a little lacking in that flavour so, in my recipe I add a little more fennel.
In Sardinia, a little saffron is often added to the sauce (and sometimes pasta dough) to give a more intense golden hue. To create this, just dilute a few strands in a little warm water first to bring out the colour and add to either the pasta dough or sauce.
Gnocchetti Sardi is usually topped with Pecorino Sardo, a hard sheep's cheese from Sardinia, but failing that Pecorino Romano, Parmigiano Reggiano or Grana Padano varieties are all viable options.
Alternative Serving Suggestions
Instead of the traditional Campidanese ragù, I'll often pair the Gnocchetti with a different sauce. Try one or all of these:
Questions?
What's the difference in Gnocchi Sardi vs Gnocchi?
Gnocchi Sardi are created using only semolina flour and water and are typically much smaller than regular gnocchi. Regular gnocchi are commonly created using cooked potato and flour.
Can I freeze Gnocchetti Sardi?
Yes, freeze before cooking, on a tray in a single layer. Once frozen, gather up the Malloreddus and add to a thick freezer bag. Cook from frozen, adding 1-2 minutes extra time to ensure they're cooked through.
Have a question? Ask in the comments below or let me know.
How to make my Malloreddus (Gnocchetti Sardi) with Sausage Ragù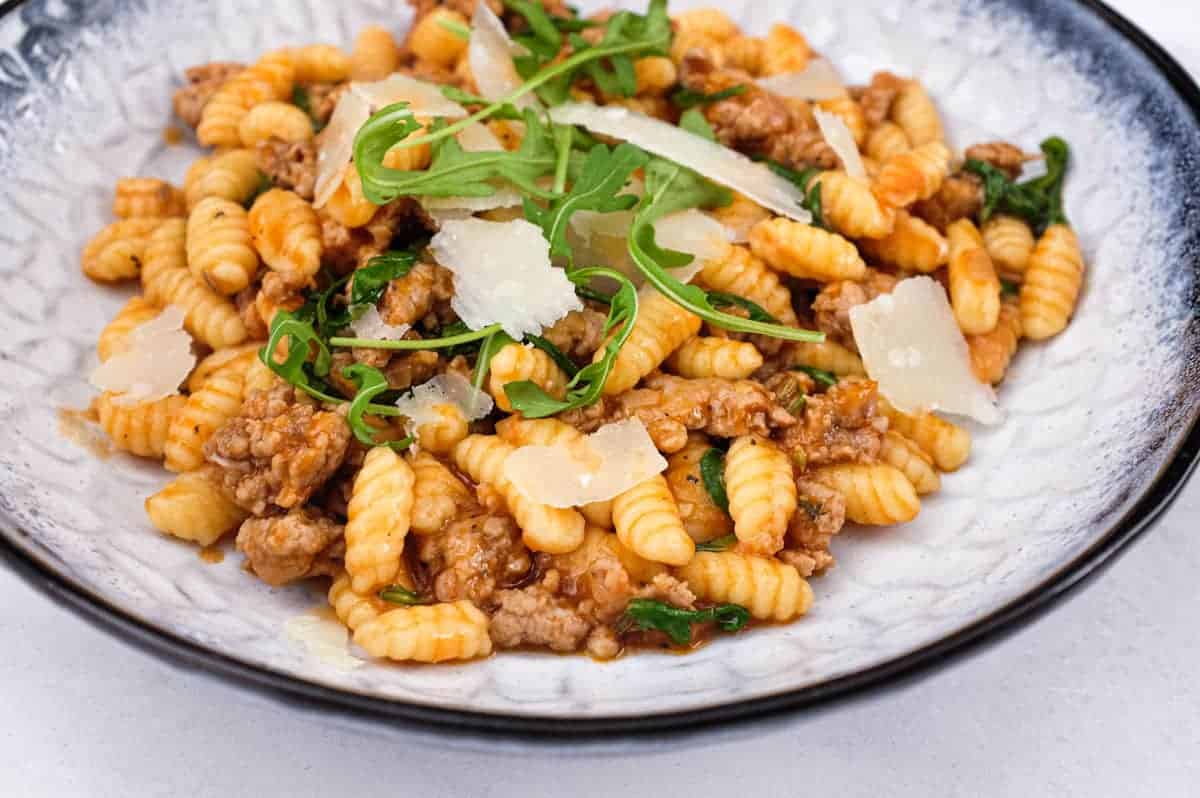 Malloreddus (Gnocchetti Sardi) with Sausage Ragù
Rate this recipe
Print Recipe
Pin Recipe
Save Recipe
Go to Collections
Calories (per serving) |
832
Ingredients
For the Malloreddus pasta
For the Sauce
2

tbsp

olive oil

¼

onion

(chopped)

2

garlic cloves

(chopped)

½

tsp

fennel seeds

(optional)

3

Italian sausages

(meat removed from the casings)

1

cup

tomato

(crushed)

1

cup

chicken stock

(or water)

60g

arugula leaves

salt & pepper

½

cup

Parmigiano Reggiano

(finely grated)
Instructions
To make the Malloreddus (Gnocchetti Sardi)
Combine the flour with water, little by little until it just comes together to form a dough (between ½-1 cup). Knead the dough for 5 minutes until smooth. If it feels too wet, knead in a little flour and too dry, wet your hands a few times to knead in more water until it feels like the consistency of play dough. It shouldn't stick to your hands or the countertop.

Cover the dough with a small bowl or wrap in plastic wrap and set aside for 30 minutes.

Once rested, cut the dough into quarters and cover three quarters. Pinch off small pieces (about the size of a garbanzo bean (chickpea))

With a gnocchi board, using your thumb, gently press dwnwards and roll one of the small balls away from yourself to create a gnocchetti.

Place onto a waiting sheet pan or board that's been generously floured. Continue this process until you run out of dough.

When you're done, cover the Malloreddus with a tea towel. You can set these aside for up to 3 hours before cooking.
To make the sauce
Bring a large pan of generously salted water to a boil. Reduce the heat so that it's gently simmering while you prepare the sauce.

Heat the oil in a large frying pan over a moderate heat until hot.

Add the onion and garlic and fry for 1-2 minutes until soft. Add the sausage meat and break into small pieces. Let this fry for 3-4 minutes before adding the tomato and then the stock. Add salt & pepper then bring to a boil. Reduce the heat to low and simmer gently for 5 minutes, while you cook the pasta.

Turn the heat back up on the pasta water to bring back to a rolling boil. Tip in the gnocchi and cook for 3-5 minutes. The gnocchette will float to the surface. Cook for about a minute when this happens - it's actually pretty hard to overcook them so you don't need to be exact. Using a hand sieve or slotted spoon, fish out the Malloreddus and tip straight into the waiting sauce.

Add the rocket and carefully stir everything together until it's wilted a bit. Add a handful of Parmigiano Reggiano and 1-2 spoons of the pasta water to loosen the sauce, stirring well to mix everything. That's it! You're ready to portion up and serve.
Nutrition
Calories:
832
kcal
(42%)
|
Carbohydrates:
60
g
(20%)
|
Protein:
33
g
(66%)
|
Fat:
51
g
(78%)
|
Saturated Fat:
17
g
(106%)
|
Polyunsaturated Fat:
6
g
|
Monounsaturated Fat:
25
g
|
Cholesterol:
99
mg
(33%)
|
Sodium:
1216
mg
(53%)
|
Potassium:
746
mg
(21%)
|
Fiber:
3
g
(13%)
|
Sugar:
4
g
(4%)
|
Vitamin A:
1496
IU
(30%)
|
Vitamin C:
17
mg
(21%)
|
Calcium:
309
mg
(31%)
|
Iron:
6
mg
(33%)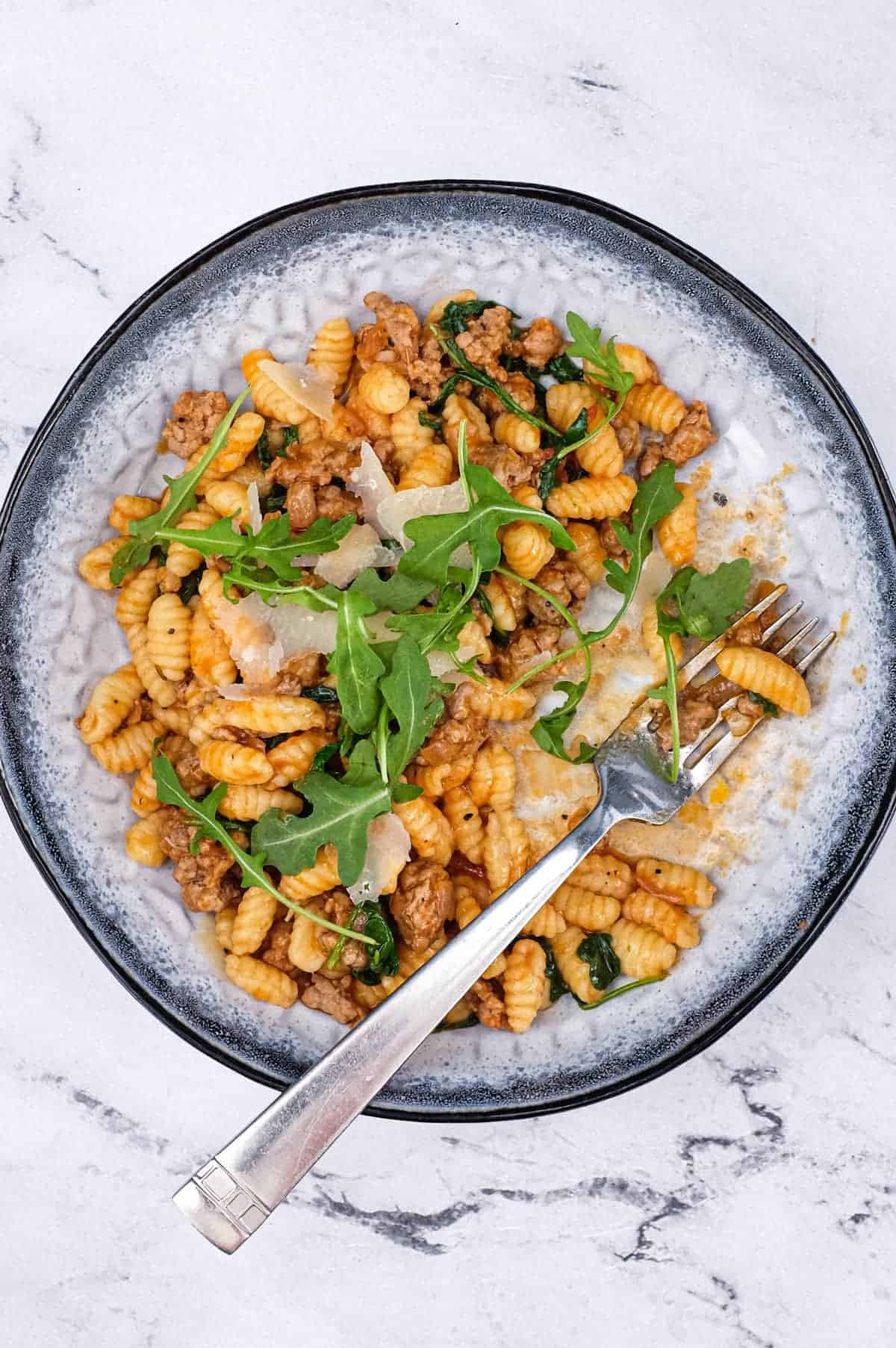 Did you make my Malloreddus (Gnocchetti Sardi) with Sausage Ragù?
How did you go? Let me know in the comments below and be sure to tag @cookeatworld at Instagram.