A morning walk turned into a delicious lunch with the discovery of a bounty of wild onions by the river. I foraged a bagful, sautéed in butter and tossed through spaghetti and the results were delicious.
I've never been much of a forager, I've picked a few herbs from the park a few times, and stolen a cabbage from a neighbour's back garden once, but as for rummaging through the forest, it all seems like hard work to me.
But nature is a wonderful thing and there's FREE supermarket to be had if you know what you're looking for. I don't, but thanks to Google I can now bumble my way through determining what plant is what and whether it's going to kill me or not.
While out with Shirley dog recently, following Edinburgh's Water of Leith Walkway, the pathway and its surrounds had become a fragrant trail, a wonderfully mellow onion scent filled the air. I was confident the delicate plants were wild onions, and after a quick Google search it was confirmed.
I carefully harvested a bunch while Shirley waited impatiently, then hurried home, just in time for lunch.
I knew instinctively that a simple pasta would work a treat and it did! A fragrant, buttery treat from Mother Nature herself!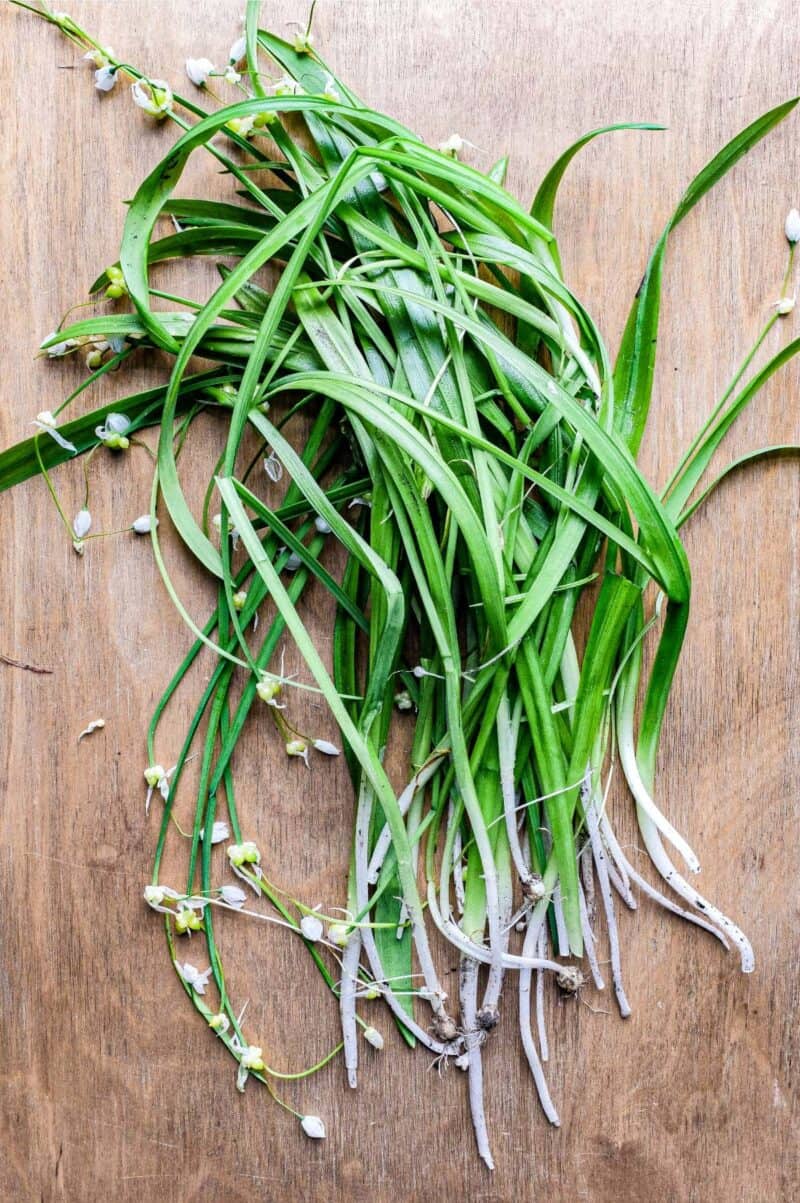 What are wild onions?
"Allium canadense", commonly known as "Field Onions" or "Ramp Onions" can be found in various parts of the world, including North America, Europe, Asia, and Africa.
In North America, wild onions are particularly common and can be found in most parts of the continent, from Canada to Mexico. In Europe, they are found mainly in the Mediterranean region and the Balkans. In Asia, wild onions are found in many countries, including China, India, and Japan. In Africa, they are found mainly in the northern and eastern regions of the continent.
They have a delicate onion or chive aroma, thin shoots and small to medium sized bulbs on the end. They resemble spring onions. To harvest, pull gently near the root.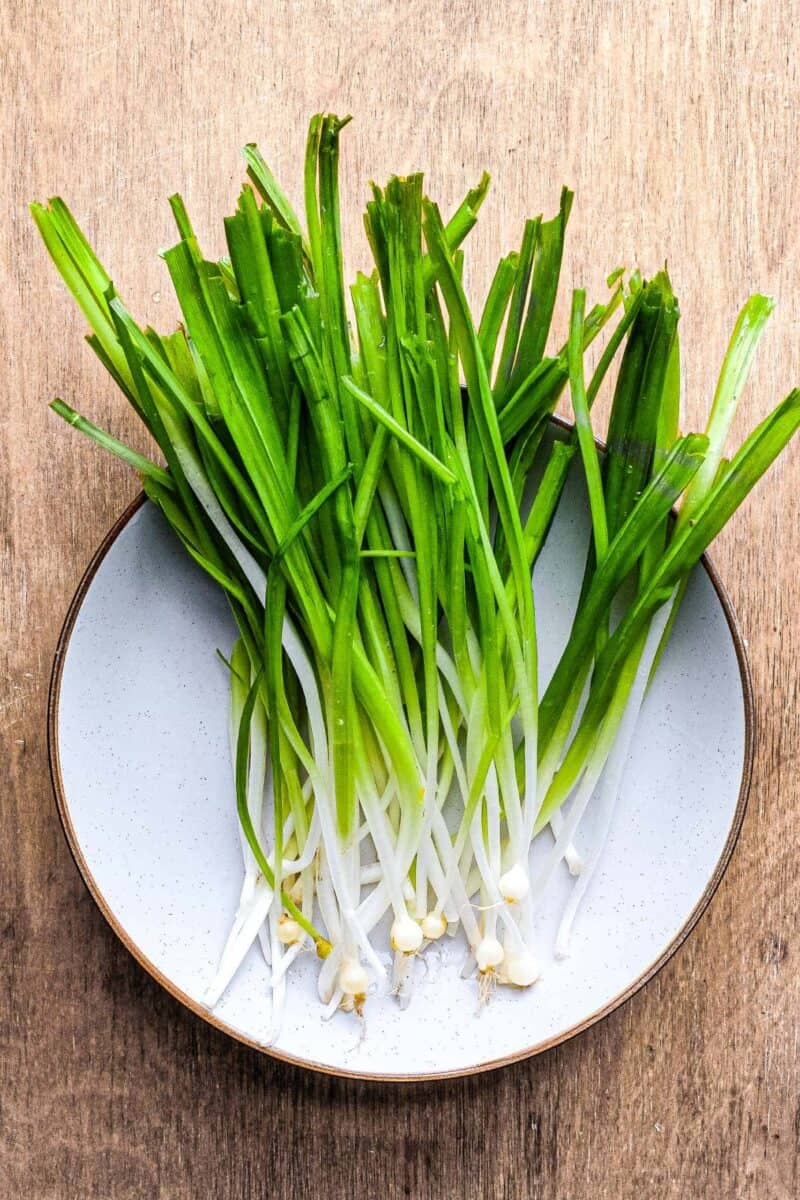 How I cooked my wild onions
Step 1 -

I first washed and trimmed the onions (I

discarded

the flowers and berry-like pods). Carefully, but thoroughly rinsing to ensure I didn't damage the delicate and tiny bulbs. I trimmed them to roughly the same length as my spaghetti.
Step 2 -

I figured these onions were just like spring onions/scallions so began to sauté them gently in about 2 tbsp of unsalted butter. I minced a garlic clove too and threw that in and then seasoned with salt and pepper.

Step 3 - After a while, the onions wilted. I ladled in some seasoned water from the pasta that was cooking alongside and let them sizzle and soften more. They cooked for about 10 minutes in total.
Step 4 - I tossed the cooked spaghetti into the onions along with a couple more ladles of pasta water and another tbsp of butter. A light dusting of Parmigiano Reggiano was next and the whole thing was stirred for a minute or so to emulsify the sauce. That was it! My pasta was ready.
The results were impressive! The onions became sweet and mellow and together with the garlic and nutty butter made for a wonderful depth of flavour. It was a light but filling pasta that made the most of its humble ingredients.
Substitutes for wild onions
If you're lucky enough to stumble upon some of these delights in the wild, my wild onion recipe is a simple and quick way to prepare a lovely pasta lunch.
But, for those less inclined to forage, you could replicate this dish easily using store bought leeks or spring onions. The onion flavour of wild onions is pretty close to both and reminds me of a similar dish I've made before using leeks.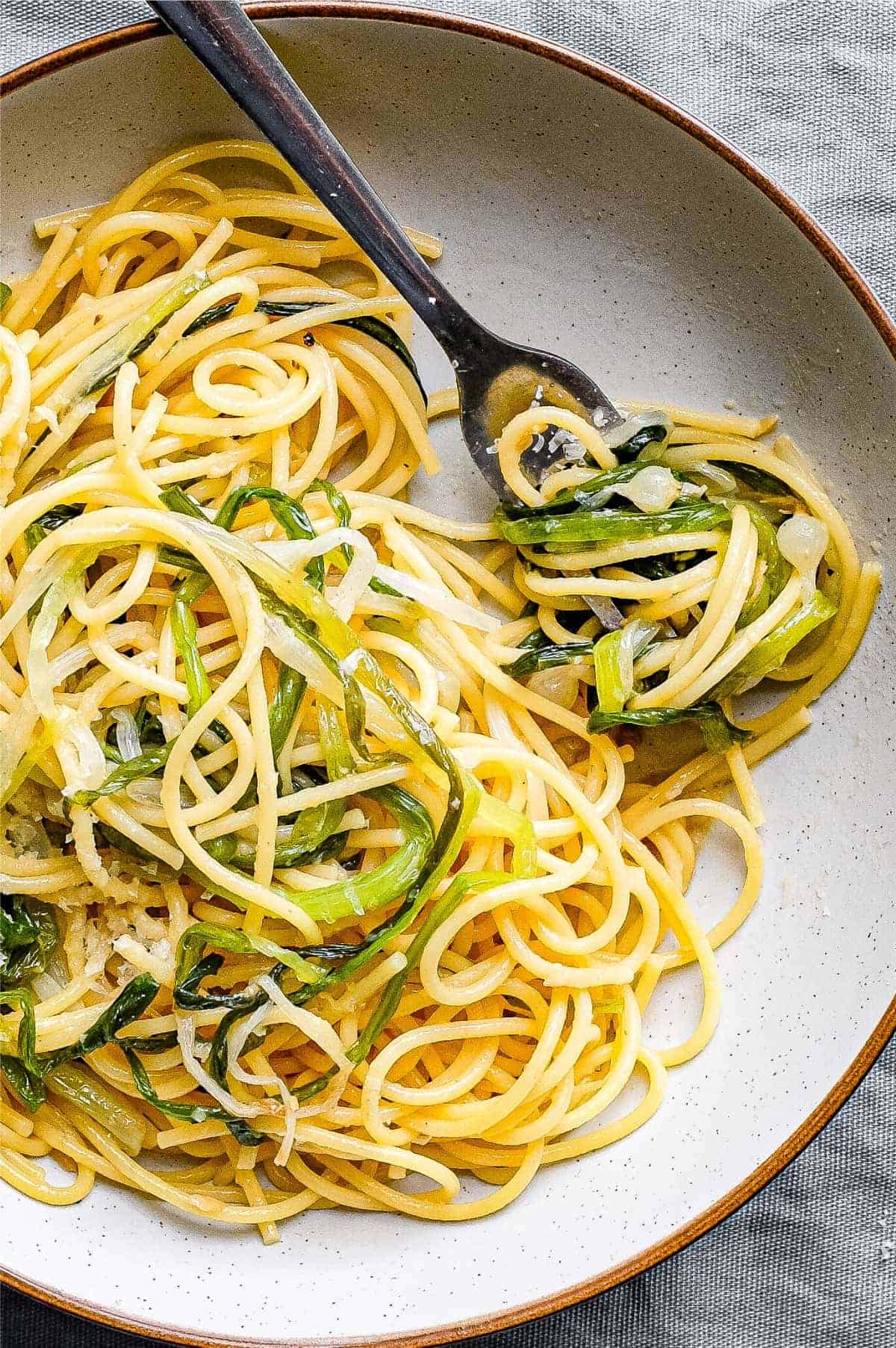 Ready to get cooking?
So, if you stumbled upon my wild onion recipe after searching "how to cook wild onions?" then I can say, you're in for a treat with this simple pasta recipe. Ready in 15 minutes! And the mild onion flavours with nutty butter and mellow garlic is a combination that really works.
For those that like the recipe, but lack the wild onions don't be deterred, grab some leeks or scallions and you won't be disappointed in the slightest.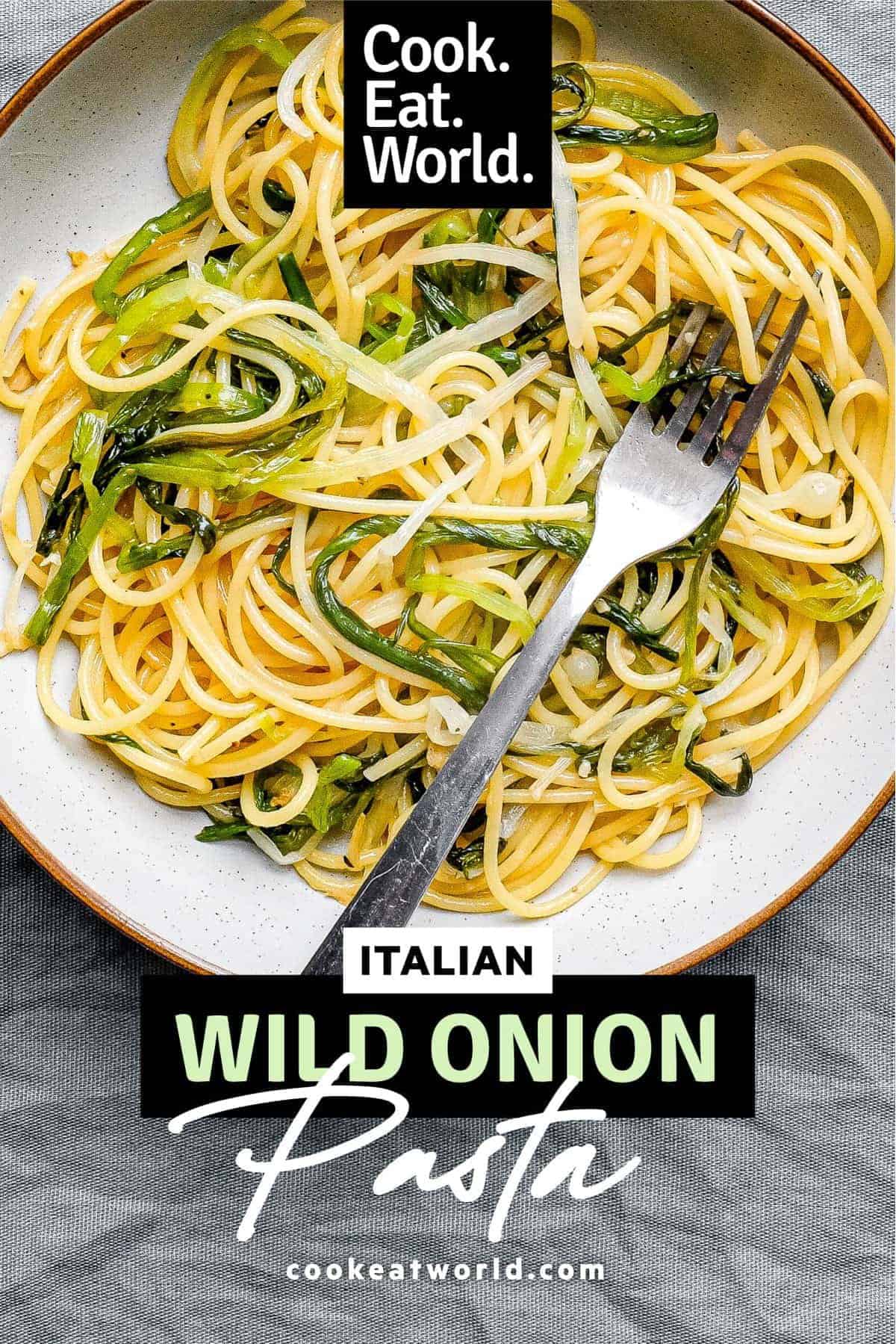 More Italian recipes
If you liked this recipe for wild onion pasta, I'm sure you'll love some more of my Italian favourites.
Any Questions? (FAQ)
Have a question about wild onions? Let me know in the comments.
How do I identify wild onions?
I'm no expert, so I would advise you to take the proper care and precautions to ensure what you think are wild onions ARE wild onions. This helpful guide on How to Identify Edible Wild Onions is a great start.
Are wild onions safe to eat?
Yes, wild onions are generally safe to eat, and they have been consumed by humans for thousands of years. However, as with any wild plant, it is important to be certain that you have correctly identified the plant and that it is free from any contamination before consuming it.
When foraging for wild onions, it is important to avoid areas that may have been contaminated with pesticides, herbicides, or other chemicals. It is also a good idea to wash the plant thoroughly before consuming it.
As with any new food, it is recommended to start with a small amount and observe your body's reaction before consuming larger quantities.
What are the health benefits of wild onions?
Wild onions contain antioxidants, anti-inflammatory compounds and fiber that may have potential health benefits, such as reducing the risk of cardiovascular disease, supporting digestive health, and promoting immune function. More research is needed to understand their health benefits fully, and they should not be relied upon as a sole source of any nutrient without the guidance of a healthcare professional.
This recipe uses affiliations and may receive a commission based on your activity (link clicks). Learn more.
Wild Onion Pasta
Rate this recipe
Print Recipe
Pin Recipe
Save Recipe
Go to Collections
Calories (per serving) |
666
Ingredients
1

lb

wild onions

(500g) Substitute with leek or scallions/spring onion (trimmed and sliced thinly lengthways)

3

tbsp

unsalted butter

1

garlic clove

(peeked and minced)

8

oz

dried spaghetti

(about 225g)

salt & pepper

2

tbsp

parmigiano reggiano

(finely grated)
Instructions
Thoroughly wash the wild onions and trim to roughly the length of the spaghetti.

Season a pan of water generously with salt and bring it to a boil.

Heat 2 tbsp of the butter in a separate deep frying pan over a medium heat, when it's bubbling add the garlic, followed by the onions.

Put your pasta into the water and cook to the pack instructions

Meanwhile, stir your onions until they wilt. After about 4-5 minutes, add a ladleful or two of the pasta water to let them sizzle and soften more. Continue cooking while your pasta cooks.

when the spaghetti is ready, using tongs, toss it into the onions along with 1 ladle of the cooking water. Stir in the remaining 1 tbsp butter and season with pepper and a little salt (if it needs it).

Sprinkle over about 2 tbsp of Parmigiano Reggiano and stir in. That's it, you're done!
Notes
Substitutes
As a substitute for wild onions, you can use leeks or spring onion, which have a very similar taste. Just clean and trim them to the length of your pasta.
For leeks, slice lengthways and cut into thin 1/2-inch r'ribbons'.
For spring onions, depending on the thickness, slice in half or quarters lengthways to make thin ribbons.
Ensuring you're eating wild onions
Be careful to take the correct precautions while foraging for wild onions. See my FAQ section in the main body of this recipe which outlines what to do and links to some helpful guidelines at cookeatworld.com/wild-onion-pasta
Nutrition
Calories:
666
kcal
(33%)
|
Carbohydrates:
102
g
(34%)
|
Protein:
21
g
(42%)
|
Fat:
20
g
(31%)
|
Saturated Fat:
12
g
(75%)
|
Polyunsaturated Fat:
1
g
|
Monounsaturated Fat:
5
g
|
Trans Fat:
1
g
|
Cholesterol:
49
mg
(16%)
|
Sodium:
126
mg
(5%)
|
Potassium:
894
mg
(26%)
|
Fiber:
10
g
(42%)
|
Sugar:
8
g
(9%)
|
Vitamin A:
2825
IU
(57%)
|
Vitamin C:
43
mg
(52%)
|
Calcium:
254
mg
(25%)
|
Iron:
5
mg
(28%)