For a food-prep, ready to bake pasta dish, this delicious anelletti al forno fits the bill. Tiny hoops of pasta baked in a simple meat ragu and baked to perfection with Mozzarella and pecorino. It's simple and delicious! Learn how…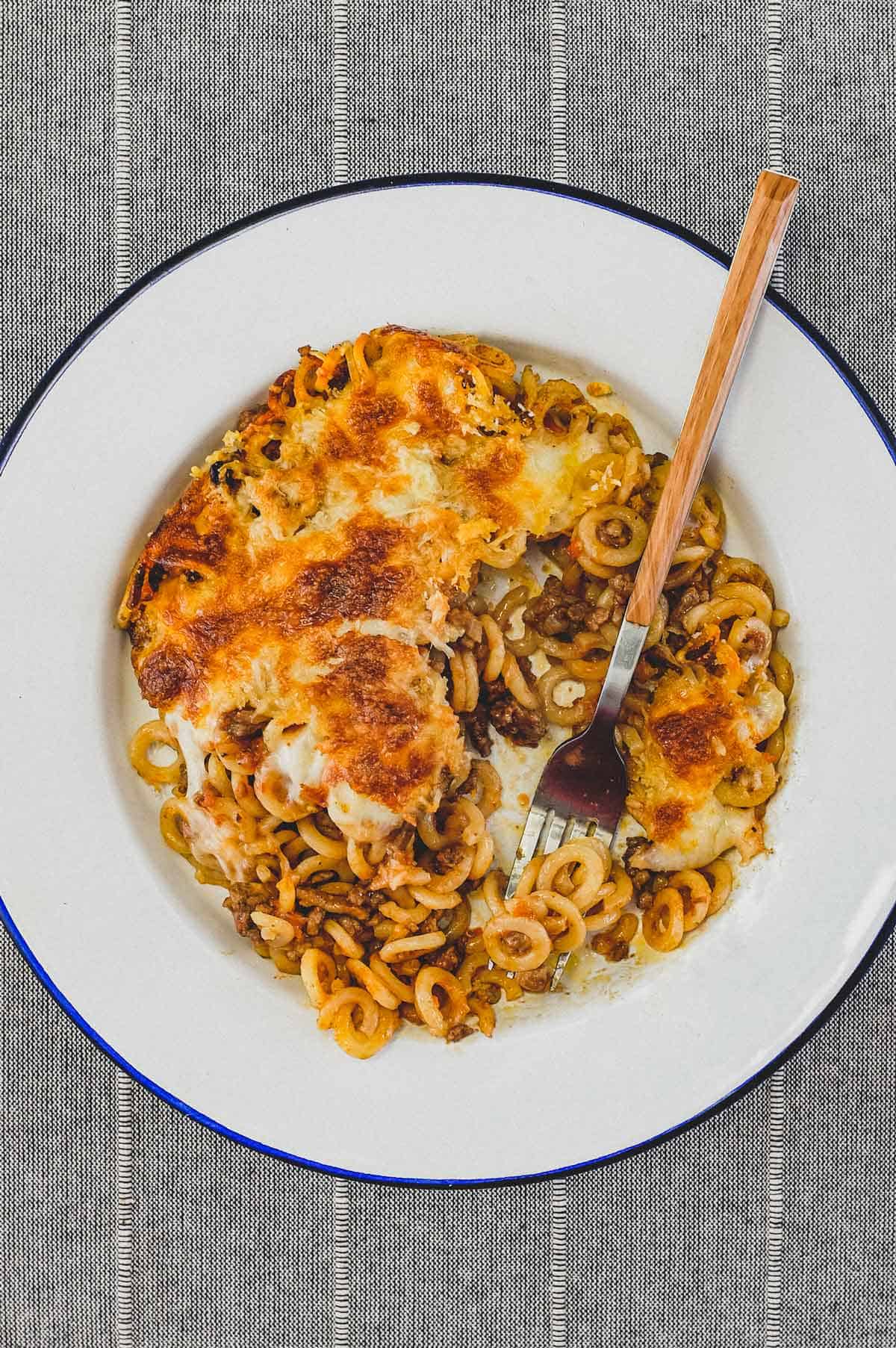 Italian food is simple, and none more than this delicious little treat from Sicily, Anelletti Al Forno. Anellini, meaning 'rings' in Italian are the pasta base for this super-simple baked dish. A meat ragu creates a tangy tomato sauce that the rings are only too happy to soak up - when baked in the oven, smothered in stringy mozzarella and sharp salty pecorino the dish comes together to form a melty, rich delight!
Prepare ahead with Anelletti Al Forno
The great thing about this dish is that you can take it up to the baking stage and stop there. Leaving a ready-to-go oven bake pasta. Ready in 25 minutes! You can also freeze it at this stage and have it on the plate in 50 minutes from frozen. This is great news for those who are short on time, or just feeling lazy!
You can put together this dish in three simple steps:
Make the meat ragù.
Undercook the pasta by a few minutes... Time-saving!
Mix the two together, put into an oven dish, cover in cheese and bake! 25 minutes later, you're eating!
Stage 1: Making the meat ragù - a combination of onion, garlic, sage, beef, pork and tomato make up this simple sauce. Simmer for 30 minutes and you're done.
2. Cooking the Annellini. We shave off 3-4 minutes from the cook time, so that the pasta doesn't get mushy when it's in the oven. Then it's just a case of mixing together the pasta and ragù, plus a little pasta water to help keep the whole thing moist when baking.
3. Arranging in an oven dish. Spread out the pasta and then top with cubes of mozzarella cheese for stringy melty texture and some sharp pecorino cheese for taste. It's then into the oven for a 25 minute bake...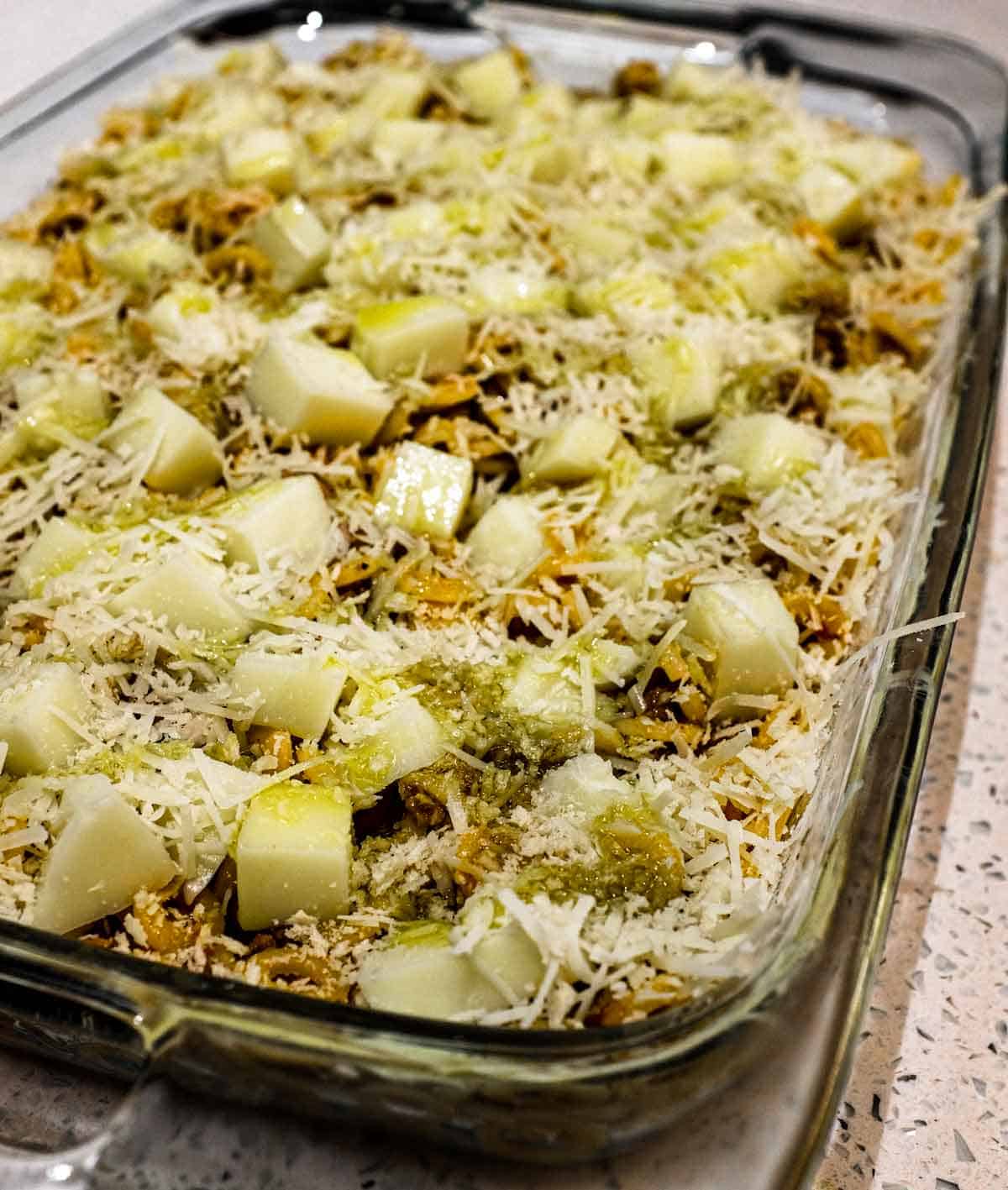 4. Out it comes! In all its golden glory. Get it while it's piping hot - the aromas are almost too much to bear - who doesn't love the smell of melting cheese!?
Feeding the masses + cooking from frozen.
So there we have it, baked pastas are a really excellent alternative to regular pasta, and excellent for large groups. This recipe could happily serve 8 regular people (not greedy people) and that's a whole lot less fuss than cooking a bowl of regular pasta for 8! If you were to freeze the Anelletti, stop short of baking it, be sure to wrap it tightly with foil or plastic. It will be good for 2-3 months.
When it comes time to cook, from frozen you're looking at around a 50-60 minute cook time at 375ºF/180ºc. Cover the dish in foil for the first 30 minutes then remove for the final 30.
Another tip from frozen - the dish may be a little drier than a fresh batch (the pasta will continue to soak up any moisture), add a few drizzles of water or stock (about 1/2 cup) to the side of the dish before cooking.
More delicious Italian recipes.
We all love pasta right? Here are some more of my delicious Italian recipes to try at home.
How to make my Anelletti Al Forno – Oven Baked Pasta Rings
Anelletti Al Forno
Rate this recipe
Print Recipe
Pin Recipe
Calories (per serving) |
525
Ingredients
For the Sauce (Ragù)
2

tbsp

olive oil

1

onion

(small) (finely chopped)

1

sage

(small bunch)

2

garlic cloves

(peeled & chopped)

½

lb

ground beef

(250g)

½

lb

ground pork

(250g)

1

cup

red wine

(dry)

1

can

tomato polpa

(12oz/400g)(or tomato pasatta)

Salt & pepper
Instructions
In a large saucepan over a moderate heat, fry the onion and sage for 3-4 minutes until the onions are soft. Add the garlic and fry for 1-2 minutes before adding the ground beef and pork. Fry for 3-4 minutes until browned then pour in the red wine.

Let this sizzle for 1minute to burn off the alcohol before adding the tomato. Fill the tomato can TWICE with water and pour into the sauce. Season generously with salt & pepper.

Bring to a simmer and then reduce the heat to let the sauce simmer gently, uncovered for 30 minutes. Once cooked, fish out the sage and discard.

Preheat oven to 350ºF/180ºC

Cook the pasta in plenty of boiling salted water MINUS 3 minutes from the packet instructions. Take out a couple of cups of pasta water then drain the anellini rings and stir into the tomato sauce. Add about 1 cup pasta water to the mixture - the pasta will continue to soak up the liquid during cooking.

Spread the pasta mixture into a large ovenproof dish. Arrange all the cubed mozzarella over the pasta and then sprinkle over the pecorino.

Drizzle over a little olive oil, then pop into the oven and bake, uncovered, for 25 minutes or until the surface is nicely browned.

Serve hot!
Notes
Freezing and cooking directions:
To freeze for later, stop at the stage when you've added the cubed mozzarella and pecorino. Wrap the dish in foil or plastic and freeze.
To cook from frozen: 
Remove any plastic and cover with foil.
You may want to pour a little stock or water into the sides of the dish as the pasta may get a little dry during cooking (those pasta rings will continue to soak up moisture!).
Place in a

350ºF/180ºC preheated oven and bake for 30 minutes. Remove the foil and bake for a further 20-30 minutes. Until the pasta is cooked through and browned on top.
Nutrition
Nutrition Facts
Anelletti Al Forno
Amount Per Serving
Calories 525
Calories from Fat 333
% Daily Value*
Fat 37g57%
Cholesterol 116mg39%
Sodium 727mg32%
Potassium 473mg14%
Carbohydrates 8g3%
Protein 32g64%
Vitamin A 498IU10%
Vitamin C 8mg10%
Calcium 533mg53%
Iron 2mg11%
* Percent Daily Values are based on a 2000 calorie diet.
This site contains affiliate links to products. We may receive a commission for purchases made through these links. Learn more.