The perfect Italian salad is waiting! My peach & Burrata salad with heirloom tomatoes is a real stunner. It's a combination of colour, fragrance and flavour like no other. It's a quick and easy show-stopping salad.
When I look for the perfect summer salad, I invariably look to Italy. No other country has the freshest, simplest ingredients like Italy - pairing flavours, textures and colours is in the blood. Simple, honest food is always on offer, and food that delivers on every front.
This salad is one of my all-time favourites; a wonderful blend of sweet and savoury. Juicy peaches, when in season are unbeatable and combined with tangy heirloom tomatoes become something extra-special!
Burrata - the king of cheese?
Yes! Burrata is quite possibly my favourite Italian cheese. Soft buffalo mozzarella, stuffed with stracciatella di bufala (very soft shredded buffalo mozzarella). Luxurious, creamy and utter heaven. There's no need to do anything fancy with burrata, just carefully tear it apart and scatter into the salad. Simplicity and perfection in equal measure. The combination of all the ingredients gives a harmonious balance and a salad that will satisfy on its own or as part of a larger Italian summer feast. Once you try this salad for yourself, you'll most likely add it to your favourites list too...
Why it works?
The perfect combination! - Honestly, peach, tomatoes and burrata are just so perfect together. Each complimenting the other so beautifully - as combinations go, it doesn't get any better.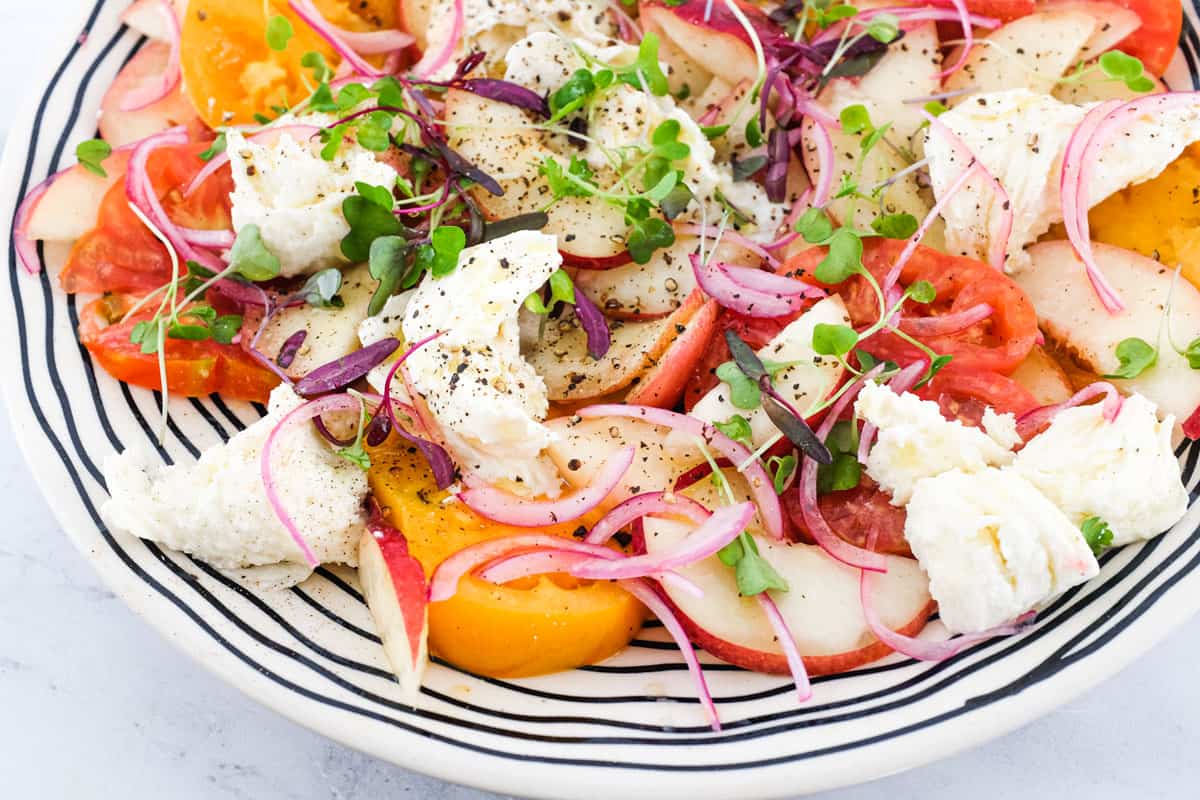 Stuff You'll Need
No cooking, just assembly! That's the perfect summer food, right!? There's a full recipe below, but here are the key flavours you can look forward to...
Burrata cheese (you can also use soft buffalo mozzarella, if burrata is not available)
Peaches - Buy ripe, yellow or white peaches. I've also made this salad using nectarines and pears.
Heirloom tomatoes - I change up the colours, and you can use regular tomatoes of course!
Red onion - for a savoury hit - I soak them in lemon juice to bring out the tang!
Vinegar & Oil - I use whatever I have - Always extra virgin olive oil, but the vinegars range from white wine, Prosecco, Champagne, sherry to a good quality balsamic vinegar.
Honey - I love a floral honey like Manuka to add a sweetness and fragrance to the dressing
Greenery - This recipe used some micro greens, because I felt fancy that day, but I usually use herbs like basil, oregano, marjoram, tarragon, parsley, mint or dill.
How-to
It's all about assembly here - not really any steps as such. Just be sure to arrange evenly on a large platter and make it look as beautiful as possible. It won't be difficult. Be careful with the delicate burrata.
Pro Tips
No peaches? - no worries, you can use nectarines too. You can also make this salad with pear or apples too. In fact, you could also use some orange or pink grapefruit segments as an alternative.

No

burrata? - try a good quality buffalo mozzarella instead.
Storage Suggestions
Salads are best served right away, but this one holds quite well if you want to make it a few hours in advance - even if you add the dressing. Leftovers will be fine for 2-3 days (covered in plastic wrap), but will gradually lose the crisp, freshness a little. Obviously, I don't recommend freezing.
Ready to start assembling?
Whatever the weather, or occasion this peach & burrata salad will freshen up any table - a visual and flavourful delight in every way. The juiciest peaches make this a wonderful salad so when they're in season where you are, be sure to keep this recipe in mind.
More delicious salad recipes
If you liked my peach & burrata salad, I'm sure you'll love some more fresh and healthy salad recipes from around the world.
Any Questions? (FAQ)
Have a question about My Peach & Burrata salad recipe? Let me know in the comments.
Can I use canned peaches?
I tried once... they were a little soft and mushy, and not a patch on fresh peaches. On this occasion I say no to canned peaches, as delicious as they are. If you don't have peaches, then use nectarines, apples, pears or even citrus like orange or grapefruit.
Is there a substitute for burrata?
You can use buffalo mozzarella instead or a few spoonfuls of Stracciatella cheese - or a combination of both.
This recipe uses affiliations and may receive a commission based on your activity (link clicks). Learn more.
Peach & Burrata Salad
Rate this recipe
Print Recipe
Pin Recipe
Save Recipe
Go to Collections
Calories (per serving) |
184
Instructions
This is an easy way to cut up the peach. Sometimes the stone can be stubborn to get out, sometimes not, so I usually cut around it first to avoid totally destroying it, to get out the stone.

Position the peach with the stalk 'dimple' on top. Using a sharp knife, cut downwards just off-centre, to the right a little, so that you avoid the stone. Do the same off-centre to the left. Then cut around the stone to remove more fruit. Cut the peaches into thin slices and set aside.

Slice the tomatoes and set aside

Slice the onion and toss with half the lemon juice and set aside.

On a large serving platter, evenly arrange the peaches, tomatoes and onion.

Using your hands, gently tear apart the burrata into large pieces and arrange on the platter.

Whisk together the vinegar, oil and honey and pour over the salad. Season with salt and freshly ground black pepper.

Scatter over the micro greens or dot the basil around evenly.

Add a last spritz of lemon juice and serve.
Notes
Tips
No peaches? - no worries, you can use nectarines too. You can also make this salad with pear or apples too. In fact, you could also use some orange or pink grapefruit segments as an alternative.
No burrata? - try a good quality buffalo mozzarella instead.
Change up the herbs - Basil is great, try oregano, marjoram, mint, tarragon, chives and thyme too.
Nutrition
Calories:
184
kcal
(9%)
|
Carbohydrates:
15
g
(5%)
|
Protein:
2
g
(4%)
|
Fat:
14
g
(22%)
|
Saturated Fat:
2
g
(13%)
|
Polyunsaturated Fat:
2
g
|
Monounsaturated Fat:
10
g
|
Cholesterol:
1
mg
|
Sodium:
5
mg
|
Potassium:
347
mg
(10%)
|
Fiber:
3
g
(13%)
|
Sugar:
10
g
(11%)
|
Vitamin A:
771
IU
(15%)
|
Vitamin C:
29
mg
(35%)
|
Calcium:
23
mg
(2%)
|
Iron:
1
mg
(6%)