Let's celebrate all the flavours of the Mediterranean with this Greek inspired lentil salad. Nutty lentils are paired with tangy tomatoes, earthy spinach and salty olives and feta cheese. There's nothing fresher!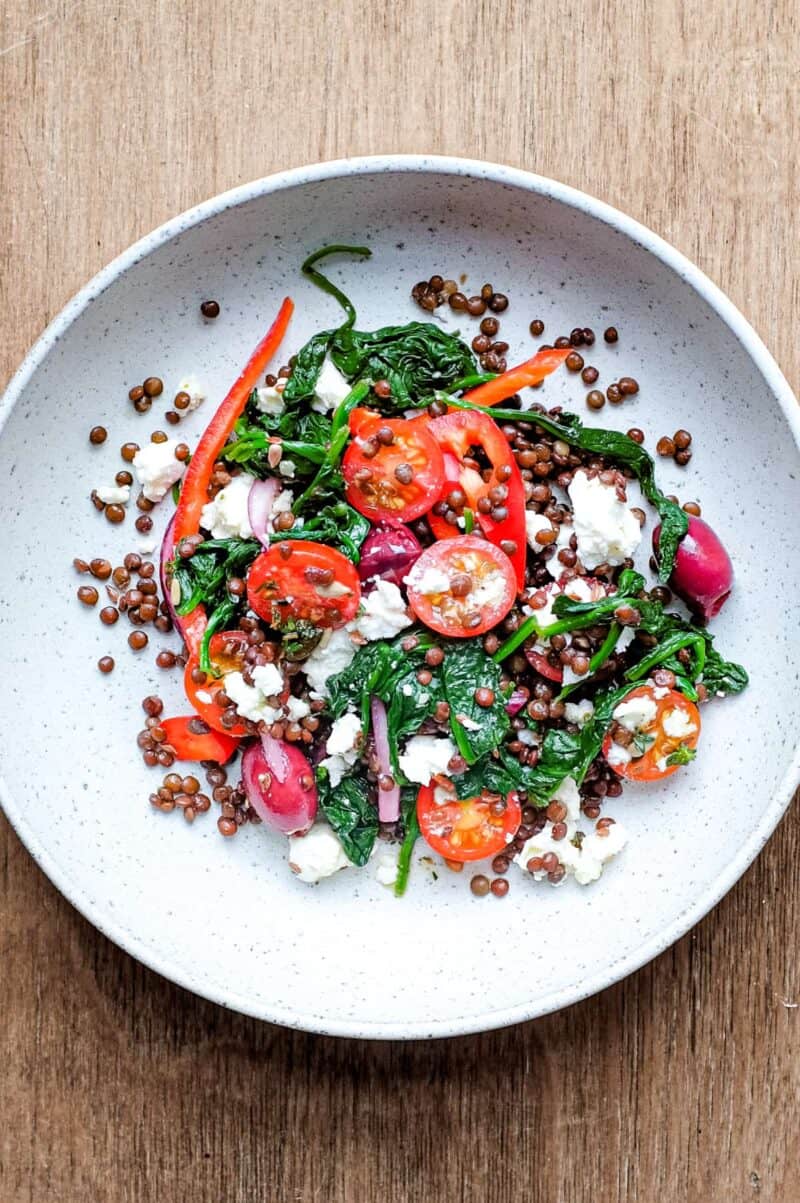 Hearty, healthy and jam packed with Greek flavours this splendid Lentil salad has all the flavour, colour and texture you could need. It's a Mediterranean summer on a plate.
Umami, sweet and earthy in one beautifully combined platter. Nothing says Greek flavours to me more than feta, olives and tomatoes, but when enhanced with cooked spinach and hearty puy/beluga lentils this simple salad is elevated to heroic levels.
Greek Lentil salad is a dish I serve as a simple side or mezze plate. It works well alongside pretty much anything! I particularly love it with grilled lamb - for that, I use my tried and tested Greek Lamb Marinade and sit this salad alongside for a meal jam packed with complimentary flavours.
If you're looking for a fresh, filling salad for any time of year (but especially summer) then this Mediterranean lentil salad dish is a must!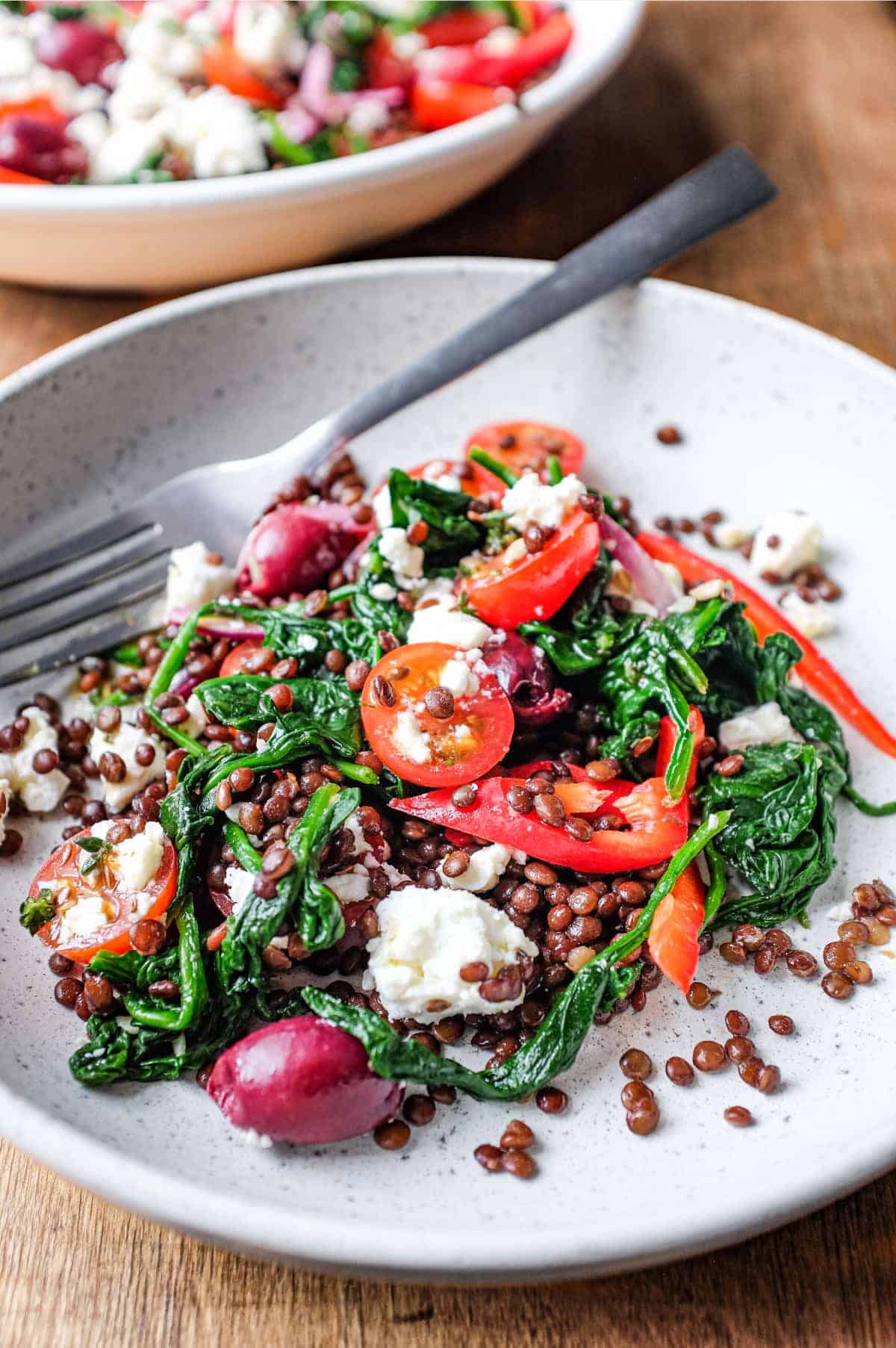 Why it works?
Flavour! - this salad has an abundance of flavours. Salty, sweet, earthy and nutty! It has everything I love.
It's versatile - This salad is fine on its own, but plays well with so many other flavours. Fish and seafood are excellent as are lamb, beef and poultry. Pair it with meats or seafood freshly charred on the bbq grill - perfection!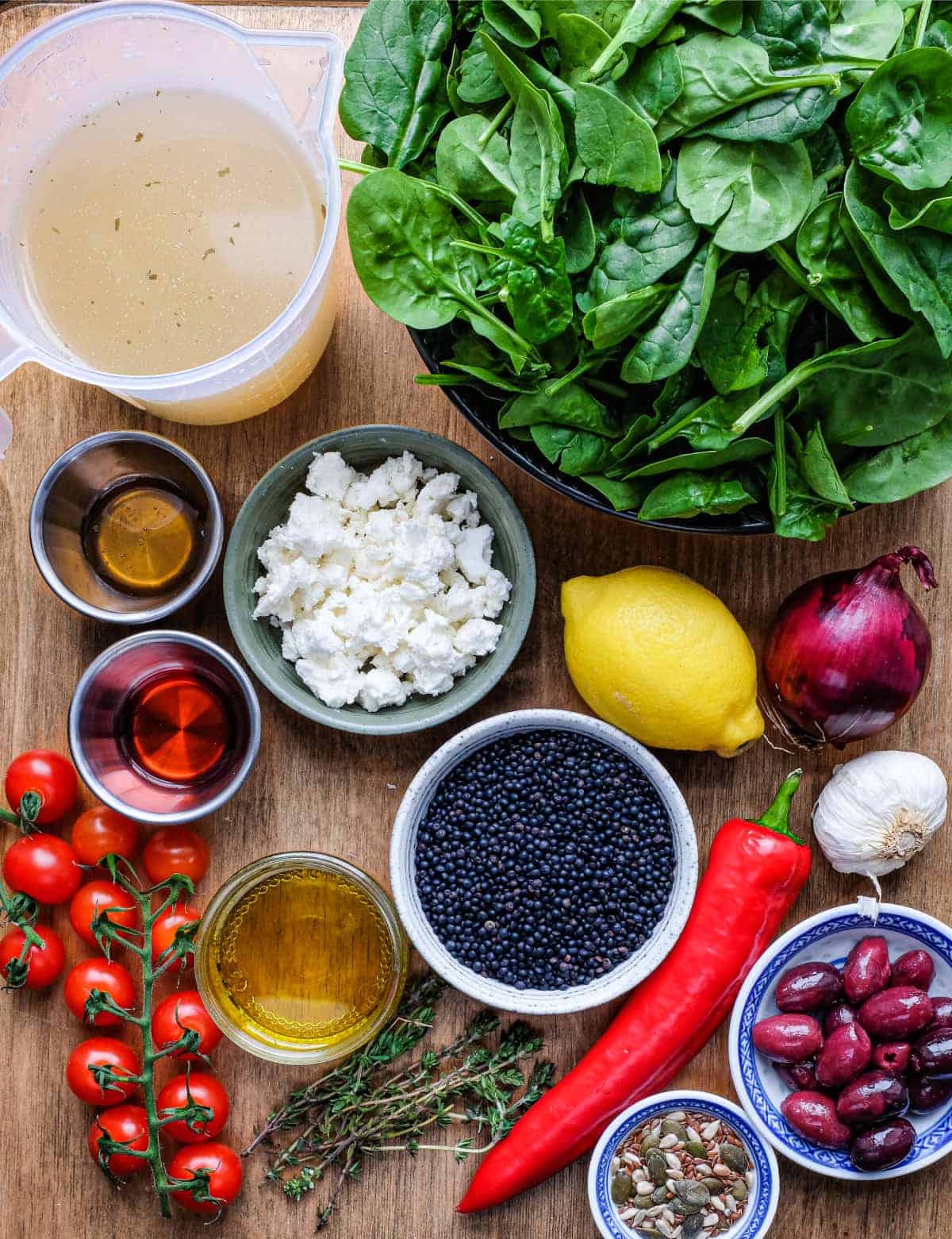 Stuff You'll Need
This salad features an abundance of freshness, nothing hard to find in any supermarket.
Black Lentils - also known as puy lentils or beluga lentils. You can use whichever lentils you prefer. These are MY favourite variety and they work spectacularly in this salad - I cook mine in a little broth for added flavour, you can also use pre-cooked lentils to save time.
Spinach - Cooking the spinach first in a little garlic gives this salad its unique texture and flavour.
Tomatoes - I use cherry tomatoes for their intensely tangy and sweet flavour.
Feta - the sharp saltiness is a perfect counterbalance to the sweet tomatoes
Kalamata olives - the tangy saltiness works so well in counteracting all the other flavours
Red onion - adds a little sweet acidity
Red chilli pepper - I choose a mildly spicy chilli for crunch and sweetness
Lemon, vinegar, honey and thyme make a sharp, herbal dressing.
Mixed seeds - I add this to the final salad for a little crunch.
Step by Step
Making the salad only involves a little cooking but nothing too taxing. I cook my lentils in stock until soft. I didn't show this stage here as you can also buy pre-cooked lentils and use those if you wish. There's a full recipe below which outlines the entire cooking process.
Step 1 - Add some garlic to some oil in a pan and sizzle briefly.
Step 2 - Add the spinach, stir and pop on a lid for 1-2 minuets until wilted.

Step 3 - Place the spinach onto a clean tea towel and

squeeze out some of the water. Set aside to cool completely.
Step 4 - Whisk together the lemon, oil, honey and thyme to make a simple dressing.
Now it's a case of combining all the salad ingredients and pouring over the dressing. That's it! Serve at room temperature for the best results.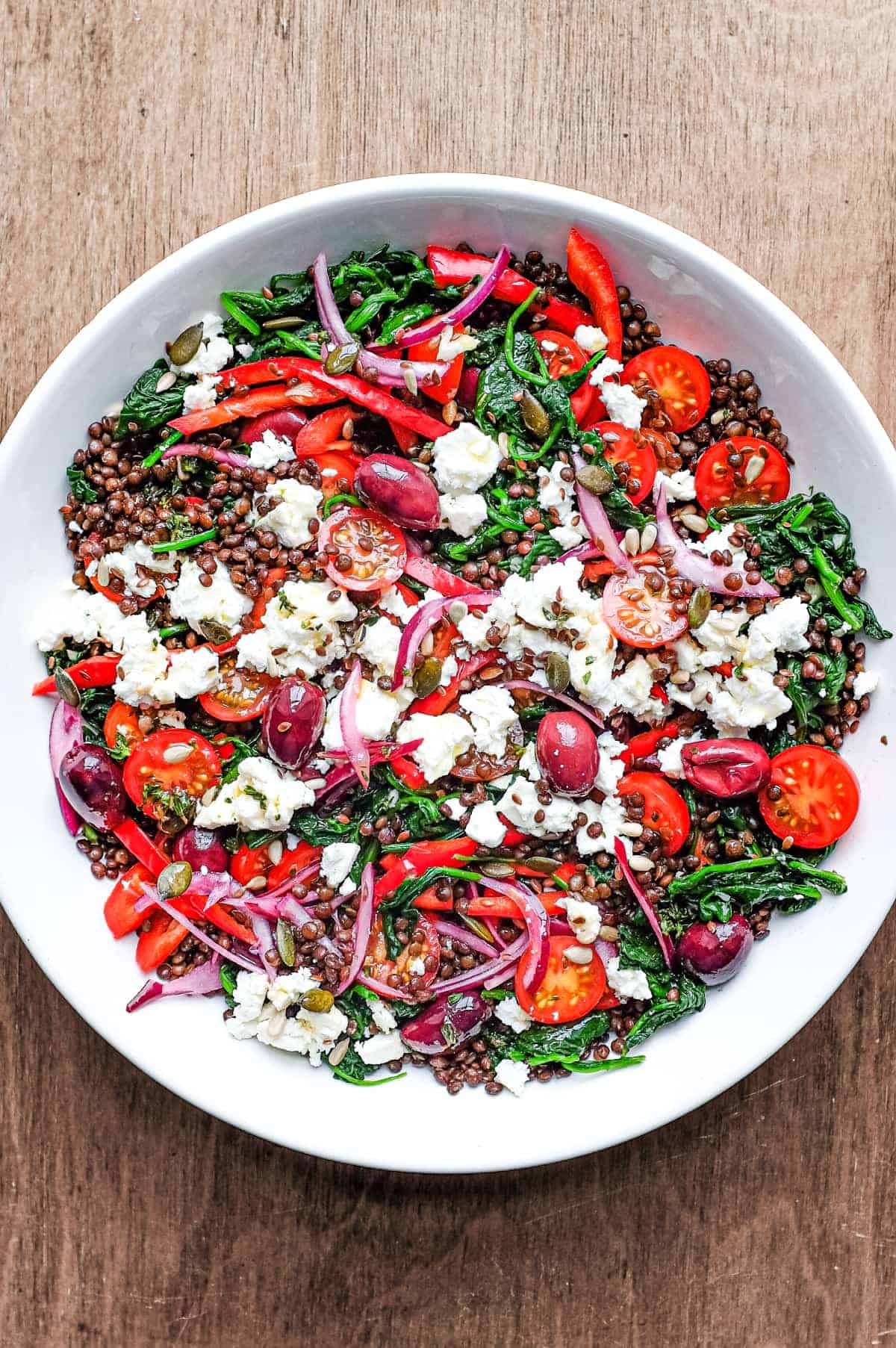 Serving Suggestions
I like to serve this lentil salad as part of a larger feast or as a single side dish for fish or meat. I always serve it at room temperature as the flavours are better.
Add a protein - I've made this salad more substantial in the past by adding various proteins like:
A few chunks of good quality jarred tuna and a

few

salty anchovies,

Thick slices of poached chicken

Freshly cooked and peeled prawns/shrimp
Change up the ingredients - you can add other things to this salad - I've made it incorporating cucumber, crunchy fried pita bread, fried zucchini, fried eggplant, artichoke hearts, blanched green beans and more. Let your imagination run wild!
Storage
Fridge - once dressed, this salad will stay fresh for 2-3 days in the fridge in an airtight container - I bring it up to room temperature before eating for the best flavour.
Freezer - It's not suitable for freezing.
Ready to get cooking?
Inspired yet? I can't stress enough how much I love all the flavours, colours and textures at play with this delicious Mediterranean lentil salad. The essence of Greece on a plate, and all without leaving the kitchen! Opa! I hope you enjoy!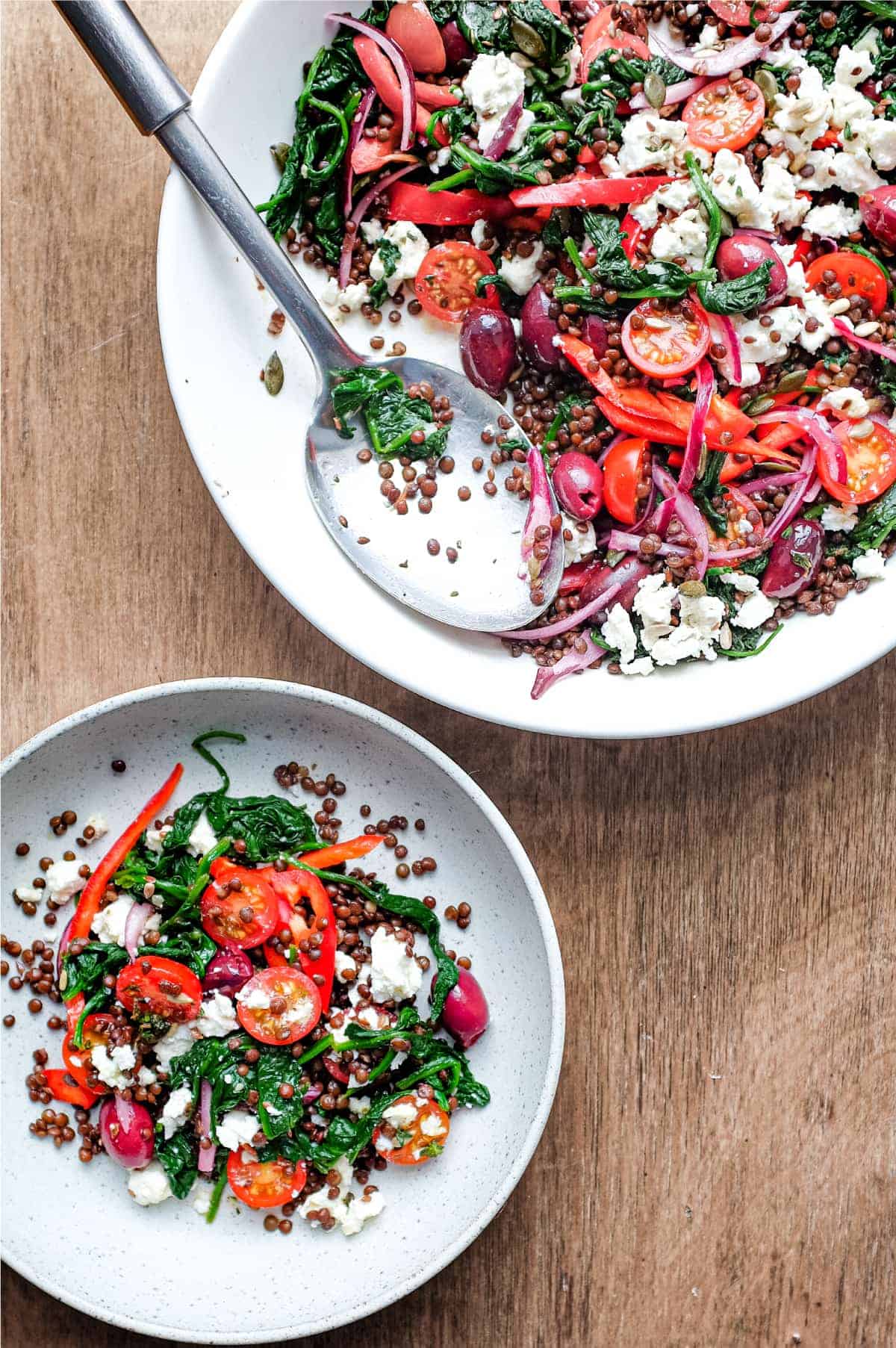 More Greek and Mediterranean recipes
If you liked my Greek Lentil salad, then I'm sure you'll love some more of my favourite Greek and Med-style recipes.
Any Questions? (FAQ)
Have a question about this Greek lentil salad? Let me know in the comments.
What are beluga lentils?
Beluga lentils are a type of small, round, and black-coloured lentils that are named after Beluga caviar due to their resemblance to the tiny, shiny black roe of the Beluga sturgeon. These lentils are known for their striking appearance, quick cooking time, and rich flavour. They're often called Puy lentils or Black lentils.
Is Greek lentil salad healthy?
Lentil salad is a nutritious and healthy option, packed with protein, fiber, vitamins, and minerals. It supports digestion, helps manage weight, and provides essential nutrients, contributing to overall well-being and a balanced diet.
This recipe uses affiliations and may receive a commission based on your activity (link clicks). Learn more.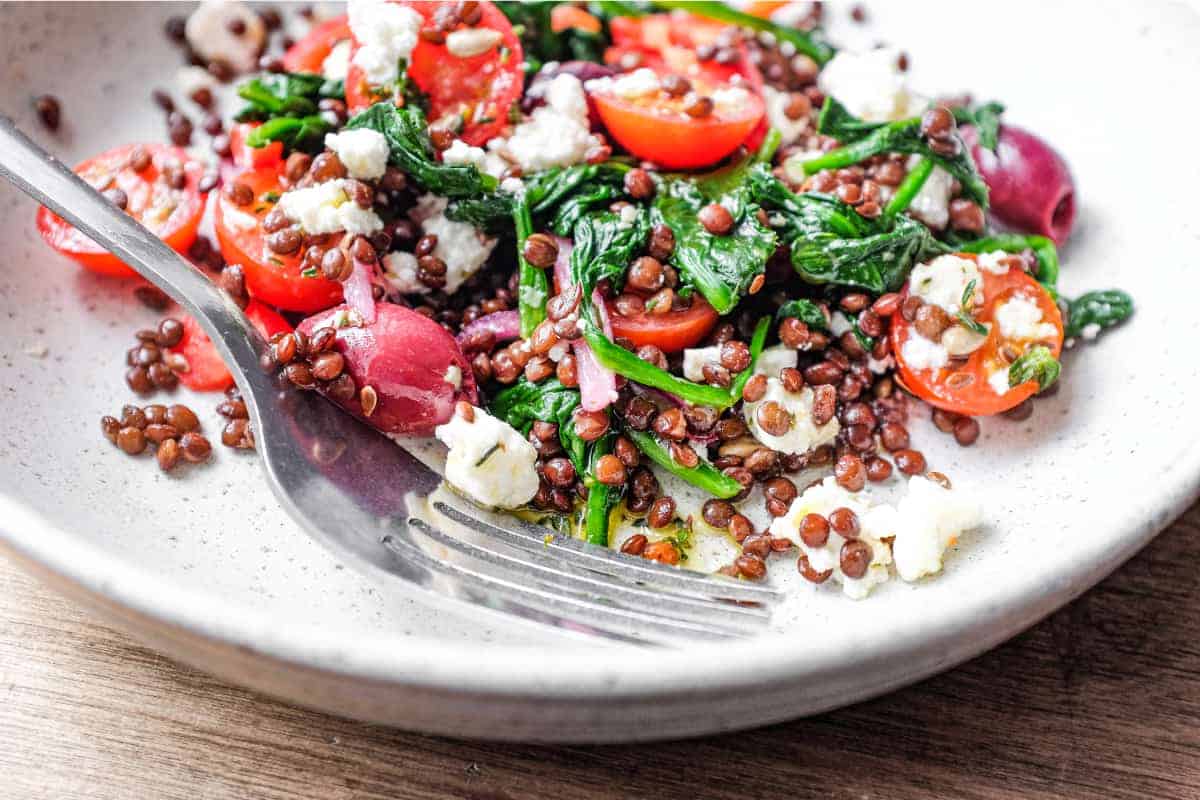 Greek Lentil Salad
Rate this recipe
Print Recipe
Pin Recipe
Save Recipe
Go to Collections
Calories (per serving) |
368
Ingredients
For the lentils
½

cup

puy lentils

(black lentils/beluga lentils)

2

cups

chicken stock

salt & pepper
Other
½

cup

kalamata olives

(pitted)

1

cup

cherry tomatoes

(halved)

1

red chilli pepper

(mild) (de seeded and sliced)

½

red onion

(thinly sliced)

½

lemon

3½

oz

feta cheese

(100g)(crumbled)

1

tbsp

mixed seed mix

(optional)
Instructions
Cook lentils for 25-30 minutes in the stock until just soft. Drain excess liquid, season with salt & pepper and set aside to cool.

Heat the oil in a pan and fry the garlic for 30 seconds

Add a 1/4 cup water and then the spinach leaves. Put on a lid and wilt the spinach for 2-3 minutes. Leave to cool for 10 minutes, then wrap the spinach in a clean tea towel and squeeze out the excess water.

To make the dressing, whisk together the lemon juice, red wine vinegar, extra virgin olive oil, thyme leaves and honey until emulsified and smooth. Set aside.

Squeeze some lemon juice over the sliced red onion and leave for 2-3 minutes.

Arrange the lentils in a large bowl or platter and then add the olives, tomatoes, pepper, and spinach and then onion.

Crumble over the Feta and then scatter a few of the mixed seeds (if using)

Lastly, pour over the dressing and serve.
Notes
This lentil salad can be served as part of a larger feast or as a side dish for fish or meat at room temperature for better flavors.

To make the salad more substantial, you can add various proteins such as chunks of jarred tuna and salty anchovies, thick slices of poached chicken, or freshly cooked and peeled prawns/shrimp.

The salad can be customized by incorporating additional ingredients like cucumber, crunchy fried pita bread, fried zucchini, fried eggplant, artichoke hearts, blanched green beans, and more. Let your imagination guide you!

Once dressed, the salad can be stored in the fridge in an airtight container for 2-3 days. Remember to bring it to room temperature before consuming for the best taste.

Note that this salad is not suitable for freezing.
Nutrition
Calories:
368
kcal
(18%)
|
Carbohydrates:
23
g
(8%)
|
Protein:
11
g
(22%)
|
Fat:
27
g
(42%)
|
Saturated Fat:
6
g
(38%)
|
Polyunsaturated Fat:
3
g
|
Monounsaturated Fat:
17
g
|
Cholesterol:
17
mg
(6%)
|
Sodium:
518
mg
(23%)
|
Potassium:
467
mg
(13%)
|
Fiber:
7
g
(29%)
|
Sugar:
7
g
(8%)
|
Vitamin A:
4356
IU
(87%)
|
Vitamin C:
42
mg
(51%)
|
Calcium:
160
mg
(16%)
|
Iron:
3
mg
(17%)