Israeli Couscous with Beetroot
For the most vibrant, flavour-packed couscous, beetroot is the perfect addition. A pink hue permeates the soft pearl couscous and leaves us with not only a visual feast but an earthy, sweet taste to boot. This is one of the most delicious couscous dishes ever!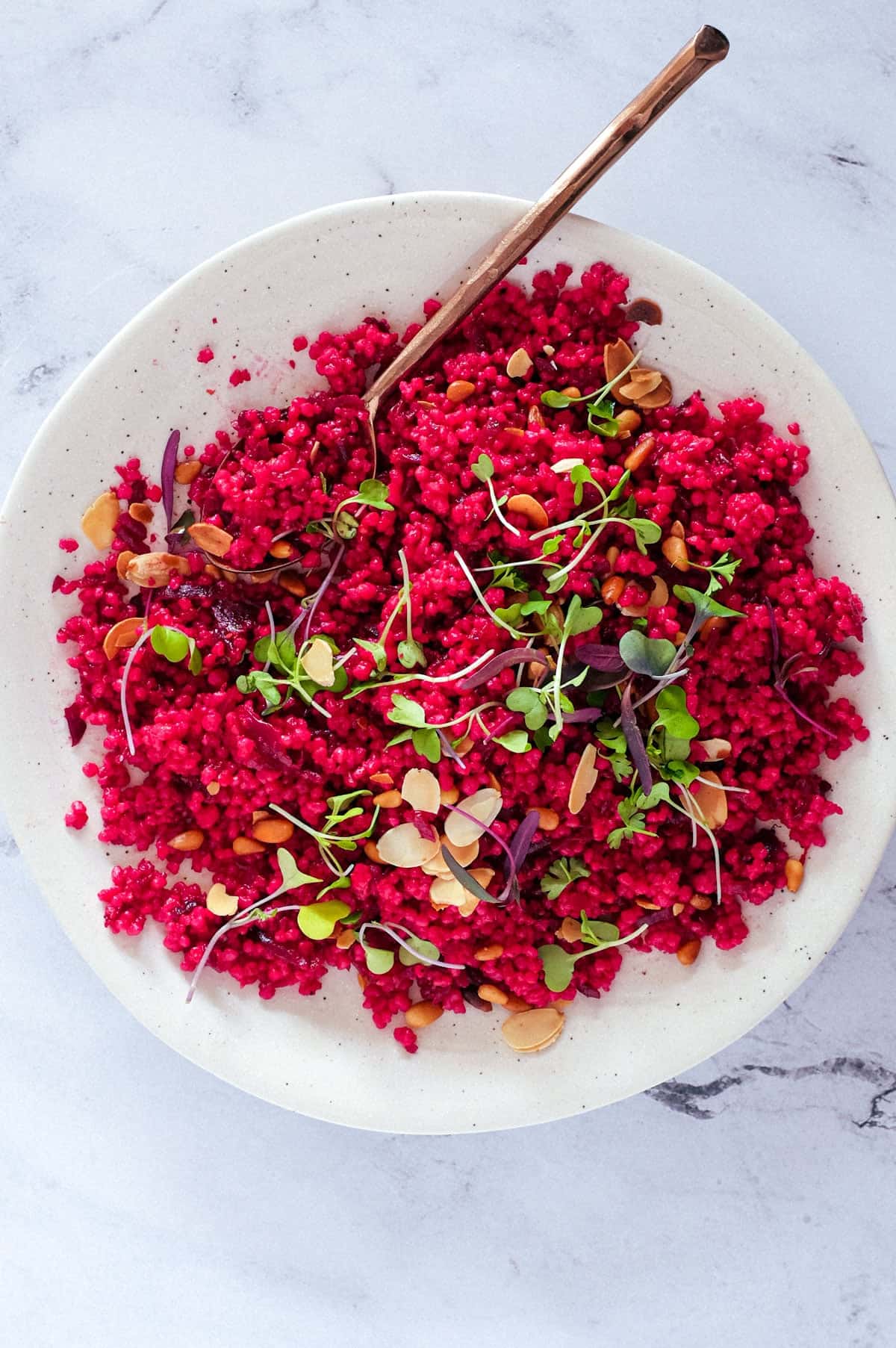 Beetroot pairs wonderfully with couscous, imparting its unique colour and flavour. It's a versatile offering and pairs with so many other dishes.
I generally serve it as a side dish along with other Mediterranean-style salads and often to accompany baked fish or skewered chicken.
It brings so much personality to the table – a wonderfully sweet and savoury earthiness. The great news is that it's a very easy dish to put together at home, and guaranteed to garner a small ripple of applause at any dinner table.
What is Israeli couscous?
Israeli couscous is in fact not couscous! It's a relatively new invention from the 1950s - created when rice was scarce in Israel due to the Austerity period of the 40s and 50s.
Israeli couscous or pearl couscous is in fact a simple pasta, much like Italian Fregola or Middle Eastern Maftoul. It takes its inspiration from Moroccan couscous but is much larger in size.
Typically created using semolina flour and formed into small balls that swell when cooked into 'pearls'.
They have a wonderful nutty flavour and a slightly chewy texture - they're great carriers of flavour and sauces, which is why they're often used to bulk out soups, stews and salads.
Why it works
It's a showstopper - That vibrant pink hue is spectacular and looks amazing as part of a larger Mediterranean style feast.
It's sweet, earthy and healthy - I am a big fan of beetroot, the combination of earthiness and sweetness is a combination I love.
Stuff you'll need
There's not a lot to this recipe - there are a few ingredients to ensure the magic happens... (there's a full recipe below).
Israeli Couscous - sometimes called Pearl couscous
Fresh beets (beetroot)
Spices - cumin & coriander brings a little more earthiness to the dish and pair wonderfully with beetroot.
Acid - lemon juice livens up the dish and gives a fresh finish
Nuts & greenery - crunchy nuts add another texture to the dish and a little herb or salad greenery adds some freshness and flavour.
Step by Step
There are a few simple steps involved in making this pink couscous come to life
Roast the beetroot - roasting leaves us with an intense flavour and colour (boiling drains the flavour and colour out, so I always roast my beets). I then coarsely grate them and leave to cool.
Cook the couscous - read the packet instructions and you'll be good to go.
Combine everything.
Garnish and you're ready to go...
Pro Tips to make your life easier
You can make this with yellow beet too for a golden version. Try changing up the nuts; pistachios work well, walnuts or pecans too. I'll often use whatever herbs I have on hand, this recipe used micro salad greens, and I'll sometimes use dill, parsley, mint, oregano, tarragon or basil.
One other thing I'll often add to add even more flavour is cheese. Feta works amazingly well, as does goats cheese - Crumble 1/2 cup or so over the finished dish.
Serving and storing suggestions
I love to serve this couscous alongside other Mediterranean inspired dishes, both vegetable and meat or fish - there are a few suggestions below. It's best served at room temperature in my opinion.
Fridge -

keep covered and refrigerated for 4-5 days.

Freezer -

You can freeze for 1-2 months in airtight containers (small portions work best for defrosting). Defrost thoroughly in the fridge for 12 hours before eating and bring up to room temperature for 1 hour before serving.
Ready to get cooking?
Making this vibrant Israeli couscous offering is really easy and so effective. We eat with our eyes and this is a sight to behold in all its pink glory. It's one of my most favourite ways to serve beetroot and I just know it's doing me good too! I'm sure you'll love it too.
Any Questions? (FAQ)
Have a question about my recipe for Israeli Couscous with Beetroot? Let me know in the comments.
What is the difference between Israeli Couscous and Couscous?
Both Israeli couscous and Moroccan style couscous are a form of pasta made from semolina/durhum wheat flour. Each is then rolled into shape. Israeli couscous is much larger than Moroccan, which is more like a grain than a sphere. Israeli couscous is more of a ball, which is why it's often named Pearl Couscous.
Is couscous gluten free?
No, couscous and Israeli couscous are made from semolina/durum wheat which contains gluten.
More delicious Mediterranean-style recipes to pair with this dish
If you liked this recipe for vibrant beetroot couscous recipe, you'll be sure to enjoy more of my favourite Mediterranean style recipes.
Beetroot Couscous
Rate this recipe
Print Recipe
Pin Recipe
Calories (per serving) |
286
Instructions
Preheat oven to 400ºF/200ºC

Stab each beetroot with a sharp knife, then wrap individually in foil. Place on a baking sheet or roasting tin and bake for 60-70 minutes until a knife runs smoothly through the flesh. Remove and cool for 10 minutes.

Meanwhile, using a little olive oil, fry the almonds and pine nuts for 1-2 minutes until they turn a golden brown. Drain on paper towels and set aside.

Once the beetroot are cooked, using kitchen gloves, slide off the skins and roots (they should all come away very easily) and discard. Cover and leave the beets to cool completely.

Cook the couscous to the packet instructions, drain and stir in the butter and oil to avoid sticking (switch out the butter for more olive oil if you're vegan).

Using a coarse grater, grate the beetroot then add to the couscous along with the cumin, coriander, salt, pepper and lemon juice. Stir well, so that all the couscous takes on the vibrant pink from the beetroot.

Leave to cool to room temperature then arrange on a platter or in a large bowl. Scatter over the nuts then sprinkle over the micro greens or herbs just before serving.
Notes
Serving
I like to serve my beetroot couscous alongside other Med-style dishes, both vegetable, meat and fish.
Serve at room temperature for the best results.
Garnishes - I change the garnishes all the time. Herbs can vary from parsley, mint, dill, coriander/cilantro, basil, oregano and tarragon. Nuts vary from almonds to pine nuts or pistachios and I'll often crumble over a little salty feta cheese or a mild blue cheese.
Storage
Fridge - Keep refrigerated in an airtight container for 4-5 days. Bring up to room temperature for 30-60 mins before serving.
Freezer - Freeze in smaller containers or bags for 1-2 months. Defrost thoroughly in the fridge (about 12 hours) and then bring up to room temperature (covered) out of the fridge for 30-60 minutes before serving.
Nutrition
Calories:
286
kcal
(14%)
|
Carbohydrates:
39
g
(13%)
|
Protein:
7
g
(14%)
|
Fat:
12
g
(18%)
|
Saturated Fat:
2
g
(13%)
|
Polyunsaturated Fat:
3
g
|
Monounsaturated Fat:
6
g
|
Trans Fat:
1
g
|
Cholesterol:
4
mg
(1%)
|
Sodium:
332
mg
(14%)
|
Potassium:
247
mg
(7%)
|
Fiber:
4
g
(17%)
|
Sugar:
3
g
(3%)
|
Vitamin A:
61
IU
(1%)
|
Vitamin C:
9
mg
(11%)
|
Calcium:
33
mg
(3%)
|
Iron:
1
mg
(6%)
This recipe uses affiliations and may receive a commission based on your activity (link clicks). Learn more.