Jordanian Lamb Mansaf
This Jordanian Lamb Mansaf is one of the most impressive rice dishes I cook regularly. Fragrant rice topped with tender lamb in a yoghurt sauce and scattered generously with toasted nuts. It's a taste and textural sensation.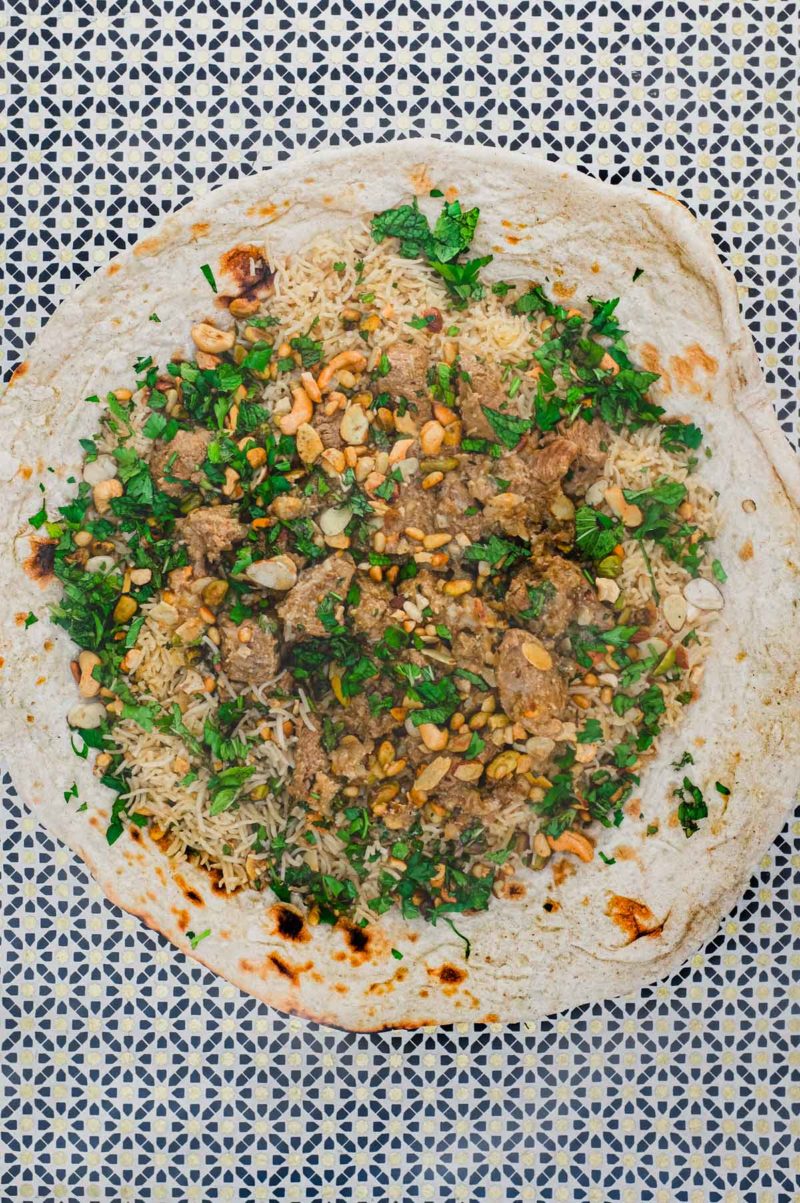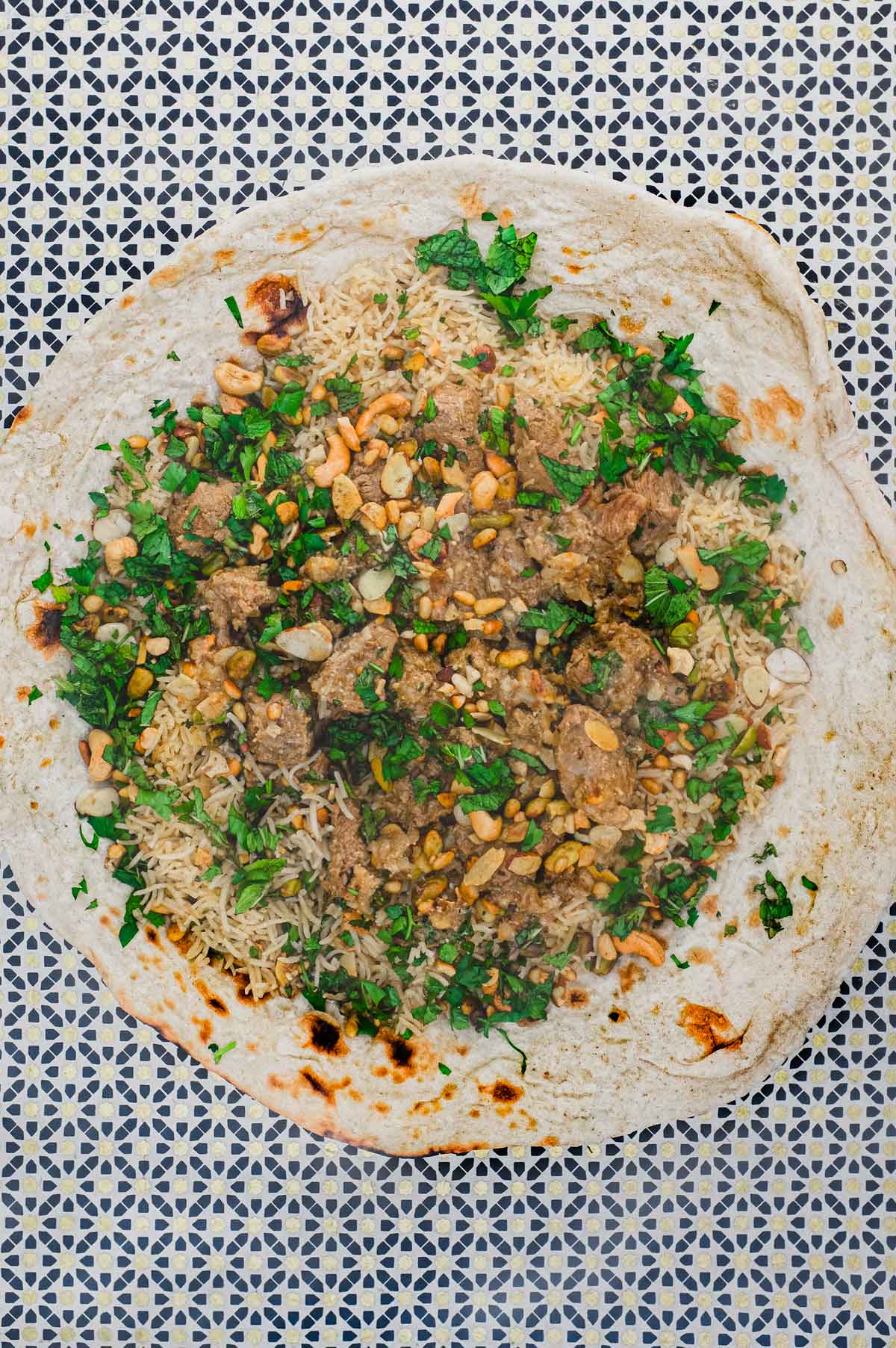 I love rice dishes, especially those cooked in stock like a pilaf or pulao - like my Moroccan silverbeet with rice. This particular recipe for Jordanian mansaf not only cooks the rice in the meat juices, it combines meltingly tender pieces of lamb (another favourite) and a bucketload of delicious nuts! Mansaf is usually associated as a Palestinian or Lebanese dish, which it is, but the dish actually originated in Jordan and is the Jordanian national dish. Mansaf ingredients are cupboard staples, so you should have no problem creating this wonderful dish at home. It's full of flavour and texture and a wonderful centrepiece at any Middle Eastern themed table.
Spiced rice with lamb and nuts
An authentic lamb mansaf is beautifully spiced melange of flavours and textures. It's an impressive dish, one normally reserved for special occasions. I like to think every day is a special occasion so will cook it midweek, weekend, birthdays, easter, bat mitsvahs - any excuse! I'll also cook this occasionally using bulgur wheat. I LOVE the nutty qualities of bulgur wheat. It cooks just like rice, so change it up and use bulgur if you've not tried it before.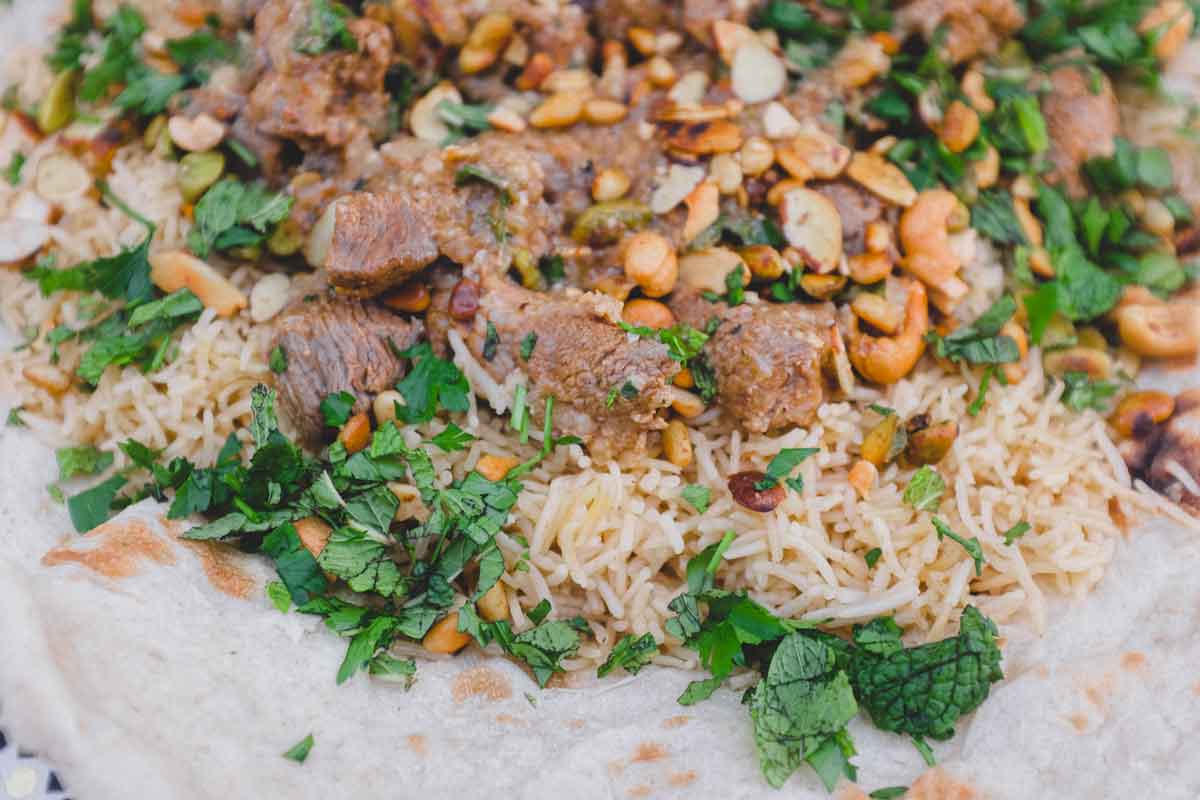 Lamb, chicken, goat, beef?
You can cook this dish using any meat you like. Lamb, goat and beef will take around the same time to tenderise but chicken will cook quicker so adjust the recipe cooking time accordingly.
What is Mansaf?
Mansaf is a traditional Arab dish made across the Middle East. When talking about the history of Mansaf, it is agreed that the dish originated in Jordan. It's considered their national dish. Mansaf consists of meat cooked with basmati rice or bulgur wheat, yoghurt and spices. The dish is finished with an array of nuts like pistachio, pine nuts, cashews, walnuts and almonds. The sauce, or 'jameed' coats the meat and served with the meat. There is often excess jameed that is served alongside the mansaf for guests to add as they wish.
Should I use rice or Bulgur Wheat?
You can use either, both are authentic in middle eastern recipes. Bulgur wheat will add to the dish a nutty flavour. Use coarse bulgur wheat for this recipe.
What type of rice should I use for Mansaf?
Basmati rice will give the most authentic results. The rice should be fluffy and separate into single grains. I suggest soaking your basmati for 30 minutes in cold water then rinsing to remove the excess starch. This will give the best results. If possible, go for the best quality basmati.
How should I eat Mansaf?
Mansaft is a typical Bedouin dish, normally reserved for large gatherings or celebrations but obviously for the regular non-bedouin we can serve it family style for whoever happens to be at our table.Typically Bedouin eat from a large platter or sheet of flatbread in the centre. Each person will mark their spot on the mountain of food and eat with their hands from that area. Again, this might not sit well with western folks, so by all means supply spoons to help guests serve up or serve up portions yourself. Authenticity is nice to know, but not essential!

More Middle Eastern dishes to cook at home
If you liked my Lamb Mansaf recipe, then you must try one of my other delicious Middle Eastern Recipes:
How to make Lamb Mansaf
Lamb Mansaf
Rate this recipe
Print Recipe
Pin Recipe
Save Recipe
Go to Collections
Calories (per serving) |
421
Instructions
Rinse the rice 2-3 times until the water runs clear. Then cover in cold water and soak for 1 hour.

Heat the butter (or oil) in a large saucepan over a moderate heat until just hot.

Gently fry the onion, cumin, cinnamon, cardamom for 3-4 minutes until soft. Add the Bay leaves and garlic and stir for 2 minutes. Add the tomato puree and stir well.

Add the lamb and stir for 5 minutes to bring the pan heat back up.

Pour in 4 cups of water and bring to a simmer. Reduce the heat to low, cover the pan and simmer gently for 1 hour until the meat is tender.

Meanwhile, dry fry all the nuts in a pan until lightly browned. Set aside on paper towels to drain and cool.

When the lamb is cooked, separate the solids from the liquid by pouring the lamb into a sieve. Retain all the cooking liquid.

Place 2½ cups of the cooking liquid into a fresh pan along with a little salt & pepper and bring to a simmer.

Drain the rice then add to the stock and stir only once. Reduce the heat to very low. Cover the pan and simmer very gently for 15 minutes until all the liquid has been absorbed.

Turn off the heat, remove the lid and place a clean tea towel or paper towel over the pan then return the lid tightly. Leave for 10-20 minutes, off the stove to absorb the excess steam.

Combine the lamb and all that was strained with it (discard the cinnamon stick) in a saucepan with the yoghurt and the remaining cooking liquid.

Season with salt & pepper then, over a moderate heat, bring this to a light simmer and cook for 10 minutes.

Place a large flatbread (or small flatbreads overlapping to form one layer) on a large platter. Fluff up the rice with a fork then arrange in a low mound on top of the bread.

Spoon over the lamb and sauce then scatter over the nuts and herbs.

Serve immediately!
Notes
I like to serve alongside lemon wedges and if there's any sauce, serve that in a bowl or jug to have guests pour over as they see fit!
Nutrition
Calories:
421
kcal
(21%)
|
Carbohydrates:
36
g
(12%)
|
Protein:
23
g
(46%)
|
Fat:
22
g
(34%)
|
Saturated Fat:
5
g
(31%)
|
Cholesterol:
54
mg
(18%)
|
Sodium:
61
mg
(3%)
|
Potassium:
498
mg
(14%)
|
Fiber:
4
g
(17%)
|
Sugar:
3
g
(3%)
|
Vitamin A:
441
IU
(9%)
|
Vitamin C:
7
mg
(8%)
|
Calcium:
99
mg
(10%)
|
Iron:
3
mg
(17%)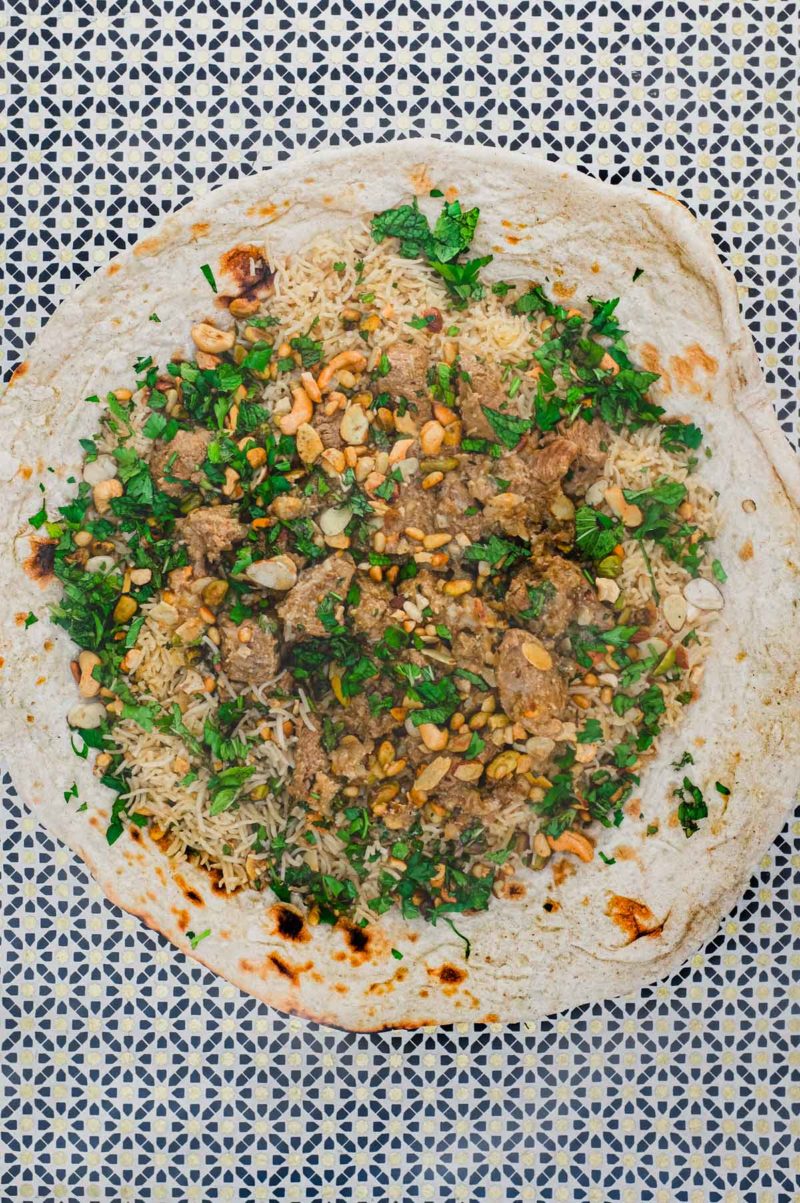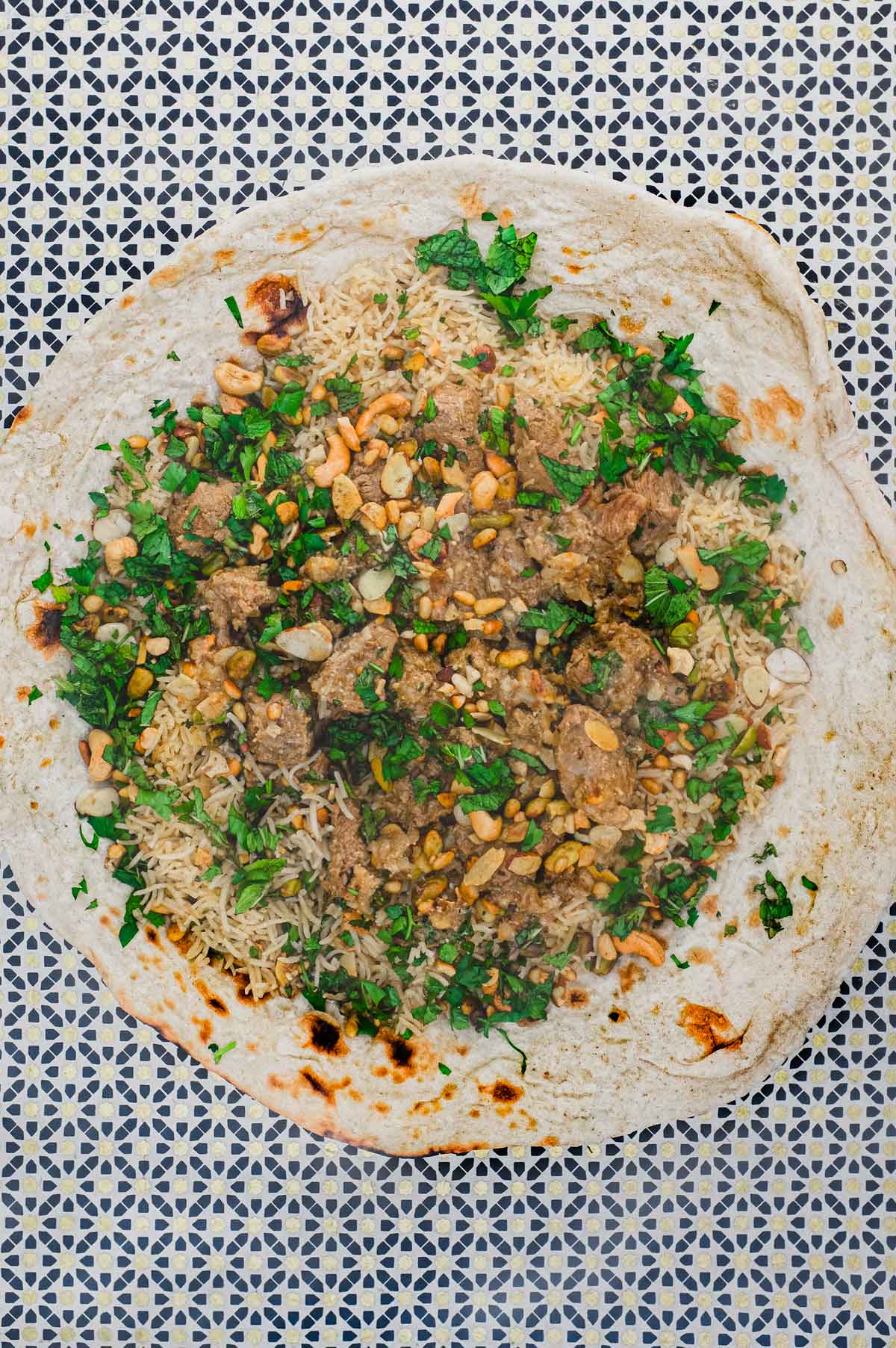 Did you make my Jordanian Lamb Mansaf?
How did you go? Let me know in the comments below and be sure to tag @cookeatworld at Instagram.