Zaalouk (Moroccan Eggplant Salad)
This vibrant Moroccan eggplant salad is all you need to bring a burst of flavour and colour to your table. Cooked with tomatoes into a rich, creamy texture, it's tangy and irresistibly fragrant. Are you ready to dip into the wonder of Zaalouk?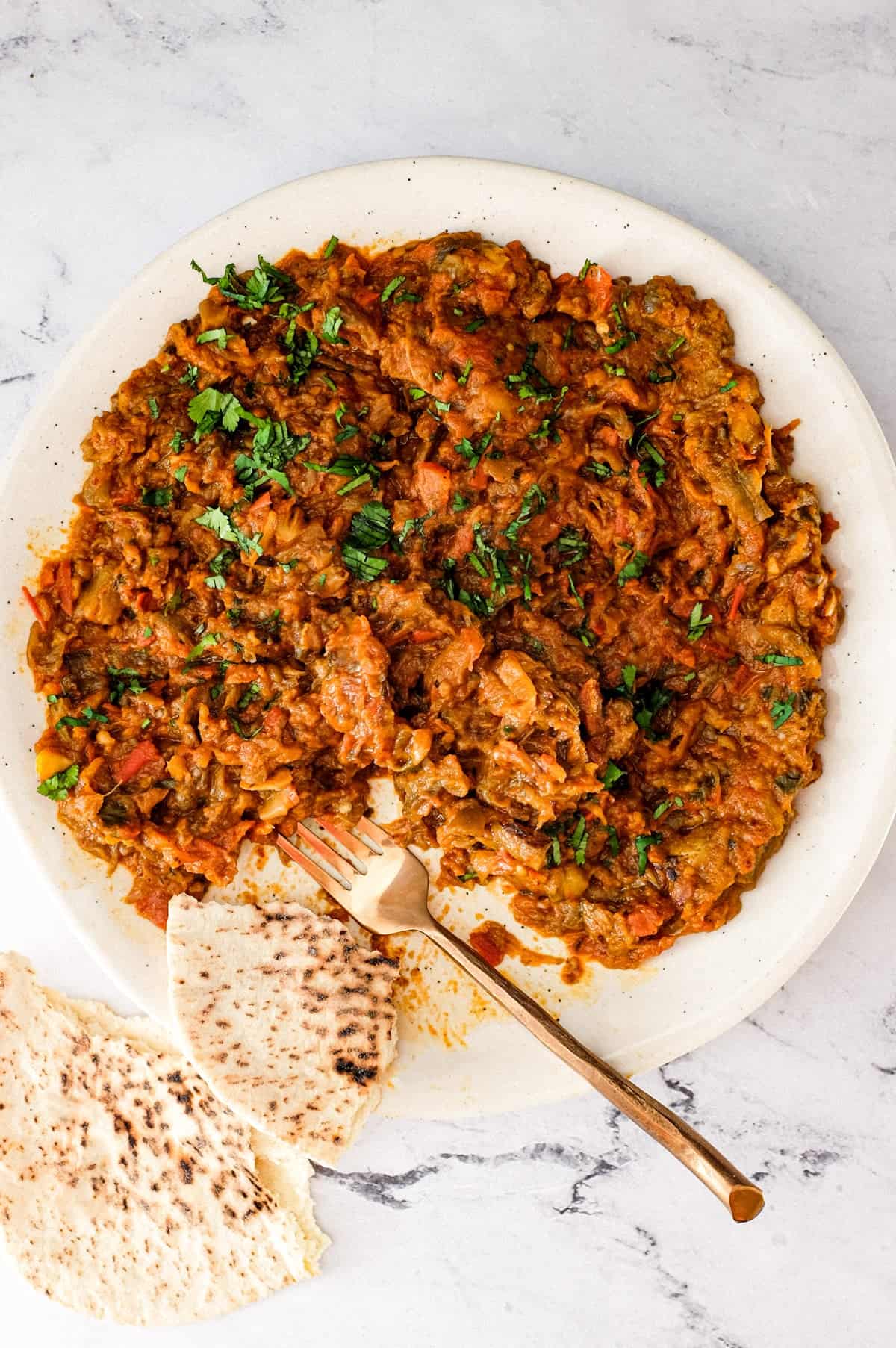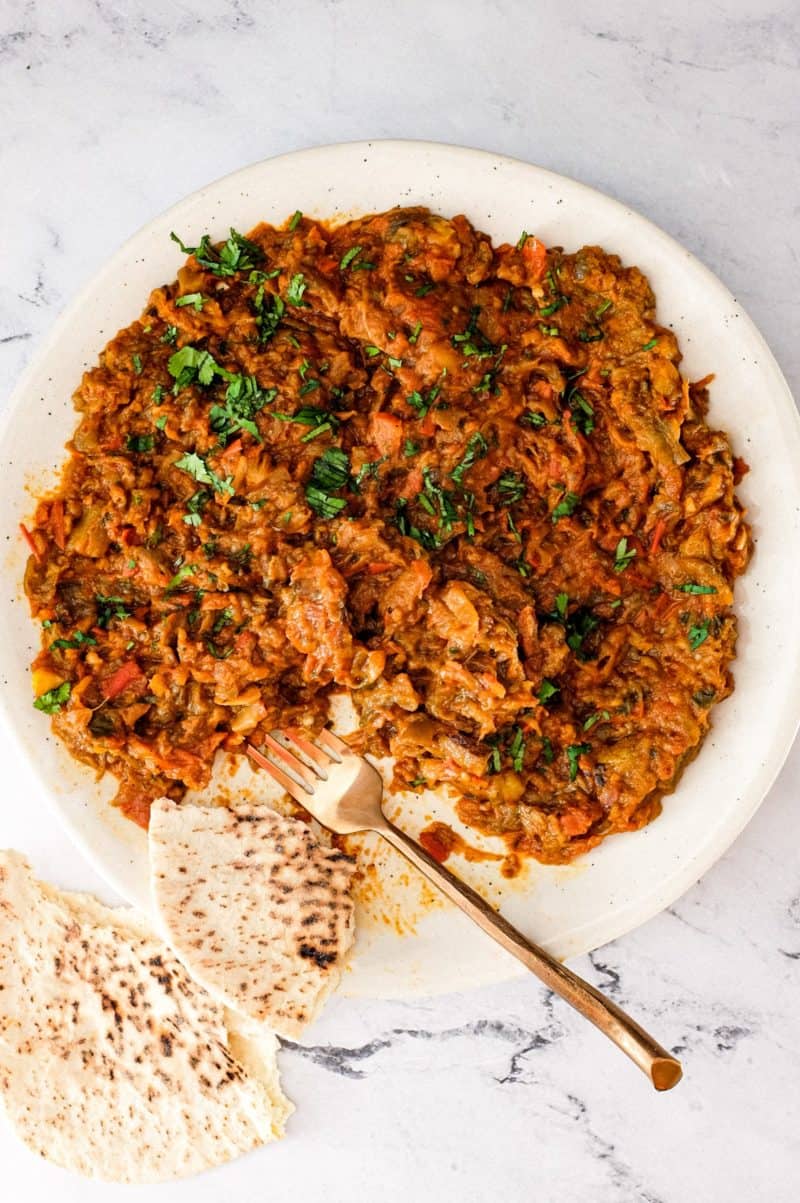 What is Zaalouk?
Zaalouk is a Moroccan Eggplant recipe - a melding of creamy eggplant (aubergine) and tart, sweet tomatoes. It's cooked until soft then mashed into a yummy, chunky dip or salad - It's a simple and incredibly satisfying marriage of colour, flavour and fragrance. It's the most perfect little treasure on any dinner table.
A versatile salad
Zaalouk is a perfect contender to serve as an appetiser or side dish, or as in Morocco, a mezze offering alongside meats, fish and other vegetable salads. I like to serve my Zaalouk with crunchy vegetables to dip or flatbreads to scoop, there's nothing better!
My Zaalouk recipe creates a chunky, rustic consistency because I like to get little bursts of eggplant flavour alongside the tomato. It's fine to blend your Zaalouk into a smooth salad too, if that's more your thing, so instead of mashing with a fork, you can pulse in a food processor.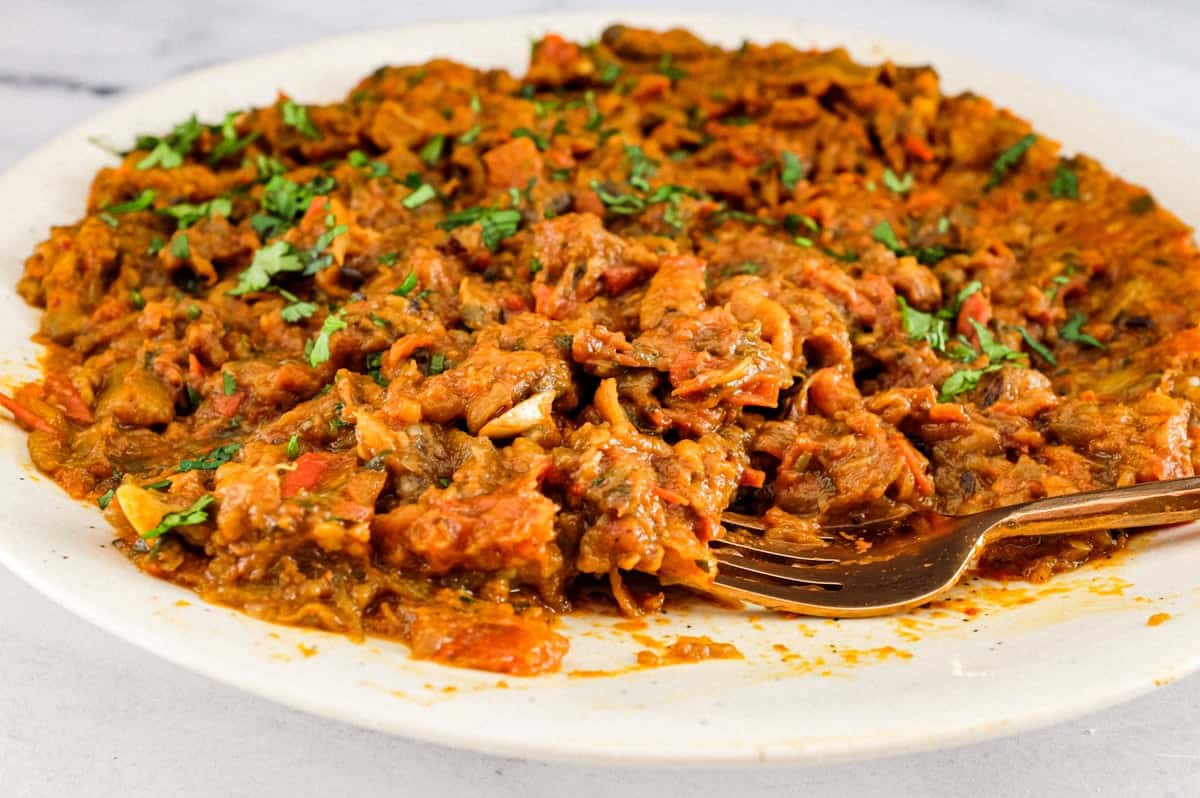 I prefer to eat Zaalouk at room temperature - the flavours seem more pronounced - hot or warm is just fine too. You can prepare it in advance and refrigerate, but DO let it come up to room temp for 1 hour before serving - you'll notice a massive difference in flavour!
If so inclined (I always am) drizzle generously with extra virgin olive oil just before serving.
Stuff you'll need
My Zaalouk aubergine/eggplant recipe features a few key ingredients to get that delicious authentic Moroccan flavour. Get the full recipe and video below.
Eggplant/Aubergine - for ease, I peel and cube, then fry my eggplant. It ensures a one-pan cook to keep things simple.
Garlic - for a depth of flavour
Tomatoes - bring their sweet, tangy red hue to the dish
Spices - cumin and paprika bring that quintessential Moroccan flavour
Harissa - a little kick of spice comes in the form of this deliciously hot Moroccan pepper paste. Harissa is completely addictive!
Cilantro - a little injection of fresh and fragrant
Extra virgin olive oil - best quality oil gives the best quality flavour.
Lemon - a last minute spritz lifts the Zaalouk to greater heights!
Step by Step
This Zaalouk recipe is easy to follow! I've stripped out any pre-cooking or soaking so that everything gets the 'one-pan' treatment. You can even serve it FROM the pan if the fancy takes you. Your Zaalouk is ready in a few simple steps:
Fry the eggplant in a little olive oil until browned and soft.
Add the salt and garlic and fry briefly
Add all the other ingredients with a little water and simmer for 40 minutes.
Mash the Zaalouk with a fork to get that creamy, rustic texture then take it off the heat.
Add the lemon juice and you're done!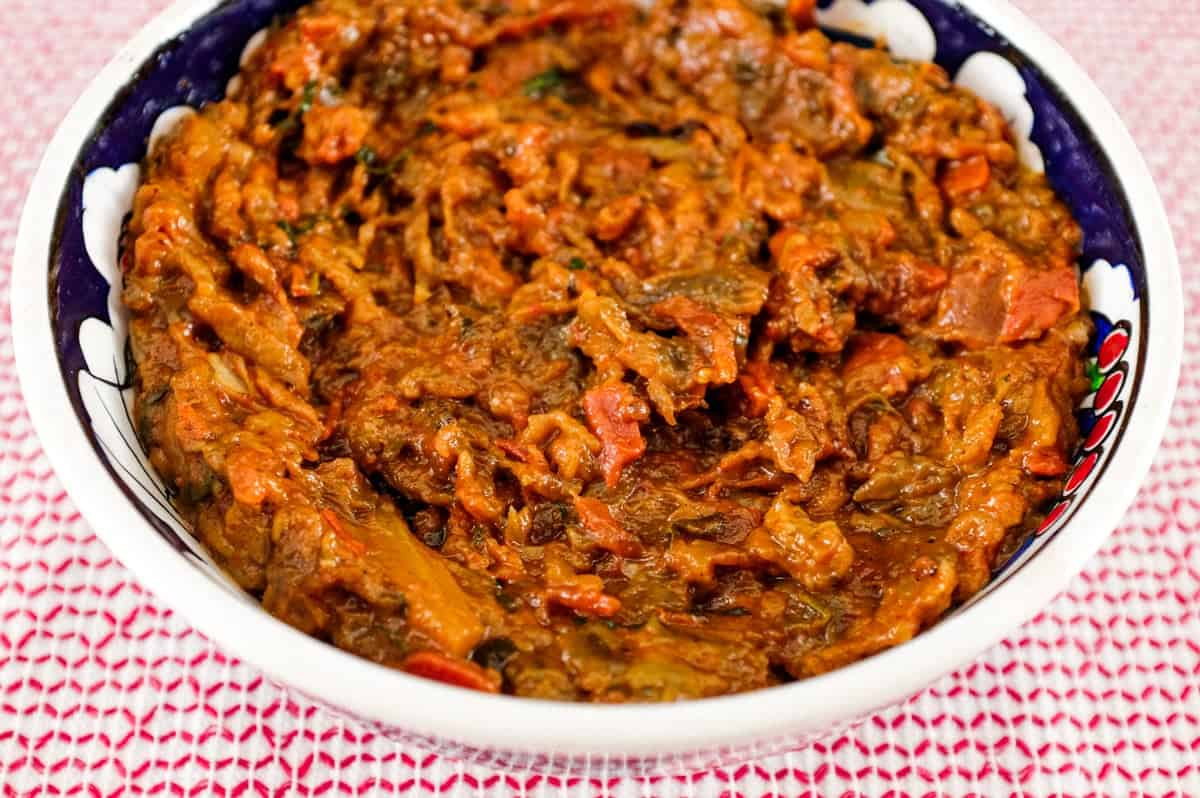 Alternative cooking methods
For my zaalouk recipe I wanted to keep things simple, so made it a one-pan method. If you want to change up the cooking method and flavour a little, try these options.
Roasting your eggplant and tomato
This will intensify the tomato favour and also give a creamier eggplant texture. Half the tomatoes and prick the eggplant and roast until soft. Peel off the skin or scoop out the flesh, whichever is easier.
Grill/BBQ the eggplant
This will impart a rich, smoky flavour to the zaalouk, which is something very special! Just grill the eggplant until it's charred on all sides and soft. Carefully peel off and discard the charred skin and chop the flesh.
I LOVE this Moroccan aubergine recipe (I'm English, so still feel a little weird calling it an eggplant.). It's so full of flavour, sooooo good with crusty sourdough or flatbreads (always a win in my book). It'll fast become your go-to dip for all occasions.
Leftovers? Let's go!
I tend to make a lot of Zaalouk, so have a couple of alternative uses under my belt to use up what's left.
Zaalouk Eggs
The next morning, I'll add about a cupful of Zaalouk to a small frying pan with about 1/2 cup water. Once simmering, I'll break an egg or two into it and pop on the lid until they're just cooked. Scatter over some fresh herbs and you're done. A Moroccan style shakshuka if you will!
Zaalouk Toasts
A couple of crunchy sourdough toasted bread slices is the perfect vehicle for Zaalouk. Spread on a generous helping of the salad and top with sharp and salty Bulgarian feta cheese and a scattering of fresh mint or parsley. Drizzle over some extra virgin olive oil and sprinkle some Aleppo pepper and you're good to go!
More dips and salad recipes like Zaalouk
How to make Zaalouk (Moroccan Eggplant Salad)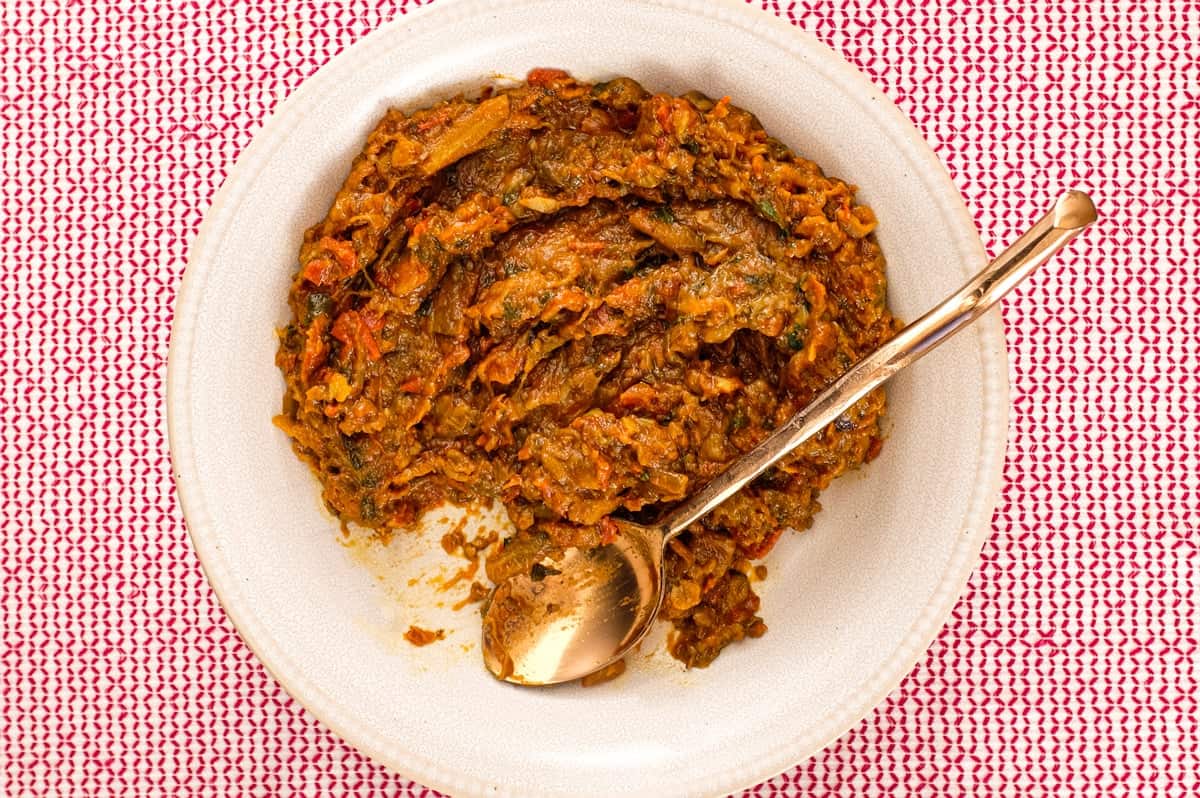 Zaalouk (Moroccan Eggplant Salad)
Rate this recipe
Print Recipe
Pin Recipe
Calories (per serving) |
122
Instructions
Heat a large deep sauté pan over a moderate heat with the olive oil until hot then add the cubed eggplant. Fry for 7-8 minutes until browned and soft.

Add the garlic and salt and fry for another 1-2 minutes.

Add the cumin, paprika and harissa followed by the tomatoes, cilantro and a fresh grind of black pepper. Stir well to combine then add about 1 cup water.

Bring to a simmer then reduce the heat to low and simmer gently, uncovered for 40 minutes until everything is soft. Add a little water if it becomes too dry, but be cautious not to make it too wet, the consistency should be rich and creamy. Remove from the heat.

Using a fork, mash the eggplant chunks to create a creamier, but still rustic appearance.

Stir in the lemon juice and leave to cool to room temperature.

Decant to a bowl or platter and sprinkle with more cilantro/coriander and if you wish, a generous drizzle of extra virgin olive oil.

Serve with crusty bread, flatbreads or Moroccan breads (khobz)
Notes
Alternative cooking methods
How you choose to cook the eggplant can change try one or all of the alternative methods.
Roasting - roast in a 450ºF/220ºC oven for 20-30 minutes until charred. Remove the flesh from the skins. Roast the tomato this way too.
Grilling/BBQ - Roast for 20 minutes on a hot grill/bbq until charred on all sides. Rest briefly, then peel off the skins and discard. Grill the tomato too.
Blending or mashing
To reach your desired consistency, you can choose to mash the zaalouk with a fork or blend in a food processor. I like mine slightly chunky so a fork is perfect, but a smoother consistency will be easier with a food processor.
Leftovers
Leftovers are great spread on toast with other vegetables or a poached egg. Alternatively, pop some of the zaalouk with a little water into a small frying pan and break in a few eggs - pop on the lid and steam the eggs until cooked - like an Israeli shakshuka.
Storing
Zaalouk will stay fresh in the fridge for 3-4 days (cover the surface with olive oil and it'll stay fresh for a few days longer).
It'll stay good in the freezer for 3-4 months, just be sure to thaw it out completely before eating and eat at room temperature.
Nutrition
Calories:
122
kcal
(6%)
|
Carbohydrates:
13
g
(4%)
|
Protein:
3
g
(6%)
|
Fat:
8
g
(12%)
|
Saturated Fat:
1
g
(6%)
|
Polyunsaturated Fat:
1
g
|
Monounsaturated Fat:
5
g
|
Sodium:
408
mg
(18%)
|
Potassium:
587
mg
(17%)
|
Fiber:
6
g
(25%)
|
Sugar:
8
g
(9%)
|
Vitamin A:
1348
IU
(27%)
|
Vitamin C:
15
mg
(18%)
|
Calcium:
30
mg
(3%)
|
Iron:
1
mg
(6%)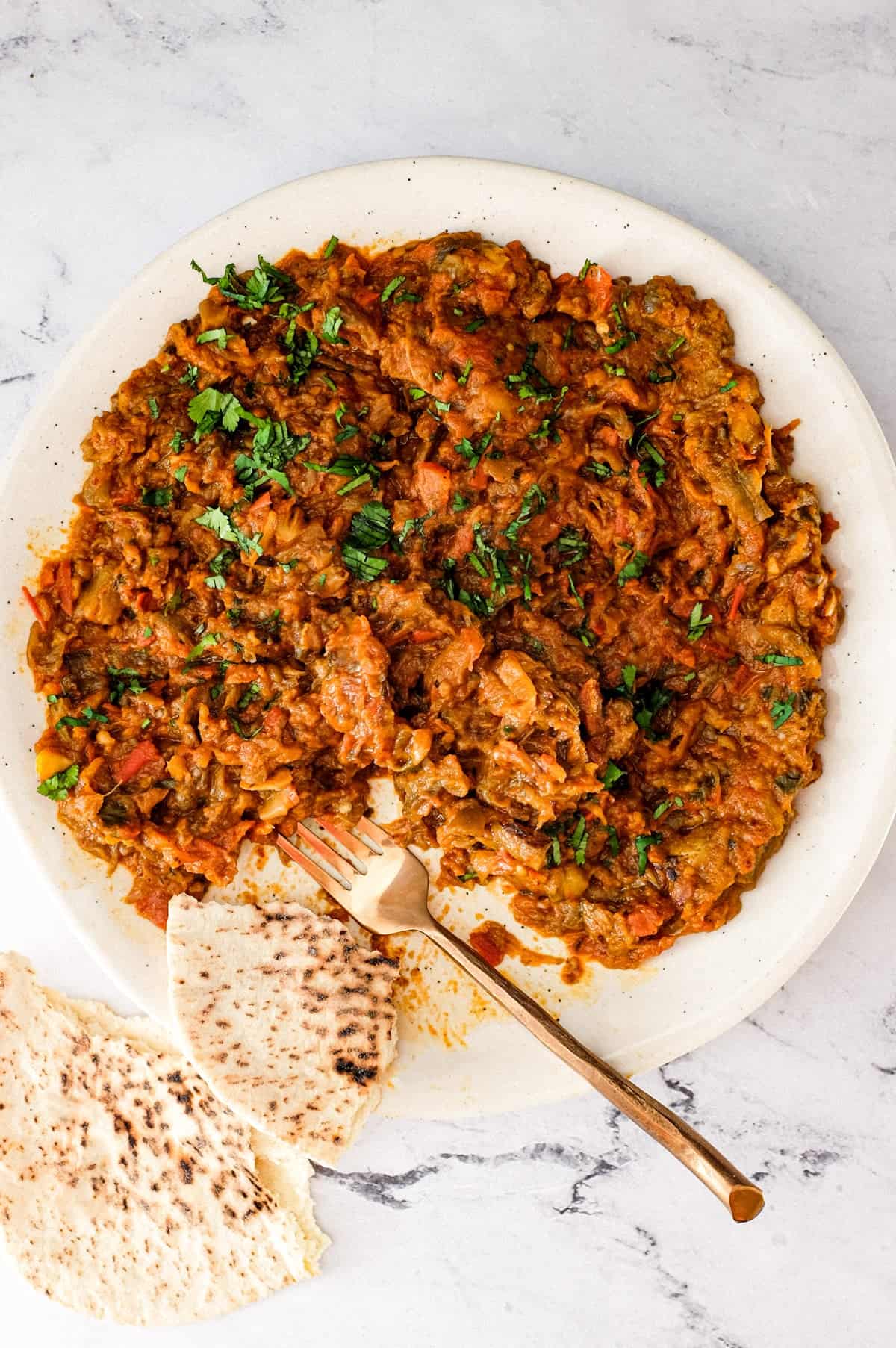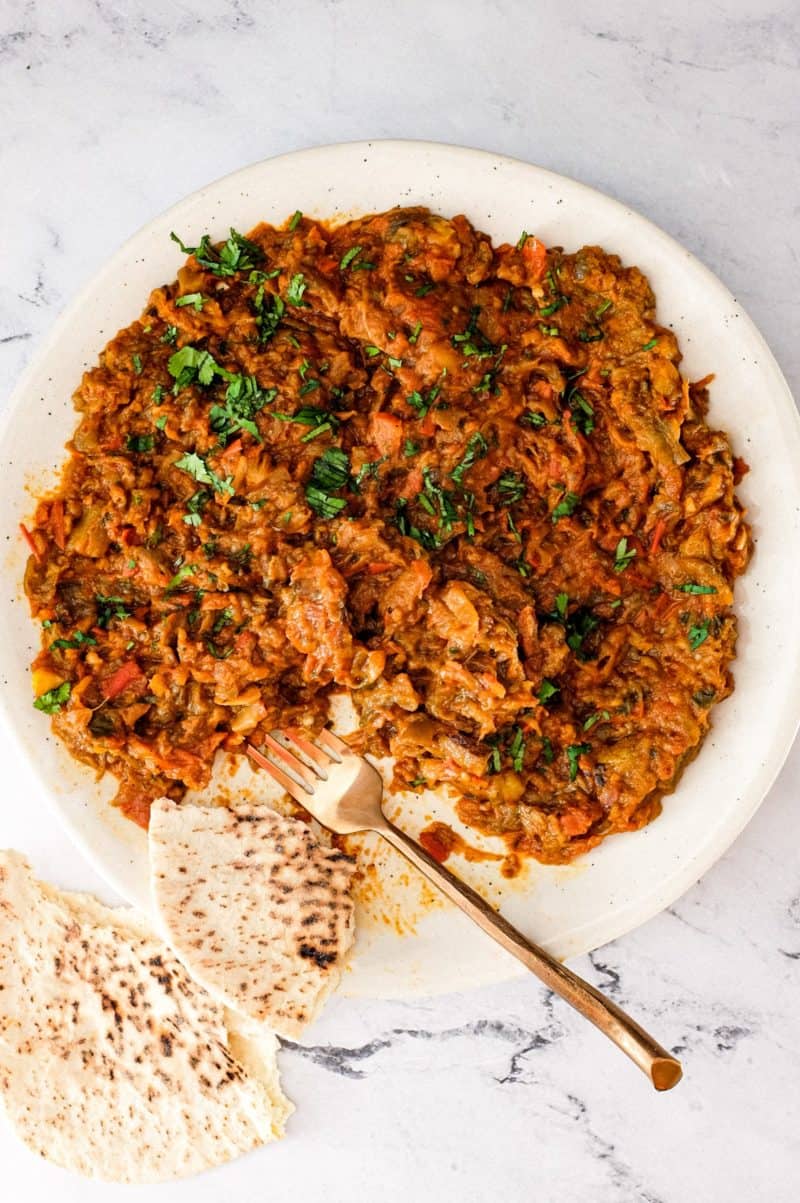 Did you make my Zaalouk (Moroccan Eggplant Salad)
How did you go? Let me know in the comments below and be sure to tag @cookeatworld at Instagram.
This site contains affiliate links to products. We may receive a commission for purchases made through these links. Learn more.