Moroccan Kefta Tagine
Fragrant lamb kefta balls sit in tangy, warmly spiced tomato sauce – this Moroccan dish is so simple and tasty. A warming, flavour-packed dish that's a cinch to whip up at home. Meatballs never tasted this good.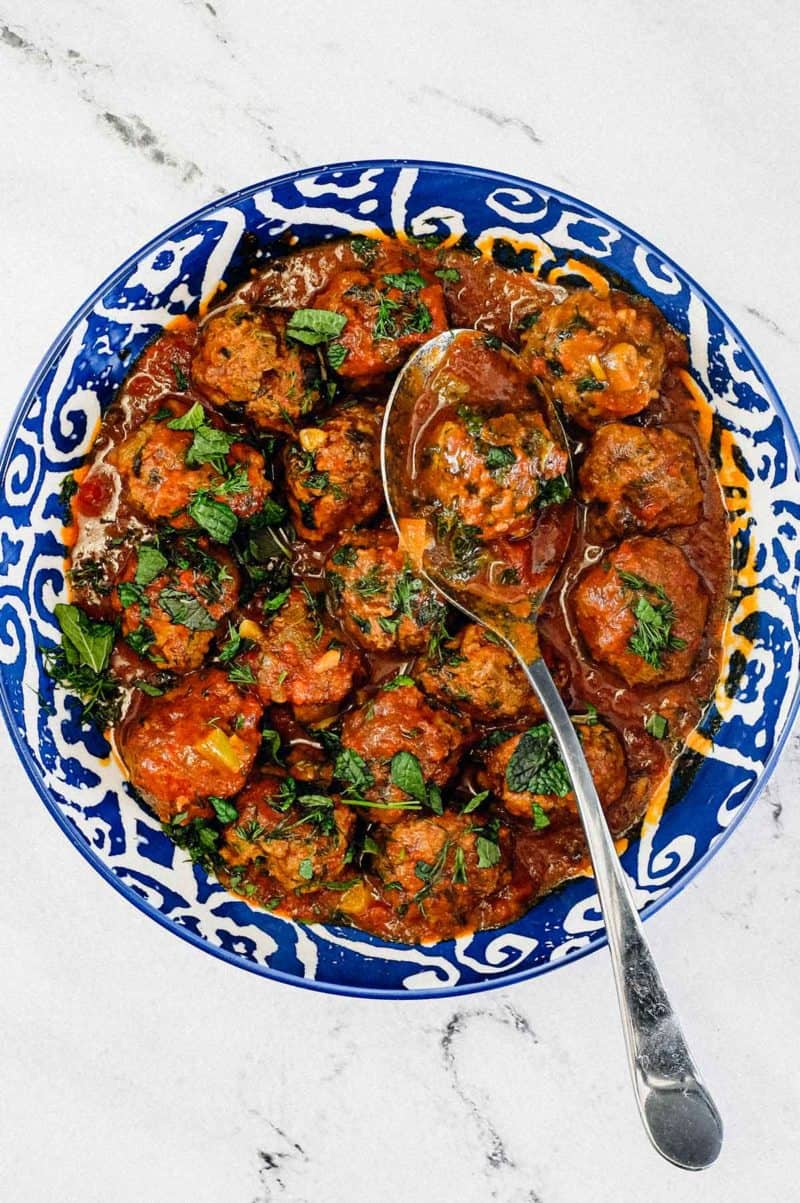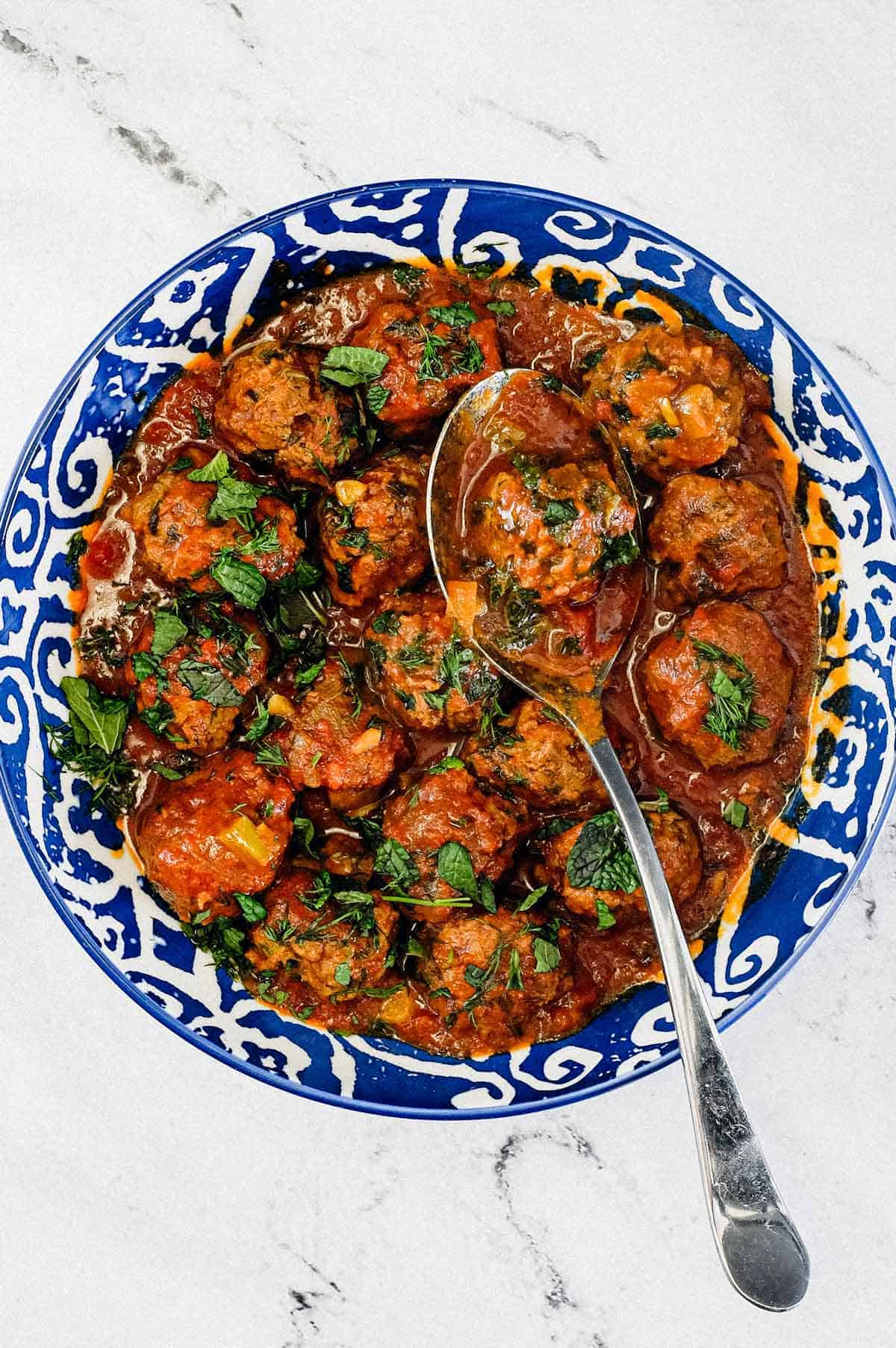 I love meatballs! Normally the Italian version, served in a simple tomato sauce. But on occasion, I stray from Italy to Morocco in favour of an exotic version of the dish. This kefta tagine recipe is such a wonderful dish to serve, full of colour, flavour and texture.
Kefta, Köfta, Kufta, Qofte, Kjofte, Cufte, Cufteta, Cufti, Meatballs?
What is kefta? Where you live dictates how you pronounce the word for these ubiquitous balls of meat. Found all across the Europe, The Mediterranean, North Africa, Balkans, and into Central Asia there's a million variations of spelling and preparation for meatballs. In Morocco they're named Kefta and Typically made with ground lamb or mutton and an array of fragrant spices. When cooked in a super tasty Moroccan tomato sauce they're elevated into taste sensation territory.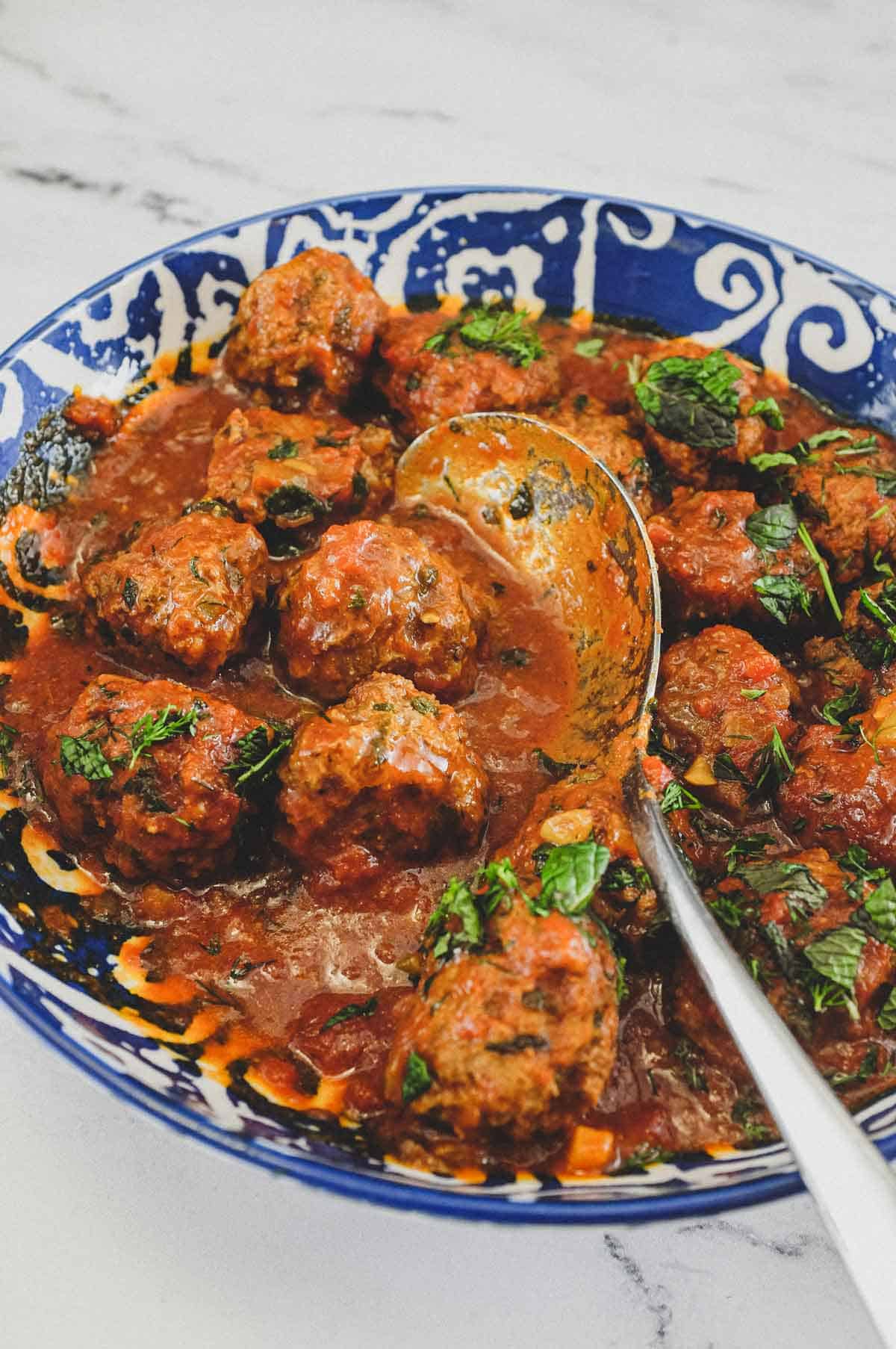 Tagine or not tagine?
What most people refer to when they think of a tagine/tajine is the earthenware dish with a conical lid. Used throughout North Africa as the dish to cook many stews and soups. This is indeed a tagine, but ingeniously, the foodstuff inside the tagine is also called a tagine! Keeps it simple, right? I long ago broke my tajine (tear face emoji), but that doesn't mean I can't still enjoy a tagine! A regular pan will do just fine. Are you keeping up? Good.
Creating the kefta tagine is simple
Putting together the kefta tagine is simple. It's really just broken down into two key stages:
Making the kefta balls. As simple as combining a few ingredients and spices with the ground lamb and then rolling into small balls.
Making the sauce. We simply fry the kefta then remove and fry the onions and garlic. Then add a few spices and tomato. We then return the kefta to the pan and wait for a little until they cook. That's it! Not too technical, right?
Let's break it down visually:
All the ingredients for the meatballs are added to a bowl. Get your hands in and combine into a sticky mixture.
2. Using lightly wet hands will make rolling the lamb mix much easier to shape into balls.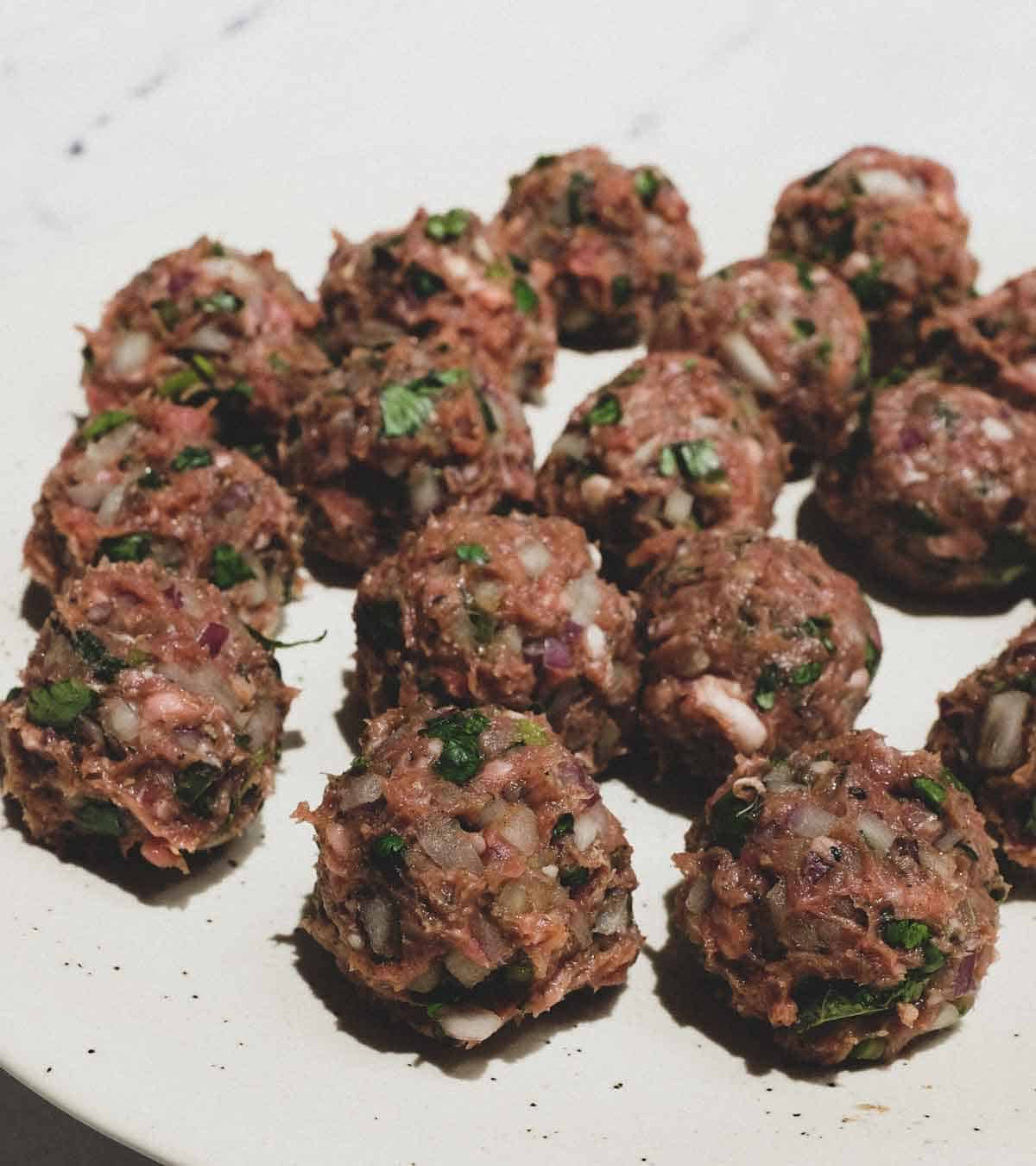 3. The kefta go into a frying pan and are lightly browned to help seal in the flavour and keep them juicy. We then take them out to make the sauce.
4. Onion, garlic and spices are gently fried until a little soft. We can then add the tomato and meatballs.
5. Everything is done. All we need now is 30 minutes to wait for everything to cook. Give the pan a few shakes once in a while to keep everything moving.
So, I just love this simple little dish, a wonderful take on meatballs. I love to serve mine with a big platter of cous cous. For those not familiar, cous cous is actually kind of pasta. Durum wheat, combined with water and then steamed and firmed into tiny balls of pasta. It's has a wonderful taste and texture and the perfect vehicle for sauces. Because they are so tiny, cous cous can be simply rehydrated from dried and used after about 15 minutes soaking in hot water. This makes for a simple accompaniment to the tangy tomato sauce.
However you decide to eat your kefta tagine, I'm sure you'll agree it's a star dish! If you'd like to make more Moroccan dishes, why not give my absolutely delightful Moroccan Matbucha – Tomato & Pepper Salad or a splendid Moroccan Carrot Salad. I also love this super tasty rice dish - Moroccan Silverbeet with Rice
How to make my Moroccan Kefta Tagine
Moroccan Kefta Tagine
Rate this recipe
Print Recipe
Pin Recipe
Save Recipe
Go to Collections
Calories (per serving) |
433
Ingredients
For the kefta meatballs
16

oz

ground lamb

450g (lamb mince)

1

onion

(small, very finely chopped or grated and squeezed of its water)

1

green chilli

(seeded and finely chopped)

1

tbsp

mint

(finely chopped)

1

tbsp

cilantro

(finely chopped)

1

tsp

cumin powder

1

tsp

cinnamon powder

1

tsp

salt

½

tsp

black pepper
Other ingredients
1

tbsp

mint

(chopped)

1

tbsp

dill

(chopped)
Instructions
To make the kefta
Using your hands, combine all the kofta ingredients together until very well combined and sticky.

Using lightly wet hands, roll a small amount into a ball, slightly smaller than a ping pong shape.

Arrange all on a plate.
To make the sauce
Heat a deep frying pan with the olive oil over a medium heat until just hot. Add the kefta in one layer and brown on all sides for about 6 minutes. Remove from the pan.

Add the spring onion and garlic to the pan and fry gently for 2 minutes before adding the cumin, coriander and turmeric powders. Stir briefly before adding the stock, followed by the tomato. Stir well, then gently tip the kefta and any juices back into the pan.

Season with salt & pepper and bring the sauce to a simmer. Reduce the heat to low and partially cover the pan. Simmer gently for 30 minutes, carefully stirring once or twice.

Spoon the meatballs into a warm serving bowl and sprinkle generously with the herbs.
Notes
Note 1: This tagine is wonderful as it is, but in Morocco, eggs are often broken into the sauce at the end and cooked until just set (like an Israeli shakshuka). This is amazing incidentally!
Note 2: If lamb isn't your thing, you can create your kefta with ground beef, turkey or pork too.
Nutrition
Calories:
433
kcal
(22%)
|
Carbohydrates:
9
g
(3%)
|
Protein:
21
g
(42%)
|
Fat:
35
g
(54%)
|
Saturated Fat:
13
g
(81%)
|
Cholesterol:
85
mg
(28%)
|
Sodium:
1068
mg
(46%)
|
Potassium:
415
mg
(12%)
|
Fiber:
2
g
(8%)
|
Sugar:
3
g
(3%)
|
Vitamin A:
154
IU
(3%)
|
Vitamin C:
6
mg
(7%)
|
Calcium:
56
mg
(6%)
|
Iron:
3
mg
(17%)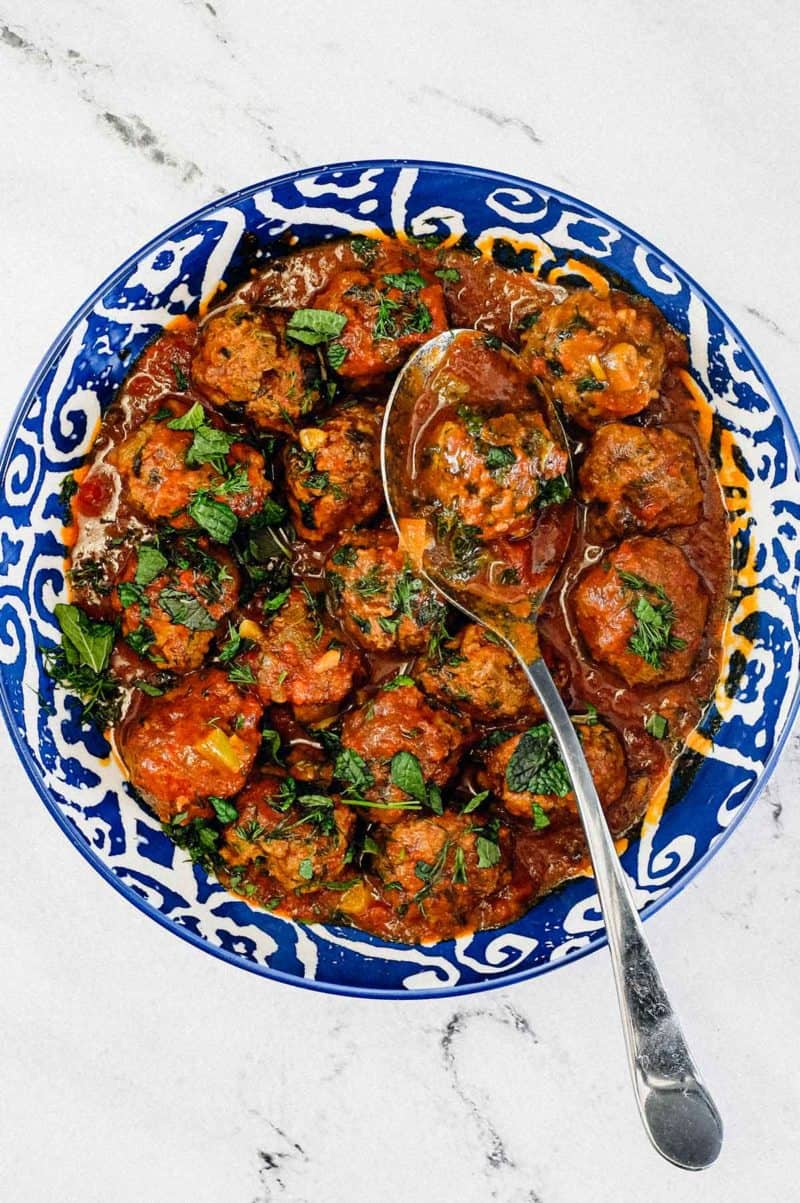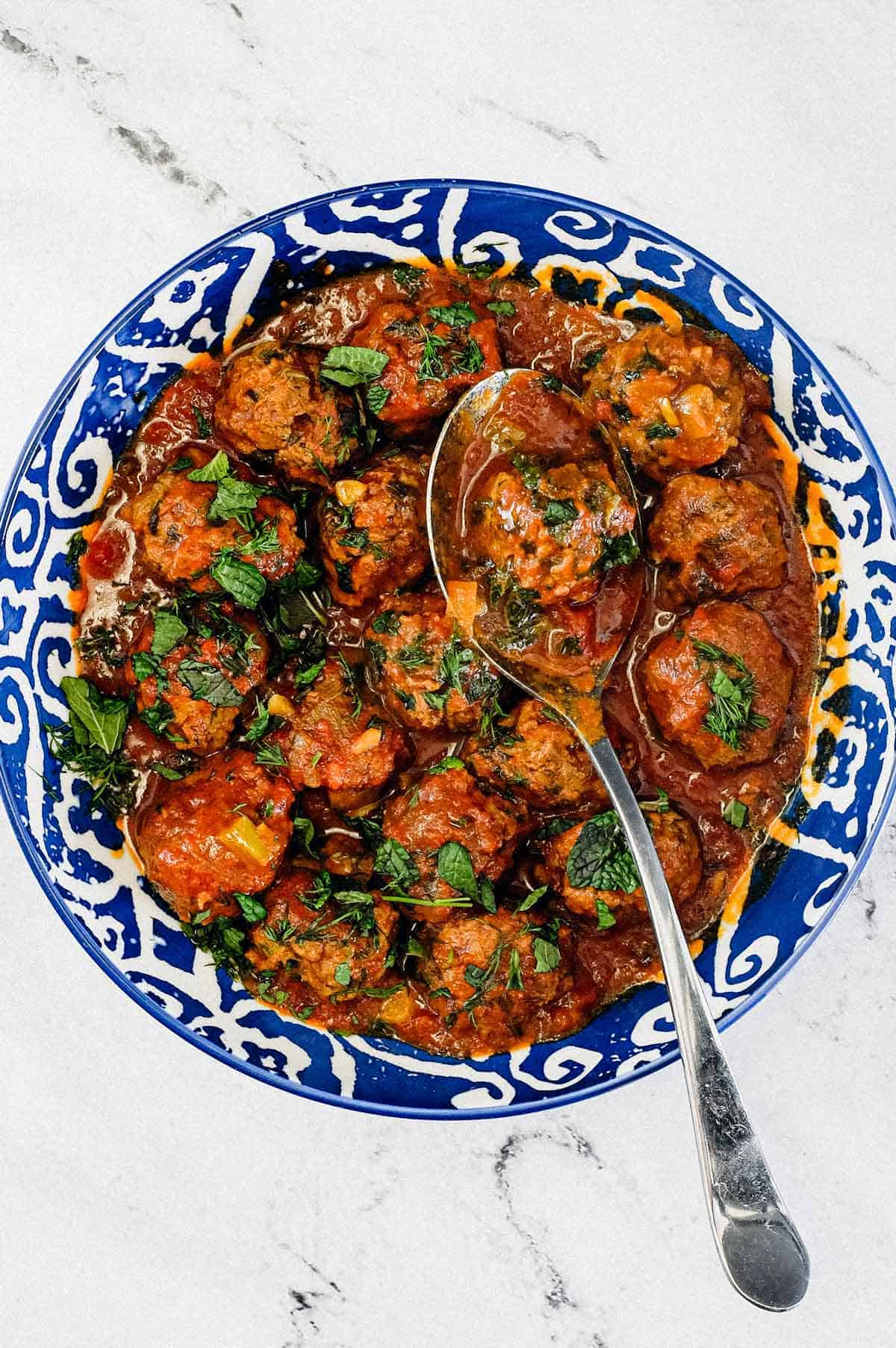 Did you make my Moroccan Kefta Tagine?
How did you go? Let me know in the comments below and be sure to tag @cookeatworld at Instagram.