Freekeh Pilaf with Chickpeas
My Freekeh Pilaf is a complex, flavourful and healthy combination of colour, flavour and texture like nothing else. It's the perfect Middle Eastern freekeh recipe that pretty much always steals the show.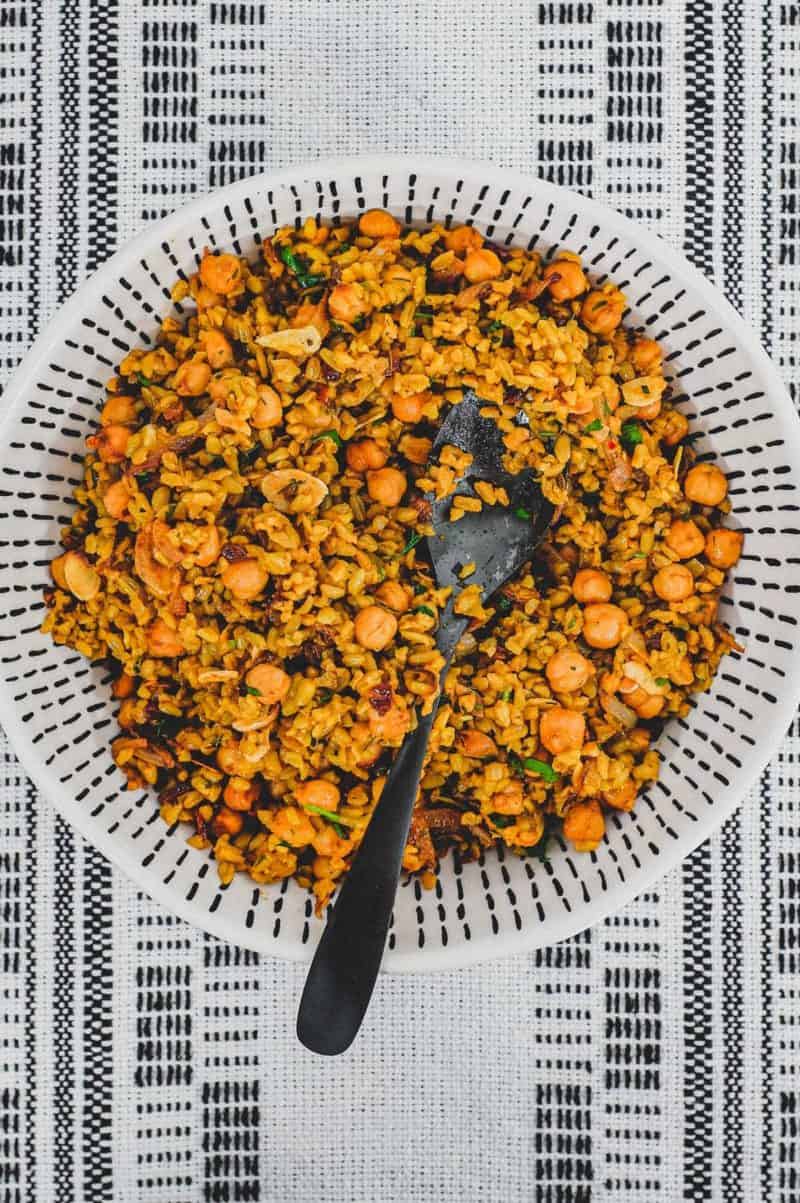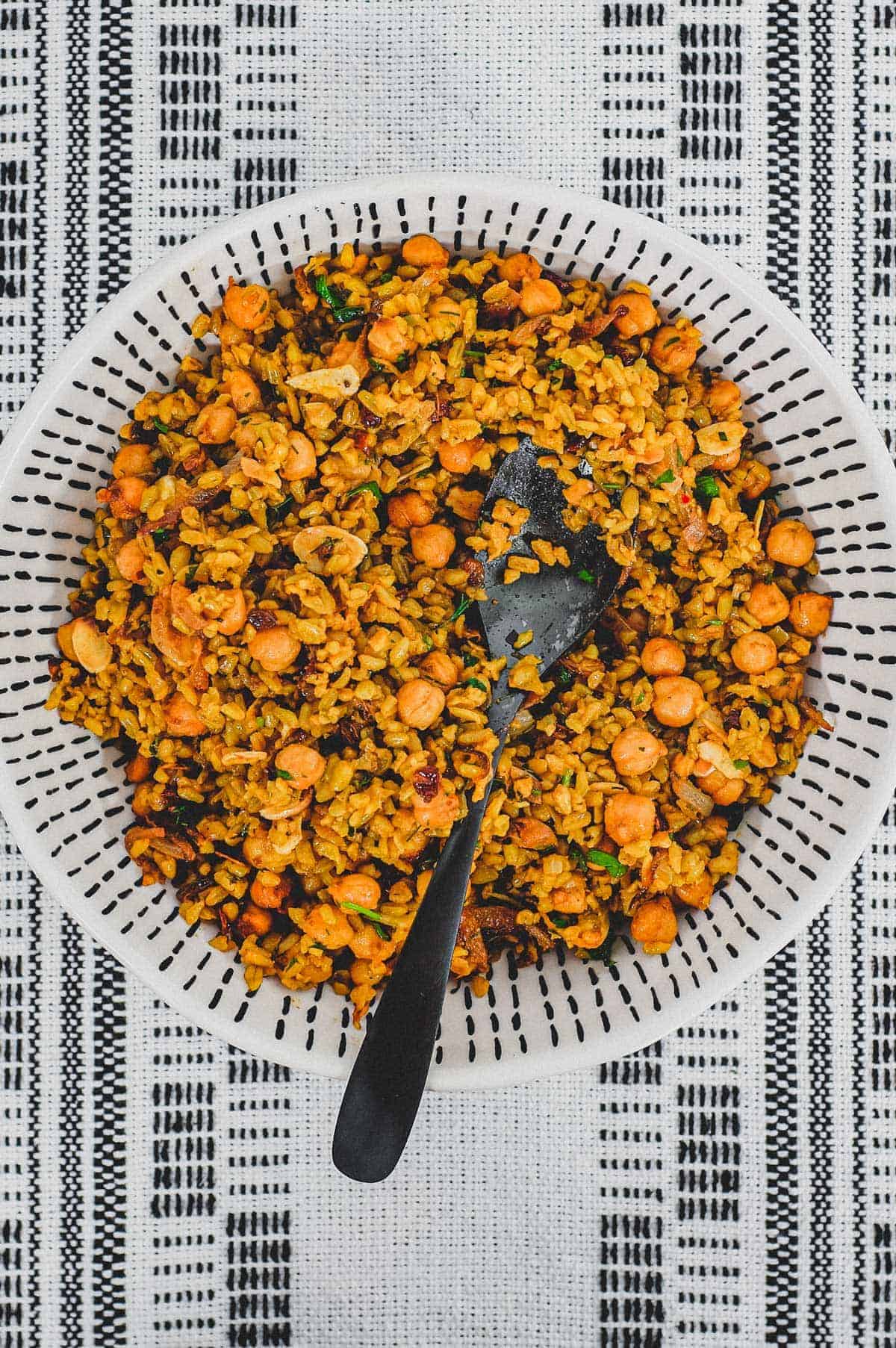 This freekeh recipe is one of my favourite staples to cook as an alternative to rice. Freekeh is cracked wheat that's packed full of fibre and a healthy choice to for heart and gut benefits. It has a wonderful nutty taste and a soft, slightly chewy texture that I just love.
This dish is packed full of flavour with a warming spice and great texture. I love it alongside stews, grilled meats and as part of a larger vegetable filled table. If you want to know how to cook freekeh in the most delicious way, you're in luck - my recipe will show you how.
What is Freekeh?
Freekeh is a type of grain made from young green wheat that has been roasted and cracked. It is commonly used in Middle Eastern cuisine and has a slightly smoky, nutty flavor. Freekeh is high in fiber, protein, and several important nutrients, including iron, calcium, and zinc. It can be used in a variety of dishes, such as soups, salads, and pilafs, and is a popular alternative to rice or couscous.
It is commonly produced in countries such as Lebanon, Syria, Jordan, and Egypt. In Arabic, it is commonly known as "farik" or "frikeh." In Turkey, it is called "firik," while in Iran, it is known as "parched wheat" or "dahan wheat." In some parts of the world, it may also be referred to as "green wheat," "roasted green wheat," or "smoked wheat."
Why it works?
It's hearty and healthy - this freekeh pilaf will fill you up without overloading on calories. It's a versatile dish that sits happily with many Mediterranean, North African or Middle Eastern dishes.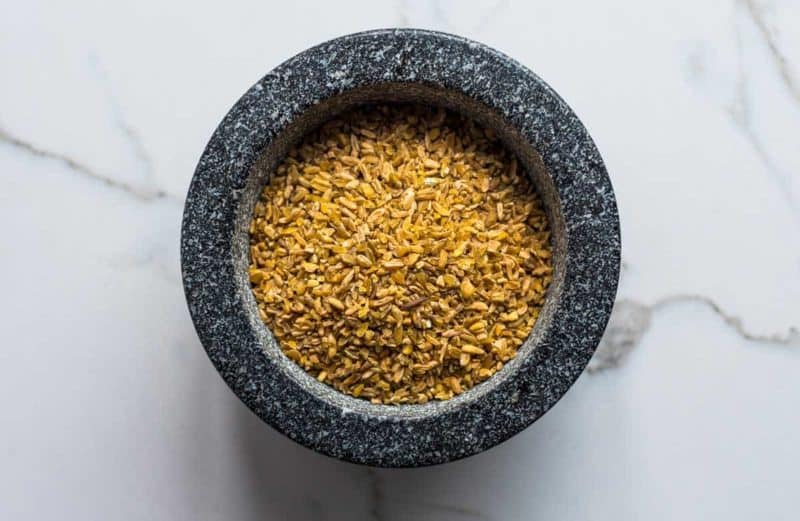 Is Bulgur the same as Freekeh?
Bulgur and freekeh are both wheat grains, they're similar but have different harvesting processes which make them distinctive nutritionally, in appearance and in taste.
Bulgur

are grains that are harvested when fully developed and ripe. The grains are left whole or cracked into various sizes and then part-boiled or steamed and re-dried. This process helps speed up the final cooking process. Like freekeh, bulgur is a good choice for pilafs, salads and soups. Try my delicious

Turkish Bulgur Pilaf with Lamb & Silverbeet

. You can also use bulgur, instead of freekeh, for this recipe.

Freekeh

grains are harvested when under-ripe and still green, meaning they retain more of their nutritional value. They are sometimes left whole but more commonly cracked to help with digestion. Freekeh grains take a little longer to cook (about 20 minutes), but absorb liquids well creating a wonderful soft and toothsome texture.
Stuff You'll Need
For my freekeh pilaf, we're drawing on the flavours and ingredients of the Middle East. A mix of warm spice, sourness and fresh grassy herbs. In combination with the nutty freekeh, this dish is complex in flavour, texture and colour. There's a full recipe below, but here are the key players.
Freekeh - cracked freekeh
Chickpeas - for their creamy, nutty flavour and to bulk out the salad with more interesting textures
Barberries - these are delicious small berries, eaten around the world and popular in Persian and Middle Eastern cuisines. They have an intense sour-sweetness that is a splendid addition. You can find them dried in most Middle Eastern Stores, or online. As a substitute, use raisins or sultanas.
Spices - warming spices bring a fragrance without heat to encapsulate the essence of the Middle East. Cumin, coriander, turmeric, paprika and Aleppo pepper work their magic!
Onion - For a sweet note, with a little charred caramelisation too.
Herbs A hit of fresh herbs at the end lighten up the pilaf. I always use parsley and interchange the second herb between dill, mint and oregano. I also like to add a little lemon zest too to bring a citrus freshness.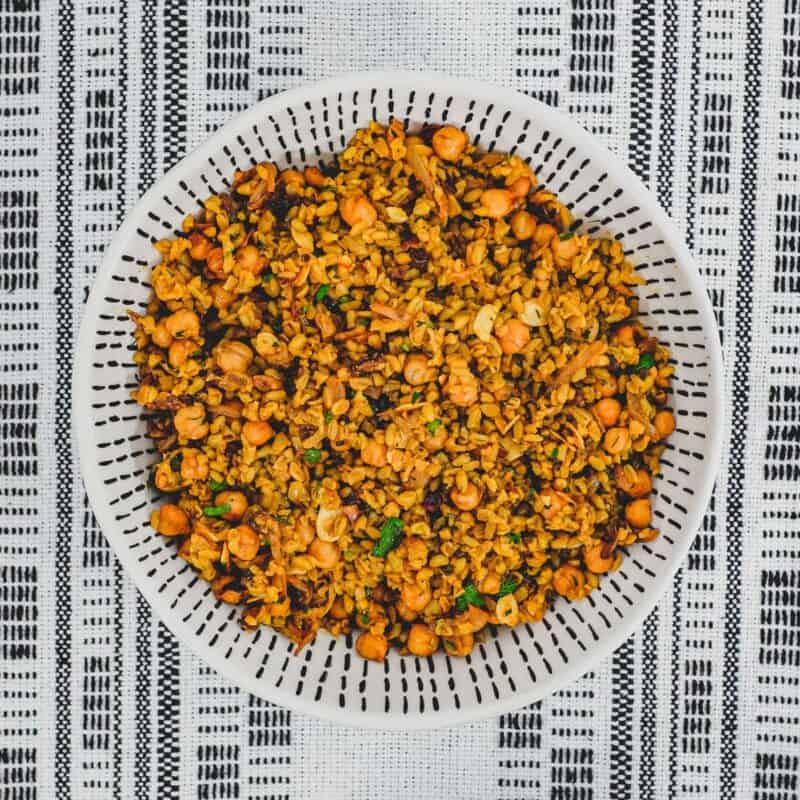 Step by Step
Want to learn how to cook freekeh? My pilaf is created in two stages - a way to ensure maximum flavour and a good, fluffy texture.
Cooking the freekeh - I cook the freekeh separately with a few spices, the barberries and onion. For a tastier finish, I'll cook it in stock: chicken or vegetable. I use 1:1 ratio for liquid and cook low and slow for 20-25 minutes. It cooks the same way as the absorbtion method for rice. At the end, when all the liquid is gone, I cover the pan with a tea towel and return the lid - I then leave it for 20-30 minutes. This catches any steam and ensures the pilaf is as fluffy as a cloud!
Cooking the chickpeas - To avoid overcooking the chickpeas, I like to add them later. This also gives an opportunity for more flavour. I fry some onions, letting them lightly char around the edges. It gives a lovely sweet caramelised flavour. More spices are added and then the whole thing mixed into the fluffy freekeh along with some fresh herbs.
Pro Tips
Like couscous, rice and bulgur wheat, freekeh very much benefits from the ingredients added. I like to change things up often and include other ingredients to the standard recipe. I'll change the chickpeas for other ingredients like charred cauliflower, sautéed spinach or chard, fruit like raisins, apple and pomegranate and often I'll add an array of nuts and seeds like pistachio, walnut, hazelnut, sesame and pumpkin seeds.
Serving & Storage Suggestions
Serve freekeh pilaf alongside anything really, anywhere you may serve rice, you could switch it out for this freekeh recipe. It's great alongside salads and vegetable recipe and also excellent with stews and tagines as it can soak up a bucketload of sauce.
Fridge -

freekeh pilaf will stay good in the fridge (in airtight containers) for 4-5 days. Either eat at room temperature, or gently warmed in the oven or microwave.

Freezer -

Freekeh pilaf freezes well and when stored in airtight containers will be good for up to 3 months. Defrost thoroughly before eating either at room temp or warmed in the oven or microwave.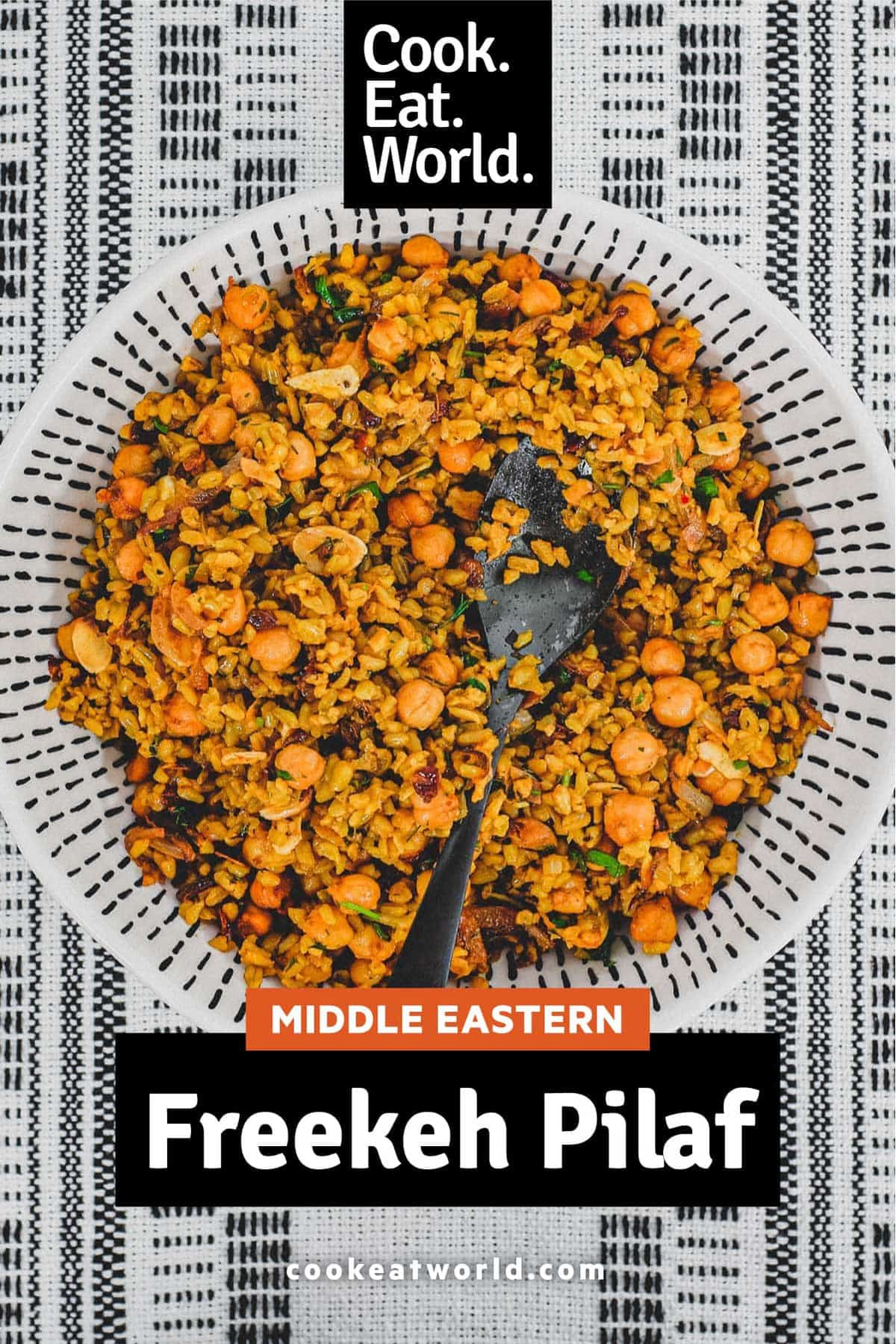 Ready to get cooking?
This wonderful healthy dish is a great alternative to rice and a staple on my table. It's packed with goodness and a filling and hearty option that doesn't disappoint on flavour too. I hope you enjoy!
More delicious Middle Eastern & Mediterranean recipes
If you liked this freekeh recipe, I'm sure you'll love some more of my Med-style recipes too.
Any Questions? (FAQ)
Have a question about Freekeh? Let me know in the comments.
How do you cook freekeh?
The basic way to cook freekeh is to, rinse it in cold water, then add 1 cup freekeh and 1 cup of water or broth to a pot. Bring to a boil, then reduce heat to very low and simmer for around 20 minutes until tender and the liquid gone. Place a clean tea towel over the pan and return the lid. Leave for 30 minutes before fluffing with a fork.
Is freekeh gluten-free?
No, freekeh is not gluten-free as it is a form of wheat. People with celiac disease or gluten intolerance should avoid freekeh and opt for alternative gluten-free grains.
What are the health benefits of eating freekeh?
Freekeh is high in fiber, protein, and several important nutrients, including iron, calcium, and zinc. It may help improve digestion, aid in weight management, and reduce the risk of chronic diseases such as diabetes and heart disease.
This recipe uses affiliations and may receive a commission based on your activity (link clicks). Learn more.
Freekeh Pilaf with Chickpeas
Rate this recipe
Print Recipe
Pin Recipe
Save Recipe
Go to Collections
Calories (per serving) |
288
Ingredients
Other Ingredients
¼

cup

parsley

(chopped)

¼

cup

dill

(chopped)

¼

cup

mint

(chopped)

¼

cup

sliced almonds (toasted)

(or pistachio or pine nuts)

½

lemon

(juice of)
Instructions
For the freekeh
Cover the freekeh with cold water and leave while you prepare the onion base.

Heat the oil in a saucepan over a moderate heat until hot. Add the diced onion, and fry gently for 2-3 minutes until soft.

Add the garlic and fry of 1 minute before adding the cumin, coriander, turmeric, salt and pepper. Stir for about 20 seconds and then add the tomato puree and barberries.

Stir well to combine everything. Drain the freekeh and tip into the onion mix. Stir well to combine then pour in the stock (or water). Bring this to a simmer, reduce the heat to low and cover the pan. Cook gently for 15-20 minutes until all the liquid has evaporated remove from the heat.

Cover the pan with a clean teatowel or paper towel and return the lid. Leave for 15 minutes to absorb more of the moisture.
For the spiced chickpeas
Heat the olive oil in a sauté pan over a medium/high heat until hot. Add the onion slices and let them fry for 4-5 minutes, turning once or twice. Let them get a little browned on the edges.

Add the cumin, paprika, coriander, Aleppo pepper and salt. and stir briefly. tumble in the drained chickpeas and stir well for 1-2 minutes to combine everything. Remove from the heat and cool to room temperature.

Once cooled, tip the freekeh into a large bowl and fluff with a fork. Fish out the lemon peel. Carefully stir in the chickpeas along with the parsley, dill, almonds and lemon juice.

Decant to a serving bowl or platter and serve at room temperature.
Nutrition
Calories:
288
kcal
(14%)
|
Carbohydrates:
37
g
(12%)
|
Protein:
11
g
(22%)
|
Fat:
13
g
(20%)
|
Saturated Fat:
1
g
(6%)
|
Polyunsaturated Fat:
2
g
|
Monounsaturated Fat:
8
g
|
Trans Fat:
1
g
|
Sodium:
632
mg
(27%)
|
Potassium:
194
mg
(6%)
|
Fiber:
7
g
(29%)
|
Sugar:
3
g
(3%)
|
Vitamin A:
723
IU
(14%)
|
Vitamin C:
13
mg
(16%)
|
Calcium:
79
mg
(8%)
|
Iron:
2
mg
(11%)