Cypriot Sheftalia (Pork & Lamb Sausages)
My Cypriot Pork & Lamb Sheftalia are most likely the juiciest, most flavoursome little sausages you'll ever eat! Learn what magic ingredient makes them so special…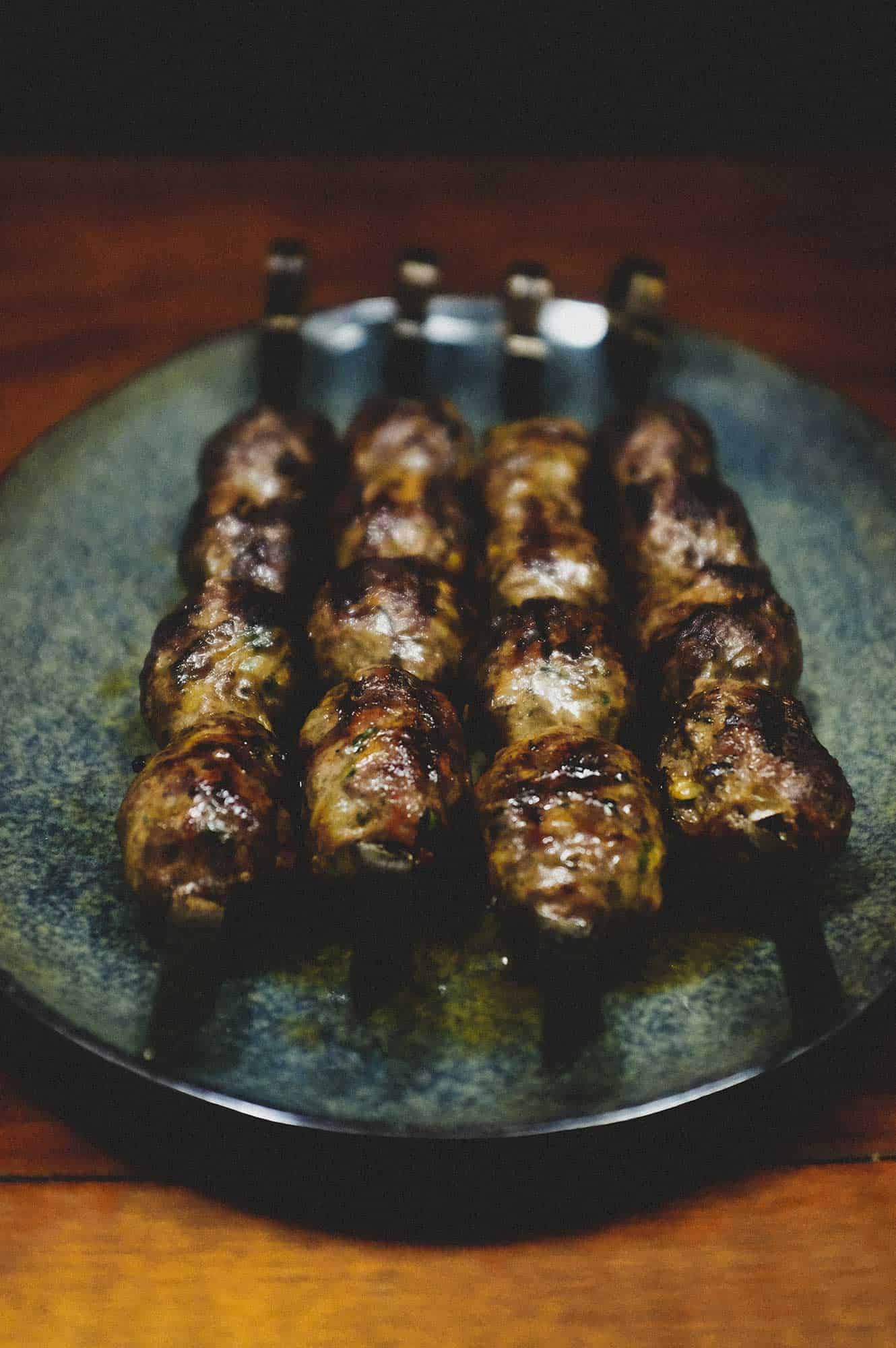 Cypriot Sheftalia are a traditional pork and lamb sausage. A national treasure in Cyprus and Turkey - it's in Turkey (in a Cypriot restaurant, where they were known as şeftali kebabı) that I first stumbled upon them, and I'm so glad I did.
What makes Cypriot Sheftalia so good?
A mix of lamb and pork creates a wonderful meaty combination of flavour - the pork keeps the sheftalia juicy, and the lamb brings a depth of savoury meatiness.
A simple mix of onion and seasonings help keep this sausage meat forward without too much taste distractions
Caul fat is wrapped around the sausages to encase the meat and protect the juices from flowing out while cooking. This creates the juiciest sausages you'll ever taste.
What is caul fat?
Caul fat is an internal membrane of an animal that surrounds the internal organs. It's often called 'lace fat'. It looks a little like spider's web with a mix of thicker branches and transparent sections between. It comes in sheet-like pieces than unravel to shapes that we can cut and use to wrap meat.
The benefits of caul fat
Caul fat is used to wrap meats as a kind of sausage casing. It's been used for Centuries this way and dishes around the World, like the sheftalia were born. The French Crépinette and British Faggot not to mention the hundreds of Terrines and Salumi recipes all use caul fat. The main benefit is that it helps trap the juices/flavour inside whatever it's wrapping, creating succulent, juicy dishes as a result.
In my recipe, once we create the meat mixture and form the sheftalia shapes (from balls to mini kofta style ovals) we then wrap in caul fat and thread onto flat skewers. This enables more control on the grill - the ability to turn all our sheftalia in one go. Flat skewers are the best option - the sheftalia don't move as much (they can spin on a thin needle skewer and that is annoying! Flat skewers will turn the sheftalia without any fuss.
How to cook Sheftalia
There are a few ways to get these cooked. Here are my preferred - best first:
On the grill over hot coals. As the caul fat melts, it drips onto the coals and creates plumes of smoke which in turn flavours the sheftalia to utter charred perfection.
On a Gas or Electric grill - it's the next best option - you'll get a good amount of char and smoke too, which is great!
Under a hot broiler/oven grill. Make sure it's hot to ensure a good level of charring (not burning).
I can't really do justice to the flavour of these Cypriot sheftalia with words alone - but just look at them! And the taste matches the appearance. Be sure to create your own authentic Cypriot sheftalia at home - everyone will love them (and you)!
More delicious recipes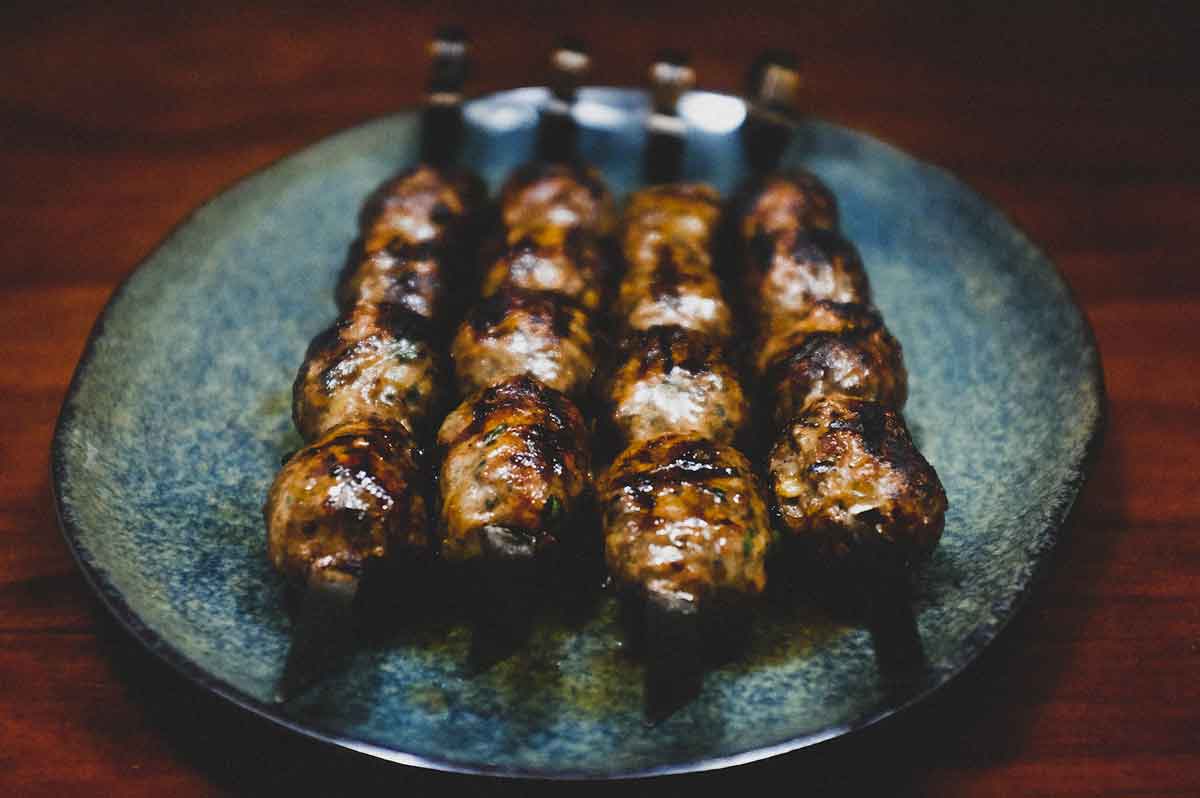 Cypriot Sheftalia (Pork & Lamb Sausages)
Rate this recipe
Print Recipe
Pin Recipe
Calories (per serving) |
388
Ingredients
1

lb

ground (minced) lamb (about 450g)

30+% fat (try to get a fatty looking portion)

1

lb

ground (minced) pork (about 450g)

30+% fat (try to get a fatty looking portion)

1/2

red onion

(very finely chopped, or coarsely grated)

1/4

tsp

ground cinnamon

1

tsp

salt

2

tbsp

fresh parsley (chopped)

1/2

tsp

Apello pepper flakes

(or chilli flakes)

1/3

cup

breadcrumbs

1

piece pork caul fat

(around 300g/11oz)
Instructions
Using your hands, combine all the ingredients (except the caul fat). Work the mixture hard to ensure everything is very well combined. Wrap in plastic wrap and refrigerate for 1 hour for the flavours to develop.

After that, take a small piece of the meat mix and roll into a small ball (ping-pong sized). Squeeze the two sides so that it's more oval shaped. Arrange on a plate while you repeat with all the mixture.

Take the caul fat and unravel a part on a large chopping board and lay flat. Take a sheftalia and gently wrap in one layer of caul fat around it. Using a knife, cut around the sheftalia on the board to trim the caul fat. Repeat this process for all the sheftalia.

Thread 4 sheftalia onto flat metal skewers or long wooden skewers that have been soaked for 2 hours.

Heat a BBQ 'til hot and then grill the meat for around 8-10 minutes, turning regularly to avoid burning. The BBQ will most likely flare up as the caul fat melts. Don't worry too much - it's all flavour! But obviously, if there's an inferno of fire - keep the sheftalia moving.

If you're cooking under an oven grill, turn regularly for 8-10 minutes for even cooking and a good char.

Remove the sheftalia and rest for a couple of minutes before serving.
Nutrition
Calories:
388
kcal
(19%)
|
Carbohydrates:
10
g
(3%)
|
Protein:
25
g
(50%)
|
Fat:
27
g
(42%)
|
Saturated Fat:
9
g
(56%)
|
Cholesterol:
82
mg
(27%)
|
Sodium:
733
mg
(32%)
|
Potassium:
428
mg
(12%)
|
Fiber:
1
g
(4%)
|
Sugar:
2
g
(2%)
|
Vitamin A:
349
IU
(7%)
|
Vitamin C:
5
mg
(6%)
|
Calcium:
43
mg
(4%)
|
Iron:
3
mg
(17%)
This site contains affiliate links to products. We may receive a commission for purchases made through these links. Learn more.