Pilpelchuma with Sweet Potatoes
Talk about delicious! Pilpelchuma is a spicy North African condiment with a complex marriage of earthy spice and heady heat. A sauce that will enhance everything it touches, like these crisp and creamy sweet potato fries. Perfection!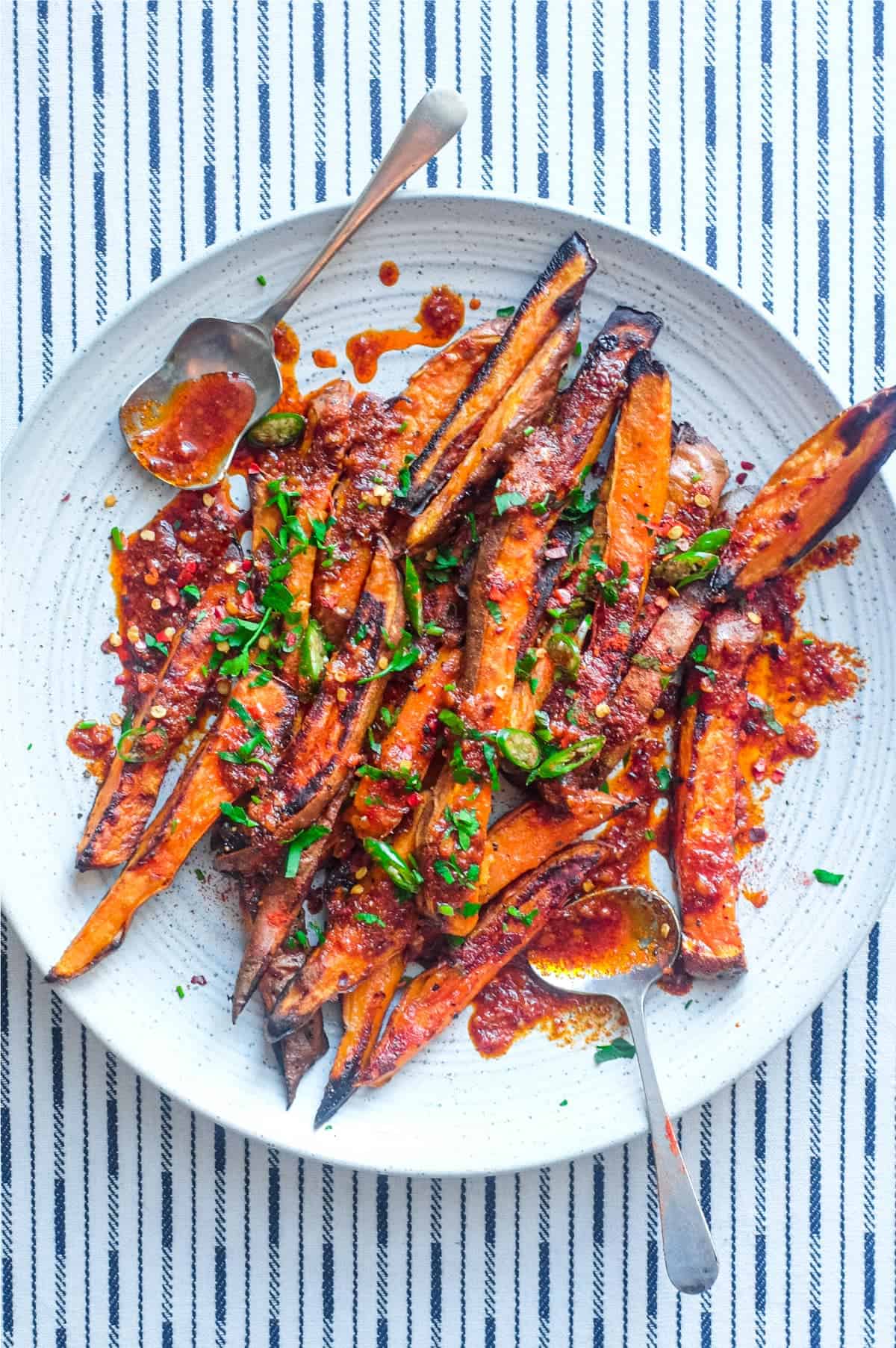 Spicy condiments are popular across the globe, from fiery hot sauces of the Americas to lip-tingling sambals of Asia. North Africa and the Middle East also offer a huge selection of spicy sauces to enhance the eating experience.
Pilpelchuma is a Libyan and Tunisian creation made from chilli peppers and spices alongside garlic and oil. The results are a smoky, spicy and intensely flavourful burst of flavour.
Pilpelchuma is a super easy and quick sauce to whip together, taking a matter of minutes. I live for this stuff and drizzle it over everything! Kebabs, humus, salads, soups all benefit from a quick glug of Pilpelchuma sauce.
But my most favourite combination is sweet potato fries with a generous douse of Pilpelchuma. The marriage of sweet, heat and earthy spice is so wonderful and it's a simple and hugely effective way of bringing a heady dose of North African personality to the table.
What is Pilpelchuma - פלפלצ'ומה?
Pilpelchuma is a North African and Libyan Jewish condiment made primarily from chilli pepper and garlic. It also goes under the names Pilpelshuma, Filfelchuma, Filfel chuma and is popular not only in Libya, but also in Tunisia, Israel, Palestine and other parts of the Arab world.
The word "Pilpelchuma" derives from the Hebrew and Arabic words for pepper, "Pilpel = Pepper" and "Chuma = Spice"
The main ingredients are chilli and garlic which are mixed with oil, lemon, caraway and cumin to create a hot, smoky and intensely flavourful burst of spiced fragrance.
Why it works
It's spicy - Pilpelchuma is a delicious alternative to hot sauce. It has more complex, earthy notes and enhances the flavour to anything and everything it touches!
It's versatile - You can drizzle Pilpelchuma over and into anything! Meat, fish, vegetables, salads, sandwiches, wraps, soups and stews. And you will... because it's THAT delicious.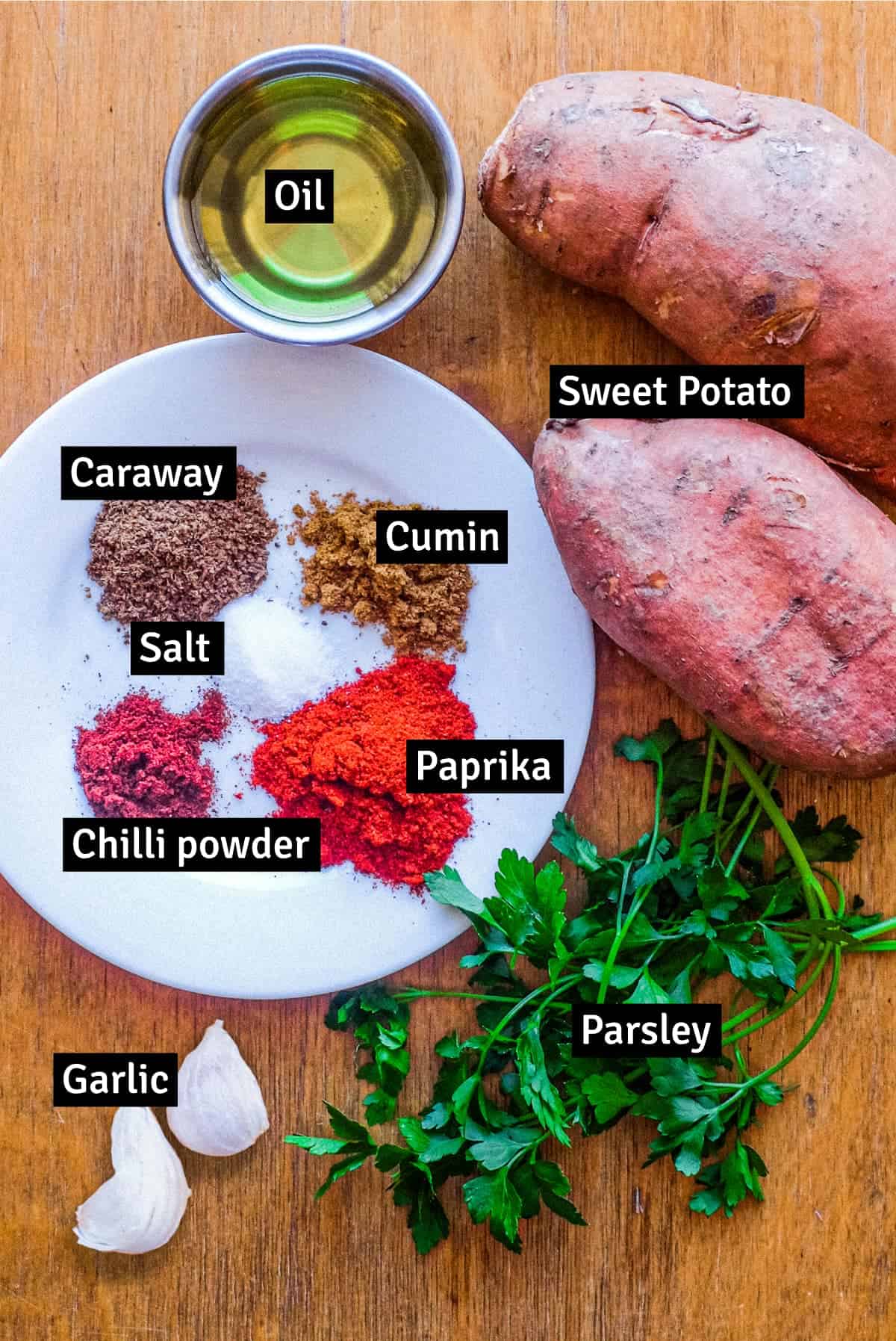 Stuff you'll need
Making the pilpelchuma sauce is a piece of cake. It's a simple combination of spices with garlic and oil. And then all you need to do is roast some sweet potato fries and drizzle away.
Chilli powder and paprika will bring the heat and colour to the sauce. I use a little hot chilli powder so that the spice is pronounced but not insane alongside an Indian Kashmiri chilli powder which has the reddest of red hues.
Caraway is a criminally under appreciated spice with a distinctive warm, sweet anise spiciness. You may only be able to source caraway seeds, but for the best flavour you should grind them into a fine powder with a spice/coffee grinder or pestle & mortar.
Cumin is widely used in the region and makes an appearance too to impart its earthy warming spice.
Garlic - minced garlic adds backbone to the sauce.
Oil - Creates the rich, glossy creaminess of Pilpelchuma. I use a light olive oil.
Step by Step
There's not a lot in creating this Pilpelchuma sauce with sweet potaoes. All the time comes from waiting for the potatoes to cook. The rest is EASY!
Step 1 - Cut up your sweet potatoes into thick chips. Drizzle with a little oil and put into a preheated oven at 430ºF/220ºC and cook for 30-40 minutes, turning once.
Step 2 -

Whisk together all the

Pilpelchuma ingredients and set aside.
Step 3 -

The sweet potatoes are ready and should be charred in places. All flavour! Now you just need to arrange the potatoes on a platter and sprinkle generously with the Pilpelchuma, herbs and fresh chillies. That's it - you're good to serve!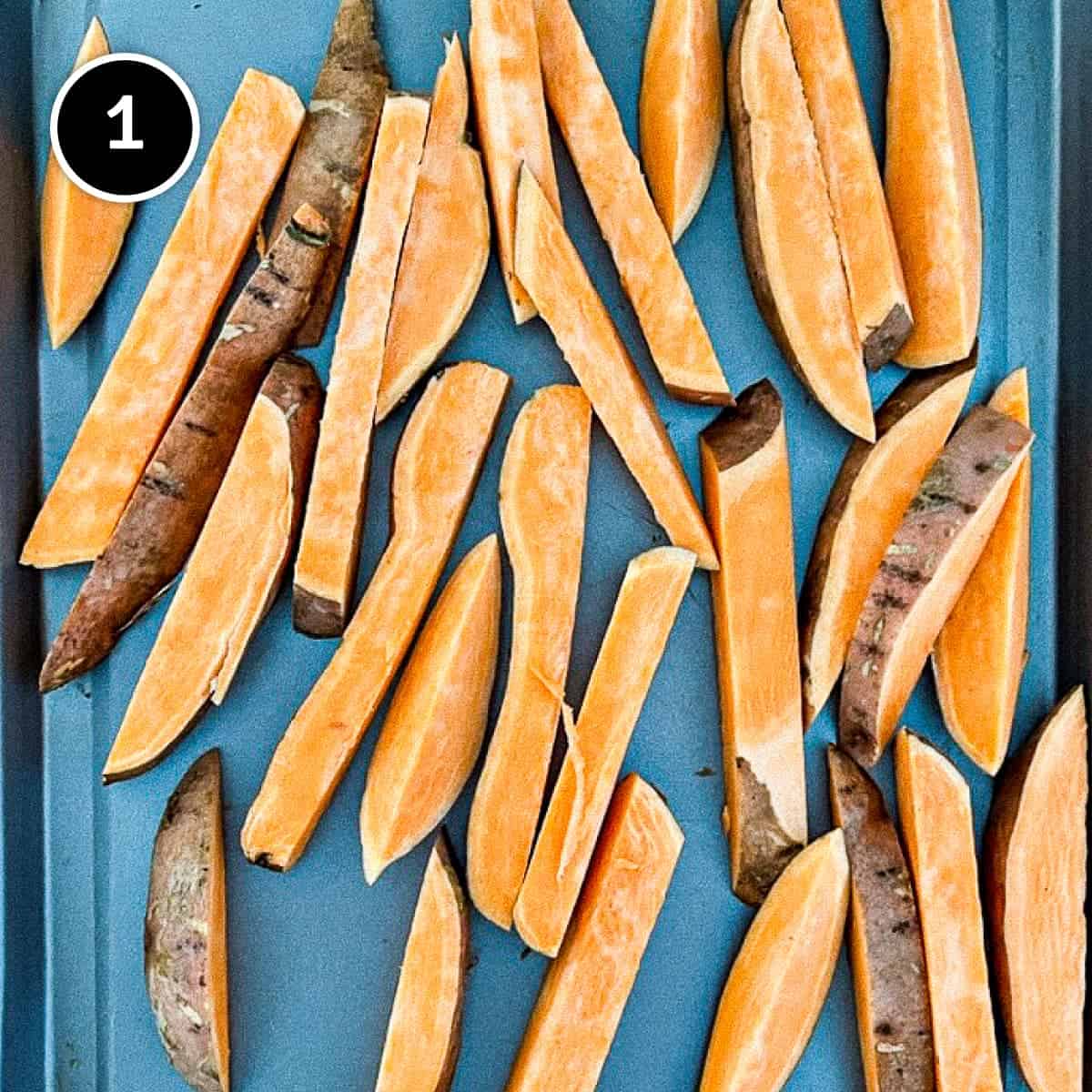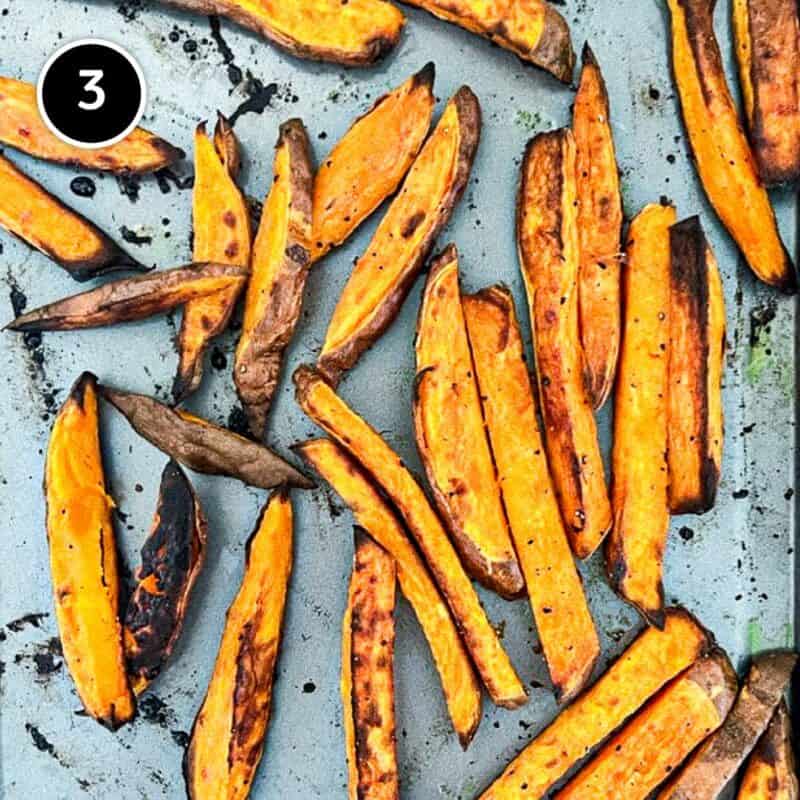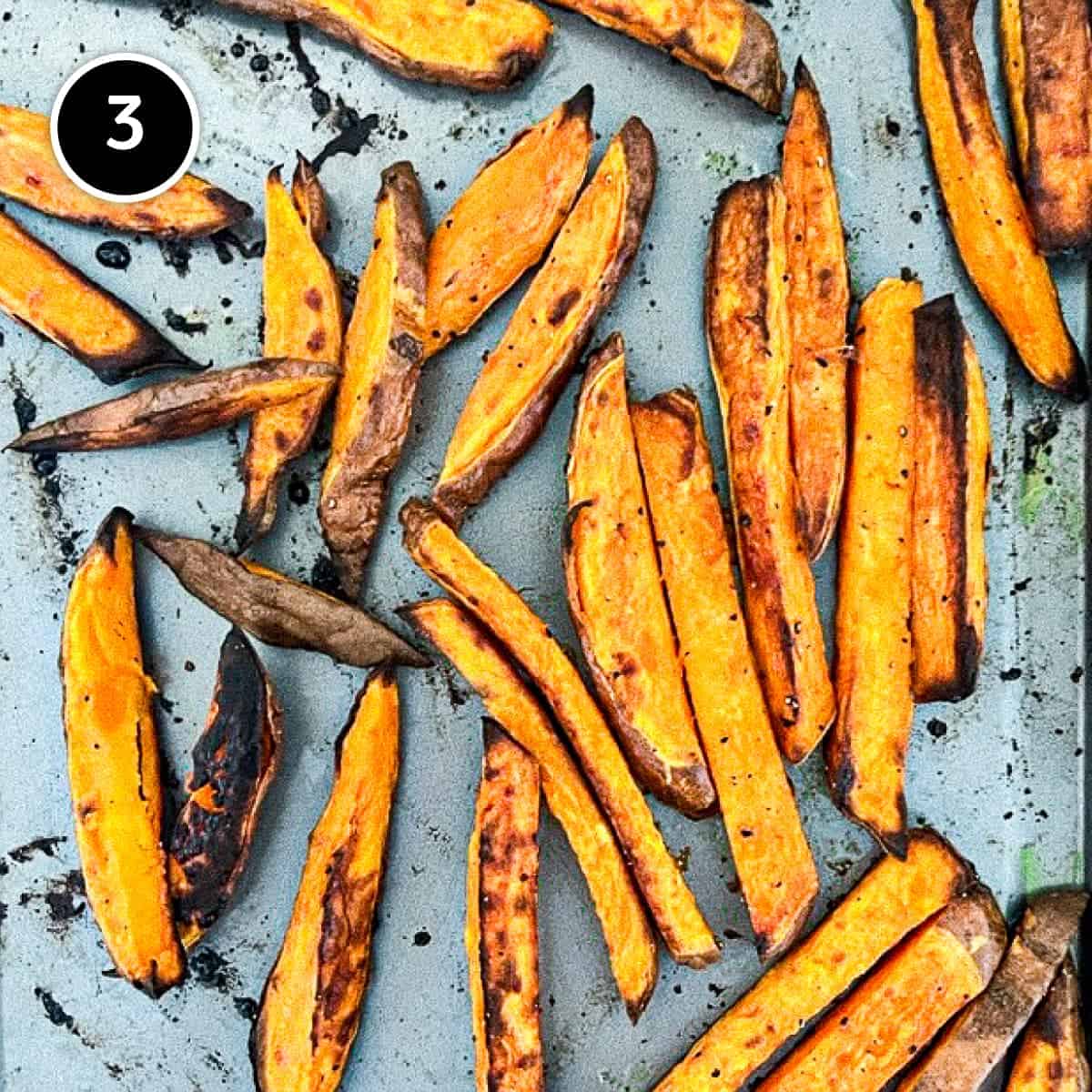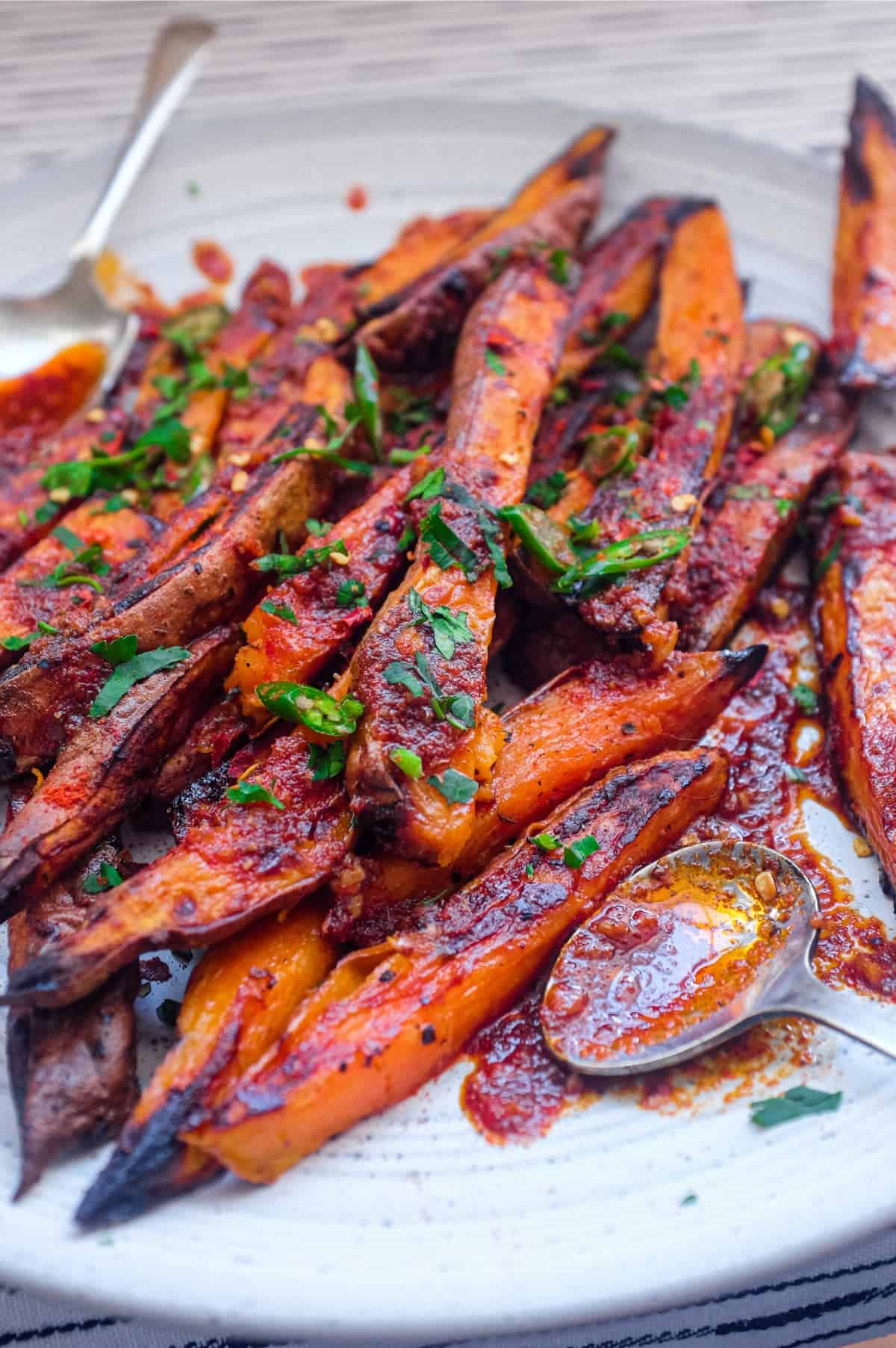 Serving and storing suggestions
Serving
As I've already outlined, Pilpelchuma is so versatile - if you're creating any North African or Middle Eastern Recipe, you will most likely be able to enhance it with a spritz of this sauce.
Consider it on fish, seafood, salads, roasted or raw vegetables, in couscous, rice, and even over fruit like my

Moroccan Blood Orange Salad

. I've included a list of recipes below that would work alongside Pilpelchuma.
Storage
Pilpelchuma is a condiment you can make in advance and keep in the fridge for a week or two. Be sure to cover it or keep in an airtight jar.

You CAN freeze it, but it's so quick to prepare, I suggest making it fresh for the best flavour.
Ready to get cooking?
So, as you can see, Pilpelchuma is one of those recipes that delivers on ease, taste and versatility. A simple sauce to have at hand to lift the flavour and create wonderful combinations with a North African flair.
I've selected one of my favourite partners to the sauce with sweet potatoes and highly recommend you try this yourself, but also experiment with your own combinations. Be sure to let me know how you enjoy it!
More North African & Middle Eastern recipes
If you liked this recipe for Pilpelchuma sauce, you'll be sure to enjoy more of my delicious recipes to pair it with.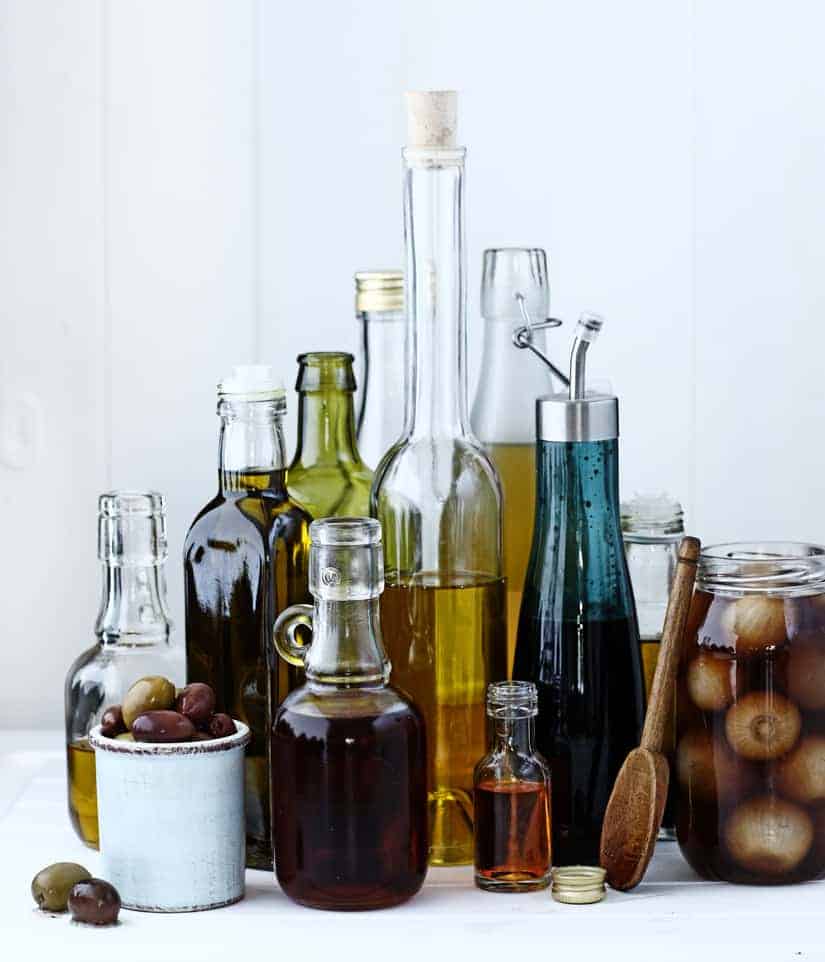 33 oils, vinegars and sauces
every home cook should have.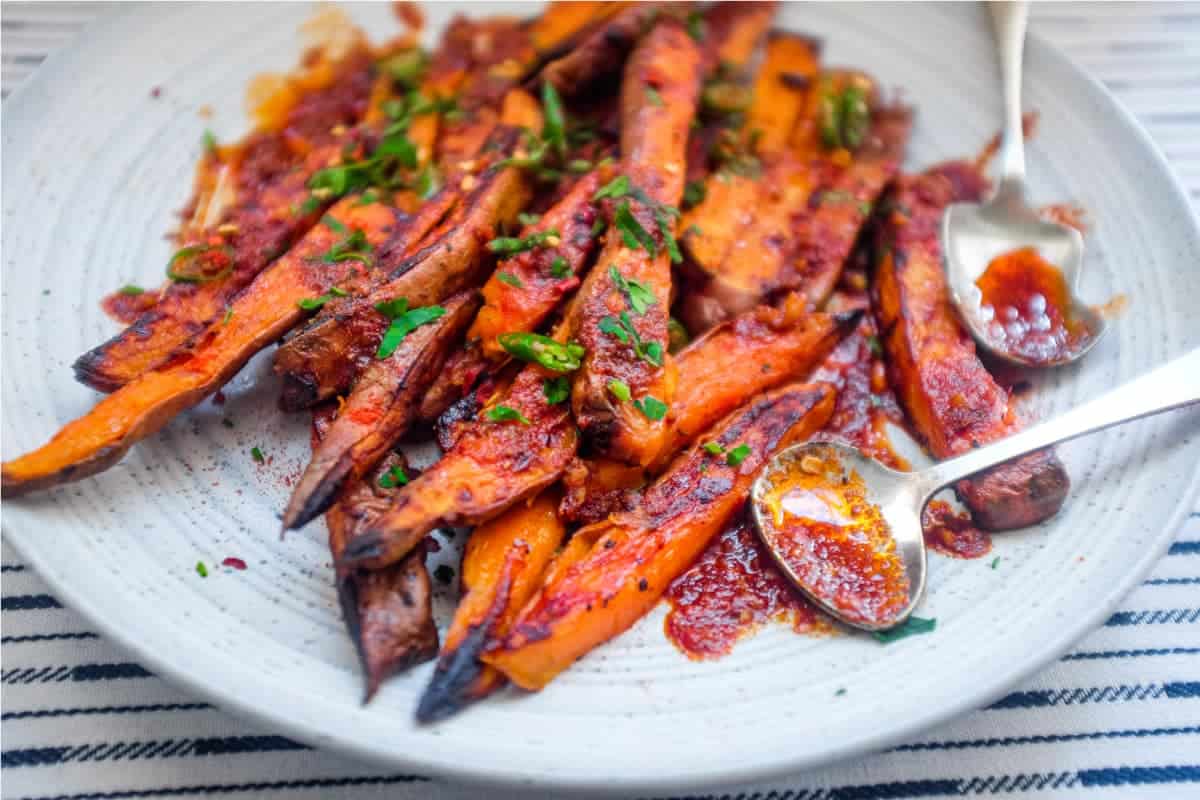 Pilpelchuma with Sweet Potatoes
Rate this recipe
Print Recipe
Pin Recipe
Save Recipe
Go to Collections
Calories (per serving) |
684
Ingredients
For garnishes
1

tbsp

fresh parsley

(chopped) (optional)

2

green chillies

(sliced) (optional)
Instructions
Preheat oven to 430ºF/220ºC

Cut the sweet potatoes (skin on) into large chips arrange on one or two sheet pans in a single layer. Drizzle over a little oil and season with a little salt and pepper. Toss to coat everything then roast in the oven for 35-40 minutes until charred, turning once.

Meanwhile, whisk together the chilli powder, paprika, ground caraway, minced garlic, olive oil and salt and set aside.

Once the sweet potatoes are cooked (they should be charred in places), arrange on a platter then drizzle over some of the Pilpelchuma.

Sprinkle over the parsley and green chillies (if using) and serve hot.
Notes
Serving
Pilpelchuma is a versatile condiment that can complement any North African or Middle Eastern dish. It pairs well with seafood, salads, roasted or raw vegetables, couscous, rice, and even fruit.
Storage
To store Pilpelchuma, make it ahead of time and keep it in an airtight jar or container in the fridge for up to two weeks. You can also freeze it, but for optimal flavor, it's best to make it fresh.
Caraway Seeds
This recipe calls for ground caraway which may not be readily available from the supermarket. If all you can source are caraway seeds, you should grind your own into a powder seeds won't give the optimum flavour. Use a spice grinder/coffee grinder or pestle & mortar to grind into a fine powder.
Nutrition
Calories:
684
kcal
(34%)
|
Carbohydrates:
33
g
(11%)
|
Protein:
3
g
(6%)
|
Fat:
62
g
(95%)
|
Saturated Fat:
9
g
(56%)
|
Polyunsaturated Fat:
7
g
|
Monounsaturated Fat:
45
g
|
Sodium:
824
mg
(36%)
|
Potassium:
554
mg
(16%)
|
Fiber:
7
g
(29%)
|
Sugar:
7
g
(8%)
|
Vitamin A:
19901
IU
(398%)
|
Vitamin C:
13
mg
(16%)
|
Calcium:
70
mg
(7%)
|
Iron:
2
mg
(11%)
This recipe uses affiliations and may receive a commission based on your activity (link clicks). Learn more.