Manakish with Za'atar & Steak
Manakish bread with Za'atar is commonplace around the Middle East & Mediterranean. Simple flatbread is topped with herbal za'atar and juicy, tender steak and sharp salty cheese to create a harmonious marriage of flavour, texture and aroma.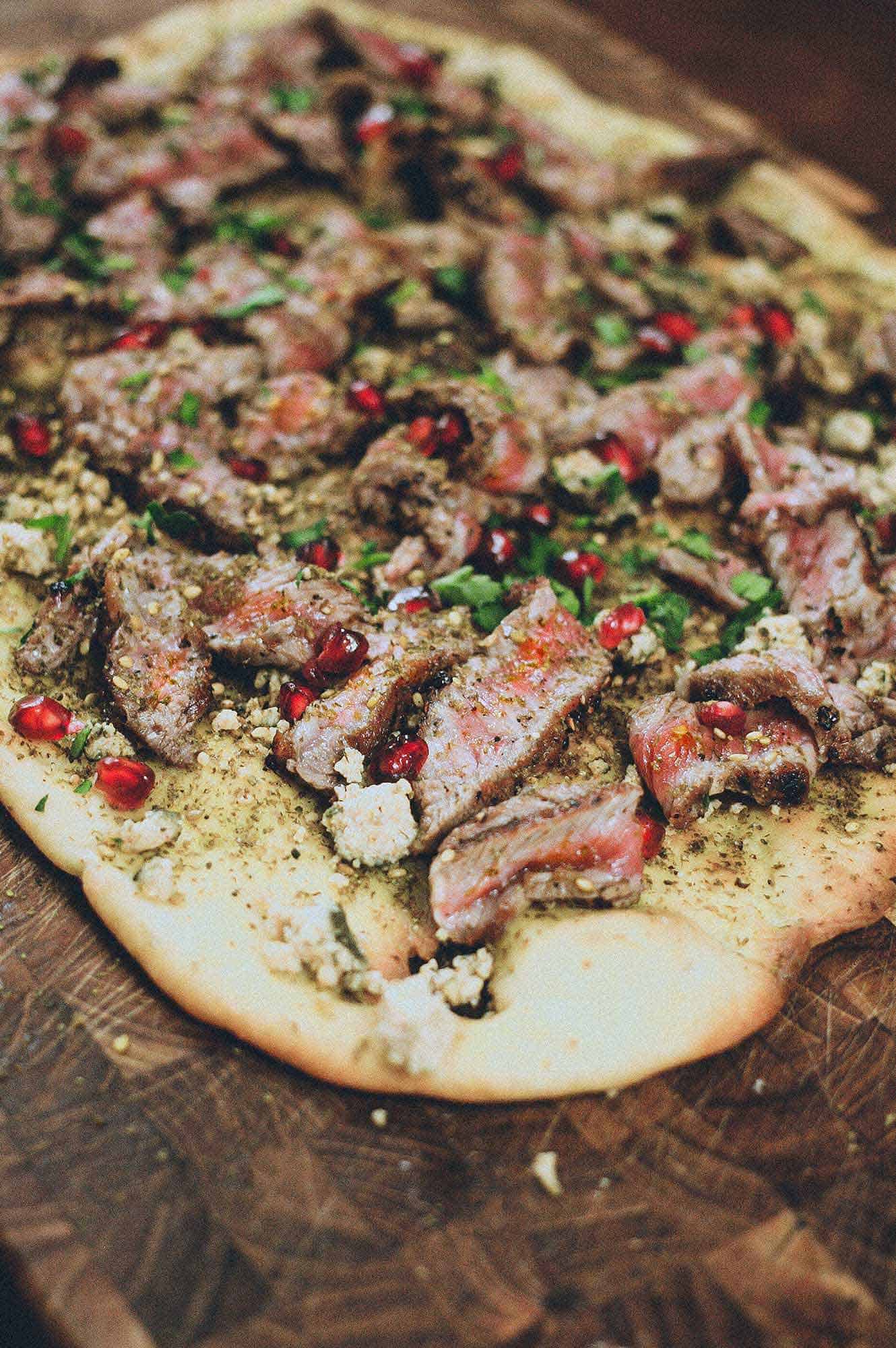 Flatbreads are enjoyed all across the Middle East and Mediterranean - simple, humble but packed full of warm spiced goodness - the perfect pick-up-pick-me-up option, for breakfast, lunch or dinner. One such treat is Manakish, a Lebanese flatbread - My recipe is a twist on the classic using store-bought pizza dough topped with juicy pink steak, za'atar and cheese.
What is Manakish?
Manakish (مناقيش) is a Levantine bread topped with ground meat, herbs, cheese or a combination of all. Around the Arab-speaking world, there are many variations of Manakish and so the dish goes by many names, including manaqish, manaeesh, manakeesh, manooshe, man'ousheh, mankousheh and faṭāyir.
Typically it's a dish served with simple ingredients. Fresh dough is topped with olive oil and dried thyme, oregano or in the delicious spice mix known as za'atar. Often, manakish will also features ground spiced meat and goes by the name of 'Lahmacun' (Lahm b'ajin, lahamagine, lahmajun, lahmajoun).
To add to the mix, cheese will also be added to manakish in the form of sharp, salty cheese like feta or as in this recipe an amazing cheese called Shangleesh (shanklish).
Fast track Manakish - Ready in 20 minutes
Manakish dough is essentially the same as pizza dough, so using a store-bough dough or base is a no-brainer. You'll have your manakish on the table in a fraction of the time - no shame.
Manakish is traditionally served with ground meat, but I like my pimped up version using steak, it makes for a meatier and more satisfying plate of food!
Stuff you'll need
Making my manakish requires only a few key ingredients - they all bring a wonderful balance and marriage of flavour and texture to the final offering.
Store-bought pizza dough (you could also use a pre made pizza base)
Za'atar spice mix (a combination of dried thyme, sumac and sesame seeds)
Steak - You can use shaved steak or a juicy cut like ribeye or New York strip.
Shanklish Cheese (or feta) - crumbled
Garnishes - I like earthy parsley and some sharp, sour pomegranate seeds.
Step by step
Making manakish is simple, ready in a few simple steps - there's a full recipe and how to below, but this will give you an at-a-glance view of what's in store.
Roll out the dough
Drizzle generously with extra virgin olive oil and scatter a good helping of za'atar
Bake the bread for about 15 minutes until cooked.
Fry the steak until cooked to your liking. Leave it to rest until the bread is done.
Thinly slice the steak and arrange on the bread.
Scatter over the cheese
Garnish with more za'atar, the fresh parsley and pomegranate seeds
If you're searching for something a little different than Pizza for dinner, Manakish is the perfect choice, and if you have any Za'atar leftover, then give this deliciously creamy Harissa hummus with Za'atar a go too.
How to make Manakish with Za'atar & Steak
Manakish with Za'atar & Steak
Rate this recipe
Print Recipe
Pin Recipe
Calories (per serving) |
818
Ingredients
1

packet pre-made pizza dough

1/3

cup

Za'atar spice mix

1

Steak (New York, Ribeye) around 250g/9oz

1/3

cup

Shangleesh Cheese (or feta) - crumbled

Salt & pepper

1/4

cup

Fresh pomegranate seeds (optional)

1

tbsp

fresh flat-leaf parsley (chopped)

1/3

cup

extra virgin olive oil (approximately)
Instructions
Preheat oven to 220ºC/425ºF

Drizzle around 2 Tablespoons of extra virgin olive oil on a 30x40cm/12x17" baking sheet and spread out with your fingers to cover the whole sheet. Using a rolling pin, roll out your pizza dough to a rough rectangle around 35x25cm/10x15" to fit on the baking sheet. You can also just stretch it with your fingers straight onto the baking sheet.

Drizzle generously with about another 2-3 tablespoons of olive oil, then scatter over generous amounts of za'atar. Taste the za'atar to see if it has salt, if it doesn't then season the bread with salt & pepper. If it does, just pepper. Bake in the oven for around 10-15 minutes until browned and cooked through. Remove from the oven.

Season the steak well with salt & pepper. Heat a frying pan with a little olive oil and fry the steak for 4-5 minutes each side for a medium cook. Rest the meat for 2-3 minutes and then thinly slice.

Arrange the steak in one layer on the flatbreads then scatter over the Shangleesh, pomegranate seeds (if using) and the parsley. Sprinkle over a little more Za'atar and then finish with another drizzle of extra virgin olive oil. Use a pizza cutter to portion out the bread. That's it, you're good to go!
Nutrition
Calories:
818
kcal
(41%)
|
Carbohydrates:
82
g
(27%)
|
Protein:
30
g
(60%)
|
Fat:
44
g
(68%)
|
Saturated Fat:
12
g
(75%)
|
Polyunsaturated Fat:
4
g
|
Monounsaturated Fat:
24
g
|
Cholesterol:
61
mg
(20%)
|
Sodium:
1188
mg
(52%)
|
Potassium:
466
mg
(13%)
|
Fiber:
12
g
(50%)
|
Sugar:
10
g
(11%)
|
Vitamin A:
1193
IU
(24%)
|
Vitamin C:
16
mg
(19%)
|
Calcium:
588
mg
(59%)
|
Iron:
38
mg
(211%)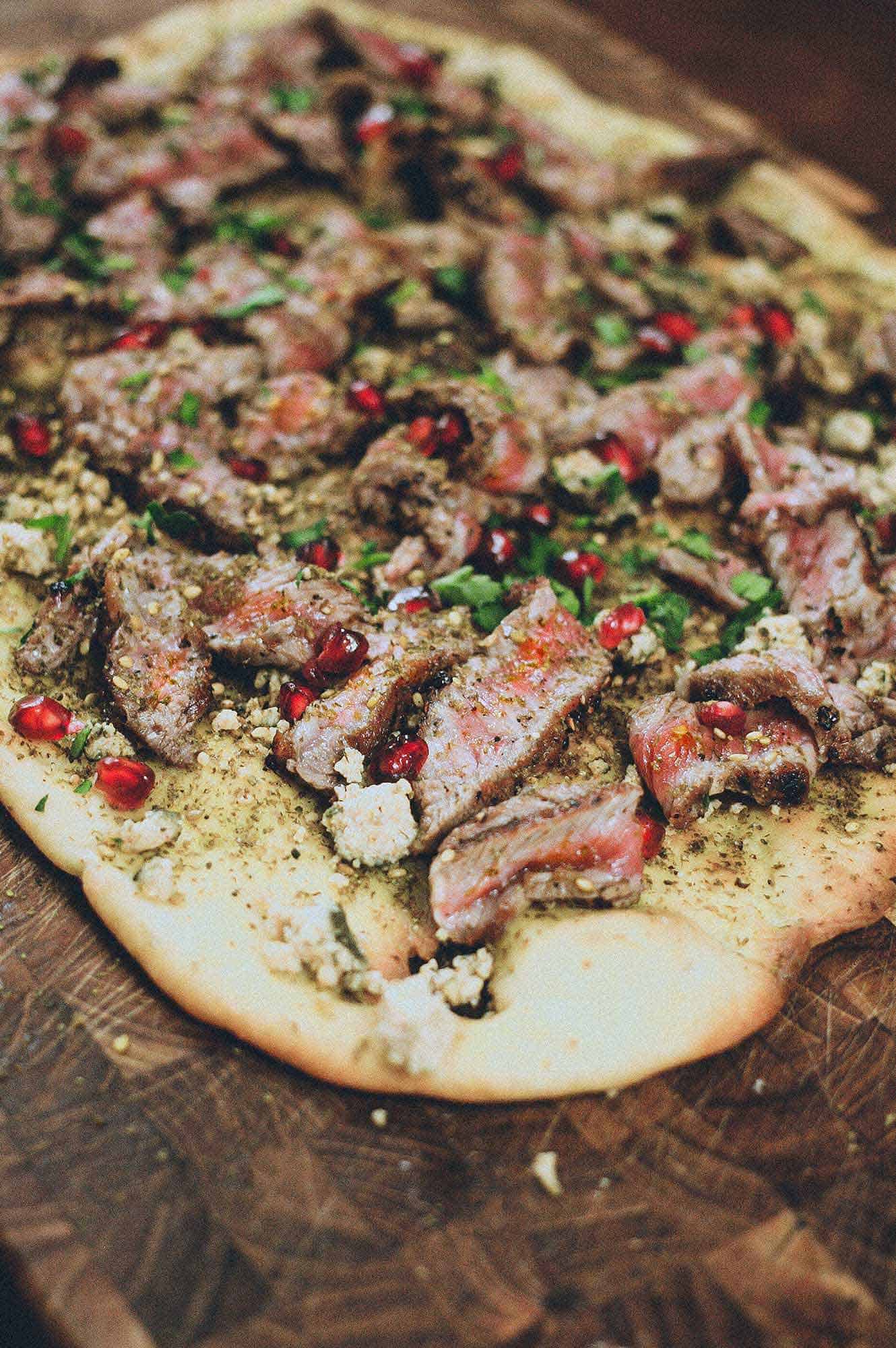 Did you make my Manakish with Za'atar & Steak?
How did you go? Let me know in the comments below and be sure to tag @cookeatworld at Instagram.