Hummus Bi Arnabeet – Hummus with Roasted Cauliflower
Roasted cauliflower is a triumph in flavour and texture and it's also the perfect partner to a smooth and nutty chickpea hummus. See for yourself just how easy and delicious it is to put together at home too…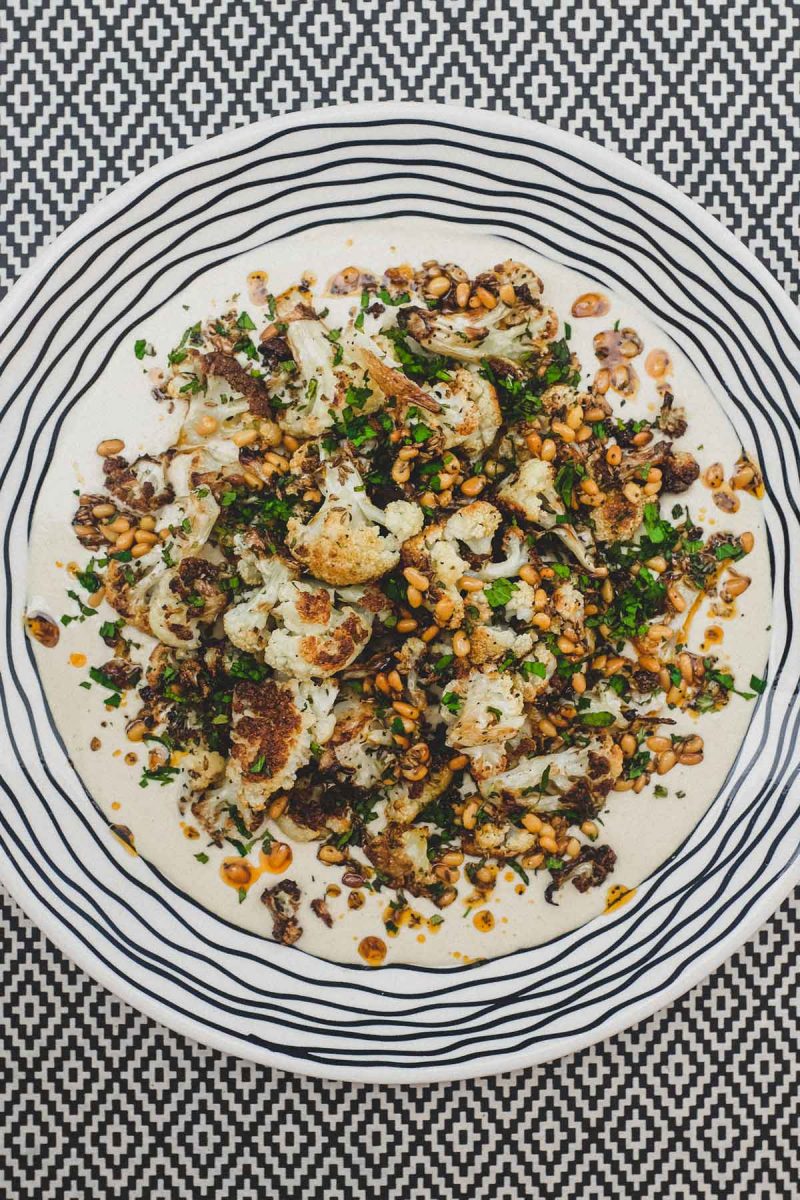 Hummus Bi Arnabeet or Hummus with Roasted Cauliflower is a variation on the many dishes that come served with hummus in the Middle East from spiced lamb, to nuts and vegetables. This Lebanese cauliflower recipe riffs off one of my all time favourite dishes. Arnabeet or cauliflower is the perfect partner to tahini (the paste created by crushing sesame seeds). My favourite Lebanese restaurant back in Sydney, Australia serves deep fried cauliflower drizzled with tahini sauce and lemon juice and it's almost too much to bear! I always order it, without exception. Hummus, rich in tahini and yoghurt is exceptional when paired with roasted cauliflower too.
Pin
Are you ready to extract ALL the hidden flavour from cauliflower?
In the deep fried version, the cauliflower is almost blackened and the flavour this produces is insane! All the natural sweetness from the cauliflower is amplified to dizzying new levels - the caramelization brings out all the wonderful sweet and savoury qualities that are otherwise hidden. Roasting cauliflower is healthier, and easier to control, the flavours are exactly the same. The one thing to remember is to hold out from bringing the cauliflower out of the oven too soon - the longer you wait, the blacker it gets. This equates to MORE and MORE flavour. How long can you hold out?
The trick to getting the smoothest hummus
Personally, I actually love a chunky hummus with lots of texture, but for this dish I prefer a smoother, creamier texture - perfect for scooping with flatbreads. The trick to getting a smooth texture is simple, but kind of fiddly - remove the skins! That's right, gently slide off the skin from each and every garbanzo/chickpea. It really does work! It's up to you whether you follow this step or not, but if you want a silk-smooth hummus - this technique is guaranteed to deliver.
Dressing the hummus in lightly spiced pine nuts
I would normally just drizzle drown hummus with copious amounts of extra virgin olive oil, but there's something extra-lux about drizzling with this amazing spiced oil. I used a little clarified butter (ghee) combined with a little chilli oil (check out my guide to essential oils), and fried a handful of pine nuts and cumin seeds. The results are lightly spiced and buttery - the perfect finish to the dish.
Variations on everything!
I often make variations on my garbanzo hummus, you could make my hummus with harissa for a hit of spice, or maybe for a more dramatic colour try my black hummus which uses black chickpeas. Why not change up the beans you use? You could substitute with black beans, navy beans or kidney beans. Instead of cauliflower, you can roast and blacken carrots, parsnip or Brussels sprouts. Instead of pine nuts (they're fiendishly expensive right?!) you could substitute with sliced almonds, walnuts or pistachios. There are so many variations - you need never eat the same version twice.
Serving Suggestions
This dish works pretty well on its own, with a bunch of flatbreads, but if you want it to be a part of a larger Mediterranean/Middle Eastern spread, then why not pair it with my Cypriot Sheftalia - the juiciest little sausages you'll ever taste!, or maybe alongside a juicy heirloom tomato salad, a sweet and salty beetroot & feta salad with herb dressing , a sweet, simple Moroccan Carrot Salad or a creamy and zingy Turkish bean salad (piyaz)? So many options! So much flavour.
So, grab yourself some flatbreads, pop this in the centre of the table and fight it out with your friends and family. It's the perfect dish for scooping and sharing.
How to make my Hummus Bi Arnabeet - Hummus with Roasted Cauliflower
Hummus Bi Arnabeet - Hummus with Roasted Cauliflower
Rate this recipe
Print Recipe
Pin Recipe
Save Recipe
Go to Collections
Calories (per serving) |
549
Ingredients
For the Roasted Cauliflower
1

cauliflower

(divided into small florets)

1/2

cup

olive oil

salt & pepper
Instructions
To Roast the Cauliflower
Preheat oven to 200ºC/400ºF

Separate the cauliflower into small florets and arrange in one layer on a sheet pan. Drizzle generously with olive oil and season with salt & pepper. Using your hands, toss the cauliflower around to coat everything.

Roast in oven for up to 50 minutes - turn the cauliflower around every 10 minutes to char evenly. Remove when it's dark brown, but not burnt.
How to make the Hummus
Remove the skins from the garbanzo beans (if you're doing this). Discard the skins.

Add to a food processor along with all the other hummus ingredients. Blitz for 1 minute until everything is smooth. For this recipe I like my hummus a little thinner than usual, so I add either a little water or retained garbanzo juice from the can (about 1/4 cup at a time) until I get a 'just pourable' texture. This step is up to you! Refrigerate the hummus until needed.
How to make the spiced pine nuts
In a small frying pan, combine the two oils and heat over a moderate temperature until just hot. Add the cumin seeds, pine nuts and salt and fry for 1 minute. We don't want the nuts burn, so take them off the heat before they turn brown - they'll continue to cook in the oil.

Remove from heat and tip everything into a bowl to cool.
Arranging the Dish.
Spoon or pour the hummus onto a large serving platter and spread to cover the surface. Gently spoon over the cauliflower pieces (be sure to get all the small charred bits - it's all flavour!).

Spoon over the spiced pine nuts and oil then finally scatter over the parsley.

Serve with flatbreads.
Nutrition
Calories:
549
kcal
(27%)
|
Carbohydrates:
11
g
(4%)
|
Protein:
5
g
(10%)
|
Fat:
56
g
(86%)
|
Saturated Fat:
11
g
(69%)
|
Cholesterol:
20
mg
(7%)
|
Sodium:
631
mg
(27%)
|
Potassium:
536
mg
(15%)
|
Fiber:
4
g
(17%)
|
Sugar:
4
g
(4%)
|
Vitamin A:
160
IU
(3%)
|
Vitamin C:
79
mg
(96%)
|
Calcium:
51
mg
(5%)
|
Iron:
2
mg
(11%)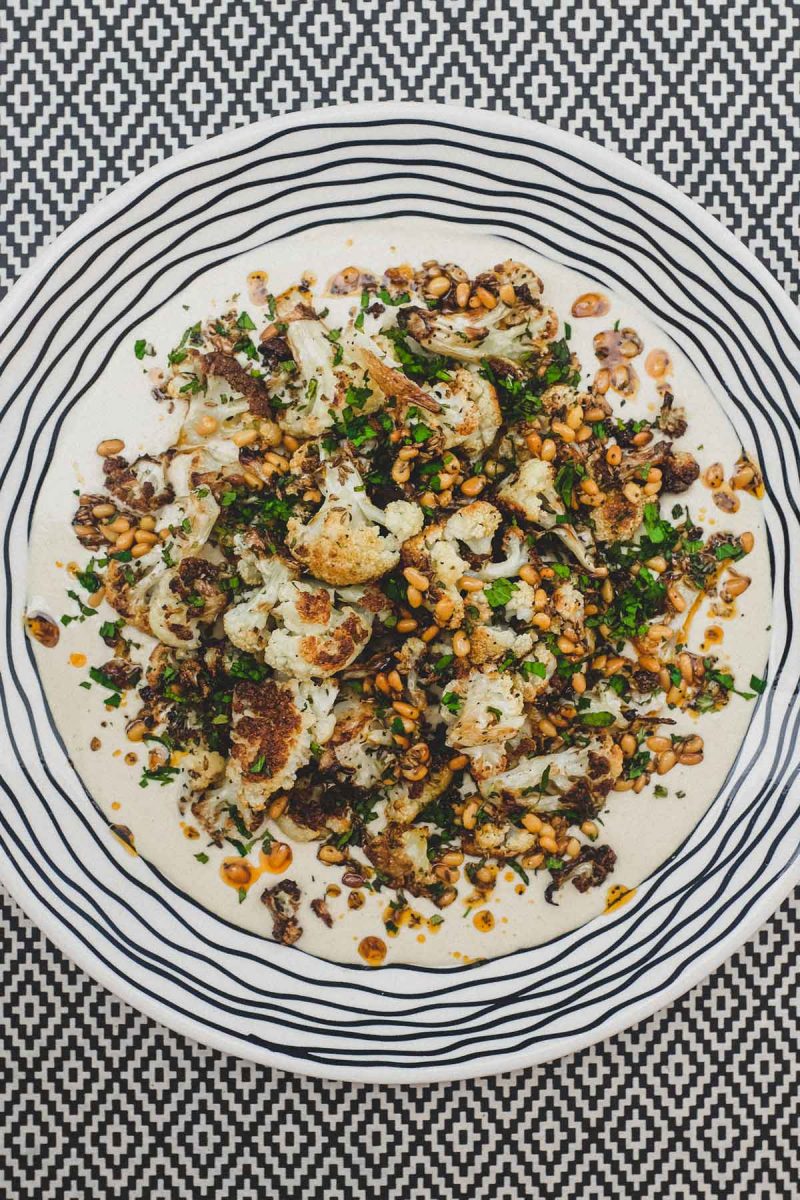 Did you make my Hummus Bi Arnabeet – Hummus with Roasted Cauliflower?
How did you go? Let me know in the comments below and be sure to tag @cookeatworld at Instagram.