Ajika is an amazing condiment-style sauce from the country of Georgia. A spicy, intensely flavourful combination of chilli and herbs, It's the PERFECT (full-capitals) addition to any table, pairing brilliantly with vegetables, meats and seafood for a herbaceous hit of colour and flavour.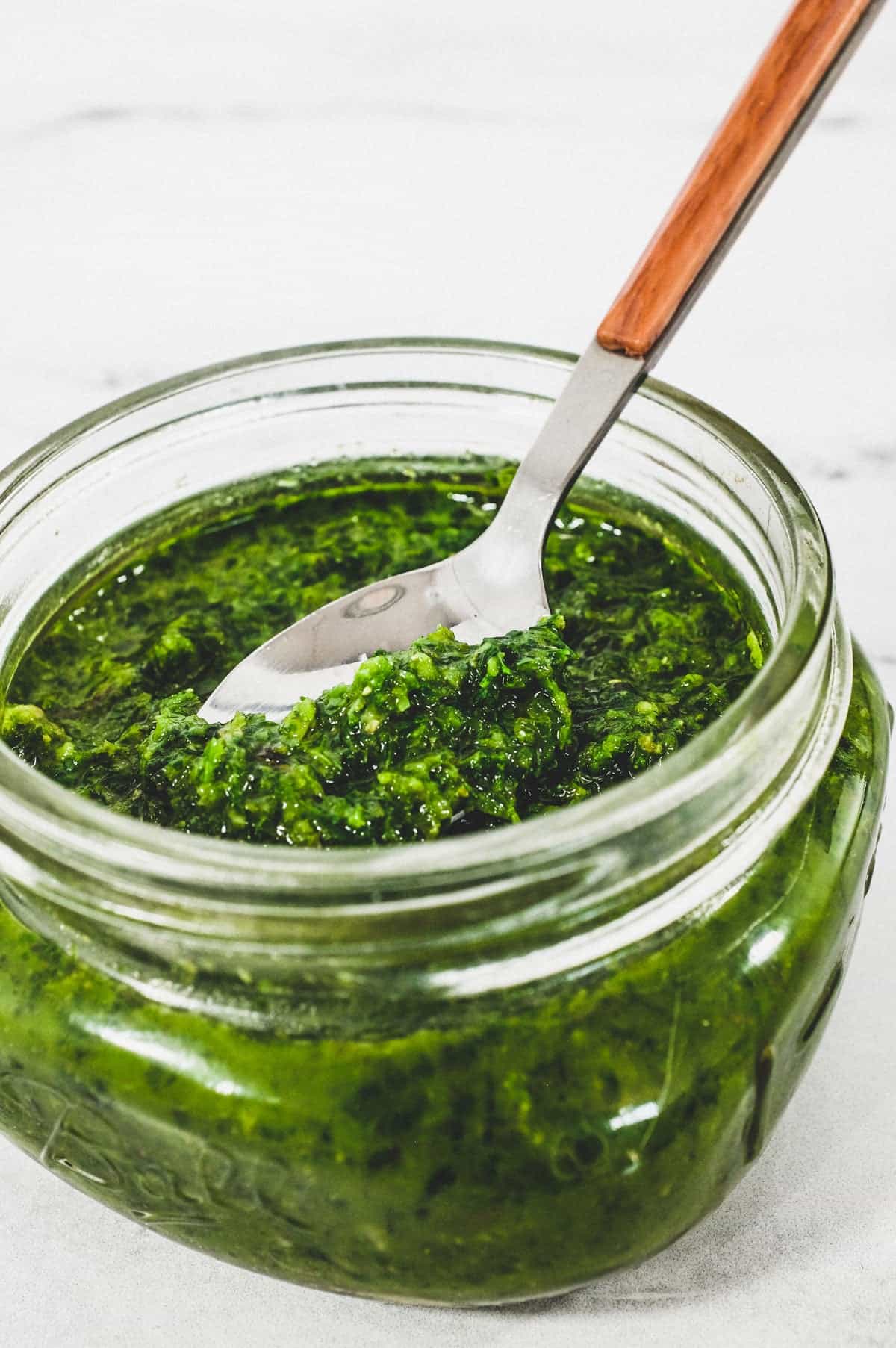 Georgia is a country high up on my must-visit list. I've long been a fan of the cuisine, but it's not well known to the rest of the world. Being lucky enough to have a Georgian restaurant nearby has been a rare introduction to the flavours of the country - and let me tell you, something special. Dishes like Adjaruli Katchapuri, an incredible cheese-stuffed bread, (a little like Turkish Pide,) the delights of Khinkali, a soup dumpling and the sour plum sauce called Tkemali that's one of the most flavourful things I've ever eaten.
But it's one dish that is invariably added to the table with little fanfare that transforms everything it comes into contact with. Ajika is a thick spicy sauce - a festival of green and packed with flavour to boot. It's one of my new favourite Georgian recipes!
Red or Green?
The most common form the condiment is red ajika, a combination of peppers and chilli - a thick salsa-style sauce or dried pepper style condiment. It's become somewhat trendy over the last couple of years, which is not a bad thing - it's moreishly delicious!
However, there IS ANOTHER, more unique version which I prefer! Green ajika is a combination of fresh and dried herbs alongside chilli and garlic - a vibrant and intense hit of spice and herbs. It's super-tasty!
I first tasted the green version at a hip (their words not mine) restaurant in L.A. A fusion style joint featuring flavours from Central Asia and the Middle East - Our green ajika arrived in the teeniest, stingiest little bowl but it was most definitely the star of the whole dinner. A vibrant, intense herbal hit of flavour that made everything just taste better!
What's in Green Ajika?
It's no surprise that this ajika recipe features mostly green ingredients and has a wonderful emerald hue - here are the main ingredients (there's a full recipe below too).
Chilli
Parsley
Cilantro
Celery Leaves
Dill
Mint
Dried Fenugreek
Fenugreek - the secret ingredient:
The addition of fenugreek in this ajika recipe creates the unique flavour. When I came to research green ajika recipes, strangely none of them included fenugreek, it's one of my favourite flavours and just knew it was in there! Eventually, I found a couple of recipes in the Georgian language, and sure enough, Fenugreek was included, so based my ajika recipe on those. The Georgian recipes used a local version of blue fenugreek, I didn't have the patience to wait for a delivery from the Internet, so I used regular dried fenugreek leaves as I already have it for all my Indian recipes. You can find it in Indian supermarkets called Kasoori Methi. To activate the flavour more, just rub the dried leaves between your palms to create a powder - you'll smell it on your hands for the rest of the day too which is a welcome bonus! If, like me, you love fenugreek, try my Indian Methi Chicken Curry or Methi Mushroom Masala! I've subsequently made green ajika using blue fenugreek and it's superb, but the Indian version is no poor substitute. You decide.
How is Green Ajika made?
It couldn't be easier! Just add all the greenery to a food processor and blend until semi smooth (you can also use a stick blender (immersion blender). Add a little water to get it blended nicely. I also like to drizzle in a little extra virgin olive oil at the end to help with the texture.
Serve with these!
It's a versatile condiment and works alongside so many dishes. I love to drop a couple of teaspoonfuls over crispy fried eggs - life-changing! It's also splendid over freshly boiled salad potatoes or roasted cauliflower. You decide, you can't go wrong really.
Here are some suggestions from the recipes at cookeatworld...
How to make Georgian Green Ajika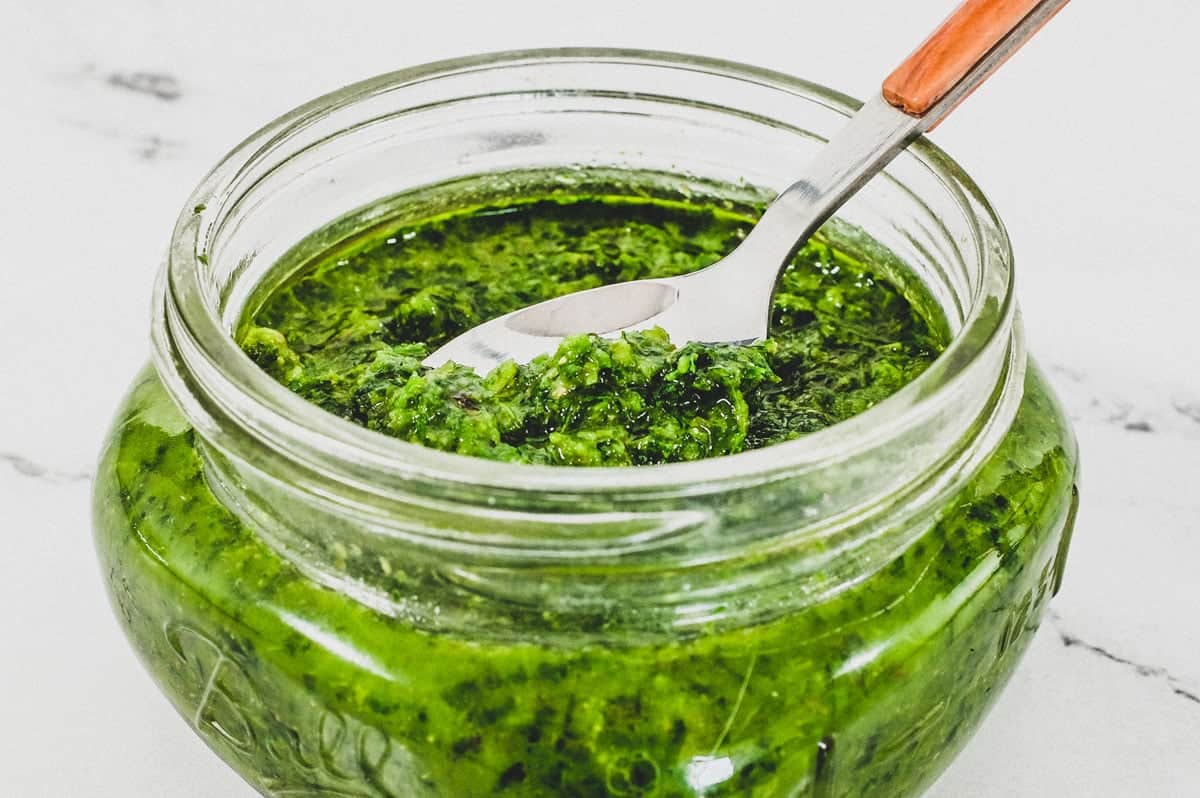 Georgian Green Ajika
Rate this recipe
Print Recipe
Pin Recipe
Calories (per serving) |
36
Ingredients
4

Green Chillies (hot) (around ¼ cup)

(Serrano, Jalapeño etc) (seeds removed)

2

garlic cloves

¼

cup

cilantro

(chopped)

¼

cup

mint

(chopped)

¼

cup

celery leaves

(chopped)

¼

cup

parsley

(chopped)

¼

cup

dill

(chopped)

1

tbsp

dried fenugreek

(rubbed between palms into a powder)

1

tsp

salt

1

tbsp

lemon juice

1

tbsp

extra virgin olive oil
Instructions
Add all the ingredients (except the olive oil into a food processor with 2 tbsp water and blend until smooth.

Stir in the olive oil and decant into a jar or container with a tight-fitting lid.

Refrigerate until needed. Ajika will stay fresh for up to a week in the fridge.
Notes
Serve as a condiment alongside grilled or roasted meats or fish.
Serve drizzled over hot potatoes!
Add a couple of teaspoonfuls over crispy fried eggs.
So many uses!
Nutrition
Calories:
36
kcal
(2%)
|
Carbohydrates:
3
g
(1%)
|
Protein:
1
g
(2%)
|
Fat:
2
g
(3%)
|
Saturated Fat:
1
g
(6%)
|
Polyunsaturated Fat:
1
g
|
Monounsaturated Fat:
2
g
|
Sodium:
499
mg
(22%)
|
Potassium:
75
mg
(2%)
|
Fiber:
1
g
(4%)
|
Sugar:
1
g
(1%)
|
Vitamin A:
531
IU
(11%)
|
Vitamin C:
11
mg
(13%)
|
Calcium:
19
mg
(2%)
|
Iron:
1
mg
(6%)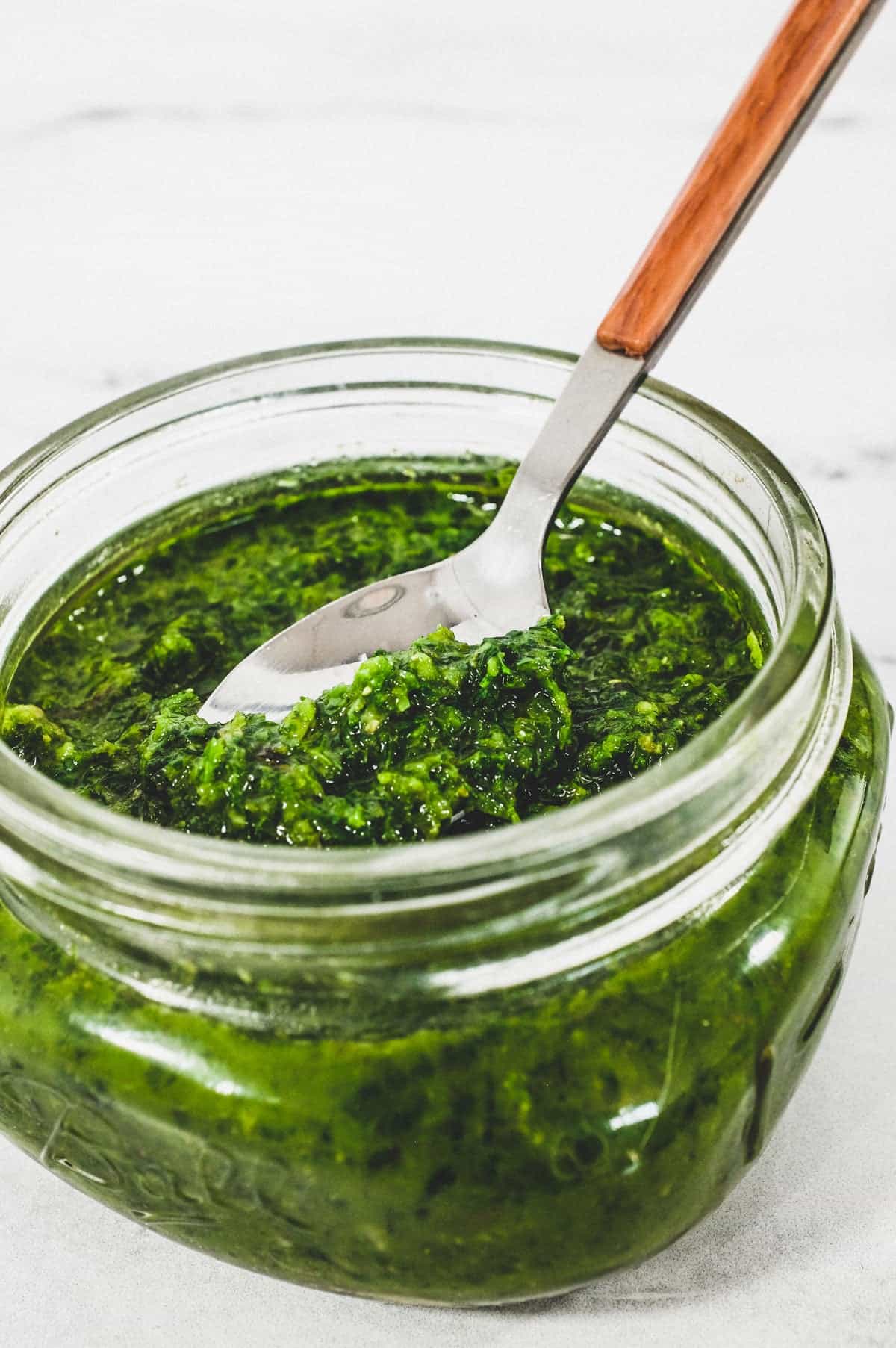 Did you make my Georgian Green Ajika
How did you go? Let me know in the comments below and be sure to tag @cookeatworld at Instagram.
This site contains affiliate links to products. We may receive a commission for purchases made through these links. Learn more.