Argentinian Chimichurri Sauce with Steak
Juicy steak is elevated with a mere few drops of this delicious herbaceous Argentinian Chimichurri Sauce. A staple in every Argentine home and restaurant it's incredibly easy to make yourself and packs a massive hit of flavour.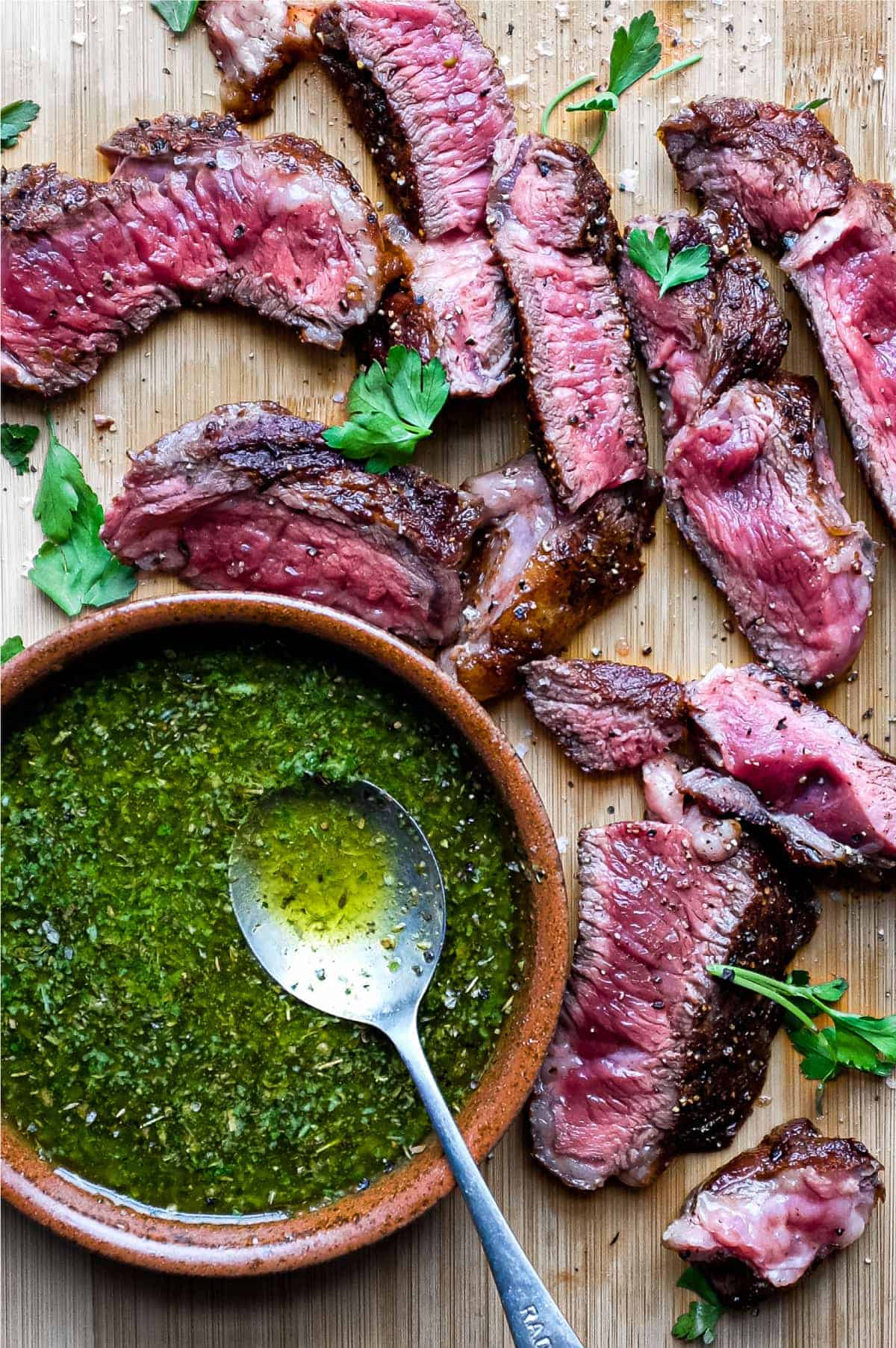 Steak is one of life's great luxuries. What to pair with a steak is pretty much infinite. Frites? Yes! I'll have me some of those. Creamy mushroom sauce? Hold. Me. Back. In truth, I'll eat pretty much anything with a steak, but one of my most favourite accompaniments is Chimichurri sauce.
I love nothing more than drizzling this delicious herby Argentinian Sauce over a juicy rare steak. The two together are a combination made in Gaucho heaven. Perfection in every bite.
A few tiny drizzles of this sauce brings out all the magic in steak a sharp, sweet and herb-laden punch of freshness. I can't get enough of the stuff.
What is Chimichurri sauce?
Chimichurri sauce is an uncooked condiment eaten in Argentina, Uruguay and Nicaragua. It consists of oil, herbs and vinegar or lemon juice. The herbs vary from fresh to dried and include parsley and oregano which are pounded with garlic and combined with olive oil. Often chilli is added too. The most common version is this recipe for green chimichurri, but a red version (rojo) exists too.
Chimichurri is on the table of all Argentinians and is used as condiment and cooking ingredient for many dishes. The most popular use for chimichurri is to drizzle over parilla grilled steaks and sausages.
Why it works
It's zingy! - It's the perfect herbaceous hit of flavour to counteract the meaty, juicy steak. It enhances the sweetness of the meat while bringing a zing of flavour from the earthy herbs and sharp, acid vinegar and lemon juice. See for yourself just how amazing steak can taste direct from our Argentine friends.
Stuff you'll need
For my recipe I include fresh and dried herbs, which gives a floral fragrance to the chimichurri. Fresh parsley is a must, but you can switch between fresh and dried oregano as you like.
Fresh parsley - brings a grassy herbal undertone
Oregano - a fragrant herb. Fresh oregano has a more floral note to dried so I like to use half-and-half to add more freshness to the sauce.
Garlic

- fresh garlic brings a depth of flavour and

little

backbone to the sauce
Red wine vinegar - traditionally red wine vinegar is used, but you may also use sherry vinegar or white wine vinegar too this adds a sharp, acidic sweetness.
Lemon juice - for a fresh spritz of citrus.
Extra virgin olive oil - to create the sauce texture, good quality extra virgin olive oil rounds off all the flavour. I like to choose best quality oil that has a peppery note.
Step by Step
Making the sauce is simple. It's a matter of blending the ingredients together to create the right texture. Smooth, with a little texture remaining.
We're not looking for a puree, more a lightly chunky sauce. You can achieve this by using a food processor or old-school with a pestle and mortar. Either way will give good results.
Pro Tips to make your life easier
If you're using a food processor, use half of the oil when blending to get the texture you're after, then stir in the remaining oil to get a nice creamy texture.
Serving and storing suggestions
Serve as a condiment alongside any grilled meat like steaks, chops and sausages.

Serve alongside poultry or seafood. Chimichurri works splendidly over oysters or mussels!

Serve drizzled over vegetables. Hot boiled potatoes are especially wonderful with chimichurri.
Fridge:

Chimichurri will stay fresh in the fridge for 1-2 weeks in an airtight container.

Freezer:

You can freeze chimichurri, but honestly, it's better eaten fresh. If you do freeze, it'll stay fresh for 3+ months. Thaw thoroughly until at room temperature. DON'T defrost in the microwave or on a stove top as it will destroy the fresh taste.
Ready to get cooking?
As you can see, chimichurri is quick and easy to make at home. It makes a real difference when drizzled over juicy steak - wait and see! Bring it out at your next summer barbecue - it's the perfect addition to flame grilled meats. Just ask every Argentine!
This no-nonsense sauce will become a staple to any meat-forward meal, and not just for meat! Try it drizzled over vegetables too or even just alongside a loaf of crusty bread. Perfection!
Any Questions? (FAQ)
Have a question about Chimichurri sauce? Let me know in the comments.
What is chimichurri made of?
Chimichurri is a uncooked sauce made from parsley, oregano, garlic and vinegar.
What does chimichurri taste like?
Chimichurri has a light, bright and zingy flavour. Herbaceous from the herbs and tangy from the red wine vinegar.
More recipes
If you liked this recipe, try some more of my favourite recipes from around the world.
Argentinian Chimichurri Sauce with Steak
Rate this recipe
Print Recipe
Pin Recipe
Save Recipe
Go to Collections
Calories (per serving) |
328
Instructions
In a food processor, blend all the ingredients together until very finely combined. Decant into a bowl, cover with plastic wrap and leave at room temperature to develop in flavour for an hour.

Serve drizzled over meat. It works wonderfully with a steak, obviously but will also marry well with other meats and poultry and even seafood. If I don't eat all the Chimichurri in one sitting, I'll use it within a day or so as a marinade for another meat.
Notes
Serving:
Serve chimichurri alongside grilled meats and sausages.
Serve with seafood or poultry
Serve with cooked vegetables. Try hot boiled potatoes dressed in chimichurri - divine!
Storage:
Fridge - In an airtight container, chimichurri will stay fresh for 1-2 weeks.
Freezer - it's possible to freeze chimichurri, although it's better eaten fresh. If you do freeze, ensure you thoroughly defrost first. Don't defrost in the microwave or over heat as it will destroy the fresh flavour.
Fresh vs Dried?
Traditionally, chimichurri is made with dried oregano, but fresh adds a more fragrant note. Experiment with one or the other or like me both to see which you prefer.
Nutrition
Calories:
328
kcal
(16%)
|
Carbohydrates:
2
g
(1%)
|
Protein:
1
g
(2%)
|
Fat:
36
g
(55%)
|
Saturated Fat:
5
g
(31%)
|
Polyunsaturated Fat:
4
g
|
Monounsaturated Fat:
26
g
|
Sodium:
10
mg
|
Potassium:
63
mg
(2%)
|
Fiber:
1
g
(4%)
|
Sugar:
1
g
(1%)
|
Vitamin A:
549
IU
(11%)
|
Vitamin C:
7
mg
(8%)
|
Calcium:
38
mg
(4%)
|
Iron:
1
mg
(6%)