Pinchos Morunos
Pinchos Morunos is Chicken Skewers, Spanish style! Marinated in smoked paprika and Fino sherry, these morsels are a triumph of flavour. And to make things even better, they're super-simple to make at home!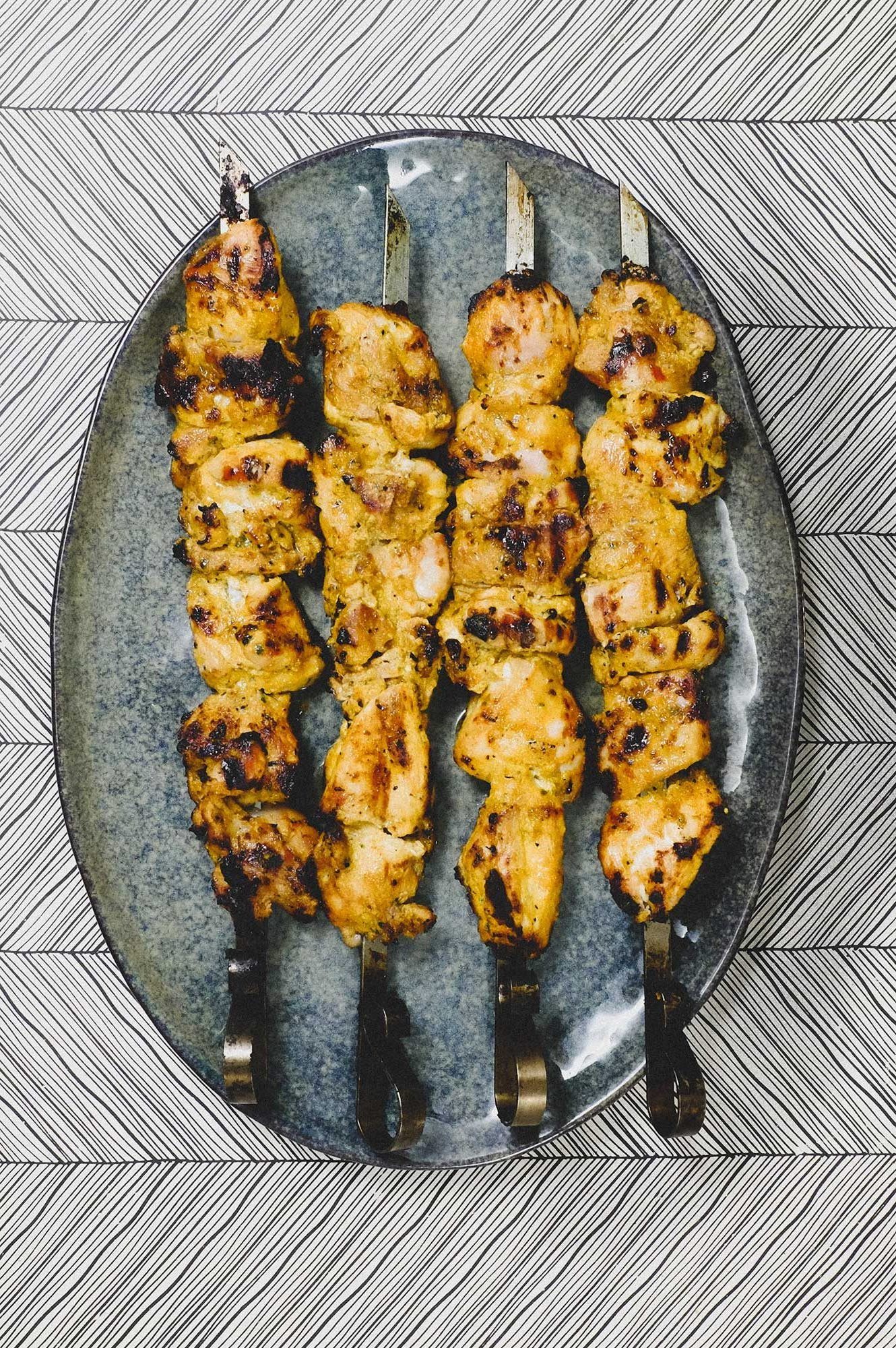 These Spanish Pinchos Morunos (or Pinchotos) are packed with amazing Spanish/Moorish flavours. Pinxtos, typically a Northern Spanish variation of Tapas feature the spikes (the pinxtos) to hold the small bites in place, to make it easier for the customer to cleanly navigate its way into their mouth.
The Pinchos Morunos are skewers of meat, like a kebab/kabob - the meat, often pork or chicken is marinated in Spanish ingredients to infuse every bite with authentic flavours. My recipe "pinchos morunos de pollo" features chicken, which is left to create magic in some quintessentially Spanish ingredients.
Marination of a Nation
Marination is key to the success of the pinchos morunos - the longer the better! I feel your utter disappointment as you read the recipe "marinate for at least 4 hours..." and sensed your heart sinking! I know! I've been there before. You want a recipe that you can cook NOW! That's all well and good but I'm going to pose a question... Do you want it now or do you want it delicious? That's the harsh reality. Now get over it and just wait! - tough love.
With any marinade - I'll do it first thing in the morning, so that when it comes to eating that night, it's all done. A little work now will pay off later. If I'm serving it for lunch, I'll do it the night before. I'll FORCE MYSELF to do it, even though I am a very lazy person. Just know in the back of your mind, that good things are happening in the fridge - All the best pincho morunas recipes require marination!
Back to the flavour! The chicken takes on all the smokiness from the Spanish smoked paprika and a beautiful complex sweetness from the Fino Sherry. It doesn't get more Spanish than paprika and sherry, which comes out in the finished pinchos. I'd urge you to get hold of some fino sherry, as again - it really makes the chicken sing! The onion gives more sweetness but, along with the lemon juice helps tenderise the meat and keep it mouthwateringly juicy when you grill.
Talking of juicy, I prefer to use chicken thighs for my ponchos morunos as they're so much juicier than a breast, but this also works with breast if you prefer that. You can also dispense of any pinxtos completely and just marinade chicken wings. No problem.
Big flavours, small helpings.
Pintxos, like tapas are served small, to whet the appetite over the course of an evening. You can serve them this way too, or serve as a larger kebab as a main course. Both are perfectly splendid. Learn all about Spanish Tapas with some great recipe options here.
Serving Suggestions and substitutes
Like I said, you can serve this as a main course or tapas, just adjust the serving size. As for meat, pork is a great substitute, as is beef. This marinade also works quite well with shrimp or a firm fish like monkfish or tuna (just marinate for 1 hour max) and grill on skewers. You can also change up the alcohol you use too - I've made mine using a dry white wine and also with a dry alcoholic cider with amazing results.
More Spanish recipes
If you liked this recipe then be sure to try some my other delicious Spanish recipes.
Pinchos Morunos
Rate this recipe
Print Recipe
Pin Recipe
Save Recipe
Go to Collections
Calories (per serving) |
345
Instructions
Put together the shallots, garlic, paprika, parsley, olive oil, sherry, lemon, salt & pepper into a food processor and blend into a smooth paste.

Place chicken into a plastic bag and pour in the marinade. Leave for 4 hours or overnight (for best results)

After marinating, thread 4-5 pieces of chicken on skewers (if you're using wooden skewers, soak them in water the same time as you marinate your chicken. This will help when cooking, to stop them being completely destroyed by the BBQ immediately).

Heat a BBQ til hot then grill the chicken for about 10 minutes, moving frequently till lightly charred on all sides.

Rest the chicken for 2-3 minutes before serving. Serve as a main course, or break up into single pieces and skewer with a toothpick and serve as tapas.
Nutrition
Serving:
300
g
|
Calories:
345
kcal
(17%)
|
Carbohydrates:
123
g
(41%)
|
Fat:
32
g
(49%)
|
Sodium:
12
mg
(1%)
|
Potassium:
1
mg
|
Fiber:
10
g
(42%)
|
Sugar:
2
g
(2%)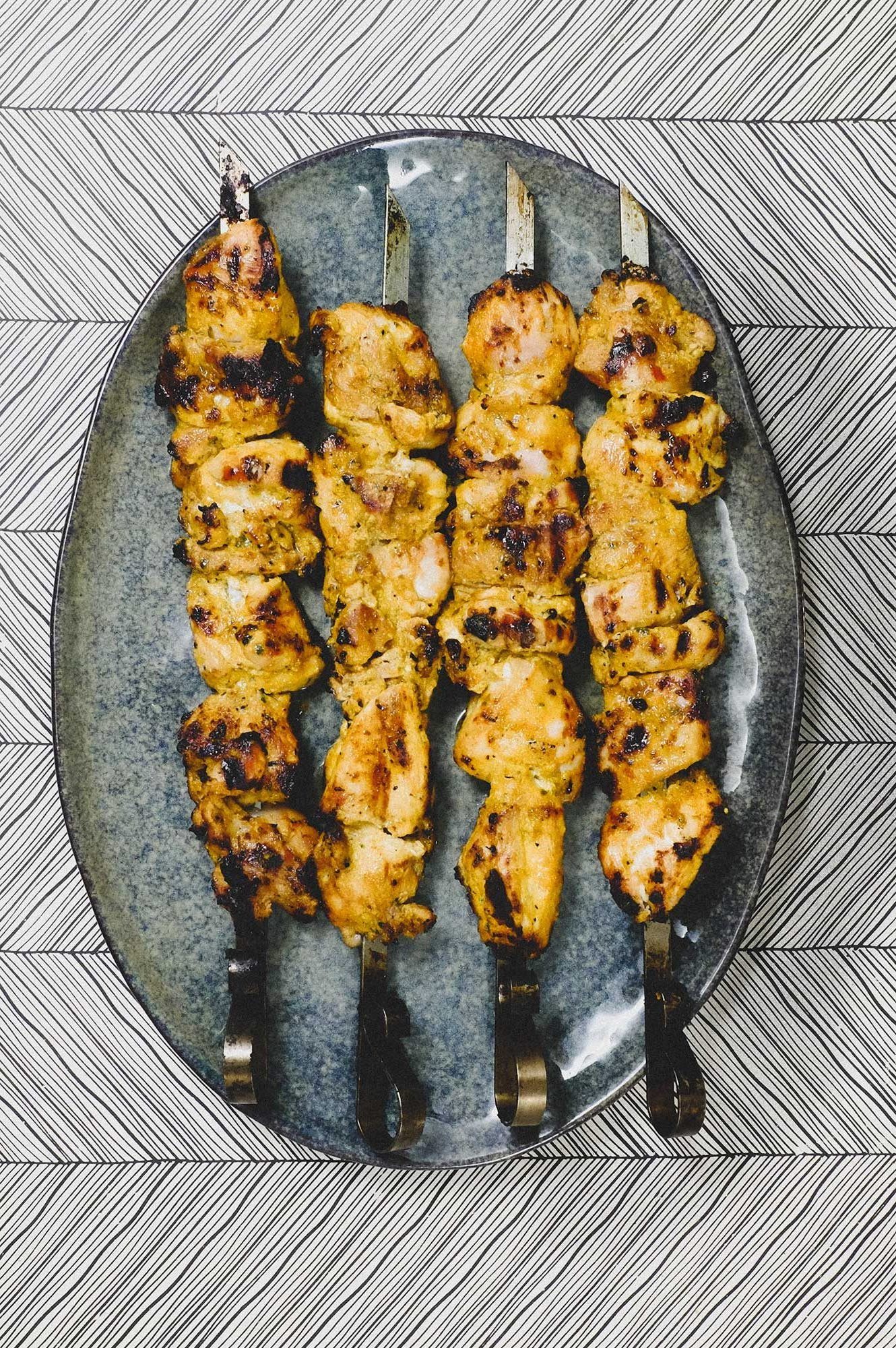 Did you make my Pinchos Morunos?
How did you go? Let me know in the comments below and be sure to tag @cookeatworld at Instagram.