Spanish Eggplant Salad
This smoky, creamy, tangy delight is a real surprise of flavour and texture. An amazing little vegetable dish to have at your disposal. Learn how to make this simple little Spanish salad with my recipe.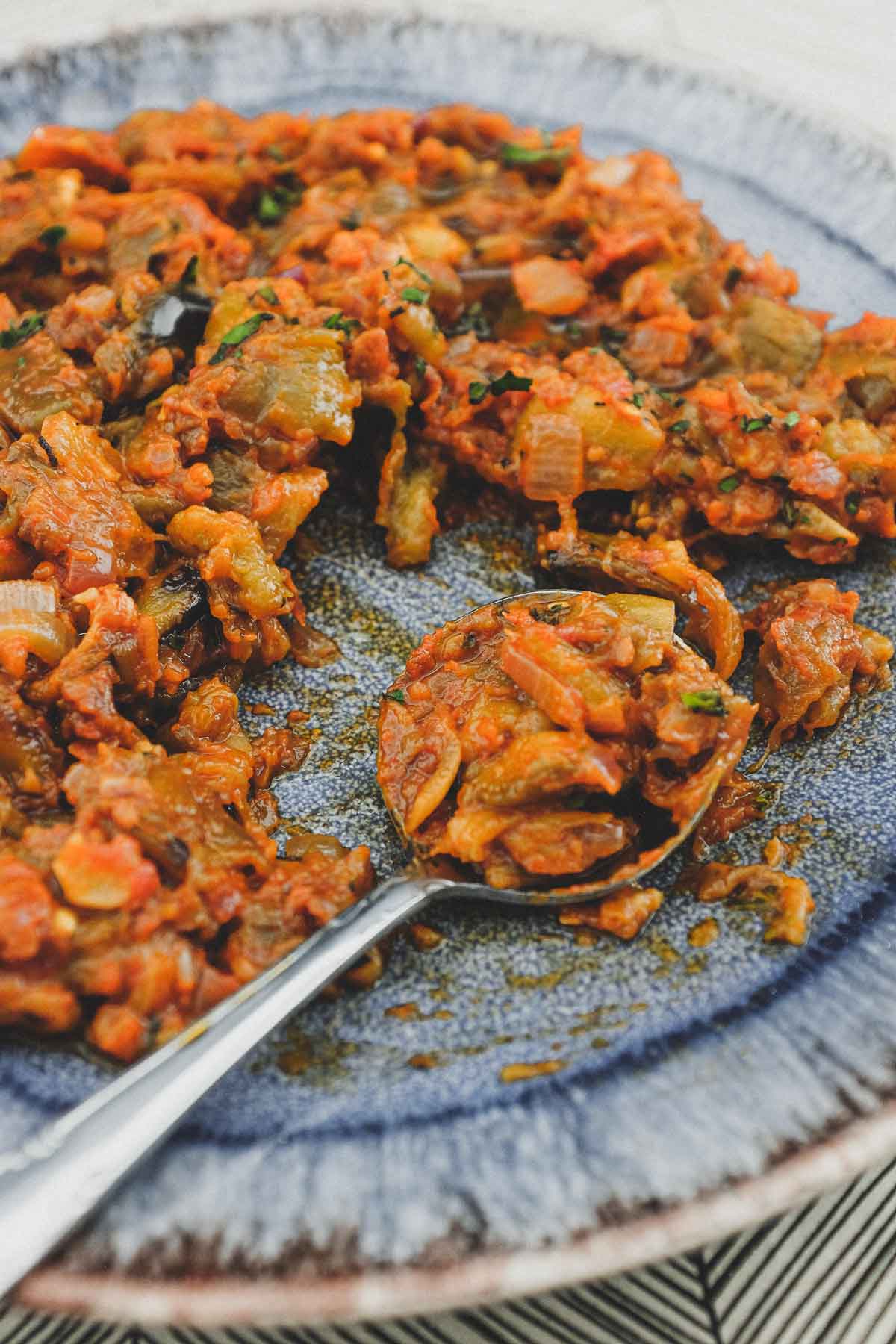 Spain gives up some of the tastiest dishes on the planet. I've always been in love with Spanish food - simple at its core and supercharged with flavour. Some of my most favourite things to eat are from this part of the World. I remember many years ago (too many to remember), while on a trip to Spain I ate at a small, unassuming taverna one evening - tapas of course, in the beautiful town of L'Estartit in the nation's North East. I remember three things from this taverna.
The owner's name was Tony.
I ate a smoky, sweet chunky eggplant spread/dip that has stayed with me ever since.
I drank three apocalyptic pints of local cider and do not remember leaving the taverna.
To give Tony his dues, he DID warn me that the cider was strong, but as a beer greedy British person, I completely ignored these warnings. Drinking and eating like my life was dependent on it. I kind of remember having a rabbit dish too, but it's the eggplant dish that stayed with me all these years. I'd never really been a fan of aubergine/eggplant, but took Tony's advice and had a try. I couldn't get enough of the stuff, that's as much as I remember.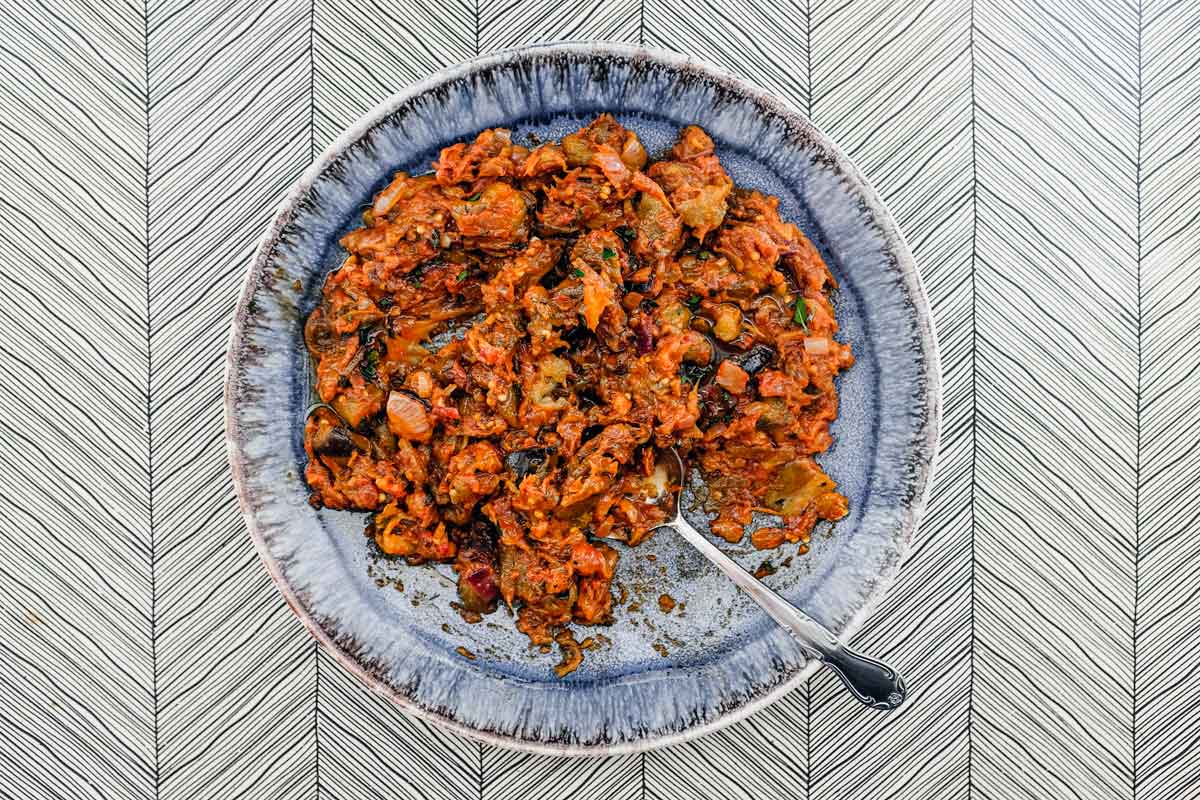 Creating my chunky, smoky Spanish eggplant salad recipe.
The smokiness comes not from charring the eggplant like you would for a baba ghanoush, but from the wonder ingredient, Spanish smoked paprika. A marvellous product that gives any dish a smack of España, with the tiniest amount. 1 teaspoon takes you from OK to Olé! I also opted to use in the oven instead of grill to create a roasted eggplant salad. The flavours are on point!
You'll see from the recipe that it's a simple dish to put together and the finished salad is part way between a ratatouille and a baba ghanoush. It's absolutely intoxicating! Sweet, tart, silky, chunky and lastly smoky... deliciosa!
I even found a bottle of Spanish cider to accompany, which is the best! It's so dry that you almost need a jug of water with every mouthful. It had been in my spare fridge (beer cupboard) for at least 2 years - bought from a Spanish Deli in LA on sale for 99c! When paired with this salad and almost a whole loaf of crusty bread, it took me right back to Spain - Still can't remember how I got home that night though.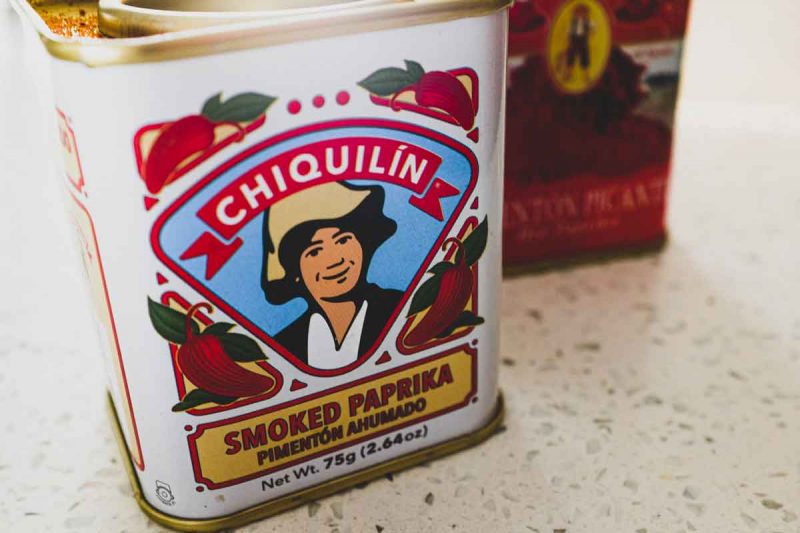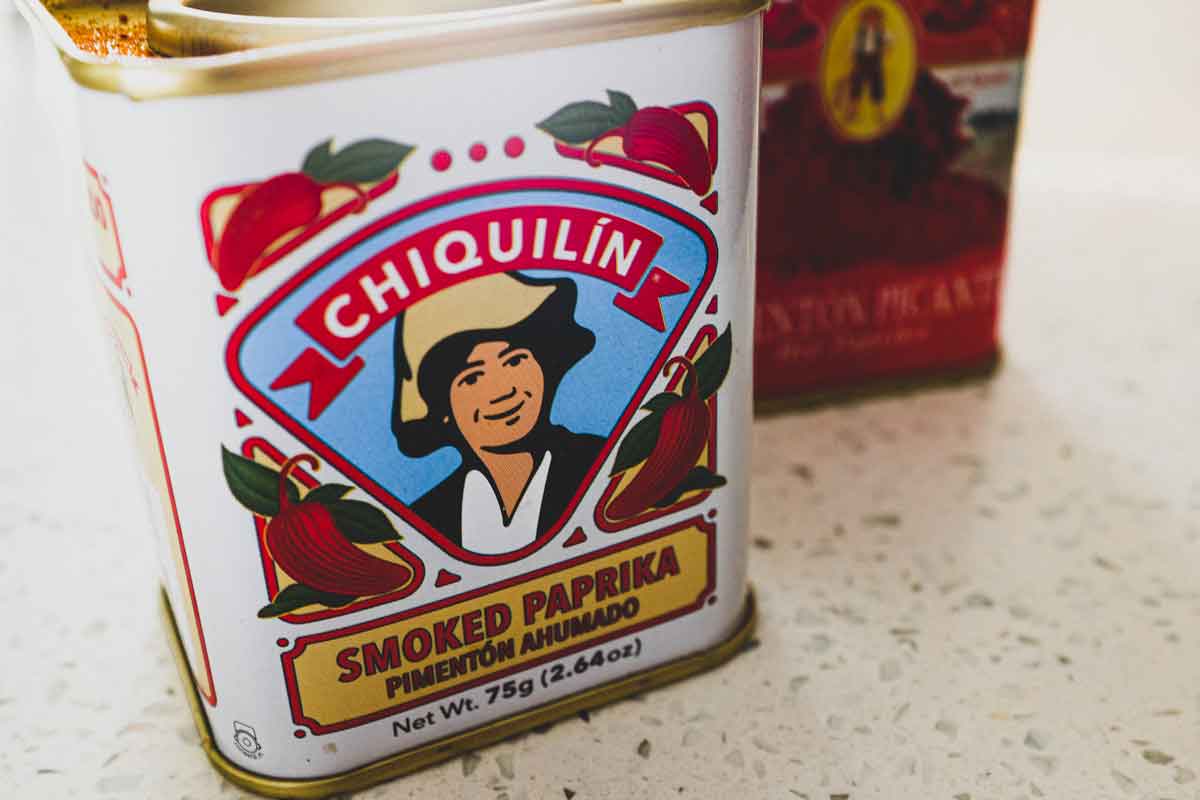 What type of paprika should I use?
For the most authentic flavour, smoked Spanish paprika is the way to go. You can find it in most supermarkets these days and also online. You could use regular sweet or hot Spanish paprika, which does have a good amount of smokiness, but you'll achieve the fullest flavour by using the smoked variety - buy a 3 pack and experiment!
Serving suggestions
Now, there are not many people on the planet who love tapas as much as I do. Not even in Spain. Like most of Europe and the Mediterranean region, little plates are the way to eat, and I am fully on board. If creating a dining experience sounds a little daunting, you need not worry - read my very own guide to tapas and all the simple things you can do to make serving it at home a breeze. You're welcome. Hope you enjoy the salad!
More Spanish recipes
If you liked this recipe then be sure to try some my other delicious Spanish recipes.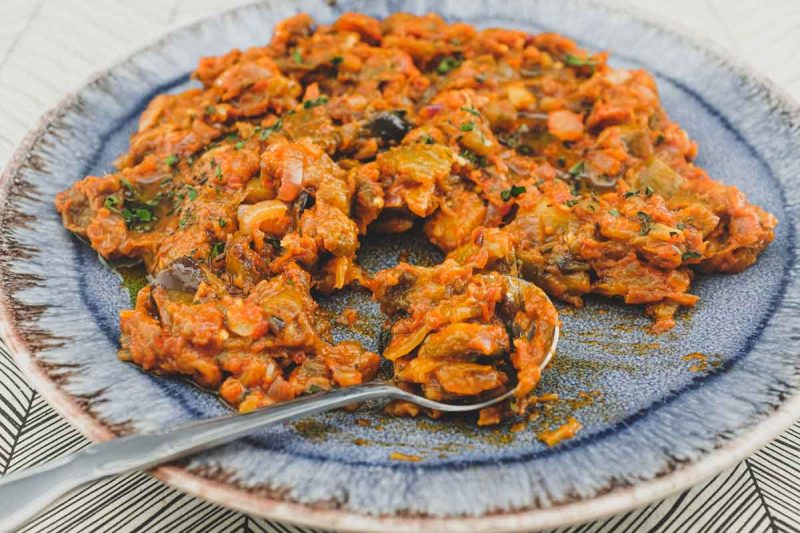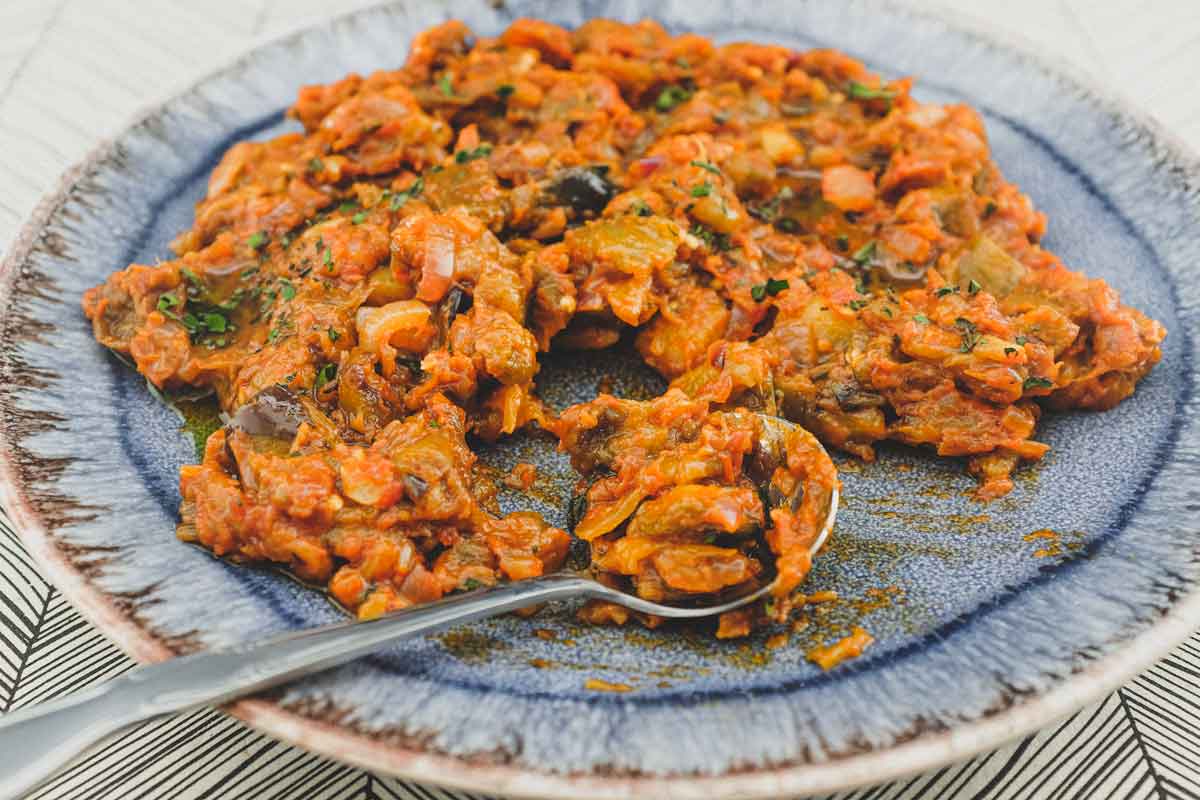 Spanish Eggplant Salad
Rate this recipe
Print Recipe
Pin Recipe
Save Recipe
Go to Collections
Calories (per serving) |
275
Instructions
To roast the eggplant
Preheat oven to 200ºC/400ºF

Using a vegetable peeler, peel the eggplant. Cut into 1-inch cubes (see video).

Pop the cubes into a sieve over a bowl and sprinkle with the salt. Rub into all the cubes then set aside for 20 minutes.

After 20 minutes, using a paper towel, pat dry the eggplant and rub off any excess salt.

Arrange the eggplant in a single layer on a baking sheet. Drizzle with the olive oil and toss gently to coat all the eggplant. Bake in oven for 20 minutes, until soft. (turn once during cooking)
To make the salad
Add the olive oil to a large frying pan over a moderate heat. Add the onion and garlic and fry for abour 6 minutes until soft and golden.

Add the roasted eggplant to the pan along with the crushed tomato and paprika and stir well. Cook for around 5 minutes, adding around 1/2 cup water to keep it from drying out too much.

Remove from the heat and stir in the sherry vinegar and half of the oregano.

You most likely won't need to season the salad as the eggplant was salted, but check now and adjust if you think it needs more salt. Let the salad come to room temperature.

Arrange the salad on a platter or in a bowl and sprinkle over the remaining oregano and drizzle with wanton abandon using a good quality extra virgin olive oil (Spanish if you can get it!) just before you serve.
Nutrition
Calories:
275
kcal
(14%)
|
Carbohydrates:
21
g
(7%)
|
Protein:
3
g
(6%)
|
Fat:
22
g
(34%)
|
Saturated Fat:
3
g
(19%)
|
Sodium:
920
mg
(40%)
|
Potassium:
696
mg
(20%)
|
Fiber:
9
g
(38%)
|
Sugar:
11
g
(12%)
|
Vitamin A:
407
IU
(8%)
|
Vitamin C:
10
mg
(12%)
|
Calcium:
80
mg
(8%)
|
Iron:
2
mg
(11%)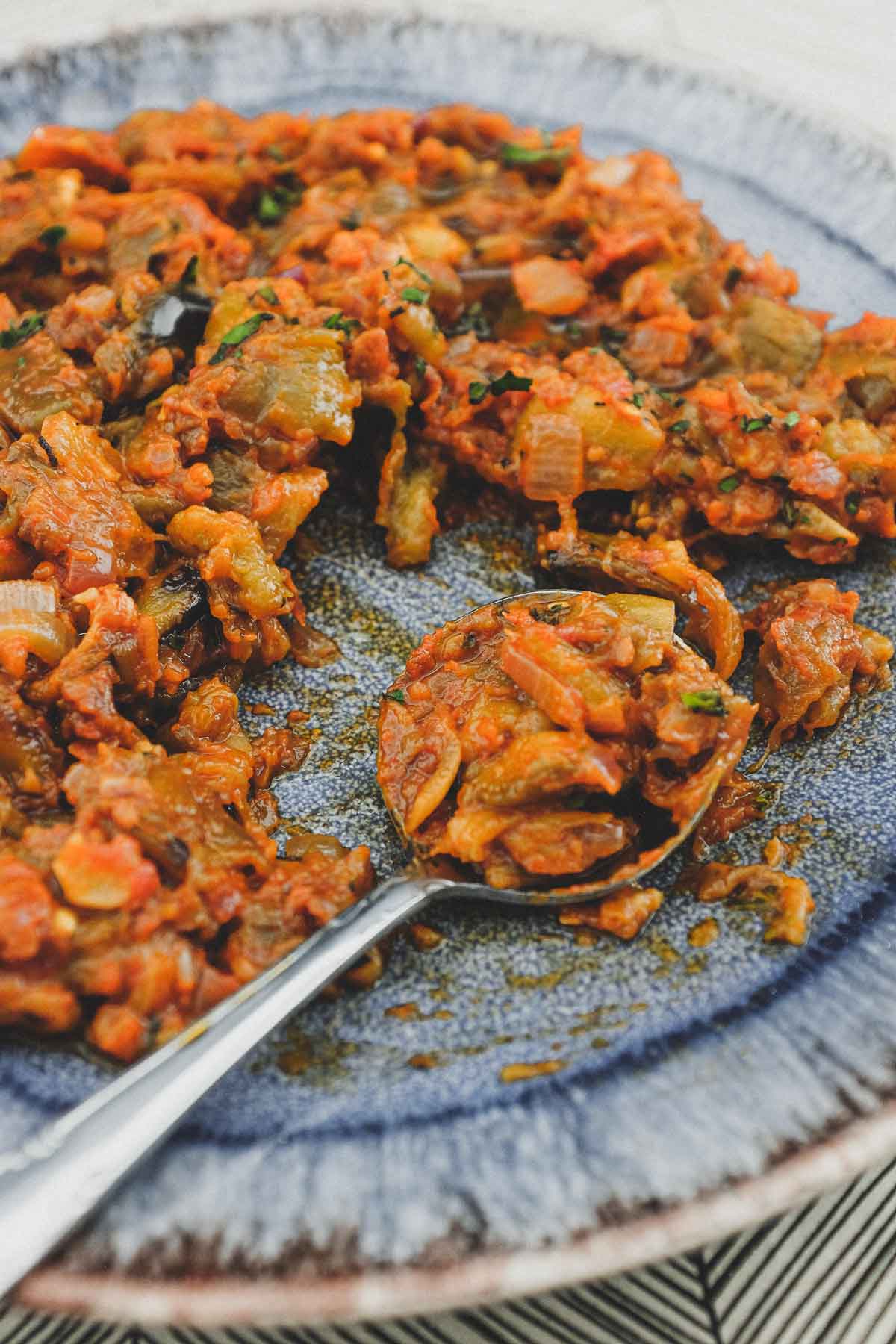 Did you make my Spanish Eggplant Salad?
How did you go? Let me know in the comments below and be sure to tag @cookeatworld at Instagram.