Chorizo Tapas with Fino Sherry
For a ready-made tapas feast, few ingredients come more prepared than Spanish Chorizo. Served simply and quickly in a deeply flavourful fino sherry infused liquor, it's an intensely satisfying small plate.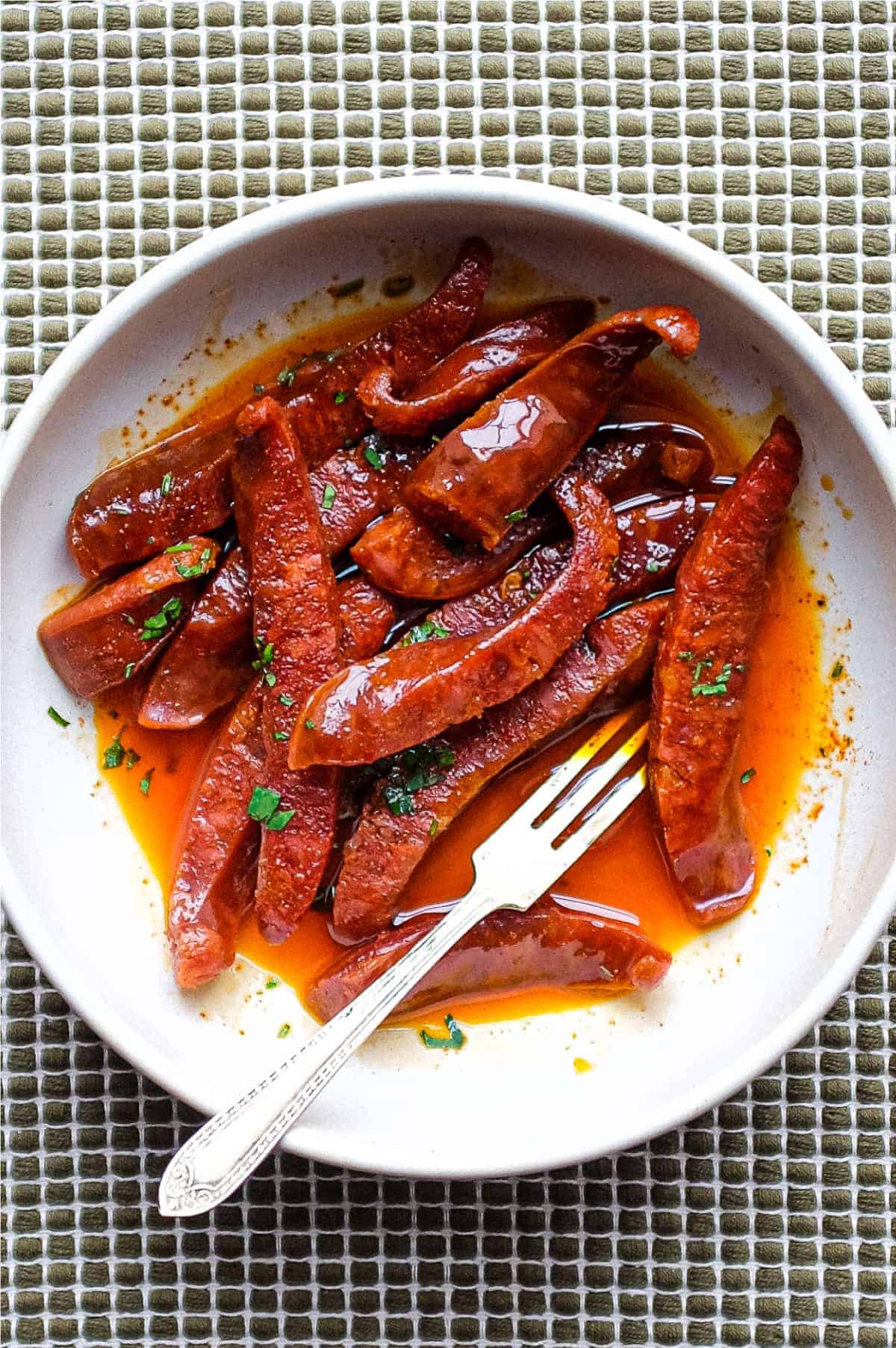 Few dishes make me smile as much as a small bowl of Spanish chorizo. Super easy to make at home and full of ready-to-go flavour. A good quality chorizo needs nothing more than a little olive oil to activate the flavour, but when enhanced with a little sherry, things take a turn for the magical.
Cooking tapas at home need not be a traumatic affair, lots of traditional tapas can be served direct from a can or jar, or like this dish, quickly cooked in less than 5 minutes and plonked on the table to be devoured while it's hot!
Chorizo differs in intensity and texture but one flavour is guaranteed, the sweet smokiness of paprika - jam packed with intensely moreish flavour.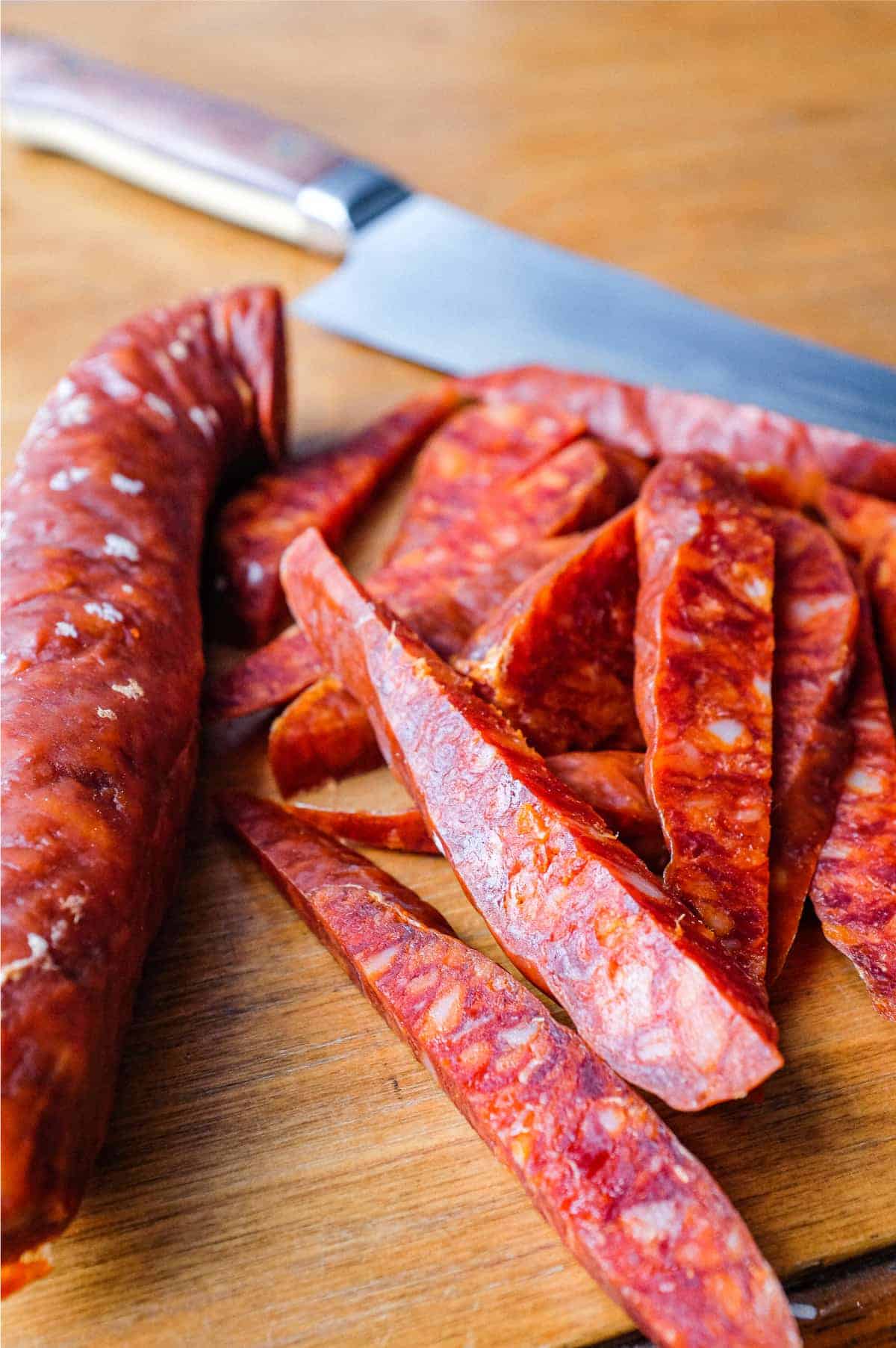 What is chorizo?
Chorizo means sausage. This can be confusing for many as it encompasses many varieties. Raw and cured to varying stages. A chorizo tapas can be any and every kind of Spanish sausage, but the kind traditionally served in Tapas joints are semi-cured or cured sausage, most resembling an Italian salami in firmness.
Chorizo is enjoyed across the Spanish speaking World and recipes differ greatly. For this recipe we use European cured Spanish chorizo. Cured chorizo can be eaten raw or cooked and used in a myriad of ways, in soups, stews and as tapas snacks to impart it's sweet, smoky flavour.
The sausage is made from pork and is primarily favoured with smoked paprika. As a simple cooked tapas dish it can be fried in oil and often then sizzled with alcohol such as white wine, dry cider or sherry.
Why it works?
It's quick - This dish is incredibly speedy to get on the table. This recipe only calls for 4 ingredients and then whole affair ready in under 5 minutes.
It's intensely flavourful - When you land on a good chorizo, all the heavy lifting is done. Most supermarkets carry decent quality cured chorizo, but do a little homework before you buy. Pretty much anything made in Spain will be good.
Stuff You'll Need
Making a chorizo tapas with fino sherry at home requires only four ingredients.
Spanish Cured Chorizo -

Usually found in the deli section of supermarkets, you are likely to find good quality chorizo these days. It should be firm to the touch, like a salami. Look out for a label saying 'made in

Spain'
Extra virgin olive oil - If you have Spanish, all the better, but as you can see from the picture above, I used Italian, which is also perfectly fine!
Fino Sherry - has a dry, smoky flavour. A rich, deep aroma that compliments the sweet meatiness of the sausage perfectly. You can also use a dry white wine or dry Spanish cider.
Parsley - not essential, but a light grassy herbaceous note at the end fits well. Also the green against the orange of the juices looks appealing, right?
Bread - Not in the recipe, but essential nonetheless, is a generous serving of crusty bread. This will be used to fight over the tasty smoky juices infused with all the wonderful flavour of the chorizo. It's almost the best part of this chorizo tapas dish!
Step by Step
Here's how to get your Chorizo Tapas on the table in under 5 minutes.
Step 1 - Sometimes, you may need to peel off the outer casing of the chorizo. It usually comes off pretty easily. It makes for a better eating experience.
Step 2 - Slice the chorizo into 1/4-inch slices or batons. I like to cut on the diagonal to get a wider slice, and then cut each slice in half.
Step 3 - Heat a frying pan until hot then drizzle in some olive oil. Tip in the chorizo and make a single layer. Leave for 1-2 minutes untouched.
Step 4 - Turn the chorizo over and cook for 1 minute then splash in the fino sherry and let it sizzle for 30 seconds.
Step 5 - Remove from the heat and drizzle in a little more extra virgin olive oil and shake to mix through with the pan juices.
Step 6 - Tip into a small bowl and scatter over a little parsley and serve immediately with some crusty bread slices.
Pro Tips & Suggestions
Other alcohol -

You can use red or white wine or cider instead of fino sherry.

Flavour enhancers -

For a herbal note, use fresh oregano, thyme or sage. You could also use a few fennel seeds added at the same time as the chorizo. Lastly, try a teaspoon of lemon juice or sherry vinegar at the end for a tangy or sour

note

.

Serving -

Chorizo tapas is best served hot and eaten right away. I would avoid leftovers, so just cook as much as you think you'll get through. It tends to dry out and become tough in the fridge, so fresh is best on this occasion.
Tapas feast - Serve alongside other tapas dishes (see some suggestions below). Be sure to serve some bread to soak up all the lovely juices.
Ready to get cooking?
For fast favour, it doesn't come much quicker and easier than this chorizo tapas.
Thank you Spain for this delicious ready-to-go delight, a real winner on every front; colour, fragrance, flavour. This simple little dish has it all! Hope you enjoy!
More Spanish recipes
If you liked this recipe chorizo tapas recipe, here are a few more recipes you could serve alongside.
Any Questions? (FAQ)
Have a question about Spanish Chorizo Tapas? Let me know in the comments.
What is Tapas?
Tapas are a Spanish cuisine that consists of a wide variety of small savoury dishes, usually served as appetisers or snacks. Tapas can range from simple bar snacks, such as olives or almonds, to more complex dishes, such as croquettes, grilled shrimp, or tortilla española.
What is Spanish chorizo made of?
Spanish chorizo is a type of sausage made from coarsely chopped pork meat and fat, seasoned with smoked paprika, garlic, and salt. Some varieties may also contain other spices like oregano and cumin.
How is Spanish chorizo different from other types of chorizo?
Spanish chorizo is distinguishable from other types of chorizo, like Mexican or Argentinean chorizo, by its use of smoked paprika. This spice, also known as pimentón, gives Spanish chorizo its distinct smoky and spicy flavor, as well as its characteristic red color. Additionally, Spanish chorizo is often air-dried or cured, giving it a firm texture.
How is Spanish chorizo traditionally used in cooking?
Spanish chorizo is a versatile ingredient that can be used in a variety of dishes. It is commonly sliced and added to stews, soups, and rice dishes like paella. It can also be eaten on its own as a tapa, or served as part of a charcuterie board. In addition, Spanish chorizo can be used to add flavor to eggs, sandwiches, and pasta dishes.
This recipe uses affiliations and may receive a commission based on your activity (link clicks). Learn more.
Chorizo Tapas with Fino Sherry
Rate this recipe
Print Recipe
Pin Recipe
Save Recipe
Go to Collections
Servings (adjustable)
4
as a tapas
Calories (per serving) |
311
Instructions
Peel off any thick papery casings on the chorizo, and cut into ¼-inch slices. I like to cut them on the diagonal for larger slices then cut these in half, lengthways. Set aside.

Heat a frying pan over a medium/high heat until hot. Add 2 tbsp of olive oil and heat until just hot.

Add the chorizo and arrange in a single layer. Leave for 1-2 mines to fry and char slightly.

Turn the chorizo over and fry for 10 seconds before pouring in the sherry. Let this sizzle for 30 seconds to burn off the alcohol. Remove from the heat.

Add the remaining 2 tbsp of extra virgin olive oil and shake the pan to mix in with the juices.

Tip the chorizo into a bowl along with the juices and sprinkle with a little parsley. Serve immediately alongside slices of crusty bread.
Notes
Alternative alcohol options - Instead of fino sherry, you may opt for red or white wine or cider.
Flavor enhancements - To add a herbal touch, you can use fresh oregano, thyme, or sage. Additionally, a few fennel seeds can be added with the chorizo. Lastly, for a tangy or sour flavor, consider adding a teaspoon of lemon juice or sherry vinegar at the end.
Serving recommendation - Chorizo tapas is best enjoyed hot and immediately after preparation. It is advisable to avoid leftovers and only cook the amount that will be consumed as it tends to become tough and dry in the fridge. Freshness is key in this case.
Tapas spread - Serve with other tapas dishes and make sure to have bread on hand to soak up the delightful juices.
Nutrition
Calories:
311
kcal
(16%)
|
Carbohydrates:
1
g
|
Protein:
9
g
(18%)
|
Fat:
27
g
(42%)
|
Saturated Fat:
7
g
(44%)
|
Polyunsaturated Fat:
1
g
|
Monounsaturated Fat:
10
g
|
Cholesterol:
35
mg
(12%)
|
Sodium:
3
mg
|
Potassium:
27
mg
(1%)
|
Fiber:
0.03
g
|
Sugar:
0.3
g
|
Vitamin A:
287
IU
(6%)
|
Vitamin C:
1
mg
(1%)
|
Calcium:
4
mg
|
Iron:
1
mg
(6%)