Spanish Pork Ribs with Sherry & Garlic
Sweet, smoky and completely addictive, my Spanish pork ribs recipe has everything and more! Marinated in Fino sherry, garlic and smoked paprika, they're the very essence of Spain. Finger lickingly delicious.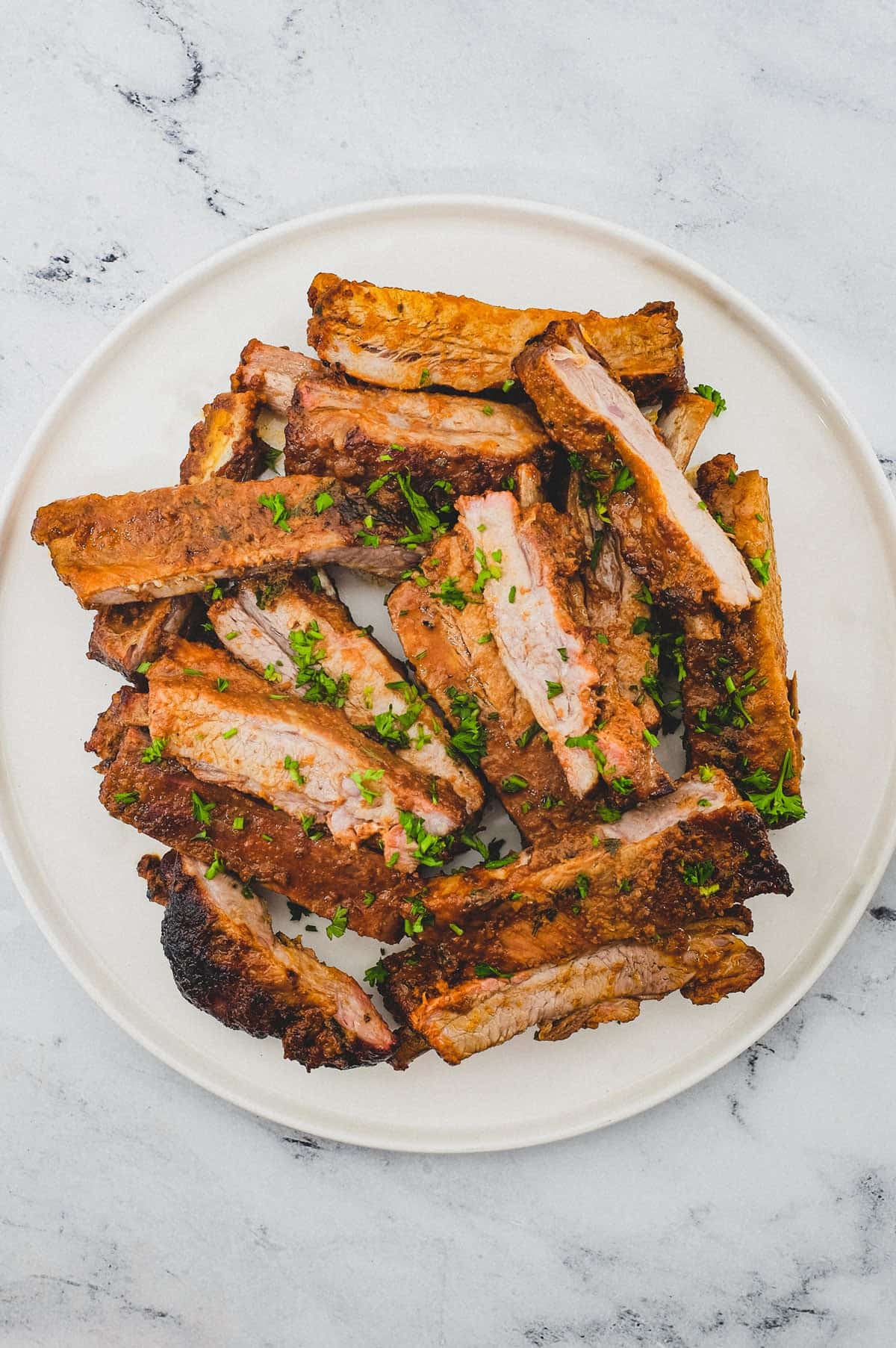 Now, while I love American style BBQ ribs, I'm often looking for an alternative way to eat pork ribs. My go-to recipe for the last 10+ years has been this delight from Spain.
US style BBQ is delicious, no denying, but it's often heavy and sickly sweet. Having lived in the US for many years, I still can't quite embrace this nation's obsession with sugar! US BBQ sauce is too sweet for my palette and this is why I cook my Spanish Ribs - they're sweet but not dessert pork. They're smoky, but not from the grill, from the smoked Spanish paprika. In fact, these ribs aren't grilled at all, they're oven roasted - making them much less fuss than BBQ style - very low maintenance!
The resulting ribs are mild, sweet and smoky and with just enough bite, but still fall off the bone tenderness. They are just as addictive, every bit as finger-lickingly tasty as US ribs.
Which style of ribs should I use?
I prefer spare ribs, they come from the back end of the rib cage and are the meatiest racks in my opinion. That said, this recipe works just as well with your favourite style, be it St Louis or Baby Back. This marinade also works for country style ribs. My pick is Spare ribs!
Marination of a nation! Create the taste of Spain.
To create the authentic marinade, a sweet & smoky flavour that coats these ribs, you'll need these key ingredients:
Fino Sherry (a dry sherry variety from Spain) It has a distinctive full flavour with sweet notes but a dry finish. Sweet sherry shouldn't be used as it will change the flavour too much.
Smoked Spanish Paprika (Pimenton Ahumado) - The very essence of Spain! Sweet and smoky - offering up a truly rich Spanish flavour.
Garlic - lots of it!
There are more ingredients (see the whole recipe below) but these are the key flavours that you must include for the full effect!
Step by Step
Creating the ribs isn't difficult - most of the work comes from waiting. Putting together the marinade is a quick and painless endeavour - a quick blitz of an onion and garlic in the sherry and then it's poured over the meat and left to develop - the pain comes from having to wait a day to eat them! Trust me though, if ever there was time well spent it's letting these marvellous marinade ingredients do their science magic over 24 hours. You can speed up this process by leaving them for 4 hours, but longer is certainly better.
Then it's just a case of roasting, marinade and all, in the oven for 90 minutes. The marinade reduces and creates a thick, sweet slick to baste the ribs in. This maximises flavour and eliminates the need for a separate 'BBQ sauce'.
What you're left with is a tender slab of España - juicy and packed with flavour. I can't get enough of these delicious morsels - it's embarrassing how seriously I take the portioning - if there's a platter I KNOW how many everyone has had and beware those who try and take more than their equal share!
Finger-licking food never tasted this good! They're a great communal buffet style dish to serve any time of the year for guests to fight over. I love nothing more than a massive tray of these along with a fresh, crunchy salad to eat once all the meat's gone. The salad cuts through the meaty richness of the pork perfectly. Are you ready to ditch the sticky-sweet US ribs for these? The answer is yes.
More Spanish recipes
If you liked this recipe then be sure to try some my other delicious Spanish recipes.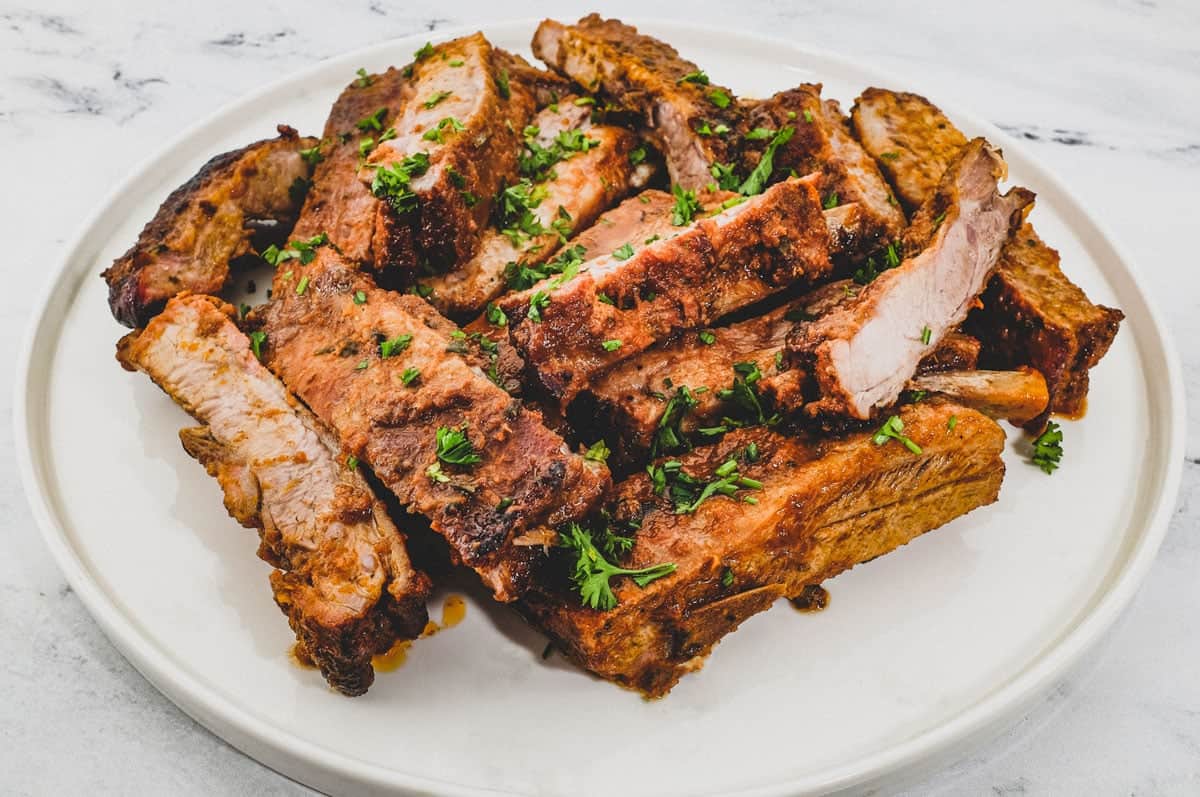 Spanish Pork Ribs with Sherry & Garlic
Rate this recipe
Print Recipe
Pin Recipe
Save Recipe
Go to Collections
Calories (per serving) |
1367
Ingredients
2

Pork rib racks

(spare ribs, baby back, St Louis)
Instructions
In a blender or with an immersion blender, blend the onion with the sherry, garlic and paprika. Set aside.

Add the ribs to a large plastic bag and pour in the onion/sherry puree along with all the other marinade ingredients. Seal the bag and toss the racks around a bit to evenly coat. Place in the fridge for 24 hours (4 hours minimum).

Before cooking, remove from the fridge and bring to room temperature for about an hour.

Heat the oven to /350ºF180ºC

You'll need a large roasting tin, large enough to fit the ribs together, side by side. If you don't have one large enough, use two tins - one for each rack.

Place the ribs, into the roasting tin(s) meat side down and pour over all the marinade. (divide the marinade between both tins if using two) Shake the pan to distribute.

Bake in the oven for 40 minutes. Baste the meat in the juices, by spooning the cooking liquid after about 20 minutes.

Turnover the ribs and roast for a further 50 minutes, basting the meat every 10 minutes or so. If the sauce dries up, add a little stock or water to the pan to keep it liquid (this may happen if you use two tins, so just keep an eye out. This helps the ribs stay juicy.

After 50 minutes, the ribs should have browned on top and the sauce be thick and clingy.

Remove the ribs from the pan carefully cut into individual ribs. Return to the baking pan and toss in the roasting juices. Tumble the ribs onto a large platter and scatter with lots of parsley and serve hot!
Nutrition
Calories:
1367
kcal
(68%)
|
Carbohydrates:
15
g
(5%)
|
Protein:
70
g
(140%)
|
Fat:
103
g
(158%)
|
Saturated Fat:
33
g
(206%)
|
Polyunsaturated Fat:
18
g
|
Monounsaturated Fat:
38
g
|
Trans Fat:
1
g
|
Cholesterol:
349
mg
(116%)
|
Sodium:
1640
mg
(71%)
|
Potassium:
1381
mg
(39%)
|
Fiber:
3
g
(13%)
|
Sugar:
6
g
(7%)
|
Vitamin A:
1467
IU
(29%)
|
Vitamin C:
17
mg
(21%)
|
Calcium:
132
mg
(13%)
|
Iron:
6
mg
(33%)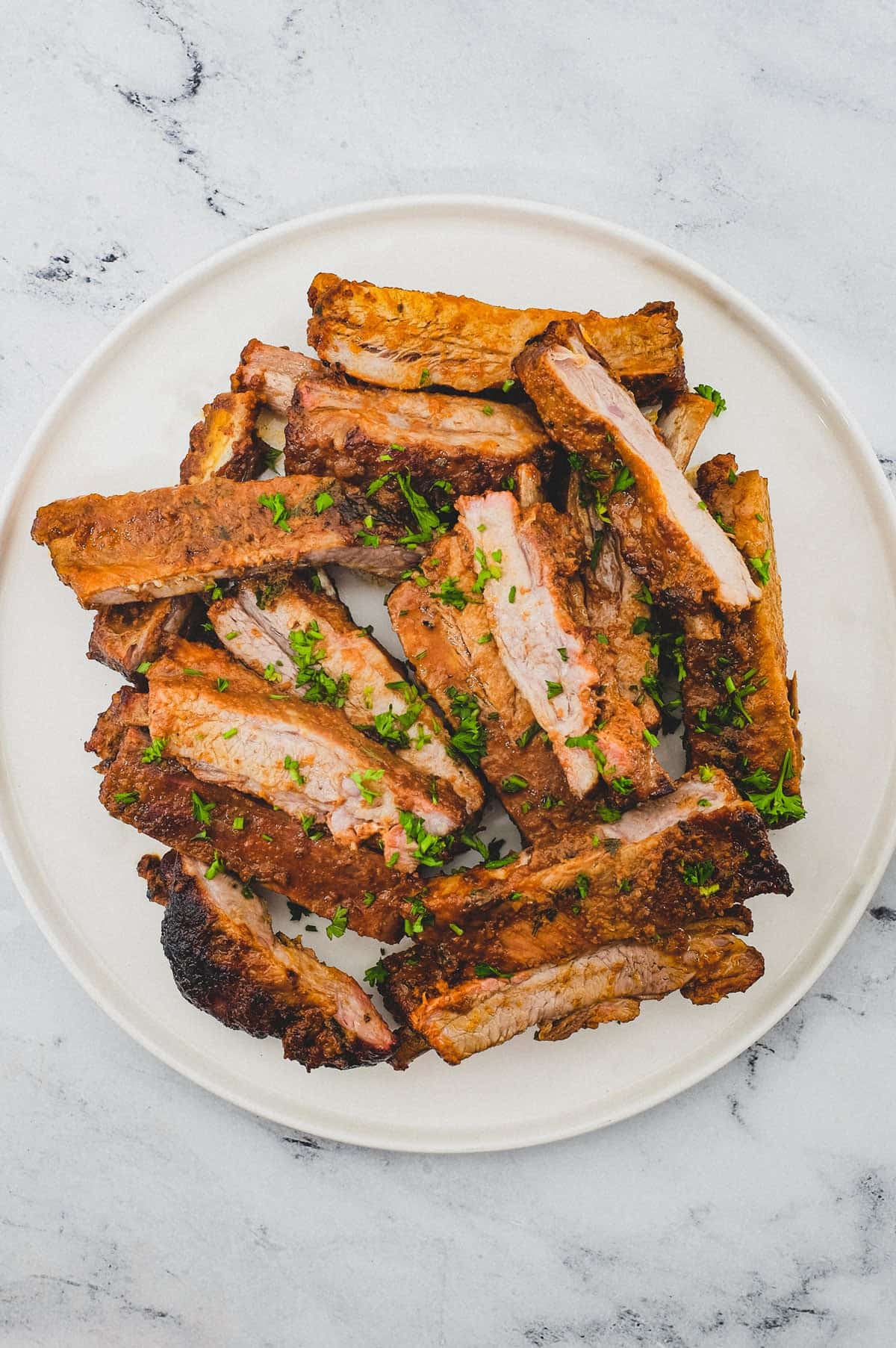 Did you make my Spanish Pork Ribs with Sherry & Garlic
How did you go? Let me know in the comments below and be sure to tag @cookeatworld at Instagram.