Anchovy Sauce (An Umami Flavour Sensation)
Flavour in abundance with this amazing little sauce from anchovies. A creamy, umami-laden concentration of zingy saltiness that will send your taste buds into overdrive. Learn just how quick and versatile this little kitchen treasure really is.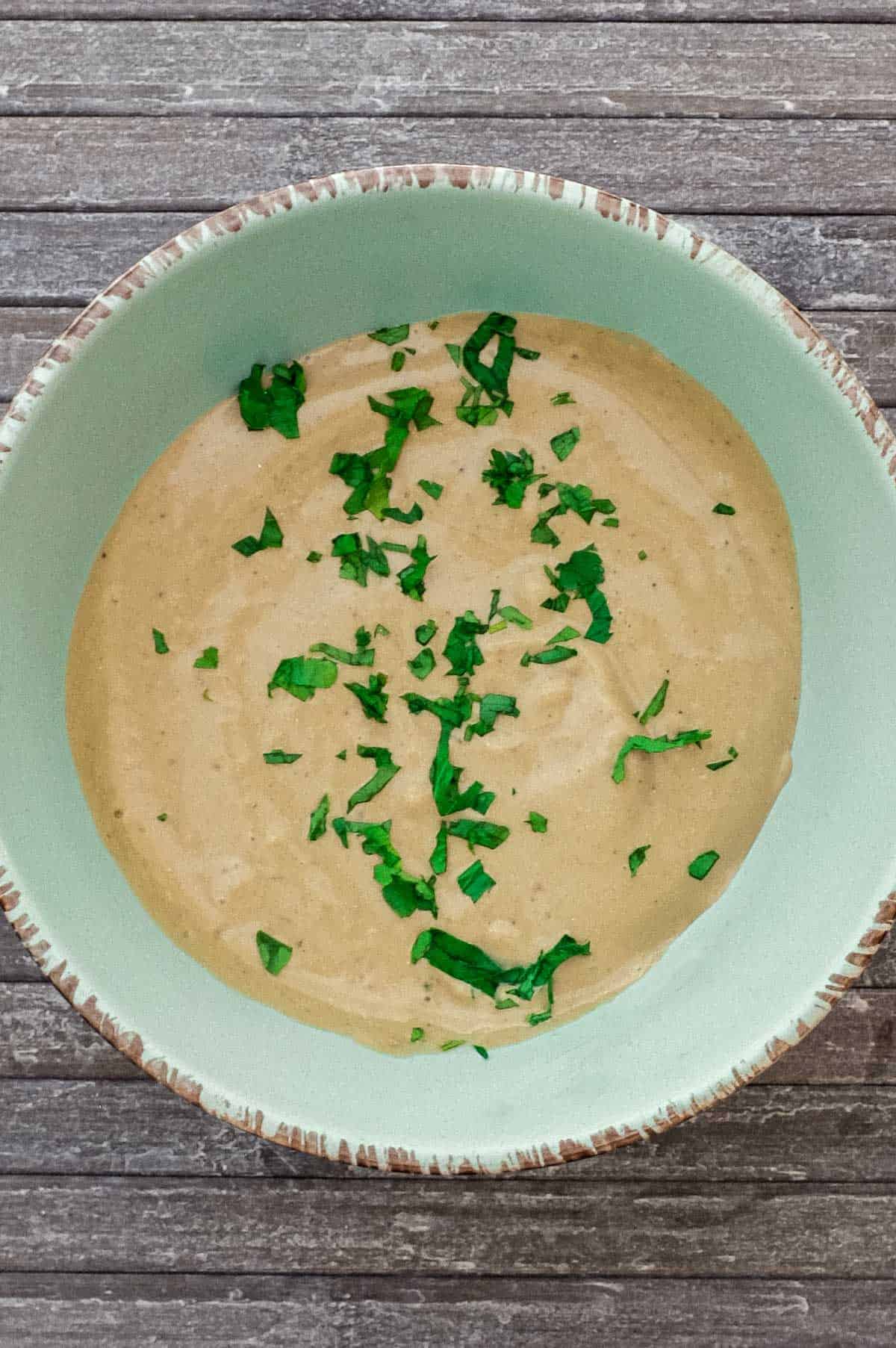 Anchovies are one of life's unsung heroes. Tiny little fish that pack a punch of flavour and are so versatile and useful in building flavour. This anchovy sauce is not short on flavour let's be clear! It's one of the most intensely tasty flavour bombs at my disposal. Rich, salty umami and sheer perfection - and with so many uses, my anchovy sauce recipe might just become your new go-to to flavour everything!
What is Anchovy Sauce?
Anchovy sauces appear all across the Globe. Many Asian cuisines feature fish sauces in abundance but it's Europe we focus on for our umami explosion. A smooth, creamy emulsification of blended anchovies, oil, garlic and lemon - a kind of eggless mayonnaise. It shares the same flavour profile of French Anchoïade Sauce and also the wonderful warm Italian Bagna Càuda sauce from Piedmonte. The salty fish creates an intense hit of flavour which is the perfect vehicle to give flavour to many dishes from soups, stews to salad dressings and dips.
Why it works
One word (often overused these days) UMAMI! Anchovy sauce almost impossibly flavoursome... Personally I find it completely addictive (I'm sure it's actually scientifically proven to be addictive). A little goes a long way and it's so versatile in its uses. My favourite is drizzled over boiled new season potatoes or over poached or boiled eggs.
Stuff you'll need
Each of the very few ingredient plays an essential part in creating the perfect balance of flavour for my Anchovy sauce.
Anchovies - The key ingredient! I buy the flat, salt packed variety. But this recipe works with regular canned anchovies or jarred anchovy fillets, just soak them to reduce the amount of salt a little. If they're in oil, use the leftover oil. Just reduce the olive oil by the amount you have in anchovy oil.
Garlic - The earthy pungency of raw garlic is absorbed into the umami saltiness of the sauce, but it adds a much of it own too!
Dijon Mustard - Dijon mustard brings a sweeter, less powerful hit of flavour to round off the aftertaste into a smoother more complex finish.
Lemon - Fresh lemon juice will add a citrus punch to brighten up the mix.
Extra virgin olive oil - I like a good quality peppery extra virgin olive oil to stand up to the salty anchovies. You see the pattern yet? FLAVOUR FLAVOUR FLAVOUR!
Parsley - The sauce is a little beige, so a pop of green is a nice finishing touch.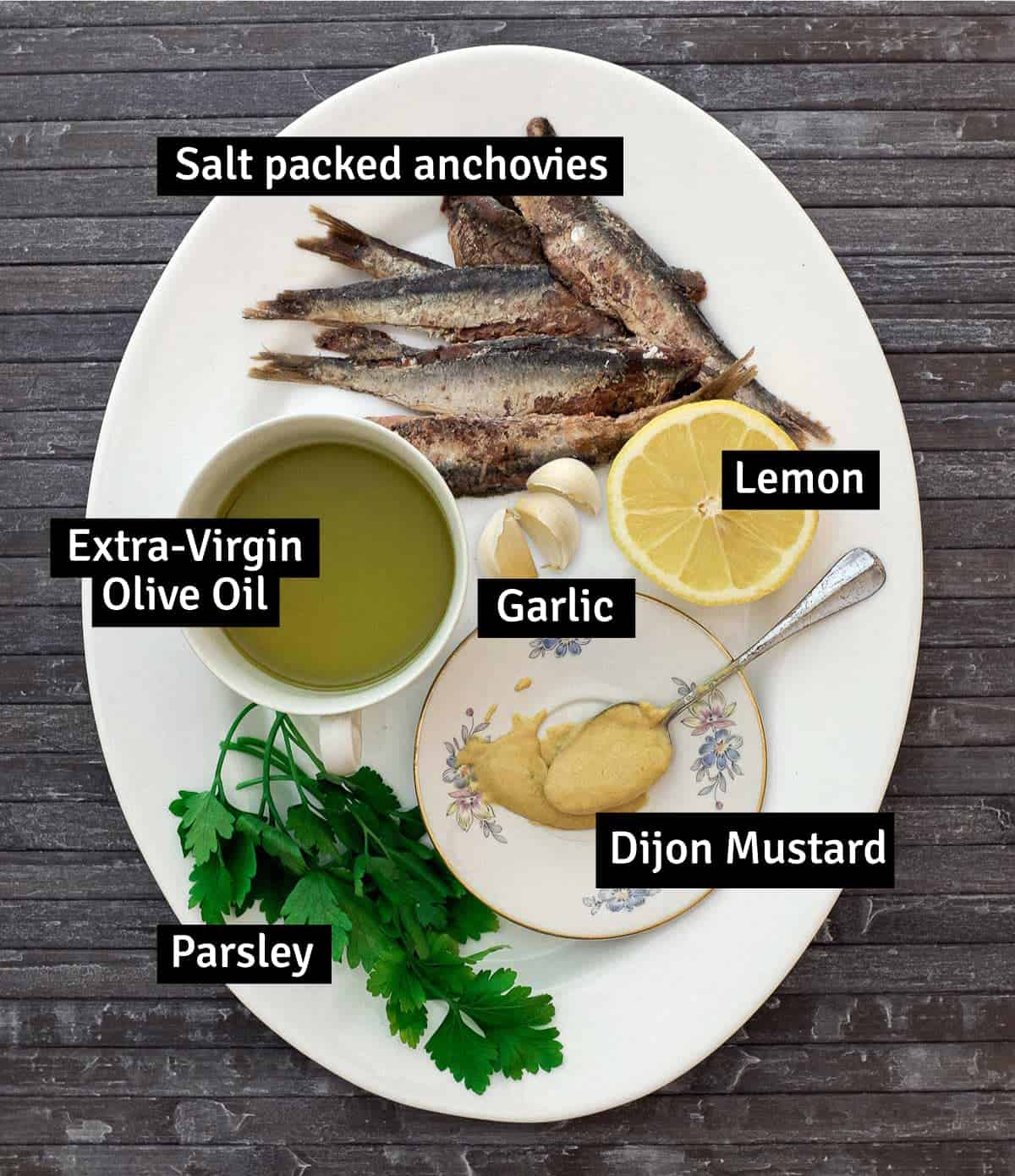 Step by Step
Making anchovy sauce is quick and easy. This no-cook sauce is just a case of blending until smooth and glossy. Simple!
Step 1 - Soak the anchovies in one or two changes of cold water. This will help some of the salt leech out of the fish. Don't worry, there'll still be plenty of flavour left. If you're using the same anchovies as me, you'll also need to remove the backbone - it's simple, see the recipe below.
Step 2 - Blend together the anchovies, garlic, lemon juice and a couple of tablespoons of the oil. I like to use an immersion blender, but a bullet blender or food processor is fine too.
Step 3 -

More blending. I now add the rest of the oil and a little water to thin out the sauce and blend until smooth.

Step 4 -

Decant, scatter with parsley and serve!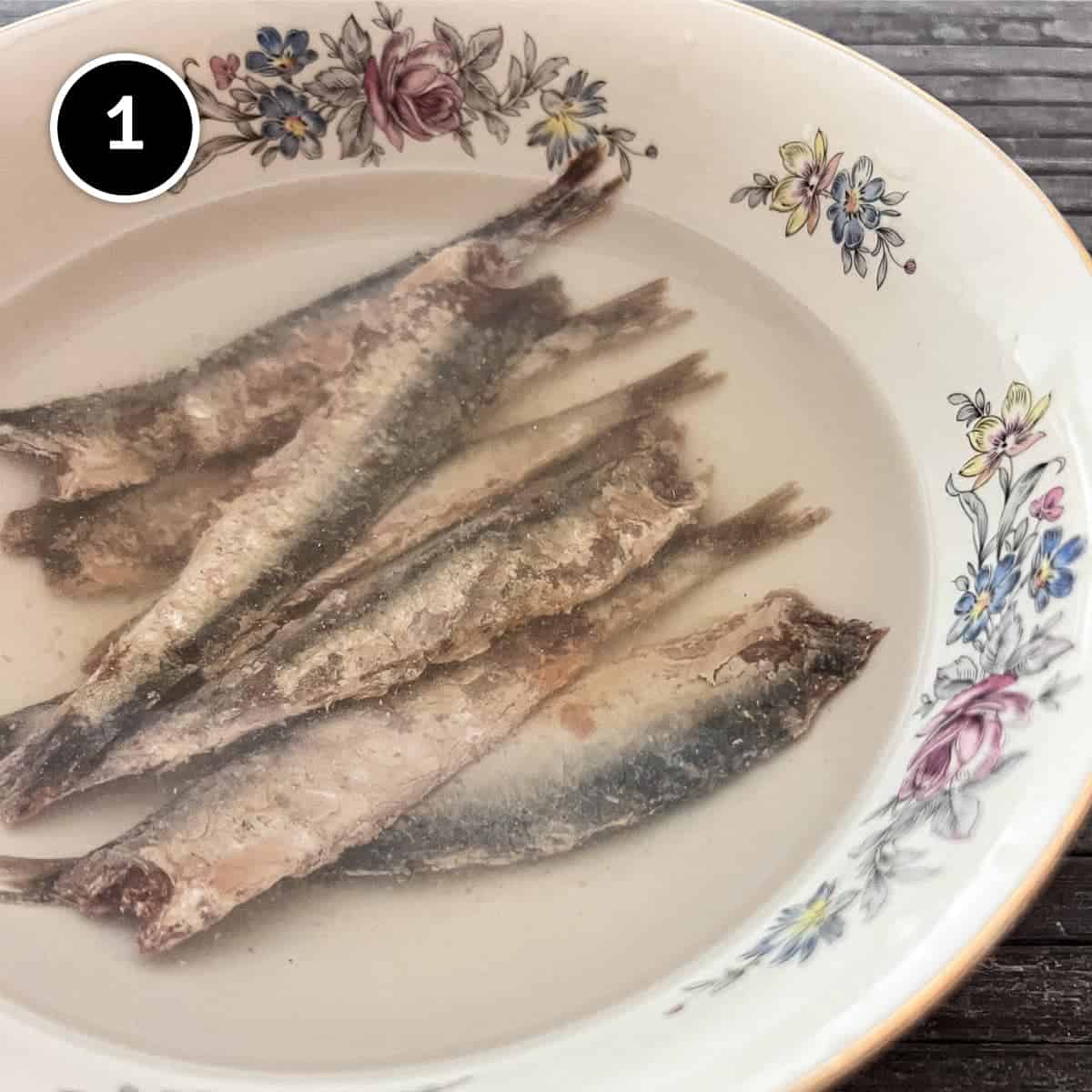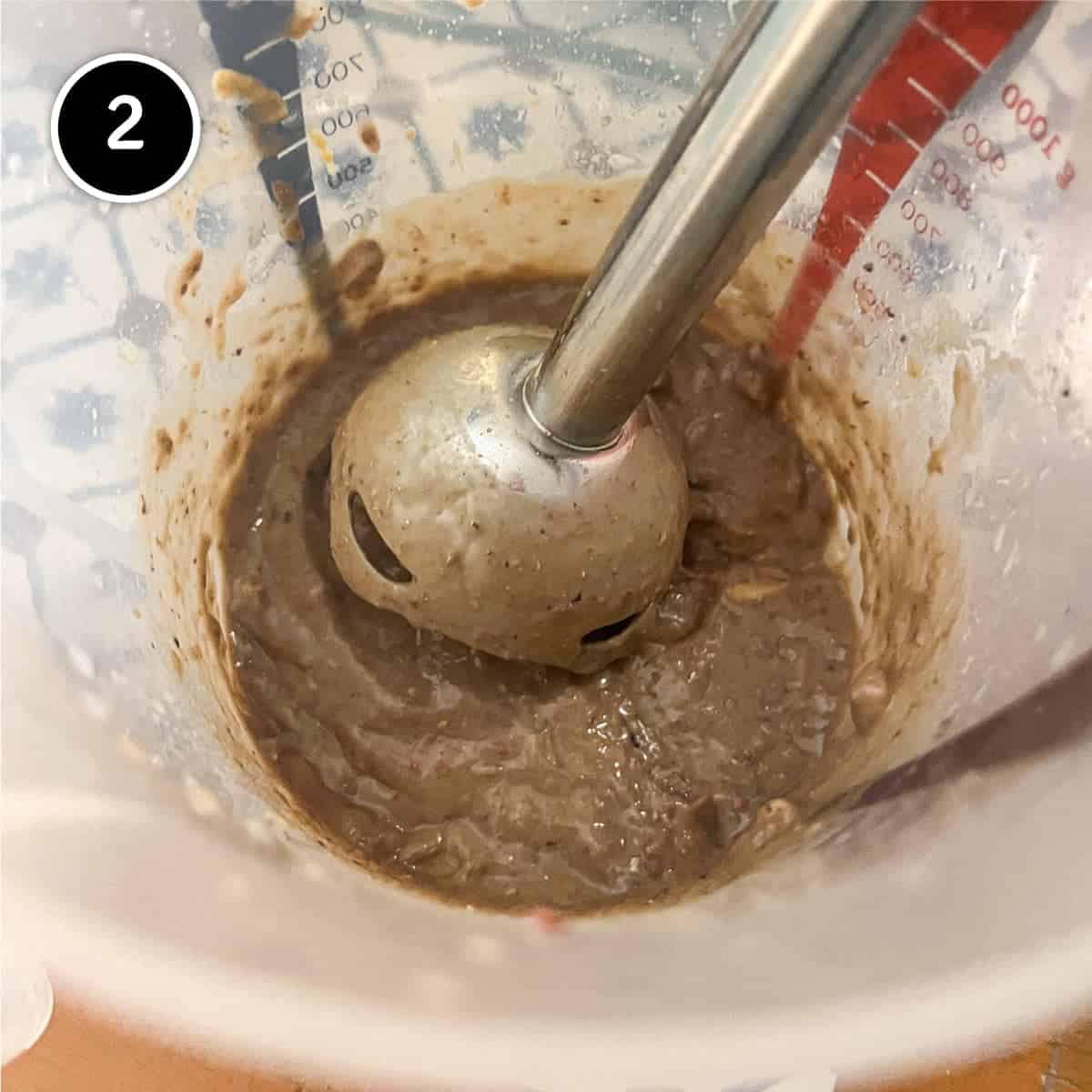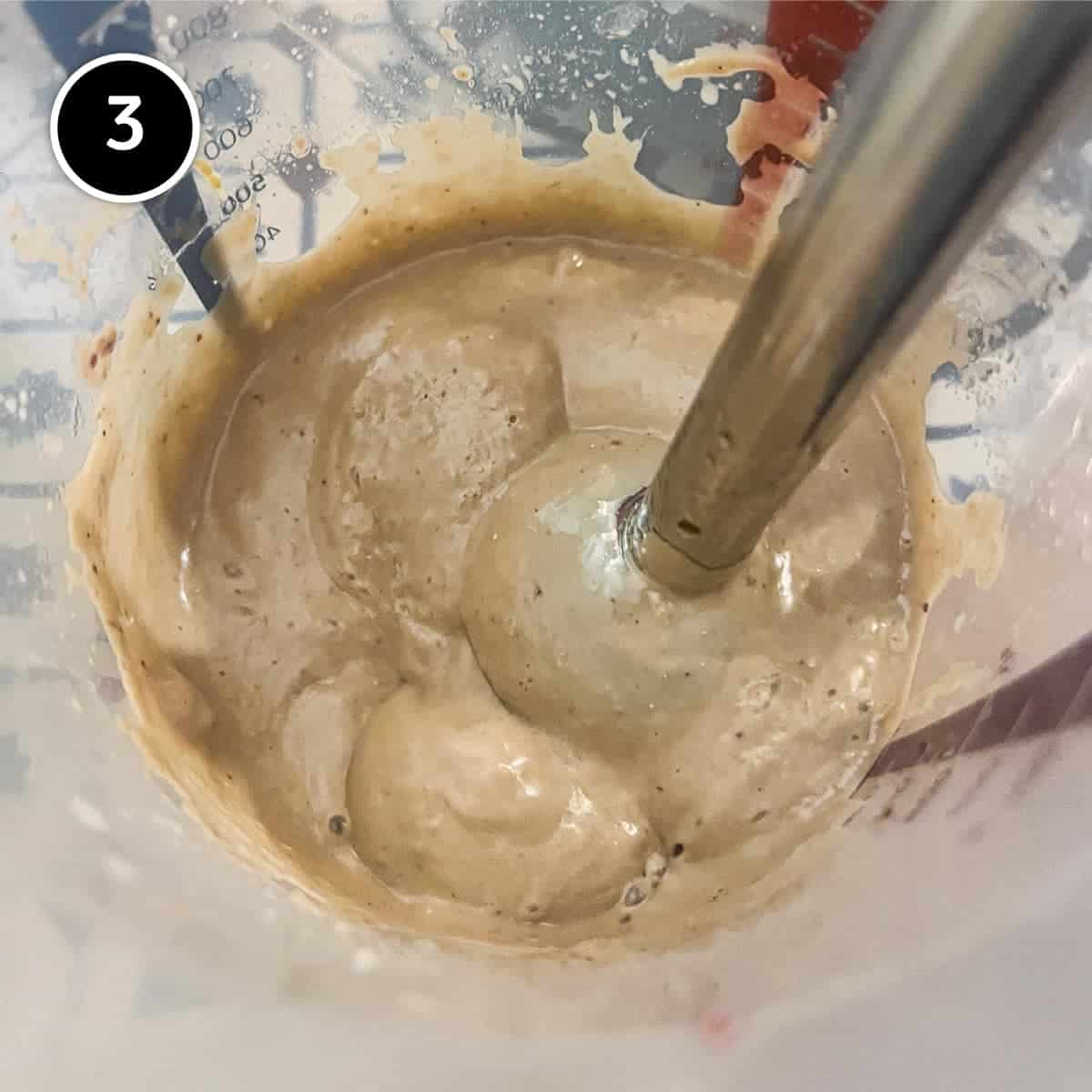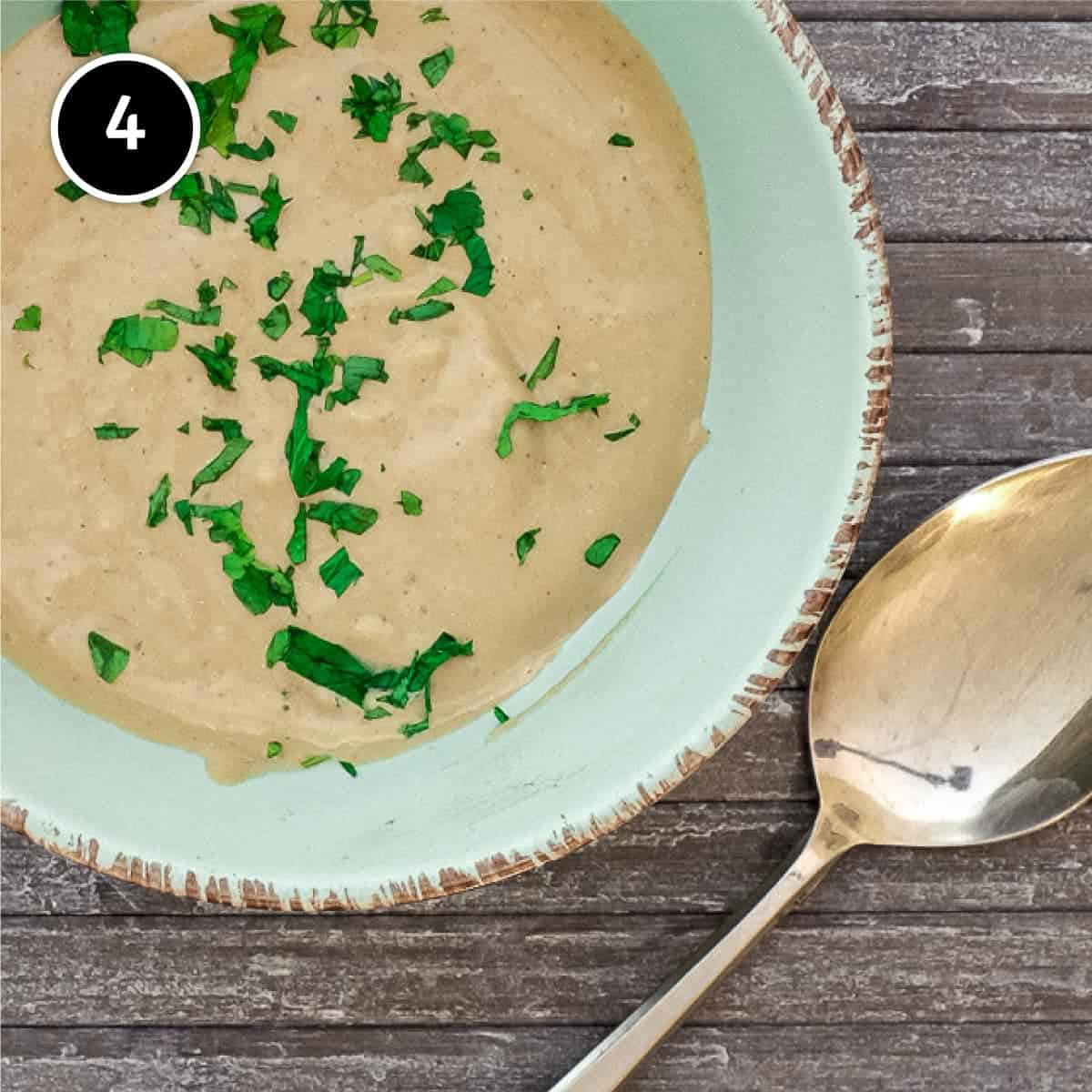 Pro Tips and suggestions
Make in advance - Anchovy sauce is a great contender for pre-preparation. It'll stay good in the fridge for a few days.
No lemon? No problem. Add 1-2 tsp of wine vinegar. Red or white is fine.
Herbs - You can dress up this sauce a little with the use of fresh herbs. A stronger herb is required to stand up to the strong flavours in the sauce but I've had success using 2 tbsp of fresh, marjoram, thyme or tarragon. Add them at the first stage of blending.
Blending - You can create this sauce using many blending techniques. Old-school in a pestle & mortar is easy and very effective! Or if you have the machinery, an immersion/stick blender (my favourite), a

food

processor

, blender or bullet blender will all achieve excellent results.
Serving and storing suggestions
A Dip -

Serve in a small bowl and serve as a simple dip. I've learned that bitter leaves like chicory or radicchio are excellent alongside the salty umami of the sauce. Bread is also a wonderful accompaniment. Experiment with your favourite dippers.

A dressing for vegetables

- Drizzling over cooked vegetables is an amazing use for anchovy sauce. New-season boiled potatoes are my favourite. Whole cooked artichoke are amazing with this sauce - pull off each leaf and dip

into

the sauce then drizzle over the heart - it's heaven. Lastly, steamed or roasted asparagus with a little sauce creates something very special!

Salad dressing - This sauce is not a million miles away from a caesar salad dressing, so pick up some crunchy

lettuce and toss it generously in the sauce and scatter over plenty of Parmigiana Reggiani and croutons and you'll be good to go. Used over any salad vegetables is simply perfection!

A sauce for meat or fish - This sauce is the most perfect for a juicy steak drizzle! And splashed over fish and seafood it's a wonderful hit of flavour too.
As a pasta sauce - Cook your favourite pasta shape then drain and toss in the sauce along with some fresh parsley and a few chopped Puglian olives and you're onto a winner. It's also great with a seafood pasta like mussels, clams, shrimp and squid.
Special Uses! - I love anchovy sauce with eggs. Over boiled or poached eggs or even drizzled generously over a couple of crisp fried eggs. Pure indulgence!
Storage - You can store anchovy sauce in the fridge for up to a week. It's not really suitable for freezing, fresh is best.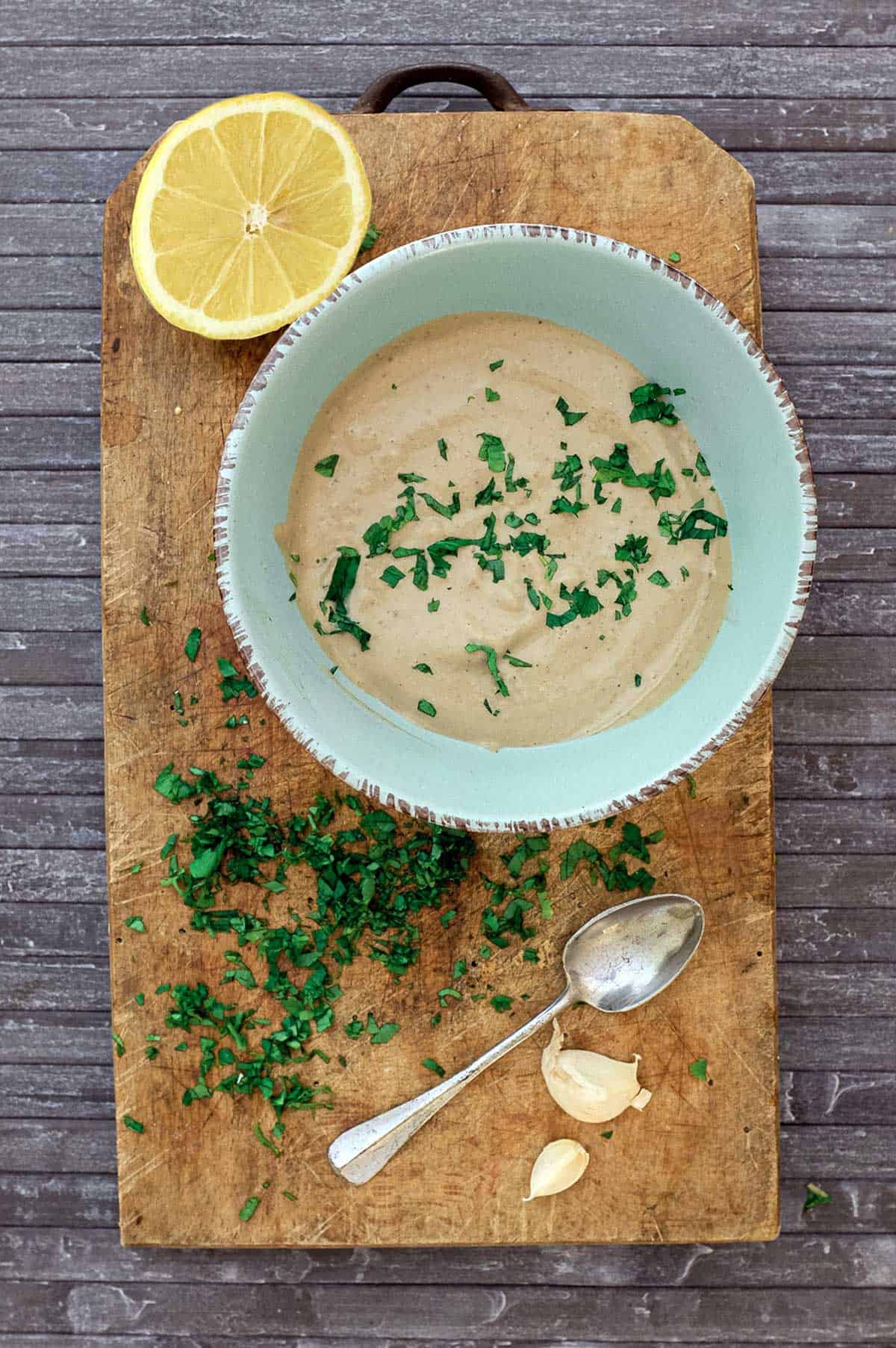 Ready to get started?
No cooking required guys! You'll be done in no time and have the most perfect sauce, ready to eat right away or use for so many other dishes. It's really up to you how you use it... personally I'l just pop it into a glass with a straw if I could. Enjoy!
Any Questions? (FAQ)
Have a question about my Anchovy Sauce recipe? Let me know in the comments.
Is anchovy and fish sauce the same?
No, typically what we refer to as fish sauce is a sauce using varying degrees of fermented anchovies, salt & water to create a salty liquid condiment. The Romans called it Garum, Asia features sauces like Nam Pla, Prahok, Bagoong, Nuoc Mam, Yulu, Gyosho, Eojang. In Europe Italy has a sauce called Colatura di alici and in England, Worcestershire Sauce.
This recipe for Anchovy sauce is more of an emulsified mayonnaise-style sauce like French Anchoïade.
What is anchovy sauce used for?
This anchovy sauce can be used as a dip, dressing, drizzle sauce, sauce for steak, meats or seafood, flavour enhancer for soups and stews and a pasta sauce. Very versatile!
What is anchovy sauce made of?
Blended anchovies, garlic, mustard, oil and lemon juice.
What does anchovy taste like?
The short answer is fishy and salty. They're a burst of umami and great on their own or used in small amounts as an ingredient for other dishes to bring a rounded saltiness to the overall flavour. The fishy flavour disappears when used in this way.
More delicious sauce recipes
If you liked this recipe, try some of my other delicious sauce and condiment recipes from around the World.
More French Recipes
Anchovy Sauce
Rate this recipe
Print Recipe
Pin Recipe
Save Recipe
Go to Collections
Calories (per serving) |
271
Instructions
Soak the anchovies in cold water for 5 minutes then drain and rinse with cold water. Drain again.

If you're using anchovies in oil, skip this step.

If you're using regular salted anchovies or anchovies in oil, skip this step.

If you're using flat, salt packed anchovies, carefully from the tail, peel one anchovy in half, upwards towards the head to create two halves. The back bone will be left on either the top or bottom half. Remove it by gently peeling away and discard.

Note: The backbone may break as it's fragile, so just do your best. We'll be pureeing the fish, so it's no big deal if it's in a million pieces! Repeat with all the anchovies.

Either using a regular blender or immersion blender, blend until smooth the anchovies, lemon juice, garlic, mustard and 2 tbsp olive oil.

TIP: If you're using anchovies in oil, add the oil from the can at this stage and reduce the oil by the same amount in the next stage.

Now, add 1/4 of the olive oil at a time and blend until smooth. Finally add the water and blend until incorporated. This will thin out the sauce and make it lighter.
Notes
Serving:
Anchovy sauce works well with meat and seafood.
It's particularly delicious with a juicy steak or lamb chops.
Vegetables also work excellently either raw or cooked. Try some crispy, bitter chicory or radicchio as scooping vessels or raw carrots and fennel.
Use a tablespoon or two as a Caesar-style salad dressing with crisp lettuce, crunchy croutons and Parmigiana Reggiano.
Hot new potatoes drizzled with the sauce are a match made in heaven as are asparagus or broccoli.
Fried or poached eggs also lend themselves to the deep umami sauce.
Use as a pasta sauce with spaghetti, a few chopped olive and some parsley.
Storing:
Fridge: Anchovy sauce will stay fresh for about a week in the fridge (well covered)
Freezer: I wouldn't recommend freezing, fresh is best.
Substitutes:
Anchovies of any kind are OK. Anchovies in oil don't need to be soaked, and the oil can be used as part of the oil in the recipe.
Herbs:
You can add a little herbal depth to the sauce by blending fresh herbs along with the other ingredients. I've had great results with 3-4 tbsp of either marjoram, tarragon and thyme.
Nutrition
Calories:
271
kcal
(14%)
|
Carbohydrates:
1
g
|
Protein:
5
g
(10%)
|
Fat:
28
g
(43%)
|
Saturated Fat:
4
g
(25%)
|
Polyunsaturated Fat:
3
g
|
Monounsaturated Fat:
20
g
|
Cholesterol:
13
mg
(4%)
|
Sodium:
30
mg
(1%)
|
Potassium:
102
mg
(3%)
|
Fiber:
0.3
g
(1%)
|
Sugar:
0.2
g
|
Vitamin A:
97
IU
(2%)
|
Vitamin C:
5
mg
(6%)
|
Calcium:
37
mg
(4%)
|
Iron:
1
mg
(6%)