Salmoriglio Sauce with Shrimp
Italian Salmoriglio sauce is a light, bright and fresh combination of lemon oil and herbs. A summery hit of Sicilian personality that perfect for fish and seafood like sweet, juicy shrimp. It's quick, easy and incredibly tasty.
My Salmoriglio with Shrimp is the perfect dish for a warm sunny day. It has a light, sharp citrus burst of Italian flavour which is the ideal partner to so many foods, especially seafood.
In Sicily, Italy they've been eating Salmoriglia for hundreds of years, and it's little wonder - it's the perfect balance of flavour, fragrance and texture. It's a Sicilian summer in liquid form.
What is Salmoriglio Sauce?
Salmoriglio sauce has its origins in the southern regions of Italy, particularly in Sicily, where it has been a staple condiment for fish dishes for centuries.
The name "salmoriglio" is believed to come from the word "salmuera," which means brine in Spanish, and refers to the sauce's tangy and slightly salty flavor.
The sauce was traditionally made with olive oil, lemon juice, garlic, and wild oregano, which grew abundantly in the rocky hills of Sicily. Over time, other herbs, such as parsley, celery leaves and basil, were added to the mix. As with many Italian dishes the exact recipe changes from family to family.
Salmoriglio sauce is often associated with grilled or roasted fish and the sauce can also be used as a marinade to add flavour before it's cooked.
Why it works
It's fresh! - nothing says Italy like a fresh, summery hit of zingy lemon and herbs it lifts seafood to new heights and is a quick and easy dish to put together at home.
It's versatile - Salmorigio sauce works so well alongside meats, fish and vegetables. It's so good over boiled potatoes! It's also a great marinade for meat and fish.
Stuff you'll need
The sauce is the star of the show here and the good news is that there aren't many ingredients. Choose large, juicy shrimp or a combination of other seafood and poach it simply. The sauce will breathe new life into it!
Extra virgin olive oil - best quality oil is key to a more luxurious flavour.
Lemon - We're using the zest and juice of a whole lemon for the full summer effect.
Oregano leaves - fresh! It has a much more fragrant aroma when fresh, so I never use dried.
Celery leaves - An interesting choice, you usually find leaves inside the head of celery or sometimes on the outside. They have a mild celery flavour.
Parsley - brings a grassy, herbaceous note - delicious.
Garlic - for a bit of body, minced garlic brings its magic.
Salt & pepper - a generous seasoning rounds the whole sauce off.
Step by Step
It couldn't be easier to put this together depending on your chopping skills, you could be done in 5-10 minutes!
Step 1 - Make a light emulsification of the lemon juice and extra virgin olive oil by whisking the two together.
Step 2 - mince the garlic, then chop the leaves and lemon zest very finely
Step 3 - Mix them all together and season generously with salt & pepper. That's it!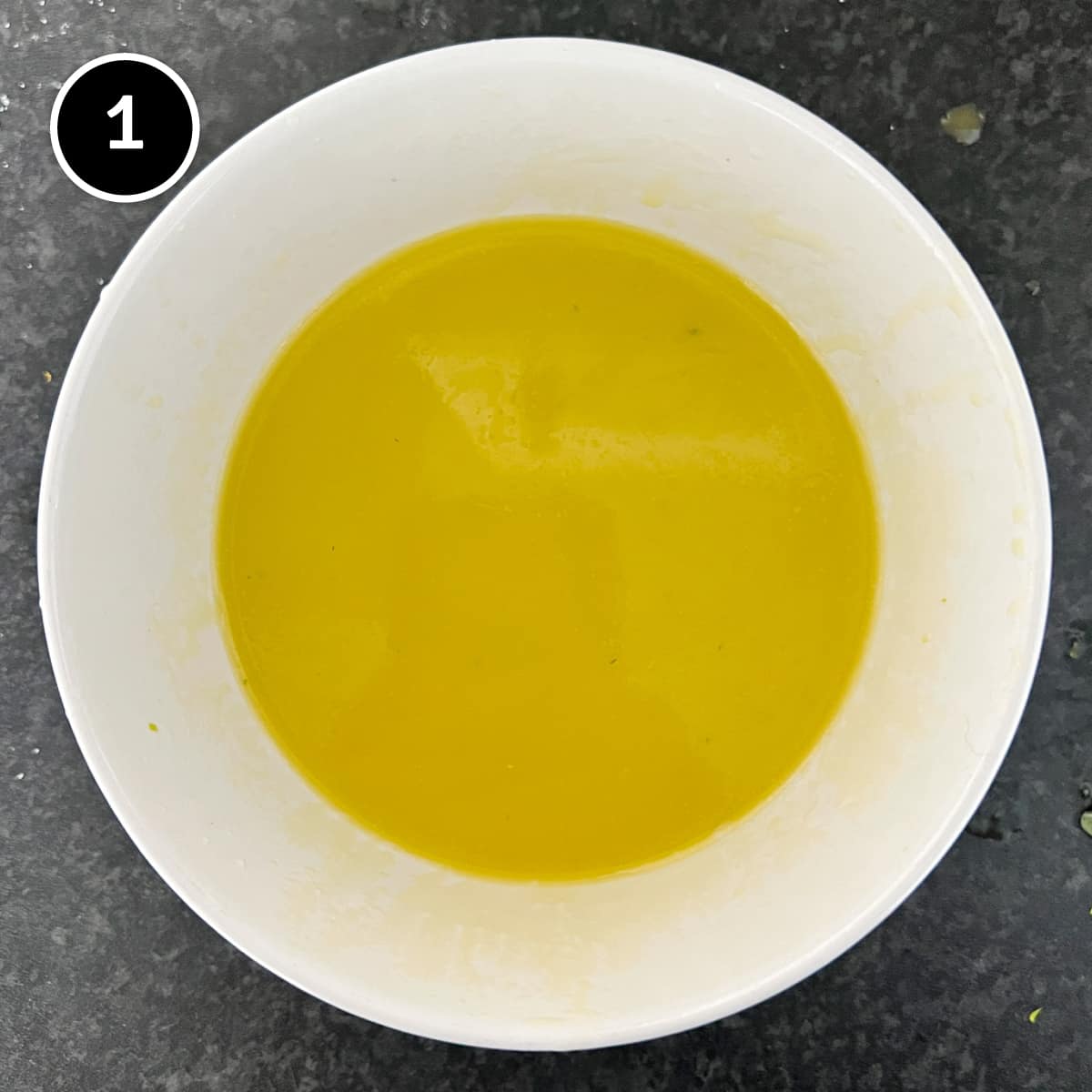 Serving suggestions
Salmoriglio sauce is versatile condiment and can work as a dressing, sauce or marinade - here are a few suggestions.
Sauce - Perfect alongside fish and seafood, meats, raw or cooked vegetables as a dipping or pouring sauce.
Dressing - Use it as a salad dressing for leafy greens or cold pasta salad.
Marinade - Use it to add flavour to fish and seafood, chicken or meats to inject flavour before it hits the hot grill.
Dip - Bread is a very good friend of salmoriglio. Bet a crusty loaf and you're set, you need nothing more!
Substitutions and additions
Salmoriglio has many variations and countless recipes. I stay fairly true to the traditional version, but from time to time may add extra ingredients for variations on flavour.
Alternative herbs - Thyme, basil, marjoram and even tarragon all work well.
More flavour - Sometimes I'll add tangy capers that I'll mince with a knife. Very finely chopped green olives work well too and finally a finely chopped pickled gherkin or cornichon adds a tasty salty note.
Preserved lemon - When I have them, I'll often add 1-2 pieces of finely chopped preserved lemon peel.
Storage
Fresh is best, but Salmoriglio will stay good in the fridge for 4-5 days. It's not suitable for freezing.
Ready to get cooking?
Salmoriglio is popular throughout Italy, but relatively obscure outside the country. And this is a crying shame! Once you see for yourself how it elevates the simplest of partners like my juicy shrimp you'll be a convert for life.
One of the most appealing things about salmoriglio sauce is that it's so quick and easy to make. 10 minutes and you're done - a quick and hugely effective little recipe to have up your sleeve! When the sun is out and the seafood fresh, there's nothing quite like salmoriglio. Buon appetito!
More Italian recipes
If you liked this recipe for Salmoriglio Sauce, you'll be sure to enjoy more of my favourite Italian recipes.
Salmoriglio Sauce with Shrimp
Rate this recipe
Print Recipe
Pin Recipe
Save Recipe
Go to Collections
Calories (per serving) |
398
Ingredients
1

lemon

(zest and juice)

1/2

cup

extra virgin olive oil

2

tbsp

oregano

(finely chopped)

2

tbsp

celery leaves

(finely chopped)

1

tbsp

parsley

(finely chopped)

1

garlic clove

(minced)

800

g

cooked shrimp

(shells on or off, chilled)

Salt & pepper
Instructions
Whisk the olive oil and lemon juice together until creamy

Stir in the minced lemon zest, garlic, garlic, oregano, celery leaves and parsley.

Whisk in the water and season with salt & pepper.

Serve a little sauce drizzled over the chilled cooked shrimp on a platter and a small bowl with extra sauce for dipping.
Notes
Here are some suggestions for serving salmoriglio sauce, as well as some substitutions and additions to try:
Serving Suggestions:
Sauce: Great with fish, seafood, meats, and vegetables as a dipping or pouring sauce.
Dressing: Use as a salad dressing for leafy greens or cold pasta salad.
Marinade: Add flavor to fish, seafood, chicken or meats before grilling or roasting.
Dip: Perfect with crusty bread.
Substitutions and Additions:
Alternative Herbs: Try using thyme, basil, marjoram, or tarragon in place of oregano.
More Flavor: Add minced capers, finely chopped green olives, or pickled gherkin for a salty note.
Preserved Lemon: Add 1-2 pieces of finely chopped preserved lemon peel for an extra tangy flavor.
Storage:
Best served fresh, but will stay good in the fridge for 4-5 days, covered. Not suitable for freezing.
Nutrition
Calories:
398
kcal
(20%)
|
Carbohydrates:
7
g
(2%)
|
Protein:
28
g
(56%)
|
Fat:
29
g
(45%)
|
Saturated Fat:
4
g
(25%)
|
Polyunsaturated Fat:
3
g
|
Monounsaturated Fat:
20
g
|
Trans Fat:
0.01
g
|
Cholesterol:
252
mg
(84%)
|
Sodium:
1140
mg
(50%)
|
Potassium:
323
mg
(9%)
|
Fiber:
2
g
(8%)
|
Sugar:
1
g
(1%)
|
Vitamin A:
526
IU
(11%)
|
Vitamin C:
16
mg
(19%)
|
Calcium:
161
mg
(16%)
|
Iron:
2
mg
(11%)
This recipe uses affiliations and may receive a commission based on your activity (link clicks). Learn more.