Jheenga Palak – Shrimp & Spinach Curry
This delicious and quick Indian prawn & spinach curry is ready in a snap and it's jam-packed with flavour and goodness. The juicy shrimp marries perfectly with the fragrant coconut palak/saag sauce and even better – it's ready in 20 minutes!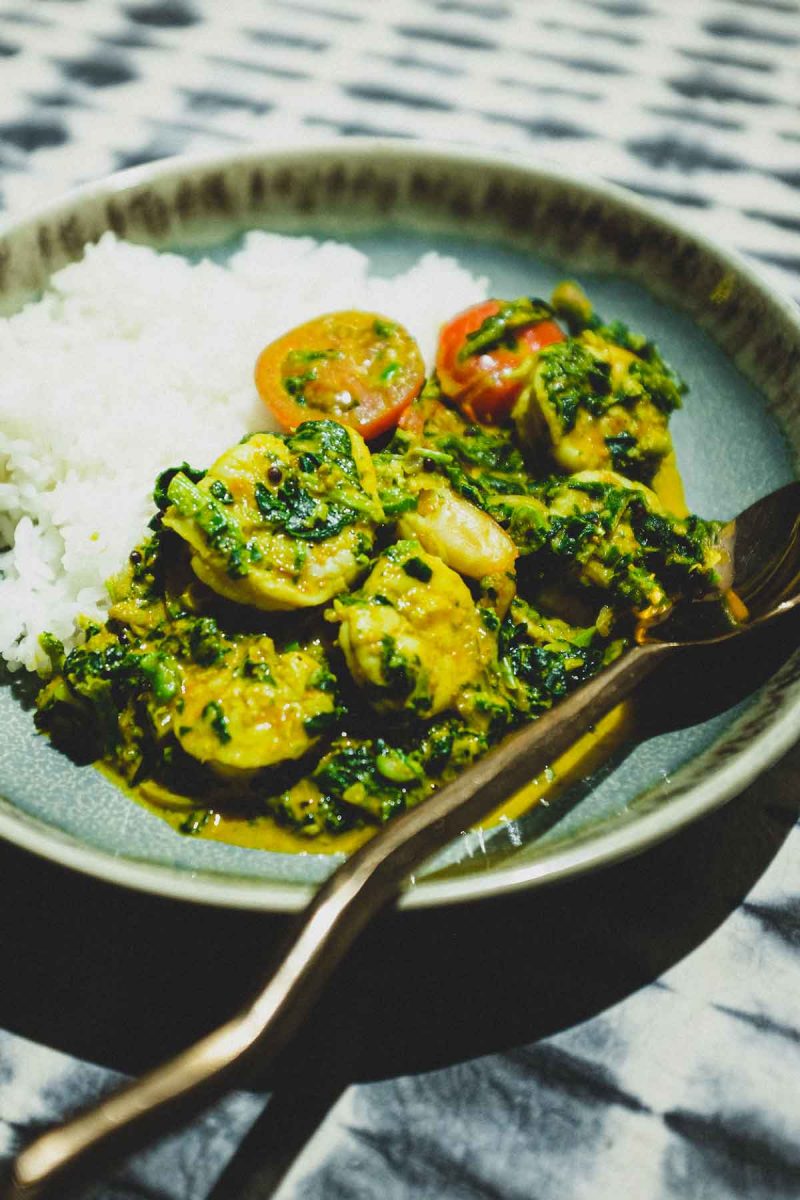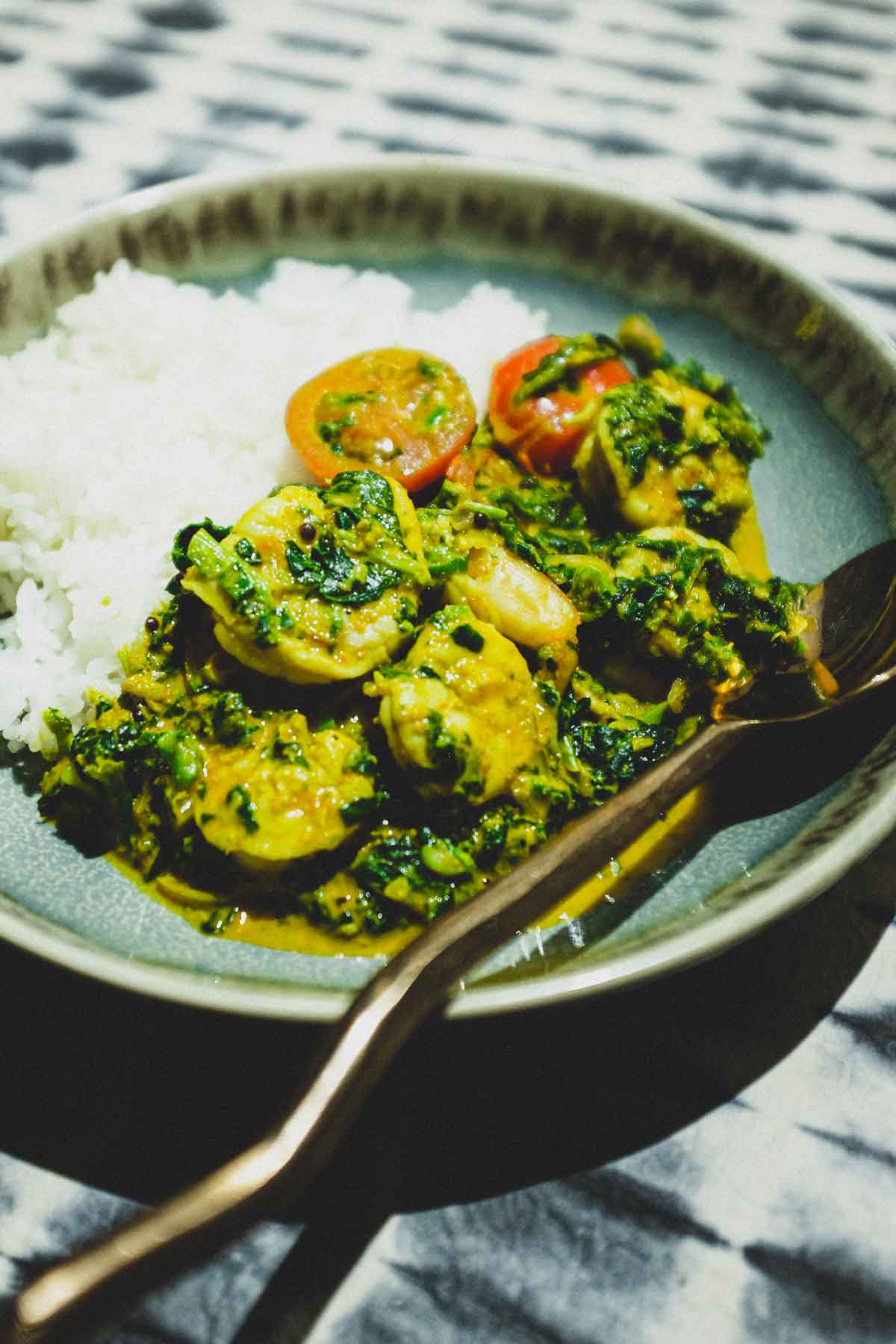 More often than not, I'm not down with a lengthy wait for dinner. I want all the benefits of a tasty meal, but I'm just not prepared to put in the time. That's just how it is some days and this is when my shrimp & spinach curry is just what I need.
Palak or Saag, what's the difference?
Palak means spinach. Often in Indian cuisine the terms palak and saag are interchanged but while palak is specific in its meaning, palak is more vague. It translates as 'leaf' so often can refer to ingredients such as fresh fenugreek, chilli leaves, mustard greens, chard and of course, spinach. Given the name of this dish is Jheenga (jinga) Palak, we will use spinach.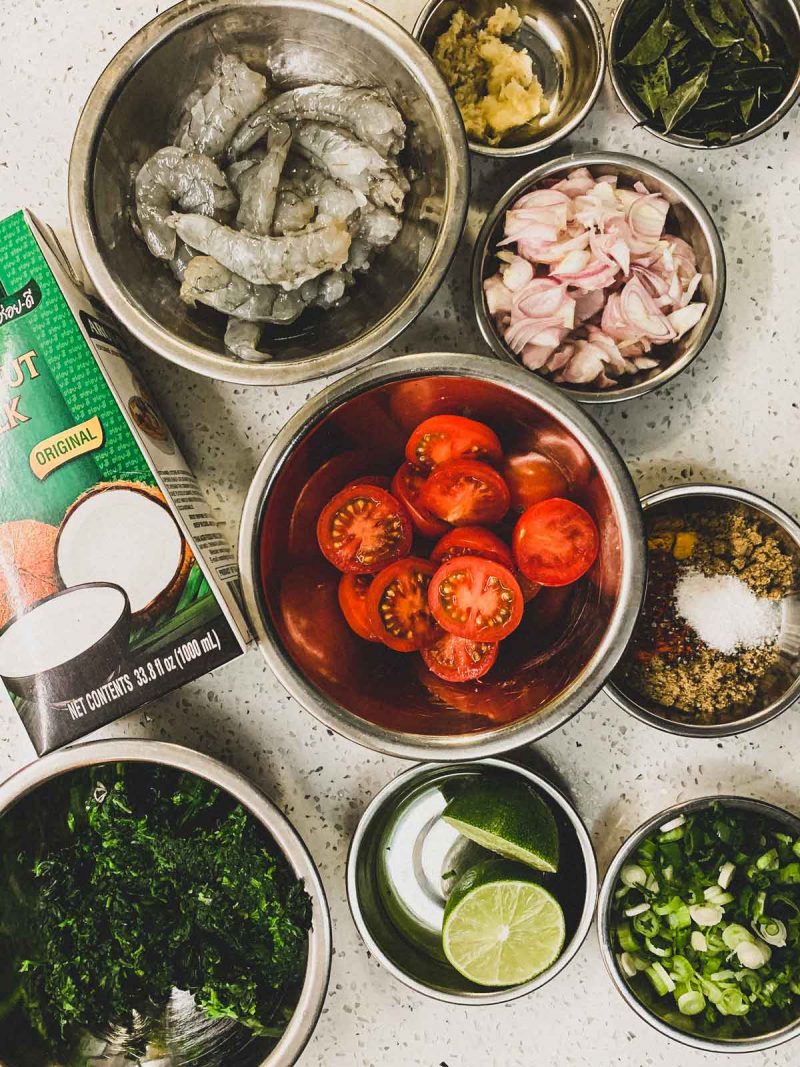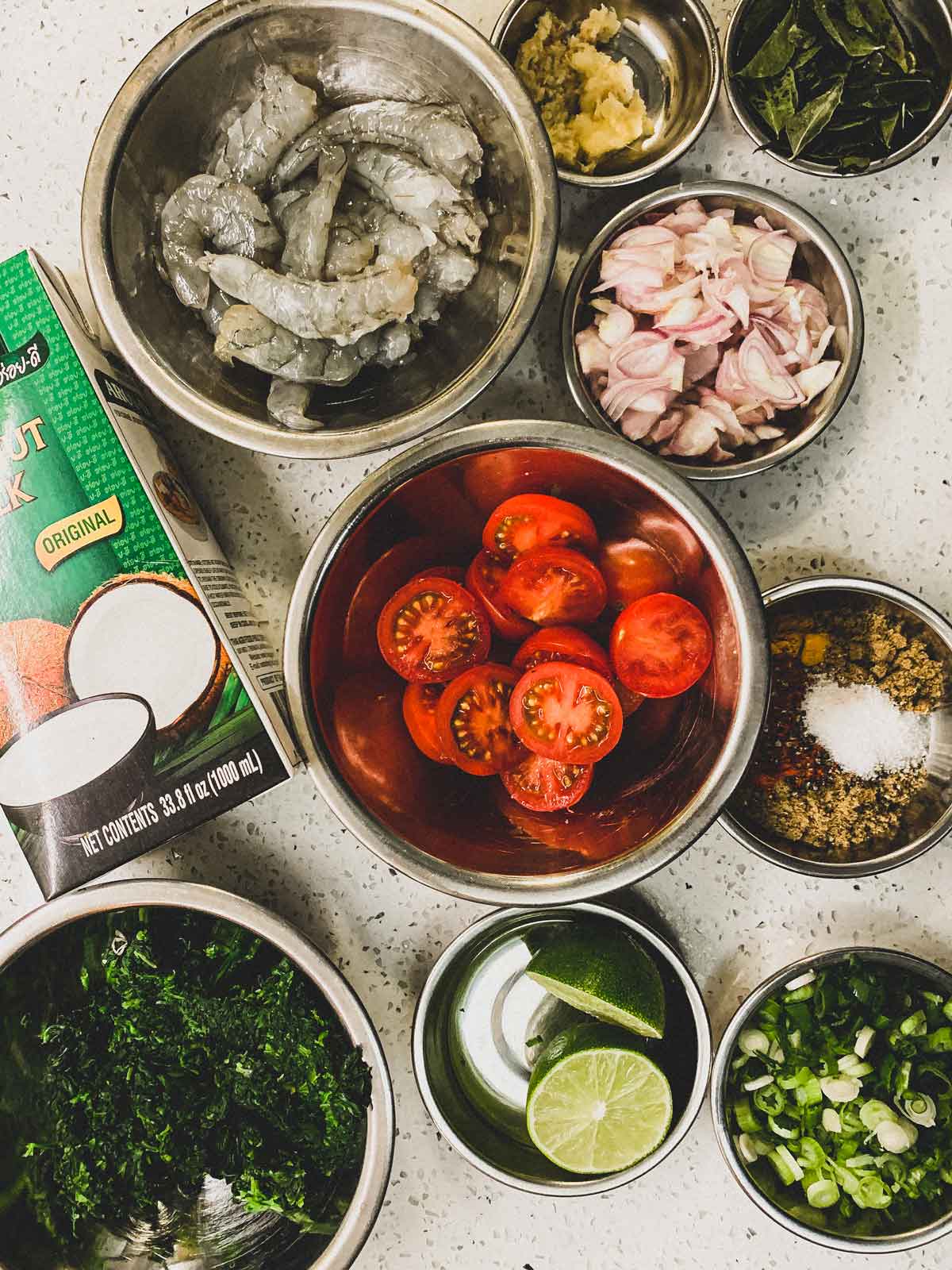 What you'll need
This Indian curry with spinach is quick and simple - more of a stir fry than a sit-and-wait style preparation. It's a rapid fire of ingredients, so have everything ready and waiting and you'll have your curry in a flash. There's a full recipe and video below, but here are the main flavours.
Shrimp (I like big, juicy shrimp for this recipe - King prawns/shrimp are my go-to).
Spinach (to avoid a watery curry, cook the spinach first then squeeze out the excess water and chop)
Spices (a simple roll-call of Indian spice staples. cumin, coriander etc.
Coconut milk - This dampens any spice and creates a rich, creamy sauce.
Cherry tomatoes - to counter the spice and creaminess, some tart and sweet cherry tomatoes are just the ticket.
Quick and easy (and tasty)
This curry has boatloads of fragrance and flavour and is packed full of irony goodness too. Jheenga Palak is a rich, creamy coconut dish, but a simple and fast way to create layer upon layer of authentic Indian flavours.
Next time you're in a hurry, be sure to sample the delights of my prawn and spinach curry.
More Indian and Asian seafood curry recipes.
If you love seafood, try some of these Indian and other Asian seafood curry recipes. They're guaranteed to satisfy any hunger!
How to make my Jheenga Palak -
Shrimp & Spinach Curry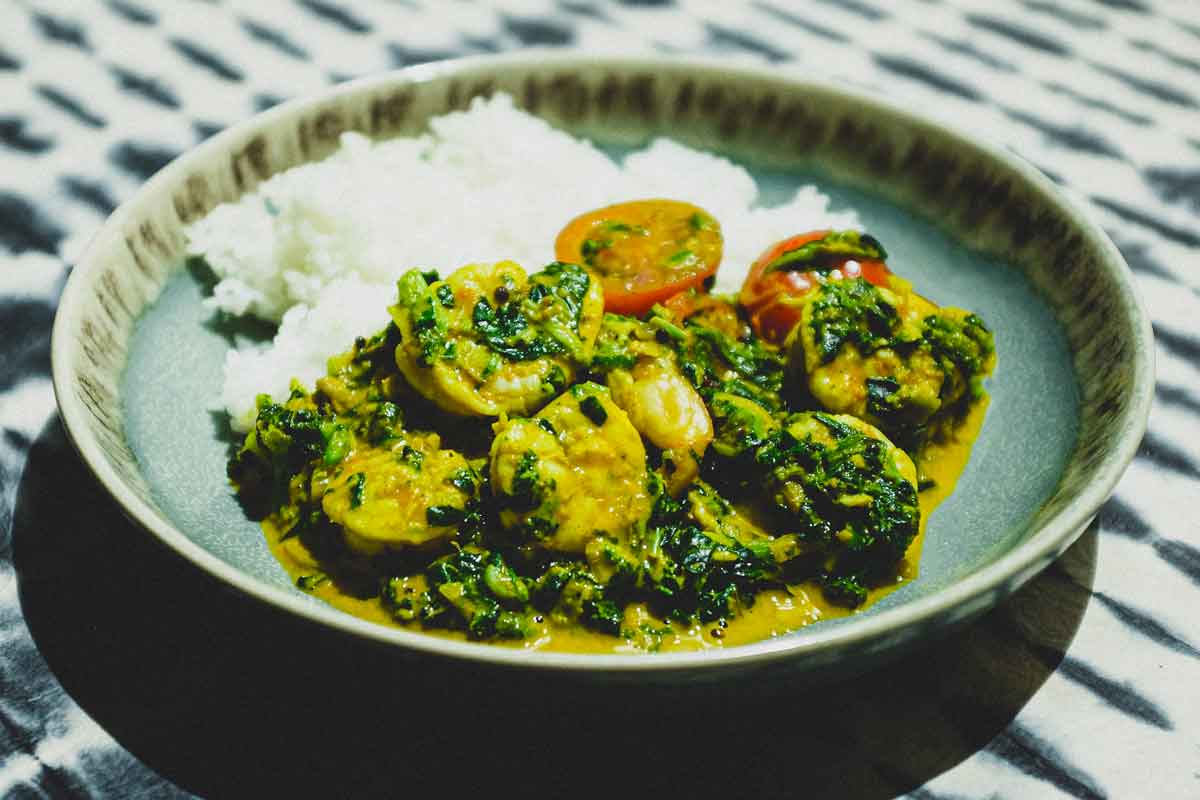 Jheenga Palak - Shrimp & Spinach Curry
Rate this recipe
Print Recipe
Pin Recipe
Save Recipe
Go to Collections
Calories (per serving) |
468
Instructions
To cook the spinach
Wash the spinach thoroughly and remove any thick stems. Place into a wok or large pan, the water on the leaves will be enough to cook them. Turn on the heat and pop on a lid - leave for 30-40 seconds and then remove the lid and stir the spinach until it's all wilted.

Drain the spinach in a sieve or collander coated with a clean tea towel. Leave to cool for 5 minutes then twist the towel into a ball and squueze out all the excess liquid from the spinach. Turn out onto a cutting board and chop the spinach finely. Set aside.
To cook the curry
Heat the oil in a wok or large pan over a moderate heat until hot. Add the mustard seeds, cumin seeds, cardamom seeds and curry leaves. Let them splutter for a few seconds until they start to pop.

Add the shallots and stir fry for 2-3 minutes.

Add the garlic and ginger and stir for 1-2 minutes more, adding a little water (1/4 cup) to avoid it burning.

Add the coriander, cumin, turmeric, chilli powder, paprika and salt and stir briefly before mixing in the shrimp.

Stir for 30 seconds then pour in 1 cup of the coconut milk. Bring to a simmer and cook gently for 3 minutes.

Stir in the chopped spinach and then add about 1 cup water. Cook for 2 minutes, stirring regularly.

Stir in the tomatoes and then the spring onions and cook for 1 minute to warm through.

Pour over the remaining 1/2 cup of coconut milk and then squeeze over the lime juice. Remove from the heat and serve!

Serve with lots of fluffy rice.
Nutrition
Calories:
468
kcal
(23%)
|
Carbohydrates:
14
g
(5%)
|
Protein:
27
g
(54%)
|
Fat:
36
g
(55%)
|
Saturated Fat:
29
g
(181%)
|
Polyunsaturated Fat:
1
g
|
Monounsaturated Fat:
3
g
|
Trans Fat:
1
g
|
Cholesterol:
210
mg
(70%)
|
Sodium:
1360
mg
(59%)
|
Potassium:
708
mg
(20%)
|
Fiber:
3
g
(13%)
|
Sugar:
3
g
(3%)
|
Vitamin A:
1390
IU
(28%)
|
Vitamin C:
148
mg
(179%)
|
Calcium:
181
mg
(18%)
|
Iron:
6
mg
(33%)