Jheenga Palak – Shrimp & Spinach Curry
This delicious Indian quick-curry is ready in a snap and it's packed with flavour and goodness too. Creamy coconut marries perfectly with all the spice and fragrance – learn how easy and speedy it is to make at home…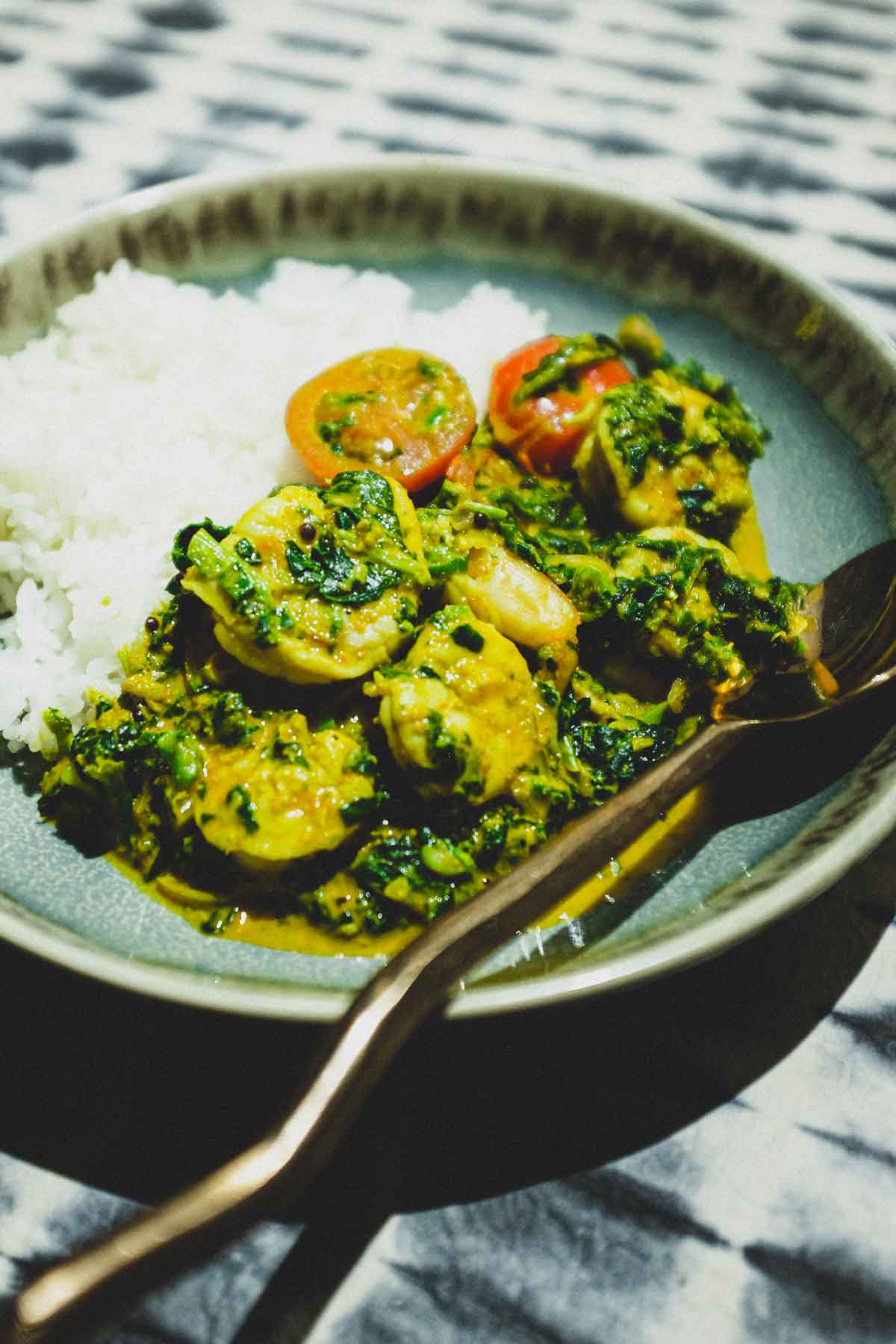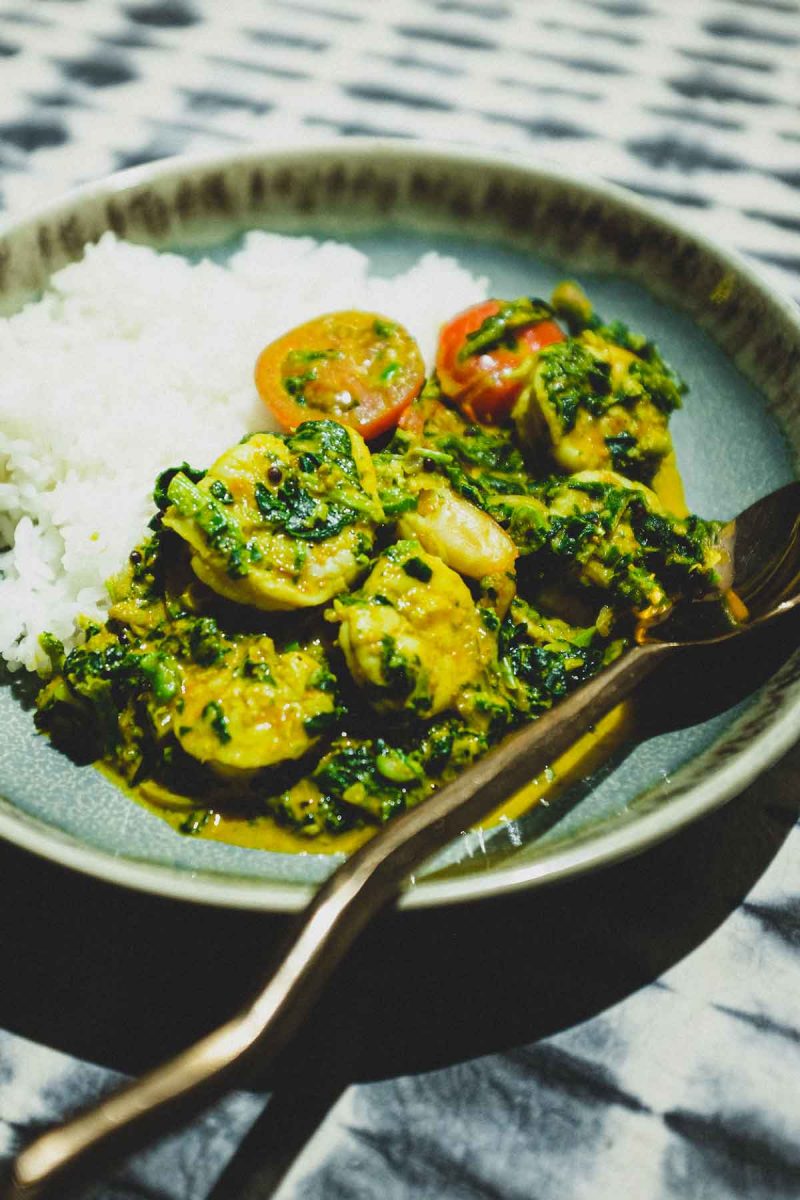 This Jheenga Palak (or Jinga Palak) is a Shrimp & Spinach Curry from India, and one of my go to curries for three reasons:
This shrimp curry is quick to cook! Less time waiting for food.
It's packed with Indian fragrance and flavour.
Spinach! You can just feel the health flowing through your body!
Quite often I'm not down with a lengthy wait for dinner. I want all the benefits of a tasty meal, but I'm just not prepared to put in the time. That's just how it is some days. In this instance, I always turn to a one pot marvel such as curry. Seafood curries in particular are quick to prepare and cook. But don't let this fool you into thinking they don't pack a hefty wallop of flavour. The ingredients a fresh and wholesome so you know they're doing you good. Superfood Spinach (palak) is full of nutrients - great for heart health, for skin, hair and bone health too. And it's used to flavour perfection in this recipe.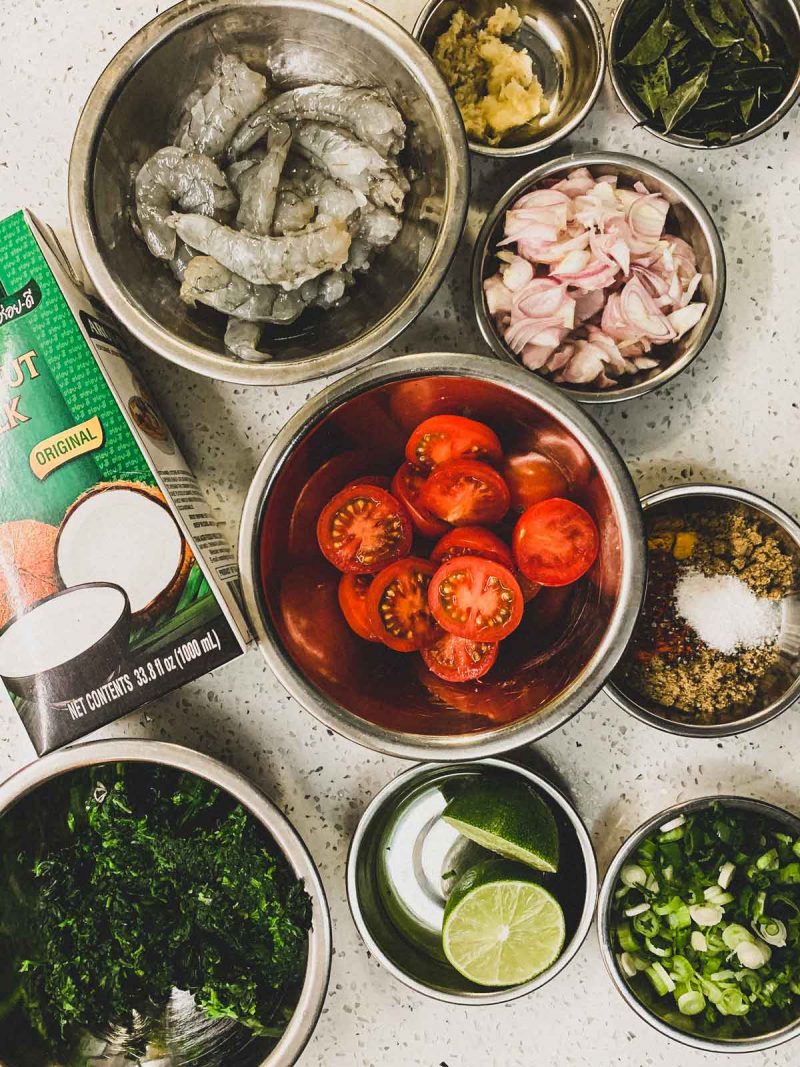 Quick AND Delicious! Two of my favourite words.
This curry has boatloads of fragrance and flavour and it's packed full of goodness too. There's something so amazing about the combination of leafy spinach, tomato and shrimp - earthy and sweet - a perfect pairing with Indian spices. A rich, creamy coconut sauce finishes the job in style, to create a wonderfully simple yet complex dish - and all in under 30 minutes. Just in time to stave off the hanger!
If you love this curry, you'll also find my South Indian Salmon Curry and my Kolkata Shrimp Curry winners too. Let's get hurrying and currying!
How to make my Jheenga Palak -
Shrimp & Spinach Curry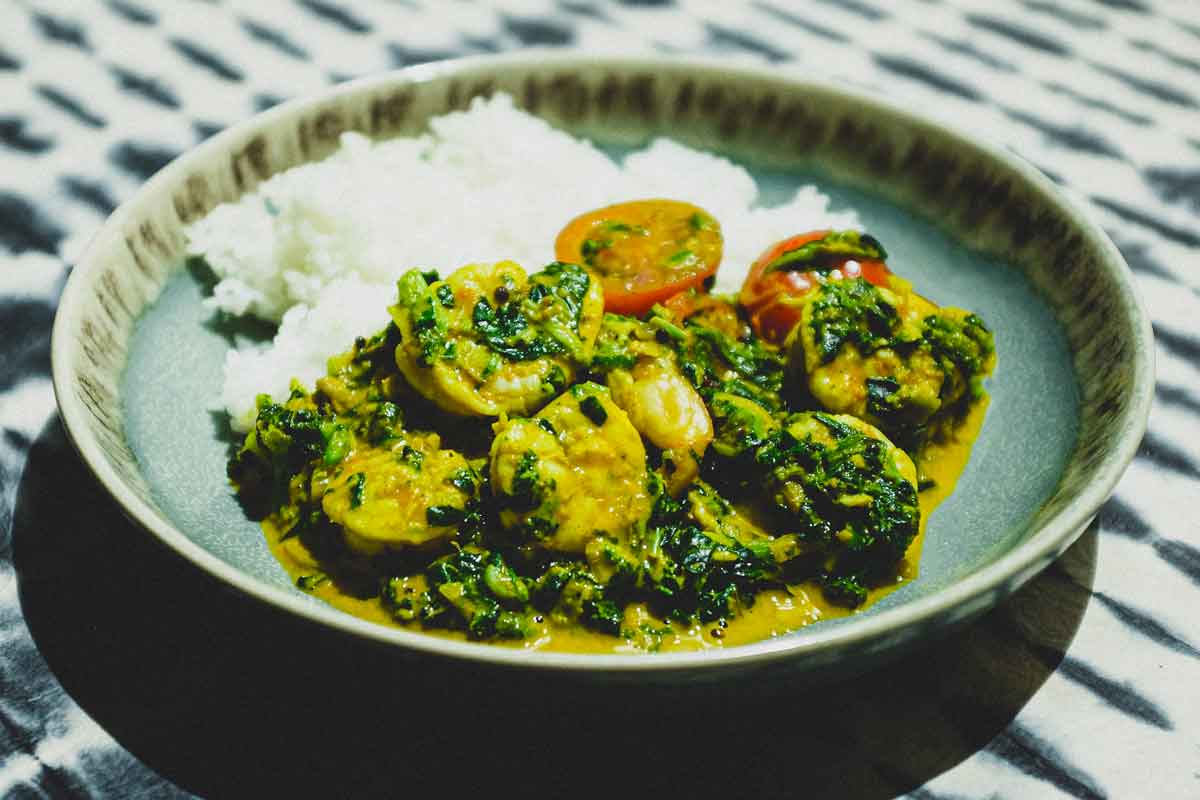 Jheenga Palak - Shrimp & Spinach Curry
Rate this recipe
Print Recipe
Pin Recipe
Calories (per serving) |
468
Instructions
To cook the spinach
Wash the spinach thoroughly and remove any thick stems. Place into a wok or large pan, the water on the leaves will be enough to cook them. Turn on the heat and pop on a lid - leave for 30-40 seconds and then remove the lid and stir the spinach until it's all wilted.

Drain the spinach in a sieve or collander coated with a clean tea towel. Leave to cool for 5 minutes then twist the towel into a ball and squueze out all the excess liquid from the spinach. Turn out onto a cutting board and chop the spinach finely. Set aside.
To cook the curry
Heat the oil in a wok or large pan over a moderate heat until hot. Add the mustard seeds, cumin seeds, cardamom seeds and curry leaves. Let them splutter for a few seconds until they start to pop.

Add the shallots and stir fry for 2-3 minutes.

Add the garlic and ginger and stir for 1-2 minutes more, adding a little water (1/4 cup) to avoid it burning.

Add the coriander, cumin, turmeric, chilli powder, paprika and salt and stir briefly before mixing in the shrimp.

Stir for 30 seconds then pour in 1 cup of the coconut milk. Bring to a simmer and cook gently for 3 minutes.

Stir in the chopped spinach and then add about 1 cup water. Cook for 2 minutes, stirring regularly.

Stir in the tomatoes and then the spring onions and cook for 1 minute to warm through.

Pour over the remaining 1/2 cup of coconut milk and then squeeze over the lime juice. Remove from the heat and serve!

Serve with lots of fluffy rice.
Nutrition
Nutrition Facts
Jheenga Palak - Shrimp & Spinach Curry
Amount Per Serving
Calories 468
Calories from Fat 324
% Daily Value*
Fat 36g55%
Cholesterol 210mg70%
Sodium 1360mg59%
Potassium 708mg20%
Carbohydrates 14g5%
Protein 27g54%
Vitamin A 1390IU28%
Vitamin C 148mg179%
Calcium 181mg18%
Iron 6mg33%
* Percent Daily Values are based on a 2000 calorie diet.
This site contains affiliate links to products. We may receive a commission for purchases made through these links. Learn more.