Beetroot Risotto with Taleggio Cheese
Beetroot risotto is a creamy, vivid delight. Earthy and lightly sweet with a soft and luxe addition of Taleggio cheese. It's a visual and flavourful sensation!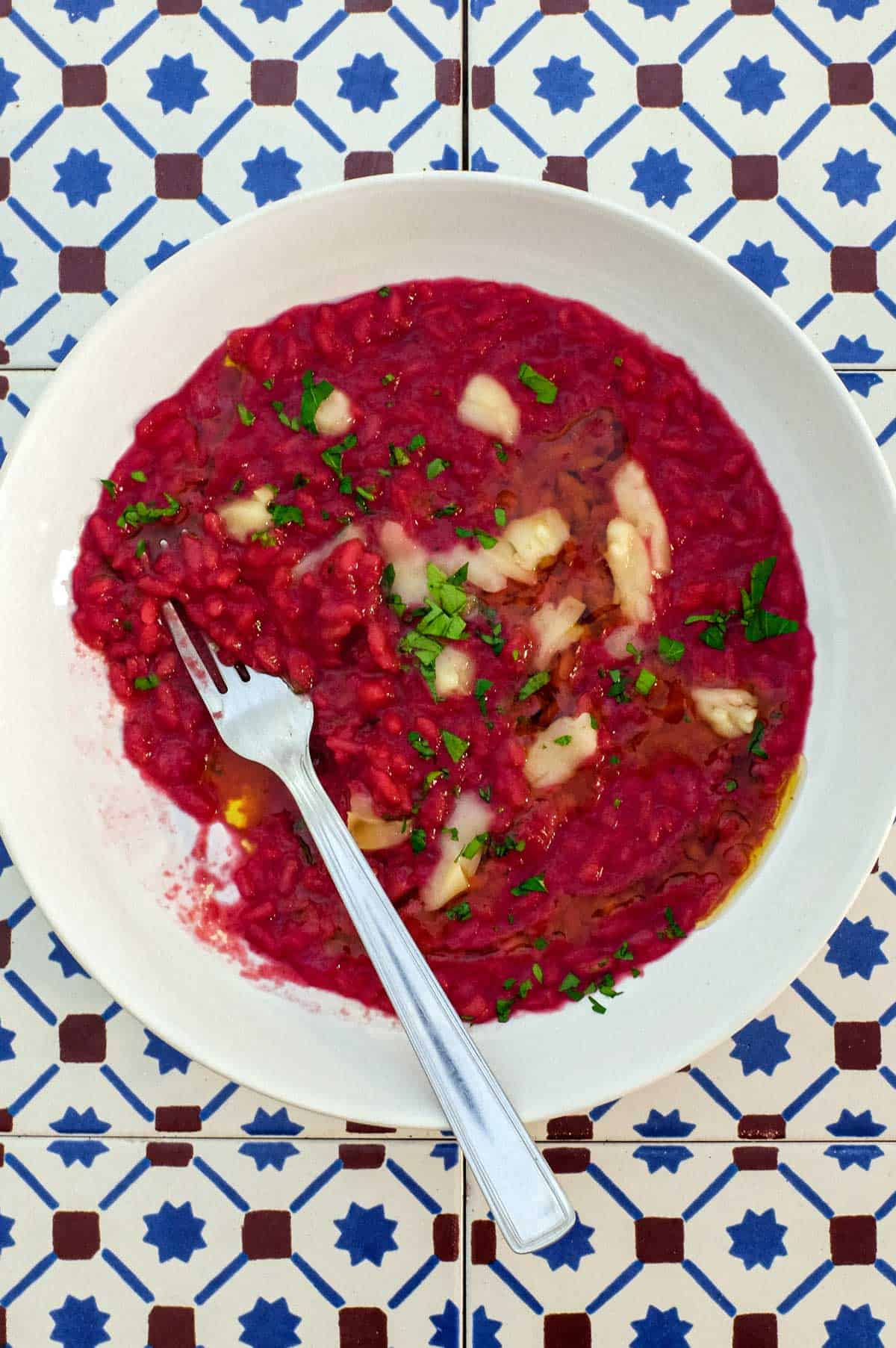 Risotto is one of my most favourite Italian dishes to eat. Incredibly warming, filling and satisfying, I would eat it every day given the chance. This beetroot version works on every sensory level. The first thing that strikes you is the colour - the vivid pink hue looks so bold and inviting. Beetroot is one of my most loved vegetables with its complex earthiness and sweetness. This makes for an amazing combination when paired with the creamy Carnaroli rice and soft gooey Italian Taleggio cheese. Perfection!
Risotto is an art form in itself, easy to make, but easy to make badly. The key is to know when it's ready, but also how it should be served. Risotto rice when cooked, should be soft but still have a little bite left inside. The consistency of risotto should be creamy, velvety and a little soupy. If it can hold its own weight in a mound, it's too dry.
Which rice to use for risotto?
There are three risotto rices that can be used for this beetroot risotto. Each is a short/medium grain with a high starch content, making them the ideal grain to impart creaminess to the finished risotto.
Carnaroli - the King of Italian risotto rice, carnaroli rice is plump and full of starch but holds its shape and has the perfect bite when cooked. When stirred in the broth, this starch is released to help create the unique creamy texture. In Italy, Carnaroli is widely considered the best rice to use for risotto. This is the rice I used for my beetroot risotto.
Vialone Nano - In the Veneto region of Italy, Vialone Nano grain is popular, again it has a high starch content, is highly absorbent and holds its shape well when cooked.
Arborio - The easiest rice variety to find outside Italy, Arborio Rice is a good contender for risotto, but isn't as robust as Carnaroli or Vialone Nano. Special attention should be paid to ensure the grain doesn't become too mushy and overcooked.
There are other risotto worthy grains - look out for Baldo, S. Andrea, Maratelli, Ribe, and Roma.
Why Beetroot risotto works so well!
Beet risotto ticks every box of what I look for in a soul warming bowl of comfort food. Creamy, luxurious, savoury, umami, cheesy and filling. All that and it's beautiful to look at too. A simple, one pan dish that never fails to delight. And if you're lucky enough o have leftovers, it's the meal that gives again in form of delicious fried Suppli or Arancini balls.
Stuff you'll need
Making beetroot risotto is easy and there aren't a tonne of ingredients either. Here are the key ingredients to give you that authentic flavour.
Carnaroli Rice - see above for an explanation of other Italian rice varieties that are suitable for risotto.
Beet/beetroot - For risotto, I normally buy the pre cooked fresh beetroot from the supermarket (not preserved/pickled), or, I roast my own by wrapping them in foil and cook until soft 40-60 minutes. I'll peel them and cut into large chunks.
Onion - is the base of the risotto
Stock - I use vegetable stock mostly, but you can use chicken too.
Wine - I use white or rosetta (rose).
Dairy - I beat a little Taleggio in the risotto together with butter and a little Parmigiana Reggiano. I'll also dot a few pieces of soft Taleggio on top for added flavour.
Step by Step
Creating a good risotto isn't hard, you just need to keep a keen eye on the texture to ensure your grains of rice are cooked properly. Here's how to make the beetroot risotto perfect every time.
Step 1 - Puree the cooked beetroot using a blender or immersion blender. We'll use this later.
Step 2 - Gently fry some onion until soft, this is the flavour base of the risotto.
Step 3 - Add the risotto rice to the pan and gently fry the grains for a minute or two.
Step 4 - Adding stock to the pan in cupfuls over a moderate heat to keep the rice immersed. Stirring at this stage will also release some of the much needed starch to create the right creamy texture. As the risotto dries out, we add more stock and repeat this process for about 12-15 minutes until the rice is almost cooked, with a little bite in the centre.
Step 5 - Stir in the beetroot and bring this back to a bubble, adding a little more stock to keep the consistency creamy. Cook for about 1 minute then turn off the heat.
Step 6 - This stage is called 'mantecare'. Using a spoon, we quickly beat in the butter, Parmigiana and Taleggio until melted. The consistency will become very creamy. That's it! Serve as soon as possible with a little extra Taleggio, a scattering of parsley and a little slug of extra-virgin olive oil.
Serving and storing suggestions
Serve hot. Serve your risotto immediately, the longer you leave it in the pan, the thicker it'll become. Risotto is best served the minute it's ready.
Primi or Secondi. Serve as a starter course (primi) or main course (secondi) on its own or with a simple side salad of fresh peppery rocket leaves.
Suppli & Aranchini. If you have leftovers then do as Italians do and make arancini or Suppli

. The cold risotto is rolled into balls (often stuffed with a little cheese or meat), then tossed into breadcrumbs, then deep fried. Pure perfection!

Refrigerate leftovers for up to 5 days in the fridge or you can also freeze leftovers with a view to making arancini or suppli.
Ready to get cooking?
Add this amazing beetroot risotto to your Italian repertoire, it's a quick and easy dish to put together and works on every sensory level; colour, texture, fragrance AND flavour. It's one of my most favourite risotto recipes to make at home and when you try it yourself, you'll see why. Buon Apetito.
Any Questions? (FAQ)
Have a question about risotto? Let me know in the comments.
Is risotto really rice?
Technically speaking, yes. 'Riso' means rice in Italian, but the technique of cooking rice in broth can be applied to many grains like barley, bulgur and even vegetables like cauliflower can be crumbled to share the appearance of rice grains. But in its purest form Risotto = Rice.
What is so special about risotto?
Risotto is so loved by Italians because it's a simple, versatile, hearty and flavoursome dish to make at home. Almost any ingredient can be applied to risotto. Vegetables, mushrooms, seafood, saffron, wine, nuts and and so much more.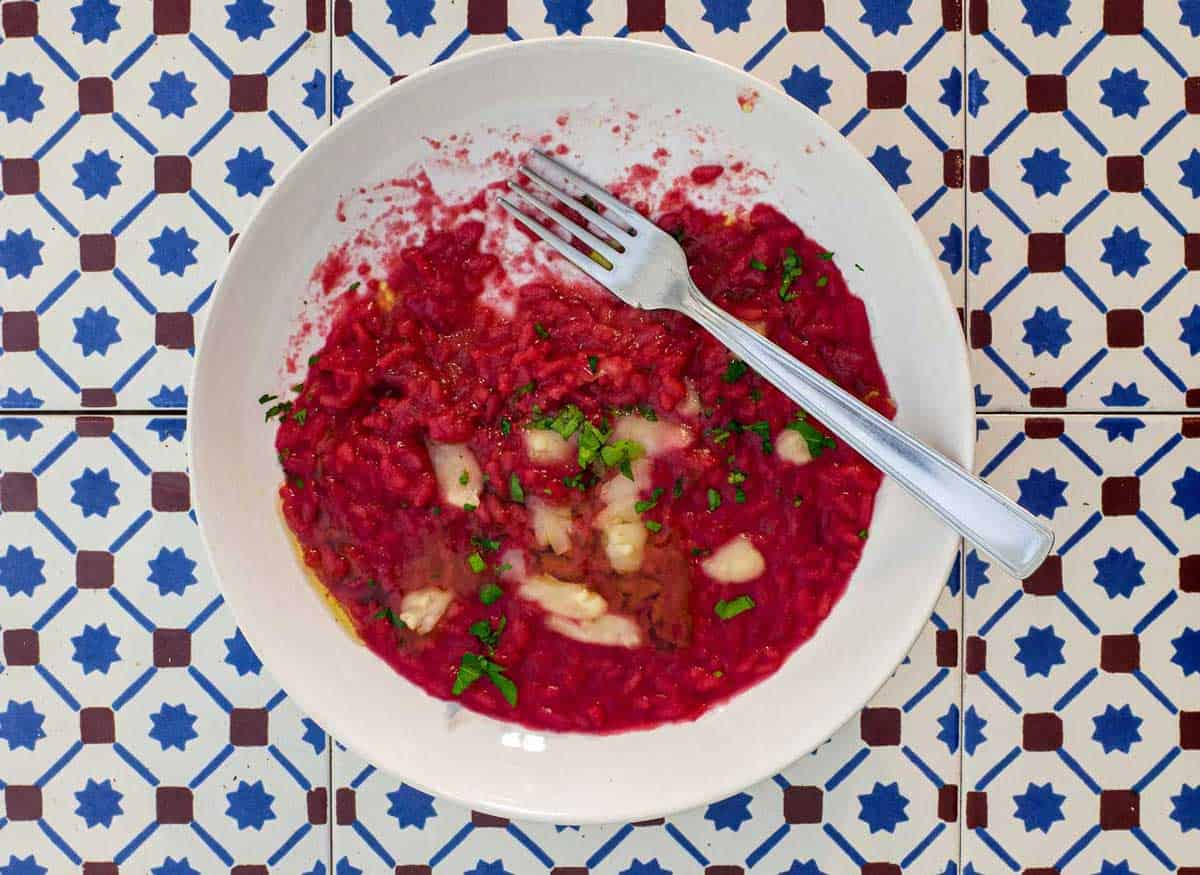 Beetroot Risotto with Taleggio Cheese
Rate this recipe
Print Recipe
Pin Recipe
Save Recipe
Go to Collections
Calories (per serving) |
1164
Instructions
Heat the stock in a saucepan pan until hot. Reduce the heat to keep it hot without simmering.

Meanwhile, using an immersion blender or blender, blend the beetroot into a smooth puree. Set aside.

Heat the oil in a deep sauté pan until just hot. Add the onion and stir for 2-3 minutes until soft.

Add the rice and stir fry for 1-2 minutes. Add the wine and stir. Let it sizzle for 30 seconds or so to burn off the alcohol.

Add 2 ladlefuls of stock and a little salt & pepper to the pan and stir in. Reduce the heat a little and let the rice simmer gently until most of the stock has been absorbed. Add more stock in ladlefuls repeating the process for about 10 minutes until the rice is almost cooked but still has a bite.

Add the pureed beet and a little more stock and stir well to incorporate. Let this come to a simmer and cook for a further 2-3 minutes until the rice is cooked through but not mushy.

Remove from the heat and beat in the butter and parmigiana cheese until rich and creamy. It should be fairly soupy in consistency, so beat in a little more stock if it's not.

Serve right away in shallow bowls with little cubes or slices of the taleggio cheese scattered over and a small sprinkle of parsley. Finally, a little drizzle of extra virgin olive oil and you're good to go!
Notes
Types of rice to use for Risotto:
There are three commonly used rice grains for risotto. The recipe is the same whichever you choose. Carnaroli, Vialone Nano and Arborio are ideal choices.
There are other risotto worthy grains - look out for Baldo, S. Andrea, Maratelli, Ribe, and Roma.
Leftover Risotto:
While risotto should be eaten hot and right away, whatever you do, don't throw away any leftovers. You can create the most delicious fried rice ball snacks using leftover risotto called arancini or suppli. Here's a recipe for suppli: cookeatworld.com/suppli-italian-rice-balls/
Storing:
If you're storing risotto, it's already too late to enjoy it at its best as risotto, so consider making arancini or suppli (recipe above). Cooked risotto will stay good in the fridge for 5 days and in the freezer for up to 3 months. Defrost thoroughly before using.
Nutrition
Calories:
1164
kcal
(58%)
|
Carbohydrates:
106
g
(35%)
|
Protein:
29
g
(58%)
|
Fat:
61
g
(94%)
|
Saturated Fat:
33
g
(206%)
|
Polyunsaturated Fat:
3
g
|
Monounsaturated Fat:
18
g
|
Trans Fat:
1
g
|
Cholesterol:
132
mg
(44%)
|
Sodium:
4081
mg
(177%)
|
Potassium:
646
mg
(18%)
|
Fiber:
7
g
(29%)
|
Sugar:
17
g
(19%)
|
Vitamin A:
4181
IU
(84%)
|
Vitamin C:
13
mg
(16%)
|
Calcium:
655
mg
(66%)
|
Iron:
6
mg
(33%)