Pampanella Molisana (Paprika Roast Pork from Molise)
This vibrant red roasted pork is a speciality of the Molise region of Italy. Pampanella Molisana is an explosion of colour and flavour – a burst of smoky, earthy and spicy notes that envelope every inch of the tender, juicy pork – it's a truly under appreciated Italian gem!
When you're traveling in the Molise region of Italy, you'll invariably happen upon one of Italy's 'hidden' wonders. Pampanella is a spectacular pork dish that is jam-packed with colour and flavour. Paprika brings all its magic to the pork - delivering a rich red hue to the slow-roasted meat.
Paprika isn't a commonly used spice in Italian cuisine, so it's somewhat of a surprise to see it used in such abundance in this recipe. It's that generosity of paprika that makes for something very special indeed. Sweet, smoky and spicy - Pampanella Molisana is the perfect harmony of flavour and colour.
What is Pampanella?
Pampanella is a traditional pork dish found in the Molise region of Italy. It is relatively unknown dish elsewhere but much loved in the region. There are countless restaurants and street vendors who offer up the bright red pork in various combinations. Various prime cuts of meat are used from the ribs, loin, butt, shoulder to the belly. The meat is marinated in a generous paprika mixture, made from local varieties of chilli) then slowly roasted.
Like my ultimate favourite Italian pork recipe, porchetta, pampanella is often served as a sandwich alongside pickles and greens and it's how I first discovered it in Italy. From a wonderful butchers in the beautiful commune of San Martino in Pensilis, Molise - I devoured my sandwich in seconds and was super excited to learn how to make it at home.
Pampanella gets its name from the 'Pampini' leaves (vine/grape leaves) which were traditionally used to wrap the meat for roasting. Nowadays, parchment paper or foil wraps the pork, but the name stuck. It's an amazing dish that emphasises just how diverse and exciting regional Italian food can be. If you're not familiar with Pampanella Molisana, now's the time to make friends!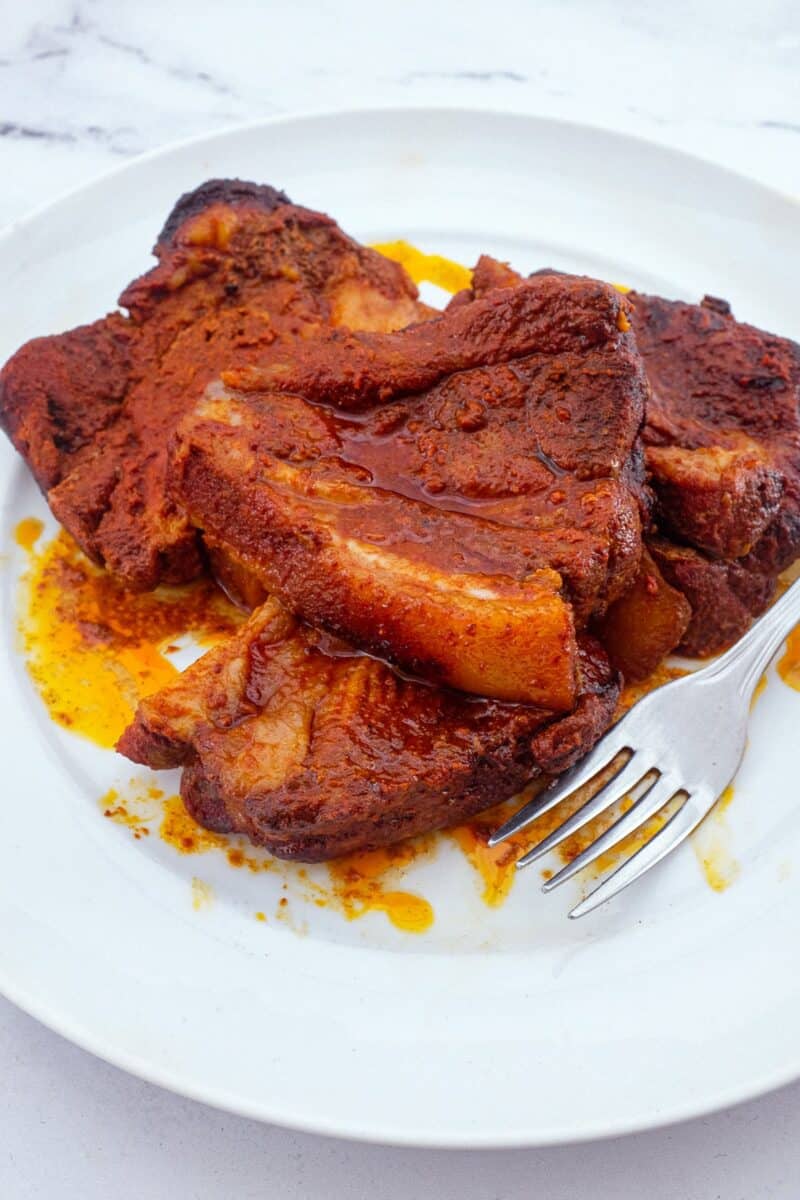 Key Ingredients
Pampanella is a very simple dish to put together at home, with only a handful of ingredients, but it's important to make those ingredients count. Here's the low down...
Pork - Pampanella is a pork dish, but not any particular cut. The rule of thumb is that there should be some marbling of fat to ensure the pork stays moist and juicy during roasting. Pork can dry out, especially lean loin cuts, so I avoid those. I generally use pork butt, ribs, shoulder and sometimes regular pork chops.
Two types of Paprika - The pampanella recipe calls for two types of paprika:

Sweet paprika - Be sure to buy the best, freshest paprika you can find. I buy mine at the local Indian supermarket, you can rely on Indian spices to be fresh - Supermarket spices will most likely be old and have less flavour.
Spicy Paprika - we mix in a little spicy paprika to add a depth of flavour. I use Spanish smoked hot paprika for this. If you can't find this, try a little regular chilli powder

Garlic - Garlic granules are added to the spice mix for a little more flavour. You can use chopped or minced fresh garlic too if you like.
Sea salt - a good quality sea salt for flavour
White wine vinegar - just before roasting, a few splashes of white wine vinegar dot the pork to bring out the sweetness of the paprika and pork.
A few simple steps to cook
Pampanella is really not difficult to create at home. The key to success is in creating as much surface area as we can to apply our spice rub. This maximises the flavour and ensures every inch of the meat has colour and taste. For my pampanella recipe, I use pork butt as it gives a high yield of juicy, tender meat but you can apply the same principles to any cut.
Mixing the spice rub

Simply combine the paprikas, salt and garlic granules to create the spice rub.

Cutting the pork

Using a pork butt, cut the meat into 1-inch slices that stop short of the bottom, we create a type of 'pork book' with meaty pages!

Marinating the pork

Now! Pop on some kitchen gloves - this is RED and your hands will be a mess if you don't cover them. Douse very generously with the spice mix, being sure to coat each 'page' of the book thoroughly. The more the better. Sit the pork on a sheet of parchment paper inside a baking dish or tin that fits the meat snugly. Cover and refrigerate for at least 1 hour, but longer is great too. 24-hours will give you the best results.

Sprinkling Vinegar

Just before roasting, sprinkle over 1-2 tablespoons of white wine vinegar.

Wrapping and roasting

Wrap the meat tightly and roast in the oven for 2 1/2 - 3 hours - basting in the juices once or twice during the roast (re-wrap tightly after each baste to avoid losing colour on the meat).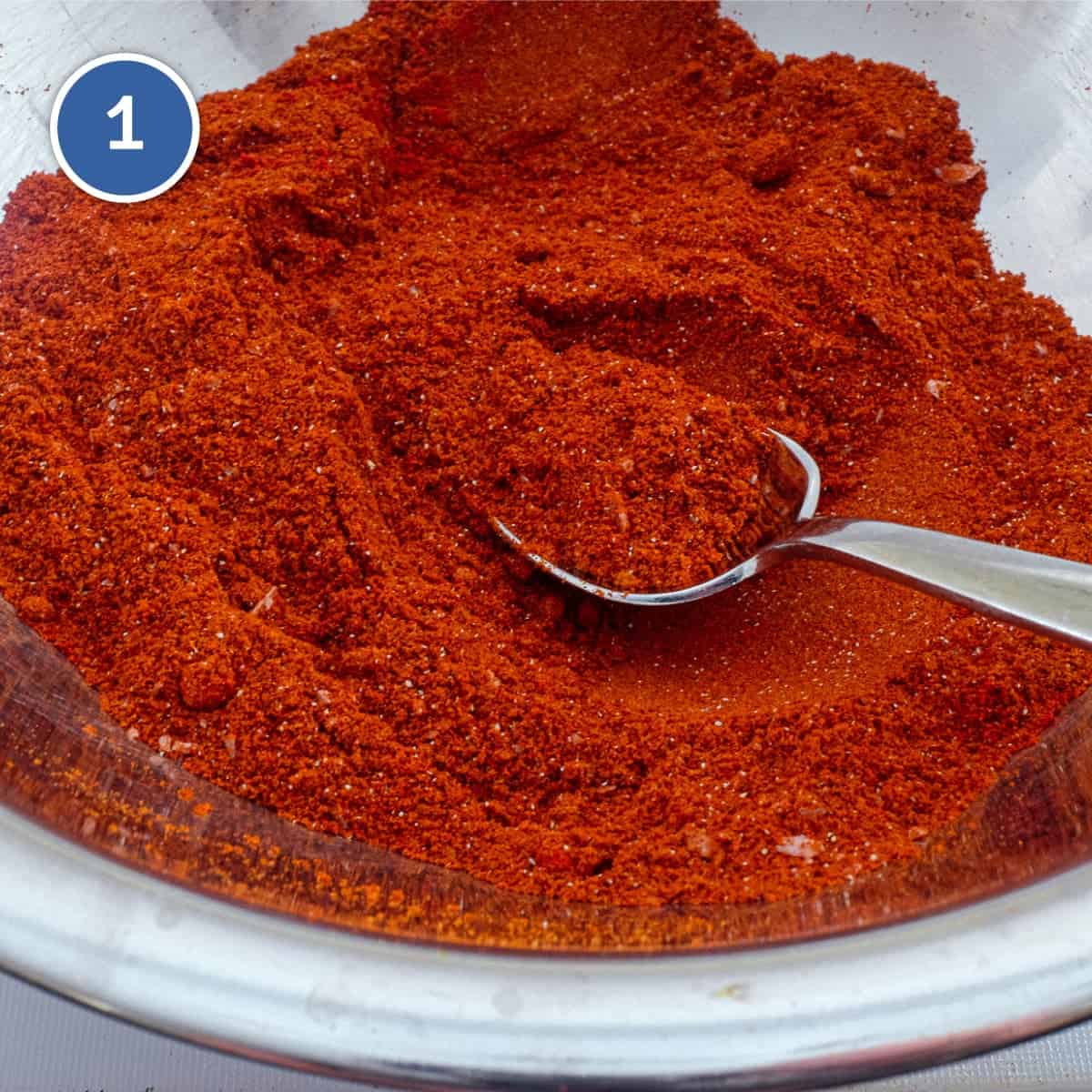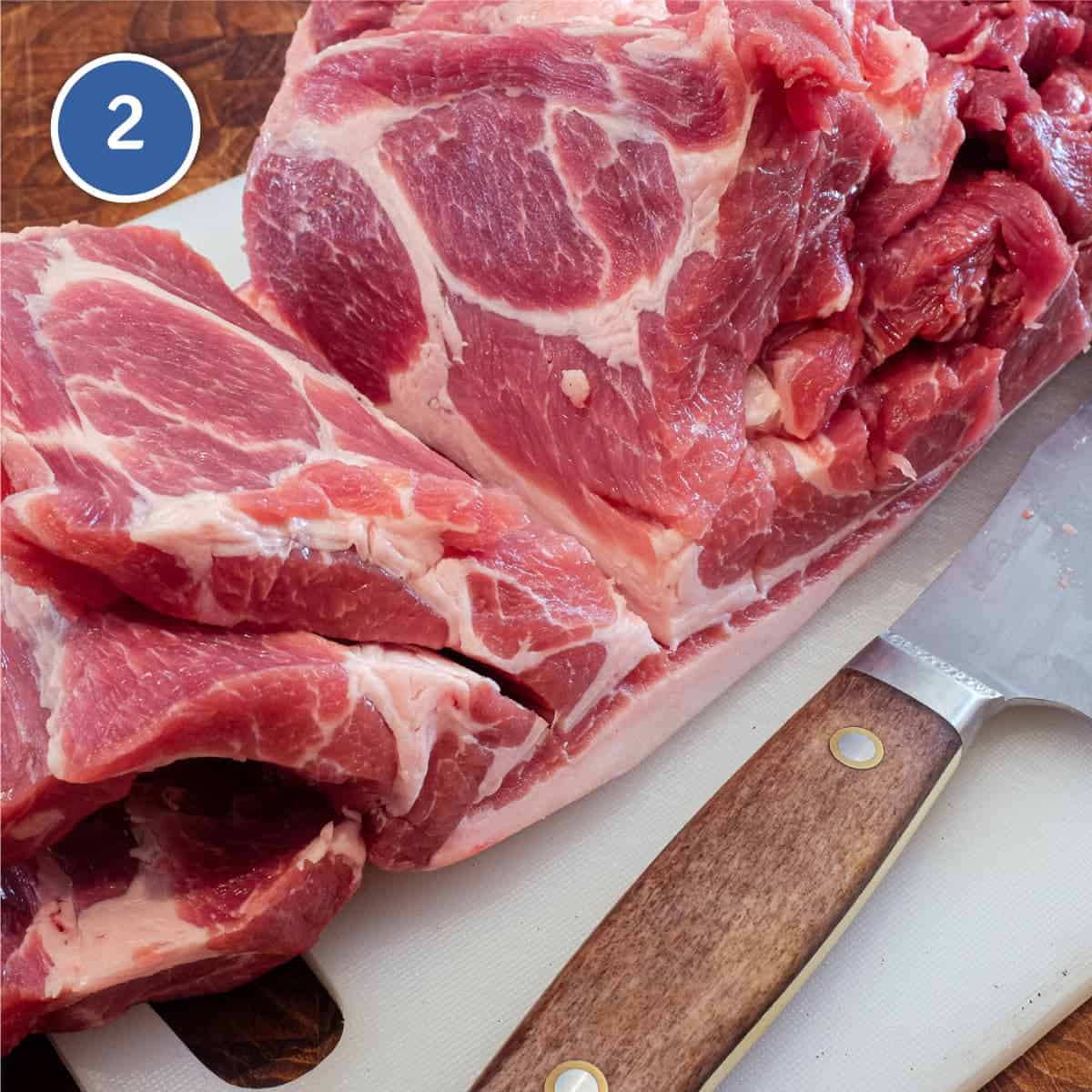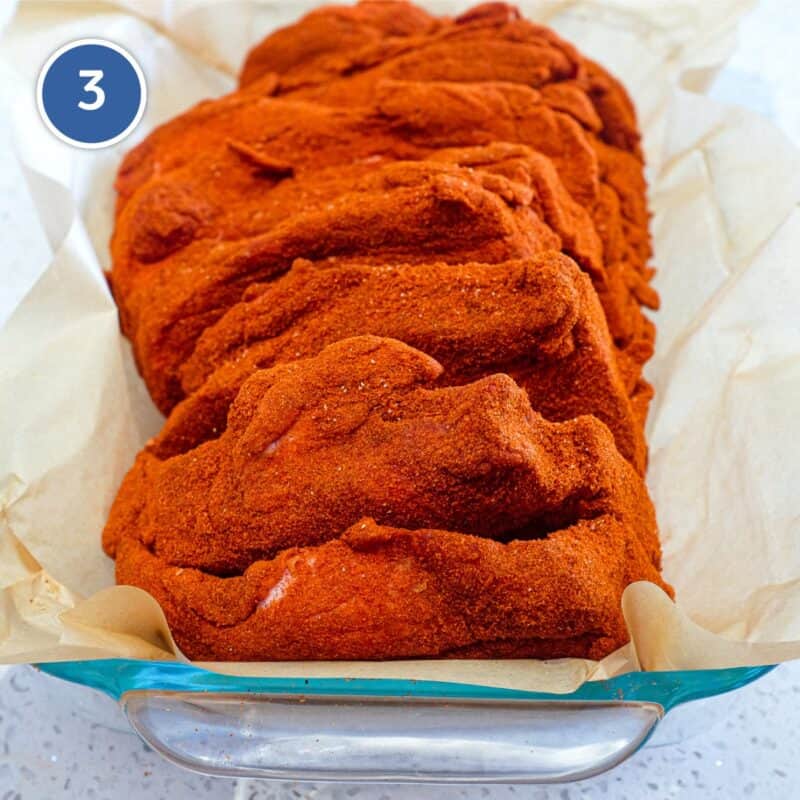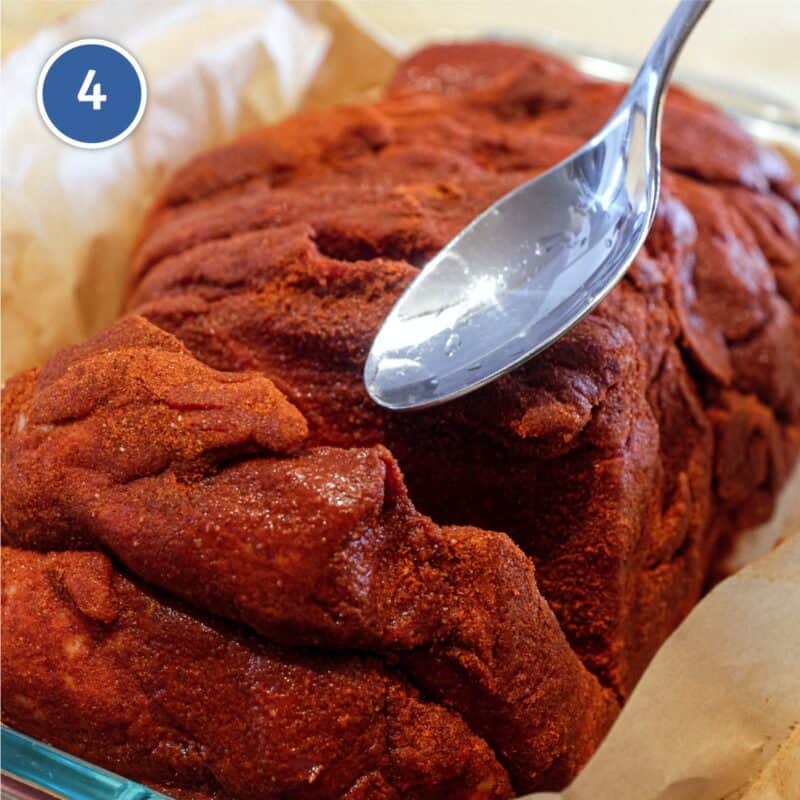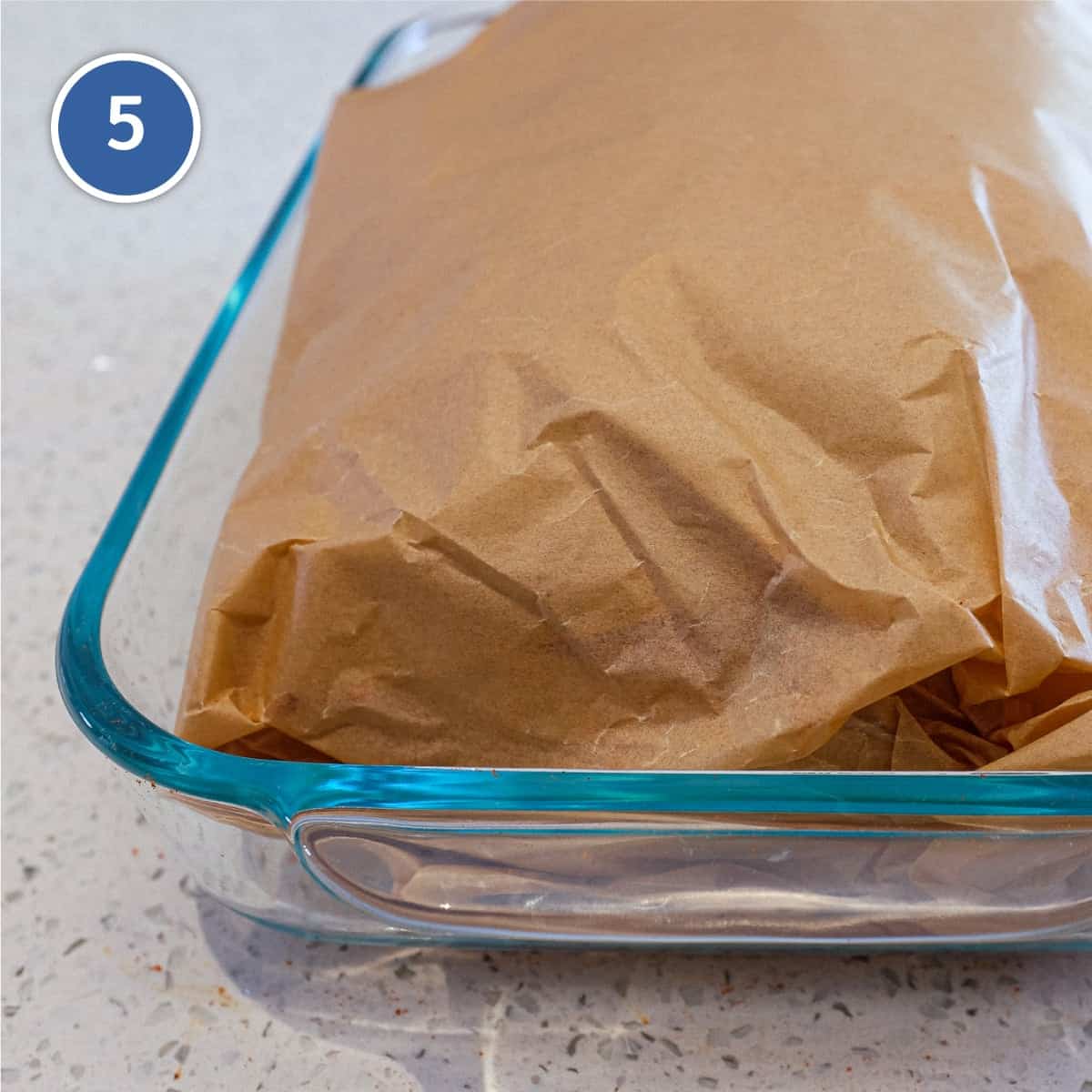 Serving you flexibility
Once the pork comes out of the oven I like to baste it in some of the juices and serve. My favourite way to eat it is just how I ate it in Italy, in a crunchy toasted sandwich using ciabatta bread along with chopped pickles and rocket/arugula. There's nothing more to it - absolutely delicious!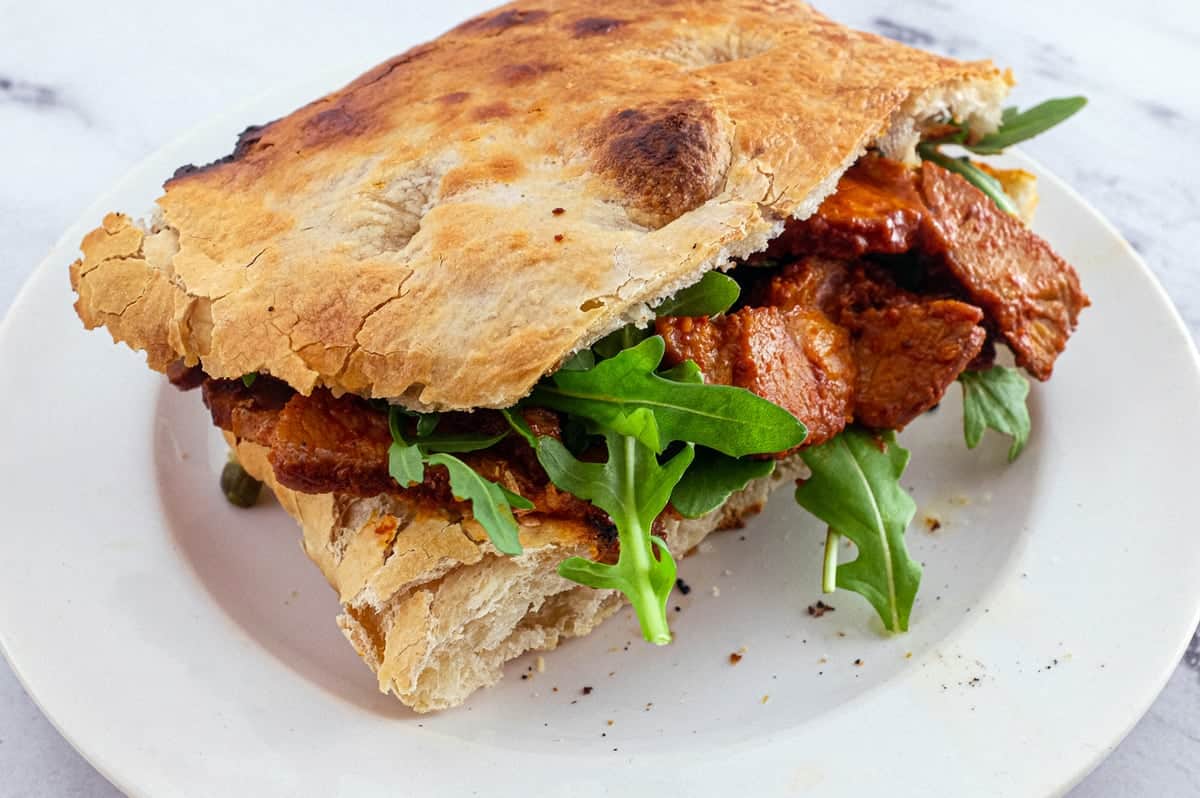 Alternatively, you can also serve it as you would a regular roast alongside salads and vegetables.
Lastly, pampanella makes for a splendid pasta stuffing. Any leftover meat can be mashed and used to fill ravioli or the regional pasta, cappellacci (a small stuffed shape that resembles a hat!). Serve with a simple tomato or brown butter sauce.
Storage
It's best to eat Pampanella right away, but it stays fresh for 3-4 days in the fridge. You can eat it cold, room temperature or reheated until hot. It's not really suitable for freezing once cooked.
Pro Tips
Gloves are a must for applying the spice rub. The redder the paprika, the redder your fingers.
Cover the meat tightly, we don't want to expose it to the direct heat of the oven - this will brown the surface and you'll lose some or all of the desired red colour. Don't worry too much if you lose the colour though, the taste is still amazing.
Mix up the cuts of meat - Buy a few cuts and pack them tightly for roasting. That way, you'll get to discover which is YOUR favourite.
Ready to get cooking?
So, I can't sing loudly enough about the magic of Pampanella! To use one of Italy's most overused terms it really is 'One of Italy's hidden gems'. A dish you're unlikely to see anywhere else in the country, and one that is adored by Molisans and visitors alike.
Any Questions? (FAQ)
Have a burning question about this Pampanella Molisana recipe? Let me know in the comments.
What is Pampanella Molisana?
A slow roasted pork dish from Molise, Italy that is marinated in ground paprika to give its distinctive red colour and sweet, smoky taste. It's served as a main course and street food across the region.
Where did Pampanella get its name?
From the 'Pampini' vine/grape leaves that traditionally wrapped the meat for roasting.
Is Pampanella Molisana the same as Pampanella Abruzzesi and Pampanella Pugliese?
No, Pampanella Abruzzesi and Pugliese are types of cheese and not related.
More Italian recipes
If Italian food is your thing, you're in luck - I have LOTS of Italian Recipes - here are some of my personal favourites.
Pampanella Molisana (Paprika Roast Pork from Molise)
Rate this recipe
Print Recipe
Pin Recipe
Save Recipe
Go to Collections
Calories (per serving) |
265
Instructions
Making the spice rub
Combine the paprikas, salt and garlic granules and set aside.
Cutting the meat
Cut the meat into 1-inch slices stopping short of the bottom by about 1-inch. You'll create a type of 'book' of sliced meat; all connected at the base.

Put on some kitchen gloves and generously douse all the surface of the pork, be sure to cover all the exposed areas as this will give as much flavour as possible.

Place a sheet of parchment (greaseproof) paper in a casserole pan or tin that will fit the pork snugly. Place the meat on top and then top the meat with more paper, folding under to ensure everything is tightly covered.

Refrigerate for at least 1 hour (up to 24) for the paprika to permeate the flesh to give a fuller flavour.
Cooking the pork
Preheat oven to 300ºF/150ºC

Unwrap the meat and sprinkle over 1-2 tablespoons of the wine vinegar. Re-wrap tightly and bake in the oven for 2½-3 hours.

Baste the meat a couple of times during the cooking, being sure to re-cover the pork snugly each time. This will keep the red colour more vibrant.

Once roasted, baste one more time just before serving - I'll often add a spritz of lemon juice too, but this is optional. (See notes for suggestions on serving)
Notes
Serving suggestions
Serve hot from the oven as you would a regular roast meat with salads and vegetables. My sweet and tart Fennel and apple salad works extremely well alongside pampanella!
Alternatively, a popular way to enjoy pampanella is in a sandwiuch. Serve it thinly sliced in a bread roll or between some crunchy toasted baguette or ciabatta. I like to chop up some pickles and add to the sandwich alongside some arugula/rocket.
Tips
To ensure the meat keeps its red colour use a good quality paprika - get it from a spice vendor or alternatively try an Indian deli as they often have the freshest spices. If you can find mild Kashmiri chilli powder add some of that - it has the best, most vibrant red colour.
Another trick is to ensure the meat is tightly covered. Exposure to direct heat will brown the surface and you'll be in danger of losing some or all of the red colour. For an extra precaution, once the meat is wrapped, cover the whole thing in an extra layer of thick kitchen foil.
Leftovers
Pampanella leftovers are great for sandwiches and as a cold cut with salad. Traditionally leftovers are also mashed and used to stuff egg pasta shapes like ravioli.
Storage
Pampanella will stay fresh, tightly wrapped for 3-4 days in the fridge. It's not suitable for freezing.
Nutrition
Calories:
265
kcal
(13%)
|
Carbohydrates:
8
g
(3%)
|
Protein:
34
g
(68%)
|
Fat:
11
g
(17%)
|
Saturated Fat:
4
g
(25%)
|
Polyunsaturated Fat:
2
g
|
Monounsaturated Fat:
4
g
|
Trans Fat:
1
g
|
Cholesterol:
102
mg
(34%)
|
Sodium:
1864
mg
(81%)
|
Potassium:
891
mg
(25%)
|
Fiber:
5
g
(21%)
|
Sugar:
1
g
(1%)
|
Vitamin A:
6649
IU
(133%)
|
Vitamin C:
1
mg
(1%)
|
Calcium:
56
mg
(6%)
|
Iron:
5
mg
(28%)