Paccheri Pasta with Neapolitan Ragù
Thick tubes of Paccheri pasta are paired with the ultimate meat lover's sauce – Neapolitan Ragù. It's Southern Italy on a plate and intensely flavourful and filling! Learn how to make this delicious Campanian feast.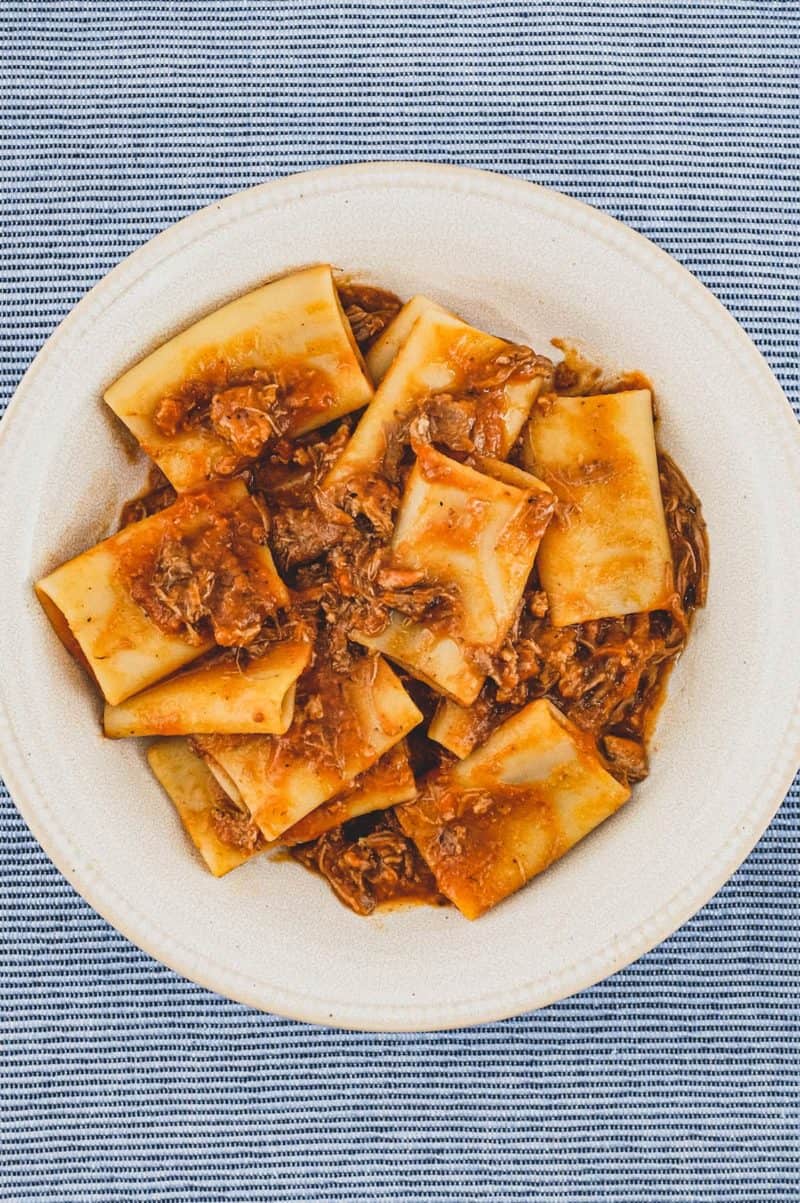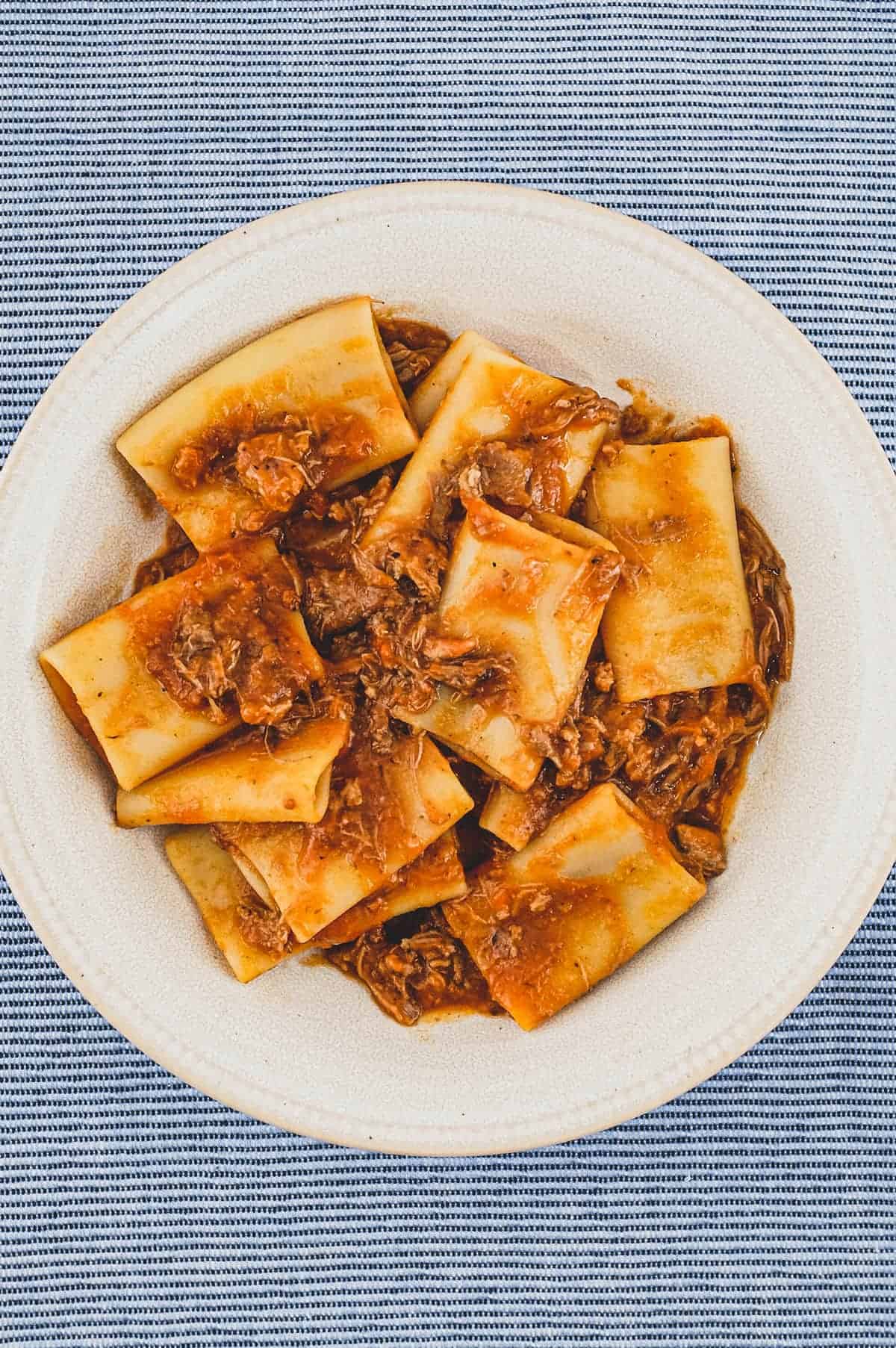 This recipe for Paccheri pasta with a rich, tangy meat sauce from Campania in the south of Italy is one of the tastiest and most satisfying pasta dishes on my menu! I love the Neapolitan Ragù sauce in all it's intensity and meatiness. It's the perfect vehicle to coat and find its way into the giant tubes of pasta - every mouthful is a satisfying blend of soft pasta and even softer meat in a tangy, rich tomato sauce. The pairing of Paccheri and Neapolitan Ragù is an age old marriage. And the Italian adage of 'if it ain't broke...' is ever apparent. The pairing is a good one. Ready to learn how and why...
Paccheri - pronounced "Packeri"
The double 'CC' in Italian means we form a hard 'CK' sound, pronouncing it "Packeri"
What is Paccheri pasta?
Paccheri are large tubed pasta (like a giant macaroni). The name is derived from Neapolitan slang for the word for 'slap', said to mimic the sound the pasta makes when eaten. Paccheri also goes by the name 'Schiaffoni' and is consumed all across Campania, particularly Naples, hence the appearance of a Neapolitan sauce pairing. Paccheri are also eaten with other sauces and pairings including vegetable pestos and seafood, particularly on Campania's Amalfi Coastline. The tubes are generally smooth but there is a 'rigate' (ridged) variety called 'Paccheri Millerighe'. The pasta shapes are eaten alongside sauces but can also be stuffed with cheese and meat and also baked 'Al forno' style in a sauce with mountains of mozzarella.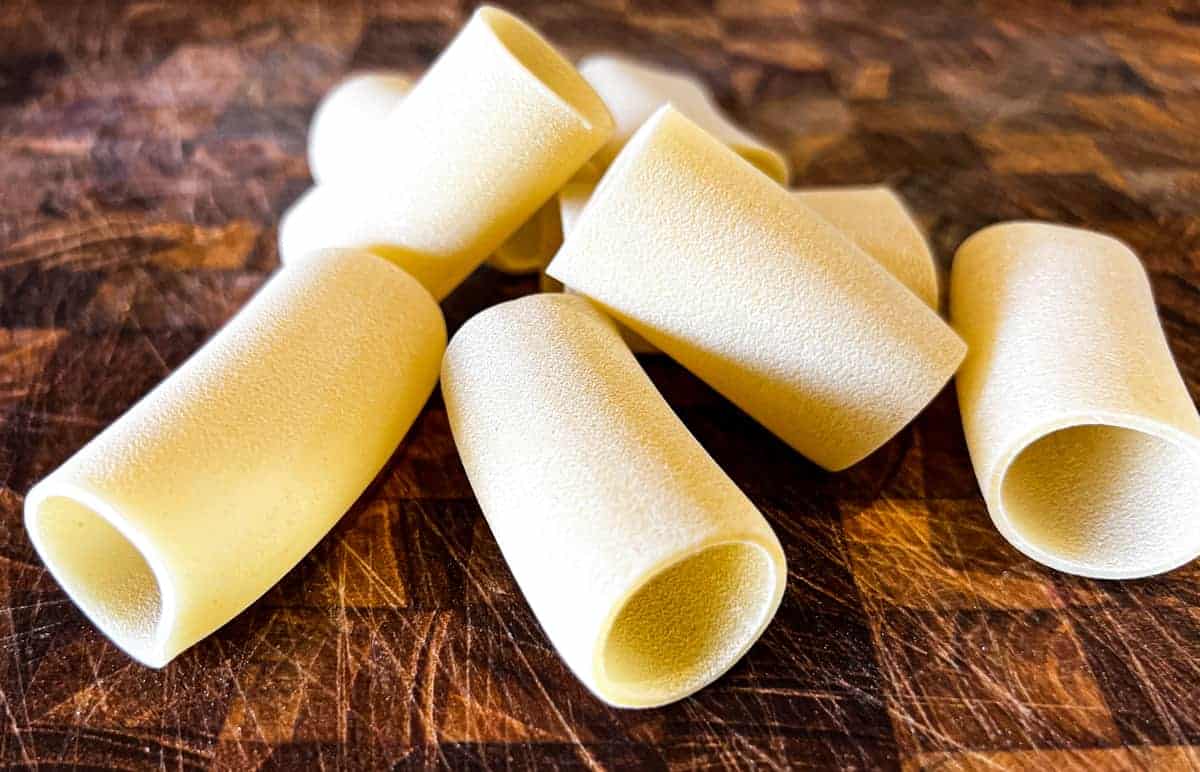 What is Neapolitan Ragù
Neapolitan refers to the city of Naples - Italy's third largest city. The sauce is common in Naples and the entire Campania region of the south. It differs to the Northern ragù of Bologna (Bolognese ragù) in its generous use of tomatoes. Bolognese sauce traditionally doesn't include tomato. Bolognese ragù is also created using ground meat, whereas Neapolitan ragù is uses large cuts of meat including beef, sausage and pork ribs. Often thinly sliced beef is stuffed with herbs and rolled into 'involtini', tied and dropped into the sauce too. The dish is then served in one of two ways:
The meat is removed and served as a main course. The sauce is used for a pasta course.
The meat is mashed and returned to the sauce for a more substantial offering.
My ragù sauce recipe uses option 2, an all in one celebration of meat and tomato. It really is the best sauce for Paccheri Pasta!
Stuff you'll need
Cooking the Paccheri with Neapolitan Ragù at home is simple - a slow cook means the entire house will be filled with the most amazing fragrance - everyone will be WAITING for the magic to be served! All the ingredients are easy to find, and the dish is simple to make at home. There are a few key flavours outlined below. There's a full recipe at the bottom of the page.
Meat - Neapolitan ragù is a meaty sauce, and traditionally made from a combination of cuts. We'll be mashing everything later so these are the meats I think work best.

Beef chuck roast (one large hunk of beef (marbled is better).
Pork ribs are traditionally used, they're juicy and flavour in the bones makes its way into the sauce during cooking.
Italian sausage in all its fennel-infused majesty! They'll add a tonne of flavour and mash splendidly into the sauce at the end. I use the sweet variety, but spicy works too.

Tomatoes - I mostly use either Polpa (pre pulped tomato) or whole San Marzano which I'll mash up during cooking
Aromatics - the trio of onion, celery and carrot alongside garlic make for a balanced flavouring.
Fresh Herbs - A giant bunch of basil will do wonders for the sauce. Be generous, and pop it in whole (fish it out at the end). I also add a few leaves of sage for more flavour. This sauce works so much better with fresh herbs.
More flavour?! - to add to the celebrations, a big old pouring of dry red wine (Chianti) and the rind of some Parmigiano Reggiano all do their part in creating a wonderful depth of flavour.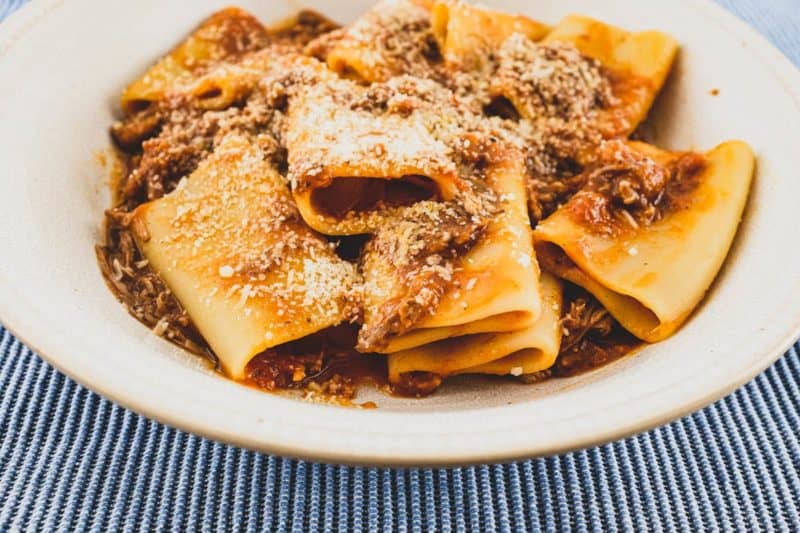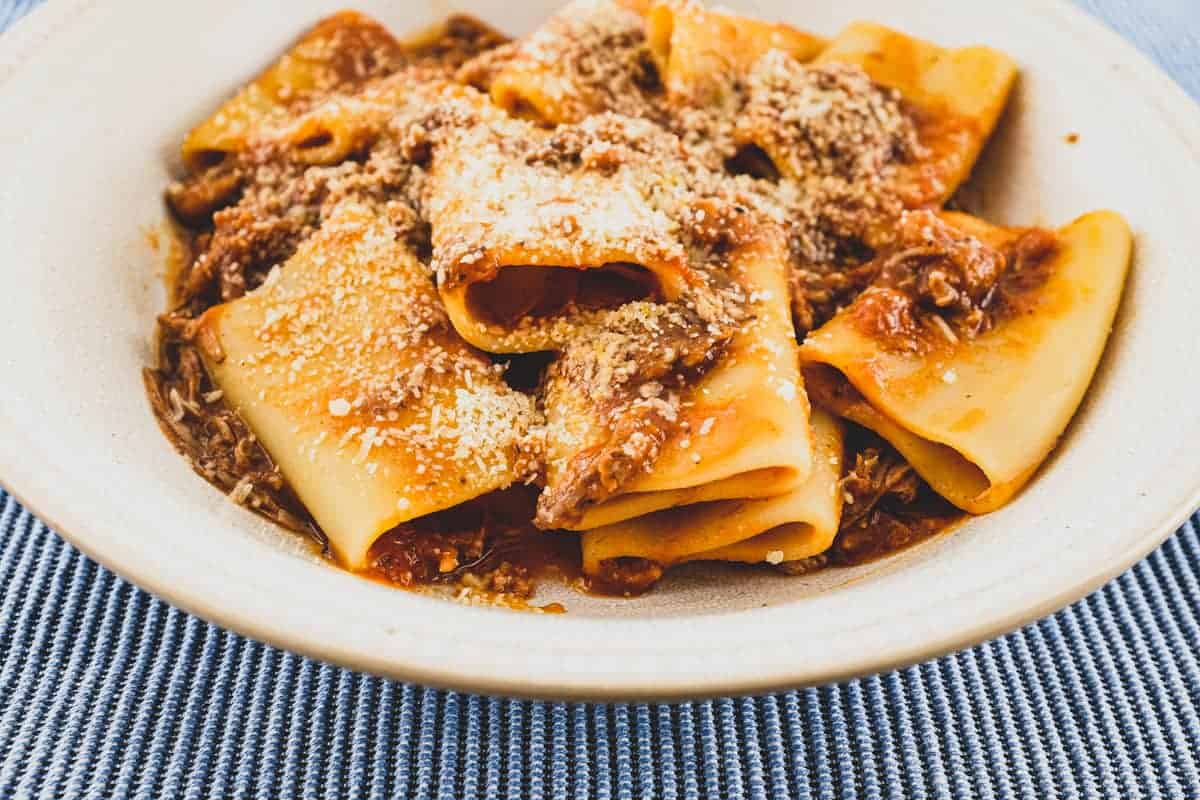 Step by Step
My Neapolitan Ragù recipe for Paccheri is not difficult. The main skill required is patience! It's a low and slow cook over 3 hours, but it's worth the wait. If waiting is your thing, you could really torture yourself and cook the ragù sauce a day in advance - the flavours develop even more and the sauce becomes pure magic! Have you got what it takes to wait? Here's how to put the dish together.
Brown the meat - helps create more flavour.
Fry the aromatics and herbs and then add everything else and simmer low and slow for 3 hours.
Reduce the sauce for another 30 minutes to intensify the flavour and thicken the sauce.
Blending the sauce - this is an optional step, but I like the texture when it's super smooth. I simply remove all the meat and herbs and then using a stick blender, blend the sauce until smooth.
Shredding/mashing the meat. I'll remove any fat and bones and then mash up the meat. It goes back into the sauce and that's it! You'll notice the sauce is super thick. I always thin it out by withholding a little pasta cooking liquid and mixing it in when I combine the pasta and sauce.
Cook the paccheri - Now it's just a case of cooking the paccheri and mixing with some sauce. A dousing of Parmigiano Reggiano is optional (I always do). Bellissimo!
Swipe through the pictures to see how the dish progresses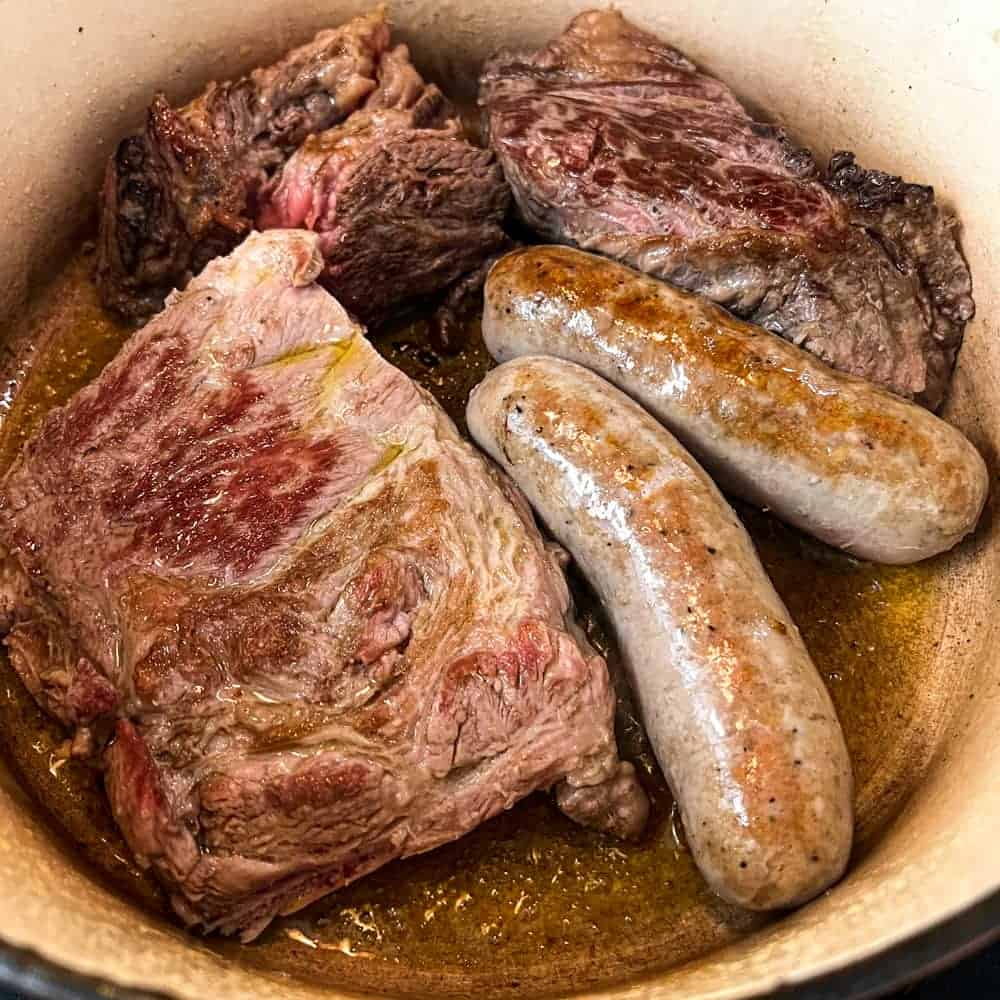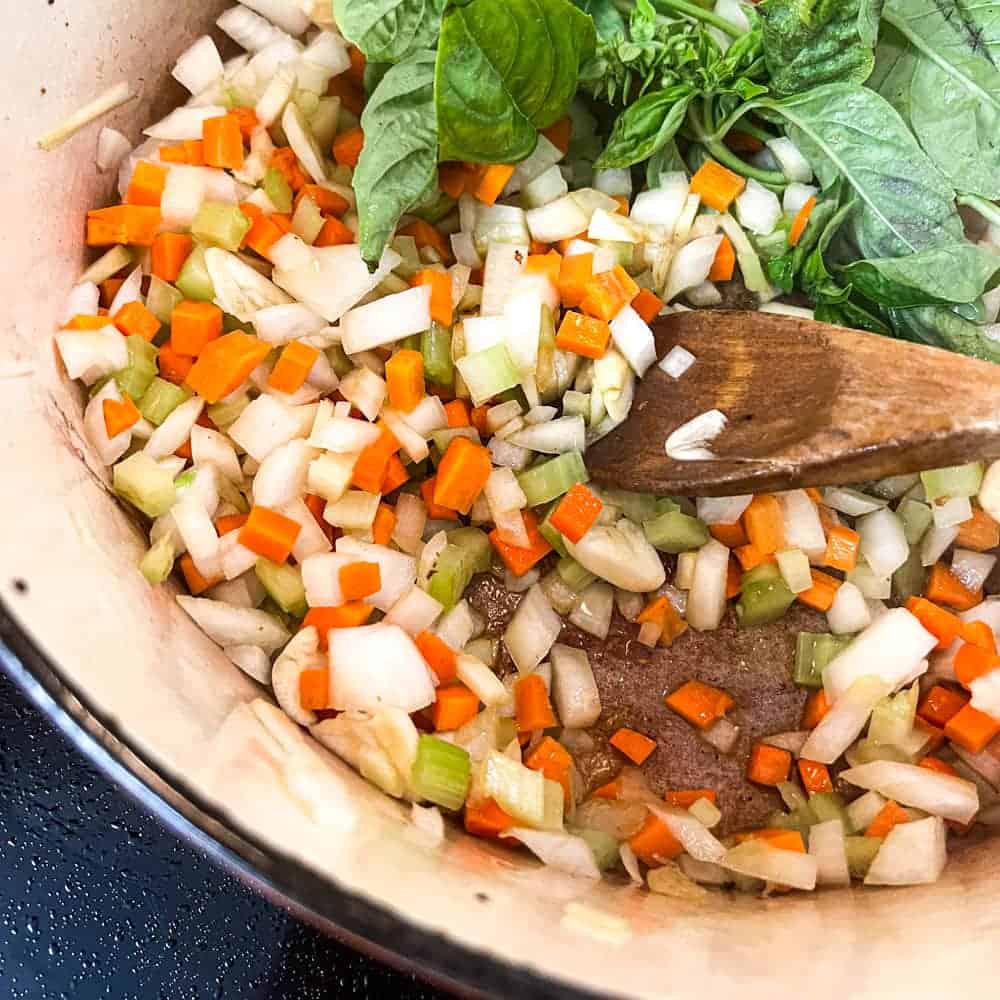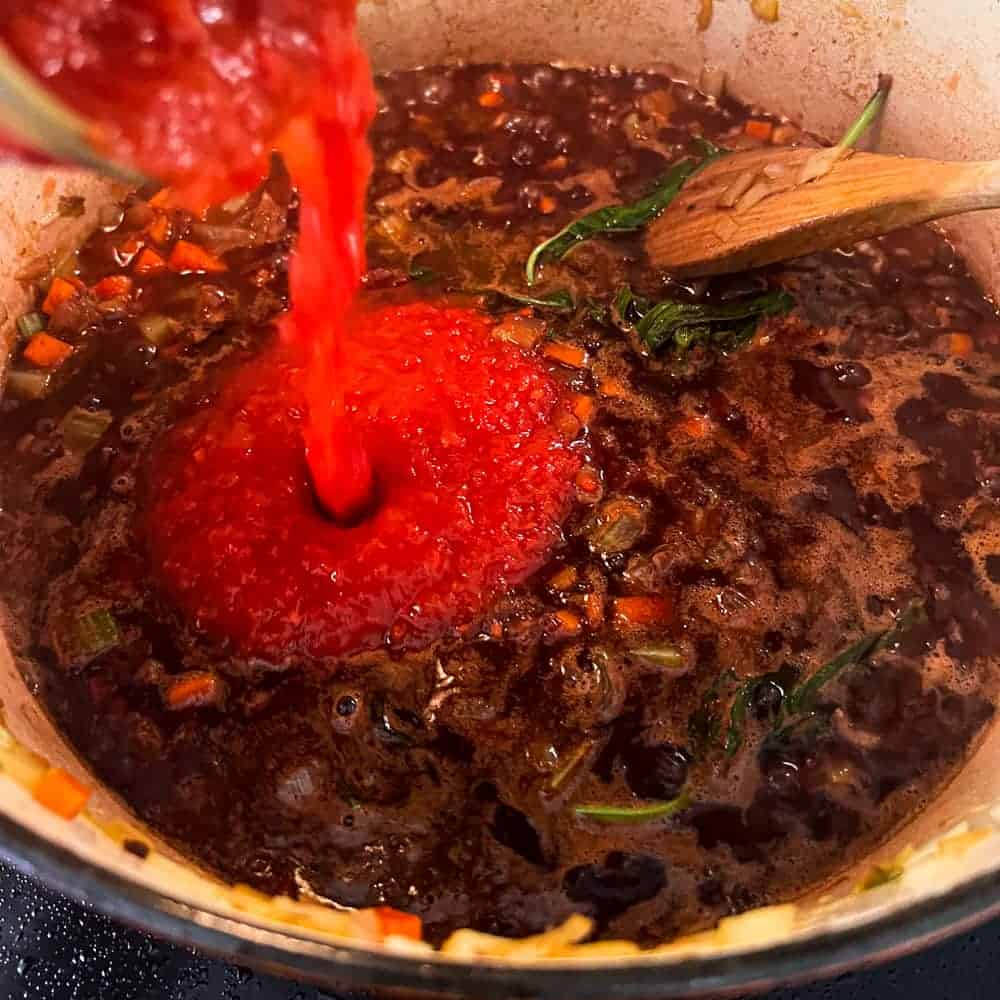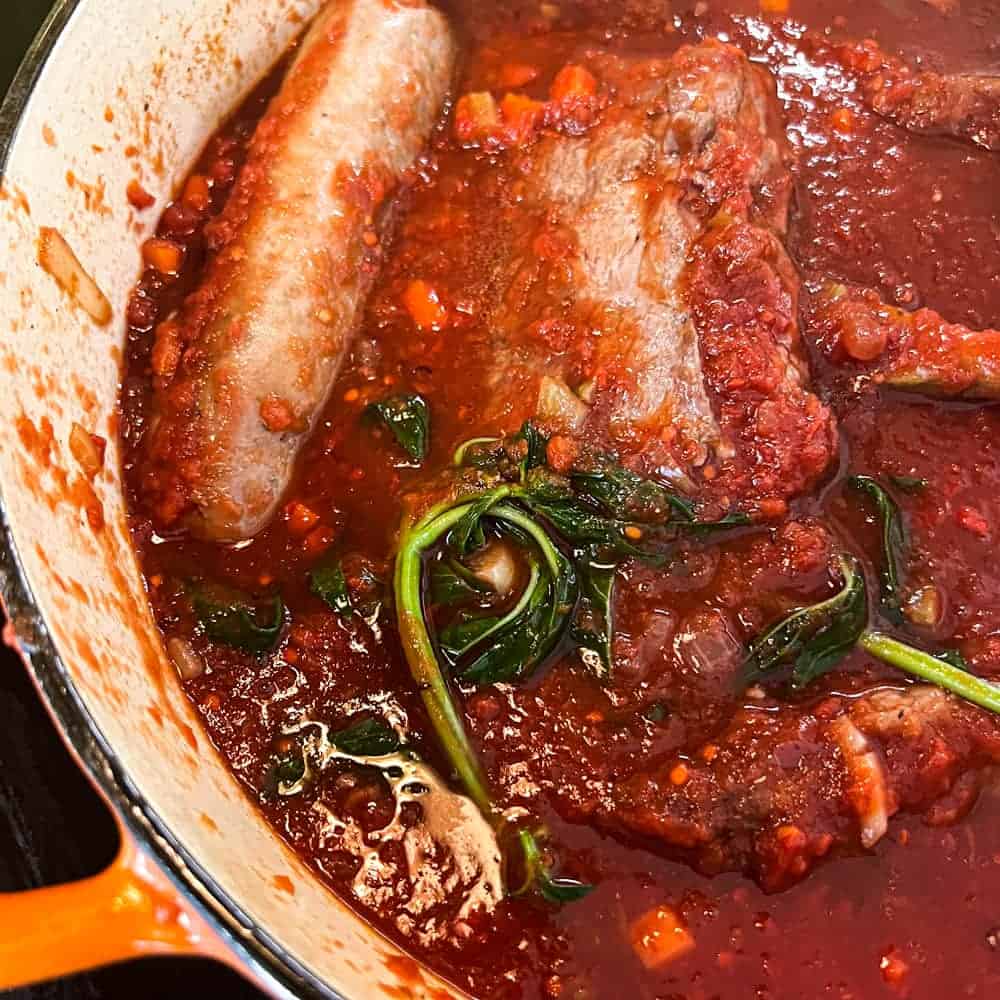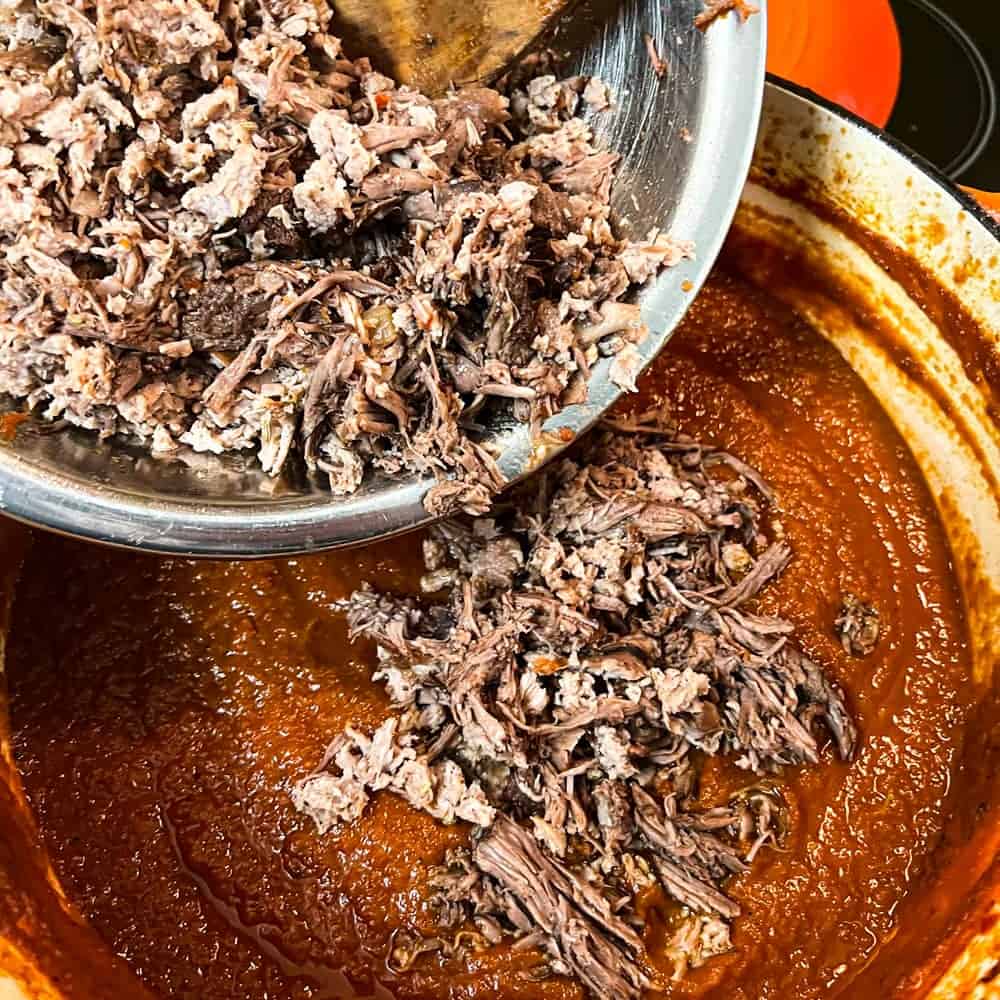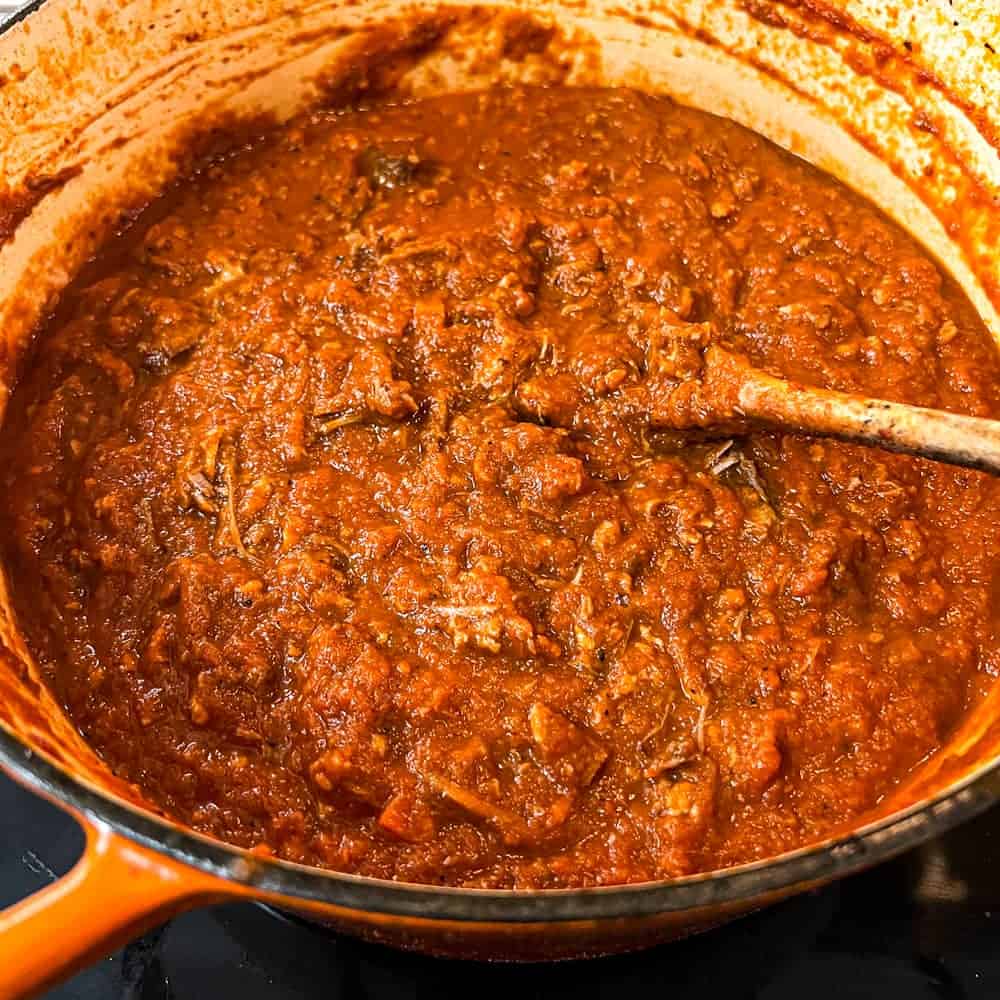 Tips, Tricks and ideas
Meal Prep - You can make this sauce with no occasion in mind for the ultimate meal prep planning. Freeze in portions and you'll have a ready made pasta sauce at your disposal. Perfect for a mid week lunch or dinner.
Al forno - Cook up your favourite pasta shapes or spaghetti (about 3 minutes less than the packet instructions) and mix it with some thawed out sauce and a little stock or water to make a thinner consistency. Mix with some cubed (low moisture) mozzarella and add to a baking dish. Scatter over some parmigiano reggiano or breadcrumbs and bake in a 400ºF/200ºC oven for 20-30 minutes.
Get stuffed - Pre cook some paccheri for half the cooking time. Drain and cool enough to handle. Arrange facing upwards in a deep baking dish and then stuff with the ragù and mozzarella. Top with cheese or a smattering of bechamel or ricotta cheese. and bake in a 400ºF/200ºC oven for 20-30 minutes.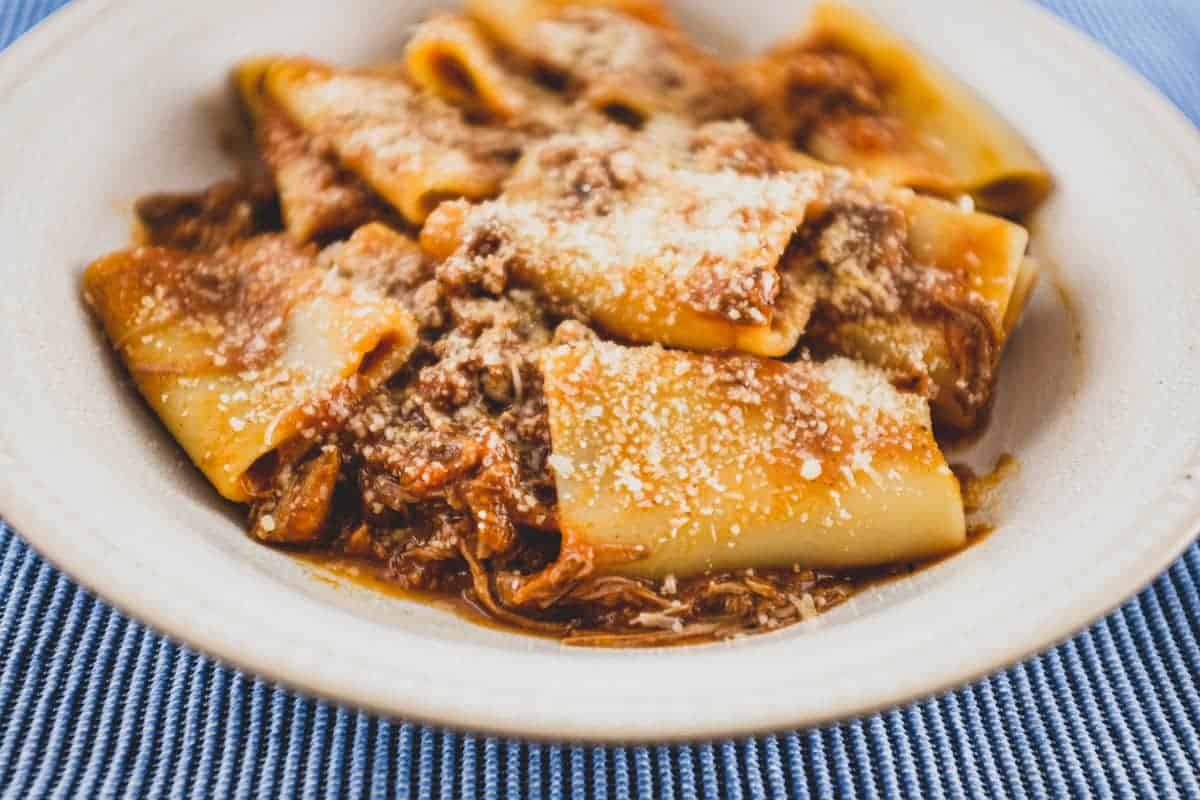 I'm sure you'll agree that once you taste this marvellous combination of hearty Paccheri Tubes with the meaty and intensely satisfying Neapolitan Ragù you'll ponder what it might have been like growing up a Neapolitan who got to eat this their entire life!
Frequently Asked Questions (FAQ)
What is the difference between Paccheri and Rigatoni?
The size! Paccheri are much larger tubes than rigatoni. On the whole, paccheri are smooth but there are ridged varieties called Paccheri Millerighe or Paccheri Rigati which look like large Rigatoni.
What type of pasta is Paccheri?
Paccheri is a traditional variety from the Campania region of Italy, including Napoli (Naples) - it often goes by the name of schiaffoni. It is a large tube shaped durum wheat pasta.
How do you pronounce Paccheri?
Packeri - as in pack.
What's the difference between Neapolitan and Bolognese Ragù?
Both are Ragù (sauces). Neapolitan Ragù is from the South (Napoli/Naples) and Bolognese Ragù from the North (Bologna). Bolognese Ragù is created from ground meat and traditionally unlikely to feature tomato (a widely argued topic in Italy). Neapolitan Ragù is created using whole cuts of meat and features an abundance of tomatoes in the sauce.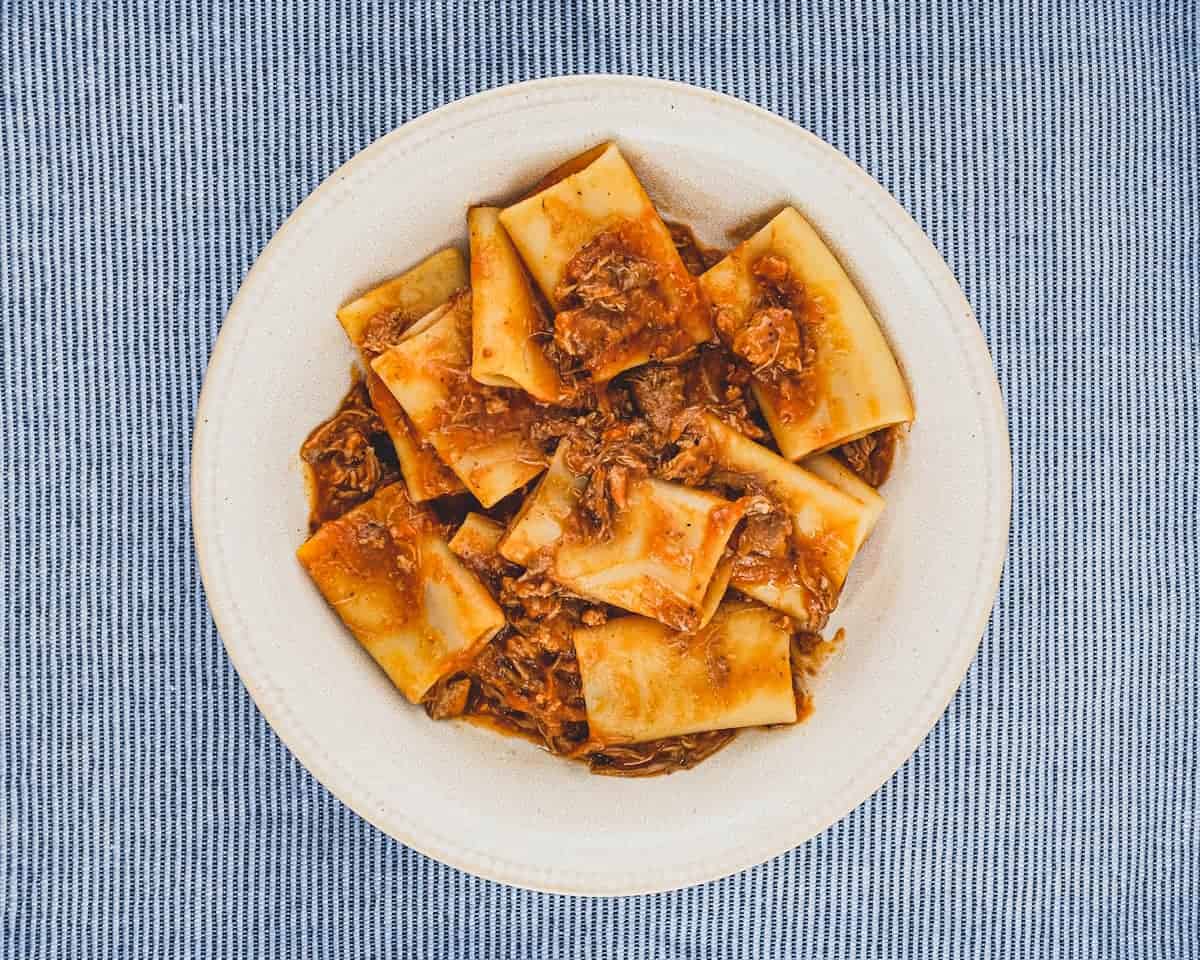 Paccheri Pasta with Neapolitan Ragù
Rate this recipe
Print Recipe
Pin Recipe
Save Recipe
Go to Collections
Calories (per serving) |
496
Ingredients
3

tbsp

olive oil

1.3

lb

chuck roast

2

italian pork sausages

(sweet or spicy)

4

pork ribs

1

bunch

basil

1

stem

sage

(about 5 leaves)

1

onion

(diced)

2

sticks

celery

(diced)

1

carrot

(large, diced)

3

garlic cloves

(chopped or bruised and left whole)

3

cups

dry red wine

(Chianti preferably)

2

lb

tomato polpa or whole San Marzano tomatoes

(2 large cans)

2

cups

stock

(beef or chicken)

1

cheese rind from Parmigiano Reggiano or Pecorino

(optional)

1

tsp

sugar

2

tsp

sea salt

Paccheri pasta

(about 2oz/60g per person - uncooked weight)
Instructions
Making the Neapolitan ragù

In a large dutch oven or pan, heat the oil over a medium heat until hot. In batches, add the meat and brown on all sides for 2-3 minutes per side.

Remove the meat from the pan and set aside.

Add the onion, carrot, celery, garlic, basil and sage and sautée gently for 5 minutes until the onion softens.

Pour in the red wine and lit it sizzle for a minute or two before pouring in the tomato and stock. Stir well and add the sugar, salt and pepper. If using, add the cheese rind at this stage too.

Bring this to a simmer then return all the meat to the pan. Reduce the heat to very low and cover. The sauce should be simmering very gently. Cook for 3 hours, stirring once or twice.

Remove the lid and take out the meat and place in a bowl to cool slightly. Fish out the basil and sage stems and the cheese rind and discard.

If there's a pool of oil on top, you may want to spoon off a little - it depends how fatty your meat was.

Turn up the heat slightly and let the sauce bubble gently for 20-30 minutes to reduce the sauce until thick.

Optional Step:

Remove the pan from the heat and using a stick blender, blend the sauce until smooth.

Shred the meat, discarding any bones or fatty parts. Mash the sausages with a fork and then add all this back into the pan.
Making the pasta
Cook the paccheri pasta to the packet instructions in a big pan of salted water. Just before it's finished cooking, remove a cup or two of the pasta water. Drain the pasta

Toss the pasta back into the drained pan and then spoon over 5-6 generous spoonfuls of the ragu. Add about 1/2-1 cup of pasta water to thin out the sauce, more if needed.

Serve in bowls dusted generously with finely grated Parmigiano Reggiano or Pecorino cheese and a little black pepper if the fancy takes you.
Notes
Substitutes and suggestions:

Many kinds of meat cuts can be used for this recipe. A combination of beef and pork is traditional, but you could consider using lamb too. Be sure to use a a cut of meat that is well marbled with fat. This is much better for braising and won't dry out.
In Italy very thin beef slices are topped with fresh herbs and then rolled and tied with kitchen string to create involtini - these are added to the sauce and then removed later and eaten as part of a main course.
Italian sausages generally come in a sweet and mild variety, both are suitable in this recipe.
Storing and Preserving
The Neapolitan Ragù is perfect for freezing. Simply portion into meal size portions and cook from frozen when ready - add a little water before reheating.
The pasta and sauce combined is better cooked from the fridge if there's any leftover. I willl always add a few tablespoons of water before reheating in the microwave or pan to ensure it doesn't dry out too much.
Special notes
Paccheri Af Forno - cook the Paccheri Pasta 3 minutes short of the cooking instructions and then mix with some of the sauce. Water it down with a little water or chicken stock and then tumble into a baking dish. Top with mozzarella, scatter over some parmigiano reggiano or breadcrumbs and bake in a 400ºF/200ºC oven for 20-30 minutes
An alternative al-forno recipe would be to pre cook the paccheri for half the cooking time., then drain and cool for 5 minutes. Arrange facing upwards in a deep baking dish and stuff with the ragù and a little mozzarella. Top with Parmigiano Reggiano, fontina cheese or a few dollops of ricotta cheese. and bake in a 400ºF/200ºC oven for 20-30 minutes.
Nutrition
Calories:
496
kcal
(25%)
|
Carbohydrates:
11
g
(4%)
|
Protein:
26
g
(52%)
|
Fat:
32
g
(49%)
|
Saturated Fat:
11
g
(69%)
|
Polyunsaturated Fat:
4
g
|
Monounsaturated Fat:
16
g
|
Trans Fat:
1
g
|
Cholesterol:
104
mg
(35%)
|
Sodium:
1289
mg
(56%)
|
Potassium:
703
mg
(20%)
|
Fiber:
2
g
(8%)
|
Sugar:
5
g
(6%)
|
Vitamin A:
1639
IU
(33%)
|
Vitamin C:
13
mg
(16%)
|
Calcium:
73
mg
(7%)
|
Iron:
3
mg
(17%)