Pasta with Potatoes (Pasta e Patate)
From the humblest ingredients a masterful, tasty dish is born. Potatoes and pasta might be an ordinary sounding combination, but this Neapolitan classic makes excellent use of both. A hearty, filling bowl of greatness that delivers on flavour and leaves you feeling that this might just be the best thing you've ever eaten.
As simple dishes go, Italy really does embrace a no fuss, minimal ingredient approach to food. Pasta e Patate (Pasta with Potato) is about as simple and fuss-free as it gets.
But don't let that fool you into thinking this dish is also ordinary in flavour. It's really quite spectacular. Rich, creamy and very very satisfying.
I experienced my first bowl in Naples, where the dish originates. I'd settled in a trattoria that offers one or two choices. It was cold and wet outside and I'd been walking for eternity that day, so I opted for the dish that sounded most appealing - the one that combined my two favourite ingredients. It was pure perfection.
What is Pasta e Patate?
Pasta e Patate is a simple, hearty and homestyle pasta dish from Naples in Southern Italy. Like many Italian classics, it is born from a minimal combination of ingredients.
Pasta mista (mixed pasta) is a frugal invention from the notion to never waste food. We've all experienced a larder full of pasta boxes with annoyingly small leftovers in them, right? This recipe uses any dried pasta shapes, so you can finally make some space!
My versions usually feature penne (my most cooked pasta shape), linguini (which I'll snap into small pieces) and a few mystery shapes I find lurking in the shadows.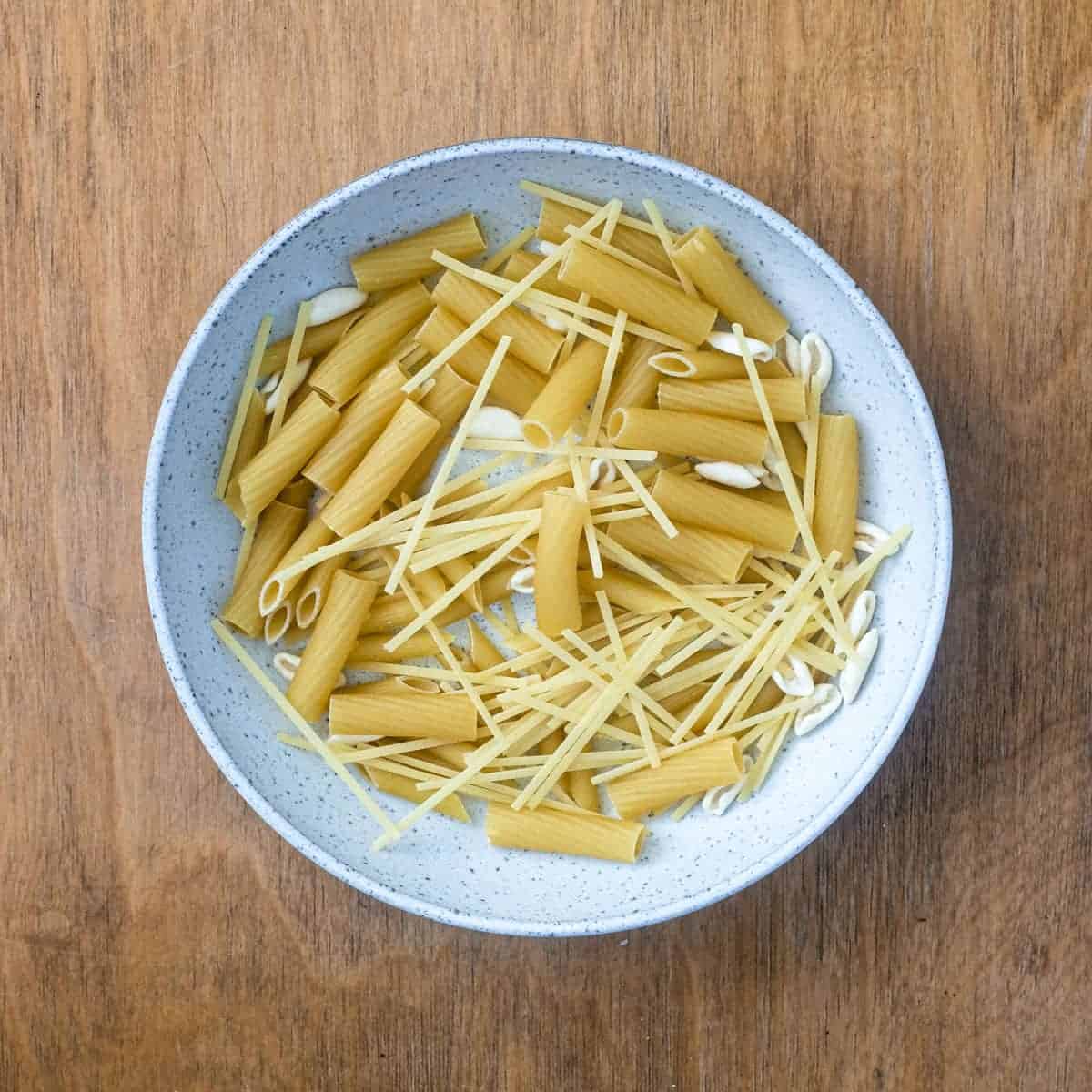 Why it works
It's hearty - carbolicious food ensures you're filled up, and it doesn't get more carby than pasta AND potato. It's a wonderfully creamy texture that feels like it's doing the job!
It's healthy - Pasta and potato is actually a very low calorie affair, with around 400 calories per serve - and that's quite a generous man-serve too.
Stuff you'll need
As the name suggests, there's not a lot you'll need to shop for. Most of us have all the ingredients already so can whip this treasure up any time.
Celery, carrot & onion - the Italian sofrito base flavour.
Pasta - have a rummage through your pantry and rustle up the pasta you have. If you're one of those organised people, you can also buy Pasta Mista in its own right.
Potato - A floury potato works best as it will break down easily and help create a creamier texture to the dish.
Herbs - Use whatever you have; basil, thyme, oregano, sage, rosemary and even just a couple of bay leaves will all work wonderfully.
Tomatoes and Garlic - A small amount of tomatoes add a little more flavour and I like some complexity, so throw in some garlic too.
Cheese - to round off the flavour with a little salty umami I use, Parmigiano Reggiano or Pecorino. OR because we're referencing Naples, a good quality melty mozzarella or smoked Scamorza can be added too.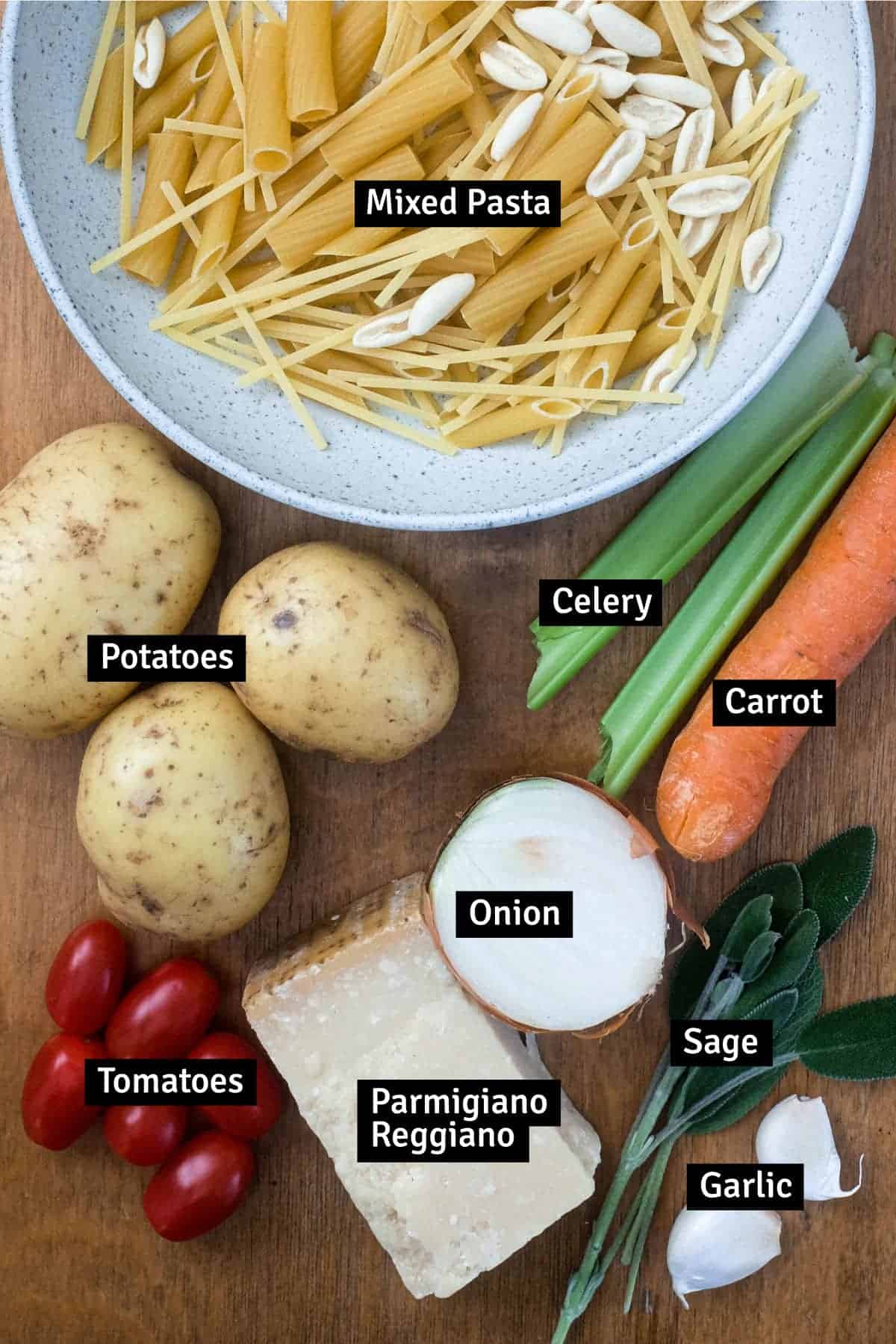 Step by Step
Making pasta with potato is very easy. No troublesome stages to master, it's a one pot masterpiece with the simplest method.
Step 1 -

Fry up the sofrito in a little oil with the herbs until soft.

Step 2 -

Add the potato, tomato and garlic and stir for a minute or so.

Step 3 -

Add the water and simmer

everything

until the potatoes are soft.

Step 4 -

Mash up the potatoes to give a creamier texture.

Step 5 -

Add the pasta pieces and cook gently until they're all soft.

Step 6 -

Add some cheese and stir in. That's it! You're good to go.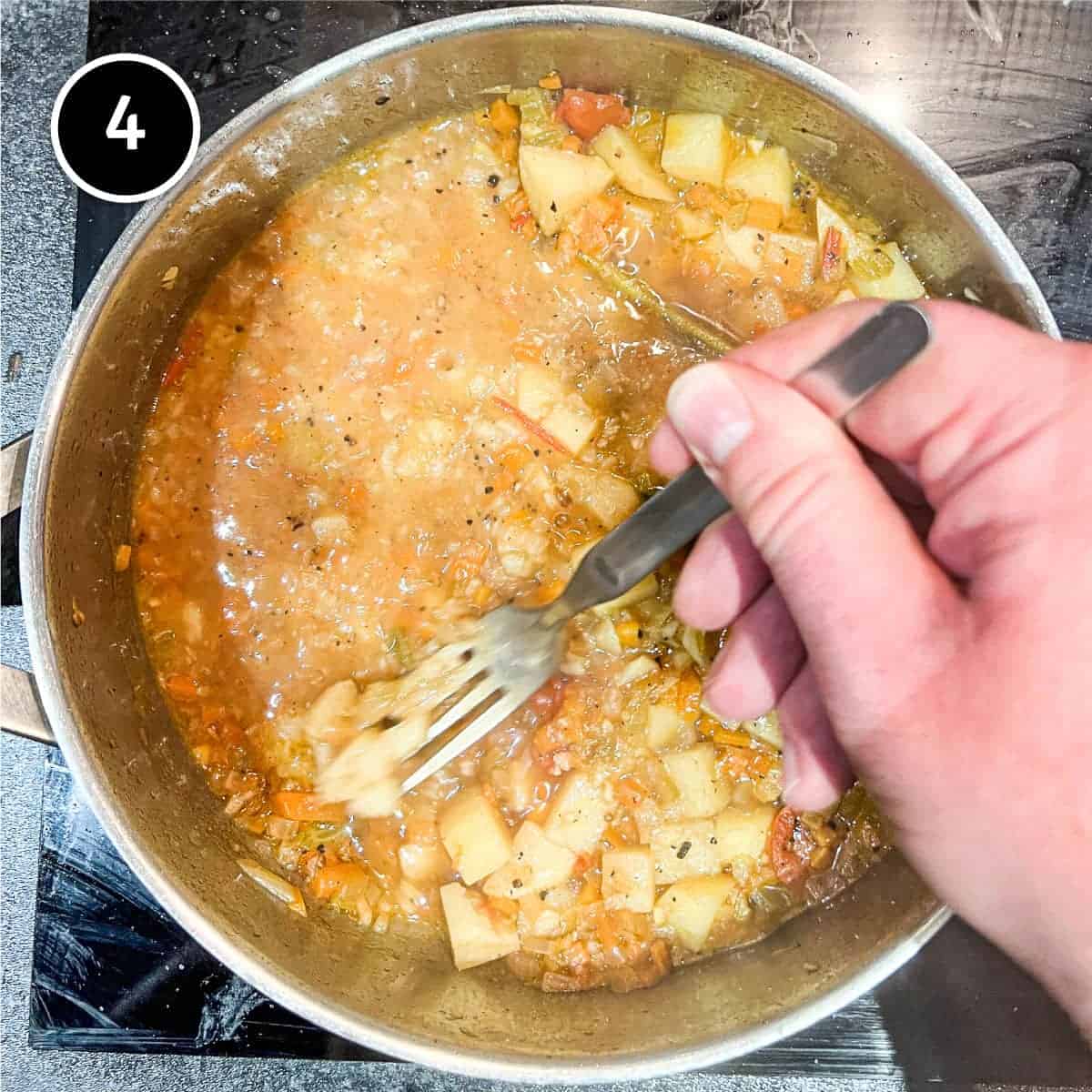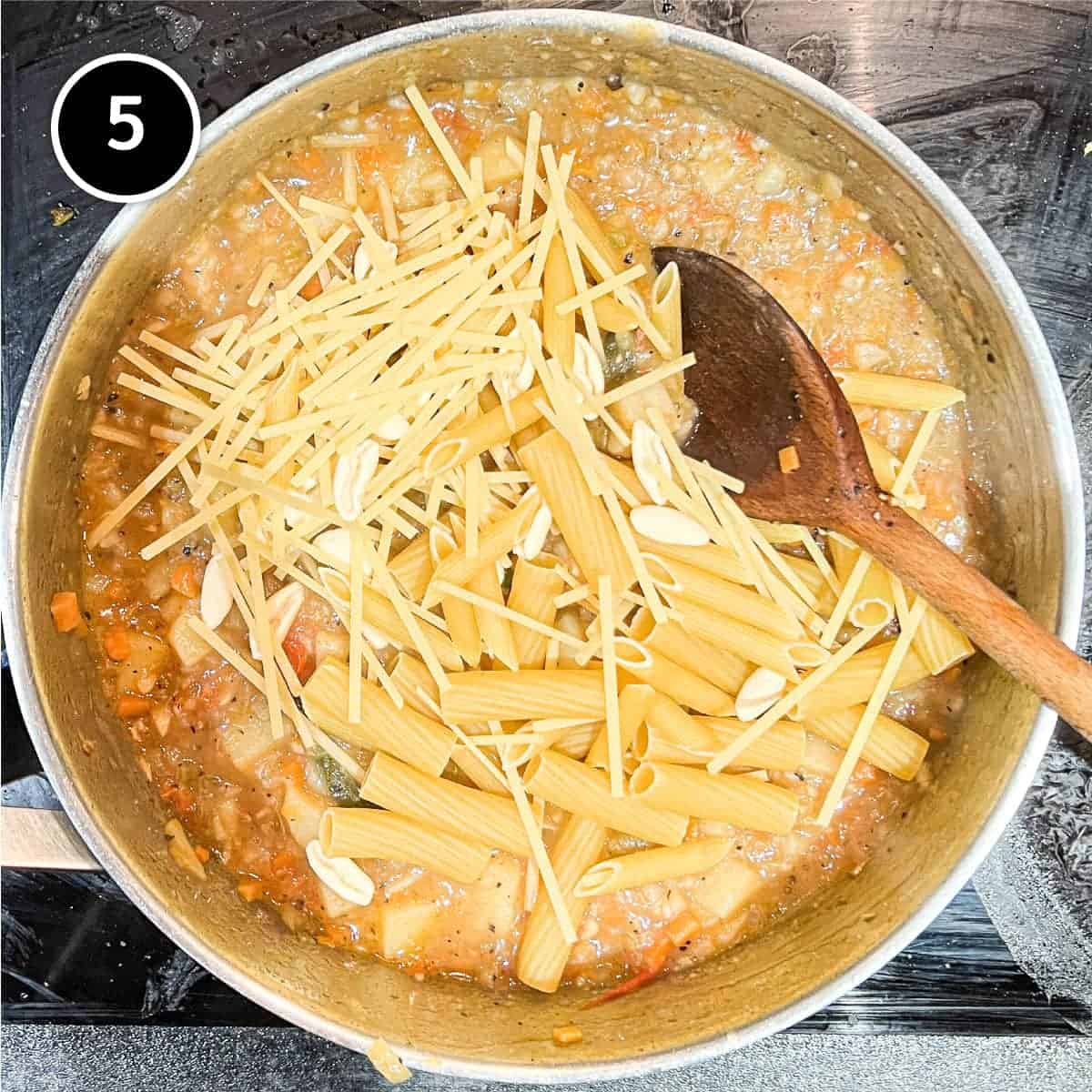 Pro tips to consider
Cooking - Use the pasta with the longest cooking time as your guide. It doesn't matter if some of the other shapes overcook - this is a humble dish and there's no right or wrong.
Herbs - Mix up your herbs for slight variations on flavour. I've eaten this dish in Italy many times and it's included basil, sage, rosemary, oregano, marjoram and bay leaf, so there's no real right or wrong here too.
Eat hot - Eat this pasta dish hot. It's at its best the minute its cooked.
Use stock - For a boost in flavour, use stock instead of water. Vegetable, chicken or beef

will work

wonderfully.
Serving and storing suggestions
Serve hot hot hot! It's at its best when it's direct from the pan, straight after cooking.
You can store leftovers in the fridge for 2-3 days, It will likely need some water or stock added when reheating as the pasta will continue to absorb liquid. The

pasta

will be quite soft with leftovers too. What

I'm

subtly saying here is '

don't

have leftovers' - just eat it hot! :)

This isn't really a dish I would recommend you freeze. Fresh is best on this occasion.
Ready to get cooking?
Next time you're in a bind, complaining that you have nothing in the cupboard to cook, take a closer look at all those orphaned boxes and packets of pasta and see if you can't rummage together a delicious helping of Pasta with Potato (pasta e patate)! it truly is one of the unsung heroes of simple Italian cooking - a recipe we should all have up our sleeve!
More Italian recipes
If you liked this Neapolitan recipe for pasta with potatoes, you'll be sure to enjoy more of my favourite Italian recipes.
Pasta with Potatoes (Pasta e Patate)
Rate this recipe
Print Recipe
Pin Recipe
Save Recipe
Go to Collections
Calories (per serving) |
417
Ingredients
2

tbsp

olive oil

½

onion

(finely diced)

1

carrot

(finely diced)

1

celery stalk

(finely diced)

2

garlic cloves

(chopped)

1

stem

sage leaves

3

potatoes

(floury type)(about 2 cups when peeled & cubed)

½

cup

tomato

(chopped)

7

oz

mixed pasta shapes

(about 200g)

Salt & pepper

½

cup

parmigiana reggiano

(finely grated)
Instructions
Heat the olive oil until hot and then add the onion, carrot, celery and sage and fry gently until softened, around 4-5 minutes.

Add the cubed potatoes, garlic and tomato and fry for 1 minute before pouring in 2 cups of water.

Bring to a simmer, cover the pan and cook gently on a low heat for 30 minutes until the potatoes are soft.

Using a fork, roughly mash the potatoes to create a creamy sauce, leave a few chunky bits for texture..

Stir in the raw pasta and pour in 1 more cup of water.

Simmer for a further 12-15 minutes or until your pasta is cooked (some pasta shapes may take longer). Stir regularly as the pasta may stick to the bottom.

Add a little water if the sauce dries up too much. The end sauce should be creamy and not watery.

Remove from the heat and stir in the cheese, season with salt & pepper.

Serve hot, drizzled with a little oil.
Notes
Use a floury potato like Idaho, Russet, white potato, King Edward, Maris Piper as they'll produce the best results for the sauce.
Change up the herbs you use for slight variations in flavour. Try Basil, Oregano, Rosemary, Marjoram, Bay Leaves and thyme.
Instead of water, you can amplify the flavour by using stock/broth. Vegetable, chicken or beef will all work well.
I use a hard cheese like Parmigiano Reggiano or Pecorino, but you can also use a firm mozzarella both standard or smoked varieties to make a more Neapolitan flavour.
Nutrition
Calories:
417
kcal
(21%)
|
Carbohydrates:
55
g
(18%)
|
Protein:
15
g
(30%)
|
Fat:
15
g
(23%)
|
Saturated Fat:
4
g
(25%)
|
Polyunsaturated Fat:
1
g
|
Monounsaturated Fat:
8
g
|
Cholesterol:
11
mg
(4%)
|
Sodium:
289
mg
(13%)
|
Potassium:
326
mg
(9%)
|
Fiber:
3
g
(13%)
|
Sugar:
4
g
(4%)
|
Vitamin A:
3740
IU
(75%)
|
Vitamin C:
7
mg
(8%)
|
Calcium:
230
mg
(23%)
|
Iron:
1
mg
(6%)
This recipe uses affiliations and may receive a commission based on your activity (link clicks). Learn more.