Gramigna Pasta with Sausage
Simple, humble pasta dishes are commonplace across Italy. None more than this amazing combination of Gramigna pasta from Emilia Romagna and fennel-rich Italian sausage. Packed with flavour with a wonderful texture. It's perfection.
I sampled this dish in Parma in the Emilia-Romagna region of Italy and was struck by its simplicity versus the sheer flavour it produced.
At its core, Gramigna Con Salciccia contains two ingredients, pasta and sausage - granted the version I sampled featured a local sausage, prized for its juicy, flavourful taste but still, it's hard to fathom how two ingredients can create something so magical.
In Italy I'm constantly surprised by dishes like this, like nothing I've tasted before, but instantly becoming a new favourite that I'll add to my own ever-growing go-to home cooked recipes.
On asking the Parma restaurateur what went into the dish, she gleefully explained how they prepared this traditional pairing. I was then able to replicate it at home with fabulous results. The dish uses Gramigna pasta (see notes below) and the best Italian sausage I can lay my hands on and let me tell you, my recipe is pretty damn close to the original.
What is Gramigna?
Gramigna translates as 'grass' which goes to explain why the pasta has a lightly curled shape of a grass sprout. The pasta is a thin tube and resembles an oversized macaroni in shape.
It's a traditional pasta from the Emilia-Romagna region which may be a little hard to locate outside of Italy. In fact, It was somewhat of a challenge to locate WITHIN other regions of Italy, such is the country's militant approach to regional cuisine.
As a result, you may need to locate your Gramigna Pasta online or use a substitute. I suggest a short-cut pasta like 'Elbows' or even long 'Bucatini' noodles, snapped into smaller pieces. You can, of course use ANY pasta shape that takes your fancy, but this recipe is the traditional version, using Gramigna. Happy hunting.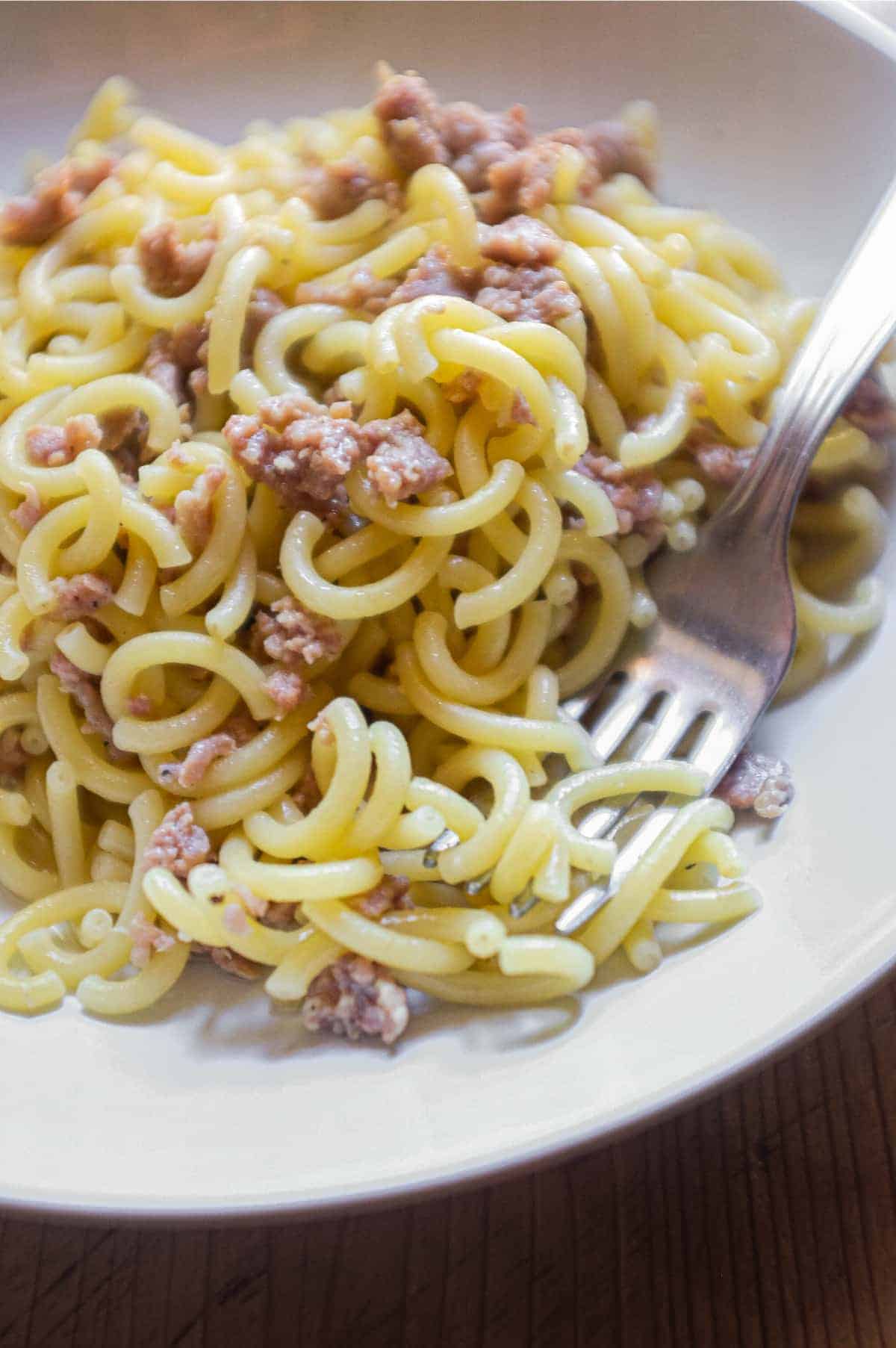 Why it works?
It's simple - Making this dish couldn't be easier. Gramigna pasta has the best texture and the simple sausage ragu takes no time or specialised techniques to prepare, making this an easy pasta dish to make any time of the day.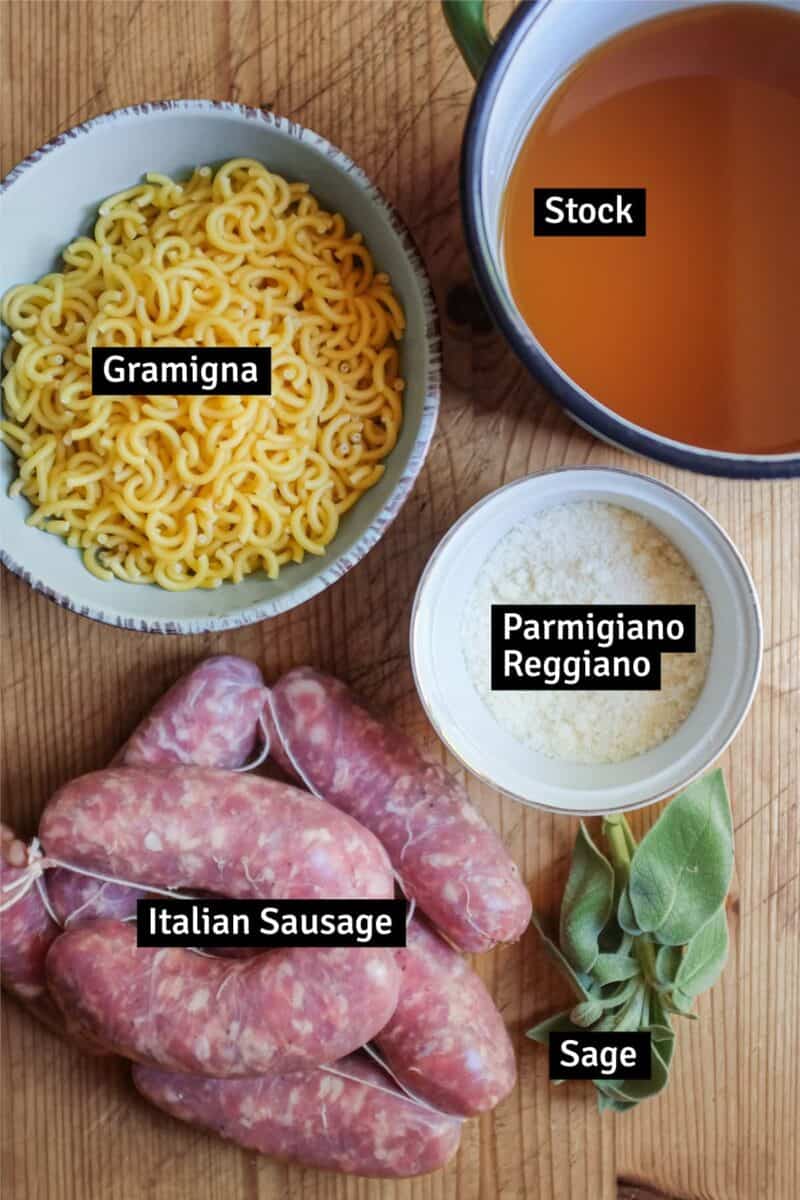 Stuff You'll Need
The good news is that this pasta dish has very few ingredients. All the flavour comes from the sausage, so I like to hunt out a good quality Italian pork sausage which does the trick.
Gramigna Pasta - find yours online or ask at a specialist Italian deli to track it down. It's worth the hunt of you're a purist like me.
Italian Sausage - A good quality pork sausage is essential. Find your best Italian sausage and

use that. You could also find a pure unadulterated pork sausage and add a 1-2 teaspoons of ground

fennel to the recipe for that authentic Italian flair.
Fresh Sage - pork and sage is a proven marriage made in flavour heaven.
Stock/Broth - I use either sodium-free chicken or beef to up the flavour
Parmigiano Reggiano - Another Emilio-Romagna staple, the hard cheese adds all the umami greatness and a little creaminess to the ragu.
Step by Step
Making the Gramigna Pasta with Sausage is not a difficult affair. Here are the key stages.
Step 1 - Remove the sausage meat from their casings and add to a pan along with the sage. Begin to break it up into small pieces with the back of a wooden spoon as you cook.
Step 2 - Cook for a few minutes, breaking up as you go until the sausage is browned and resembles ground meat (mince).
Step 3 - Add the stock/broth and simmer gently for a few minutes

.

Step 4 - Remove from the heat and stir in some finely grated Parmigiano Reggiano to make a lightly creamy sauce.
Step 5 - Boil your pasta to its pack instructions and then drain, retaining about 1 cup of the pasta water.
Step 6 - Blend together the sausage and cooked Gramigna pasta and add the pasta water. Stir and cook for a minute or two. The pasta has a dryish consistency, but not bone-dry - most of the ragu will be absorbed by or disappear into the tubes of the pasta so it willl still be juicy and moist when eating.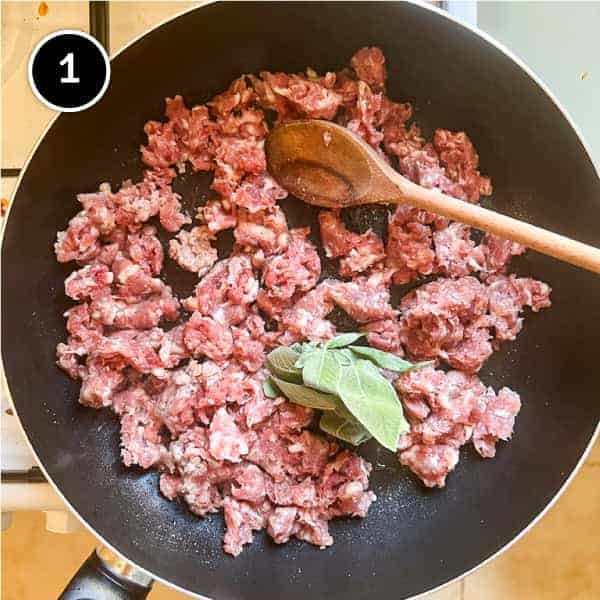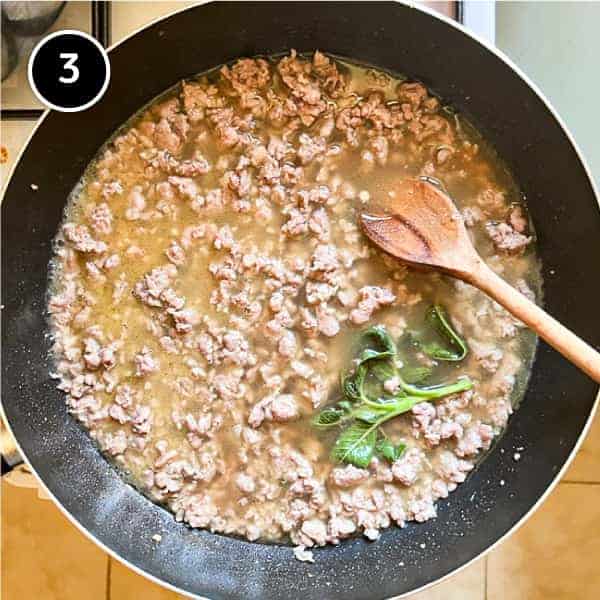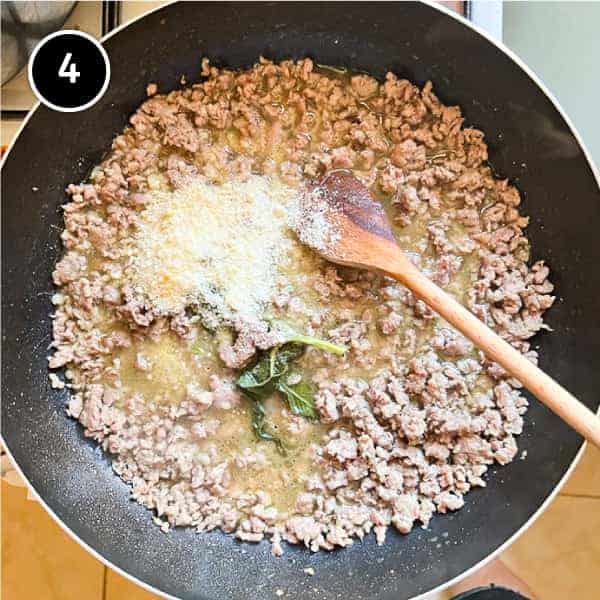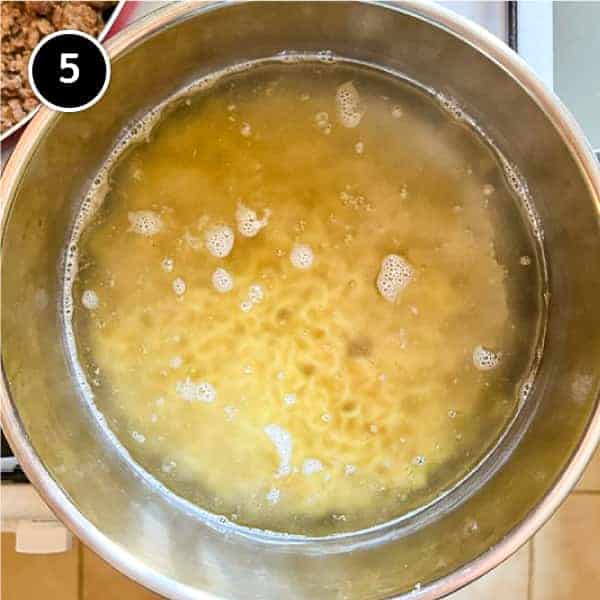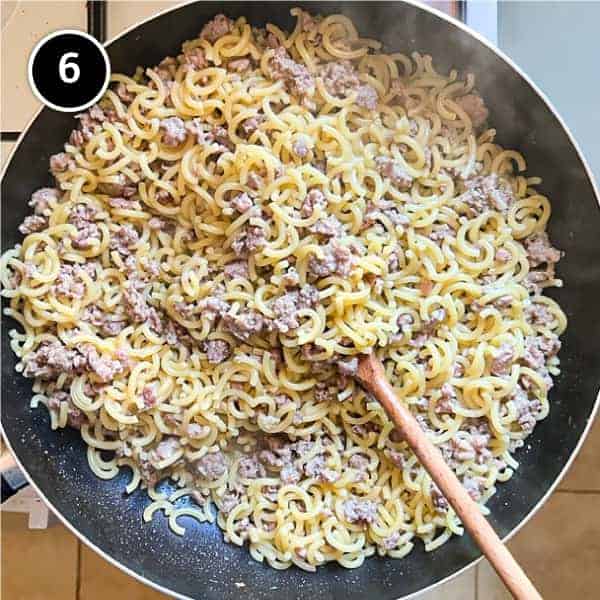 Pro Tips
Pasta Substitutes - Gramigna can be hard to find, so substitute if you like using Macaroni, Elbows or even Bucatini cut into small pieces. You could use any shape really, try Fettuccini or Tagliatelle which are also from the Emilia Romagna region of Italy.
Pasta water - With almost all pasta dishes the key to creamy and flavourful sauces is using some of the pasta water at the end. Be sure to retain as much as you'll need. I usually drain my pasta

over a bowl and keep most of it. Or, use a sieve or slotted

spoon to fish out the pasta, leaving the cooking liquid in the pan.
Serving & Storage Suggestions
Serving - Serve hot alongside a little more Parmigiano Reggiano cheese on the side.
Fridge - It's best eaten right from the pan but you can keep it in the fridge for a few days. The pasta tends to continue to soak up the liquid, so I'll often add a little water or broth to the top if I'm reheating to keep it juicy.
Freezer - I'm not a fan of freezing this pasta - it doesn't

have an abundance of

sauce so it can dry out in the freezer. On this occasion, fresh is best.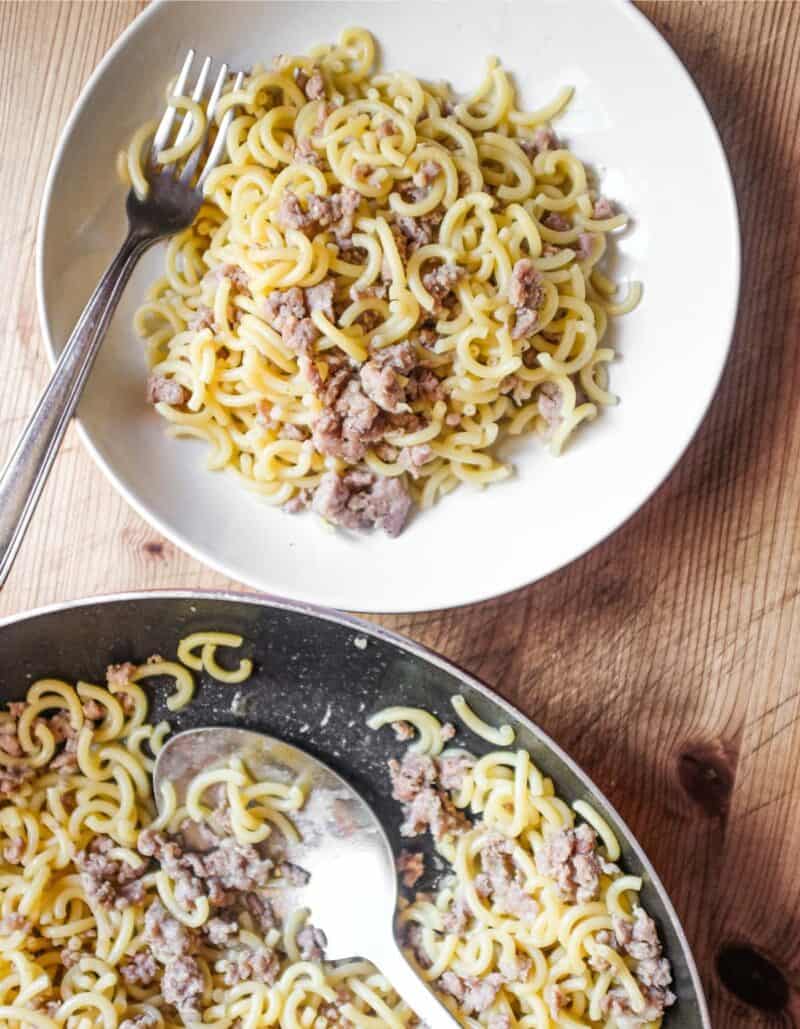 Ready to get cooking?
I can't sing the praises of Gramigna pasta enough! One of the highlights of my recent trips to Italy and the sole reason for future trips to Emilia-Romagna! If you're into no-fuss meals then this might just be what you've been searching for - a bowl of flavour without much time and effort. I hope you enjoy!
More Italian recipes
If you liked my Gramigna with Sausage recipe, I'm sure you'll love some more of my best Italian recipes.
Any Questions? (FAQ)
Have a question about Gramigna? Let me know in the comments.
What is Gramigna Pasta?
Gramigna pasta is a small, curved pasta variety, popular in Northern Italian cuisine. Resembling tiny tubes with a twist, it's traditionally made from durum wheat semolina. Its unique shape allows it to hold sauces well, making it a versatile choice for various pasta dishes like ragù or creamy sauces.
Gramigna has its roots in the Emilia-Romagna region of Italy, known for its diverse pasta offerings. Its name is derived from "gramigna," which means "grass or weed" in Italian, reflecting its curved shape resembling a piece of grass or weed.
What substitutes are there for Gramigna?
Use macaroni or elbows for a smaller, but similar shape. Bucatini is tubular like Gramigna and can be snapped or cut into smaller pieces for similar results.
This recipe uses affiliations and may receive a commission based on your activity (link clicks). Learn more.
Gramigna Pasta with Sausage
Rate this recipe
Print Recipe
Pin Recipe
Save Recipe
Go to Collections
Calories (per serving) |
797
Ingredients
1

tbsp

olive oil

700

g

Italian pork sausage

removed from casing

1

small bunch sage leaves

about 8 leaves

500

ml

chicken stock

(or beef)

500

g

Gramigna Pasta

1/2

cup

parmigiano reggiano

finely grated + more for serving
Instructions
In a deep frying pan, heat the oil until just hot. Remove the sausage from their casings and add to the pan along with the sage. Break up the sausage and cook until all the moisture is gone and the meat resembles ground pork (mince). Around 7 minutes.

Add the stock and simmer for 15 minutes until reduced by half.

Add the Parmigiano Reggiano and stir well. Fish out the sage. Remove from heat.

Add some freshly ground black pepper and check if the salt levels work (sausages vary in seasoning so you may or may not need to add extra salt.)

Cook the Gramigna in boiling salted water to packet instructions then drain, reserving about 1 cup (or more) of the pasta water.

Mix the pasta and gramigna. Add a little of the pasta water at a time until it's moist but not watery.

Serve in bowls with extra cheese on the side.
Notes
Expert Tips
Pasta Substitutes - Finding Gramigna might pose a challenge, so feel free to use alternatives like Macaroni, Elbows, or even Bucatini cut into small pieces. In fact, any pasta shape will do; you can experiment with options like Fettuccini or Tagliatelle, both hailing from the Emilia Romagna region of Italy.
Pasta Water - For virtually all pasta dishes, the secret to achieving creamy and flavorful sauces lies in incorporating some of the pasta water at the end. Make sure to reserve an adequate amount. I typically strain my pasta over a bowl, retaining most of the liquid. Alternatively, you can use a sieve or slotted spoon to extract the pasta, leaving the cooking liquid in the pan.
Serving & Storage
Serving - Serve the dish hot, accompanied by lashings of extra Parmigiano Reggiano cheese on the side.
Refrigeration - While it's best enjoyed straight from the pan, you can store it in the fridge for a few days. The pasta has a tendency to continue absorbing the sauce, so I often add a bit of water or broth when reheating to keep it from drying out
Freezing - I'm not particularly keen on freezing this pasta; it can become dry in the freezer. Fresh is best for this dish.
Nutrition
Calories:
797
kcal
(40%)
|
Carbohydrates:
66
g
(22%)
|
Protein:
33
g
(66%)
|
Fat:
43
g
(66%)
|
Saturated Fat:
15
g
(94%)
|
Polyunsaturated Fat:
6
g
|
Monounsaturated Fat:
20
g
|
Cholesterol:
97
mg
(32%)
|
Sodium:
1112
mg
(48%)
|
Potassium:
577
mg
(16%)
|
Fiber:
3
g
(13%)
|
Sugar:
4
g
(4%)
|
Vitamin A:
68
IU
(1%)
|
Vitamin C:
3
mg
(4%)
|
Calcium:
140
mg
(14%)
|
Iron:
3
mg
(17%)