Panzerotti (mini calzone pizza with tuna, olives & red pepper)
Italian Panzerotti are little pockets of pizza dough, stuffed with tasty treats. In my recipe, we use tuna, olives and red pepper for a delicious bite-size burst of flavour. These savoury turnovers are the perfect addition to any party table, or even just a party for one!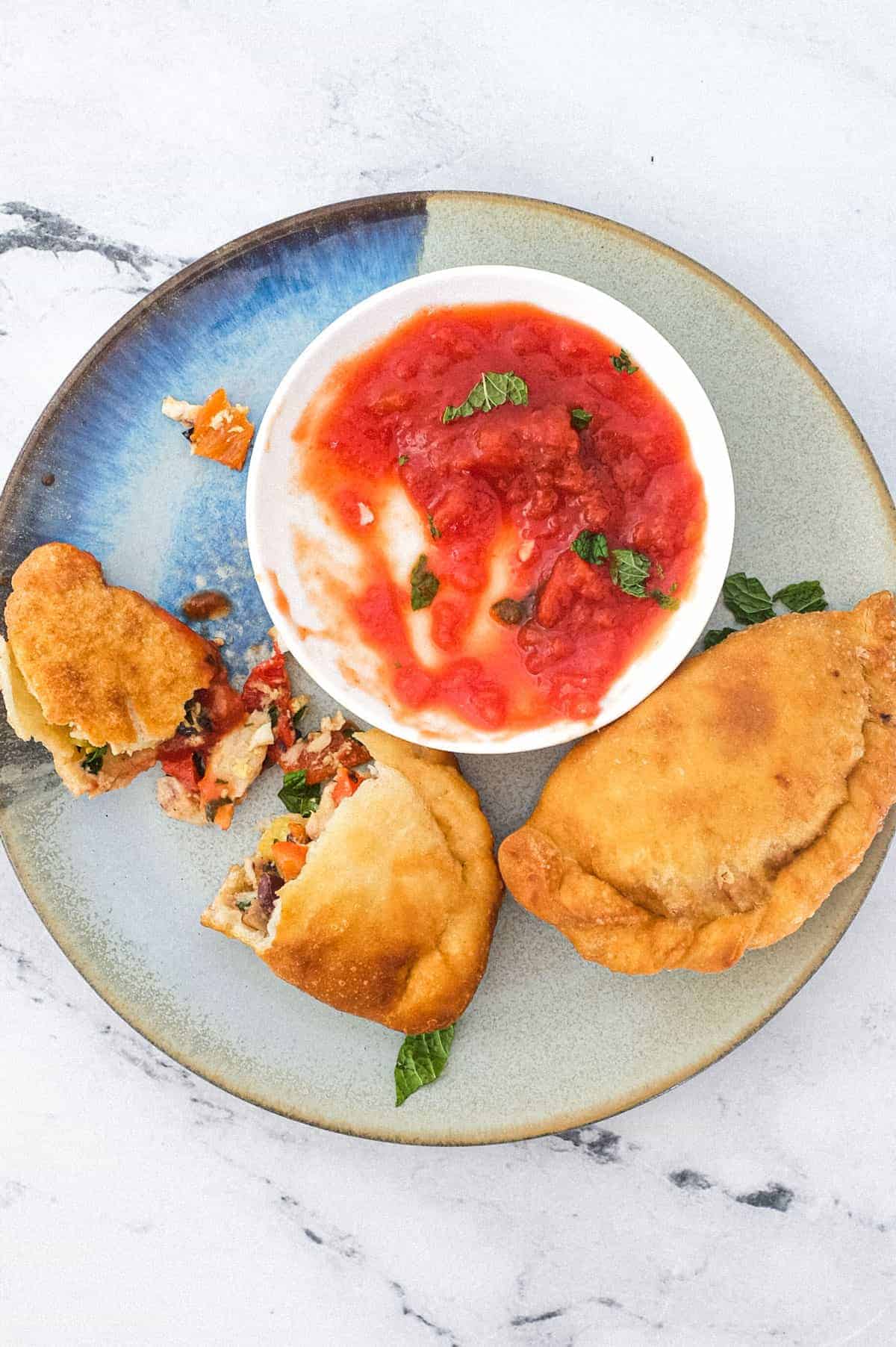 Panzerotti are a wonderful little dish to serve for gatherings, parties, game day or just for yourself in front of the TV. They're miniature versions of the Neapolitan calzone, a large folded pizza. Panzerotti are a small, deep fried version which are eaten all-across Italy, but especially loved in the central and southern regions.
What's in a name?
Across Italy, Panzerotti (panzerotto – singular) also go by the name Panzarotti, Calzone Fritti, Pizze Fritti, Frittelle, Frittelli and Fritte.
What are Panzerotti?
Panzerotti are small discs of panzerotti dough (pizza dough), which are stuffed with a filling and then folded (typically into semi-circles or half-moons – "mezzelune") and typically deep fried. They look a little like a mini Cornish pasty or savoury turnover.
Traditionally, panzerotti are stuffed with tomato and mozzarella cheese but many varieties exist filled with ingredients like mortadella, escarole, onions, anchovies and in this case, tuna.
My recipe for panzerotti is cheese free. I follow the unspoken rule of no cheese with seafood (even though I've been served cheese with seafood in Italy!). There's plenty of salty umami delight in this dish from the olives and capers.
For the stuffing of my panzerotti you'll need:
Tuna – best quality canned or jarred tuna in olive oil
Red bell pepper – Roasted and the skin peeled (you can also used jarred roasted peppers)
Olives – I like a mixture of black & green
Eggs – hard boiled for texture and flavour
Capers – Salty bursts of sourness
Herbs – I use fresh mint and parsley for this recipe – but try basil, oregano, marjoram or thyme too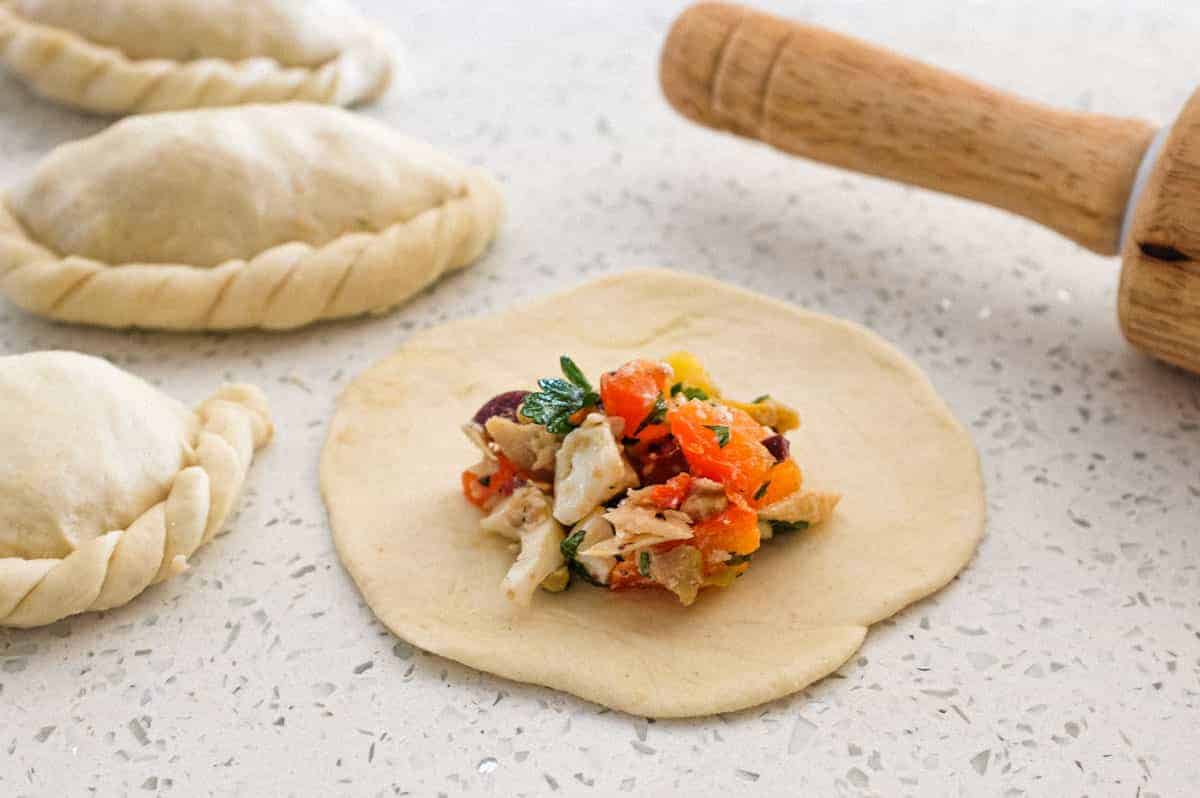 How to make Panzerotti – step by step.
Making Panzerotti is easy, here are the key steps to getting the job done.
Making Panzerotti dough – You can short-cut by using pre-bought pizza dough, but making your own isn't too hard. Just leave an hour or so in your schedule to rest and prove the dough.
Roasting the pepper – I roast mine on the BBQ, but a hot oven or grill is fine. You can also

shortcut this stage by buying jarred red peppers.

Making the filling – Then all you need to do is combine all the other fresh ingredients to make the filling. Simple.
Stuffing the panzerotti – Once the dough has proved for an hour, you can cut into small pieces and then roll out into small discs. Then pop on a little stuffing, fold in half and seal. I like to do a rolling seal like a Cornish Pasty for deep frying security. The panzerotti will puff up in the hot oil and a badly sealed dough will erupt!
Fry! – Fry for 3-4 minutes until golden brown. The panzerotti can often be hard to turn over in the oil as they become very buoyant and have a stubborn 'one way up' position. Use a long handled spoon to splash oil over the top surface as they cook to ensure even browning.
Serve!
Scroll to see the steps
How to serve
You can eat panzerotti hot or cold, hot is GREAT, but beware – the steam created inside the panzerotti during cooking makes the inside the temperature of the sun! You won't be able to to help yourself, but you've been warned.
Traditionally, panzerotti are served with a little tomato sauce to dip – I approve of this addition wholeheartedly! I simply use a little cold tomato polpa or passata, straight from the jar or can and it's perfect.
You can eat them at room temperature too, but if you want to eat them hot later – just warm through in the oven for 5 minutes. Hope you enjoy these Italian hot pockets as much as I do!
More Italian recipes
If you liked my panzerotti recipe then give another of my Italian favourites a try.
How to make Panzerotti (mini calzone pizza with tuna, olives & red pepper)
Panzerotti (mini calzone pizza with tuna, olives & red pepper)
Rate this recipe
Print Recipe
Pin Recipe
Calories (per serving) |
387
Ingredients
For the filling
200

g

tuna fillet

(7oz) (good quality, canned or jarred)

2

tbsp

capers

½

cup

olives

(green or black or both, pitted and roughly chopped)

1

red bell pepper

Roasted, peeled and chopped)

2

tbsp

white wine vinegar

1

tbsp

parsley

(chopped)

2

eggs

(hard boiled, peeled and crumbled)
Instructions
To make the filling
On a BBQ or under a hot broiler or grill, roast the red pepper until it's charred on all sides. Remove and place into a plastic bag for 2-3 minutes.

Peel off the skin and remove the stem and seeds and discard.

Chop the pepper into small pieces and add to a large bowl.

Drain then flake the tuna fillets into the bowl along with all the other filling ingredients. Stir well, cover and refrigerate until needed.
To make the panzerotti dough
Combine the yeast, flour and olive oil and begin to add the water, stirring with your hand. Once halfway through, add the salt and then the remaining water.

Bring the dough into a whole ball then place on the work surface. Knead the dough for 10 minutes.

Using a large plastic container, drizzle about 2tbsp oil inside and spread around to coat all the sides and base with oil. Pop the dough ball into the centre then cover loosely with plastic wrap.

Leave the dough somewhere warm (not hot) for 1 hour. After an hour the dough should have doubled in size.

Gently tip the dough onto a floured work surface and cut it in half. Cut each half into 4 pieces, then cut each of those pieces into 3 pieces. Repeat with all the dough and you should end up with 24 dough balls.
Making the panzerotti
Using a rolling pin, roll a ball into a disc around 3"/9cm

Take a heaped teaspoon of the filling and place it in the centre. Use a little water on your finger to wet the edge of half of the dough, then lift up the dough and fold in half to form a semi-circle.

From the end, press firmly and create little twists inwards to press and seal the edges, you'll end up with a little rope effect (see pics above) - like a cornish pasty.

Repeat using all the dough - you should have enough filling to complete all 24. However, if you run out of filling (and you have it), add a little tomato, ham and mozzarella as a sneaky second filling!
Frying the panzerotti
Heat the canola oil in a medium saucepan until hot, around 350-375ºF/175-190ºC)

Carefully add around 4 panzerotti into the oil. They will puff up and become difficult to turn, so using a large spoon, carefully splash the surface of the panzerotti as they cook. Cook for 3-4 minutes until golden brown.

Remove from the pan and drain on paper towels as you repeat the process for all the panzerotti.
Serving
Serve hot with a small bowl of tomato polpa/pasatta as a dipping sauce for each mini pizza pocket.
Nutrition
Calories:
387
kcal
(19%)
|
Carbohydrates:
57
g
(19%)
|
Protein:
10
g
(20%)
|
Fat:
13
g
(20%)
|
Saturated Fat:
2
g
(13%)
|
Polyunsaturated Fat:
3
g
|
Monounsaturated Fat:
8
g
|
Trans Fat:
1
g
|
Cholesterol:
55
mg
(18%)
|
Sodium:
674
mg
(29%)
|
Potassium:
329
mg
(9%)
|
Fiber:
4
g
(17%)
|
Sugar:
3
g
(3%)
|
Vitamin A:
1017
IU
(20%)
|
Vitamin C:
31
mg
(38%)
|
Calcium:
36
mg
(4%)
|
Iron:
4
mg
(22%)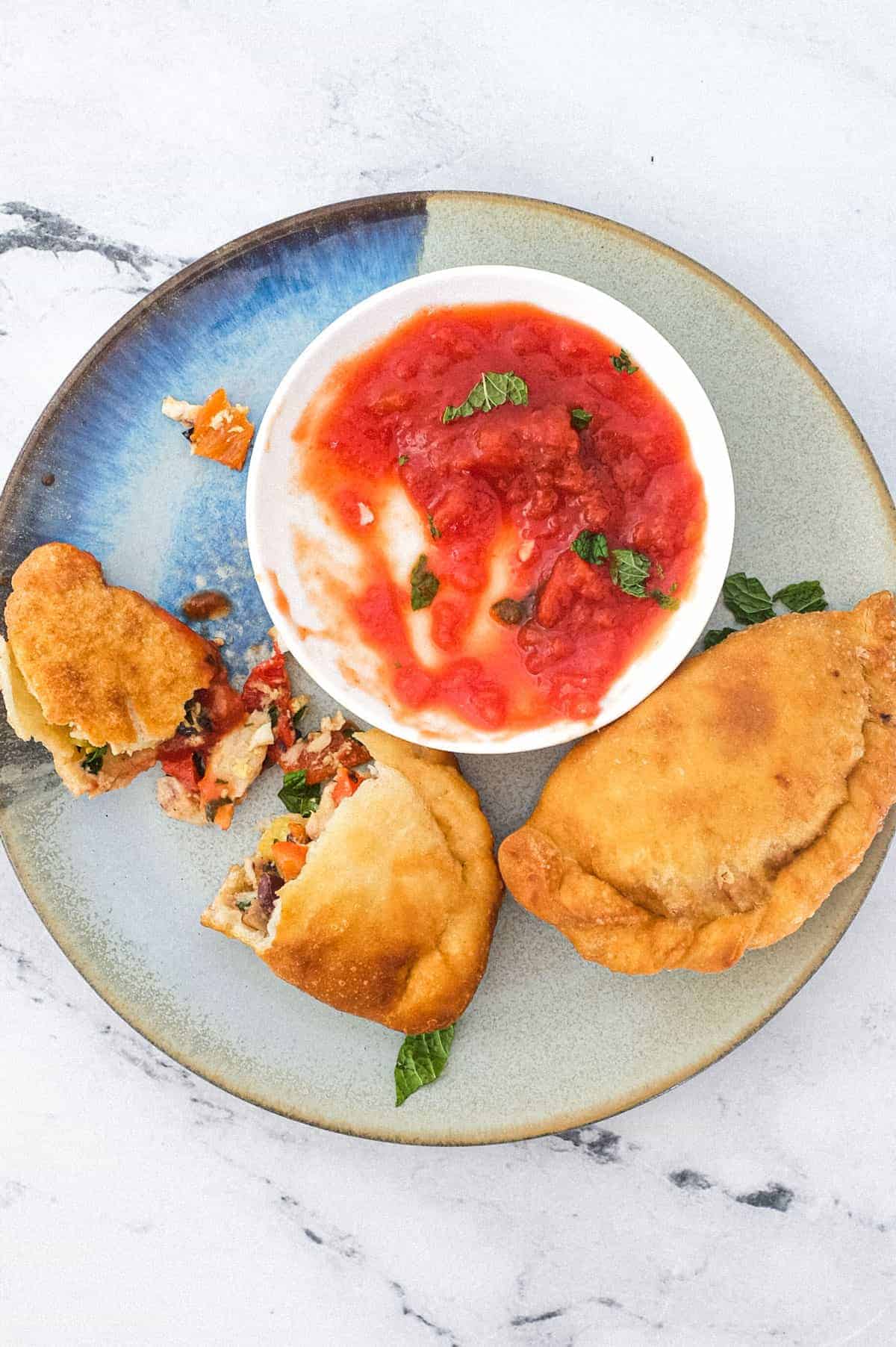 Did you make my Panzerotti (mini calzone pizza with tuna, olives & red pepper)
How did you go? Let me know in the comments below and be sure to tag @cookeatworld at Instagram.
This site contains affiliate links to products. We may receive a commission for purchases made through these links. Learn more.