Italian Ricotta Pie (Torta Di Ricotta)
An Italian sweet pie with a buttery crust and a light, creamy and lemon infused ricotta filling is the perfect slice of Italy. Learn how easy this ricotta pie (torta di ricotta) is to create at home – it's pure heaven!
One of my all-time favourite sweet treats is this sublime Italian ricotta pie (torta di ricotta). First introduced to me in Sydney at the marvellous Pasticceria Papa in Sydney - in the Italian enclave of Haberfield - I would religiously ride my bike (for exercise) to the bakery and cancel out the exercise with a big slice of torta di ricotta and an espresso. It was one of my favourite things to do. After moving to the US, I MISSED this pie so much that I set about creating my own recipe.
Many trials (and errors) later, I have settled on the right recipe. It's pretty much identical to the Aussie/Italian version. And let me tell you, it's absolutely amazing!!
This pie is not too sweet, and a perfect creamy filling with a spritz of lemon and vanilla, encased in the most perfect, crumbly sweet shortcrust pastry. The generous dusting of cinnamon and powdered sugar on top adds a truly delicious finish to an already splendid pie. It's a light, bright offering and possibly the most delicious Italian pastry I know.
An Easter treat - all year round
Traditionally, torta di ricotta is eaten around easter time in Italy, but I'm not waiting for that, in fact, once a year simply won't cut it - I could eat this pie (in its entirety) every day, no sweat. It's the perfect accompaniment to an afternoon coffee or tea. A tasty breakfast treat or a simple dessert.
Making the ricotta pie - step by step
This recipe is super simple, all the hard work has been done (by me) to ensure the most perfect Italian sweet pie every time. There are a few things to take note of and watch out for, but generally speaking, there's nothing too taxing.
Make the pastry - Short crust pastry is simple, it's a forgiving dough. Just be sure to chill it before rolling. I've found that rolling it between two sheets of plastic wrap is a great way to get it into the pie dish or tin without too many breakages. That said, if it does break (and it does!) a patch of pastry to ensure it's sealed is perfectly fine. Some of my efforts have been a complete patchwork quilt of pastry, so there's no shame in bodging things!
Make the filling - just whizz everything together pretty much. One thing to watch out for is the ricotta - if it's very wet, pop it into a fine sieve or strainer with cheesecloth for 30 minutes to drain a little - 2 eggs is all we use to bind and set the ricotta, and if it's too wet, the pie filling might not firm up as much as we'd like.
Bake - 45-55 minutes and we're done. Be sure to leave to cool completely, then chill for 2-3 hours to ensure it's nice and set inside. Then I love to eat mine cold, from the fridge.
Dust!

- The real magic comes in the form of the generous dusting of cinnamon and powdered sugar (

icing

sugar). I use

my cooling

rack grill and some chopsticks to make a pattern! The flavour cinnamon works particularly splendidly!
More sweet things
I'm not really a baker of mega-lover of sweet things, but I do have my exceptions. Here are some of my favourite sweet treat recipes.
How to make Italian Ricotta Pie (Torta Di Ricotta)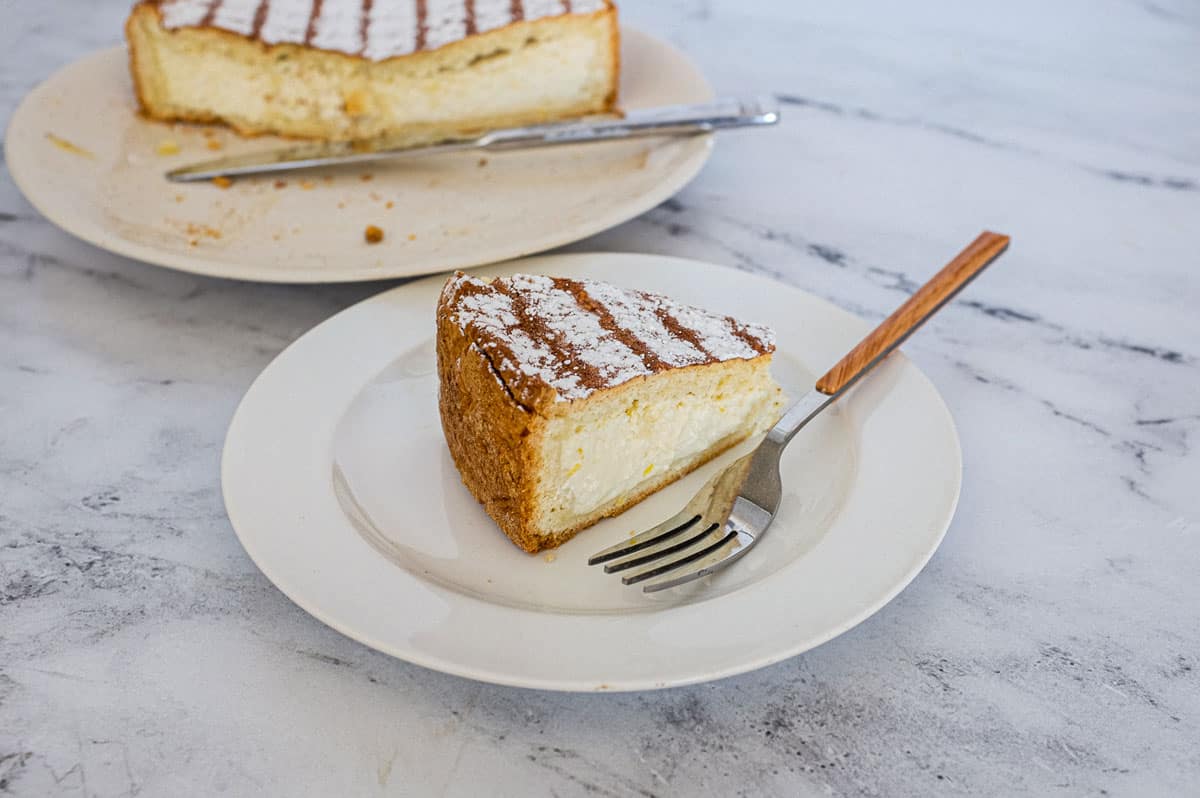 Ricotta Pie
Rate this recipe
Print Recipe
Pin Recipe
Servings (adjustable)
8
Slices
Calories (per serving) |
531
Ingredients
For the pastry
3½

oz

unsalted butter

(100g) (room temperature)

¼

cup

sugar

1

egg

¼

cup

fresh cream

2

cups

all purpose flour

(plain flour)

3

tsp

baking powder
For the Ricotta filling
¼

cup

sugar

8

oz

marscapone cream

(225g)

2

eggs

(large)

1

tsp

vanilla extract

15

oz

ricotta cheese

(500g)

1

lemon

(zest of)

1

tbsp

honey
Instructions
For the pastry
Using a stand or hand mixer, beat the butter with the sugar until light and fluffy

Add the egg and cream and beat to combine

Gently beat in the flour and baking powder to combine well, then using your hands bring the mixture together to form a ball

Wrap the pastry in plastic wrap and refrigerate for an hour
To make the filling
If the ricotta is wet and has a lot of liquid around it, drain for 30 minutes in a strainer or sieve with some muslin to dry out a little.

Using a stand or hand mixer, beat the eggs and sugar together until light and fluffy.

Add the marscapone cream and beat again until combined and creamy

Gently beat in the vanilla, ricotta, lemon zest and honey then set aside.
To make the pie
Preheat oven to 180ºC/350ºF

Butter a 10" baking tin or pie dish and dust with flour.

Take the pastry and cut into ⅔ / ⅓ portions. The ⅔ piece will be for the base and the ⅓ for the top.

Place a piece of plastic wrap on the surface then the ball of dough. Begin to gently press down on the dough with a rolling pin to flatten it out a little then start rolling. If the dough sticks a little, dust the rolling pin with icing sugar (powdered sugar).

Roll the dough until it's large enough to fit the base and sides of the tin/dish (around 13-14")

Lift the dough by the plastic and gently flip it and carefully place into the tin. Peel off the plastic and gently press the pastry into the base and sides. The pastry can be quite fragile, so if it breaks, don't worry too much, just use another piece of pastry to patch the holes. Ensure it's sealed with as many patches as it takes.

Repeat the rolling process on plastic wrap for the lid of the pie. Set to one side.

Pour the ricotta mix into the tin and then carefully place the pie lid. Seal the edges together by pressing firmly then trim any excess pastry.

Bake in the oven for 45 minutes. You may need to loosely cover the pastry with some foil after 30 minutes to avoid burning.

Remove from the oven and leave to cool for 30 minutes before removing from the tin (if you used a pie dish, you can leave it in the dish if you like).

Dust in an artistic fashion with cinnamon and powdered/icing sugar. I dust generously with cinnamon first and then place over my cooling rack and some chopsticks to create a criss-cross pattern before re-dusting with sugar.

I like to chill my pie for at least an hour to help set it more.
Nutrition
Calories:
531
kcal
(27%)
|
Carbohydrates:
43
g
(14%)
|
Protein:
13
g
(26%)
|
Fat:
34
g
(52%)
|
Saturated Fat:
21
g
(131%)
|
Polyunsaturated Fat:
1
g
|
Monounsaturated Fat:
6
g
|
Trans Fat:
1
g
|
Cholesterol:
143
mg
(48%)
|
Sodium:
244
mg
(11%)
|
Potassium:
138
mg
(4%)
|
Fiber:
1
g
(4%)
|
Sugar:
15
g
(17%)
|
Vitamin A:
1130
IU
(23%)
|
Vitamin C:
7
mg
(8%)
|
Calcium:
262
mg
(26%)
|
Iron:
2
mg
(11%)
Did you make my Italian Ricotta Pie (Torta Di Ricotta)
How did you go? Let me know in the comments below and be sure to tag @cookeatworld at Instagram.
This site contains affiliate links to products. We may receive a commission for purchases made through these links. Learn more.