Italian Ricotta Pie (Torta Di Ricotta)
An Italian sweet ricotta pie with a buttery crust and a light, creamy and lemon infused filling is the perfect slice of Italy. Learn how easy this ricotta pie (torta di ricotta) is to create at home – it's pure heaven!
When asked about my favourite sweet Italian treats, this pie is always top of the list. A delicious ricotta filled pie that's light, creamy, lemony and super fresh.
This pie is not too sweet, and a perfect creamy filling with a spritz of lemon and vanilla, encased in the most perfect, crumbly, buttery sweet shortcrust pastry. The generous dusting of cinnamon and powdered sugar on top adds a truly delicious finish to an already splendid pie. It's a light, bright offering and possibly the most delicious Italian pastry ever.
What is Ricotta Pie?
My ricotta pie recipe is most similar to a Sicilian ricotta pie, which is a closed pie, in that it has pastry on top too. It uses a sweet shortcrust pastry called 'Frolla Pastry', which in my recipe includes baking powder and lemon zest to give a light texture and flavour.
Other ricotta pies are common in other parts of Italy, most notably the Campanian Pastiera Napoletana which uses unusual cooked grains in the filling called grano cotto and often features a lattice top, supremely tasty!
Torta di Ricotta (also called 'Crostata di Ricotta') is commonly eaten around Easter and Christmas in Italy, but honestly, it's in most Pasticceria (pastry shops) all year round – and if it's not, you can NOW make this traditional pie at home yourself 365 days a year.
Why it works
Creamy, buttery, sweet and lemony. Four words tell you everything you need know about this marvellous Italian treat. I love this pie as it's not super sweet. It has the perfect balance of sweetness, lemon freshness and light creaminess.
Stuff you'll need
There are few ingredients in this pie, but as with all Italian recipes the quality of ingredients play a large part in their success. For an authentic pie, pick up the best you can – there are some tricks to help along the way.
For the sweet Frolla pastry:
Flour – I use a finer flower, '00' flour

for the Frolla pastry. The same type used for pizza dough and breads.

Butter – good quality unsalted butter gives the best decadent flavour.
Eggs and cream along with lemon zest, sugar and baking powder will create the lightest, slightly sweet Frolla pastry.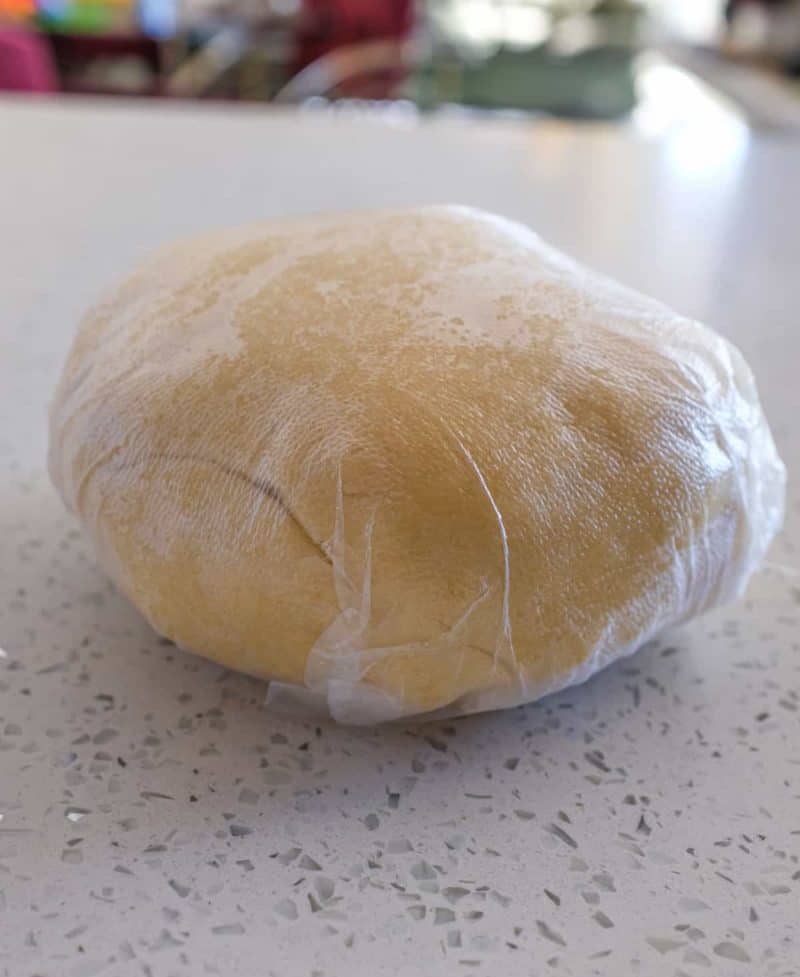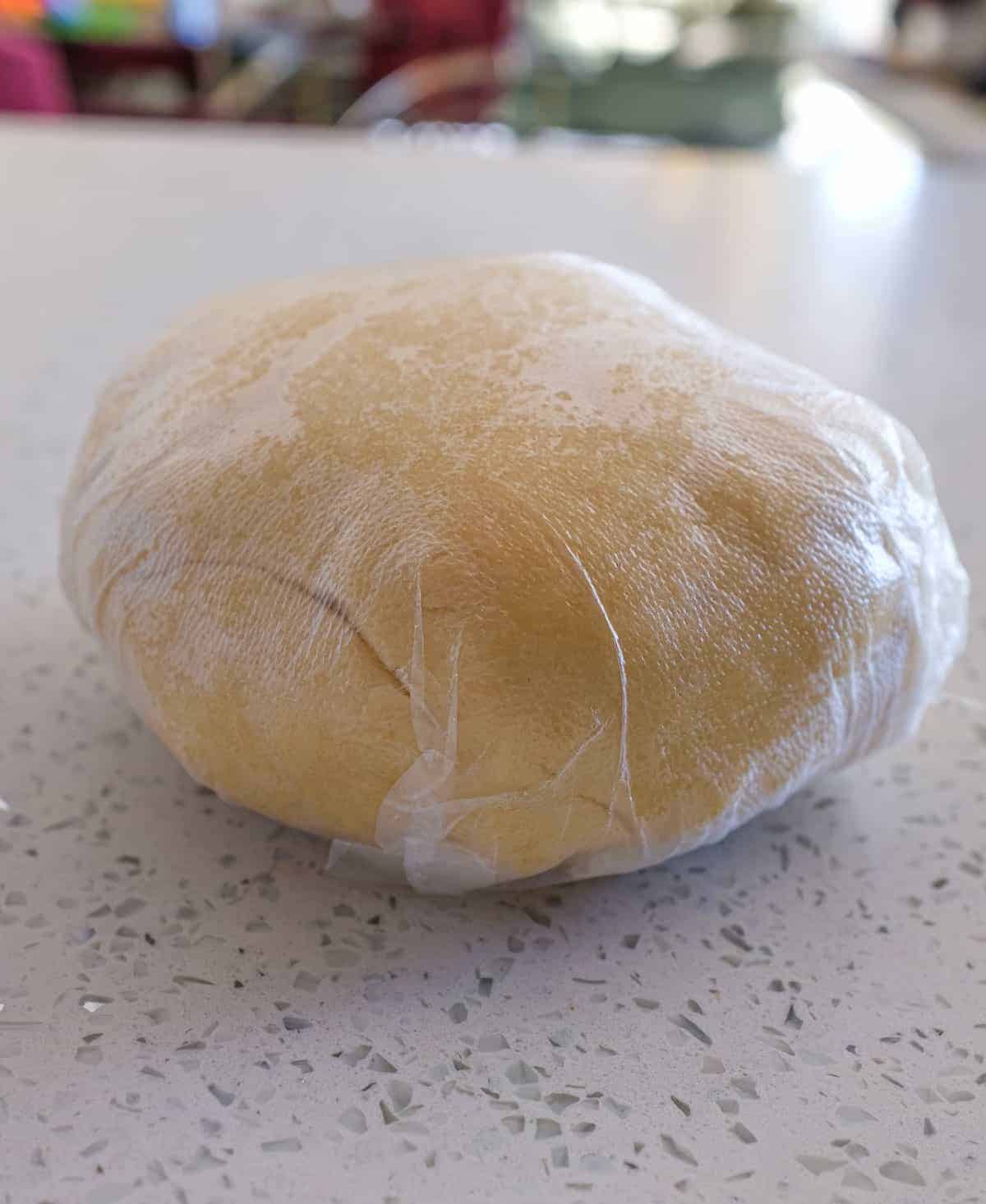 For the ricotta filling

:
Ricotta – good quality ricotta is firmer than many supermarket varieties. If Supermarket is all you can find, you should consider straining it for around 10-12 hours. Just tip into a muslin (cheesecloth)-lined sieve, cover and place over a bowl in the fridge. It'll firm up and will avoid the pie from being too wet.
Marscapone cheese – I like to beat in Marscapone cheese to amplify the creaminess.
Sugar, eggs and a little honey. The eggs will help 'set' the filling into a semi-firm filling. Sugar and honey for a little sweetness.
Lemon zest and vanilla round off the flavours to create the authentic, zesty freshness to the filling.
Step by Step
This ricotta pie recipe is super simple. There are a few things to take note of and watch out for, but generally speaking, there's nothing too taxing.
Step 1 - Make the pastry - Short crust (Frolla) pastry is simple, it's a forgiving dough. Just be sure to chill it for 30 minutes before rolling. I've found that rolling it between two sheets of plastic wrap is a great way to get it into the pie dish or tin without too many breakages. That said, if it does break (and it often does!) a patch of pastry to ensure it's sealed is perfectly fine. Some of my efforts have been a complete patchwork quilt of pastry, so there's no shame in bodging things! I've also determined that there's no need to blind bake this pastry, I've tried both ways and it's perfect without blind baking.

Step 2 -

Make the filling - just beat everything together.

Step 3 -

Bake - 45-55 minutes and we're done. Be sure to leave to cool completely, then chill for 2-3 hours to ensure it's nice and set inside. Then I love to eat mine cold, from the fridge.

Step 4 -

Dust! - The real magic comes in the form of the generous dusting of cinnamon and powdered sugar (icing sugar). I get creative and use my cooling rack grill and some chopsticks to make a pattern! The flavour of cinnamon works particularly splendidly!
Pro Tips to make your life easier
Making pastry ahead of time – you can make this pastry ahead of time and freeze. It'll be good for 3 months frozen. Just be sure to defrost thoroughly before using.
Chill the pastry – chilling shrotcrust pastry ensures the butter in the mix is cold – this will ensure a good crust when it hits the hot oven and avoid the pastry sliding and releasing butter into an oily slick, making the pastry rock hard. TIP: Once you've gotten the base into the tin, freeze for 10 minutes before adding the filling.
Drain your ricotta – In Italy, ricotta is a serious affair, often being served in small baskets to help drain them of excess moisture. Supermarket versions are often watery, so draining them will give a superior texture and avoid soggy pies. Place your supermarket ricotta into muslin/cheesecloth over a sieve and bowl in the fridge and drain for 10-12 hours. You'll notice the difference.
Dust generously with sugar and cinnamon – this topping is traditional and really adds a delicious note to the finished pie.
Chill once baked – I prefer my ricotta pie cold from the fridge, but room temperature is fine.
Serving and storing suggestions
I like to serve my sweet ricotta pie as a snack with coffee or tea, but it's great as a dessert too, on its own. No need for cream, sauces or anything else. It's perfect solo!
Ready to get cooking?
As sweet teats go, it's hard to beat this Italian treasure. It's a light, fresh and super delicious dream. It's a winner all year round, so don't wait until Christmas or Easter to enjoy the delights of a sweet ricotta pie.
Any Questions? (FAQ)
Have a question about Ricotta Pie (Torte di Ricotta)? Let me know in the comments.
Where is ricotta pie from?
Italy, eaten the length and breadth of the country in various forms, although my version takes its cues from Southern Italy, Sicily to be precise.
Is Ricotta cheese healthy?
Loosely speaking, ricotta cheese is healthier than many cheeses, with around 10% fat and less salt. Bear I mind, this recipe still features sugar, cream and butter.
More dessert recipes
When my sweet tooth makes an appearance I have a few favourite recipes I call upon. Here are a few -fail-safe treasures from around the World.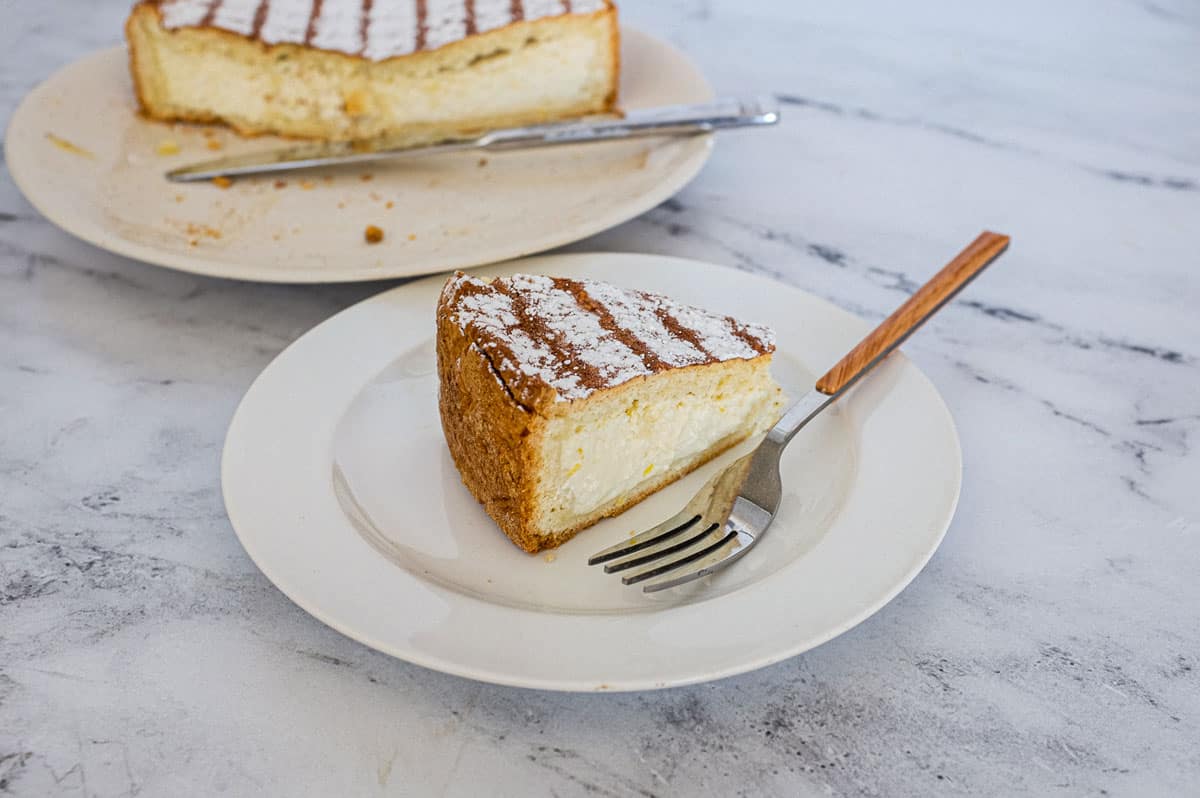 Ricotta Pie
Rate this recipe
Print Recipe
Pin Recipe
Save Recipe
Go to Collections
Servings (adjustable)
8
Slices
Calories (per serving) |
531
Instructions
For the Frolla pastry dough
Using a stand or hand mixer, beat the butter with the sugar and lemon zest until light and fluffy

Add the egg and cream and beat to combine

Gently beat in the flour and baking powder to combine well, then using your hands bring the mixture together to form a ball

Wrap the pastry in plastic wrap and refrigerate for an hour
To make the filling
If the ricotta is wet and has a lot of liquid around it, drain for 30 minutes in a strainer or sieve with some muslin to dry out a little.

Using a stand or hand mixer, beat the eggs and sugar together until light and fluffy.

Add the marscapone cream and beat again until combined and creamy

Gently beat in the vanilla, ricotta, lemon zest and honey then set aside.
To make the pie
Preheat oven to 180ºC/350ºF

Butter a 10" baking tin or pie dish and dust with flour.

Take the pastry and cut into ⅔ / ⅓ portions. The ⅔ piece will be for the base and the ⅓ for the top.

Place a piece of plastic wrap on the surface then the ball of dough. Begin to gently press down on the dough with a rolling pin to flatten it out a little then start rolling. If the dough sticks a little, dust the rolling pin with icing sugar (powdered sugar).

Roll the dough until it's large enough to fit the base and sides of the tin/dish (around 13-14")

Lift the dough by the plastic and gently flip it and carefully place into the tin. Peel off the plastic and gently press the pastry into the base and sides. The pastry can be quite fragile, so if it breaks, don't worry too much, just use another piece of pastry to patch the holes. Ensure it's sealed with as many patches as it takes.

Repeat the rolling process on plastic wrap for the lid of the pie. Set to one side.

Pour the ricotta mix into the tin and then carefully place the pie lid. Seal the edges together by pressing firmly then trim any excess pastry.

Bake in the oven for 45 minutes. You may need to loosely cover the pastry with some foil after 30 minutes to avoid burning.

Remove from the oven and leave to cool for 30 minutes before removing from the tin (if you used a pie dish, you can leave it in the dish if you like).

Dust in an artistic fashion with cinnamon and powdered/icing sugar. I dust generously with cinnamon first and then place over my cooling rack and some chopsticks to create a criss-cross pattern before re-dusting with sugar.

I like to chill my pie for at least an hour to help set it more.
Notes
Tips:
Keep the pastry cold. Refrigerate before rolling for 15-30 minutes. Then, once you have the base in the tin, refrigerate again – this will ensure a nice, crusty but light texture when cooked.
Drain your ricotta – Supermarket ricotta can often bee a little watery. Tip yours into a muslin, covered sieve over a bowl to catch the liquid. Cover and drain for 10-12 hours in the fridge. You'll notice the difference.
Serving suggestions
Serve as a snack or dessert. No need for any accompaniments, this ricotta pie is all you need.
Storage
Fridge: Keep in the fridge (covered) for up to a week.
Freezer: Not suitable for freezing as a pie, but you can freeze the Frolla pastry element (wrapped in plastic) for up to 3 months. Defrost before rolling out and using.
Nutrition
Calories:
531
kcal
(27%)
|
Carbohydrates:
43
g
(14%)
|
Protein:
13
g
(26%)
|
Fat:
34
g
(52%)
|
Saturated Fat:
21
g
(131%)
|
Polyunsaturated Fat:
1
g
|
Monounsaturated Fat:
6
g
|
Trans Fat:
1
g
|
Cholesterol:
143
mg
(48%)
|
Sodium:
244
mg
(11%)
|
Potassium:
138
mg
(4%)
|
Fiber:
1
g
(4%)
|
Sugar:
15
g
(17%)
|
Vitamin A:
1130
IU
(23%)
|
Vitamin C:
7
mg
(8%)
|
Calcium:
262
mg
(26%)
|
Iron:
2
mg
(11%)