This super moist orange cake is a cake you'll come back to time and again. Soft, juicy and impossibly orangey it uses whole oranges to create something really very special.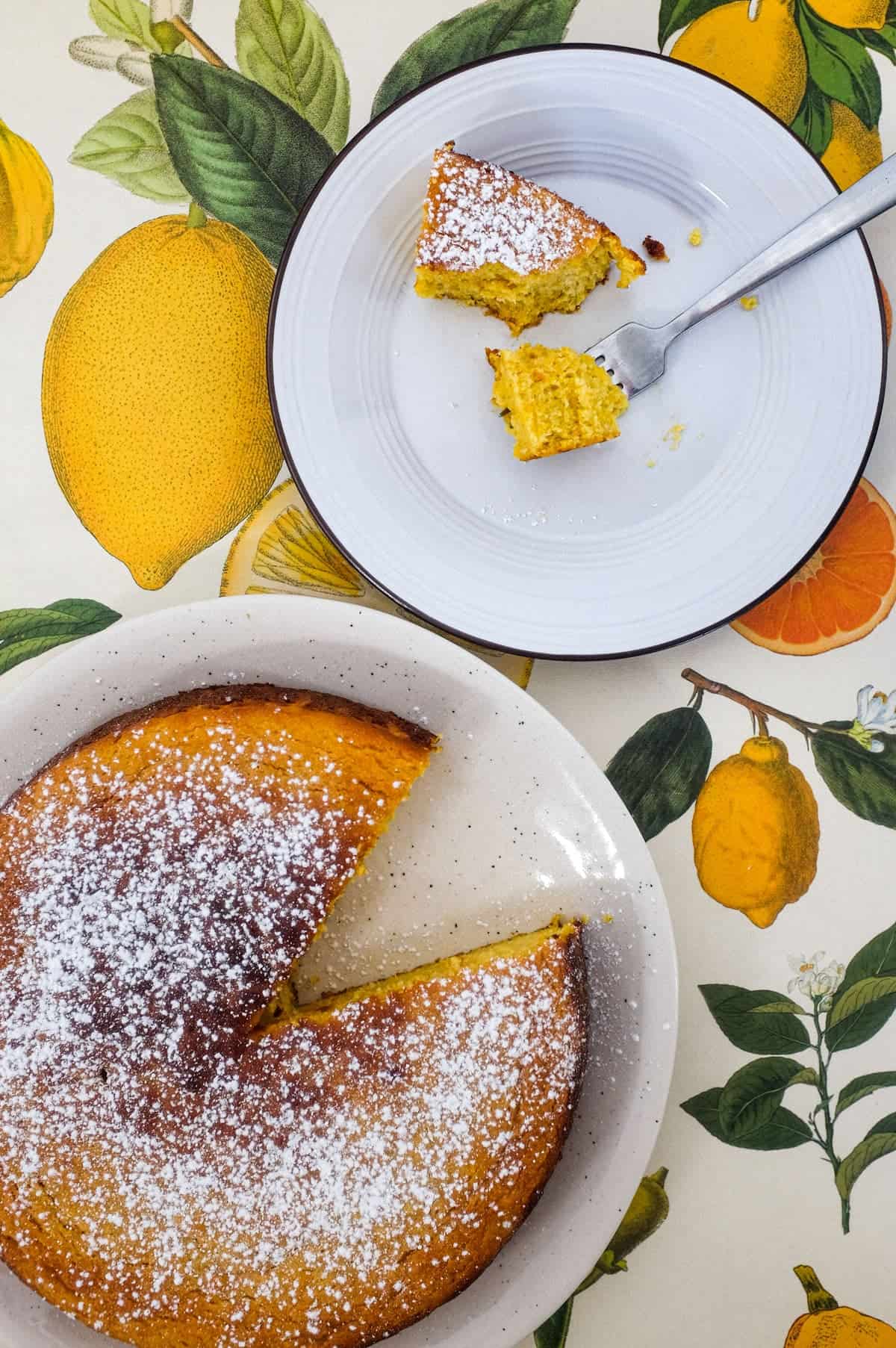 This orange cake is based on a recipe from one of my culinary idols, Claudia Roden. A flourless cake that is SO moist, so flavourful it's almost too much! I just love flourless cakes, they are mid way between cake and pudding and have a texture like nothing else. This cake has an intense burst of citrus orange essence and that shouldn't come as any surprise — there are two whole orange in it, skin, pith and all!
When I first baked this cake, many years ago, I was sceptical that boiling whole oranges and creating a puree would be anything other than gross, but on first taste I was convinced! My recipe doesn't stray too far from Roden's, but there are a couple of notable changes that I've incorporated that suit my palette a little more. You can check Claudia Roden's Orange & Almond Cake recipe here.
What is a flourless cake?
Cakes come in all shapes and forms, to have a flourless cake generally refers to a cake made without wheat flour. This has become more helpful guide in recent years to those with either a wheat intolerance (coeliac) or those wishing to follow a gluten free/reduced diet.
Wheat flour is replaced with similar ground 'flour' from gluten free options like rice, maize, almond , buckwheat etc.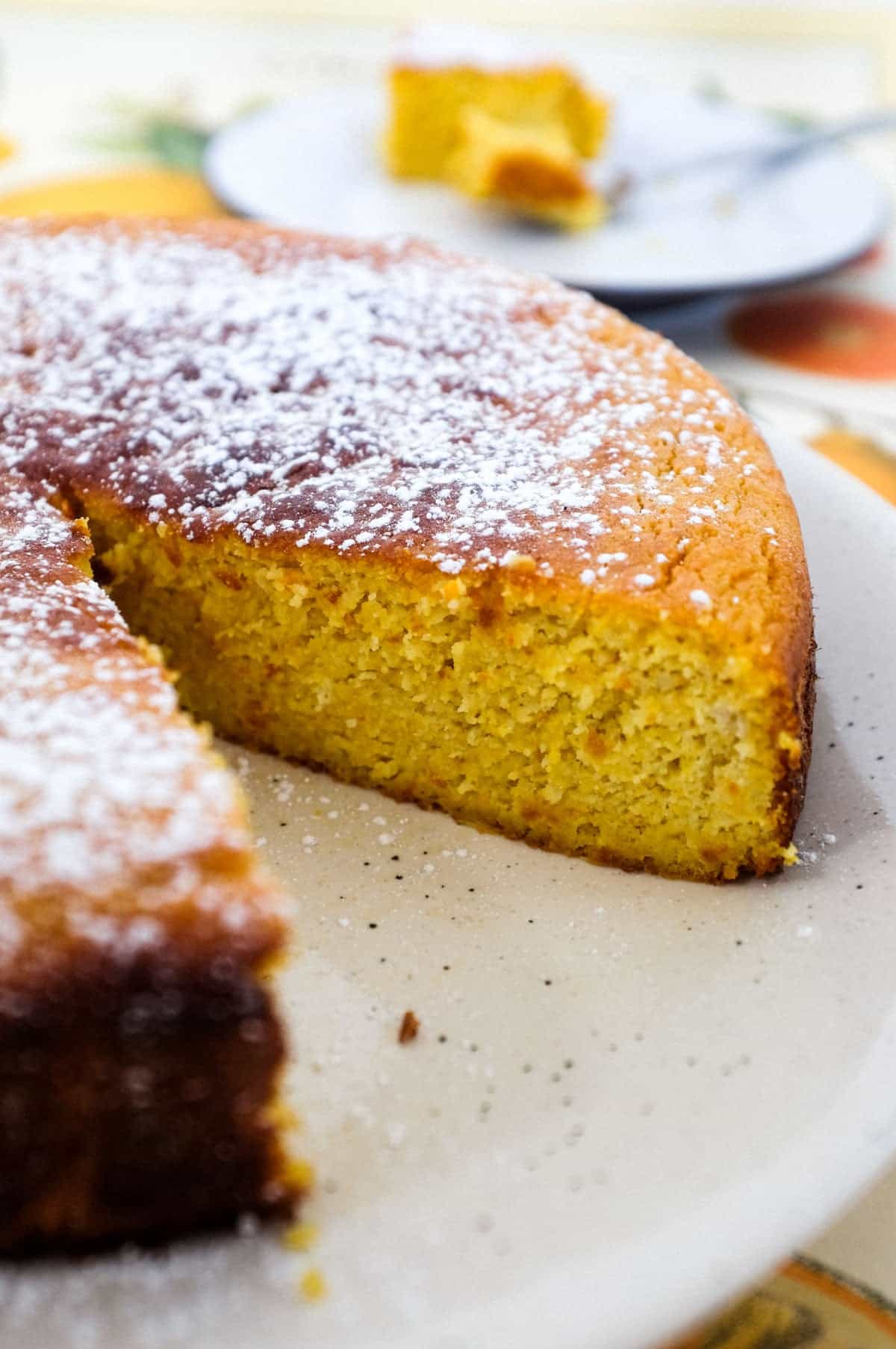 Why this cake works
The orange flavour - Claudia Rosen first introduced to me the notion of using an entire fruit in a cake, peel and all. The results are a wholly orangey flavour! The sweet tangy orange but also a light bitterness from the peel. It's truly delicious.
The luxurious, moist texture - This cake has a definite and pronounced density to it, it's a richer, heavier cake than a sponge with a wonderful moistness to it. It feels like a TREAT without feeling unhealthy!
Stuff you'll need
Making this cake is so easy! There are hardly any ingredients!
Oranges - two of your favourite types. My favourites are Valencia.
Almond flour - (also known as almond meal) brings a nutty richness to the cake
Sugar - it's a cake, it needs sugar!
Baking powder - helps the cake rise a little, for a lighter texture.
Almond extract - the flour has plenty of flavour, but almond extract just amps up the taste.
Eggs - There are 6 eggs in this cake! They act as binder but also give the cake its structure.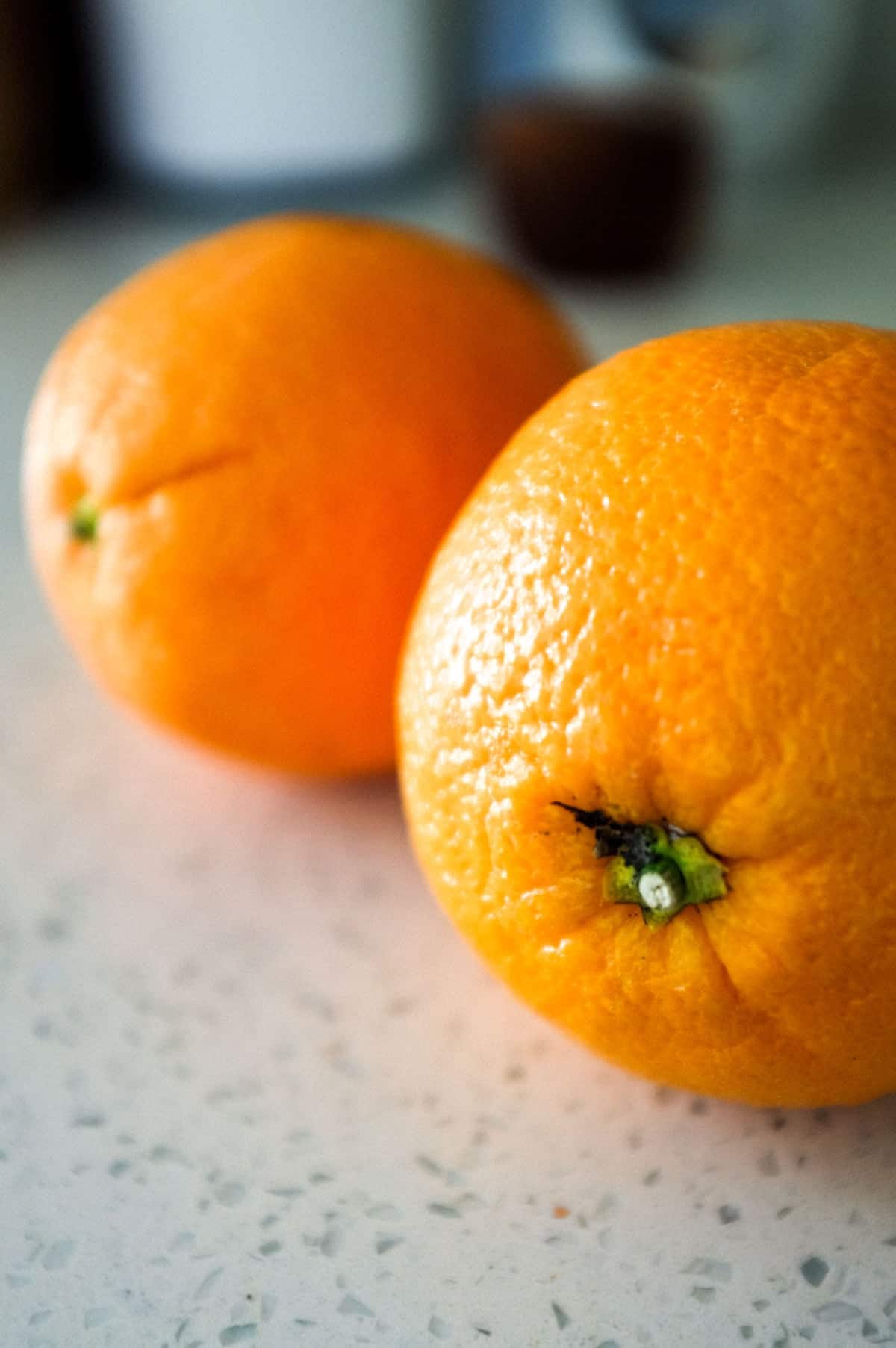 Step by Step
There are a couple of stages to this simple cake. Nothing difficult at all, and for the first time in your life you'll get to boil some oranges!
Step 1 - Gently simmer the oranges in a pan for 40 minutes, then change the water and cook for another 40 minutes. Let them cool completely then using a food processor or blender, blend into a puree.
Step 2 - Beat all the ingredients together until smooth then tip into a lined springform cake tin.
Step 3 -

Bake at 170ºC/340ºF for 45 minutes to 1 hour or until a skewer or knife when inserted to the centre of the cake comes out clean.

Step 4 - Leave to cool a little then remove from the pan and cool completely on a wire rack. Dust with confectioner's sugar / icing sugar just before serving.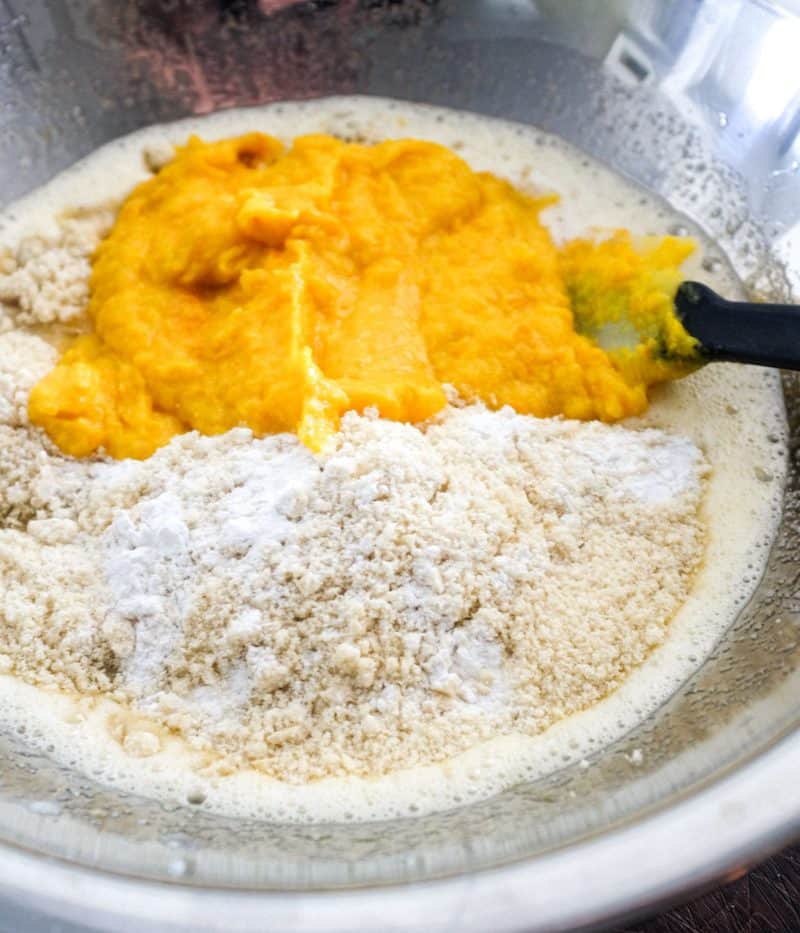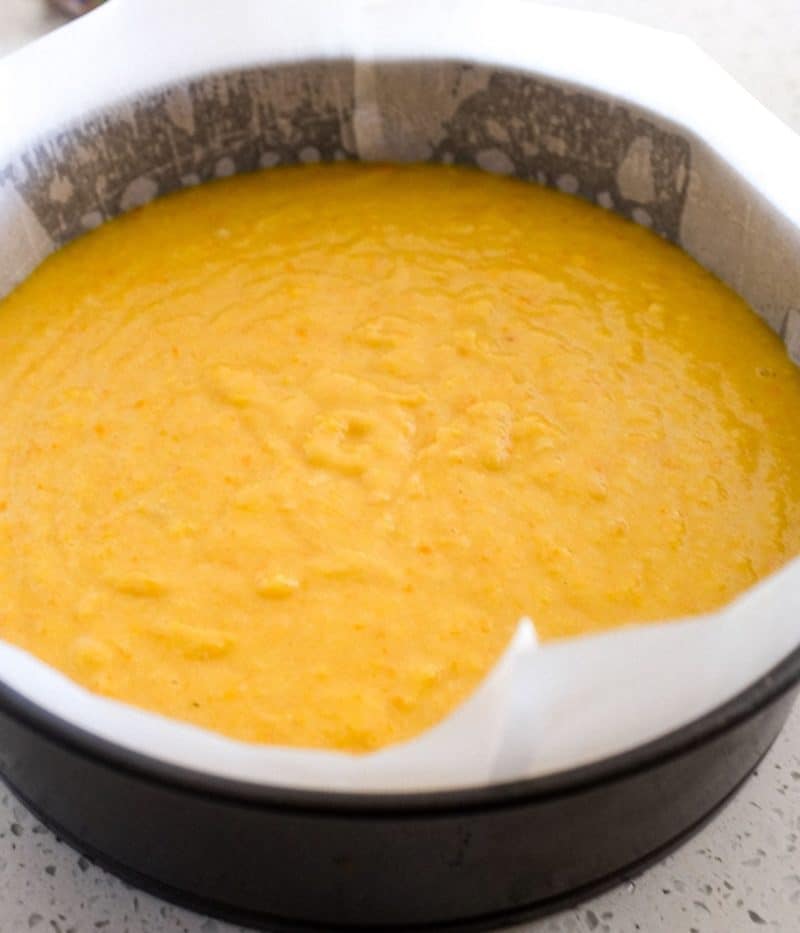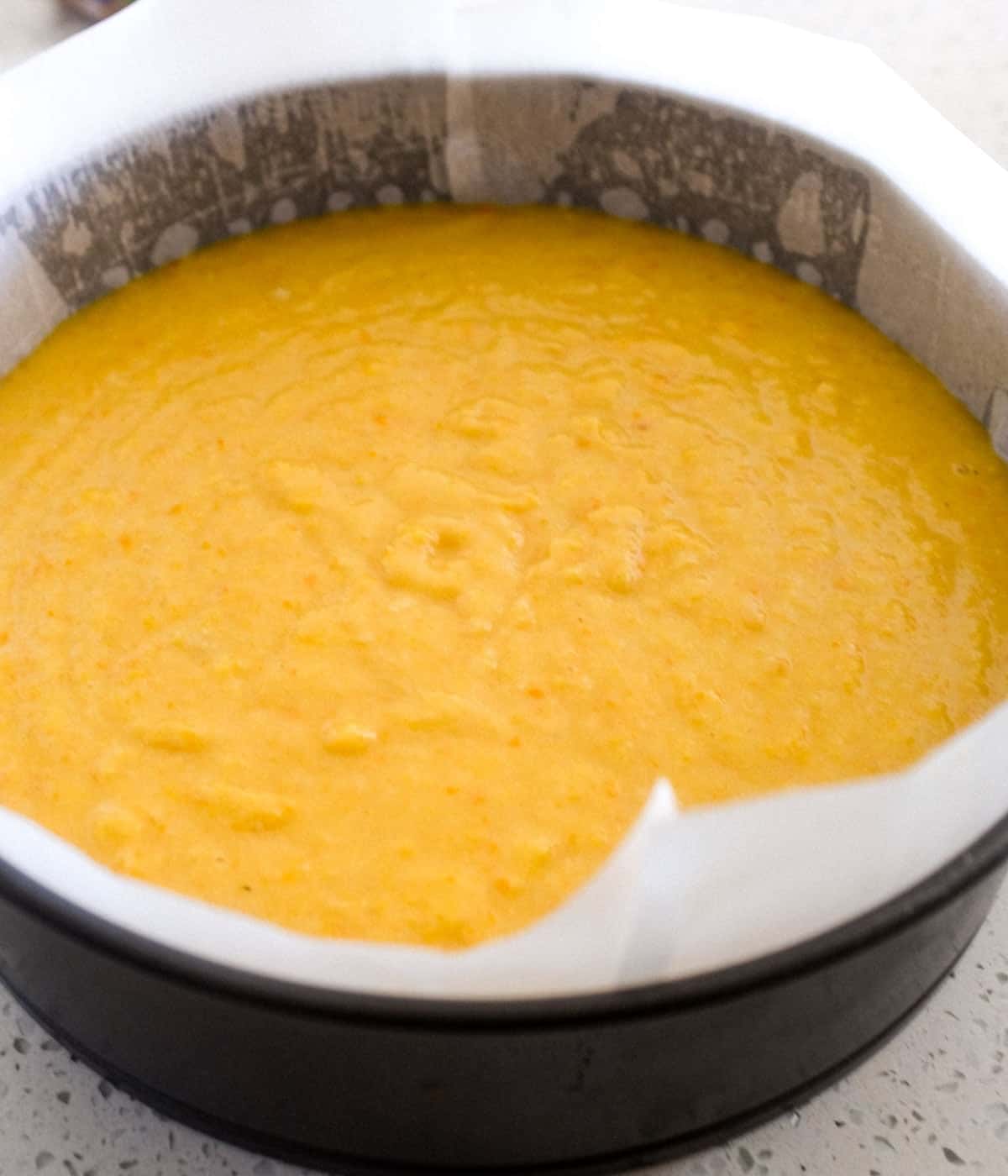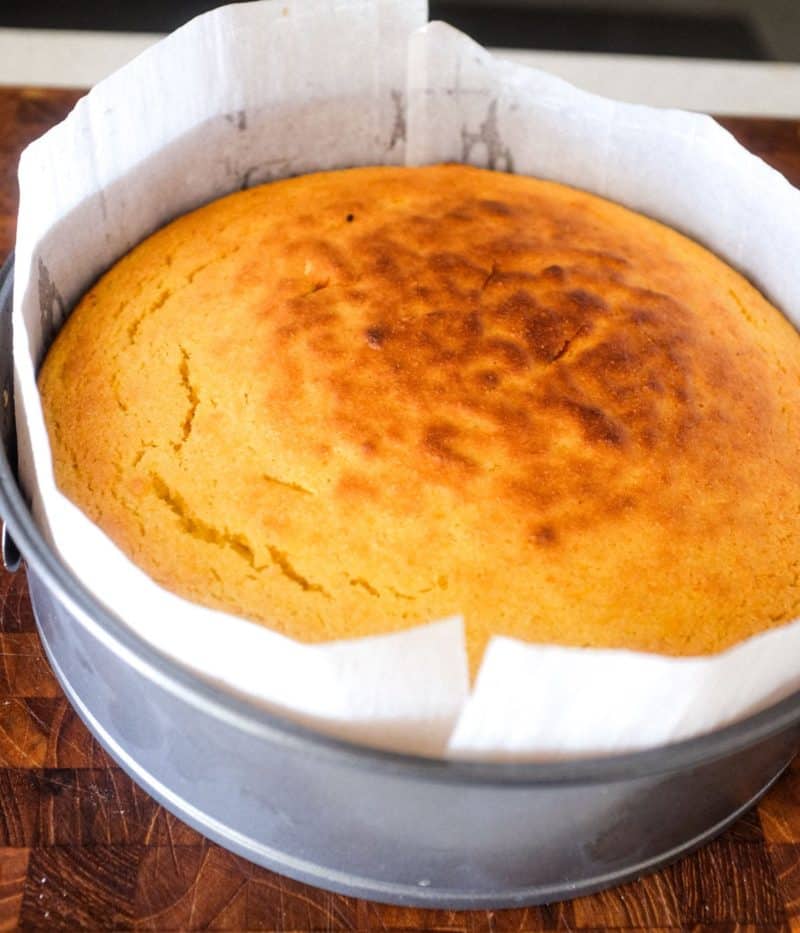 Serving and storing suggestions
My flourless orange cake is delicious served either at room temperature or chilled. I like to serve with a generous dollop of cream, marscapone or creme fraiche infused with a little honey, lemon and almond extract.
Storage - This cake will stay fresh for a few days on the countertop (covered or in an airtight container) or in the fridge for up to a week.
Freezing - I've had mixed results with freezing. Being quite moist, it can become a little soggy when defrosted from frozen, so I tend not to freeze it.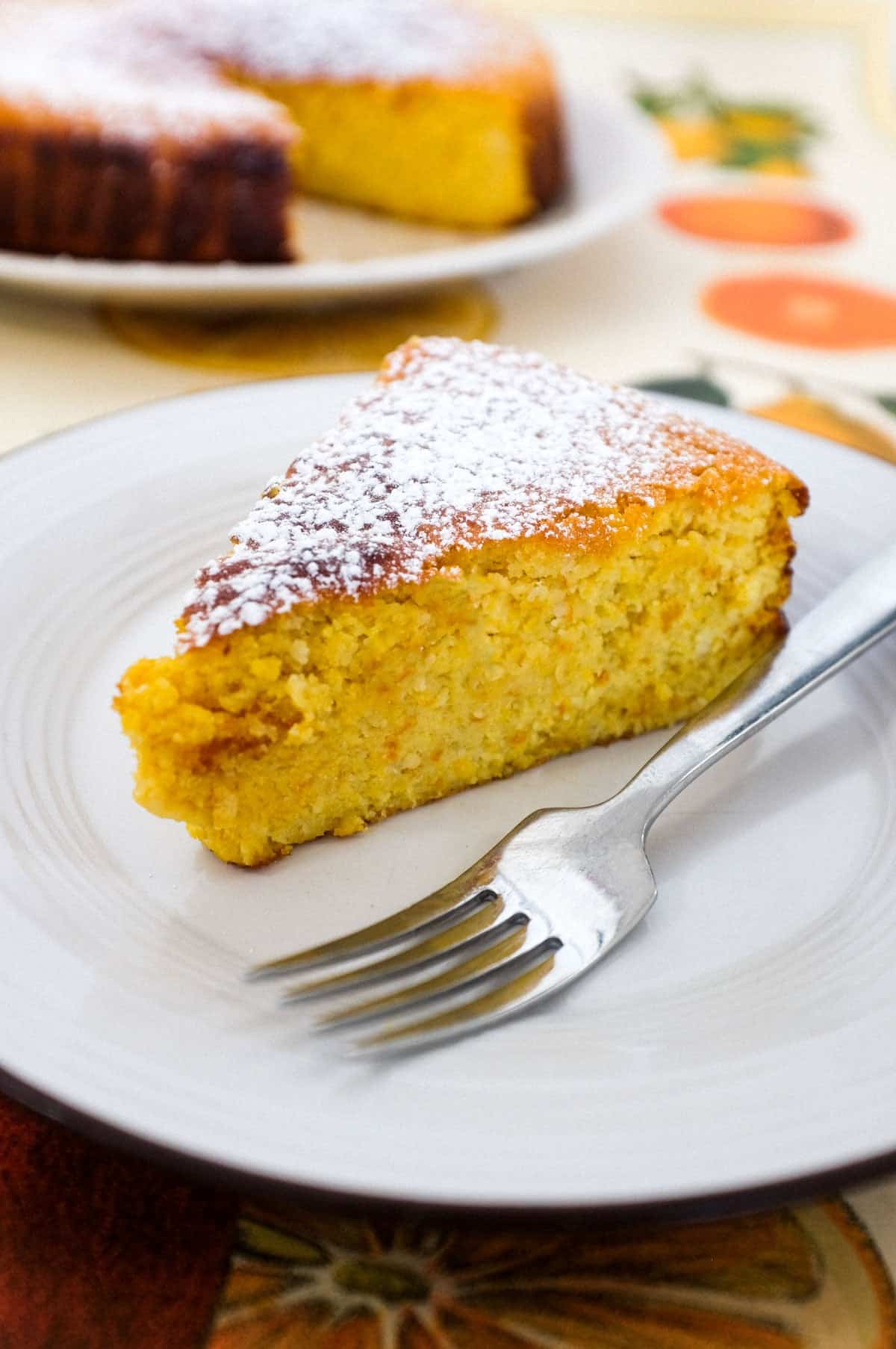 Ready to get cooking?
This citrus wonder is everything and more. For someone, like me, who doesn't bake a whole lot it's a cake I turn to whenever the urge takes me. I know it's going to satiate my sweet craving while giving a wonderful intense orange burst of flavour.
I recommend this recipe to my friends (and anyone who's listening) all the time. It's a fail-safe, tried and tested treasure. And one of my personal favourite sweet treats.
Any Questions? (FAQ)
Have a question about my flourless orange cake recipe. Let me know in the comments.
Why is my orange cake bitter?
The peel in this orange cake creates a slight bitterness in the overall flavour. Boiling the oranges first (and changing the water) lessens the bitterness considerably, but there is still a mild bitterness to the cake. This is intentional and is counteracted with sugar. It's a matter of personal taste whether this appeals or not.
Is flourless orange cake gluten free?
Yes, the use of almond flour eliminates any gluten making in 100% gluten free.
More sweet recipes
If you liked this recipe for my flourless orange cake, you'll be sure to enjoy more of my favourite sweet recipes.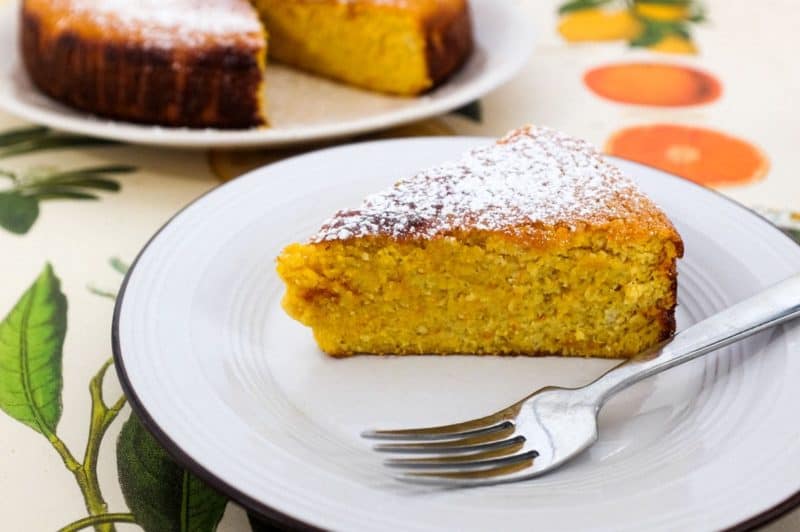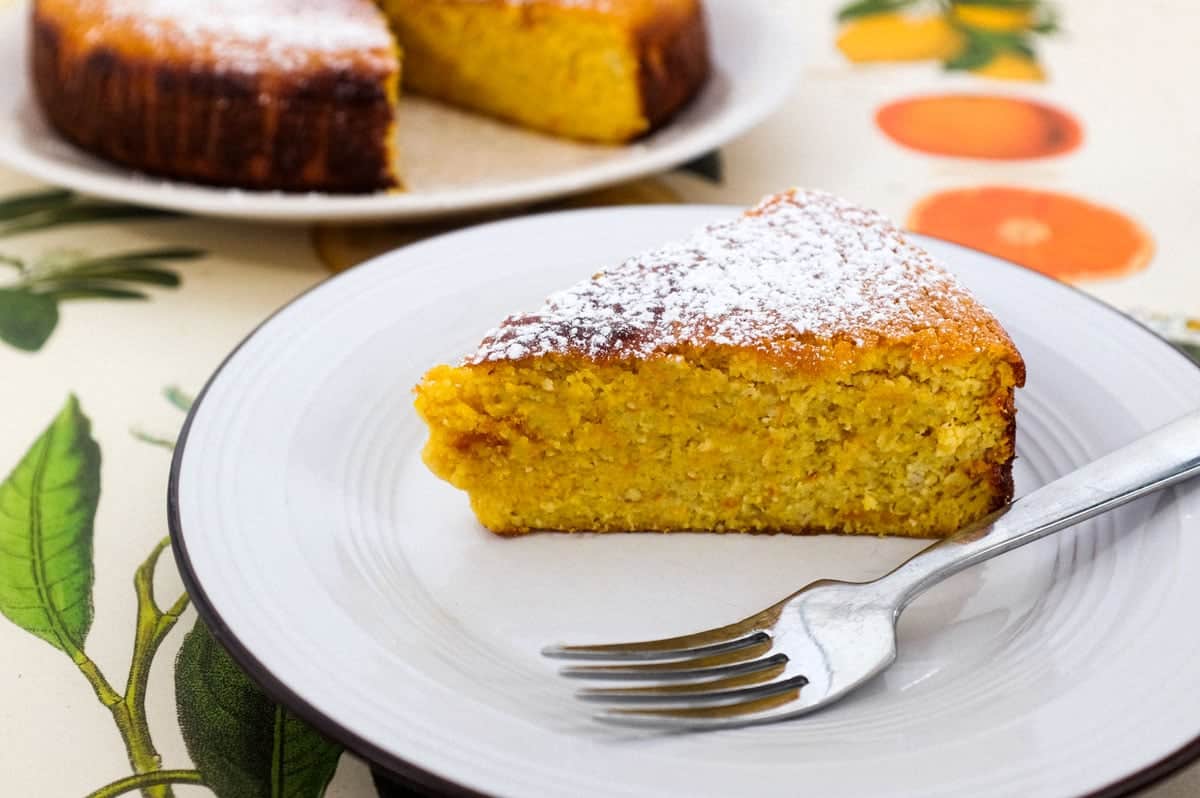 Flourless Orange Cake
Rate this recipe
Print Recipe
Pin Recipe
Save Recipe
Go to Collections
Servings (adjustable)
12
Slices
Calories (per serving) |
266
Instructions
Preheat oven to 170ºC/340ºF

Using a little butter or oil, lightly oil a 23cm/9″ spring form baking tin - line the bottom and sides with baking parchment. Set aside.

In a large pan bring about 2 litres / 2.5qt of water to a boil. Drop in the two oranges and simmer gently for 40 minutes. Drain the water and add another 2 litres/2.5qt of cold water. Bring this to a boil and simmer for another 40 minutes.

Drain and leave the oranges to cool for 30 minutes.

In a blender, or using an immersion blender, blend the oranges into a puree.

In a large bowl, stir together all the ingredients until well combined.

Pour the cake batter into the baking tin and bake in the oven for 45mins-1 hour or until the cake is done. Check by inserting a skewer or knife into the centre - if it comes out clean, the cake is cooked.

Leave the cake to cool in the tin for 20 minutes. It'll shrink slightly, which will ensure it comes away from the sides and pops out of the tin perfectly. Remove all the baking parchment and turn out onto a wire rack (right side up) to cool completely.

Once cooled completely, sprinkle with icing/confectioners sugar and serve!

I keep mine lightly covered with plastic wrap in the fridge for the week (if it lasts that long!)
Nutrition
Calories:
266
kcal
(13%)
|
Carbohydrates:
25
g
(8%)
|
Protein:
9
g
(18%)
|
Fat:
16
g
(25%)
|
Saturated Fat:
2
g
(13%)
|
Polyunsaturated Fat:
1
g
|
Monounsaturated Fat:
1
g
|
Trans Fat:
1
g
|
Cholesterol:
82
mg
(27%)
|
Sodium:
67
mg
(3%)
|
Potassium:
71
mg
(2%)
|
Fiber:
3
g
(13%)
|
Sugar:
20
g
(22%)
|
Vitamin A:
168
IU
(3%)
|
Vitamin C:
12
mg
(15%)
|
Calcium:
100
mg
(10%)
|
Iron:
2
mg
(11%)
This recipe uses affiliations and may receive a commission based on your activity (link clicks). Learn more.