Spaghetti with Pesto Genovese
Pesto Genovese; one of Italy's most successful exports. A perfect combination of floral, fragrant basil with nuts, cheese and garlic that creates a simple, no-fuss sauce for pasta. Homemade is best and this recipe shows you JUST how easy that is…
Jump to Recipe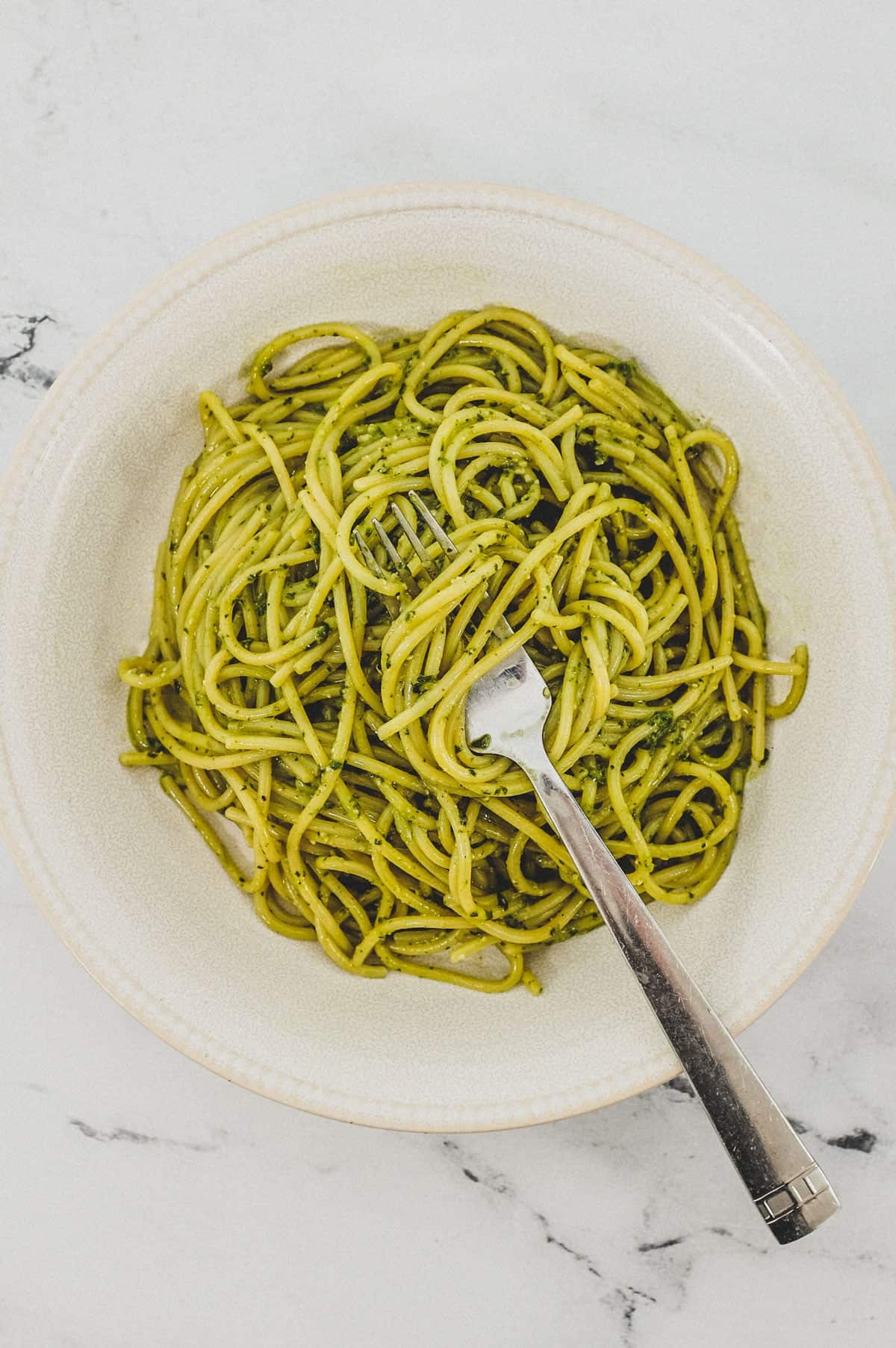 Pesto Genovese is one of Italy 's most iconic recipes. A delicious blend of flavour that is pretty much perfection. Created in the Ligurian city of Genoa, pesto is a dreamy combination of basil, cheese, olive oil, garlic and pine nuts (pignoli). The sauce can be crushed in a pestle & mortar or blended by machine, and each have the same, distinctive fragrance, texture and flavour.
It's an ancient dish, in that the Romans actually enjoyed a version using parsley. But when basil was introduced as the main ingredient some time in the mid 19th Century, Genovese pesto became the most popular version in Italy (and some parts of France too!)
Pesto is a versatile ingredient, being an excellent addition to sandwiches, for finishing soups and stews and most commonly, being tossed through cooked pasta for a quick and easy hit of flavour.
Pasta & Pesto - a happy marriage
Pasta and pesto work so perfectly together. It's a super quick way to inject flavour to pasta for a quick, healthy lunch - a couple of spoonfuls and a little pasta water and you're good to go. This pesto pasta recipe uses spaghetti, but pesto works with pretty much any pasta you like. Don't just stick with noodles, try hand shaped pasta like orecchiette or garganelli or fresh egg pasta fettuccini or pappardelle. You can even add spoonfuls between layers of lasagne sheets with ricotta cheese and tomato sauce. The combinations are endless.
Homemade pesto is so easy and successful, you'll be hard pushed to find a store-bought variety that beats it. You can make it in advance and store in the fridge for a week or freeze it for months and just defrost when you need it - how's that for convenience! You'll appreciate the effort and certainly the flavour.
As for cheese, the authentic pesto Genovese calls for a combination of Parmigiano Reggiano or Grana Padano cheese with Pecorino Sardo. Pecorino Sardo can be tricky to find outside of Italy, so I use Pecorino Romano, which is a close cousin and much easier to find.
Stuff you'll need
This Pesto Genovese Spaghetti recipe is simplicity! Here are the flavours that come together to create the magic!
Fresh basil
Extra virgin olive oil
Pine nuts
Pecorino Romano Cheese
Parmigiano Reggiano Cheese
Garlic
Salt & pepper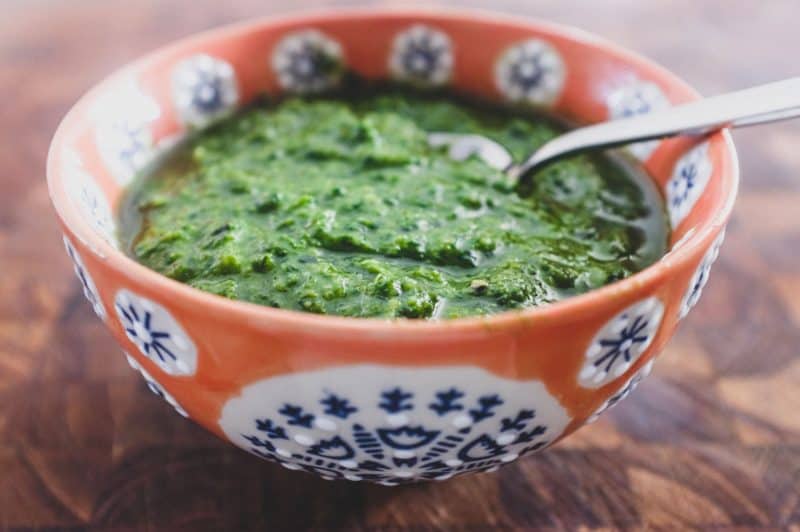 So there we have it. When you make your own version of pesto, you'll never look at a store-bought jar again! As simple as it as it is delicious - blended perfection!
Step by Step Pesto Genovese Spaghetti
Making the pesto and pasta is simple. The pesto is simply stirred into the just cooked pasta and loosened with a little pan water. It creates the most sublime creamy sauce and it's ready in minutes!
Blend together the basil, cheeses, pine nuts, garlic, extra virgin olive oil and add a little salt & pepper. Create a smooth emerald green puree.
Cook the spaghetti in salted water (retain about 2 cups of the water just before draining)
Combine the pesto and pasta with the pan off the heat
Add a little cooking liquid to loosen the pesto and create a light and creamy sauce.
Serve!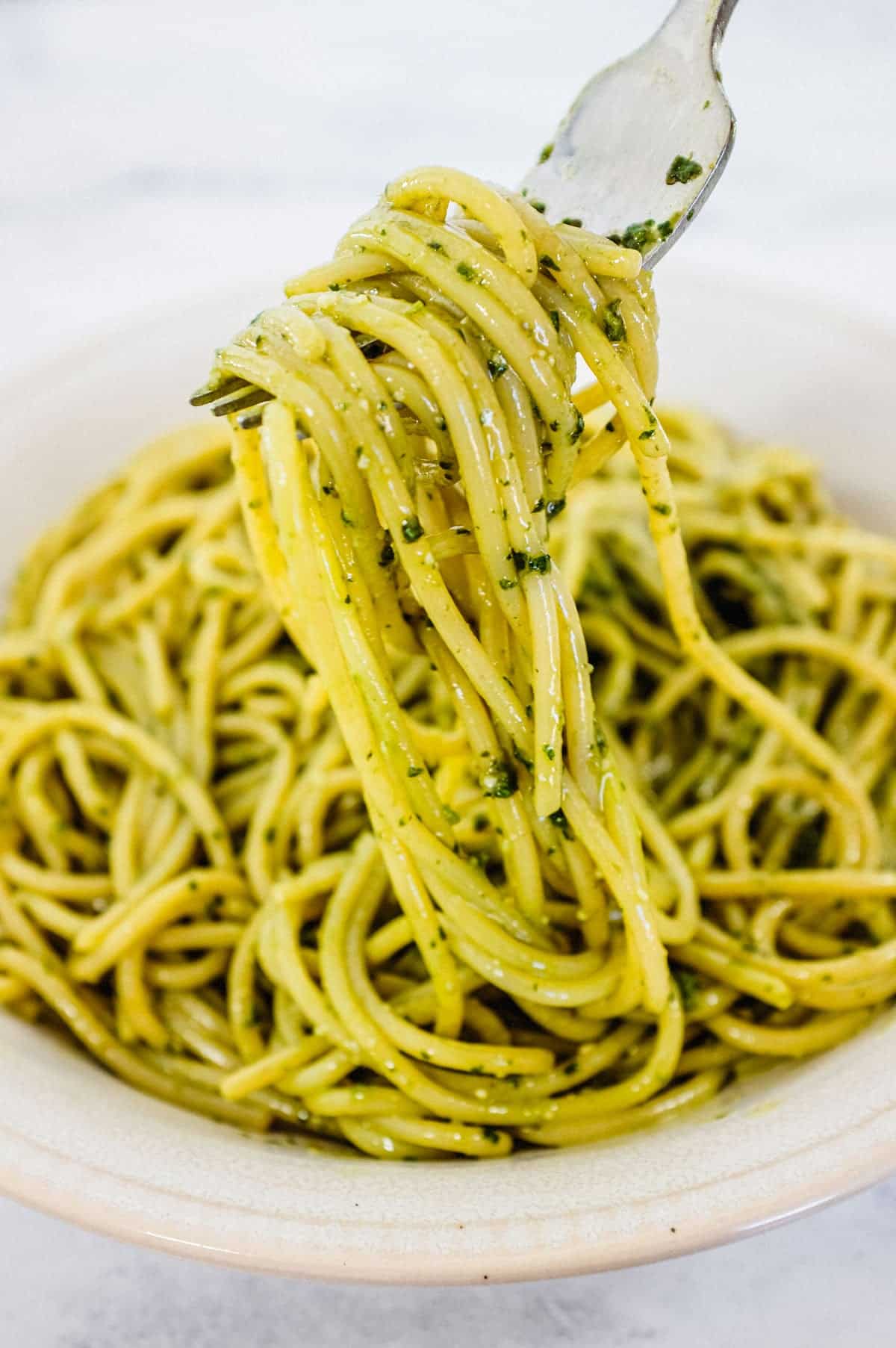 Making your own pesto varieties
Even though the Pesto Genovese Recipe is the most popular and well known throughout the World, the word 'pesto' translates simply as 'pounded' - this generic term means that any ingredients pounded or pureed together can be called a pesto. I cook and create many types of pesto for pasta and the combinations are endless. Here are some suggestions that you might like to try at home...
Pesto varieties (all blended into a puree with salt & pepper)
Cavolo nero cabbage (cooked), garlic, almonds, Parmigiano, extra virgin olive oil

Spinach (cooked), pistachios, Parmigiano, extra virgin olive oil

Anchovies, walnuts, garlic, Parmigiano, parsley, extra virgin olive oil (cooked for a while wth pasta water)

English peas (cooked), oregano, mint, Parmigiano, melted butter, extra virgin olive oil

Cherry tomatoes, blanched almonds, Parmigiano, extra virgin olive oil
How to make Spaghetti with Pesto Genovese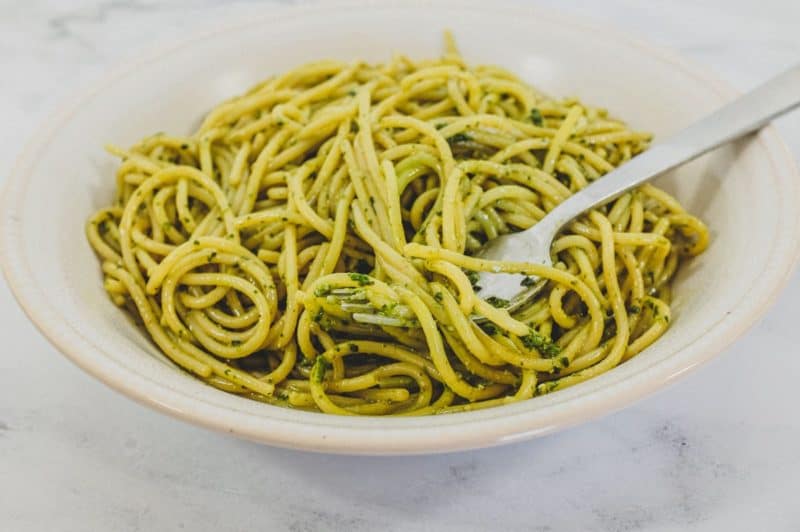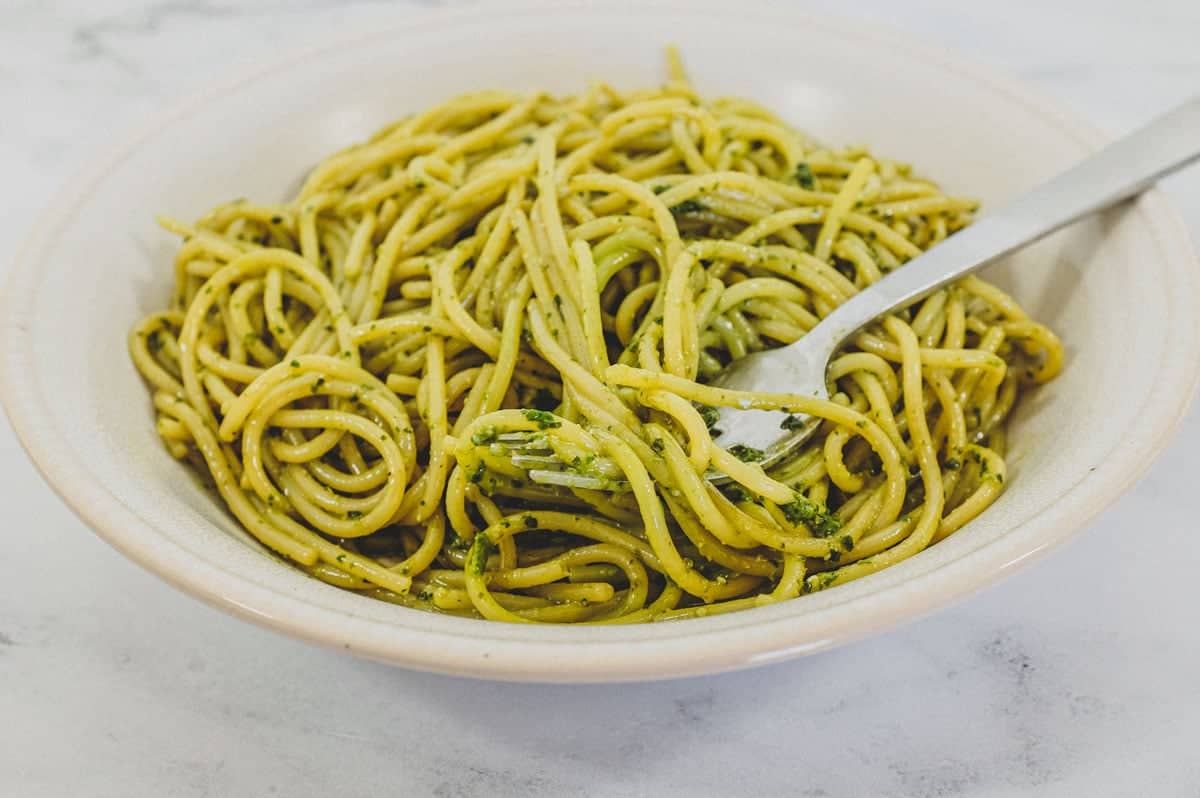 Spaghetti with Pesto Genovese
Rate this recipe
Print Recipe
Pin Recipe
Save Recipe
Go to Collections
Calories (per serving) |
771
Ingredients
Other ingredients
1

lb

spaghetti

(or other dried pasta) around 450g

Parmigiano Reggiano

(for garnish - optional)
Instructions
Using an immersion blender or food processor, blend all the pesto ingredients for 1-2 minutes into a smooth paste.

Cook the pasta in lots of salted water to the packet instructions, when done, drain, retaining some of the cooking liquid.

Add the pesto to the pan and then return the drained pasta along with about 1/3 cup of the cooking liquid. Stir well to combine and serve.

Serve with a little extra Parmigiana Reggiano to sprinkle.
Nutrition
Calories:
771
kcal
(39%)
|
Carbohydrates:
87
g
(29%)
|
Protein:
22
g
(44%)
|
Fat:
37
g
(57%)
|
Saturated Fat:
7
g
(44%)
|
Polyunsaturated Fat:
5
g
|
Monounsaturated Fat:
22
g
|
Cholesterol:
15
mg
(5%)
|
Sodium:
283
mg
(12%)
|
Potassium:
343
mg
(10%)
|
Fiber:
4
g
(17%)
|
Sugar:
3
g
(3%)
|
Vitamin A:
785
IU
(16%)
|
Vitamin C:
3
mg
(4%)
|
Calcium:
264
mg
(26%)
|
Iron:
2
mg
(11%)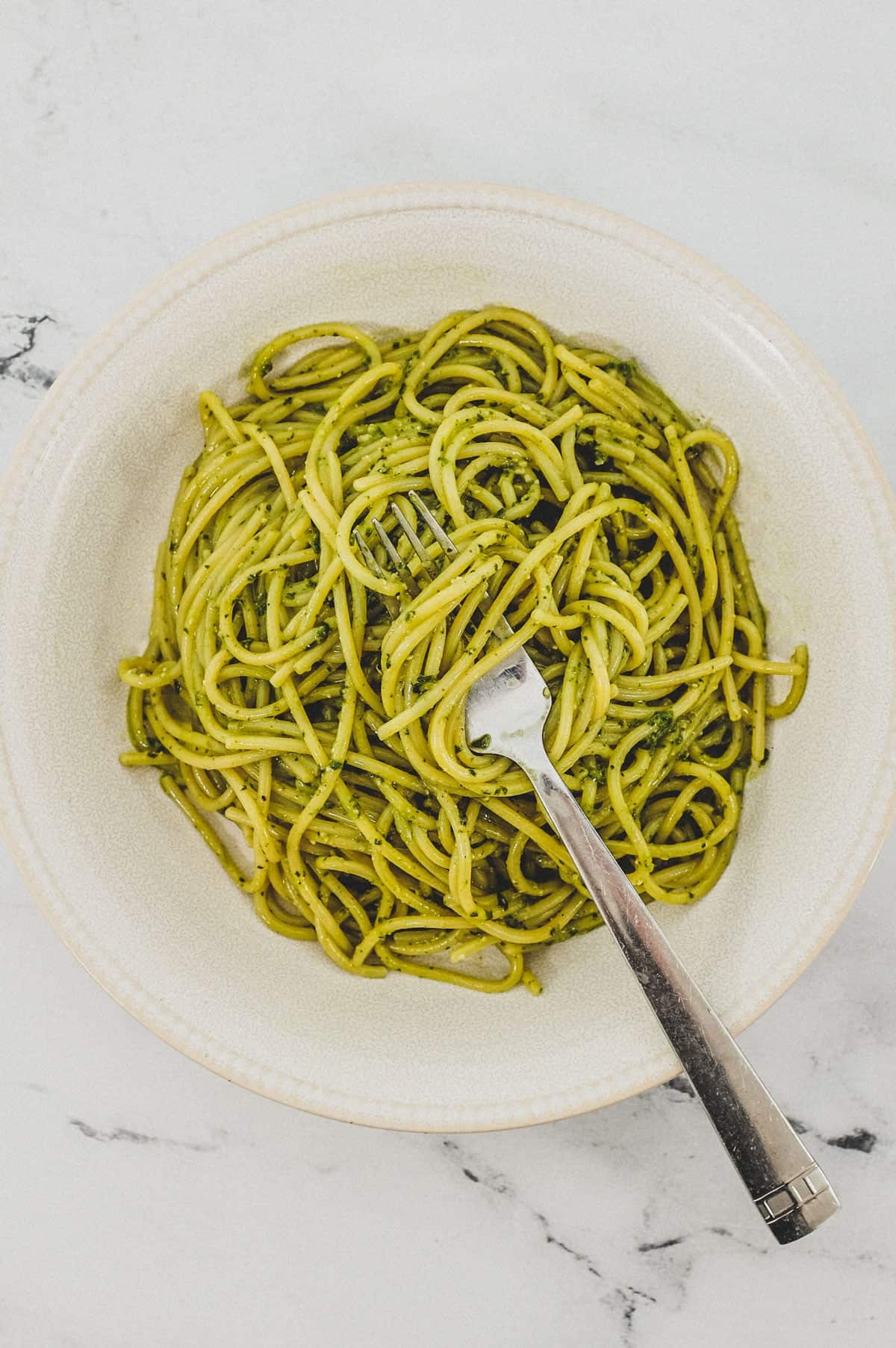 Did you make my Spaghetti with Pesto Genovese
How did you go? Let me know in the comments below and be sure to tag @cookeatworld at Instagram.