Rabbit Liver Pâté with Slow Onions
Rabbit liver Pâté is of life's great indulgences – my recipe creates a light, creamy parfait-style pâté – perfect when spread generously over crusty sourdough. The slow-cooked onion in Fino sherry are the ultimate accompaniment – sweet, soft and decadent. Sounds tempting, right?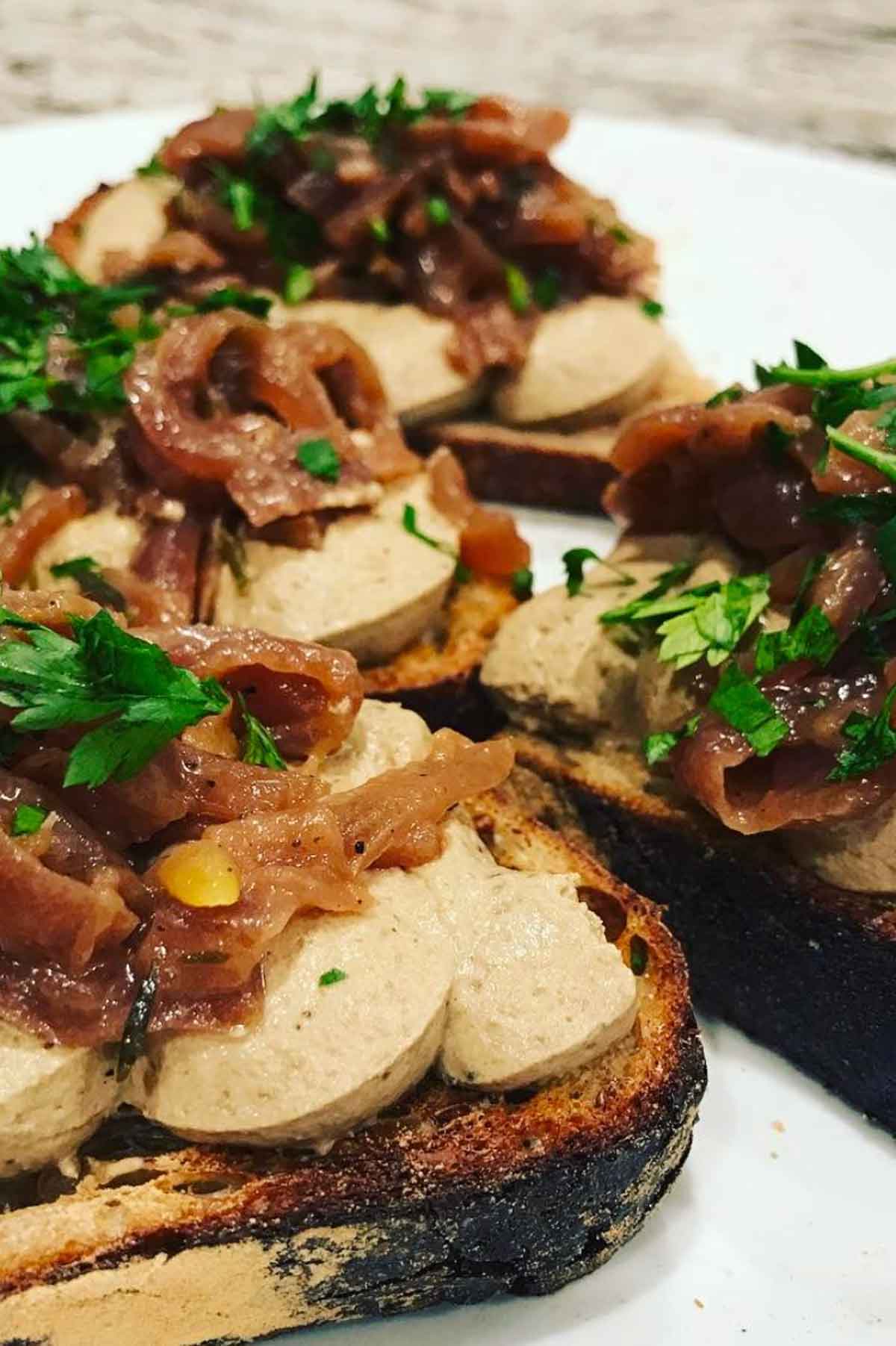 I just love this rabbit liver pâté! I'm relatively new to the offal game. I resisted for many many years, put off by the horrible overcooked liver and kidney I was forced to eat as a kid. The parental stand-offs were epic. I often hid pieces of rubbery kidney up my sleeves, until my brother ratted me out.
But as I learned over time, it wasn't and isn't that I don't like the flavour, it's that when you (your mother) cooks something so badly, then it's only natural to want to hide it in your clothing. It's only natural that you are scarred by its mere mention for 20+ years.
Now that I've cured myself, I must turn to the delicious ingredient of liver! And especially pâté and parfait. Parfait is essentially a lighter version of pâté, using whipping cream (double cream) to lighten the texture. It's my preferred method of making this.
Rabbit Liver - just like chicken liver, but more special.
I usually use chicken liver for my pâtés but once in a while I stumble upon a butcher who stocks rabbit liver. I first sampled rabbit liver while taking a butchery course in Sydney. We learned how to butcher chicken, duck, goose and rabbit. We get to keep everything we'd butchered so I went home with bagfuls of poultry that night. All the waspy ladies also taking the course were horrified at the thought of eating liver so I also returned with about 4lb of mixed livers! There was pâté aplenty in the following weeks.
Rabbit liver has a similar flavour to chicken, but with a light gamey, flavourful taste. It's super delicious and special. So, whenever you can grab hold of rabbit livers - do it! The recipe works just as well for chicken liver, so don't worry in the slightest if that's all you can find.
I love to serve my parfait/pâté with slow cooked onions - cooked for a long time in Fino sherry to bring out all the sweetness of the onion, which pairs perfectly with the gamey, irony pâté. It's a decadent, rich and other-worldly combination. A MUST!
More French Recipes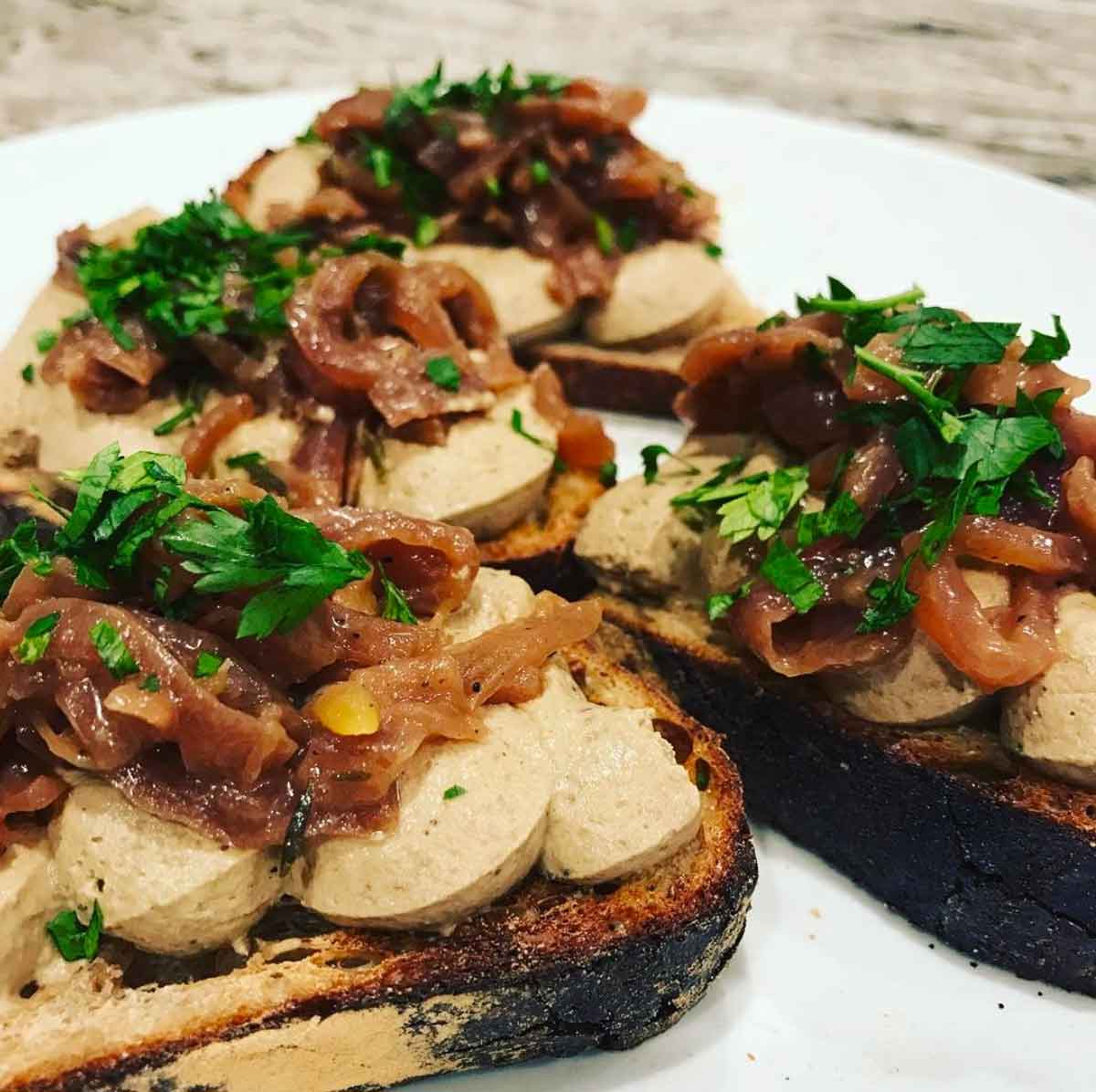 Rabbit Liver Pâté
Rate this recipe
Print Recipe
Pin Recipe
Save Recipe
Go to Collections
Calories (per serving) |
271
Ingredients
8

oz

rabbit liver

(cleaned and sinew removed, then cut into chunks) You can also use chicken liver instead!

2

tbsp

unsalted butter

2

shallots

(peeled and finely diced)

1

garlic clove

(finely chopped)

1

sprig fresh thyme

(removed from stem and finely chopped)

1

tsp

parsley

(finely chopped)

½

cup

Fino sherry

(or dry marsala)

salt & pepper

3

tbsp

whipping cream
Instructions
For the Pâté
Melt the butter in a small pan until bubbling. Add the onion and garlic and fry gently for 5 minutes until golden brown and soft.

Add the liver and cook for 2 minutes before adding the sherry, parsley, thyme salt & pepper stir for 1-2 minutes to burn off the alcohol and reduce the sherry. Remove from heat, then leave for 10 minutes to cool.

Place everything in a food processor and blend for a few minutes until the pâté is smooth.

Using a fine sieve, pass the pate through the sieve with a spatula to weed out any solids. Keep only the stuff that makes it through the sieve. This can be a messy business - sorry about that!

In a separate bowl, whisk the cream until you have stiff peaks.

Gently fold the cream into the pâté until it's all mixed through. Tip the pâté into a ramekin or bowl and cover with plastic wrap, pressed into the surface to stop any skin forming. Refrigerate until you need.

I like it served at room temperature, so remove from the fridge about an hour before you're serving.
For the onion jam
Heat the oil in a large frying pan over a moderate heat until hot then add the onion, garlic and oregano. Fry the onions for 4-5 minutes until softened then add the sherry. Let this sizzle briefly then add the chicken stock, salt and sugar. Let this come to a simmer then reduce the heat to low so that the onions are very gently simmering.

Cook for 1 hour uncovered, stirring regularly. If the liquid is absorbed, add a little amount of water at a time to keep things creamy.

After 1 hour, if there is any liquid, turn up the heat and cook til it's gone. Remove from the heat and cool completely.
Serving
Serve the pâté on toasted crusty bread with lots of onion jam over and good sprinkling of fresh parsley.
Nutrition
Calories:
271
kcal
(14%)
|
Carbohydrates:
21
g
(7%)
|
Protein:
13
g
(26%)
|
Fat:
10
g
(15%)
|
Saturated Fat:
5
g
(31%)
|
Polyunsaturated Fat:
1
g
|
Monounsaturated Fat:
3
g
|
Trans Fat:
1
g
|
Cholesterol:
217
mg
(72%)
|
Sodium:
722
mg
(31%)
|
Potassium:
474
mg
(14%)
|
Fiber:
3
g
(13%)
|
Sugar:
10
g
(11%)
|
Vitamin A:
6530
IU
(131%)
|
Vitamin C:
21
mg
(25%)
|
Calcium:
75
mg
(8%)
|
Iron:
6
mg
(33%)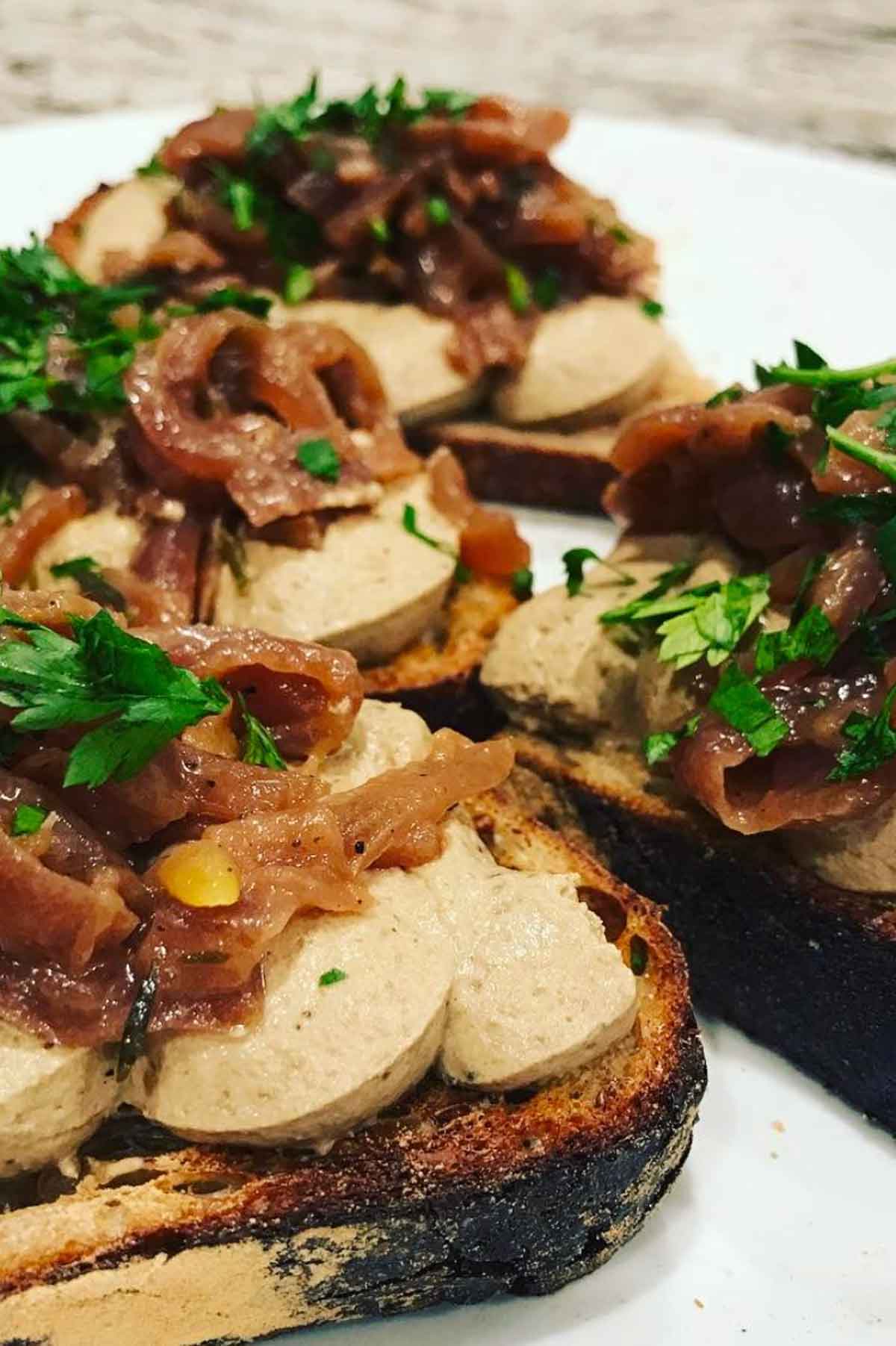 Did you make my Rabbit Liver Pâté with Slow Onions?
How did you go? Let me know in the comments below and be sure to tag @cookeatworld at Instagram.