Toum (Lebanese Garlic Sauce)
The essence of garlic! Toum is a Mediterranean sauce or condiment that's essential in any mealtime. Fluffy, whipped garlic is magically combined with oil and salt to create something so special I can barely find words for it… learn all about the magic of toum.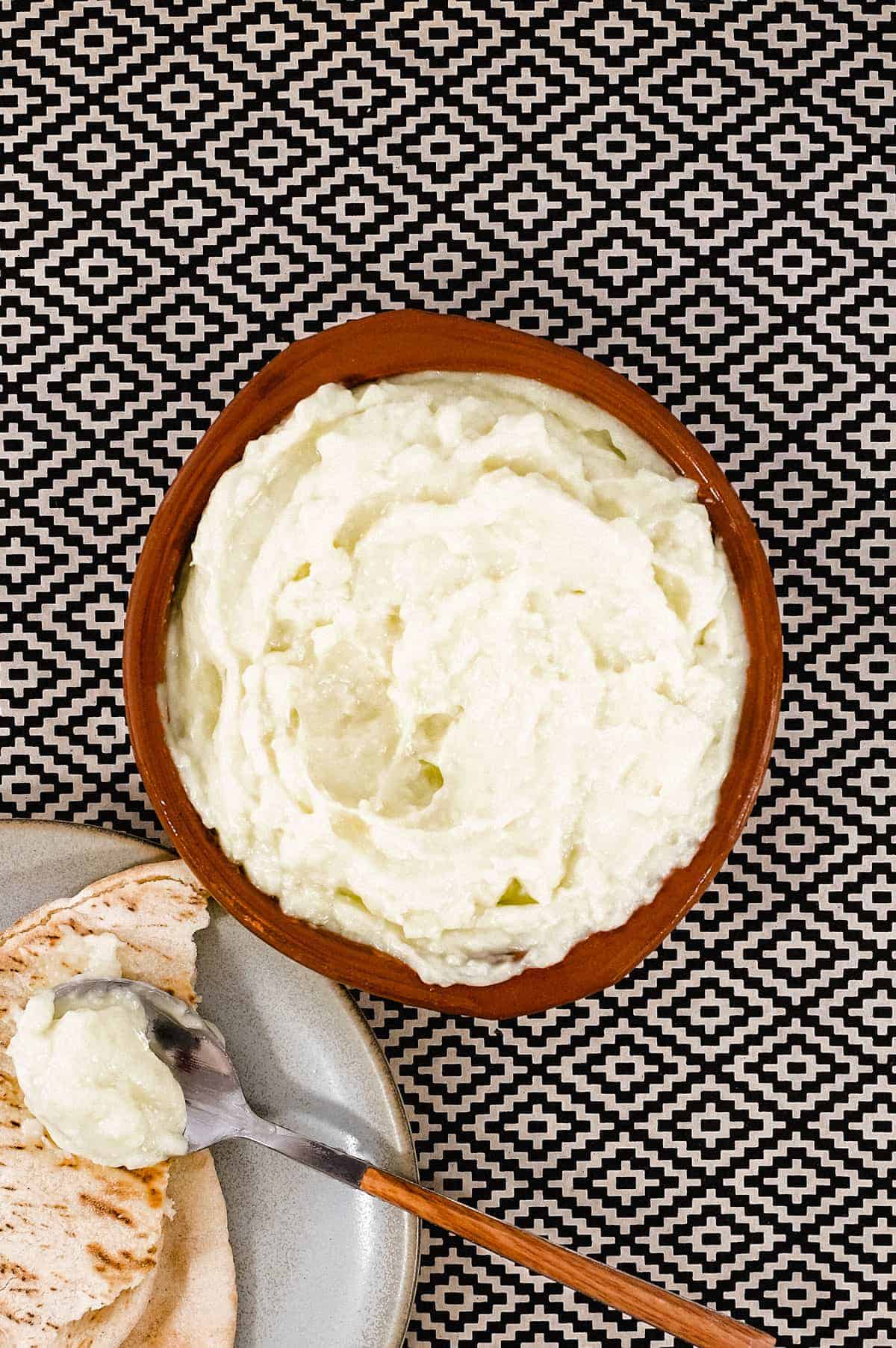 I've been making and eating toum for years. It's my most favourite condiment to have on the table for my Lebanese and Mediterranean food. A fluffy, creamy garlic infused marvel that is jam-packed with flavour. It's the perfect partner to grilled chicken or other meats. It's splendid dolloped over steamed vegetables and even works as a quick and easy marinade.
Garlic toum is up there as one of the Med's tastiest creations and if, like me, you're a fan of garlic, you'll fall in love with it!
What is toum?
Many countries around Europe, the Mediterranean and Middle East feature a version of garlic mayonnaise - Think Italian Aoli, Spanish Alioli etc. Most mayonnaise is prepared using egg to act as the emulsifier (the 'middle-man' that enables two disparate ingredients to come together), but there are many versions that use alternative emulsifiers, one such ingredient is pureed garlic.
Garlic, oil and salt, with a little lemon juice is as simple as it gets. It's all about technique for this recipe. Science takes over (I won't bore you) and if done right, a fluffy and creamy sauce is created.
Taking your time and adding things slowly makes for the perfect sauce. My toum recipe is pretty straightforward, but it needs to be done slowly, I've tried rushing things a little in the past and it always ends in disaster. Once a toum splits, you may as well start again.
Step by Step - How to make Lebanese Toum
The process for making the fluffy garlic sauce is easy, but requires a few steps to ensuring a good texture
Puree the garlic. Using a food processor (it's the easiest way) puree a tonne of garlic with salt until smooth. You need to push it down into the processor a few times. You need a smooth (or as smooth as you can get) garlic puree. The salt acts as an abrasive, which helps break down the garlic.
Begin adding oil. At this stage you need to add the oil in a very thin drizzle, with the motor running. This is the crucial step that you can't rush. After about 1/2 cup of oil has been added, the garlic and oil should come together to form the beginnings of the toum. This stage is called emulsification. You're looking for a creamy consistency, with a little stiffness.
Add a little lemon juice. This helps enhance the flavour - it's key to add at this early stage as it can potentially split the sauce if you wait until the end.
Stabilising the toum. Again in a thin drizzle with the motor running, add oil until you've added about another cup, using a spatula, stir the sauce a little and push down any sauce from the sides of the processor. The sauce should now be quite stable and look just like a good quality mayonnaise.
Finish adding oil. At this stage, with the motor still running, you can start to add the oil in a thicker stream until it's all gone. This recipe uses 3 cups in total. Sounds a lot, but it makes a whole month's supply of this garlic treasure!!
That's it! The toum should be a fluffy, white cloud of garlic goodness!
What kind of oil to use
Use a bland oil like grapeseed. I actually like to add a little extra virgin olive oil too so blend grapeseed and extra virgin olive oil. Depending on the olive oil, it may discolour the toum a little. I don't mind, personally, but I'm sure this wouldn't fly in Lebanon!
Storing and uses
Toum will keep in the fridge (in an airtight container) for about a month. I love to eat it with grilled/bbq chicken and it's also delicious with lamb or beef. Another special way is to add a dollop over steamed or boiled potatoes! So delicious!!! I also use it (especially if it's getting to the end of its stay in the fridge) as a quick and easy marinade, just rub into meat and leave for a few hours. Instant flavour!
It really is a versatile sauce that will pair with any Middle Eastern or Mediterranean style food. Just pop it in the centre of the table with everything else and go to toum!
Essential Tips
Don't rush it! You'll split the sauce and waste all that garlic!
Use fresh garlic. Fresh garlic is essential buy the most expensive and make sure it's firm. Never use the pre-peeled fresh garlic - it makes a rancid sauce!
Remove the 'germs'. Garlic has little sprouts in the centre of each clove that can make the toum bitter. You can pop them out using a paring knife. It's not super essential, but does make for a better flavour.
Use a small food processor. It makes it easier to puree the garlic. A blender or immersion blender doesn't work for toum in my experience.
How to make Toum (Lebanese Garlic Sauce)
Toum (Lebanese Garlic Sauce)
Rate this recipe
Print Recipe
Pin Recipe
Servings (adjustable)
50
1 tbsp serves
Calories (per serving) |
116
Instructions
Split up the garlic and peel the cloves and cut off the woody end.

Using a small paring knife, split each clove or garlic in half, lengthways and remove the 'germ' from the centre. The germ is a small shoot inside. It sometimes appears a little green, but generally not so just look in the centre and lever it out with the tip of the knife (see picture above for details).

Once you've removed all the germs, discard and place the garlic into a food processor along with the salt.

Blend the garlic until it forms a paste, you'll need to use a spatula once or twice to scrape the garlic from the sides. When it's smooth you can begin to very slowly drizzle in about 1/4 cup of the oil with the motor still running.

The garlic will start to emulsify and take on a creamier appearance. After 1/4 cup of oil, with the motor still running, squeeze in the juice of 1/2 the lemon and then a slow stream of of oil (about 1/2 cup).

It's important to take this stage slowly to help create a stable emulsification. If you add oil too quickly, it will split and may not be salvageable.

With the motor still running, you can now begin to gradually and slowly pour in the rest of the oil. After about half has been added, add the second half of the lemon juice and then the remaining oil. The toum should now be a fluffy, creamy texture and white in appearance.

The oil you use will affect the colour slightly, so if your oil is green or yellow, you may not have a completely white colour, which is fine!
Nutrition
Calories:
116
kcal
(6%)
|
Carbohydrates:
1
g
|
Protein:
1
g
(2%)
|
Fat:
13
g
(20%)
|
Saturated Fat:
1
g
(6%)
|
Polyunsaturated Fat:
7
g
|
Monounsaturated Fat:
5
g
|
Sodium:
93
mg
(4%)
|
Potassium:
3
mg
|
Fiber:
1
g
(4%)
|
Sugar:
1
g
(1%)
|
Vitamin A:
1
IU
|
Vitamin C:
1
mg
(1%)
|
Calcium:
1
mg
|
Iron:
1
mg
(6%)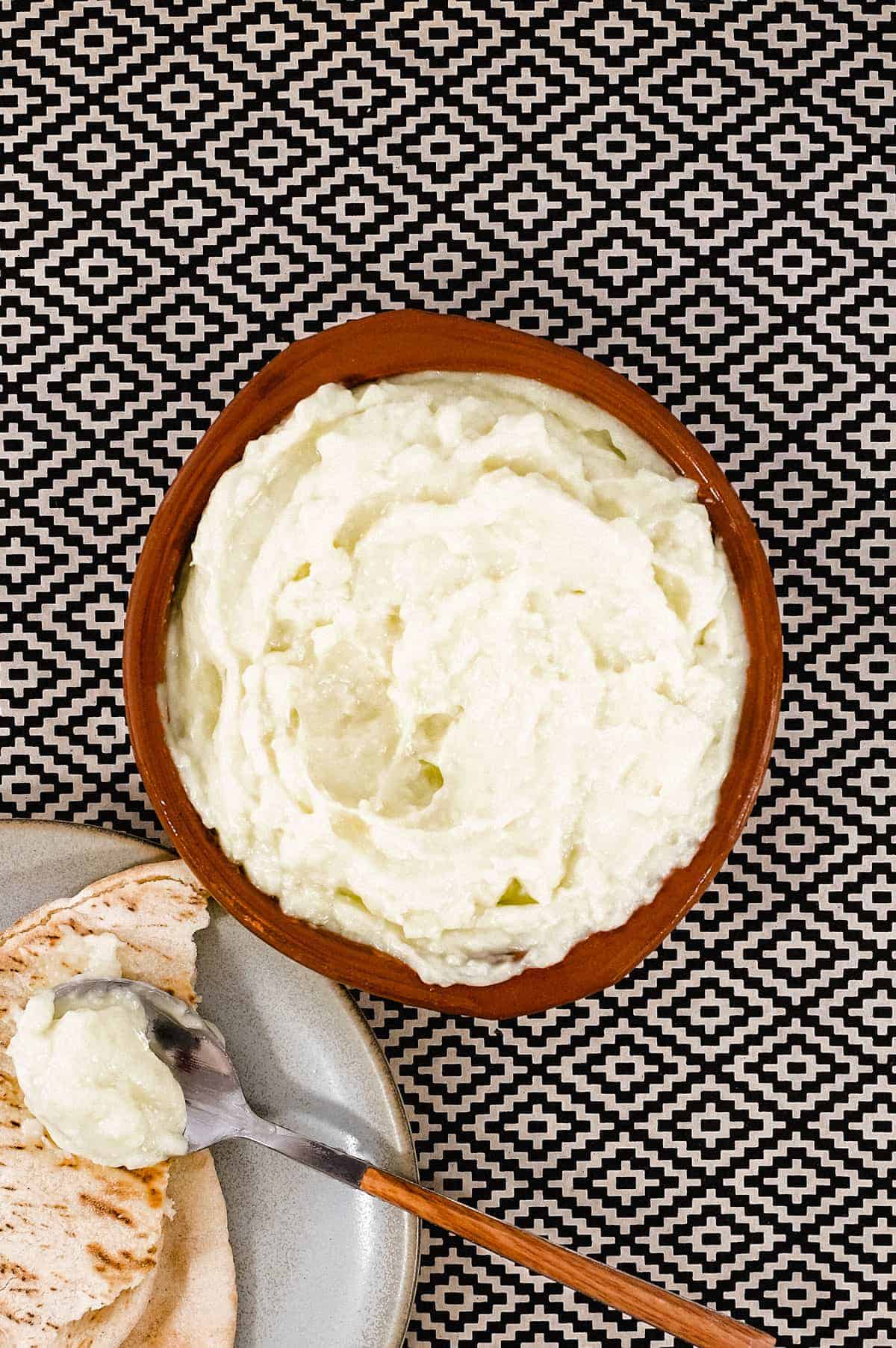 Did you make my Toum (Lebanese Garlic Sauce)
How did you go? Let me know in the comments below and be sure to tag @cookeatworld at Instagram.