As simple as it is delicious, zaatar lamb is one of the easiest and most effective ways to inject all the flavour of the Middle East with no fuss. Earthy, herbaceous and tasty tasty tasty!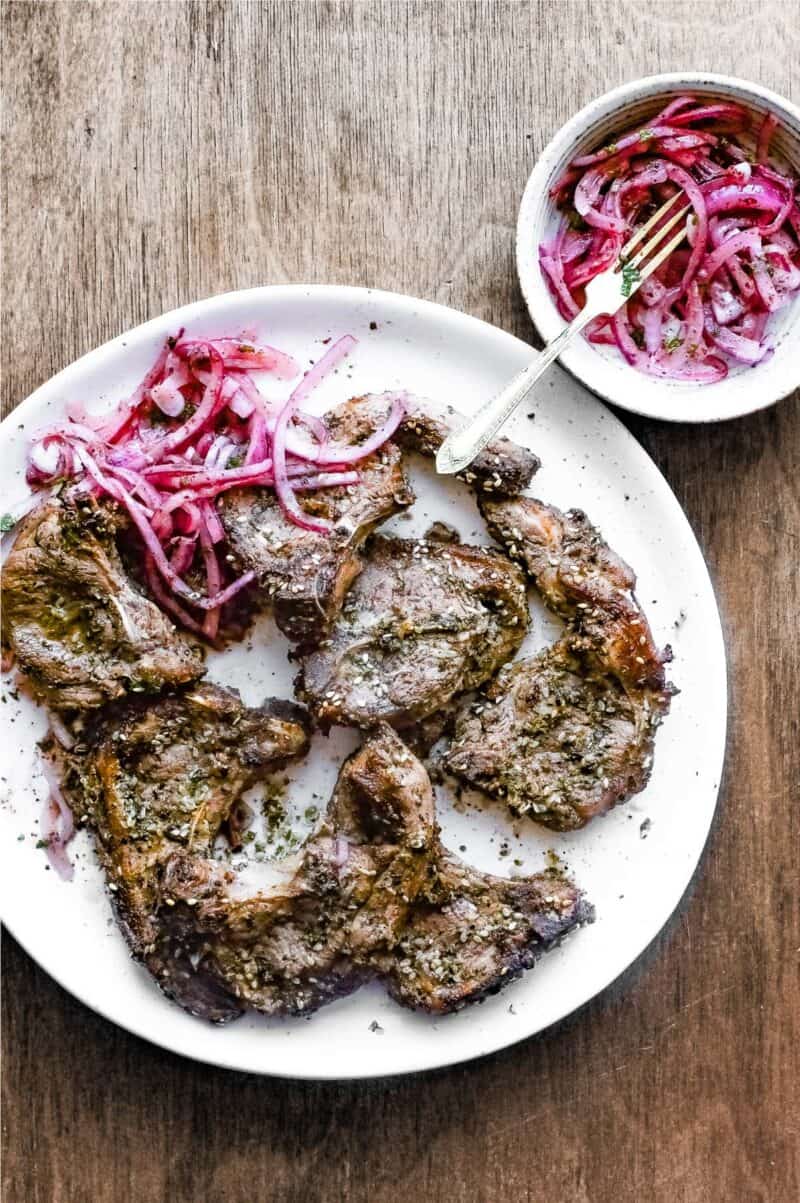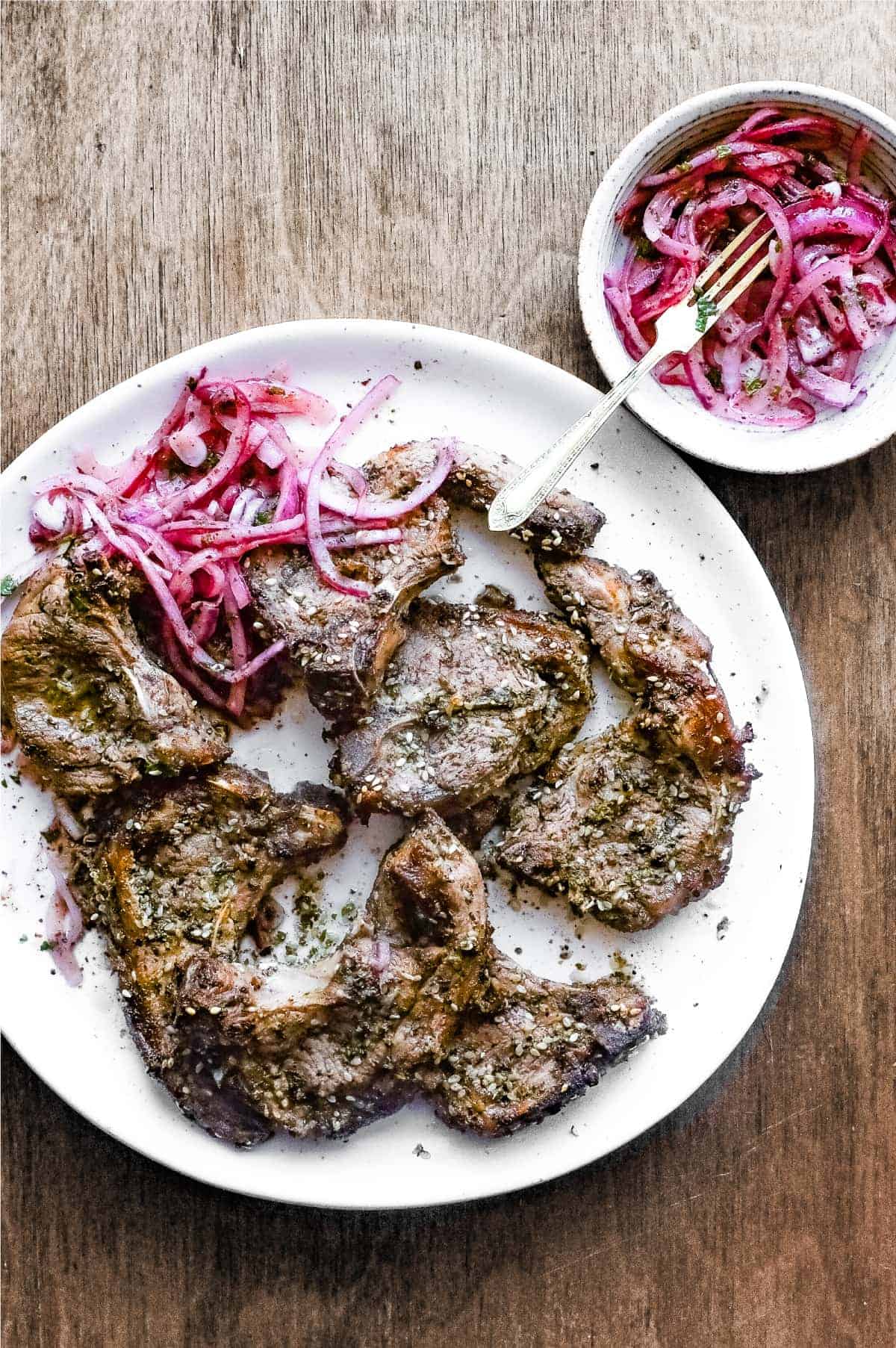 Quick marinades don't come more speedy than zaatar lamb. Zaatar is a ready-made spice mix that has all the flavour you could need in one place. Generally a mix of thyme or marjoram, sumac and sesame seeds it's earthy, nutty and a little sour.
My marinade incudes a generous portion of zaatar with lemon, garlic, oil and a touch of fragrant fresh mint. This can be left for 24 hours to do its magic but even an hour will enhance the lamb experience ten-fold.
I like nothing more than a platter of juicy zaatar lamb served alongside other Middle Eastern treasures like Shepherd's Salad, Turkish Beetroot & Yoghurt Dip, Roasted Carrots with Tahini and Freekeh Pilaf. There's nothing more satisfying than a table full of healthy, tasty Middle Eastern food.
What is Zaatar?
Zaatar (sometimes written as za'atar) is a versatile Middle Eastern spice blend consisting of dried herbs like thyme and oregano, roasted sesame seeds, tangy sumac, and a pinch of salt.
It imparts a unique, savory flavor to dishes. Traditionally, it's sprinkled on flatbreads (manakish) or mixed with olive oil to create a fragrant dip for bread.
Zaatar can also enhance the taste of roasted vegetables, meats, and salads. Its aromatic and earthy notes make it a beloved seasoning in Middle Eastern cuisine, offering a delightful combination of herbal, nutty, and tangy flavors to elevate a wide range of dishes.
Why it works?
Ready made flavour - All the heavy lifting has been done already with zaatar. The complimentary mix of spices and dried herbs are tried and tested flavourings. It is the most perfect pairing for juicy, fragrant lamb!
Stuff You'll Need
Putting together zaatar lamb is an easy affair with ingredients available at most supermarkets these days.
Zaatar - available at many supermarkets these days, but most certainly available at any Middle Eastern store or online. This brings the bulk of flavour to the lamb.
Lamb chops - You can use lamb steaks too.
Lemon -

will bring a sweet sharpness as well as help tenderise the lamb

and

make it more juicy.

Garlic - for a little

backbone of fragrance

Mint - I like to add a little final fresh herbal note with mint.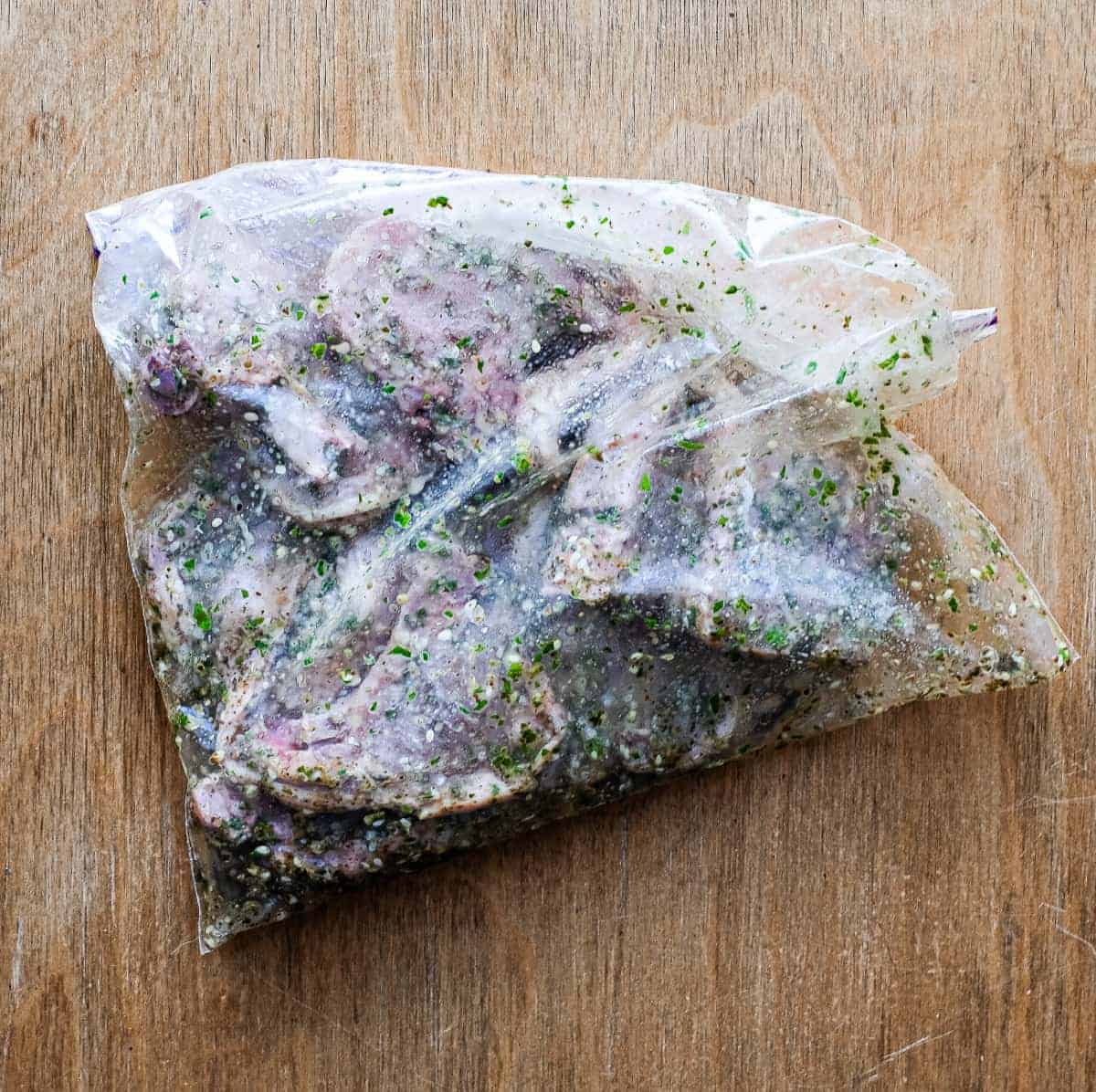 Step by Step
Creating the lamb marinade is super easy - all you need is a little patience (between 1-24 hours, you decide).
Step 1 - Put all the ingredients into a large plastic bag and 'jooj' around until everything is coated. Place in the fridge for as long as you can handle. Between 1-24 hours...
Step 2 -

Preheat a BBQ grill or Oven Broiler/Grill until hot hot. Cook the lamb for 3-4 minutes per side until

lightly

charred, but still a little pink inside.
I like to serve mine with some zingy sumac onions - a super quick and easy Turkish inspired side dish that is the perfect partner.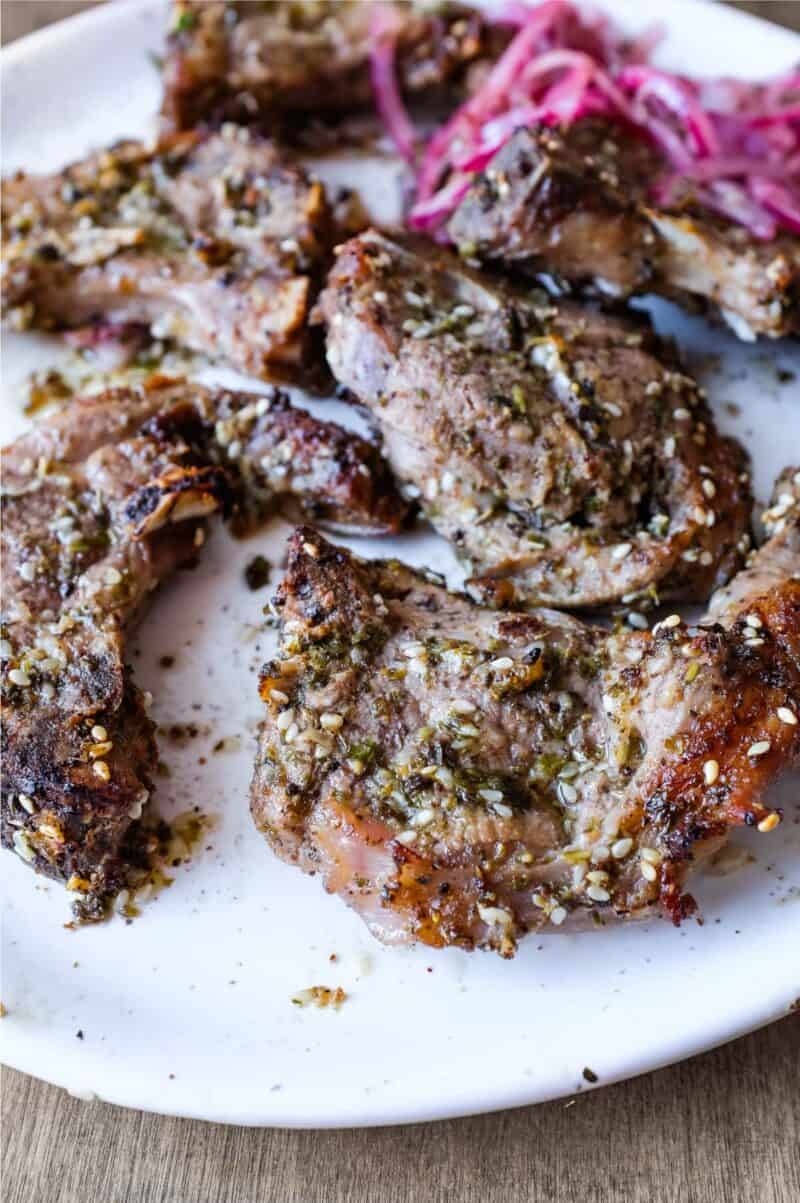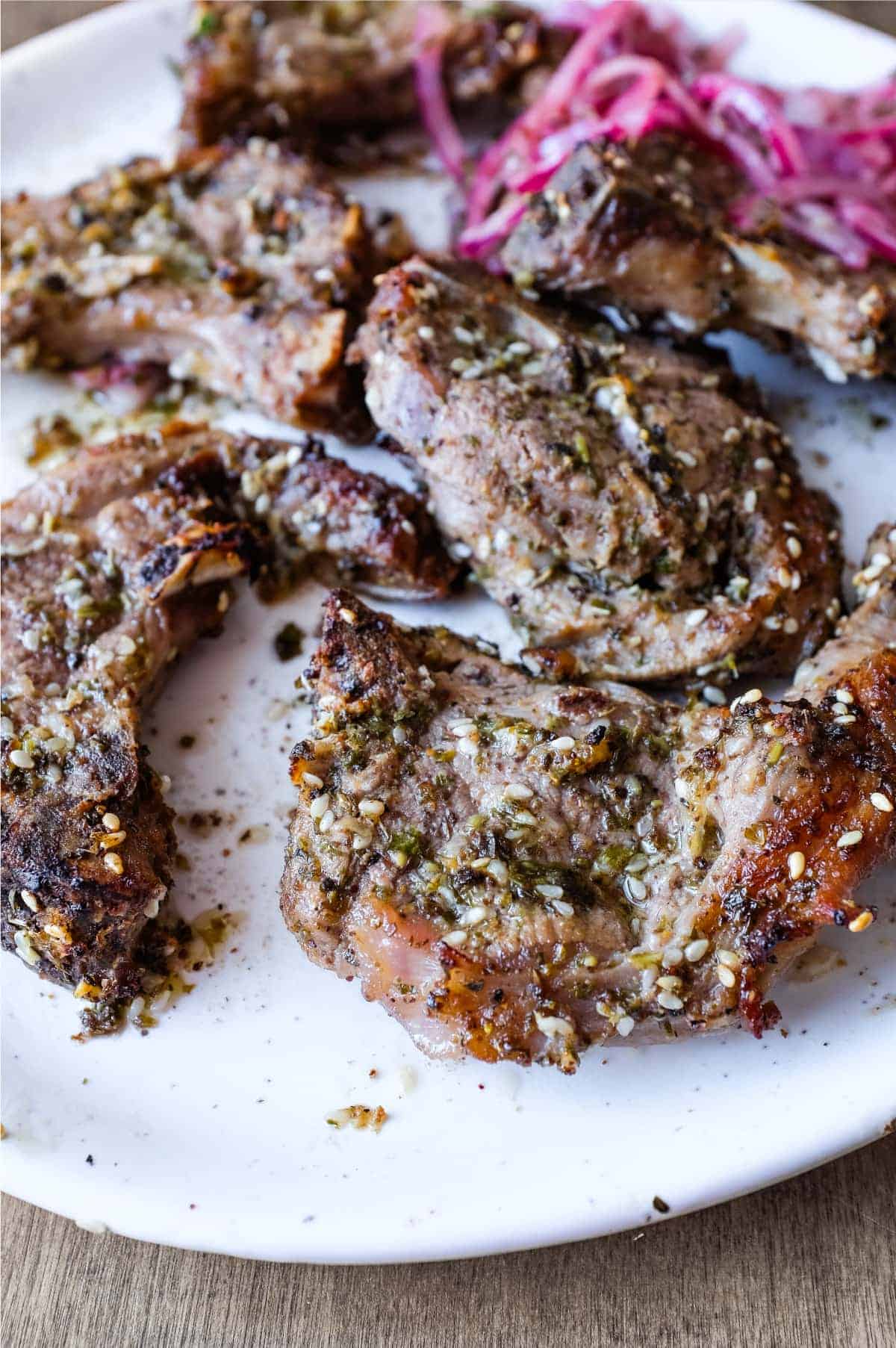 Lots of Suggestions
Side dish - My Sumac Onions

(see below) is a fantastic partner to zaatar lamb. The tangy, citrus dressing is perfect with the sweet onion. It's a super easy recipe too.

Serving - These lamb chops really are best served direct from the grill, but you can also enjoy them at room temperature.
Storage - They'll stay good in the fridge for a couple of days. I wouldn't recommend freezing once cooked, although you could freeze them in the marinade and defrost thoroughly before grilling.
Alternative meats - The zaatar marinade works with all meats and seafood, so feel free to chop and change that as you see fit. Lamb is traditional but It's especially delicious with chicken or duck.
Roasted - You can also use the marinade for larger cuts like lamb shoulder or leg, a whole chicken or duck. Just adjust the cooking time and method to roast as needed. The sumac onions works with all meats and fish too!
Kofta Kebab or Lamb Burger - Mix this marinade (minus the oil) into ground/minced lamb then form around skewers to grill or make into patties for delicious lamb burgers.
Ready to get cooking?
There's not a lot of cooking involved with zaatar lamb, all the magic comes from the super-easy marinade. The last time I made this, one hour was all I could bear to wait and let me tell you, it was no big deal as far as flavour went.
I just know you'll love this as much as I do - I hope you enjoy!
More delicious Middle Eastern recipes
If you liked this recipe for Zaatar Lamb, I'm sure you'll love some more of my favourite Middle Eastern recipes.
Any Questions? (FAQ)
Have a question about Zaatar? Let me know in the comments.
What is the flavour of Zaatar?
Zaatar has a complex flavour profile, combining earthy, herbal notes from thyme and oregano with nuttiness from sesame seeds and a tangy, slightly sour kick from sumac.
How is Zaatar typically used in cooking?
Zaatar can be sprinkled on bread, mixed with olive oil for dipping, or used as a seasoning for meats, vegetables, and salads, adding a distinctive Middle Eastern flair to dishes.
Can I make my own Zaatar blend at home?
Yes, you can easily make zaatar by combining dried thyme, oregano, sesame seeds, sumac, and salt to suit your taste preferences, allowing for customisation and freshness in your recipes.
This recipe uses affiliations and may receive a commission based on your activity (link clicks). Learn more.
Zaatar Lamb
Rate this recipe
Print Recipe
Pin Recipe
Save Recipe
Go to Collections
Calories (per serving) |
686
Instructions
Place all the ingredients into a plastic bag and jostle around to combine everything.

Seal the bag and marinate in the fridge between 1-24 hours.

Heat a BBQ or oven broiler/grill until hot.

Grill the chops for 3-4 minutes per side until lightly charred but still pink in the middle. Leave to rest for 2-3 minutes then serve hot.

If you're making the Sumac Onions (see link in recipe), serve the chops on a large platter with the onion on the side.
Nutrition
Calories:
686
kcal
(34%)
|
Carbohydrates:
8
g
(3%)
|
Protein:
62
g
(124%)
|
Fat:
45
g
(69%)
|
Saturated Fat:
11
g
(69%)
|
Cholesterol:
189
mg
(63%)
|
Sodium:
150
mg
(7%)
|
Potassium:
906
mg
(26%)
|
Fiber:
3
g
(13%)
|
Sugar:
2
g
(2%)
|
Vitamin A:
76
IU
(2%)
|
Vitamin C:
31
mg
(38%)
|
Calcium:
85
mg
(9%)
|
Iron:
8
mg
(44%)