Bulgur Pilav with Lamb & Kale
This Turkish Bulgur Pilav recipe is healthy, nutritious and filling. Soft lamb pieces are the perfect partner to the nutty, fluffy bulgur grains. It's a simple one pot wonder, packed full of goodness.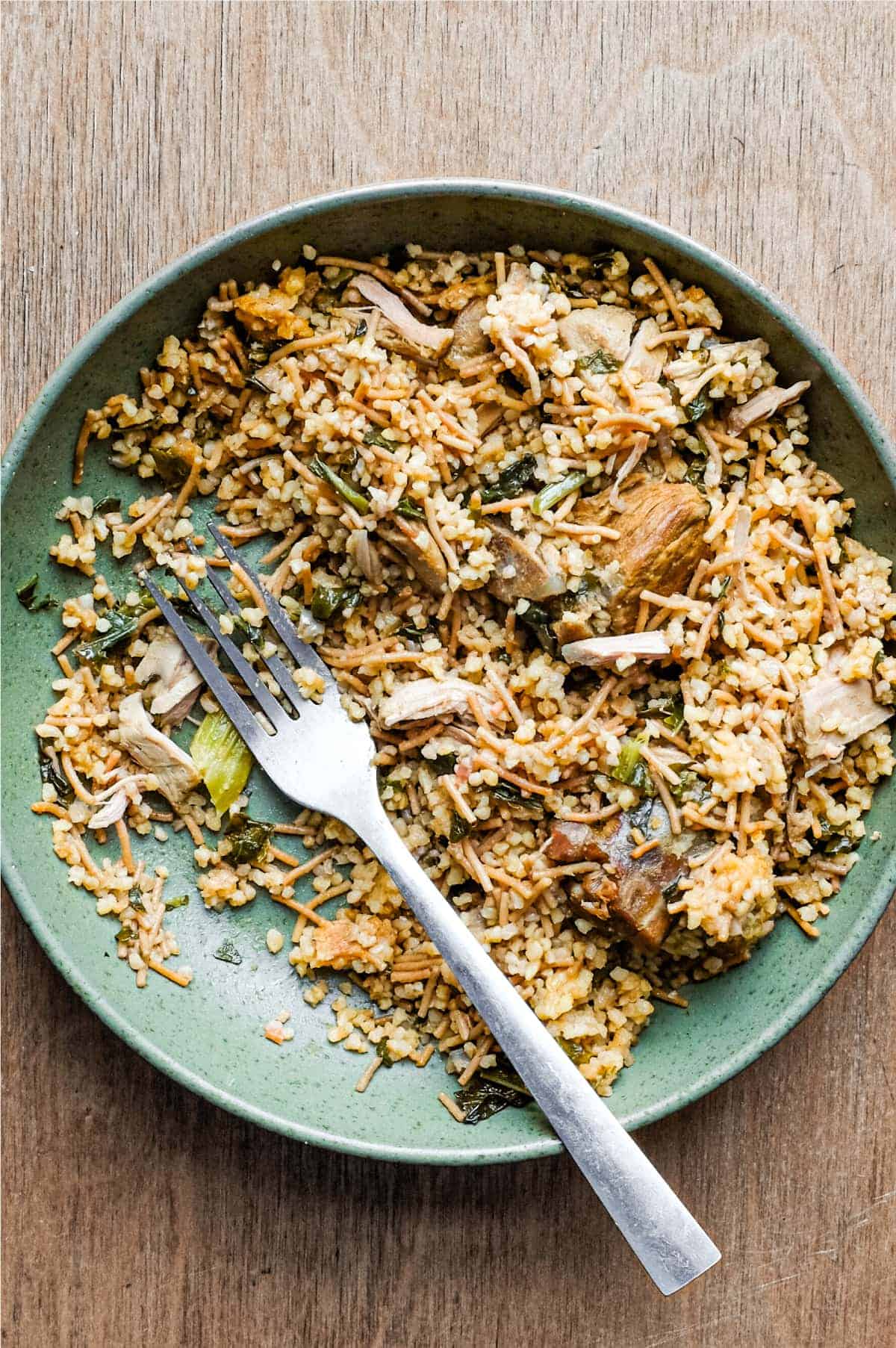 I've been cooking this delightful Turkish dish in many guises for over 20 years! Ever since I was introduced to it by a local family in Cappadocia, who insisted I eat two mammoth portions, I've been recreating their recipe (which they happily shared) for such a long time.
This version is a deviation on the original pilav, which used chicken, but this is my favourite using lamb.
Bulgur wheat is such a great ingredient to use for pilav-style recipes - a wonderful alternative to rice with a great texture and lightly nutty flavour. In this recipe I use a coarse bulgur which is mixed with vermicelli noodles (Şehriyeli Bulgur) - it creates the BEST texture! You can also use regular coarse bulgur wheat too.
The lamb is cooked first in water with a little ground cumin and then that cooking liquid is used to cook the bulgur - this creates all the flavour!
What makes this Turkish bulgur pilav such a good option for dinner is that it's all in one pot! And it's also a dish you can make in advance and reheat when you're ready. Bulgur wheat is more robust than rice and it holds its shape without becoming mushy.
The pilav I ate in Turkey was actually being stored under a seating platform we were all sitting on and was still warm in the afternoon after being cooked that morning.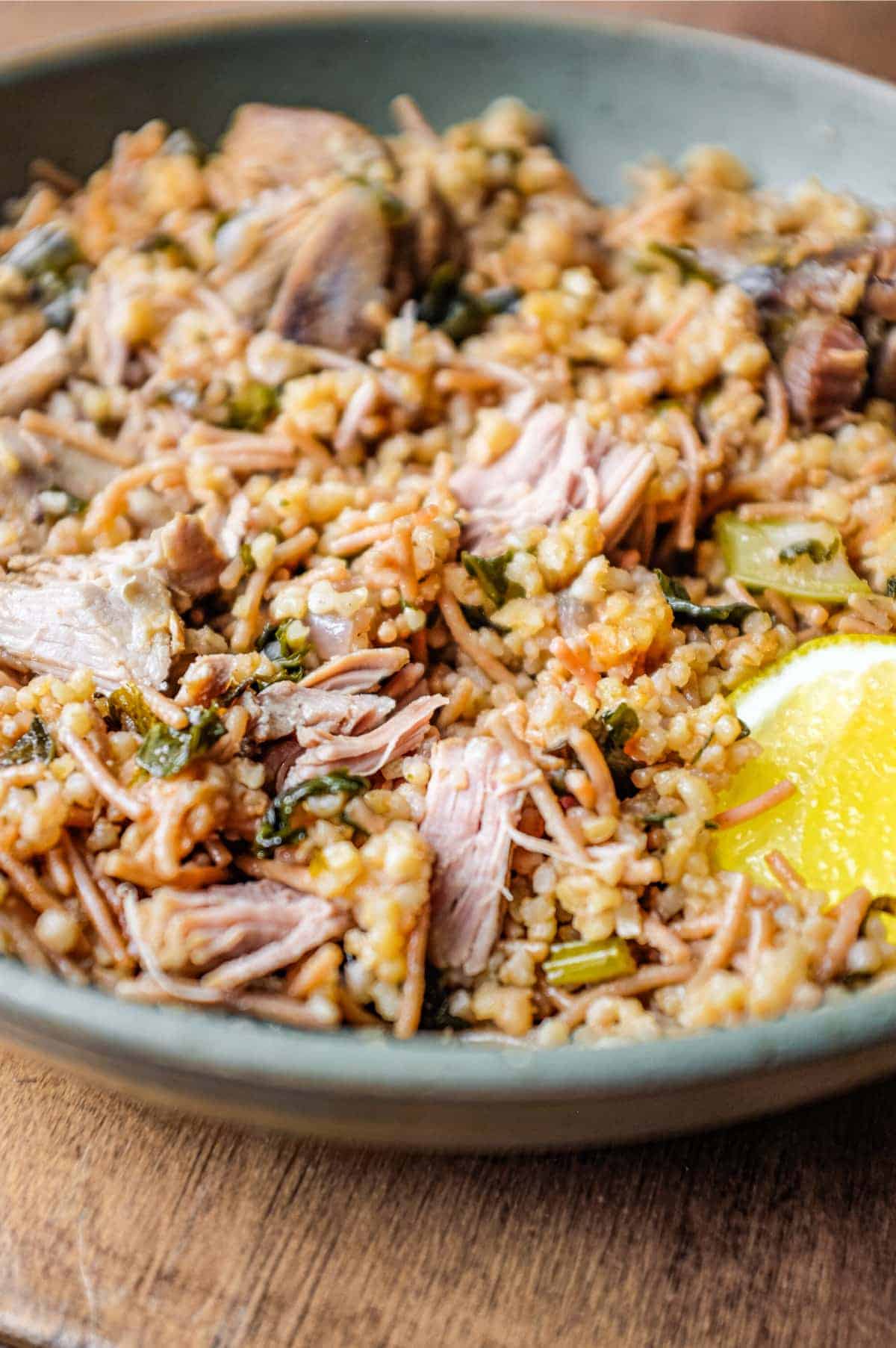 What is Bulgur Pilav?
Pilav goes by so many names, including pilaf, plov, palau, pulao, biryani, ris au gras, arroz con pollo, jollof, risotto and kabasa. It typically uses rice as the main ingredient, but pilav can be made with various grains and ingredients, including bulgur wheat, quinoa, couscous, barley, freekeh, orzo pasta and more.
The use of bulgur is traditional in Middle Eastern and Mediterranean cuisine and loved in Turkey. It's cooked with various ingredients to create a flavourful and nutritious dish. Bulgur pilav is often served as a side dish on its own or a main course cooked with vegetables and meats and is loved for its versatility.
Why it works?
One pot! I love a one pot meal - everything in one place means less fuss, less washing up and you get to serve it direct from the pot for the full dramatic experience.
It's healthy & nutritious - Bulgur wheat It's rich in fibre, protein, vitamins, and minerals, particularly when compared to refined grains.
Stuff You'll Need
As ingredients go, there are only eight which is good going for me! Each ingredient plays a special part intaking this a triumph of flavour and texture.
Bulgur wheat -

use the

coarse variety.

The fine variety will not work for a pilav as it'll be mushy. In this recipe I use a variety that includes vermicelli noodles but regular bulgur is perfect too.

Lamb - I use either leg or shoulder that has been butchered into chunks with the bone in. You can also use boneless stewing lamb.
Onion, garlic & celery - are the backbone to the dish and lend their fragrance and flavour.
Kale - the iron-rich leafy green brings a wonderful earthiness to the pilav. I'll also use chard or spinach. If I use chard, I'll replace the celery with the chopped up stems.
Tomato - I use a little passata to cook the lamb in to add a touch of sweetness and complexity.
Cumin - lamb and cumin are a perfect pairing. It brings just the right amount of earthy fragrance to the finished pilav.
Step by Step
One pot dishes are great, there's no fuss and even less washing up. This is a dish of stages, but everything is kept simple by the use of one pan. It might look like a lot of work, but it really isn't!
Step 1 - Add a little oil to a large pan and fry on all sides until browned. Then add some salt and some of the cumin.
Step 2 -

Top this with around 6 cups of water and the tomato

passata

and bring to a simmer. Cover and cook for 90 minutes (or 70 minutes if your lamb is off the bone) until tender.

Step 3 - Drain the lamb and retain all the cooking liquid.
Step 4 - Wipe the pan clean and add a little more oil. Heat over a medium temperature until just hot, then add the celery, onion, garlic and remaining cumin and fry gently for 3-4 minutes until the onion is soft.
Step 5 - Add the chopped kale leaves and fry for 2 minutes until wilted.
Step 6 - Add the bulgur and stir well to combine, then return the lamb pieces to the pan and carefully stir in.
Step 7 - Pour in around 4 cups of the cooking liquid and stir well. Let this come to a simmer then reduce the heat to low, cover with a lid and cook gently for 15-20 minutes or until all the liquid has been absorbed and the bulgur is soft, not chewy. Add a little more cooking liquid if you need to cook yours longer.
Step 8 - Place a clean the towel over the pan then put on the lid and leave for 20-30 minutes. This helps create a fluffier texture which is amazing! Don't worry, it's still plenty hot enough to eat.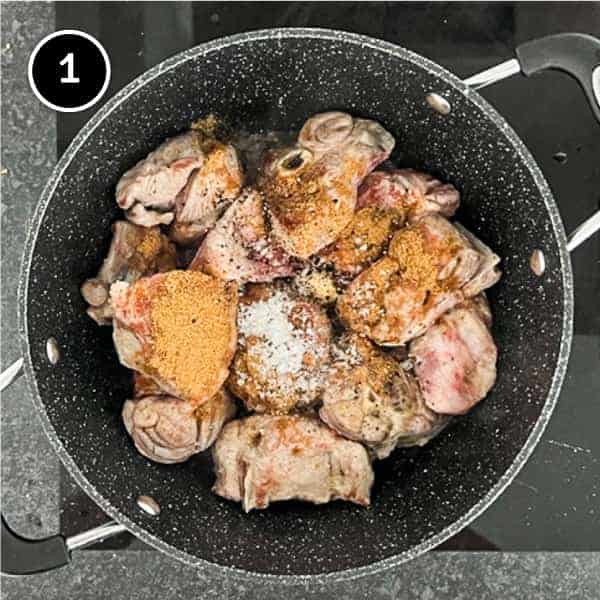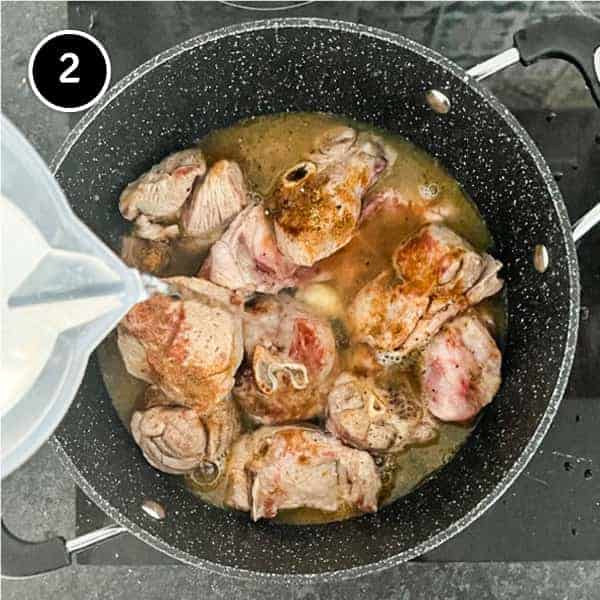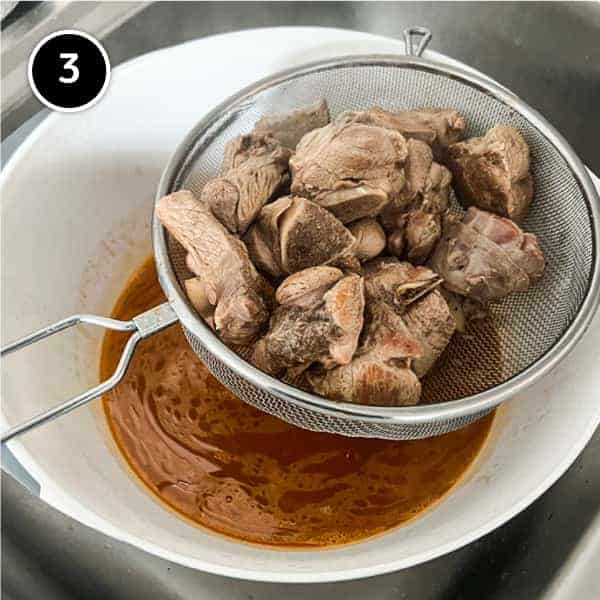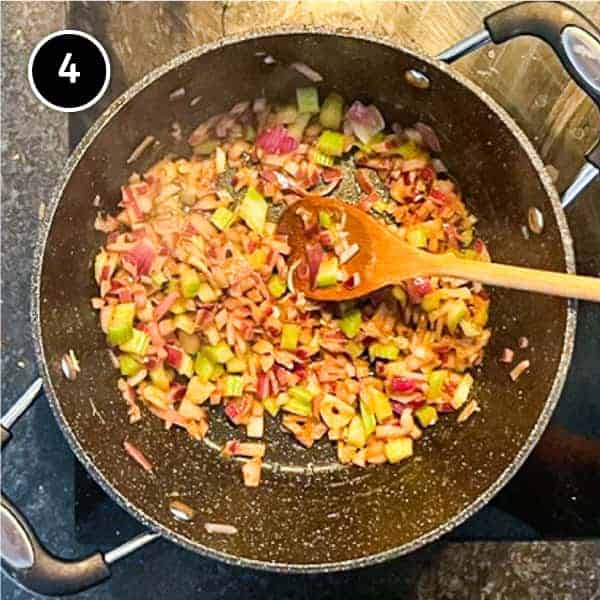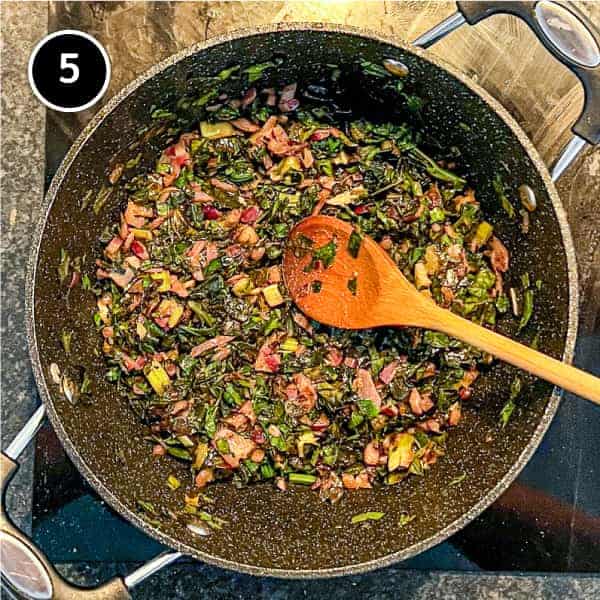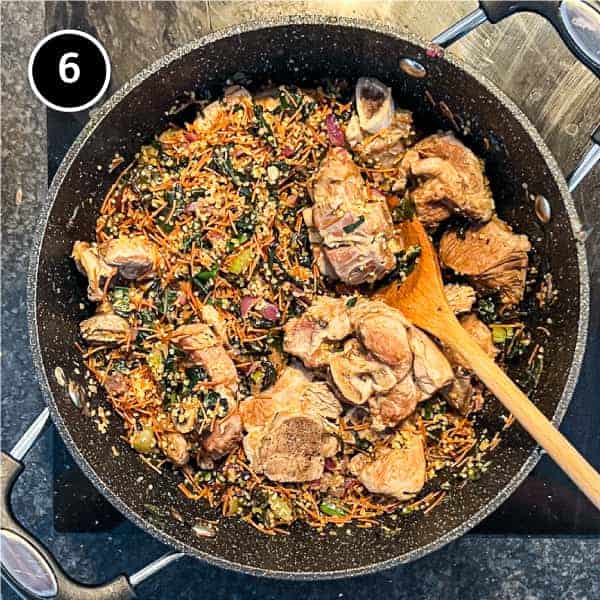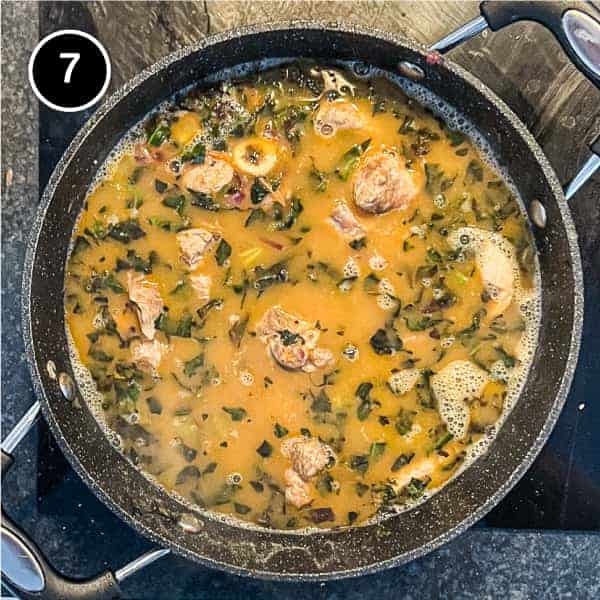 Pro Tips
Let it rest - Leaving the pilav to rest is an essential in creating the fluffy texture. The tea towel catches the residual steam which avoids the pilav from being wet or mushy.
Alternatives to lamb - You can replace the lamb with beef or pork. You can also make a chicken version using chicken thighs or legs on the bone. Reduce the cooking time of the chicken to 50 minutes.
Alternatives to Kale - Try a version using chard/silverbeet (I replace the celery with the chopped stems of the chard). You can also use collard greens, cavolo nero cabbage or spinach.
More additions - This recipe is the simplest version I make, but I'll also add other ingredients from time to time. When I add the cooking liquid I'll often add some nuts like pistachio, pine nuts or chopped walnuts. I'll also sometimes add sultanas or dried apricots, halved.
Serving & Storage Suggestions
Serving - I like to serve mine direct from the pan as the main course. I'll often add a simple green salad and a small bowl of Garlic & Yoghurt Sauce or a version of that sauce, blended with fresh mint in the bullet blender. I'll always serve alongside some lemon wedges to squeeze over the finished pilav.
Fridge Storage - The pilav will stay fresh in the fridge (in airtight containers) for up to a week, which makes it an idea option for meal-prep.
Freezer Storage - Freeze in airtight containers for 3+ months.
Reheat - from chilled, defrosted or frozen in the microwave until piping hot. If cooking from frozen, be careful to stir once or twice to avoid burning the meat.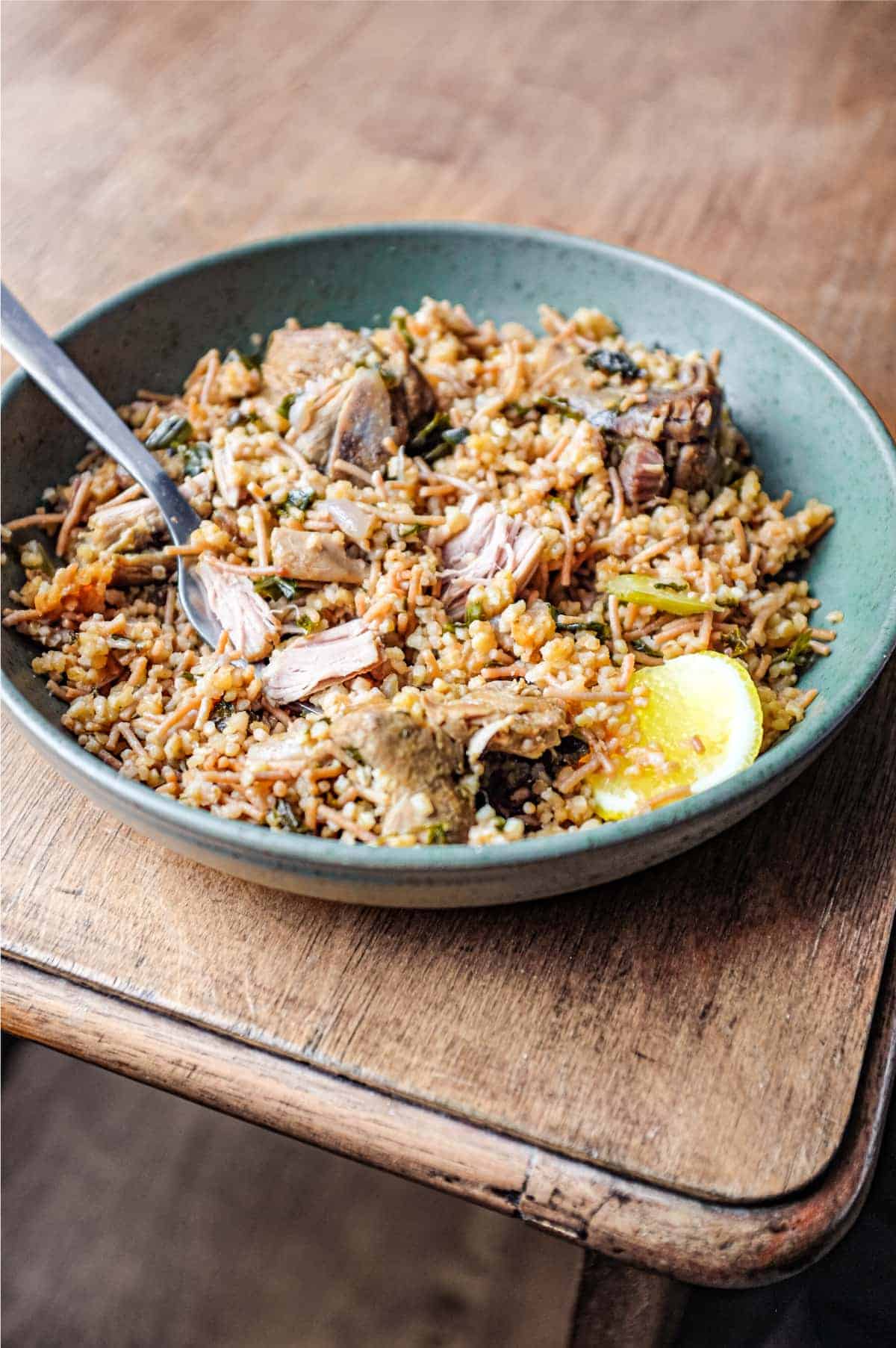 Ready to get cooking?
As you can see, there's nothing to this amazing one-pot Turkish delight. A filling, nutritious and warming hug of a recipe that takes pilav to a whole new flavour. I just love the fluffy, nutty bulgur. It's little wonder I've been enjoying this for so long. I hope you enjoy the recipe too.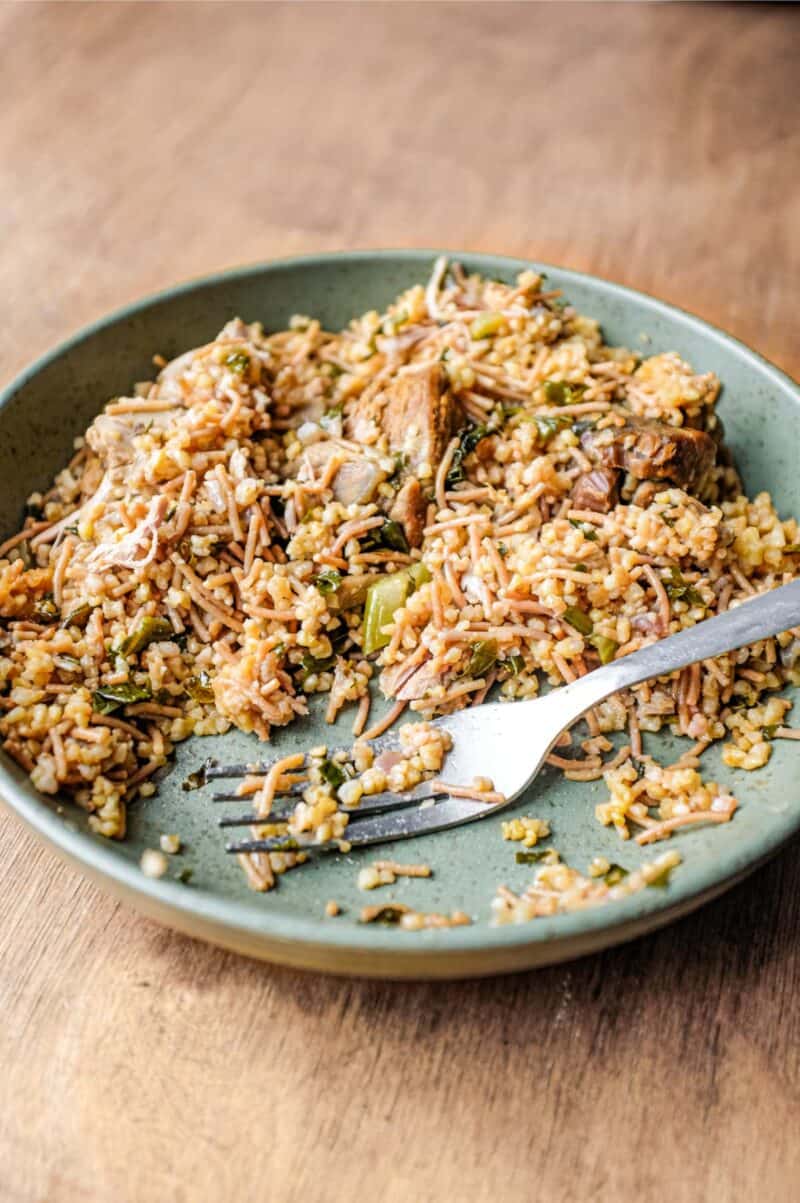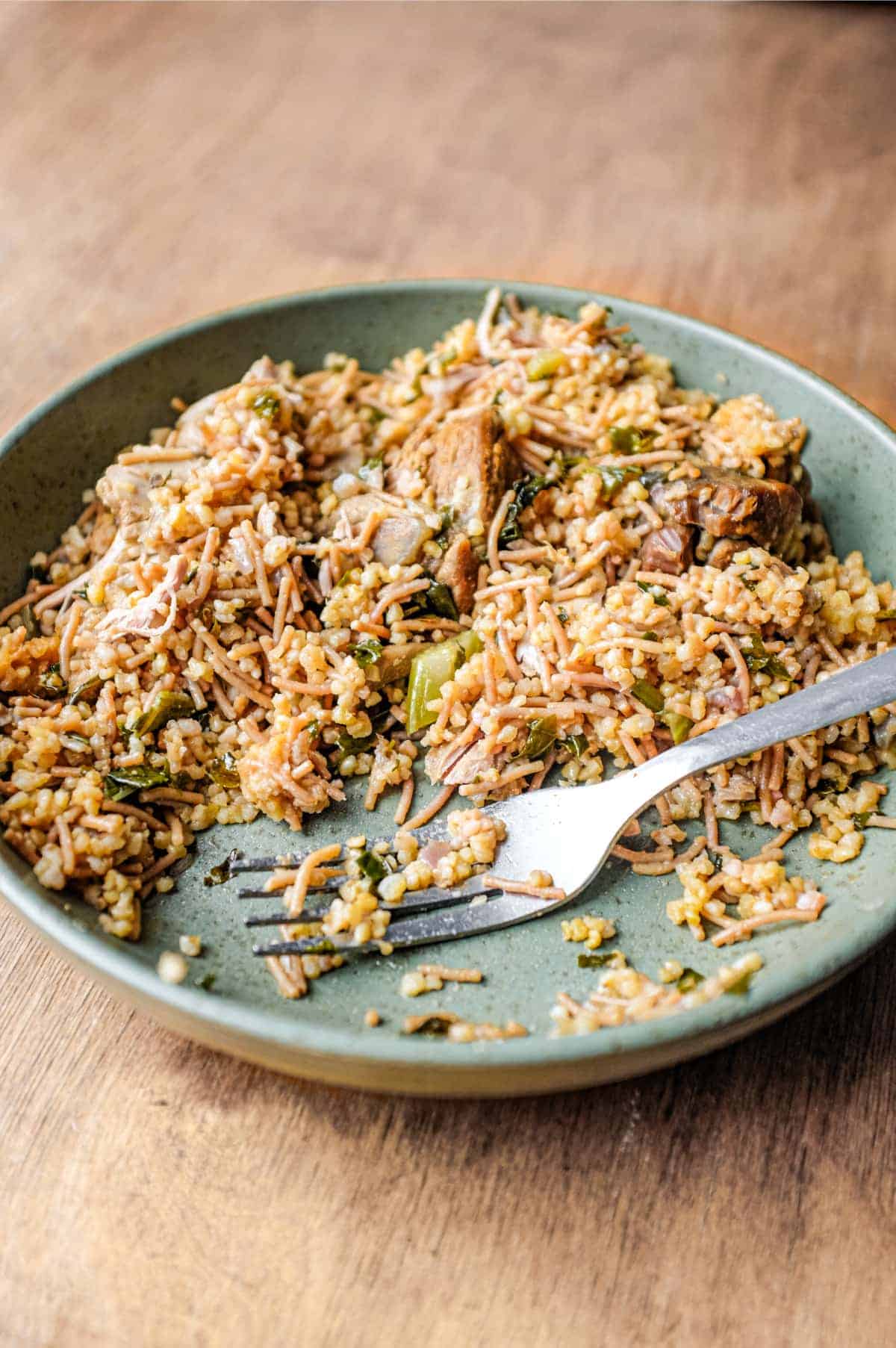 More Turkish recipes
If you liked this Turkish delight, then I know you'll also love these. Give another of my authentic Turkish recipes a try.
Any Questions? (FAQ)
Have a question about Bulgur Pilav? Let me know in the comments.
Is Bulgur Wheat Gluten Free?
No, bulgur is not gluten-free; it contains gluten since it's made from wheat. Not suitable for those with gluten sensitivity.
How do you cook bulgur wheat?
At its core you should cook one part bulgur with two parts liquid. i.e. 1 cup bulgur with 2 cups of stock or water.
Is bulgur wheat nutritious?
Yes, it's nutritious. High in fibre, protein, vitamins, and minerals, making it a healthy addition to a balanced diet.
This recipe uses affiliations and may receive a commission based on your activity (link clicks). Learn more.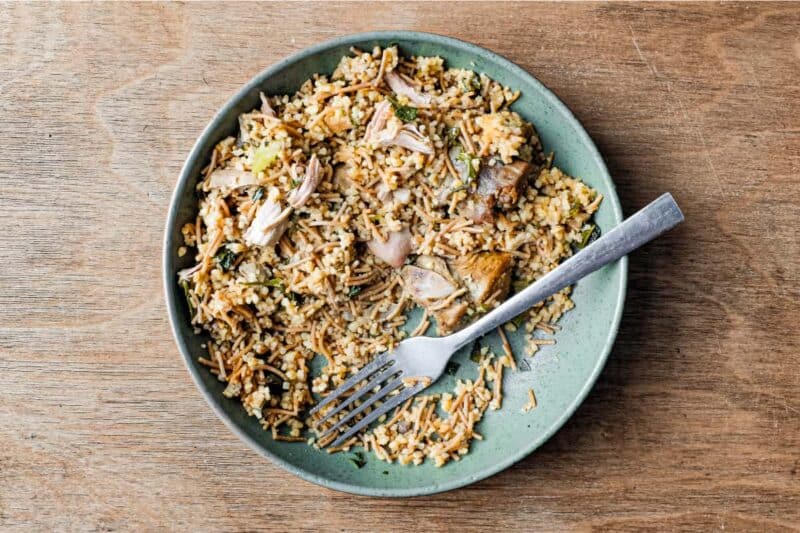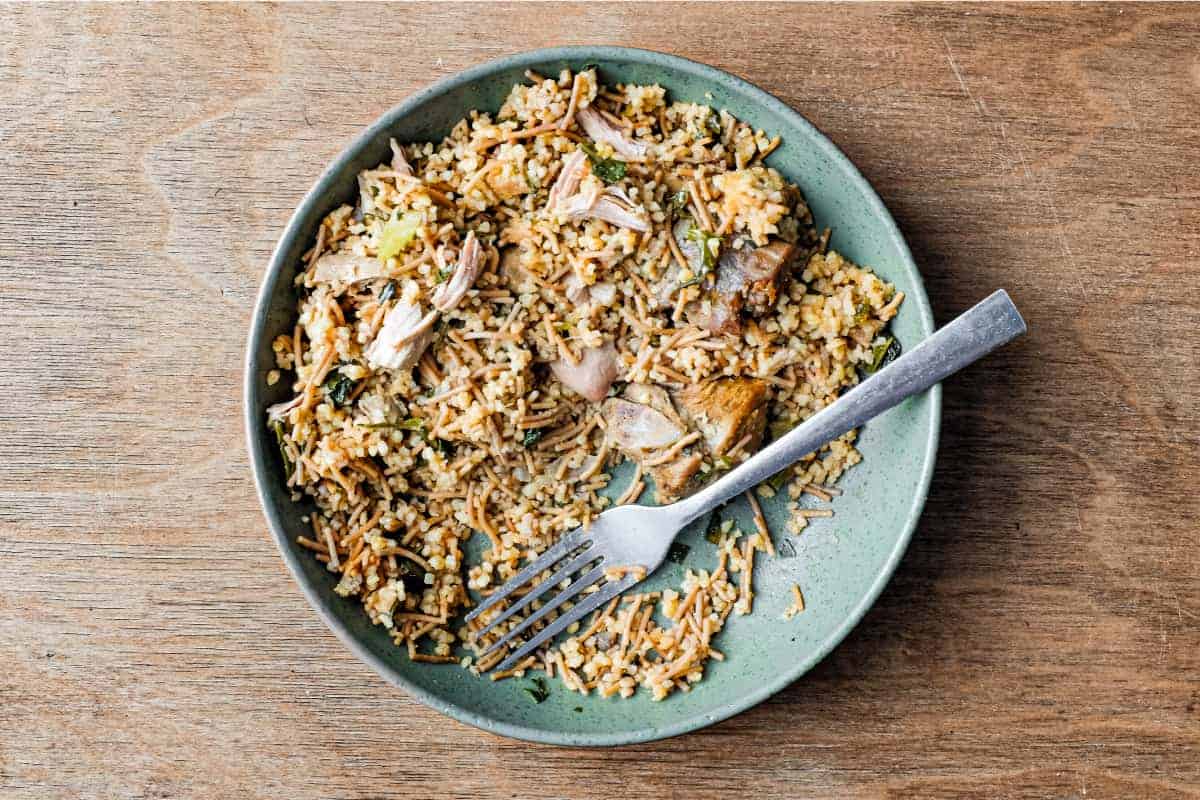 Turkish Bulgur Pilav with Lamb and Silverbeet
Rate this recipe
Print Recipe
Pin Recipe
Save Recipe
Go to Collections
Calories (per serving) |
375
Instructions
Heat 1 tablespoon of the oil in a heavy casserole pan and fry the lamb pieces for 5 minutes until nicely browned. Add 1 heaped teaspoon of the cumin and then 6 cups of water. Bring to a boil then reduce the heat to low and simmer gently, covered, for 90 minutes for bone-in lamb or 70 minutes off the bone.

Drain the lamb, retaining the cooking liquid. Set both aside.

Wipe the pan clean then heat the remaining oil over a moderate heat – add the onion, celery, garlic and cumin and fry gently for 5 minutes until soft and golden.

Add the kale leaves, the remaining cumin and salt & pepper and stir for 1-2 minutes until wilted.

Add the bulgur and stir well to combine and then return the lamb and carefully stir.

Cover and cook gently (without stirring or taking off the lid) for 20 minutes, until all the liquid is absorbed. Remove from the heat – open the pan and sprinkle over the remaining pistachios. Place a tea towel over the pan then return the lid to catch any residual steam - leave for 15 minutes before serving. It'll stay warm for over an hour.

Pour in 4 cups of the lamb cooking liquid and bring to a simmer. Reduce the heat to low and cover the pan. Cook gently for 15-20 minutes until all the liquid has been absorbed and the bulgur soft. Add a little more stock at a time if the bulgur need to cook longer.

Remove from the heat, remove the lid and place a clean tea towel over the pan. Place the lid on top and leave to rest for 20-30 minutes (or longer). This will give a better, fluffier pilav.
Serving
Serve direct from the pot alongside a simple salad. I also like to make a yoghurt and garlic sauce or a blended yoghurt sauce with garlic, mint, extra virgin olive oil and lemon juice.
Notes
Serving: I prefer to present it straight from the pan as the main dish. Often, I pair it with a basic green salad and a small dish of Garlic & Yoghurt Sauce or a similar variation blended with fresh mint in a bullet blender. I always provide lemon wedges for drizzling over the finished pilav.
Fridge Storage: This pilav can be refrigerated in airtight containers and remains fresh for up to a week, making it a great choice for meal prep.
Freezer Storage: For longer storage, freeze it in airtight containers for over three months.
Reheating: Whether it's chilled, defrosted, or frozen, reheat in the microwave until it's piping hot. When reheating from frozen, remember to stir occasionally to prevent any meat from burning.
Nutrition
Calories:
375
kcal
(19%)
|
Carbohydrates:
41
g
(14%)
|
Protein:
26
g
(52%)
|
Fat:
13
g
(20%)
|
Saturated Fat:
3
g
(19%)
|
Polyunsaturated Fat:
2
g
|
Monounsaturated Fat:
7
g
|
Cholesterol:
61
mg
(20%)
|
Sodium:
680
mg
(30%)
|
Potassium:
696
mg
(20%)
|
Fiber:
10
g
(42%)
|
Sugar:
2
g
(2%)
|
Vitamin A:
2318
IU
(46%)
|
Vitamin C:
24
mg
(29%)
|
Calcium:
104
mg
(10%)
|
Iron:
4
mg
(22%)